New Age Islam News Bureau
25 Jun 2019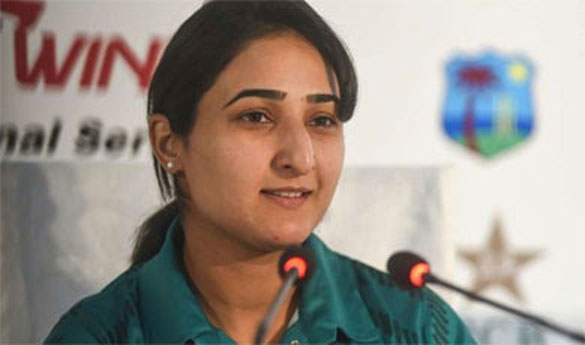 © ASIF HASSAN Pakistan's women cricket team captain Bismah Maroof features in a detergent advert that has sparked outrage from conservatives
-----
• Muslim Women Defy Ban to Swim In Burkinis at French Pool
• Most Arab Men Would Accept A Woman As Their Country's Leader
• Approval Of Arbitration Council Compulsory For Second Marriage: IHC
• The Women Who Came Home: Kazakhstan Tries To Rehabilitate Islamic State Returnees
• South African National Defence Force Major to Face Disciplinary Action For 'Refusing To Remove Her Headscarf'
• Saudi Pilot Yasmeen Al-Maimani's First Flight Celebrated
• Public Forum to Celebrate the Diversity Of Muslim Women
Compiled by New Age Islam News Bureau
URL: https://www.newageislam.com/islam-women-feminism/pakistani-outrage-bubbles-detergent-ad/d/118986
--------
Pakistani Outrage Bubbles As Detergent Ad Promotes Women's Rights, Critics Allege the Company of Insulting Islam
24 JUNE 2019
Islamabad, Jun 24 An international detergent brand has come under fire for an advertisement questioning gender stereotypes in the conservative patriarchal country, with critics denouncing the company for allegedly insulting Islam.
The commercial for Ariel soap, owned by US-based Proctor & Gamble, calls for women to break free of conservatives norms and pursue careers.
In the ad, several women representing different professions -- including a journalist and doctor -- are seen pushing dirty sheets hanging on a clothesline off the screen.
The sheets are printed with common refrains used to reinforce the oppression of women in Pakistan, including the question "What will people say?", which heralds scandal every time a woman chooses to challenge gender norms.
The commercial ends with a close-up shot of the Pakistan women''s cricket team captain Bismah Maroof saying: "Stay within the house... these are not only sentences but stains".
Social media was abuzz on the issue, with conservatives lambasting its message using the hashtag "#BoycottAriel" on Twitter.
"They (are) insulting Islamic teaching in their advertising," wrote Binte Suleman on Twitter, while Raja Moazzam added: "Please take action against these liberals, who (are) prompting liberalism in Pakistan".
Others called for Pakistani regulators to have the commercial officially censored and removed.
The company did not immediately respond to requests for comment by AFP.
Women in Pakistan have fought for decades to secure their rights.
Much of society lives under a patriarchal, outdated code of so-called "honour" that systemises the oppression of women who defy tradition by, for example, choosing their own husband or working outside the home.
Women also face what activists have called pervasive violence against them by men, routine discrimination in the workplace, and public harassment, with few women daring to walk alone outside of their homes.
The Ariel advert is not the first time a major company has faced backlash in the country over its stance on women''s rights. AFP NSA
https://www.outlookindia.com/newsscroll/pakistani-outrage-bubbles-as-detergent-ad-promotes-womens-rights/1561157
--------
Muslim Women Defy Ban to Swim In Burkinis at French Pool
24 June 2019
Muslim women in France are disobeying the rules at a local swimming pool by wearing burkinis.
In a protest inspired by US civil rights pioneer Rosa Parks, they bathed in suits covering their entire bodies - apart from the face, hands and feet - in the city of Grenoble on Sunday.
The Jean Bron swimming pool is among many in France that ban burkinis.
Many people in the country regard the swimsuit as a symbol of political Islam and incompatible with secularism.
"Operation burkini" was launched last month by members of the group Citizen Alliance of Grenoble to defend what they say is the right of Muslim women.
What happened at the pool?
After changing into burkinis, the Muslim members of the group were told by lifeguards that their swimsuits were not allowed.
Despite this, they entered the pool and bathed for about an hour with members of the community, many of whom cheered and applauded them for doing so.
The women were later questioned by police and each fined €35 ($40; £30) for breaching the rules, news outlet France Bleu reported (in French).
Speaking to the BBC, two of the Muslim women involved in the protest, Hassiba and Latifa, said they should have the same rights as other citizens.
"We have a dream: to have fun in public swimming pools like all other citizens, to accompany our children whenever they want to have a swim while it is very hot in the summer here in Grenoble.
"We must fight against discriminatory policies and prejudice in France, as we are actually deprived of our civil rights of access to public services and city-owned infrastructures."
In a Facebook post, the Citizen Alliance said the move was part of a campaign that began in May 2018 with a petition signed by more than 600 Muslim women urging the Genoble Mayor Éric Piolle to reform the rules governing public swimming pools.
Responding to events on Sunday, a member of France's centre-right party The Republicans, Matthieu Chamussy: "Political Islam is moving forward step by step and the cause of women receding."
Burkinis, a mix of the words "burka" and "bikini", are marketed to Muslim women as a way for them to swim in public while adhering to modesty edicts.
But the burkini remains controversial in France, where authorities in several French towns have proposed banning the garment altogether.
In 2010, France became the first European country to ban the full-face veil in public.
Who was Rosa Parks?
Ms Parks, the women who inspired the "operation burkini" campaign, was arrested for refusing to give up her seat for white passengers in Montgomery, Alabama, in 1955.
At the time, black travellers were required to pay at the front of the bus, leave it, walk to the back of the vehicle and then re-enter.
They also had to give up their seats for white customers if the bus started filling up.
Ms Parks' protest sparked a bus boycott and eventually led to the end of racial segregation on buses in the US.
https://www.bbc.com/news/world-europe-48744153
--------
Most Arab Men Would Accept A Woman As Their Country's Leader
June 24, 2019
Most Arabs would accept a woman as their nation's leader but still believe men should have the final say in domestic matters, a major new study suggests.
The research, commissioned by BBC Arabic, also revealed a rising number of Arabs in the Levant and Maghreb are turning their backs on religion.
And Recep Tayyip Erdogan, Turkey's President, is far more popular than either Donald Trump or Vladimir Putin.
The broadcaster claims the research is the "biggest and most in-depth study ever carried out in the region".
More than 25,000 people took part in face-to-face interviews across the 11 countries and territories in the Mena region.
It largely focused on the Levant and the Maghreb. The GCC states, of which the UAE is one, were not included.
The research revealed that since 2013, the number of people identifying as "not religious" had risen from 8 per cent to 13 per cent, while among under-30s almost one in five, 18 per cent, said they did not consider themselves religious.
Secularism was most pronounced in Tunisia, where about a third of the overall population said they were not religious, a figure that has roughly doubled in five years.
Meanwhile, in 10 of the 11 countries, a majority believed a woman leader was "acceptable", although most said they would prefer a male head of state. Only in Algeria did fewer than half of people say they were prepared to accept a female leader.
In domestic life, however, most – including a majority of women – said husbands should always have the final say on family decisions. Only in Morocco did fewer than half the population think a husband should always be the ultimate decision-maker.
"There is a realisation that gender equality is a marker of progress and the 'right thing' to say is to support women's empowerment," Dima Dabbous, Equality Now's regional director for the Middle East and North Africa, told The Guardian. "But when the framing of the question focuses on the role of men, then the real patriarchal, male-centric bias comes to the surface.
"Women in the Middle East and North Africa are getting more educated and participating increasingly in the labour force, but their empowerment will remain incomplete as long as they are still excluded from decision-making positions and political participation."
In terms of national leaders, President Erdogan of Turkey was viewed favourably by 51 per cent, compared to 28 per cent for President Putin of Russia and 12 per cent for President Trump of the US. Trust in Islamist movements such as Hamas, Hezbollah and the Muslim Brotherhood was found to be in decline.
Many of the findings echo results of this year's Arab Youth Survey, which suggested most young Arabs believed religion was too influential in the region and institutions were in need of reform, while also pointing to disillusionment at a lack of economic opportunities.
The BBC survey found a rising number were considering emigrating, with Europe the most popular destination, followed by the Arabian Gulf and North America.
Other topics that were touched on included social issues such as perceptions of sexuality and mental health. One in three said they felt depressed. It was also found that honour killings were viewed as more acceptable than homosexuality.
In Jordan, 21 per cent said they believed honour killings were acceptable, compared to seven per cent who believed it was acceptable to be gay. Sudan was the only place in which people were more likely to accept homosexuality than honour killings.
The research was carried out by the research network, Arab Barometer, between late 2018 and the spring of 2019. The places surveyed were Iraq, Tunisia, the Palestinian Territories, Jordan, Lebanon, Yemen, Egypt, Libya, Algeria, Morocco and Sudan. In total, 25,407 people took part.
"Most importantly, in the vast majority of countries surveyed, governments are not meeting the expectations of their citizens," said Michael Robbins, the director of Arab Barometer, the research network that conducted the survey.
"Often, trust in government tracks more closely with performance on providing security than on economic issues."
https://www.thenational.ae/uae/most-arab-men-would-accept-a-woman-as-their-country-s-leader-1.878389
--------
Approval Of Arbitration Council Compulsory For Second Marriage: IHC
Malik Asad
June 25, 2019
ISLAMABAD: Contrary to the popular belief that the consent of first wife is the only requirement for second marriage, Islamabad High Court (IHC) has declared that approval of Arbitration Council is even more compulsory for tying the knot with second wife. IHC Justice Athar Minallah, while accepting an appeal filed by Dilshad Bibi, upheld the sentence awarded to her husband by the trial court for contracting second marriage without the prior approval of the Arbitration Council as well as of the petitioner woman.
Petitioner Dilshad Bibi and her husband Muzaffar Mir entered into a marriage contract on May 15, 2011, which was duly registered in Islamabad under the Muslim Family Laws Ordinance, 1961.
For some time the couple lived in Islamabad and later moved to Muzaffarabad, Azad Jammu and Kashmir. Due to differences, the petitioner returned to Islamabad on January 8, 2013.
Mir contracted a second marriage without the consent of the petitioner, which led to filing of a complaint by the latter seeking initiation of proceedings under sub section (5) of section 6 of the Ordinance of 1961.
The complaint was considered by the Arbitration Council and the latter referred to the competent forum contemplated under Rule 21 of the West Pakistan Rules under the Muslim Family Laws Ordinance, 1961.
It was alleged by the petitioner that the respondent Mir had contracted another marriage without her permission, which is required under sub section (1) of section 6 of the Ordinance of 1961.
The magistrate, vide order dated April 15, 2014, framed the charge to which the respondent did not plead guilty. Three witnesses entered the witness box on behalf of the petitioner.
The magistrate, after recording evidence and affording an opportunity of hearing to the parties, sentenced Mir to imprisonment for a term of one month and imposed a fine of Rs5,000.
Mir filed an appeal which was dismissed by the learned appellate court vide judgement, dated June 16, 2016.
He then filed a review before IHC and the case was remanded to the additional district and sessions judge of Islamabad who set aside the conviction on the sole ground that since Mir was a resident of Azad Kashmir, therefore, the provisions of the Ordinance of 1961 were not applicable in his case.
Dilshad Bibi on the other hand challenged the order before IHC.
IHC Justice Minallah, after hearing the arguments and perusing the relevant record as well as the legal provisions, observed that "a plain reading of the Ordinance of 1961 read with the Rules of 1961 unambiguously shows that it extends to the whole of Pakistan and applies to all Muslim citizens of Pakistan".
The court ruled that "the factors required to be taken into consideration by the Arbitration Council in granting permission for contracting a subsequent marriage have been prescribed in sub sections (2), (3) and (4) of section 6 of the Ordinance of 1961.
The Arbitration Council cannot act mechanically while granting permission because the statute has declared that before doing so it has to be satisfied that such permission would be just and necessary. A husband who contracts another marriage during the subsistence of an earlier one in contravention of the provisions of the Ordinance of 1961 definitely exposes himself to the risk of being imprisoned or fined or to both.
The court order read: "In the facts and circumstances of the case in hand, it is an admitted position that the respondent, regardless of his place of residence, holds a National Identity Card issued to him by the authority under the Ordinance of 2000. As long as the National Identity Card remains valid and subsisting, the respondent cannot claim to be a person who is not a citizen of Pakistan. The marriage was contracted between the parties and duly registered in Islamabad and, therefore, to the extent of the petitioner the cause of action in the context of section 6 of the Ordinance of 1961 has arisen in Islamabad.
The court, however, remanded the case back to the trial court for a rehearing with the direction for an early decision.
https://www.dawn.com/news/1490188/approval-of-arbitration-council-compulsory-for-second-marriage-ihc
--------
The Women Who Came Home: Kazakhstan Tries To Rehabilitate Islamic State Returnees
By Farangis Najibullah
June 23, 2019
Freshly returned from Syria to Kazakhstan, 24-year-old Zarina says she is taking one day at a time and has no clear plan for the future.
The widowed mother of two sons born in Syria -- where she spent five years married to an Islamic State (IS) fighter -- spends most of her days in shopping centers and parks in her hometown of Aqtobe, in western Kazakhstan.
Zarina, who doesn't want to disclose her full name for "family reasons," was among hundreds of Kazakh citizens repatriated from Syria this year in a special operation called Zhusan.
"I was afraid to return, I thought I'd be arrested -- but in a refugee camp in Syria I heard that Kazakhstan will take back its citizens," Zarina said.
"I am grateful that my country took us back, gave us clothes and shoes, and is providing psychological support," Zarina told RFE/RL's Kazakh Service.
Like the rest of the returnees from Syria, Zarina and her children spent a month in a special center in the city of Aqtau before being allowed to reunite with her relatives.
The stint in the Aqtau facility is the first part of an elaborate rehabilitation and reintegration program designed for those who returned to Kazakhstan after living under the extremist IS militants.
The reintegration process is expected to last for years under the strict control of local authorities and security services.
The center in Aqtau, where the returnees are placed upon their arrival, is off limits to the media, the public, and even the relatives of the returnees.
But officials familiar with the rehabilitation program told RFE/RL that in Aqtau the returnees undergo medical tests and receive treatment or surgeries they require.
Back To Normal Life
The center also employs specially trained psychologists and religious figures, who conduct meetings and consultations with the returnees.
Meanwhile, children attend special classes with teachers and child-psychology specialists, while adults also face background checks and interviews by security services.
Those cleared by security services to return to normal life are allowed to move back to their home regions within several weeks and register with local authorities.
Dozens of others have been transferred to detention centers to face terrorism-related charges.
Operation Zhusan (which means sagebrush) took place in three rounds between January and May and brought home a total of 516 Kazakh citizens, including 357 children, according to official figures.
The government said 47 people returned in the first round in January and another 231 Kazakhs were flown home from Syria in the second round in early May.
The third and final round took place at the end of May with 238 women and children brought back.
The government says there won't be any more such operations in the future. It is not known if there are any more Kazakh nationals left in Syria or Iraq, the two countries within which Islamic State controlled swathes of territory until collapsing under attack from U.S.-led forces in late March.
In July 2018, Kazakhstan's National Security Committee said more than 800 Kazakh nationals had left for Syria and Iraq since 2013 to join IS.
A lot of those fighters and their families were killed in air strikes and fighting since IS first acquired territory in 2014.
Many Kazakh fighters and women also became disillusioned and returned home long before the Zhusan operation began.
Still A Security Threat?
At least 27 people, including five women, who returned to Kazakhstan as part of the Zhusan operation have been arrested on terrorism-related charges.
Erlan Karin, an adviser to Kazakh President Qasym-Zhomart Toqaev, says one of the most frequently asked questions about the returnees is whether they will pose a security threat in the future.
Kazakhstan, where some 70 percent of its more than 18 million population is Muslim, has seen several deadly attacks blamed on religious extremists.
A suicide attack near a regional headquarters of the National Security Committee in Aqtobe in 2011 was the first incident the government linked to Islamic extremism.
Aqtobe was the scene of deadly violence again in 2016 when a military unit came under attack.
Authorities said the assault was carried out by some 20 Islamist radicals who raided two gun stores before targeting the soldiers.
In 2013, a video emerged purportedly showing a Kazakh "family" of 150 people, including many children, preparing for jihad in Syria. They urged others in Kazakhstan to join them.
Critics of the government's repatriation program argue that those brought back from Syria should not be trusted.
"Those who really regretted joining IS came back a long time ago, but these people waited until the last minute, until IS collapsed," says Nurlan, a student in Almaty who didn't want to give his full name.
"They returned because they had no other choice," Nurlan added.
Presidential adviser Karin says "any potential security threats would have been much greater" if Kazakhstan left its citizens, especially the women and children, stranded in refugee camps in Syria.
"For example, there is a risk of these women and children being exploited by radical extremist groups for various [purposes]," Karin told RFE/RL on June 17.
Karin says the authorities, communities, and families need to continuously work with the returnees, especially with children, to prevent any threats in the future.
"Now that they're safely back in Kazakhstan, there is an opportunity to constantly work with the children, to influence them," Karin said.
Karin said some 70 percent of the repatriated children are under the age of six, and many of them were born in Syria. They have never been to school and can't read, write, or do arithmetic, he said.
According to Karin, there are many orphans among the children, but their extended families and relatives have been granted custody.
"Not a single child that returned from Syria was left without family support," Karin said. "All were taken in by their relatives."
Aigerim Toleukhan, a Kazakh journalist who focuses on political issues, emphasized the challenges in the rehabilitation of the deeply "traumatized" children whose only experiences in life so far were fighting, air strikes, and the death and destruction that follows.
"Even with the help of professionals they will need many years [to be able] to live like normal children," Toleukhan told RFE/RL.
Creating Opportunities And Hope
Like Zarina in Aqtobe, who married at the age of 18, many women repatriated from Syria have no skills or profession.
As part of the reintegration process, local authorities have organized short-term courses in which returnees can learn new skills to help them earn a living.
Several women who returned from Syria in January have completed the courses and found jobs as hairdressers and beauticians.
Zarina says she hasn't yet decided what to do with her life.
She and her children live with her parents and receive financial support from the relatives of her husband, who was killed in Syria.
The returnees have no legal obstacles to get jobs or study in universities, although they will be closely monitored by authorities for many years to come.
The government says the children born in Syria to Kazakh citizens are being given Kazakh passports.
Repatriation Around Central Asia
Most of Kazakhstan's neighbors in Central Asia have taken a similar approach in dealing with the issue of their citizens in Syria and Iraq who joined IS.
In late May, Uzbekistan announced that it had flown home 156 Uzbeks from Syria and Iraq.
The government in Tashkent said it will create "the necessary conditions for their return to a normal, peaceful life and integration into society, access to educational and other social programs, including through the provision of adequate housing and employment."
Tajikistan has offered an amnesty to its citizens who voluntarily return home from Syria and Iraq and denounce IS. It recently brought back dozens of Tajik children whose mothers are jailed in Iraq for their ties to IS.
Kyrgyzstan announced in February that the government began working to clarify the number of Kyrgyz citizens in Syria and Iraq. It came after several Kyrgyz women in Syria pleaded with Bishkek to help them come back home.
Experts warn that in order to prevent security threats in the future, the governments in Central Asia need to address the major root causes of the problems.
"All of the driving reasons that caused a small number to fight abroad -- injustice, marginalization, repression -- still exist. Young people will seek new ways to express this frustration, sometimes using violence," said Edward Lemon, a fellow at the Daniel Morgan Graduate School of National Security in Washington, D.C.
Kazakhstan, Uzbekistan, Tajikistan, and Turkmenistan -- which are ruled by authoritarian leaders -- have received especially harsh criticism by rights organizations for restricting basic freedoms, human rights, and religious practices.
Those governments also don't tolerate dissent and crack down on independent media and opposition parties.
In energy-rich Kazakhstan, many ordinary people live in poverty, as the burgeoning oil wealth has failed to trickle down to them and has widened the gap between rich and poor.
But Zarina feels fortunate to have a second chance.
"I regret leaving my homeland -- and it's a regret I will have my entire life," she said. "Despite our mistakes, Kazakhstan welcomed us. I do not have words to express my gratitude."
https://www.rferl.org/a/the-women-who-came-home-kazakhstan-tries-to-rehabilitate-islamic-state-returnees/30015082.html
--------
South African National Defence Force Major to Face Disciplinary Action For 'Refusing To Remove Her Headscarf'
2019-06-25
A Muslim member of the SANDF is expected to face a hearing in a military court in Cape Town on Tuesday because of her refusal to not wear her headscarf.
The major, who has been a member of the armed forces for the past 10 years, works as a clinical forensic pathologist at 2 Military Hospital in Wynberg.
Her adviser, Nazeema Mohamed, said the major's scarf was worn under her beret and "does not even cover her ears".
It did not obstruct any insignia or military rankings, Mohamed explained. For the past decade, none of the officers she reported to took exception to it.
Mohamed said the action smacked of Islamophobia, sexism and a poor attitude toward women.
The disciplinary action against the major was "shocking", as such steps would not be taken even in conservative countries like the US, she charged.
SANDF spokesperson Mafi Mgobhozi was not immediately available to comment on the matter.
Mohamed said should the SANDF proceed with charges against the major, they would take the matter to court as the action against her was discriminatory.
https://www.news24.com/SouthAfrica/News/muslim-major-to-face-disciplinary-action-for-refusing-to-discard-headscarf-20190625
--------
Saudi Pilot Yasmeen Al-Maimani's First Flight Celebrated
June 25, 2019
RIYADH: The Saudi General Authority of Civil Aviation (GACA), represented by the management of Hail International Airport and Nesma Airlines, celebrated the first official flight of Saudi pilot Capt. Yasmeen Al-Maimani, 29, on Sunday.
Al-Maimani made her first official flight between Hail International Airport and Prince Nayef bin Abdul Aziz International Airport in Qassim, becoming the first Saudi woman to fly a commercial aircraft as a co-pilot with Nesma Airlines.
She received the opportunity after the airline advertised vacant positions for co-pilots on its New Pilots Program — 11 were accepted, including Al-Maimani, who has a commercial pilot's license (CPL) from the US.
Following their acceptance into the program, the pilots underwent a four-stage training regimen at Prince Sultan Aviation Academy in Jeddah, including practice on multi-engine planes with multiple crews.
Ground training using an ATR 72-600 aircraft at Nesma Airlines' training center in Hail followed, before progressing to simulators in Jakarta and Madrid.
http://www.arabnews.com/node/1515776/saudi-arabia
--------
Public Forum to Celebrate the Diversity Of Muslim Women
25 June 2019
From appearing in the international comedy festival to helping refugees as a doctor in Afghanistan, the achievements of the panellists at an upcoming public forum "Celebrating Muslim Women" are impressive and varied.
"The Celebrating Muslim Women forum will show just some of the diversity of thought, lifestyle and achievements within New Zealand's community of Muslim women," says Leonie Morris, Auckland Women's Centre manager and forum organiser.
"Muslim women are leaders in our current national discussions regarding freedom, accountability and responses to racism, and we are proud to offer the public an opportunity to find out more about the people behind the headlines."
The forum panellists have a range of ages, ethnicities, origins and attitudes to the hijab: Mahvash Ali, journalist and associate producer of The Project; Commonwealth Young Leader Fatumata Bah; writer Latifa Daud, and Refugees as Survivors advocate counsellor Fahima Saeid who was a Médecins Sans Frontière doctor in Afghanistan before immigrating to New Zealand in 2001. Senior journalist Carol Hirschfeld will moderate the forum.
Ali was a storyteller at the New Zealand international comedy festival last month. "I am a lover of beaches, jandals, tip top ice cream. I don't understand the capital gains tax," she says. "Do I sound like a typical Kiwi? I sure hope so, because I feel like one!"
http://www.scoop.co.nz/stories/AK1906/S00617/public-forum-to-celebrate-the-diversity-of-muslim-women.htm
--------
URL: https://www.newageislam.com/islam-women-feminism/pakistani-outrage-bubbles-detergent-ad/d/118986
New Age Islam, Islam Online, Islamic Website, African Muslim News, Arab World News, South Asia News, Indian Muslim News, World Muslim News, Women in Islam, Islamic Feminism, Arab Women, Women In Arab, Islamophobia in America, Muslim Women in West, Islam Women and Feminism