New Age Islam News Bureau
28 Nov 2016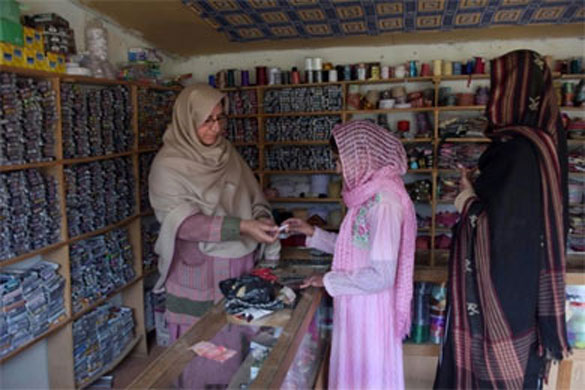 Pakistani Kashmiri social worker Nusrat Yousuf (L) sells stitching material to a customer at her shop in the women's market in Rawalakot ©Sajjad Qayyum (AFP)
------
• Turkey Detains 'Wanted Kurdish Female Militant' At Istanbul Airport
• Muslim Women's Group Puts Up Billboard That Condemns Violence
• Hijab Grab Escape: The Video That Helps Muslim Women Fight Bigotry
• Civil Status to Open Centres To Issue Women Ids in Schools, Universities in Saudi Arabia
• Cab Driver Gets Jail in UK for 'Misogyny' Against Muslim Women
Compiled by New Age Islam News Bureau
URL: https://newageislam.com/islam-women-feminism/pakistani-market-where-women-seek/d/109217
-------
Pakistani market where women seek justice – A women-only market
Nov 28, 2016
RAWALAKOT, Pakistan: A narrow path winds through Kashmir's Valley of Pearls towards 13 tin-roofed shops hidden in a rickety row, a women-only market that doubles as a space for those seeking help against the violence of Pakistan's patriarchy.
The market, in a small village outside the main city of Rawalakot in a conservative corner of Pakistani-held Kashmir, began simply as a place run by women for women. There they could buy and sell sewing supplies, visit clothing boutiques or train as beauticians-a welcome outlet for many struggling with the restraints on women in the deeply traditional Muslim area.
Social worker Nusrat Yousuf, who works with victims of domestic violence through the non-governmental organization (NGO) she heads, helped persuade a generous landlord to provide the land to set up the market in 2011.
Women in the area, she says, are forbidden by their families to work in the main markets in the area's towns and cities. "They become frustrated when they can't get jobs and spend their lives at home," the 48-year-old widow tells AFP.
The market, from which men were at first banned, provided a way around conservative beliefs, making women "economically strong". Yousuf describes it as a place "where they can visit and freely discuss all their issues-such as childbirth, menstruation, cooking, and domestic issues, and we find solutions".
From talking to fighting
That increasingly includes how to help divorced women and victims of domestic violence lodge complaints with police and fight their cases in the courts. Women have battled for their rights for decades in Pakistan. Hundreds are murdered each year-usually by male relatives-in so-called "honor killings" and disfiguring acid attacks are still common. Rights groups and politicians have for years called for tougher laws to tackle perpetrators of violence against women in Pakistan.
"Police were not arresting an influential man who cut off the nose of his wife three months ago," she says, describing just one of the cases she has handled from her office in the market. "She approached us, and our NGO staged a protest against police," Yousuf explains, adding that she then met with police officials and lodged a complaint. "Now the culprit is in police custody. We have hired a female lawyer to fight the case." she says.
Razia Bibi, a 35-year-old mother of two whose husband divorced her five months ago, described how Yousuf is helping her navigate the courts to seek alimony from her children's father. "I am hopeful that the verdict will be in my favor," she says. Yousuf says her NGO, the Pearl Rural Support Program, which brings together women's organizations in seven local villages, is also lobbying the government for a separate desk for women at every police station, where they can speak to a female officer "more comfortably".
Businesswomen
Yousuf says that, originally, men were banned from entering the market. Now they can enter-but only in the company of a woman. The market has made life easier, says customer Ayesha Bibi. "We had to travel to the main markets for such things in the past, and we needed the company of a male family member to go there," she explains.
It is also providing economic opportunity for those such as computer graduate Sara Rasheed, whose family refused her permission to work in any area dominated by men. She convinced them to allow her to open a beauty parlour and a garment shop in the market, she says. "I am earning a good income and saving lots of money for my future and family," she adds proudly.
Khurshid Begum, a 42-year-old widow and mother of four, opened a tailor's shop and teaches sewing to young girls there. "My business has flourished… My income has increased," she says. "We are trying to make more and more women skillful in future," Yousuf says. "I am very happy that I am achieving my goal." -AFP
http://news.kuwaittimes.net/website/pakistani-market-women-seek-justice-women-market/
-------
Turkey detains 'wanted Kurdish female militant' at Istanbul airport
28 November 2016
Turkish police on Sunday detained a woman accused of being a wanted Kurdish militant at Istanbul's main airport, state media said.
Sara Aktas was detained at Ataturk International Airport while seeking to travel to Germany, the state-run Anadolu news agency said.
It said she is accused of being a key figure in the Kurdistan Communities Union (KCK), which the authorities regard as the urban wing of the outlawed Kurdistan Workers Party (PKK). She faces up to 15 years in jail on charges of membership of an armed "terror" group, it said.
Turkish authorities have stepped up arrests of activists, journalists and even politicians suspected of links to the PKK in the wake of the July 15 failed coup.
Critics say that the state of emergency implemented in the wake of the coup has gone well beyond seeking to punish the coup plotters themselves.
MPs from the pro-Kurdish Peoples' Democratic Party (HDP) strongly disputed the official version of events, saying that rather than being a member of the KCK, Aktas is part of the Kurdish Free Women's Congress (KJA).
HDP MP Dilan Dirayet Tasdemir said on Twitter that rather than trying to escape Turkey, Aktas had been returning from Igdir in the east of the country with her nephew.
Another HDP MP, Besime Konca, rubbished reports that Aktas had been travelling on a fake passport under a false name, saying she had been simply returning to Istanbul from Igdir.
The PKK has waged an insurgency inside Turkey since 1984 that has left tens of thousands dead. Violence renewed in July 2015 after the collapse of a two-and-a-half-year ceasefire.
Ten MPs from the HDP, including the two co-leaders, were arrested earlier this month on charges of links to the PKK which they deny.
https://english.alarabiya.net/en/News/middle-east/2016/11/28/Turkey-detains-wanted-Kurdish-female-militant-at-Istanbul-airport.html
-------
Muslim women's group puts up billboard that condemns violence
November 27, 2016
An Islamic women's group is hoping a new billboard will encourage Edmontonians to meet their Muslim neighbours.
"We have been trying to combat misconceptions about Islam. Lots of people are misinformed, and there are some negative stereotypes about Islam which we, as practising Muslims, don't see," said Afshan Fatima, with the Islamic Circle of North America (ICNA) Sisters Edmonton. "For us, it is all about serving God through serving humanity."
The billboard, located at 106 Avenue and 101 Street, reads "Muslims condemn all violence," with a quote from the Qur'an: "To save a life is to save all humanity," encouraging those who see it to contact the ICNA for more information.
"If you have any questions, ask us rather than asking others," said Fatima. "When you go to people who practice the faith, you get the correct answers, you get the correct message and it really goes a long way to dispel misconceptions."
The ICNA sisters have already been active in community outreach, organizing community events to meet with and talk to those interested in learning more about what Muslim people believe, but said their work is even more IMPORTANT after anti-Muslim flyers started appearing in mailboxes in Edmonton.
"Ignorance breeds hatred, so we are trying to inform people so there is more communication between us and more harmony between peoples," said Fatima, adding that Islam is, above all, a religion of peace.
"To the individual people, there is nothing in Islam that says you have to kill innocent people or that it is good to kill innocent people. In the contrary, it protects general humanity, it protects people, and it says it is better to save lives than to take lives," Fatima said.
Those interested in learning more about Islam, or for free educational materials or copies of the Qur'an, may call ICNA at 1-800-662-4752.
http://edmontonjournal.com/news/local-news/muslim-womens-group-puts-up-billboard-that-condemns-violence
-------
Hijab Grab Escape: the video that helps Muslim women fight bigotry
Sunday 27 November 2016
Aina Khan
Since Donald Trump's election to office, anti-Muslim attacks in the US have eclipsed those that followed 9/11. However, despite this resurgence of fear and bigotry, 24-year-old Zaineb Abdulla from Chicago has remained adamant not to give in to the victim narrative.
By day, Abdulla works as a therapist for children with autism, but by night she delivers self-defence classes for Deaf Planet Soul (DPS) – a non-profit in Chicago that works with deaf and hard-of-hearing people. For four years, she has trained in Brazilian jiu-jitsu, a sport suited to smaller people fighting off larger opponents – ideal for someone of her 154cm (5ft 1in) stature.
On the morning Trump clinched the presidency, Abdulla received an avalanche of calls – not about the election, but from concerned Muslim women in her community.
"People wanted to know if [there were] strategies for defending against bigoted attacks. I looked online and saw there was nothing," she says. "I kept hearing on the news that someone tore off this woman's scarf and she sat on the floor and cried, or ran away crying; I'm so tired of that. Fear is a legitimate and reasonable reaction, but it's not the only reaction we can have."
On 16 November, she posted the now-viral video "Hijab Grab" escape, which she made with fellow fighters Misho Ceko and Patrick Gatbunton. The first hate-crime survival seminar, which she developed following the video, was held at DPS the following day.
"We're not passive receptacles for bigotry; we fight back, we stand up for our rights," she says of the video. "This is my country as much as it is John Smith's."
The tutorial is unique in that it includes American Sign Language (ASL), making it accessible to deaf women who, along with those wearing the hijab, often find themselves particularly susceptible to attacks. Abdulla believes the fact she wears a hijab signalled to women that this was a "safe space for people to train".
In the UK, British Muslim women are facing a similar backlash. An annual report released by Tell MAMA, an organisation that monitors anti-Muslim hate crime, said there was a 326% increase in anti-Muslim attacks even pre-Brexit, more than half of which were targeted towards visibly Muslim women. So, it's unsurprising that Abdulla's tutorial has been watched worldwide.
For Abdulla, self-defence is not only a means of non-violent protection, but also a way for women to assert their place at the table: "If we prepare ourselves and train enough, we're not only giving ourselves the option to kick ass – we're also giving ourselves the confidence to walk with our heads held high in this country."
https://www.theguardian.com/lifeandstyle/shortcuts/2016/nov/27/hijab-grab-escape-video-helps-muslim-women-fight-bigotry
-------
Civil Status to Open Centres To Issue Women Ids in Schools, Universities in Saudi Arabia
Nov 27, 2016
By Abdullah Al-Ghamdi
RIYADH — The Civil Status Department will open centres in universities and schools to issue national IDs for women.
Nasser Al-Abdulwahab, undersecretary for civil status in the Ministry of Interior, said the facilities to print out national IDs will be available in schools and universities in six weeks.
"There are 3 million women in the Kingdom without national IDs. Saudi females above 15 years can obtain own national IDs. We have already set up biometric cameras in places where we plan to set up the centers," said Al-Abdulwahab.
He said the ministry aims to issue national IDs to all eligible Saudi women by 2020, as decided by the Council of Ministers.
"The Ministry of Interior and the Ministry of Education have cooperated to set up centers to issue national IDs to middle and high school girls. The Ministry of Education organized an awareness campaign to encourage schoolgirls to issue their own national IDs," said Al-Abdulwahab.
He said there are 107 civil status offices for men while there are only 50 offices for women.
"The department is also cooperating with the Ministry of Finance to open more offices for women. Women offices will have longer working hours to enable as many women as possible to obtain their national IDs," said Al-Abdulwahab.
http://saudigazette.com.sa/saudi-arabia/civil-status-open-centers-issue-women-ids-schools-universities/
-------
Cab driver gets jail in UK for 'misogyny' against Muslim women
November 27, 2016
A 38-year-old cab driver, who pretended to be a doctor to impress Muslim women including from Pakistan and secretly filmed himself having sex with them to extort money besides threatening to shame them, has been jailed for eight and a half years in the UK.
He was convicted on charges of sexual assault, blackmail, voyeurism, theft and fraud against three victims at Cardiff Crown Court, where Judge Tom Crowther described his actions as "pure misogyny".
Farhan Mirza, from Abertillery, South Wales, met the women, who were looking for long-term relationships, using a false profile on a dating website. To impress and manipulate them into sex, he would hang surgical scrubs in his wardrobe and also carry a stethoscope, The Independent reported on Sunday.
In reality, he worked as a taxi driver and IT worker and lived with his mother, the report said. He also falsely told one woman he was an IT manager and his family were all in successful jobs, such as that his father was a company director in Pakistan and his sister was a doctor. Mirza used the videos to blackmail his victims, who were all Muslim women, the report said, adding that they were targeted because of the acute shame they would suffer if the films were made public.
He also threatened to send the videos to one of his victim's relatives in Pakistan, where she feared they could be targeted by extremist religious groups, it said. A victim went to the police after she discovered 70,000 pounds in cash at his house and intimate images of herself and other women.
"It is the prosecution's case that Mr Mirza is a particular kind of sexual predator and he chooses his victims carefully," the Guardian quoted prosecutor Timothy Evans as telling the court.
"Because of their religious and ethnic backgrounds, he targeted them because of the terror, embarrassment and humiliation that each of these ladies would have felt in their minds by what this defendant did to them," Evans said.
http://indianexpress.com/article/world/world-news/cab-driver-gets-jail-in-uk-for-misogyny-against-muslim-women-4398247/
-------
URL: https://newageislam.com/islam-women-feminism/pakistani-market-where-women-seek/d/109217
New Age Islam, Islam Online, Islamic Website, African Muslim News, Arab World News, South Asia News, Indian Muslim News, World Muslim News, Womens in Islam, Islamic Feminism, Arab Women, Womens In Arab, Islamphobia in America, Muslim Women in West, Islam Women and Feminism, Moderate Islam, Moderate Muslims, Progressive Islam, Progressive Muslims, Liberal Islam