New Age Islam News Bureau
1 Apr 2015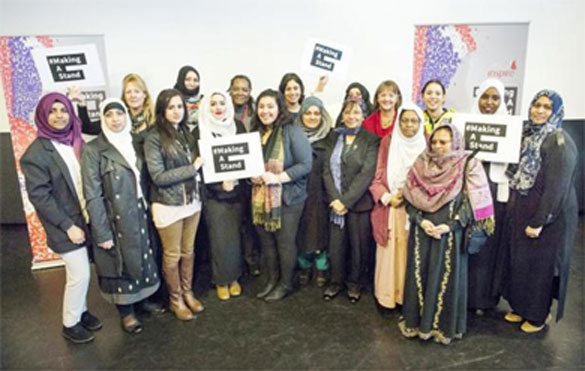 Women at the event to make a united stand and reject the 'barbarism' of Islamic State
--------------
• 70 Women, Including 9 Schoolgirls, Left Germany to Join ISIS
• Child Marriages Still Widespread In Rural Areas in Bangladesh
• Islamic State Widow Zehra Duman Lures New Jihadi Brides to Syria
• Female Wing of Jeddah Municipality Offers Superb E-Servives
• Muslim Women across East Lancashire Reject 'Barbarism' Of Islamic State
• In Thailand's Muslim South, Authorities Turn a Blind Eye to FGM
• Sexual and Reproductive Rights in Iran: Facts And Figures
• Saudi Female Students Present Research Papers On Several Pressing Issues
• Pak Children Assembly Pays Tribute to School Attack Victims
Compiled by New Age Islam News Bureau
URL: https://newageislam.com/islam,-women-and-feminism/new-age-islam-news-bureau/pakistani-man-sells-daughters-to-pay-jirga-fine/d/102224
---------
Pakistani Man Sells Daughters To Pay Jirga Fine
01 April, 2015
SUKKUR: Notwithstanding the fact that the Supreme Court has outlawed tribal Jirgas and Panchayats for adjudication of disputes, this parallel justice system continues unchecked in the rural areas of the country, especially in Sindh and Punjab.
A villager in Jacobabad district, who was fined by a Jirga, sold his three daughters to pay the fine – but still could not arrange the money to pay the penalty in full. The villager, Qadir Bux Sarki, resident of village Garhi Hassan near Thull, on Tuesday staged a protest outside the local press club against the Jirga decision.
Qadir Bux Sarki, a day labourer, was declared Karo with the daughter of Punhal Doho nine months ago. The girl was later put to death by her brothers and cousin.
Subsequently, local elder Sardar Zulfiqar Sarki convened a Jirga which declared Sarki karo and imposed a fine of Rs1.1 million on him. He requested the Jirga to reduce the amount but to no avail.
Ultimately the poor day labourer had to sell his three daughters, 14-year-old Noor Bano, eight-year-old Kaz Bano and three-year-old Zameeran, for Rs400,000.
Talking to The Express Tribune, SSP Jacobabad Malik Zafar Iqbal confirmed the incident and said that he has ordered an investigation into the matter.
He added that he has ordered an FIR to be lodged against the man responsible for holding the Jirga and the 'human trade' as it was a criminal offence.
Sardar Zulfiqar was unavailable for comment.
http://tribune.com.pk/story/862195/parallel-justice-system-man-sells-daughters-to-pay-jirga-fine/
---------
70 Women, Including 9 Schoolgirls, Left Germany To Join ISIS
01 April, 2015
More than 70 German women, nine of whom are schoolgirls, have left their home country for Syria and Iraq to join the Islamic State, the president of the German Domestic Intelligence Service (BFV) said.
According to Hans-Georg Maassen, 40 percent of those women are under the age of 25, Zeit Online reported.
While the recruitment of young girls and women by the Islamic State is not a rare phenomenon, Maassen warned that jihadists have lately focused on luring females to join the 'caliphate' via social networks.
Jihadists blog on the internet and are active on forums, where they look for women showing an interest in jihad, BFV's president said. Islamic State (IS, formerly ISIS/ISIL) militants then contact the girls and women to inspire them to marry jihadists.
Maassen says they write blogs with "romantic descriptions" of life in extremist camps, and the females have no idea about the future they are actually agreeing to. Most often, those who travel to be with jihadists are completely isolated, their passport and phones taken away.
According to Islamic scholar Marwan Abou-Taam, who works for the Rhineland-Palatinate state police in Germany, women attracted by such scenarios have psychological problems or feelings of social exclusion, Zeit Online reported. They often come from extremely poor families and have low levels of education.
Meanwhile, the expert says there are still a few young women among them with higher levels of education, adding that ISIS may consider giving them "management" roles.
Security services currently have no information on whether European women are intended to be used by the jihadists as suicide terrorists, but say they cannot exclude the possibility.
The German Domestic Intelligence Service says the overall number of those who have left the country to fight in Syria and Iraq on the side of the jihadists is around 650 people.
Earlier in March, German Interior Minister Thomas de Mazière said around 200 of them had returned home. Actions have already been taken against some of the returnees, while others remain under strict surveillance.
The Syrian Observatory for Human Rights earlier this month reported that ISIS has intensified the recruitment of children and teenagers this year, since facing difficulties in attracting adults into their troops. At least 400 children from Syria alone were recruited by ISIS over the past three months.
http://rt.com/news/245077-germany-women-join-isis/
---------
Child Marriages Still Widespread In Rural Areas In Bangladesh
01 April, 2015
DHAKA: Despite government efforts to curb the practice, child marriages are still rampant in the rural areas in Bangladesh contributing to population explosion along with illiteracy and lack of women empowerment in the country.
The official minimum age requirement for marriage among girls is 18 and for men 21 but many rural women get married at the age of 11 or 12. There are many reasons for child marriage, but most vital reasons among them are poverty, superstition, lack of proper education and social security.
Population growth in Bangladesh is little over 2 percent while the total population of the country is about 160 million. Bangladesh is one of the poorest and most densely populated countries in the world.
The country's Women and Child Affairs Ministry could not give an exact figure of child marriages in a year. But it said the number of child marriages has gone down as shown in the corresponding increase in the enrollment of girls in schools. The ministry said that proper education has created awareness among Bangladeshi women on the negative consequences of an early marriage not only on their health but also on their economic status. In fact, the ministry said, more and more girls are protesting against forced marriage at their young age and reports about this are being published in newspapers. A private television channel Shamoy on March 27 reported that parents have beaten their young daughter after she refused to get married but instead took the final examination in her school. She rejected the marriage arranged for her by her parents and told the television station that she wants to continue her studies to become a physician someday.
The incident happened in a remote village in the northern Joypurhat district.
Arranged marriages are still common in the rural villages in Bangladesh and usually the daughters have no choice but to follow their parents' order.
Another such incident took place earlier in the southern Barguna district. Because opposition to the arranged marriage, the young girl fled to capital Dhaka and sought help from concerned government agencies. She was given protection and assistance by the government.
It is reported that a brilliant young girl was forced to marry a man without her consent. She later broke her marriage and went back to school and her parents could not do anything about it.
Different women bodies are working to stop child marriages in the rural areas. They have started a campaign aimed primarily at parents who still believed that they have the right to marry their young daughters without the latter's consent.
According to a 2009 UNICEF report on the state of the world's children, early marriage is pervasive in Bangladesh with 64 percent of girls married before the age of 18. Early marriage often results in early pregnancy and many girls suffer from miscarriage later. One third of the girls aged 15 to 19 in Bangladesh are currently either mothers or pregnant.
Child marriage is legally prohibited in Bangladesh under the Child Marriage Restraint Act of 1929. The law stipulates that the legal age for marriage for girls is 18 years. This right to free and full consent to a marriage is recognized in the 1948 Universal Declaration of Human Rights (UDHR) and in many subsequent human rights instruments, consent cannot be considered free and full when at least one partner is very immature.
Bangladesh has also acceded on Oct. 5, l990 to the UN convention on consent to marriage, minimum age for marriage and registration of marriage. These international covenants, however, have little impact on the frequency of child marriages in Bangladesh.
The Bangladesh government has actually considered lowering the age limit for girls to marry from 18 to 16 in order to legalize early marriages.
But a women forum strongly protested the government plan, saying that the government's move in lowering the age limit for the girls in certain cases seems to be a trick to give an impression that the number of child marriage has gone down in the country.
http://www.dailytimes.com.pk/region/31-Mar-2015/child-marriages-still-widespread-in-rural-areas-in-bangladesh
---------
Islamic State Widow Zehra Duman Lures New Jihadi Brides To Syria
01 April, 2015
AUSTRALIAN Islamic State widow Zehra Duman has emerged as a recruiter of jihadi brides using encrypted messaging apps to lure foreigners to Syria.
Zehra Duman, who travelled to Syria last year to marry playboy Australian jihadist Mahmoud Abdullatif, offers followers private advice on the Kik and Surespot apps.
The 21-year-old, who has formed a friendship with the daughter of notorious Sydney terrorist Khaled Sharrouf, told ask.fm followers she was married for just five weeks ­before Abdullatif was killed in January.
The prolific social media user, who has attracted supporters across the globe, said her parents were shocked when she left Melbourne last year as she had shown no signs of radicalisation.
"They were shocked, as I never have been public with my jihadi views. But also heartbroken, as my mum was very close to me ... and she knows she will never see me again," she wrote.
Duman, who says women carry AK47s in Raqqa for "protection", said sisters weren't allowed to fight yet but craved martyrdom.
"But maybe one day soon it just might happen … which I can't wait for," she said.
The Turkish-Australian woman says she owns weapons including a "Klash, a pistol, knives, a bunch of grenades".
Other Australians, including Neil Prakash, a Fijian-Cambodian known as Abu Khalid al-Cambodi, have used ask.fm to recruit fighters and promote IS propaganda.
Prakash was a friend of former Kings Cross bouncer and senior IS recruiter Mohammad Ali Baryalei, who was killed last year.
Duman gives advice on how to travel to Syria to join the Islamic State.
"Main advice. 1. Put all your trust in Allah when planning things, and also when putting them into action. He will protect you and guide you through everything better then anyone. 2. Be a normal person," Duman said.
Duman, who calls herself Umm Abdullatif, claims there are other Melbourne "sisters" in the Islamic State and is believed to be living with friends since her husband's death. She has to find husbands for followers and said "Sham is filled with English speakers".
Her account issued a threat to Prime Minister Tony Abbott and told him to allow Australian Muslims to travel there to fight: "Let the truthful Muslims make Hijjrah. If you don't, your only adding fuel to the fire. Which means, attacks on your soil."
http://www.dailytelegraph.com.au/news/nsw/islamic-state-widow-zehra-duman-lures-new-jihadi-brides-to-syria-with-encrypted-messaging-apps/story-fnpn118l-1227286819055
---------
Female Wing Of Jeddah Municipality Offers Superb E-Servives
01 April, 2015
JEDDAH — With the rise in the number of businesswomen, Jeddah Municipality's female section opened its online portal for licensing and inquiries.
Jeddah Municipality female section supervisor Arwa Al-Aama said the section was established in 2010 to facilitate the processes between businesswomen and the municipality.
"Women can contact us through our website without the need to be physically present at our offices. This year alone, we responded to 2,444 inquiries. The users of our website have the option to rate our services in order for us to work on improving ourselves," said Al-Aama.
Jeddah Municipality female section Customer Service Supervisor Mariam Abu Al-Ainain said the section has processed 1,480 service requests in the past three months.
"We serve our users and all inquirers within eight minutes and offer the necessary technical support needed. Our online services are numerous and include issuance of license for events. So far, we have issued 1,000 event licenses for various commercial businesses," said Al-Ainain.
"Last year, we issued 886 licenses for new businesses through our online service. We also issue Productive Families licenses online without the need for a social insurance card as was the case earlier. Even our physical office is equipped with self-service screens," said Al-Ainain.
Al-Aama added behind each e-service, a committee reviews all requests and applications.
"The Ministry of National Economy and Planning will issue a projection of the needed industries and businesses in the job market. Currently, women are opening nurseries and day care businesses as there is a rising demand for child care services," said Al-Aama.
http://www.saudigazette.com.sa/index.cfm?method=home.regcon&contentid=20150401238887
--------
Muslim women across East Lancashire reject 'barbarism' of Islamic State
01 April, 2015
MUSLIM women across East Lancashire came together to make a united stand and reject the 'barbarism' of Islamic State (ISIS).
More than 20 women attended the event, held at a Burnley faith centre, in an effort to take the lead in combating extremism and radicalisation in their communities.
It was held as part of #MakingAStand events being held across the UK.
Women attended a series of events in key cities, from Birmingham to Leeds, in recognition of the valuable role they have to play in exerting their influence to fight extremism.
Sara Khan, director of the events' organiser Inspire, said: "Women are the backbone of our communities and the first line of defence against radicals.
"We know our role in challenging extremism is vital and honourable.
"As British Muslim women we value and believe in the principles of democracy, human rights and respect for all life.
"This is in complete contrast to the sheer evil and barbarism of the very 'un-Islamic' extremist groups who murder, rape and steal in the name of Islam.
"Abhorrent groups like ISIS and Al Qaida distort the teachings of our faith.
"They are a menace to our way of life – our families, communities and women's rights.
"We have seen first-hand in our communities the damage caused by extremists polluting young minds.
"We must do all we can to protect our sons and daughters.
"We believe it is imperative to reclaim our faith from extremists who have hijacked it to falsely justify their barbarity."
The event was held at the Faith Centre at Burnley Campus. The centre was established in September 2006 and is funded by the county council.
As part of the #MakingAStand campaign, which initially launched in 2014 with support of the Home Secretary Theresa May, Inspire is urging Muslim women within the UK to reject the threat of extremism by taking positive action, however small, within their homes and communities.
#MakingAStand was created in the wake of widespread reporting of atrocities committed by ISIS and their call for Muslims to commit cold-blooded murder in the streets of Western countries.
For more information, visit: wewillinspire.com n Isis has captured more than a third of Syria in addition to a quarter of Iraq.
The frontiers of the new Caliphate declared by Isis have been are expanding by the day and now cover an area larger than Britain and inhabited by at least six million people, a population larger than that of Denmark, Finland or Ireland.
http://www.lancashiretelegraph.co.uk/news/12863734.Muslim_women_across_East_Lancashire_reject____barbarism____of_Islamic_State/
---------
In Thailand's Muslim south, authorities turn a blind eye to FGM
01 April, 2015
Eight-week-old baby Amiyah grimaces when sunlight falls on her face as though she isn't used to the idea of having been born yet. On a Saturday afternoon, in Thailand's southern Pattani province, her Muslim mother has brought her to a small clinic so midwife Dah can slice her clitoris for sunat. The practice, a form of female genital mutilation (FGM), has been banned by the World Health Organisation.
In majority Buddhist Thailand, the public health department says FGM does not happen. But in the three southernmost provinces of Yala, Narathiwat and Pattani, ethnic Malay Muslims are a majority. Some are locked in an intractable conflict with the Thai government, which labels them insurgents. Here, midwife Dah says she has cut almost all female births she has attended.
"Her clitoris is so small," says Dah, 64, who seems a little flustered as she swabs the crying baby's vulva with alcohol with her gloved hands. Despite her experience, she is having difficulty finding the clitoris as the baby squirms on the operating table. She holds a sterile surgical blade, for which she has fashioned a handle out of tin foil.
After five long minutes, during which the baby cries relentlessly and the mother tries to comfort her, the incision is finally made. The midwife mops up a drop of blood with a cotton swab, recites the name of God, and declares the baby "circumcised".
"I feel relieved that I have done my duty," the mother says.
The conflict in the southern Thailand can make it hard for women to access healthcare, according to Dr Sudarat Teeraworn, a public health supervisor for maternal health in neighbouring Yala province. Sudarat says FGM isn't on the health ministry's agenda – though according to her, almost every Muslim baby girl in the south is cut.
"There are no laws about it because there are not many health consequences, and it's a cultural practice," she says.
Thai health authorities have taken a pragmatic approach, apparently turning a blind eye.
FGM as practised in Thailand falls under type IV in the WHO's classification, which involves pricking, piercing, incising, scraping and cauterisation. Types I and II involve excision of either clitoris or labia or both, and type III includes a procedure where the vulva is sutured together after removal of the clitoris and labia. The WHO says the procedure has no known health benefits, arises from a deep-seated gender-bias, and amounts to a violation of both children's and women's rights.
Just across the border in Malaysia, a study conducted in 2011 showed 93% of Muslim women have been cut, including in Kelantan state on Thailand's border, which is culturally and religiously similar to Pattani. Though the practice dates back centuries for Muslims living across the Malay peninsula, Malaysia's highest religious authority did not issue a fatwa until 2009 requiring the cutting of all Muslim women.
Malaysia's fatwa has put health workers in an awkward position. As women increasingly give birth in hospitals, mothers looking for a safe way to cut their female babies are essentially asking doctors to break WHO guidelines.
To reduce the prevalence of FGM in Malaysia , Saira Shameem, who works for the UN Population Fund (UNFPA) in Kuala Lumpur, is working with health authorities to make the practice symbolic, with a routine alcohol swab performed by obstetricians at birth. "What the fatwa does not do, is it does not specify what the procedure should be," she says, "that allows us an avenue to define the procedure in a non-invasive, non-harmful manner and shift the practice accordingly."
In southern Thailand women are also increasingly giving birth in hospitals. Traditional midwives who pass their trade on from generation to generation are disappearing, and mothers are increasingly having their babies cut by doctors.
Many women in southern Thailand don't even know they've been cut until adulthood, when they read about it. The practice is not talked about.
Dr Patimoh Umasa is one of the only female doctors in Yala, where she runs a small clinic on the edge of the city's Muslim quarter. She knows the WHO guidelines, and doesn't believe what she does directly contravenes them. "If it is done by a doctor and they are using the right technique, then never mind," she says. "It's just a little. Just an incision, no excision."
But doctors such as Nawal Nour, director of the Global Women's Health Centre at Harvard Medical School, believes a "right technique" does not exist. "There are girls who suffer short and long-term consequences, even from type IV," she says. "The clitoris on a baby girl is tiny, and in error, cutters can remove it completely. Also botched jobs can lead to haemorrhage, infection, sepsis and death."
Back in Pattani, Peung, 33, has gathered her family together to watch her eight-month-old daughter, Mia, being cut by her mother-in-law, who is sterilising a pair of nail scissors with alcohol. Some of Mia's cousins are playing on the floor in the living room.
Peung's two older daughters are curious. "What are they doing? Will it hurt?" they ask. "Sunat, we all must do it," Peung responds. "The children are so eager, but it is not good for them to watch this. It will become a phobia for ever." She caresses her youngest infant, about to be cut. "At least she doesn't know what's going on here."
The baby's grandmother draws blood from the clitoris with the curved tip of the nail scissors, a technique she says she developed herself to be safer. Mia cries loudly.
Peung is pleased her daughter is now "complete", but she isn't sure why. "I don't know what the benefit is behind it, but I believe there must be one. I know the prophet said it is desirable for the husband when women are cut. Actually in Islam we believe that women have more desire than men, so there must be something to control the women, give them humility and modesty – and this could be one way to do it. Maybe in the future the scientists will find out and then we will know the benefit. All the girls here in the south do it."
http://www.theguardian.com/global-development/2015/apr/01/thailand-muslim-south-authorities-blind-eye-fgm-who
---------
Sexual and reproductive rights in Iran: Facts and Figures
01 April, 2015
Women in Iran could face significant restrictions on their use of contraceptives and be further excluded from the labour market unless they have had a child, if two proposed laws are approved, says a new Amnesty International report out today.
You Shall Procreate: Attacks on women's sexual and reproductive rights in Iran details the extreme lengths the Iranian authorities are going to in order to encourage repeated childbearing in a misguided attempt to boost the country's declining population figures.
Here are some of the facts and figures behind the report:
Current population of Iran: 78.5 million
Iran's authorities are seeking to increase the population to: 150-200 million
Iran's declining birth rate: Seven births per woman in 1980, 5.5 in 1988, 2.8 in 1996 and 1.85 in 2014.
Family planning
Funding for Iran's Family and Population Planning Programme which previously provided sexual and reproductive health services and information (including dispensing modern contraceptives at subsidized prices) was cut off completely in 2012.
Top three most commonly used types of contraception by Iran's 21.5 million married women and girls (aged 15-49): 15.05% oral contraceptives, 14.15% voluntary sterilization, 13.77% condoms.
In 1976, only 37% of women were using at least one method of contraception; by 2000 this figure had reportedly risen to 72%.
In 2010 the contraception rate reached a high of nearly 79% for married girls and women living in urban areas and 73.78% for those in rural areas.
Unsafe abortions are the third largest cause of maternal mortality worldwide. According to the World Health Organization, in 2008, 21.6 million unsafe abortions took place globally, leading to the deaths of 47,000 women and disabilities for an additional 5 million.
Around 215,000 maternal deaths could be avoided through the use of contraception according to the UN Population Fund.
17% of women in Iran (age 15-64) are actively engaging in the labour market, either by working or looking for work.
Increasing restrictions on women's employment opportunities have led to an annual decrease of 100,000 in the number of women in employment over the past eight years.
The unemployment rate for women 16.8% is almost twice that of men 9.1%
Early and forced marriages are common in Iran with 41,226 marriages of girls between the ages of 10 and 14 in 2013-2014, and at least 201 girls under the age of 10.
Between March 2013 and March 2014, more than 2.9 million women received a police warning for their perceived failure to observe the Islamic dress code.An additional 207,053 women were forced to sign a written statement promising not to re-commit the "offence" of "improper veiling" (bad-hijabi). A further 18,081 women were referred to judicial authorities for prosecution and punishment.
https://www.amnesty.org/en/articles/news/2015/03/sexual-and-reproductive-rights-in-iran/
--------
Saudi Female students present research papers on several pressing issues
01 April, 2015
JEDDAH — There is hardly one percent support for Daesh (the so-called IS) in the Kingdom, a recent study has revealed.
Amal Al-Malki, a Princess Noura University student, noted in her research that she examined online content of Daesh and surveyed over 160 persons. She also reviewed the terror network's social media accounts and concluded that the Daesh has been able to lure several youths toward its deviant ideology only because of its propaganda and speeches of its figureheads. Al-Malki noted in her recommendations that there must be cooperation between ministries of information and Islamic affairs to root out these deviant thoughts from the youth.
She added that the Ministry of Education must set up committees that shall tour universities and schools to educate students about Daesh ideology.
On another note, those participating in the sixth Students' Conference here clapped enthusiastically for a visually impaired student who presented her research about the obstacles visually impaired students face in pursuing higher education. She was not able to see the positive impression she made on the pubic but huge rounds of applause were there to encourage her.
She stated that they find difficulty in research work as they cannot find the required references in audio or Braille format. She demanded that course books and references be provided in a PDF format that can be user-friendly for visually impaired individuals.
She said there were specialized reading machines but were very costly and beyond the reach of common families.
Another research paper addressed the use of antibiotics without medical prescriptions. Students from Taif University conducted a survey of over 1,000 females ranging from 12 to 60 years old and revealed that 60 percent of them use antibiotics without contacting doctors.
Roba Zarah and her classmates conducted a research among mothers mainly because they were responsible for their families and children. She added that carelessness in using antibiotics can affect pregnancy and breastfeeding. She added that out of ignorance, several women use antibiotics for viruses and common cold. She also blamed pharmacists who provide these medications to the public without prescriptions from doctors. The study recommended increasing awareness and called on doctors to play a role in tackling this issue.
A project provided a solution to reuse water that seeps out of air-conditions. This wasted water, noted the researcher, can be used in cleaning toilets. Her observations revealed that each air-conditioner can provide at least 4 liters of water each hour in the summer. She added that she is seeking a sponsor to finance and implement her project.
Abdul Qadir Al-Fantookh, head of the organization committee of the conference, said the ministry has provided SR20 million for innovations and researches last year. He added that about 730 projects are competing in this year's conference being attended by students of different specializations and coming from different regions of the Kingdom representing 42 universities.
http://www.saudigazette.com.sa/index.cfm?method=home.regcon&contentid=20150401238894
--------
Pakistan Children Assembly Pays Tribute to School Attack Victims
01 April, 2015
LAHORE: The provincial assembly on Tuesday paid tribute to the martyrs of Army Public School Peshawar with the demands that government must provide proper security to the educational institutions especially during off hours, provide libraries in their schools along with quality education.
The second Provincial Children Assembly was organized by South Asia Partnership – Pakistan (SAP-PK) with the collaboration of We Can at Ali Institute Auditorium here on Tuesday. A large number of children and their teachers from 15 schools of Lahore district participated in the Assembly. Participant's basic focus was to demand security for the children, not to keep quiet, but to say and act to achieve the goal to educate every child in Pakistan, that this going to be our revenge from those cowards, who attacked and killed innocent children and teachers, to highlight the importance of education.
Children demanded for the provision of psycho-social support to the children to overcome that fear, whenever they recall the brutal attack by the coward terrorists at Army Public School Peshawar and when they look at the safety measures and gun men sitting at the rooftops of their schools, how they feel about and they said that is this an enabling environment for getting educations at school, they and their parents feel insecure in such an environment at schools.
The program was mainly presented by the children and was focused on the theme "Empower the youth and Save Future". Children showed in these program that how they are perceiving Pakistan after 10 years as the next young generation of country, under the panel discussion "where we see Pakistan in next 10 years, " what immediately changed needs to be changed to make this country a better place to live," they raised 5 main points on the issues and how to resolve them.
While addressing the Assembly, PML-N Youth Council Punjab Rizwan Butt said that Punjab government is focusing on basic things which required in schools like washrooms, clean water, class rooms and trained teachers. Giving an answer he said that may be Punjab government is not focusing on the issue of libraries in primary and secondary schools because students could not divert from your own curriculum. He further said that PML-N government and Pakistani ARMY forces has take strict measures against terrorists to made National Action Plan. "We have not adopted the behaviour of developed nations however we build multi-stories buildings and towers", he added.
PML-N MPA Nabeera Andleeb said that Punjab government is giving attention to build the image of government schools among children and their parents. They said that in which result million of children has been enrolled on government schools of Punjab. She accepted that government has not allocated those funds which required for the development of schools and solve their problems. She further said that people of the society should play their own role and stand in front of the enmity of country for saving the nation.
National program Manager Naeema Malik presented education situation in 11 districts of Punjab. She told the detailed objectives of the Children Assembly. She said that learning how to get along well with others is one of life's most important challenges; children have the opportunity to observe, learn and practice the many social skills they need to get along and build friendship with their peers.
Farzana representative from We Can concluded the program and said "we have tried to show everyone that the children have a better understanding about their issues and they have better understanding about the issues and have more logical suggestions and practical demands, she said. Children also displayed their paintings on peace, and their vision that how the look their motherland free from conflicts, violence and terrorism.
http://www.dailytimes.com.pk/punjab/01-Apr-2015/children-assembly-pays-tribute-to-school-attack-victims
---------
URL: https://newageislam.com/islam,-women-and-feminism/new-age-islam-news-bureau/pakistani-man-sells-daughters-to-pay-jirga-fine/d/102224