New Age Islam News Bureau
2 Jul 2016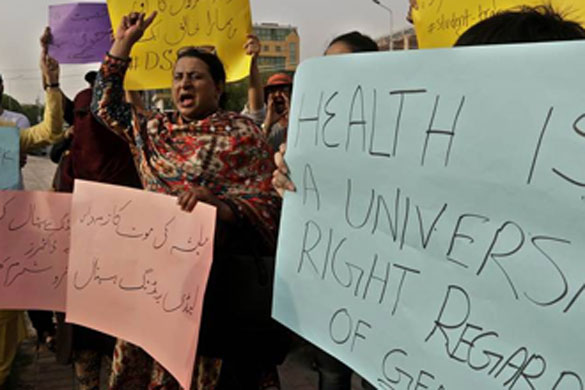 Photo: People protested the killing of a transgender person, who was shot and killed by unknown gunmen in Peshawar, in Lahore, Pakistan, May 28, 2016. Photo: Rahat Dar/European Pressphoto Agency
---------
• Taliban Chief Talks about Reforms Including Women's Rights in His Eid Message
• Iranian Women Say They Can't Attend Volleyball Matches
• Lebanese Christian Women Take Up Arms to Send Jihadis 'Straight to Hell' After String of Suicide Attacks
• Donald Trump Condones Supporter's Request to Fire Muslim Women Border Security Staff Who Wear 'Hibi Jabis'
• Minnesota Woman's Al-Shabab Guilty Plea Unveiled, Linked To Virginia Terror Case
• Easier to Spot a Liar in a Niqab, Says Study Challenging Canada's Courtroom Ban On Muslim Veils
• Meet the first Arab woman to scale the seven summits
Compiled by New Age Islam News Bureau
URL: https://www.newageislam.com/islam,-women-and-feminism/new-age-islam-news-bureau/pakistani-islamic-clerics-say-transgender-men-and-women-have-right-to-marry/d/107839
---------
Pakistani Islamic Clerics Say Transgender Men and Women Have Right to Marry
Jun 28, 2016 8:30 am IST
A group of over 50 Islamic clerics in central Pakistan issued a fatwa, or religious pronouncement, on Sunday, saying transgender men and women have the right to marry in Islamic law, and that the state must ensure equal rights and treatment for them.
The fatwa was issued by the clerics on the request of the Tanzeem Ittehad-i-Ummat Pakistan, an Islamic organization. Its chairman Zia-ul-Haq Naqshbandi said he wanted Islamic scholars to provide a ruling to help prevent discrimination against transgender citizens.
"We need to accept them as God's creation too. Whoever treats them badly, society, the government, their own parents, are sinners," Mr. Naqshbandi said Monday. His organization isn't among the country's major Islamist groups and political parties, but the fatwa was discussed on TV by the head of an influential group of clerics, who said the rights were already outlined in Islam.
Rights activists said the fatwa takes a limited view of transgender citizens, ignoring the sub-categories within the identity. The pronouncement said transgender men with male physical characteristics can marry women or transgender women with female characteristics, and vice versa. The fatwa's authors wrote that those not physically identifiable as male or female can't marry under Islamic law. They didn't specify the criteria for determining male or female characteristics in transgender people. Mr. Naqshbandi said the fatwa doesn't deal with the rights of people who have undergone sex-change surgery.
"I don't quite understand it. They've said trans men can marry women, and trans women can marry men. The transgender identity is nowhere," said Bindiya Rana, a transgender rights activist based in the southern city of Karachi.
The fatwa said the Pakistani state is responsible for protecting the transgender community, and that they have rights to inheritance and Islamic burials. The authors called on the Pakistani state to punish parents who abandon or disown transgender children because of their identity.
Transgender Pakistanis face discrimination, mockery and even violence. Most find it difficult to find jobs, despite rulings from Pakistan's Supreme Court in recent years that said the government should allocate quotas for the transgender community and provide them identity cards. Many take up begging and dancing at events to make ends meet while some are forced into prostitution. Transgender rights groups say government action has been insufficient, and the community continues to suffer.
Rights groups say transgender people who marry are often threatened with police cases for being in a homosexual relationship, which is a crime in Pakistan. The state rarely prosecutes people for homosexuality, but members of the LGBT community are often harassed and threatened by officials.
"They've opened a window, and other windows will open because of this, because the religious community has started a conversation," said Qamar Naseem, co-founder of rights group Trans Action Khyber-Pakhtunkhwa. "Now we need to take this forward and get a legal interpretation from the courts."
blogs.wsj.com/indiarealtime/2016/06/28/pakistani-islamic-clerics-say-transgender-men-and-women-have-right-to-marry/
--------
Taliban chief talks about reforms including women's rights in his Eid message
By Khaama Press - Sat Jul 02 2016
The newly-appointed supreme leader of the Taliban group Mawlavi Haibatullah Akhundzada has promised to bring reforms under his leadership including the women's rights.
Akhundzada made the commitment in his message released on the eve of Eid-ul-Fitr, saying "I will try for better reform of courts and efficient conduct of affairs, including release of the prisoners, treatment of the injured, the rights of the women as per Sharia, to help orphans and miserable people, education and moral training of the emerging generation, and procurement of equipment for endeverouring Mujahideen."
The latest commitment by Akhundzada vowing reforms in women's rights comes as the Afghan women suffered the most during the rule of the Taliban regime.
The women and girls were deprived of most of their basic rights including accesss to education due to the strict interpretation of Sharia by the Taliban group.
In other parts of his message, Akhundzada called on US to withdraw from the country claiming that the US-led forces are engaged in a war with the Afghan nation.
Akhundzada also called on other Muslim nations to support the group's insurgency and ruled out that the group is waging violence in the country with the support of the neighboring countries, including Iran and Pakistan.
"We say to those who attribute the Jihadic valor of the Islamic Emirate to Pakistan and Iran and to others that the Mujahideen and the conscious people could not be derailed from their course of actions as a result of such distorted interpretations," Akhundzada said.
The remarks by Akhundzada comes as the Afghan officials have long been criticizing Pakistan for allowing the Taliban group and Haqqani netowrk to use its soil as safe havens from where they conduct attacks in Afghanistan.
The Afghan officials are saying that the leadership councils of the Taliban and Haqqani terrorist network are based in Quetta and Peshawar cities of Pakistan, arguing that the killing of Mullah Akhtar Mansoor in Balochistan proves their claims that the Taliban are using Pakistani soil for waging violence in Afghanistan.
khaama.com/taliban-chief-talks-about-reforms-including-womens-rights-in-his-eid-message-01394
--------
Iranian Women Say They Can't Attend Volleyball Matches
July 2, 2016, 6:51 am
(AP) — Iranian women report they are being barred from attending a major volleyball tournament featuring the Olympic-bound men's national team, reigniting a debate about whether Iran should be allowed to host international matches.
Despite a commitment from volleyball's world governing body that women would be able to attend this weekend's World League tournament at the Azadi Sport Complex in Tehran, Iranian women who have pushed to make sporting events more open say they haven't been able to purchase tickets despite multiple efforts to buy them online.
Female fans are traditionally barred from attending male-only sporting events in Iran — efforts by authorities to enforce strict interpretations of Islamic norms — but many women are pushing to change that practice.
The International Federation of Volleyball, Switzerland-based FIVB, streamed the Argentina-Italy and Iran-Serbia matches Friday, showing a section of women in the stands. It was unclear if the women were members of the general public or invited guests and VIPs. A female announcer handled substitutions during Iran's match.
FIVB released a statement noting that the Iranian federation said Friday's matches sold out within five minutes, and that 466 of the 5,000 tickets were allotted for a section set aside for women. The area of seats, shown repeatedly on the livestream, didn't appear that large.
From the moment tickets became available, the website for sales said the female allotment had been filled, according to several women who say they tried to purchase tickets.
"Honestly when I saw their 'statement,' I said, 'If FIVB were Pinocchio, their nose was from Lausanne to Tehran.' Why they lie this much?" said a 32-year-old Iranian female representative from a group called Open Stadiums. She declined to give her name out of concern for retaliation. The Open Stadiums Twitter account identifies itself as "A movement of Iranian Women seeking to end discrimination and let women attend stadiums."
Tara Sepehri Far, an Iran researcher with Human Rights Watch, has tracked the controversy.
"We've been following the case closely and I am disappointed to say that despite FIVB's claims to have assurances from the Iranian Volleyball Federation, the tickets have not been available to women so far," she said in an email to The Associated Press along with a screen shot of the ticket website.
In 2012, the long-time ban on women from soccer matches in Iran was extended to volleyball. Former US Secretary of State Condoleezza Rice last year called the ban "ridiculous" and said that nations that are part of international bodies should respect women's rights.
FIVB has pushed Iranian officials to make concessions for women. The sport's profile is rising in the country, tied to the national team's success.
Eighth-ranked Iran qualified for its first Olympic tournament as one of the 12 teams set to play in Rio de Janeiro this August.
"It is important to emphasize that this is a first step of a long-term campaign to reinstate female spectators at volleyball events in Iran and one which the FIVB is 100 percent committed to," FIVB said in a statement. "Our policy is one of engagement and diplomacy to secure inclusion through sport not through the threat of isolation. While we understand that volleyball alone can't enforce change, we appreciate that we have a significant platform for creating dialogue and the FIVB will continue to strive for sport's power as an agent for positive change to be fully realized."
For a February beach volleyball event at Iran's Kish Island, women weren't allowed to watch the tournament with FIVB claiming "misunderstandings" were at the root of the issue. Women then were later allowed to see play from a cafe overlooking the main court.
The issue first drew international attention in June 2014, when British-Iranian student Ghoncheh Ghavami was detained when she tried to attend a men's volleyball match at Azadi. She spent more than 100 days in prison, much of it in solitary confinement.
The case prompted FIVB President Ary Graca to urge Iranian officials to release her. He told the volleyball federations at the end of their world congress: "We never normally seek to interfere with the laws of any country. But in accordance with the Olympic Charter, the FIVB is committed to inclusivity and the right of women to participate in sport on an equal basis."
Also, in November 2014, FIVB said Iran would not be chosen to host a boys' under-19 world championship in the wake of Ghavami's imprisonment. She was initially sentenced to a year in prison for spreading propaganda before charges were dropped.
USA Volleyball board chair Lori Okimura also has been outspoken on the cause.
"This blatant gender discrimination of not allowing women access to purchase tickets to watch their teams play in Tehran, to me, significantly diminishes the accomplishments of the national teams in the world's view," she said Thursday. "Continuing to award Iran international volleyball events, when this condition is in effect sends the message, loud and clear, that gender discrimination is accepted by the FIVB and its 221 member federations. It is not."
The woman from Iran with Open Stadiums watched on television from home Friday night alongside her mother and sister — eating sunflower seeds and having dinner, not much different from a US baseball game.
"We always watch because we really like our team. I'm sport fan!" she said. "Usually I watch many sport matches."
timesofisrael.com/iranian-women-complain-they-cant-attend-volleyball-matches/
--------
Lebanese Christian Women Take Up Arms to Send Jihadis 'Straight to Hell' After String of Suicide Attacks
July 1, 2016
Women pose with guns in front of journalists in the Christian village of Qaa, where suicide bomb attacks took place on Monday, in the Bekaa valley, Lebanon June 28, 2016.
Christian women in a Lebanese village rattled by two waves of deadly suicide attacks earlier this week are taking up arms, vowing to protect their homes and threatening to send any future jihadis who attack "straight to Hell."
The day after eight Islamic terrorists killed five and wounded many others in suicide attacks in the predominantly Christian border village of Qaa, Christian women in the town were photographed patrolling the streets armed with assault rifles.
Although the village is just miles from Lebanon's border with conflict-stricken Syria, Christians in Qaa are refusing to bow to the fear of violence and terror and will not flee from their homes like hundreds of thousands of other religious minorities in the terrorized region have done.
On Tuesday, Reuters published photographs taken by Hassan Abdallah that featured three Christian women brandishing assault weapons and talking with journalists while walking down the streets of Qaa with Lebanese lawmaker Marwan Fares.
In an interview with the organization A Demand For Action, which advocates for the protection of Assyrian, Chaldean and Syriac Christians, an anonymous Christian woman living in Qaa asserted that she and others in the village are not going anywhere despite the dangers and close proximity to the Syrian civil conflict, the Islamic State and other terrorist groups.
"We will not allow Lebanon to become a new Iraq," the woman was quoted as saying. "We will not flee, we have weapons and are ready to protect ourselves."
The woman referenced a notion that Islamic jihadis believe that they will be sent to Hell and won't be granted 72 virgins if they are killed by a woman. She promised to make the terrorists' worst fears come true if they plan to come to her town again.
"Jihadists think they go to Hell if they are killed by women," she said. "We will send them straight to Hell."
Member of the Syrian Social Nationalist Party and Lebanese MP Marwan Fares stands with women who are posing with guns and talking to journalists in the Christian village of Qaa, where suicide bomb attacks took place on Monday, in the Bekaa valley, Lebanon June 28, 2016.
The president of the Syriac League of Lebanon and a prominent advocate for Middle Eastern Christians, Habib Afram, told The Christian Post on Thursday that it wasn't just the women of Qaa who had taken up arms. He said "all" of the villagers in Qaa had expressed a willingness to stay and had taken up arms.
Afram stressed, however, that the phenomenon of Christian villagers taking up arms in Lebanon is not new.
"The tradition is that arms are a part of what we call the furniture of Lebanese houses," Afram said. " On a personal level, most of the families in Lebanon, especially in villages in urban places, they have arms. It's local, it's not yet a militia-like style, it is not very well organized as a militia style but it is in all Lebanon that most of the population has arms inside the houses."
Afram added that Christians, especially, have more of a need to take up arms to protect their lands because Muslim security forces usually will not protect Christian communities.
"There is an extra fear from the Christian population because of what we have seen happening in the Middle East, they are the weak link in this part of the world where there is a big fight between the two big Muslim groups," Afram explained. "The Christians are not backed by anyone and they don't have power and they are victims."
"On a daily basis, Christians are leaving this part of the world because they don't see any hope," he continued. "They don't see any political regime where diversity is accepted, their equal rights are accepted."
A Demand For Action executive director Steve Oshana told CP that although Christians in the Middle East have historically been peaceful people, there is a true need for Christians in Lebanon, Iraq and Syria to do what they can to defend their communities because "institutional security forces have either abandoned [Christians] or aren't going to protect them."
"It is 100 percent out of necessity," Oshana said. "It took, in a lot of cases, getting to the point of genocide. I think that is both a reflection of how bad the situation is and a reflection of how profoundly and deeply peaceful our people are."
The fact that Christian villagers are having to take up arms shows how the world has failed Middle Eastern religious minorities, Oshana concluded.
"The reality is for us that this has turned into an all-hands-on-deck situation," Oshana added. "The fact that it has come to this and come to where, in a lot of places, everyone has to pick up arms is a reflection of how systematically they have been failed by the world, by the U.S. and other governments. This is systematic failure of institutional power to protect minorities."
christianpost.com/news/christian-women-lebanon-take-up-arms-send-jihadis-straight-to-hell-suicide-attacks-165915/
--------
Donald Trump condones supporter's request to fire Muslim women border security staff who wear 'hibi jabis'
July 1, 2016
He replied 'I understand that' and 'We're looking at that'
Mr Trump did not make any attempt to disagree with his supporter's comments YouTube
Donald Trump has appeared to condone a woman's racist comment that muslim women who work as border security staff and who wear "hibi jabis" should be fired.
During a question and answer session at a town hall event in New Hampshire, a woman asked him: "Why aren't we putting our military retirees on that border or in TSA? Get rid of all these hibi-jabis they wear at TSA? I've seen them myself."
"I understand that," Mr Trump responded.
The woman then proposed replacing the Muslim employees with military veterans who "fought and defended" the US.
"You know, we are looking at that," Mr Trump replied. "We're looking at a lot of things."
The Transport Security Administration were not immediatey available for comment.
The Republican nominee's failure to condemn his supporter's comment will do little to convince Americans that he supports the American Muslim community.
In November he called for a temporary ban of all Muslims entering the US, and has repeatedly talked of the need to act "tough" and "smart".
"By appearing to endorse the bigoted views of one of his supporters, Donald Trump is placing all American Muslim women who wear Islamic attire in danger," said Robert McCaw, the government affairs director of the Council on American-Islamic Relations.
CAIR has reported an "unprecedented spike" in anti-Muslim incidents since the terrorist attacks in November and the San Bernardino shootings in December 2015.
"American Muslims, and particularly Muslim women, are facing an unprecedented spike in discrimination and hate attacks, due in no small part to Donald Trump's Islamophobic rhetoric and policy proposals," he added.
Instead, Mr Trump has repeatedly pledged to help retired military veterans.
He skipped a Fox News presidential candidate television debate at the start of the year to attend a fundraising event for veterans, and later claimed he had raised millions of dollars.
He came under fire for taking more than six months to reveal which veteran charities he had donated to and how much money he had given.
independent.co.uk/news/world/americas/donald-trump-condones-supporters-request-to-fire-muslim-women-border-security-staff-who-wear-hibi-a7114656.html
--------
Minnesota woman's Al-Shabab guilty plea unveiled, linked to Virginia terror case
July 1, 2016
Two years before federal agents searched her Twin Cities home in 2014, Amina Mohamud Esse told fellow members of an online community that sent money to Al-Shabab that the FBI had contacted her.
It was a lie. She wanted out.
Esse will testify later this month in Virginia against the alleged ringleaders of a network prosectors say sent thousands of dollars overseas to the Somali militant group, according to court documents unsealed this week.
Her case, including a November 2014 guilty plea on charges of supporting Al-Shabab, had been kept secret until now over concerns for her safety and the investigation.
Esse admitted to sending roughly $850 to a Nairobi-based co-conspirator in a series of payments at the direction of Muna Osman Jama,, who awaits a July 11 federal bench trial in Virginia along with Hinda Osman Dhirane,.
Esse is still awaiting sentencing, pending the outcome of her cooperation. The single mother has moved and is under government protection, attorney Robert Sicoli, said.
She offered to cooperate shortly after her 2014 arrest. "She basically said that she felt bad for what she had done," Sicoli said. "She remembered specifically that when she needed help financially, the [U.S.] government had come to her assistance."
Esse's role in the scheme, and her eventual reluctance, are documented throughout a 69-page trial brief filed by the government ahead of the trial. In summer 2012, Esse warned Jama that she had been contacted by the FBI. But, according to court documents, it was a lie designed to distance herself from the defendants.
"The ideology didn't make sense to her anymore," Sicoli said Friday. "What they were doing — it didn't seem right. She didn't buy it, and she started to question it."
Not long after her arrest, Sicoli said, Esse agreed to help the FBI identify additional co-conspirators and further investigate Al-Shabab supporters.
Jama and Dhirane were arrested in June 2014 and charged with 20 counts of providing material support to a foreign terrorist organization. Jama herself allegedly sent more than $3,300 overseas to help Al-Shabab. Three others overseas were also charged, including their alleged point of contact in Nairobi.
Spokesmen for the U.S. attorney's office and the FBI declined to comment Friday.
Though not publicly known until this week, Esse's case is one of more than 20 federal Al-Shabab cases in Minnesota, home to the nation's largest Somali-American population. Since 2007, dozens of Minnesotans left to join the group in Somalia, while others were charged with crimes including financing the group. The Islamic State in Iraq and the Levant (ISIL) more recently became the subject of terrorism recruitment cases, with more than a dozen men either succeeding or attempting to join the group in Syria.
In 2013, two Rochester women were the first set of defendants to be sent to prison from Minneapolis on federal terrorism charges. A federal appeals court last year upheld the sentences of Amina Farah Ali and Hawo Mohamed Hassan, for funneling money to Al-Shabab. Records from their 2011 case are expected to be introduced as evidence in the Virginia trial.
Audrey Alexander, a research fellow at George Washington University's Program on Extremism, has followed the Virginia case as part of her studies into the roles women play in extremist movements.
"It's an intelligent scheme," Alexander said. "They weren't doing big sums of money and were likely under the guise of aid work in some capacity. They were speaking in codes; they knew what they were doing."
Jama focused on raising money for wounded Al-Shabab fighters and in online chats with Esse discussed a scheme to raise money by inviting women to "free" online Islamic lessons. The plan was met with skepticism from Esse.
"It would have been better to just tell them that help is needed," Esse said.
In other chat logs cited by the government, Esse bristled at an invitation from Jama to talk in a "private" chat room with a potential recruit.
"I told you before, you are too impulsive," Esse said. "Sister, I told you, do not connect me to anyone till we get to know the person well. … Do you want me to get arrested?"
Esse's cooperation is also hinted at in the footnotes of pretrial court filings, in which she opined that the "brothers" referred to in one web chat between Jama and Dhirane were men who were also raising money for Al-Shabab.
As part of her plea agreement, Esse agreed to submit to supervision by the local U.S. Probation and Pretrial Services office, stay employed and not obtain a passport or other international travel documents. Judge Michael Davis, also ordered a mental health evaluation, according to court documents.
According to previous motions to seal documents in the case filed by both the U.S. attorney's office in Minnesota and the defense, both sides expressed concern over compromising "operational and security interests."
"Al-Shabab members and associates would obviously not accept or trust the defendant if they knew [she] had been charged and was cooperating with the FBI," according to the filing. "In addition, Al-Shabab may wish to target the defendant or her family members if defendant's cooperation becomes a matter of general knowledge prior to the conclusion of the investigation."
The Associated Press contributed to this report.
startribune.com/minnesota-woman-s-al-shabab-guilty-plea-unveiled-linked-to-virginia-terror-case/385267761/
--------
Easier to spot a liar in a niqab, says study challenging Canada's courtroom ban on Muslim veils
Jul 2, 2016
Two women clad in the niqab, a Muslim garment that covers all but the wearer's eyes
Peter Macdiarmid/Getty ImagesTwo women clad in the niqab, a Muslim garment that covers all but the wearer's eyes
In a landmark finding inspired by a Supreme Court ban on niqab-wearing court witnesses, a Canadian study has come to the surprising conclusion that it is actually easier to detect a liar if their face is veiled.
"There's concrete data from over 500 people showing that, in fact, the courts were incorrect," said Amy-May Leach, an associate professor at the Oshawa-based University of Ontario Institute of Technology.
Leach's study, published in the latest edition of the journal of the American Psychological Association, had test subjects guess the truthfulness of women with and without religious veils.
The result? "Veiling actually improved lie detection."
Veiling actually improved lie detection
"People were focusing on what the women are saying, rather than what they look like," said Leach.
In a 2013 ruling, the Supreme Court of Canada effectively levied a courtroom ban on the wearing of niqabs by testifying witnesses.
At issue was an Ontario sexual assault trial in which a 38-year-old woman alleged that two relatives had sexually assaulted her from a young age.
Identified only as N.S., the woman was denied a request to testify in her niqab. In the words of Ontario judge Norris Weisman, it would unfairly hide her "demeanour" during cross-examination.
"There is a deeply rooted presumption in our legal system that seeing a witness's face is important to a fair trial," read the Supreme Court decision upholding Weisman's decision.
The charges agaist the two men were ultimately withdrawn when N.S. refused to testify with an uncovered face.
Leach's study worked by taking female volunteers and showing them one of two videos featuring a woman and a backpack. In one video, a woman is shown vigilantly watching over a backpack. In the other, the woman is rifling through the backpack to steal its contents.
After the video, the volunteers are then led into a mock courtroom to be questioned by a "prosecution" and a "defence." Whatever video they saw, the volunteer had to maintain that no theft took place. Thus, anybody who saw the "stealing" video was forced to lie.
People were focusing on what the women are saying, rather than what they look like
Trials were staged with volunteers having their heads uncovered, wearing a hijab (a Muslim hair covering) or wearing a face-covering niqab.
Videos of the trials were then played to a second set of volunteers who were asked to guess if the witness was telling the truth.
For unveiled women, witnesses spotted the liars at a rate of about 50 per cent — no better than if they had flipped a coin.
"It was only when witnesses wore veils (i.e., hijabs or niqabs) that observers performed above chance levels," wrote the study.
Subsequent repeats of the experiment in the United Kingdom and the Netherlands found similar results.
Interestingly, this went against what the veil-wearers themselves had suspected. Leach said that the religious garb gave participants a false sense of security that their lies would be believed, even though the opposite was the case.
Where it gets really strange is that Islamic face veils seem to be the only kind of face covering that turn people into bad liars.
In another study Leach has tested the effect of balaclavas on witnesses and found no discernible difference. Prior research has also tested the relative truth detection between a visible witness and one shielded behind a screen. There again, there was no discernible difference.
The burkha, a Muslin garment that covers a woman's eyes with a fabric mesh, was not part of Leach's study.
Before going into academia, Leach spent four years as an officer with the Canadian Border Services Agency, a job with the unique requirement to be able to detect liars.
Contrary to popular belief, Leach said there's no "Pinocchio's nose" indicator that border agents use to root out criminals. An agent would never send a traveller to secondary inspection because they looked up and to the right, for instance.
Rather, the best lie detection comes when a border agent can ask questions that trip up a liar. A good example is asking someone to recount their trip in reverse chronological order; easy for the honest traveler but panic-inducing for the smuggler who is trying to stick to a made-up itinerary.
Similarly, Leach suspected that niqab is better at outing liars for the simple fact that viewers are not distracted by smiles, raised eyebrows or other tics that aren't actually that good at detecting a liar.
"It eliminates people's reliance on incorrect cues," said Leach.
What remains to be studied, however, is the minefield of potential biases opened up when a Canadian jury is faced with a complainant in a niqab.
Ample research has pointed to Westerners associating Muslim garb with aggression or deviousness. On the other hand, in sexual assault cases the bias might play to the advantage of a veiled complainant; given her obvious strict religious background it lends credence to the idea that she would not have stepped forward unless the accusations were true.
While Leach's study found no evidence of discernible bias among volunteers, she noted that they're all urban university students; a demographic unusually accustomed to seeing women in Muslim face coverings.
Leach said the plan now is to take the experiment to a wider demographic.
"Is this something that we're going to find no matter who we test anywhere, or are some more likely to show this pattern of results than others?" she said.
news.nationalpost.com/news/canada/easier-to-spot-a-liar-in-a-niqab-says-study-challenging-canadas-courtroom-ban-on-muslim-veils
--------
Meet the first Arab woman to scale the seven summits
Jul 2, 2016
Tarek Ali Ahmad
FOR Mountaineer Suzane Al-Houby, there ain't no mountain high enough.
After completing her ascent to the peak of Alaska's mount Denali earlier this month, Palestinian born Houby was officially deemed the first Arab woman to scale all seven summits, from Mt. Kilimanjaro to Mt. Everest.
In an interview with Al Arabiya English, Houby — who started her own adventure travel company in Sharjah, UAE — speaks of her motivation, her inspiration and the obstacles she has faced on her way to achieving such a feat.
What does achieving the feat of conquering seven summits mean to you as an Arab woman?When there are around 50 women worldwide who have achieved this, it becomes quite significant actually. We as women can be strong climbers… as long as we don't really measure that against men or feel that we need to prove anything besides pushing ourselves to the limits climbing.
Seven SummitsI've learnt the hard way not to be intimidated and not to keep comparing myself to men. I focus on my strength and technique and that's it. I hope I see more women in the world in general and in our Arab region in particular who get into this sport and actually other extreme sports. There is no barrier or limitation for why we can't do this and a lot more.
Finally, scaling the seven summits after three previous attempts on Denali sends a message of perseverance, not giving up on my dream, giving it yet another try and giving it yet all I have got… it means that we can tackle all perceived limitations and just do it… climbers always talk about becoming one with the mountain, about how the realization that we can always push limits becomes a way of life , and how once we reach our highest point we feel such a liberating larger than life feeling of having earned it… because it is always hard work to try to climb a mountain… it never is easy and if it is easy I always say 'why bother?' Anyone can do easy but not anyone can do hard and what seems to be impossible.
I feel proud, I feel that I have earned it and I feel inspired by all the people that supported me and send me words of encouragement.
I guess now I cruise along with all positive vibes from within and from my surroundings as well. I have done it, and if I could, then anyone else can as well and actually they can even do bigger things and achieve bigger goals. That's what I want, I want that maybe some other Arab woman may feel inspired and set a much bigger goal!
Suzane Al-Houby sits atop one of the Seven Summits. Q. What obstacles did you face while trying to achieve your goals? How did you cope up with the physical and mental challenges?
A. Obstacles can be endless if I wanted to pay attention to them! I had to turn around from mountains due to weather or injuries… I had to accept failure… I had to succumb sometimes when my body failed… others when my mind started playing games on me… But I always trusted my gut and just followed it and that saved me many times than I can recall.
It is not easy nor always fun to sleep in minus 30-degree weather, to try to protect myself against 120 km/hr winds, to sleep warm, to set up a tent in stormy conditions…it is hard to live without bathrooms and showers ….
Sometimes I wonder when I have been climbing for hours and risks are on the rise or when I am out of breath of the 'why' but I have always ended up feeling the 'why' in the incredible beauty I see up there, in realizing that there are really and genuinely no limits if we put our head and hard work into it!
Q. What motivated you to complete this arduous task?
A. My climbing has been always motivated by personally wanting to push my limits, connect with the wild and feel the reward after the pain…. I was never motivated by a title and I felt that I owe no one anything to prove… the fact that the title came is excellent — don't get me wrong — but what I am saying is that this should not be the motivator.
When I started climbing I wasn't thinking of the 7 summits… it grew on me slowly but surely. I was enjoying challenging myself on different mountains all over the world…. Then after I climbed Everest, I am like why not! I have already climbed few of the seven summits between my other climbs and I am like let me take it one step at a time and see where this will take me.
Q. How elaborate were your preparations for the climbs?
A. There are mental and pure physical preparations for any climb. It depends on the mountain but usually my fitness is all about cardio, strength and endurance. These three components are balanced in my training schedule. I keep pushing my boundaries or my personal records in any of these to enhance performance and keep a log.
To give you an example, it varies between running and going up the stairs with a heavy backpack as well as strength training (weight lifting/ intervals). Sometimes I have to be pulling a sledge (tire) behind me on sands, others I have to be climbing indoor walls. But it is a commitment for sure. I also research the mountain a lot and make sure that I know the risks more than the bright side only! I even read literature that is usually dark and tragic about the mountain to remind myself what I am getting myself into and also to learn more and be prepared.
When I went to climb Everest, I went with this mentality: Nothing I will read or watch will prepare me for the horrors I might see up there or the pain I might feel up there or the extreme physical and mental exhaustion I might feel up there…. therefore, I was ready!
saudigazette.com.sa/world/mena/meet-first-arab-woman-scale-seven-summits/
URL: https://www.newageislam.com/islam,-women-and-feminism/new-age-islam-news-bureau/pakistani-islamic-clerics-say-transgender-men-and-women-have-right-to-marry/d/107839
New Age Islam, Islam Online, Islamic Website, African Muslim News, Arab World News, South Asia News, Indian Muslim News, World Muslim News, Womens in Islam, Islamic Feminism, Arab Women, Womens In Arab, Islamphobia in America, Muslim Women in West, Islam Women and Feminism