New Age Islam News Bureau
15 March 2016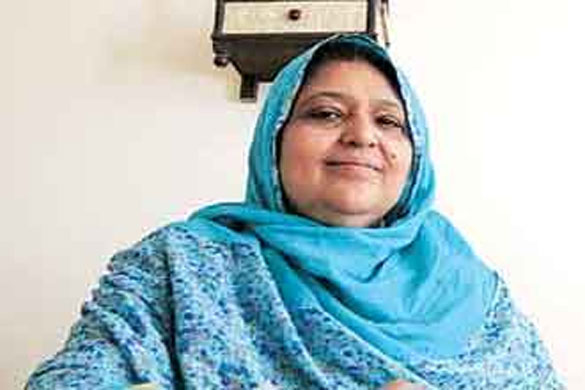 Photo: Hindu women have also sought help, says Hena Zaheer.
---------
• Women Qazis Allowed Under Islamic Law: AIMPLB Panel
• Pakistan Religious Groups Say Law Protecting Women from Abuse 'Un-Islamic'
• Bahrain Regime Arrest Activist and Her 15-Months-Old Son; NGOs Call for Her Release
• High-Tech Habibti: Meet The Woman Redefining Oman's Tech Scene
• 'Bringing Aafia Back Home Not Possible'
Compiled by New Age Islam News Bureau
URL: https://newageislam.com/islam-women-feminism/pakistani-human-labour-rights-activist/d/106661
--------
Pakistani Human and Labour Rights Activist Nominated As Finalist for Humanity Prize
March 15th, 2016
Syeda Ghulam Fatima, head of the Bonded Labour Liberation Front (BLLF), is among four finalists nominated for the Aurora Prize for Awakening Humanity, the New York Times reported.
The prize, which was created by scholars Vartan Gregorian, president of the Carnegie Corporation, Noubar Afeyan and Ruben Vardanyan, awards a winner $100,000 and designates and organisation which inspires his or her work to be the beneficiary of $1 million.
Fatima's work came into the spotlight when Humans of New York photojournalist Brandon Stanton highlighted the plight of bonded labour in a photo series during his visit to Pakistan.
Stanton described her as "a modern day Harriet Tubman". "She has been shot, electrocuted and beaten numerous times for her activism. Quite literally, she places herself between the workers and their owners."
The BLLF, he said, is working to set up Freedom Centres throughout Pakistan so bonded labourers have access to legal aid and advocacy.
She was honoured with a Global Citizen award in New York last year for her dedication to civil rights and labour laws in Pakistan. She works for compliance of the International Labour Organisation's labour standards in Pakistan and campaigns for the rights of brick kiln workers and female domestic staff in Pakistan.
Fatima is also a member of the Provincial Committee for Abolition of Bonded Labour Punjab and the District Vigilance Committee.
The other finalists for the prize include Marguerite Barankitse, founder of Maison Shalom, which began as a shelter for orphans during the ethnic upheavals of the 90's in Burundi, Rwanda and the Democratic Republic of Congo; Dr Tom Catena, a physicist who founded the Mother of Mercy Hospital in Sudan's Nuba mountains and Reverand Bernard Kinvi, a Togo priest running a Catholic mission in the Central African Republic which has saved many civilians regardless of their background.
The four finalists were chosen from among 200 nominees after the award was announced last April during the centennial events of the Armenian genocide, in which as many as 1.5m Armenians were killed during the collapse of the Ottoman Empire.
"They're not celebrities. They're surprised that some people in the outside world even noticed them," Gregorian said of the Aurora Prize finalists.
The prize was named after genocide survivor Aurora Mardiganian who told the story of the massacre of her relatives in a book and film.
dawn.com/news/1245806/bonded-labour-activist-syeda-ghulam-fatima-nominated-as-finalist-for-humanity-prize
--------
Women qazis allowed under Islamic law: AIMPLB panel
March 15, 2016
DAYS AFTER women were appointed as qazis in Kanpur and Jaipur, the head of All India Muslim Personal Law Board's Darul Qaza Committee, which handles matters related to qazis and their courts, on Monday said the appointment of women as qazis is allowed under Islamic law.
However, committee head Maulana Atiq Ahmed Bastavi said the appointment of women qazis in Kanpur and Jaipur cannot be considered proper since no institution that handles matters of Darul Qaza (Islamic courts) has appointed them.
Hena Zaheer and Maria Fazal were appointed as qazis by All India Muslim Women's Board — founded by a group of Muslim women in Kanpur. Zaheer has said their appointment was also endorsed by All India Muslim Women Personal Law Board of Shaista Ambar, who has also been advocating progressive approach towards women under Islamic law. They are the first women qazis in Uttar Pradesh — and only the second in the country, after two women were appointed in Jaipur a few weeks ago.
Amid remarks by some clerics that a woman cannot be made a qazi under Islamic laws, Bastavi said there is "scope" for such appointment and Islamic law does not prevent the same. "The need to appoint a woman qazi was not felt because women can easily get their matters resolved through a male qazi. But if a need has been felt to appoint women as qazis, it is possible under Shariah. There is scope in Islam," he told The Indian Express over phone.
He, however, said the appointments of women as qazis in Jaipur and Kanpur could have been done just to create "strife", but it carries no sanctity as they were not appointed by a competent institution. "Qazis are appointed by age-old institutions that operate in states… Where there is no such institution, it is done by AIMPLB… The institutions appoint qazis only after evaluating their capabilities and abilities in Islamic law," added Bastavi.
When contacted, AIMPLB member Zafaryab Jilani refused to comment on behalf of the board. He, however, said appointment of women qazis in Jaipur was not made by any established idara (institution), which handles matters related to qazis.
While the role of qazis has become insignificant as matters of Muslim personal law are now decided by courts according to Mohammaden law, qazis are still advise, interpret and give verdicts on matters of personal law. These include solemnisation of nikah (marriage), finalising talaaq (divorce) and deciding issues of inheritance.
indianexpress.com/article/cities/lucknow/women-qazis-allowed-under-islamic-law-aimplb-panel/99/print/
--------
Pakistan religious groups say law protecting women from abuse 'un-Islamic'
March 15th, 2016
An all-parties conference convened by Pakistan's oldest Islamic political party and attended by powerful religious groups asked the government on Tuesday to retract an "un-Islamic" law that gives unprecedented protection to female victims of violence.
The Women's Protection Act, passed by Pakistan's largest province of Punjab last month, gives legal protection to women from domestic, psychological and sexual violence.
It also calls for the creation of a toll-free abuse reporting hot line, women's shelters and district-level panels to investigate reports of abuse and mandates the use of GPS bracelets to keep track of offenders.
Domestic abuse, economic discrimination and acid attacks made Pakistan the world's third most dangerous country in the world for women, a 2011 Thomson Reuters Foundation expert poll showed.
But since the law's passage, many conservative clerics and religious leaders have denounced it as being in conflict with the Muslim holy book, the Koran, and the constitution.
On Tuesday, representatives of more than 35 religious parties and groups came together for a conference called by the Jamaat-e-Islami party and condemned the women's protection law as un-Islamic.
"The controversial law to protect women was promulgated to accomplish the West's agenda to destroy the family system in Pakistan," read the joint declaration issued at the end of the concrescence. "This act ... is redundant and would add to the miseries of women."
The passage of the new law was welcomed by rights groups but spirits have since dampened as conservative voices have increasingly called for its retraction.
On Monday, Fazlur Rehman, the chief of one of Pakistan's largest religious parties, the Jamiat-i-Ulema Islam, said Prime Minister Nawaz Sharif had promised him at a meeting that he would address the reservations of religious parties.
"Prime Minister Nawaz Sharif heard our reservations against the Punjab Protection of Women Against Violence Act 2016. He promised to amend the law so that it doesn't contravene the teachings of the holy Koran," Maulana Fazl told journalists at his residence.
Earlier this month, the Council of Islamic Ideology, a powerful Pakistani religious body that advises the government on the compatibility of laws with Islam, declared the Women's Protection Act un-Islamic.
A prominent lawyer has also filed a petition in the top sharia court asking it to strike down the law.
(Writing by Mehreen Zahra-Malik; Editing by Nick Macfie)
reuters.com/article/us-pakistan-women-idUSKCN0WH1HG
--------------
Bahrain Regime Arrest Activist and Her 15-Months-Old Son; NGOs Call For Her Release
March 15, 2016
Bahraini security forces today raided the house of human rights activist Zainab al-Khawaja and arrested her with her 15 months old son. The undersigned NGOs condemn in the strongest terms the arrest of Zainab and her son over charges merely related to her activism and exercise of free expression.
AhlulBayt News Agency - Bahraini security forces yesterday raided the house of human rights activist Zainab al-Khawaja and arrested her with her 15 months old son. The undersigned NGOs condemn in the strongest terms the arrest of Zainab and her son over charges merely related to her activism and exercise of free expression.
On 14 March 2016, at 3:45 P.M., security forces raided the house of Zainab al-Khawaja's in-laws' house asking for her. When they did not find her, they raided Zainab's apartment where she was arrested with her 15 months old son, Abdulhadi. She was then taken to Al-Hoora police station. Her family were informed that she will be transferred for a medical checkup before transporting her to Isa Town women's prison.
Zainab was sentenced to a total of three years and one months in prison and BHD 3,000 fine over several charges related to her exercise of freedom of expression and her peaceful dissent against the Bahraini government. On 2 February 2016, the court of appeal upheld a 9 months prison sentence against Zainab for trying to visit her father, human rights defender Abdulhadi al-Khawaja in Jau Prison when he was on hunger strike in August 2014. In December 2015, the court amended a prison sentence against Zainab to one year and four months instead of three years and three months on charges related to tearing up a picture of the King and allegedly insulting a public officer during a peaceful protest in Bahrain. In October 2015, the court reduced her sentence to one year in prison instead of three years over the same charge of insulting the Kings.
Zainab AlKhawaja has been previously detained several times since 2011 for various periods, and has had over 13 cases brought against her at Bahrain courts. At one time she spent over 12 months in prison between February 2013 to February 2014 serving multiple sentences on different charges related to her human rights work and exercise of freedom of expression and freedom of assembly. She has previously suffered from ill-treatment and poor prison conditions during her previous detention.
Zainab was determined to exercise her right to free expression, she tweeted: "Ripping his picture is a first step to let him know that we are not afraid, that we are determined to gain our rights, to live as free ppl Bahrain." Bahraini authorities targeting and prosecution of human rights activists is a part of a wider crackdown against whoever exercises their freedom of expression in Bahrain, including journalists, bloggers, social media activists, and opposition figures. Bahrain has failed to uphold its international commitments and continues to violates its people's fundamental rights.
Zainab's family believe the arrest was timed as a retaliatory act against her sister, Maryam Al-Khawaja, Co-Director of the Gulf Center 4 Human Rights and former Acting President of the Bahrain Center for Human Rights. Maryam Al-Khawaja recently attended the 31st Session of the UN Human Rights Council, and in February attended the FIFA presidential elections in Zurich, Switzerland, which saw the Bahraini candidate Sheikh Salman Al Khalifa lose, in part due to human rights allegations related to the February 2011 "Arab Spring" events.
We, the undersigned, therefore call on the Government of Bahrain to:
Immediately and unconditionally release Zainab al-Khawaja and her son;
Immediately and unconditionally drop all charges against Zainab related to freedom of expression; and
End the systematic targeting of individuals for exercising their right to peaceful freedom of expression.
Americans for Democracy & Human Rights in Bahrain
Bahrain Center for Human Rights
Bahrain Institute for Rights and Democracy
Justice Human Rights Organization
European Centre for Democracy and Human Rights
en.abna24.com/service/bahrain/archive/2016/03/15/741226/story.html
--------
High-tech habibti: Meet the woman redefining Oman's tech scene
March 15th, 2016
From designing an educational e-book while still at school, representing Oman at Microsoft's Imagine Cup, the world's premier student technology competition organised in St Petersberg, Russia, to opening the Omani chapter of ArabWIC (Arab Women in Computing), 26-year-old Marwa Al Habsi has come a long way.
But for her dreams and aspirations, she still has miles to go.
She was also the first Omani woman, along with her friend and co-worker Asya Al Jabri, to have attended the Grace Hopper Conference in 2013, which is the world's biggest gathering of women in technology. "The theme was 'Think big, drive forward'.
At the conference, we got to hear from female leaders in the computing world. It was so inspirational and made me look at the world of technology in a much broader manner, with endless opportunities," says al Habsi.
Although all of Marwa's achievements are fruits of her own labour, she says that her family has been the biggest support in everything she has done till now.
"I believe that if your family supports you, there is so much that you can do, and in my case, my family has supported me to the maximum and I am grateful for that," she adds.
Marwa's biggest success so far is to have been chosen as the ambassador for ArabWIC in Oman, which eventually made her start the ArabWIC Oman chapter last year. The organisation was originally founded during a conference on women in computing in the Arab world in 2012 in the New York University in Abu Dhabi (NYUAD), where participants unanimously agreed to create an international organisation for Arab women in computing.
"With chapters in 12 Arab countries, the goal of ArabWIC is to support, inspire, retain, encourage collaboration, increase visibility of and help elevate the status of Arab women in computing, and allow them to achieve their career goals. Besides, it also aims to create a linkage with international women-in-Computer Science organizations," Al Habsi says. >A6
Currently Marwa is balancing between her role in the ArabWIC and a full-time job in IT. She doesn't let IT go too far from her, even in her free time. "When I am free, I sit with my sisters and we code and read together as well. I want to encourage them, too."
Lots of passion for IT
Marwa is aware that technology is mostly identified with men. However, she wants to change that. "It is a problem when people connect IT or technology with only men. The fact is that women are also in leading positions in both technical and non-technical sectors, and we are young and have lots of passion for IT. I am sure if women like us are encouraged, it will help more females in Oman to get into the technology sector because at present they are not fully confident about the field."
Marwa believes that Omani women have immense potential when it comes to the IT sector, but sometimes they just shy away from it. "I started ArabWIC Oman in May last year and till date, we have about 15 members I need more women to join this community and enjoy the privileges it has to offer in terms of mentoring, sharing knowledge and providing a network database." Women in Oman wishing to join ArabWIC can log into the organisation's website: arabwic.org
albawaba.com/editorchoice/high-tech-habibti-meet-woman-redefining-oman%E2%80%99s-tech-scene-817318
--------
'Bringing Aafia back home not possible'
March 15th, 2016
ISLAMABAD: The federal government on Monday informed the Islamabad High Court (IHC) that since Pakistan had no extradition treaty with the US, it was not possible for the government to bring Aafia Siddiqui back home.
IHC Justice Noorul Haq N. Qureshi then directed counsel for Fauzia Siddiqui, sister of Aafia, to suggest further ways to resolve this issue and put off hearing for two weeks.
Fouzia Siddiqui had filed the petition in October last year seeking directions for the government to increase its efforts for the release of her sister and for arranging meetings with the family members.
She also wanted that the ministry of foreign affairs should keep updating the detained lady's family about her physical and mental health.
Deputy attorney general (DAG) Raja Khalid Mehmood on Monday submitted a report before the court regarding government's efforts in bringing Aafia Siddiqui back home.
DAG told the court that the matter of Dr Aafia Siddqui had been taken up at diplomatic level but in the absence of extradition treaty between Pakistan and the US, her return is not possible in the current scenario.
DAG Mehmood further told the court that Pakistani government also provided legal assistance to Aafia Siddiqui.
dawn.com/news/1245751/bringing-aafia-back-home-not-possible
URL: https://newageislam.com/islam-women-feminism/pakistani-human-labour-rights-activist/d/106661
New Age Islam, Islam Online, Islamic Website, African Muslim News, Arab World News,South Asia News, Indian Muslim News, World Muslim News, Womens in Islam, Islamic Feminism, Arab Women, Womens In Arab, Islamphobia in America, Muslim Women in West, Islam Women and Feminism