New Age Islam News Bureau
15 March 2017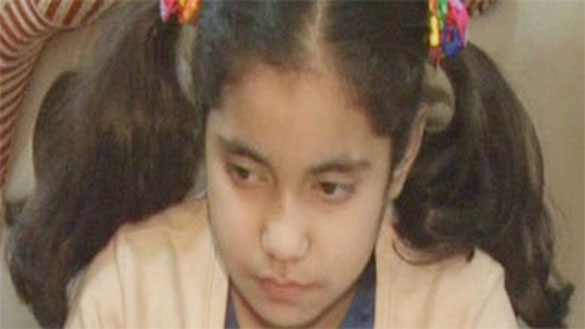 The fifth grader, Pakistani girl, Aqeedat Naveed, who hails from Lahore, had earlier written a letter to Indian Foreign Minister Sushma Swaraj as well on the matter of peace and has also received several responses from officials in New Delhi. (PTI)
------
• Pakistani Girl Congratulates PM Modi For UP Victory, Calls for Turning Focus on 'Peace'
• Minister Proposes To Make Hijab Mandatory in Pakistan's Punjab Colleges
• Saudi Arabia to Boost 'Decent and Proper' Jobs For Women
• 'Headscarf Ban Disproportionately Affects Muslim Women'
• Watch Two Women Step In To Defend Muslim Subway Riders in NYC From An Angry Islamophobe
• European Court Ruling on Banning Headscarves Is Slammed By Bradford Muslim Women's Council
Compiled by New Age Islam News Bureau
URL: https://newageislam.com/islam-women-feminism/pakistani-girl-congratulates-pm-modi/d/110405
----
Pakistani Girl Congratulates PM Modi For UP Victory, Calls For Turning Focus On 'Peace'
Mar 15, 2017
ISLAMABAD: Congratulating Prime Minister Narendra Modi for the Bharatiya Janata Party's (BJP) historic mandate+ in the Uttar Pradesh Assembly Elections, an eleven year old Pakistani school girl wrote to him saying that he should now focus towards winning more hearts of Indians and Pakistanis alike, by becoming a bridge of peace between the two nations.
In her letter, Aqeedat Naveed highlighted on the need for peace between India and Pakistan, and said that Prime Minister Modi can help speed up the process, reports DunyaNews.
"Once my father told me that winning of hearts is a marvelous job. Perhaps you have won the hearts of Indian people, therefore you won the election in UP. But I must tell you if you want to win more Indian and Pakistani hearts, you should take steps towards friendship and peace. Both countries need good relation. Let's make a peace bridge between India and Pakistan. Let's decide that we will not buy bullets, will buy books. We will not buy the guns, will buy the medicine for the poor people," Aqeedat wrote in the two page letter.
She further emphasized that the choice between peace and conflict lies open for both the nations, and signed off by congratulating the Prime Minister for the UP Polls victory.
http://timesofindia.indiatimes.com/world/pakistan/pakistani-girl-congratulates-pm-modi-for-up-victory-calls-for-turning-focus-on-peace/articleshow/57642107.cms
-------
Minister Proposes To Make Hijab Mandatory in Pakistan's Punjab Colleges
Mar 15, 2017
A senior Punjab government official proposed on Tuesday to make Hijab mandatory for female students enrolled in the province's colleges.
"We are leaving our religion behind; we are forgetting our culture and ethics. Hence, I have made the Hijab compulsory for our women and sisters in colleges," said Punjab Higher Education Minister Syed Raza Ali Gilani.
The minister added that it was his duty to take the step as it is "the duty of every Muslim".
"I have also made a policy for it, if your attendance falls below 60pc then we will give 5pc attendance to those girls who wear a hijab," added the higher education minister.
However, the policy is yet to implemented in the educational institutions of the province and has not been signed by Chief Minister Shahbaz Sharif.
Media outlets had earlier reported the policy change will award extra marks to hijab wearing students.
However, the provincial government in a tweet earlier denied the change in policy and clarified academic excellence will only be based on merit and no other factor would be considered.
Civil society activist and lawyer Jibran Nasir also criticised the move in a series of tweets. He later said he was glad that the provincial government "believes in judging men and women on merit and not apparel".
Aseefa Bhutto-Zardari, the youngest daughter of former prime minister Benazir Bhutto and Pakistan Peoples Party (PPP) co-chairman Asif Ali Zardari, questioned the proposed policy change in a tweet. She asked what students of other religions would do if such a policy was implemented.
Earlier today, Prime Minister Nawaz Sharif had said that religion does not force any individual to do anything. Nawaz had given his message of tolerance and inclusiveness while celebrating Holi with the Hindu community in Karachi.
https://www.dawn.com/news/1320465/minister-proposes-to-make-hijab-mandatory-in-punjab-colleges
-------
Saudi Arabia to Boost 'Decent And Proper' Jobs For Women
March 14, 2017
Saudi Arabia is aiming for a major boost in female employment in the conservative Islamic kingdom but women need not go to an office, the labour ministry said. "Telework" and work from home will generate up to 141,000 jobs by 2020, providing "decent and proper" employment particularly for women and the disabled, the ministry said in a statement dated on Monday.
The term "telework" applies to a variety of jobs done remotely outside of a company's office. As part of a wideranging social and economic reform drive to cope with lower oil revenues, Saudi Arabia is trying to get more women working.
But the ministry statement acknowledged "a lot of social obstacles including transportation and family responsibilities" that hinder female labour market participation. Saudi Arabia is the only country where women are not allowed to drive. Public transport is also limited, restricting mobility for those unable to afford a private driver.
The ministry said telework would also benefit those in remote parts of the kingdom where employment is even harder to find, but it gave no details of who exactly is going to create the 141,000 jobs.
Under its Vision 2030 reform plan the kingdom wants to boost the role of small and medium enterprises as well as broaden its industrial and investment base. In the third quarter of last year the unemployment rate for Saudi women was 34.5 per cent, compared with 5.7 per cent for Saudi men, according to figures cited by the firm Jadwa Investment.
By 2020 the kingdom wants to boost the proportion of women in the workforce to 28 per cent from 23 per cent last year. According to official data, at the end of 2015, the Saudi public sector employed 469,000 women while another 500,000 worked in the private sector, which the government wants to expand while reducing its own payroll.
http://indianexpress.com/article/world/saudi-arabia-to-boost-decent-and-proper-jobs-for-women-4569145/
-------
'Headscarf Ban Disproportionately Affects Muslim Women'
14 March 2017
Workplace bans on the wearing of "any political, philosophical or religious sign" such as headscarves need not constitute direct discrimination, Europe's top court has ruled.
But the ban must be based on internal company rules requiring all employees to "dress neutrally", said the European Court of Justice (ECJ).
Muslim women's activist Shelina Janmohamed said the decision "disproportionately affects Muslim women" who faced a "triple penalty" of discrimination in the workplace
http://www.bbc.com/news/world-europe-39272619
------
Watch two women step in to defend Muslim subway riders in NYC from an angry Islamophobe
By Sarah Harvard
March 13, 2017
In a video that was recently uploaded to YouTube, two women defend two Muslim subway riders from another rider who was verbally assaulting them on the E train in New York City.
The female subway rider — who states in the video that she is Puerto Rican — berates one of the Muslim riders by asking why they live in the United States. During the video, the woman is asked if she's bothered because he looks Indian-Muslim, to which she responds "yes."
"Why are you here?" the woman is heard shouting. "Why are you in this country if you're not with us?"
A voice off-screen asks "Who's us?" to which the woman gestures at all of the train and says, "Us. And maybe they're not taking my back, I know nobody taking my back. And that's a shame, but I will take my own back."
"Nobody on this train is with you," the offscreen voice interjects twice during the woman's remarks.
Another woman then steps in and challenges the ranter to stop harassing them.
Then another woman, who identifies as half-Chinese and half-Peruvian in the video, jumps in to stand up for the Muslim riders in Spanish.
"Whether you're born from here, Puerto Rico, wherever you are from," the woman says. "I don't like the way you're treating her. It's rude, we're here in it together, OK? We're all in this together. Whether we like what's going on in the government or not."
She then told the ranter that as a true American, she should think of everyone — including Muslims — as her brother and sister.
"You're a grown woman," she said. "You suck it up and you defend your brothers and sisters because that's what you are. If you're a part of this country, you're brothers and sisters with everyone."
https://mic.com/articles/170956/watch-two-women-step-in-to-defend-muslim-subway-riders-in-nyc-from-an-angry-islamophobe#.u2y3wcUkB
-------
European Court ruling on banning headscarves is slammed by Bradford Muslim Women's Council
BRADFORD Muslim Women's Council has slammed a ruling allowing companies to ban employees from wearing the hijab.
The internal ruling by Europe's top court, the European Court of Justice, states employers can ban workers from wearing headscarves at work as prohibiting the visible wearing of any political, philosophical or religious sign does not constitute direct discrimination, judges concluded.
Bana Gora, chief executive of the Muslim Women's Council based at Carlisle Business Centre, in Bradford, said: "This ruling is a violation of women's rights and autonomy.
"Given the alarming rise in hate crimes, the timing of this ruling will only embolden growing far-right sentiment which has been resurrected since Brexit. Instead of focussing on the hijab which has been so grossly dissected by the media and politicians alike, we must focus on the more pressing issues on our doorstep.
"The last thing we want to do is to alienate Muslim women who are already heavily disenfranchised."
The MWC added: "Europe is supposed to be a bastion of religious pluralism. However, this ruling will only equip employees with the legal safety net to discriminate against employees.
"The suggestion that the hijab is not part of a "neutral" dress code merely implies that it is a provocation, and it only serves to undercut the religious freedoms of Muslim women, a group who are already bearing the brunt of rising Islamophobia in Europe."
The European Court of Justice judgment was sparked by the case of a woman who was fired from her job as a receptionist at G4S in Belgium.
Samira Achbita was dismissed in June 2006 after insisting on wearing the Islamic headscarf at work.
She challenged her dismissal in the Belgian courts, which referred the case to the ECJ in relation to interpretation of an EU directive on equal treatment in employment and occupation.
The Court of Justice found that G4S's internal rule refers to the wearing of visible signs of political, philosophical or religious beliefs and therefore covers any manifestation of such beliefs without distinction.
A press summary setting out the ECJ's findings said: "The rule thus treats all employees of the undertaking in the same way, notably by requiring them, generally and without any differentiation, to dress neutrally.
"It is not evident from the material in the file available to the court that that internal rule was applied differently to Ms Achbita as compared to other G4S employees.
"Accordingly, such an internal rule does not introduce a difference of treatment that is directly based on religion or belief, for the purposes of the directive."
The Luxembourg-based court found that the prohibition on wearing an Islamic headscarf, which "arises from an internal rule of a private undertaking prohibiting the visible wearing of any political, philosophical or religious sign in the workplace", does not constitute direct discrimination based on religion or belief within the meaning of the directive.
The summary added that such a ban may constitute "indirect discrimination" if it is established that the apparently neutral obligation it imposes results in people adhering to a particular religion or belief being put at a particular disadvantage.
However, such indirect discrimination may be "objectively justified by a legitimate aim", such as the pursuit by the employer, in its relations with its customers, of a policy of political, philosophical and religious neutrality, provided that the means of achieving that aim are appropriate and necessary.
The chair of the Commons Women and Equalities Committee, Maria Miller, called for an urgent statement from the Government on the ruling, which she said could particularly penalise Muslim women at work.
Ms Miller said: "I think it's clear that what a woman wears is her choice and it should never be the choice of a court either here in the UK or the European Court of Justice.
"The Government really does need to make sure it is absolutely clear to employers that it is not legitimate to simply say on a whim that people are not allowed to wear outward signs of religious belief - whether it's a headscarf or a cross - that there is a need for any such policies to be legitimate and to be clear on what grounds they would be found to be legitimate.
"Given the level of discrimination that particularly Muslim women face, I do think the Government should make a statement on this urgently."
http://www.thetelegraphandargus.co.uk/news/local/localbrad/15155685.Muslim_Women_s_Council_blasts_court_ruling_against_hijab_as_a__violation_of_women_s_rights_/
-----
URL: https://newageislam.com/islam-women-feminism/pakistani-girl-congratulates-pm-modi/d/110405
New Age Islam, Islam Online, Islamic Website, African Muslim News, Arab World News, South Asia News, Indian Muslim News, World Muslim News, Women in Islam, Islamic Feminism, Arab Women, Women In Arab, Islamophobia in America, Muslim Women in West, Islam Women and Feminism