New Age Islam News Bureau
1 Apr 2014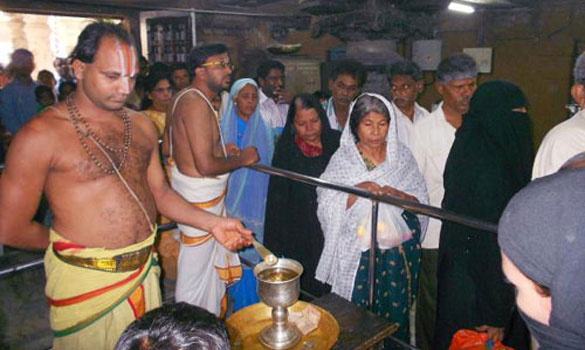 Muslim women having Darshan in Sri Lakshmi Venkateswara Swamy temple on Monday
-------------
• Muslim Women Offer Prayers at This South India Temple, as Part of an Age Old Tradition
• New Course for Professionals to Treat Victims of Sexual Abuse in Arab Sector
• Adoption of Muslim Girls Problem Due To Lack of Community Interest in UK
• 'A Simple Wedding Brings In Most Blessings', Says Maulana Nadvi
• Girls Netted For Prostitution in Banda Aceh, Loitering, Attire
• Saudis Married To Foreign Women Can't Enter Military Academies
• Female Saudi Personal Trainers Want Own Academy to Improve Competitiveness
• French Headscarf Ban Defies FIFA Laws and Reopens Political Debate
• HR Activists Protest against CII Remarks on Child Marriage
• Woman Arrested For Smuggling Drugs into Saudi Arabia
• KSA to Appoint 100 Women as Paramedics
• UK Muslim Women Want Their Voice Heard
• Iranian Woman Spared Stoning For Adultery
• Swazi Women Bearing Kids With Asian Men
• Spotlight on Palestinian woman honoured by White House
• Southeastern town elects 27-year-old female candidate for mayor
• Headscarved Mayor on Return to Turkish Municipality Where She Was Once Fired
Compiled by New Age Islam News Bureau
URL: https://newageislam.com/islam-women-feminism/pakistani-girl-her-mother-put/d/66368
----------
Pakistani Girl and Her Mother Put Selves in Cage to Protest against Release of Her 'Rapists'
1 April 2014
LAYYAH: A 13-year-old girl along with her mother put herself in a cage on Monday outside the district press club in protest against what she said release of her 'rapists'.
Reports said Hasina Bibi of Chak 150-TDA was allegedly kidnapped and raped by her relatives a few months back. She managed to return home and visited the police station for registration of a case.
On March 24, she along with her father Manzoor Ahmed came to the office of district police officer who asked Layyah Sadar police station for legal action.
On the complaint of the girl, Layyah Sadar police registered a case no 48/14 under sections 365-b/376 against Raheem Bakhsh, Mohammad Qasim, Bashir Husain and Hashim.
The police arrested Bashir and Qasim and later Sadar SHO Muhammad Afzal released them on the pressure of MNA Pir Saqlain Shah.
Hasina Bibi in the FIR said in May 2013 she was alone at her house when Raheem came and allegedly raped her at gunpoint. She said she didn't tell her parents about the incident as Raheem threatened her with murder.
The girl in her statement said she turned pregnant and after two months in July 2013 Qasim, his wife Sakina Mai, Raheem and Bashir took her for abortion to Wahowa in Dera Ghazi Khan where she was gang-raped for three days.
She said the suspects took her thumb impressions on a white paper.
The girl said she gave birth to a baby girl in February 2014 and managed to return home in March.
When contacted, SHO Afzal said police took into custody Bashir and Qasim but the complainant did not produce any concrete evidence to prove her allegations.
"As a result we released the suspects on the request of MNA Pir Saqlain," the SHO said and added that the suspects held out an undertaking to join the investigation.
District Police Officer Ghazi Sallahudin said both the released suspects had been taken into custody and the police were yet to complete the investigation.
https://www.dawn.com/news/1096914/girl-and-her-mother-put-selves-in-cage
---------
Muslim Women Offer Prayers at This South India Temple, as Part of an Age Old Tradition
April 01 2014
Burqa-clad Muslim women, accompanied by men and children, offered prayers at Sri Lakshmi Venkateswara Swamy temple at Devunikadapa here on Ugadi festival on Monday
Muslim women had Darshan of Sri Venkateswara Swamy and Padmavathi Devi and presented coconut, fruits and camphor, along with rice and cereals to the presiding deities, as part of an age-old tradition symbolising communal amity in Kadapa. They offered prayers at the sanctum sanctorum, dhwaja stambham and balipeetham and received theertham and Prasadam from the priests, who blessed them.
A devotee Basha who came with his family members said Muslims offer prayers to the Lord and his consort Bibi Nancharamma in a traditional manner, a practice in vogue since ages.
Hindu devotees too thronged several temples across Kadapa district.
http://www.thehindu.com/news/national/andhra-pradesh/muslims-offer-prayers-at-this-temple/article5855962.ece
----------
New Course for Professionals to Treat Victims of Sexual Abuse in Arab Sector
1 April 2014
Arab society not very tolerant towards sexual assault victims who choose to complain, expert says.
The Haruv Institute recently launched a new course for welfare professionals dealing with sexual abuse in the Arab sector.
The course, being held at Givat Haviva, a nonprofit organization promoting the inclusion of divided communities into Israeli society, near Hadera will include 20 sessions beginning March 12 through July 2 comprising of various lectures on topics relating to sexual violence. The course aims to place an emphasis on raising awareness, understanding complexity, and dealing with all forms of violence and sexual abuse in particular.
"The course offers another way of trying to address the phenomenon of violence. We consider providing access to the professionals in Arab society crucial in the belief that this will lead to an increase in reports and in treatments," said Prof. Asher Ben-Arieh, director of the Haruv Institute.
The Haruv Institute began advancing the project last year and has since developed training plans specifically for professionals in the Arab community. The course was adapted to take into account the deep sensitivities and cultural codes in the Arab sector, such as the conflicts arising as a result of treatment, fear of exclusion, and family honor.
According to the Haruv Institute, a recent study conducted by the Center for the Study of Society at the University of Haifa in collaboration with the Education Ministry, found that the number of child victims of violence, and sexual violence in particular is significantly larger in the Arab sector, 22.3% of Arab children up to the age of 17 compared to 17.6% of Jewish children. Furthermore, the study found that two out of three Arab children are victims of some form of violence.
Furthermore according to the Institute, the female victims of sexual assault in Arab society are often perceived as guilty, having brought the abuse upon themselves and suffer humiliation and alienation. The victims are often blamed for staining the 'family honor,' and in the cases of incest are even blamed for breaking up the family.
"Arab society, as is known, gives much weight to 'family honor' and as such is not very tolerant towards sexual assault victims who choose to complain. We hope that training professionals in the [Arab] sector will encourage victims to come forth," said Taly Shlomi, coordinator of the Arab sector at the Haruv Institute.
http://www.jpost.com/National-News/New-course-for-professionals-to-treat-victims-of-sexual-abuse-in-Arab-sector-347042
---------
Adoption of Muslim Girls Problem Due to Lack of Community Interest in UK
April 1, 2014
London: The British Muslim community has been facing growing challenges surrounding adoption and foster caring after the religious minority was shocked by a recent decision to allow placing a young Muslim girl permanently into the care of a lesbian couple.
"If it is always preferable to place a child with carers who share a similar ethnic and religious background, realities on the ground do not always put us in a position to do so," Faith Harlow, who works as a social worker in East Sussex, told OnIslam
According to Harlow, demand has been growing every year for Muslim carers to come forth.
Due to a shortage of Muslim volunteers, he explained that hundreds of Muslim children had to be placed in families which did not share the same faith.
"We can only go by our pool of volunteers, and sadly too few Muslim families have come forth over the past years for us to be able to guarantee every Muslim child will be matched to a Muslim family," he said.
Problems surrounding Muslims and adoption started after UK social services in Harrow allowed a white lesbian couple to adopt a 3-year-old Somali Muslim girl whose mother suffers from mental health problems.
Though the decision was put on hold after protests, it has ringed alarm bills for the growing need of Muslim volunteers to foster children of the same faith.
BAAF Adoption and Fostering, the UK's leading adoption and fostering membership association, said in a recent report that not enough Muslim families had made themselves available to councils, putting a strain on social services.
"There is a growing need for Muslim foster carers to look after children and asylum seekers, particularly from Pakistan, Afghanistan, Iran, Iraq and Bangladesh," an appeal read as the organization tries to mobilize Britain Muslim community.
Islam endorses fostering orphan kids, allowing Muslims to a boy or a girl and takes care of him or her as a real father or mother would do to their child, while keeping in mind that the child should be named after his/her biological parents.
Yet, Islam makes it impermissible to adopt a child and name him after his adoptive parents, while denying his real parents.
Imams Move
Recognizing the gravity of the growing problem, British imams were urged to take action and spread awareness about the merits of foster caring children in Islam.
"Many Muslims are very religiously confused when it comes to adoption and foster-caring. But beyond that there is a real problem of social stigmatization, a fear associated with caring for a non-blood relative." Imam Abdullah Shah from London told OnIslam
The imam added that a lack of religious guidance by community leaders and imams were to blame for Muslims foster-caring apathy.
"Although Islam clearly teaches us to exercise mercy and compassion toward orphans as a greatest form of Sadaqa [charity] Muslims understands such responsibility negatively," imam Shah said.
"Many prefer to ignore the issue as they cannot reconcile their indifference with God's expectations of us as a society and as individuals. There is no greater mercy than caring for an orphan; yet as a community, we have failed our children."
Imam Shah noted that while adoption as per understood by the West was not possible from a purely legal Islamic standpoint, foster-caring is however strongly encouraged and to some extent morally compulsory.
"The Islamic translation of adoption, -in the manner Islam defines it] is Kalafa, which means foster-caring, foster-parenting," explained Imam Shah.
For some British Muslims, the experience of foster-caring an orphan child has completely changed their life.
Lamiyah Boubaker is one of them. The British Muslim registered as a foster parent back in 2011 with her council when everyone rallied around and supported her.
"There is no greater satisfaction than to provide a safe and nurturing environment for a child …. If I'm perfectly honest, my foster son has taught me more about love and acceptance than I did him," she told OnIslam.net.
"Islam teaches us love, and love knows no name and no boundary."
http://jafrianews.com/2014/03/28/adoption-of-muslim-girls-problem-due-to-lack-of-community-interest-in-uk/
----------
'A simple wedding brings in most blessings', says Maulana Nadvi
April 01 2014
Maharashtra: The past ten days have seen a wave of Islamic awareness among Muslims by means of Jamaat-e-Islami-Hind's city-wide Asan Nikah Campaign. On the eve of the concluding day of this campaign, 30th March, the Mira Road unit of JIH sought to educate the masses about the correct Islamic way of conducting weddings. And what better way to learn than from the master himself? Keeping this in mind, renowned Islamic scholar, Maulana Shameem Akhtar Nadvi was invited to speak on this topic.
The program began with the recitation of the initial verses of Surah Nisa wherein the marriage is discussed at some length which says Allah has instructed men to maintain justice between their wives, and in case they are unable to do so, then they should be content with a single wife only. The Maulana began his address by asking youngsters to select their prospective brides on the basis of their personal piety above everything else. He also reminded them that they would at the same moment be choosing the mother of their future children, and hence should seek virtuous women, instead of falling for materialistic preferences.
The Nikah should be performed in the Masjid (preferably after Asar Namaz on Friday) to discourage any kind of profanity. Though there is no provision for a banquet at the time of Nikah, the groom's family can be served food as a gesture of hospitality. The prophetic tradition of a Walima (reception) feast should be followed, which is also a token of gratitude towards Allah. This Walima should not be extravagant and the society's poor should also be invited therein.
The learned speaker averred that extravagant weddings pave the way for illicit sexual relations while simplicity in wedding procedures will definitely curb Zina. He reiterated that Islam has not burdened the bride's family with wedding expenditures. Asking for dowry from the bride's family (and indeed intimidating them) is a serious violation of Islamic law. It is men who are responsible for the upkeep of their wives and families.
Citing the marriages at older ages he pointed out that it has a bad effect on the progeny. Also, men who marry their non-Muslim girl friends ostensibly in order to make them accept Islam should instead marry those girls from the Muslim community who have not the wherewithal for spending on weddings and are thus left deprived of matrimonial bliss, said Maulana.
Answering a question from the audience, Maulana Nadvi made it clear that weddings should not be lavish despite the groom being rich. However, he may choose to invite more people to the Walima.
The venue, decked up with a series of giant Signature banners on which Mira Road's citizens have pledged to uphold Islamic principles in marriages, served to be a perfect complement to the Maulana's speech. Maulana Nadvi wholeheartedly appreciated the Jamaat's endeavours in this regard and inspired them to strive further in the way of their Lord. He was gifted a set of books and pen by the local President, Mr. Abdul Qadeer, after which the day concluded with a prayer by Maulana Abdullah, seeking Allah's help and guidance.
http://twocircles.net/2014mar31/%E2%80%98_simple_wedding_brings_most_blessings%E2%80%99_says_maulana_shameem_akhtar_nadvi.html#.UztS9qhdUqM
----------
Girls Netted For Prostitution in Banda Aceh, Loitering, Attire
April 01 2014
The Sharia police in Banda Aceh, Aceh Nanggroe Darussalam, have rounded up 15 young women after they were "caught" in a late-night coffee shop.
They have been accused of not wearing appropriate Muslim clothing and for loitering outdoors after midnight, both deemed to violate the Islamic moral code.
The women were arrested on Saturday in a number of late-night cafes and coffee shops in a string of Sharia-enforcement patrols conducted by public order officers and Sharia police in Aceh.
"The patrols were in connection to the proliferation of Sharia violations by minors in Banda Aceh, especially in the city center," said Banda Aceh Public Order Agency (Satpol PP) and Wilayatul Hisbah (WH) Sharia Police chief Rita Pujiastuti.
According to Rita, it was believed that certain teenagers choosing to hang out in coffee shops until the early hours were involved in prostitution.
"Apart from the loitering, we believe they are also involved in sex work," said Rita.
Besides detaining the girls, the sharia police in Banda Aceh also arrested a number of youngsters dressed as punks and female beauty-parlor employees who were allegedly caught engaging in immoral acts.
They were detained at the Banda Aceh Public Order Agency and WH headquarters for questioning. They will be released in one day pending the completion of the investigation.
They were jailed without being given access to legal advice.
"The investigation will now focus on what sharia violations they committed. If they are proven to have violated sharia, the cases will be brought before the Sharia Court," said Rita.
Rita said the police would further intensify raids in areas deemed "prone to sharia violations".
"We will further fight to uphold sharia until Banda Aceh is free from vice and sharia violations," said Rita.
Separately, Gita, a teenager from Jakarta, who has only been in Banda Aceh for three months, was one of the teenagers detained.
She said her arrest was without evidence and she strongly protested the inappropriate handling of the incident by the WH officers.
Gita said she and her fellow detainees were in a small crowded cell that lacked sufficient space to lie down.
"I'm an employee who was by chance sitting in a coffee shop. I don't know why I was arrested for hanging out in a coffee shop late in the evening," said Gita.
She said the sharia police officers had seized her cell phone, thus, she was unable to call her family to tell them she was being held by the police.
"This is too much for me. What's the basis for confiscating my cell phone?" asked Gita.
Despite her anger, she said she stood no chance against the sharia police.
"I resign to my fate. It's up to them, they are the ones who hold the law. I'm just the victim," said Gita as she sobbed.
Recently, the Aceh Council approved the Qonun Acara Jinayah (the Criminal Code Procedure), which mandates that everyone in Aceh, regardless of religion, follow sharia.
Since the approval, the sharia police have often conducted raids urging women, including non-Muslims, to wear Muslim dress.
On Oct. 3, 2012, a 16-year-old girl committed suicide after certain media outlets reported that she had been arrested by the sharia police for alleged prostitution.
The girl was nabbed the previous evening while watching an organ tunggal performance in her neighborhood in Langsa, Aceh.
The sharia police later denied that they had made the statement labeling the girl a sex worker.
http://www.thejakartapost.com/news/2014/04/01/girls-netted-prostitution-loitering-attire.html
----------
Saudis married to foreign women can't enter military academies
April 01 2014
RIYADH – Saudi youths who are married to foreign women are not eligible for admission to the Kingdom's military academies, according to the amended Military Academy Law approved by the Council of Ministers on Monday.
Crown Prince Salman Bin Abdulaziz, deputy premier and minister of defense, chaired the weekly session of the Council of Ministers at Al-Yamama Palace here.
Minister of Culture and Information Dr. Abdulaziz Khoja said that the Cabinet approved amending Article 15 of the law after reviewing the report of the Council of Military Service's secretariat and two resolutions of the Shoura Council, the Saudi Press Agency reported.
According to the amended law, university and secondary school graduates will have to meet the following conditions for admission to military academies:
1. The applicant should be of Saudi origin, except for the applicant who grew up with his father during his service to the nation outside the Kingdom.
2. The applicant should be of a good behavior and reputation, and should not have been sentenced by a Shariah court, nor charged with a crime involving moral turpitude or dishonesty.
3. The applicant should have obtained secondary school graduation certificate, and be graduated after attending daily regular course in the same academic year in which he seeks enrolment.
Those who graduated in previous years will not be eligible to apply, and the internal regulation would specify the required disciplines.
4. In case of a university graduate, the applicant should have obtained his degree based on full regular study.
5. The applicant shall sit for tests to be conducted by the National Center for Assessment in Higher Education if it is required by military academies.
6. The age of the applicant, who is a university graduate, shall not exceed 27 years at the start of the academic year except for doctors whose ages shall not exceed 30 years.
7. The age of the secondary school graduate should be between 17 and 22 years.
8. The applicant should be between 165 cm and 188 cm tall and weigh between 52 kg and 95 kg.
9. The applicant should not be married to a non-Saudi woman.
10. The applicant shall successfully pass the medical examination, personal interview and a comprehensive written test in addition to the physical fitness test.
http://www.saudigazette.com.sa/index.cfm?method=home.regcon&contentid=20140401200478
----------
Female Saudi personal trainers want own academy to improve competitiveness
April 01 2014
AL-KHOBAR — A number of Saudi female trainers have called on authorities to build local academies to train women who are interested in aerobics, Zumba, yoga, Pilates and strength exercises, Makkah daily reported.
Female expatriate trainers are controlling the market due to the shortage in Saudi trainers, said Mona Samman, a trainer.
She said: "One of the obstacles facing women who provide training sessions is the high costs of training programs abroad. Not every woman who wants to be a trainer can afford the expenses and tuition fees for foreign academies."
Overseas specialized academies should be invited to organize courses in the Kingdom to spare interested women the high expenses of travel and education, she said. If this is not possible, a local academy should be built to offer such courses.
There is a pressing need for highly-qualified female Saudi trainers who can teach gym classes, especially now because girls' schools and colleges are allowed to have physical education classes for their students, she claimed.
She said: "As women, we need more places to exercise.
"I keep getting a lot of calls from customers who are looking for a trainer and who want to start a weight loss program but I can't meet with them because of the shortage of women's gyms."
Most women are fond of aerobics, kickboxing, cycling as well as strength exercises and the majority of them aim to lose weight, she said.
Samman believed that Saudi women should also have other goals such as keeping fit and healthy and building strong resistance against heart disease, high blood pressure, high cholesterol, and osteoporosis.
Nouf Al-Nawais, trainer, agreed that Saudi women need more female trainers to educate them about the right type of exercises and weight reduction programs.
A trainer should stay abreast of the latest developments in the fitness world in order to do her job properly, she said.
"Saudi trainers have an advantage over expatriates because the former are familiar with the lifestyles of Saudi women and what those women want to achieve from exercises," she said. She believed that women should do a variety of exercises and not stick to a certain type to facilitate quicker weight reduction and better health.
Hadeel Al-Shamrani, trainer, believed that some Saudi women still do not have enough confidence in compatriot trainers and prefer expatriates.
"Many women have recently taken up Zumba exercises as their favorite."
http://www.saudigazette.com.sa/index.cfm?method=home.regcon&contentid=20140401200489
----------
French headscarf ban defies FIFA laws and reopens political debate
01 April 2014
April 1 - French football authorities are upholding a ban on female players wearing headscarves for religious purposes in defiance of the game's lawmakers.
A month ago, following a two-year trial period, the International Football Association Board (IFAB) finally gave the green light for specially designed head covers to be worn in competitive games - not only by women but men too.
But the French oppose the lifting of the previous prohibition, putting them on a collision course with FIFA.
"Regarding the participation of female French national team players in international competitions on one hand, and the organisation of national competitions on the other, the French Football Federation reiterates its duty to respect the constitutional and legislative principles of secularism that prevail in our country and feature in its statutes," said the French FA in a statement. "Under these conditions, it maintains the ban on the wearing of all religious or denominational signs."
Following the IFAB meeting in Zurich, FIFA general secretary Jerome Valcke told reporters "it was decided that female players can cover their heads to play." He added that following a request from Canada's Sikh community, male players will also be authorised to wear head covers as long as they match the colour of their shirts.
The French stance will infuriate reformists who led the campaign for headscarves to be allowed, not least Asia's FIFA vice-president Prince Ali Bin Hussein of Jordan who successfully campaigned to have the law amended.
Asian football officials welcomed IFAB's recent move, saying it would allow more Islamic girls whose parents were not allowing them to play without their heads covered to take up the sport.
Contact the writer of this story at andrew.warshaw@insideworldfootball.com
http://www.insideworldfootball.com/world-football/europe/14390-french-headscarf-ban-defies-fifa-laws-and-reopens-political-debate
----------
HR activists protest against CII remarks on child marriage
April 01, 2014
ISLAMABAD: Human rights activists and civil society representatives have protested here against the recent remarks of the Council of Islamic Ideology (CII) about child marriages. Gathered at the CII building on Monday, the protesters asked the government to abolish the CII to save the taxpayers' money.
They said that the CII is going beyond its jurisdiction and mandate. "The CII members must realise that it is not a constitution-making body so it would be better to stop giving views on legislation. The CII is making a mockery of Islam, said human rights activist Farzana Bari. She said that CII is a political body dominated by members of orthodox religious political parties who lack religious knowledge.
"Only parliament has the right to legislate and eminent scholars with the highest degree of education in religion can assist it in making laws," she added.
Farzana said the CII is not only creating a sense of insecurity amongst half of the female population of the country but also defaming Islam and shaming us among the international community with whom our government has signed several women's and children's rights international conventions and covenants.
HR activist Fatima Atif said that government organisations and departments should protect women and children that are already struggling for their basic rights. "Islam gives tremendous rights to women and the CII should focus on ensuring those rights to women so that they can feel protected," she said.
Executive Director of a civil society organisation Saleem Malik opined that such a comment from the CII would hinder the progress on pending bills at the federal and provincial levels about increasing the minimum marriageable age for girls. "The legislation is waiting to come on the agenda in the Sindh Assembly whereas in Punjab, the draft is ready. Such comments at this stage will have negative impact on the legislation meant to protect girls," he said.
A statement issued by protesters said that the list of CII's retrogressive stances in the name of Islam is fairly long. The council opposed family planning. It declared the Women's Protection Act 2006 as un-Islamic that provides relief to rape victims and opposed DNA as primary evidence in rape cases. It challenges the Family Law Ordinance that make mandatory for men to seek permission from the first wife in case of second marriage. "We wish to make it clear to the government that people of Pakistan who believe in gender equality and HR will not allow anyone to play with the lives of our children and women in the name of Islam. We urge all those who believe in the vision of Quaid-i-Azam's progressive and democratic Pakistan that it is high time that we play our role by rising to challenge the decadent version of Shirani's Islam that threatens the health and lives of our children and women."
http://www.thenews.com.pk/Todays-News-13-29444-HR-activists-protest-against-CII-remarks-on-child-marriage
----------
Woman arrested for smuggling drugs into Saudi Arabia
April 01 2014
Jordanian security authorities announced on Sunday that they have arrested a woman who attempted to smuggle into Saudi Arabia about 20,000 amphetamine tablets through the Al-Amri land border checkpoint. They did not reveal the identity of the woman but said she hid the pills in two coffee pots and on various parts of her body. The Jordanian police said the woman was being questioned prior to sending her to court.
http://www.saudigazette.com.sa/index.cfm?method=home.regcon&contentid=20140331200332
----------
KSA to appoint 100 women as paramedics
April 01 2014
RIYADH – Saudi Arabia will appoint 100 Saudi females as the first batch of paramedics by the end of this year, according to Al-Riyadh newspaper on Sunday.
The new paramedics who are receiving training will be assigned to locations restricted to men. This move comes with several deaths that occurred because male paramedics could not freely enter the accident scenes such as schools for girls. In Riyadh, a university student died recently because the guards delayed the entry of male paramedics to the campus.
The batch comprises female nurses and other specialists will get emergency medicine diploma before starting their work, General Director of Women Section and the Red Crescent Dr Muneera Al-Mazro told the newspaper. "We have 3,000 volunteers who will join the program in the future," she said.
Last year, the Health and Environment Committee of the Shoura Council had recommended that women should be appointed in paramedical services.
The committee also proposed that women should get be trained in ambulance and paramedical services through foreign scholarships and by establishing a training center in the Kingdom.
It also proposed the creation of an independently-run ambulance service with the help of the government and private health sectors. It also recommended that the number of paramedical staff should be increased and services should be improved by forming more ambulance teams and increasing the number of ambulances.
http://www.saudigazette.com.sa/index.cfm?method=home.regcon&contentid=20140331200366
----------
UK Muslim Women Want Their Voice Heard
April 01 2014
LONDON – Addressing the plight of British Muslim Women, Inspire, a UK based human rights organization led by Sara Khan, has launched a new initiative to shed light on domineering males in their society and demand women rights granted by Islam hundreds of years ago.
"Our long term goal is to work towards developing a zero tolerance attitude towards gender inequality and discrimination within British Muslim communities which we feel continues to persist unremittingly," Sara Khan, the leader of the new initiative, told OnIslam.net.
"One reason for this is the lack of open acknowledgment of this reality.
"Many women do not feel they can openly talk about the denial of right they experience because many are encouraged to avoid bringing shame on their families and communities by speaking," she added.
Khan was speaking about the new initiative launched earlier on March under the title, "Honor My Voice: Sharing The Voices And Gender Discrimination Of Muslim Women".
The project, in association with the Everyday Sexism Project is designed to shine a light on an otherwise rarely reported subject matter, often shielded under the guise of respecting cultural positions.
On the initiative website, many stories uncovered the untold story of discrimination against women in Britain.
Aniqa, one of the victims, wrote, "At my cousins wedding the imam jokingly talked about a previous wedding he'd just done where the bride didn't want to get married and tried to stop the ceremony but her family "talked her back into it" and he married them minutes later. No one said anything."
Faoud added, "A mosque in Surrey removed the AV system in the women's prayer area to avoid them hearing the Khutba!"
Britain is home to a Muslim community of nearly 2.7 million.
Islam, as a divine religion, sets down rules that strike a balance between men's responsibilities and women's rights.
Woman is recognized by Islam as the full and equal partner of the man in the procreation of humankind.
By this partnership, she has an equal share in every aspect.
She is entitled to equal rights, she undertakes equal responsibilities, and she has as many qualities and as much humanity as her partner.
Misconceptions
While every Muslim champions Islam as an advocate of women's rights, interpretations of faith based on personal attitudes can and do leave an often confused message.
"Khadijah (not her real name - identity protected) told us her dad is an imam and he forced her into a marriage. When she told dad that her husband was raping her, he said it was his right to do so. Her father has also told since she was a child that women are liars," Khan recalled.
These false interpretations forced many Muslim women to shy away from reporting their problems, fearing it would be associated with their faith.
"In a culture of anti-Muslim sentiment, many of whom the victims are women, this also dissuades Muslim women from speaking out about discrimination and abuse they experience within Muslim communities," Khan told OnIslam.net.
"We believe that it is possible to fight anti-Muslim hatred and gender discrimination."
Asserting that Islam grants women equal rights to men, Khan hopes her new initiative would correct misconceptions about her faith in the minds of males.
"Honor is a word not restricted in use to Muslims. It cuts across many different cultures and religions but it also impacts on Muslim women," she said.
"Often we hear Muslims tell us that women shouldn't work because it more honorable for them not to, or that they shouldn't participate in public life because a Muslim woman's honor lies in her home."
Khan added that the initiative name, Honor My Voice, was picked to reclaim the true meaning of the word honor to guarantee Muslim women rights.
"We are reclaiming the word honor and attaching to it, it's rightful meaning - that woman' voices and choices should be heard and given esteem and respect," she said.
"There is no honor in firstly denying women their rights on the basis of gender and then secondly, worsening their experience by also telling them to keep quiet about it.
"We believe voices should be honored, not silenced. We believe their experience should be listened to, not ignored. Honor My Voice hopes to do this. We want both men and women to share their stories with us. They can do on Twitter @honourmyvoice and also on the website www.honourmyvoice.com."
While many stories come in relaying the negative experiences, hope can still be found. For example, one message received by a man reads: "@honourmyvoice if only us Muslim men followed the sunnah of the prophet (pbuh) no Muslim woman would be oppressed, shame on us!"
http://www.onislam.net/english/news/europe/470811-uk-muslim-women-want-their-voice-heard.html
----------
Iranian woman spared stoning for adultery
18 Mar 2014
An Iranian woman whose sentence to death by stoning for adultery became an international cause celebre has been released from prison, according to one of the country's senior leaders.
Sakineh Mohammadi Ashtiani was "granted leave", the head of the country's human rights council, Mohammed Javad Larijani, told a press conference, according to local news agencies.
Mrs Ashtiani, who was reported to have attempted suicide last month, was sentenced to death by stoning for adultery and complicity in the murder of her husband in 2006, provoking an international outcry.
After her two sons started a campaign against the sentence, there were vigils in world capitals, a vote of condemnation in the European Parliament, and subsequent rows between human rights activists, politicians, and the Iranian authorities.
At one point, an Iranian newspaper called Carla Bruni-Sarkozy, wife of the then French president Nicolas Sarkozy, a "prostitute" for adding her voice to the campaign.
Nevertheless, it was made clear that the death sentence had been postponed, though it has never been formally dropped. The murder sentence was set at 10 years, in agreement with the husband's family, though her family always contested the fairness of the case against her.
At a press conference on Tuesday, Mr Larijani attacked "outside interference" in Iran over its human rights record, particularly by the UN rapporteur on human rights in Iran, Ahmed Shaheed.
However, he did say that Mrs Ashtiani was no longer in prison. "There was a lot of noise because of this case on the international scene," he said. "We obtained the pardon of the victim's family, and the sentence was reduced to ten years.
"She has been granted leave on account of good behaviour."
http://www.telegraph.co.uk/news/worldnews/middleeast/iran/10706707/Iranian-woman-spared-stoning-for-adultery.html
----------
Swazi women bearing kids with Asian men
April 01 2014
An alarming number of young single Swazi women are raising mixed race children bearing testament of their sexual relations with Asian nationals.
Though some get married to these Asians, there are those who unfortunately seem to be victims of discriminatory labour practices. There are hushed talks about how some of these men prey on their employees and fire them if they refuse their sexual advances.
Calls to a few residents in Buhleni revealed that there was a confirmed case of one child born out of wedlock to a Swazi woman who now struggles to look after the child after her boss told her to leave his shop situated in Manzini. It was, however, unknown whether the employer made her pregnant or not.
A truck driver from Nhlangano who, however, lives in Buhleni, Wonder Khumalo said his son's mother broke up with him after having a relationship with her employer. "I know that the Asian boss is married, but she is favoured over all the other employees since I have heard that he is paying her rent as well. Although I cannot prove it until there is evidence of this relationship and a child is born, I am aware that they are sleeping with our women and using them," he alleged.
The Buhleni-based businessman, vehemently denied the allegations. He said as a Pakistani Muslim, he knew better and remained faithful to his wife at all times.
He said he frowned upon having casual sexual relations and hoped he spoke for all self respecting Muslims who came to the country to run their businesses. "If there is such a thing happening, I would like to categorically state that I am disappointed at the men doing it and I would like to remind them that Allah's retribution is upon them," he said.
Mbhuleni was visited and residents asked whether there were any such 'victims'. "I know two of our Swazi women who have children by men of Asian origin.
One ended up marrying the man and the other seems to have a relationship with the Asian businessman," said *Nhlanhla Maseko before giving directions to the latter's shop.
At the shop, the attendant confirmed that the Asian had a child with a Swazi woman from Lobamba and referred further questions to the man, Simon 'Timbumbusi,' whose surname was not provided. Simon confirmed that he had a child with a young Swazi woman. "We are not married yet," he said in a telephone interview. When asked whether this woman had worked in his shop, he preferred to conduct the interview in person. After several calls to his cell phone he failed to pitch at the meeting place, more than an hour after he said he was on his way.
His 'mother-in-law' was found the following day stocking the shop and said she was not really aware of the status of the relationship since she was not privy to the finer details.
"My daughter says she does not want him yet he says that he wants her, it has become a rollercoaster I cannot keep up with. The best is to talk to the two since they are better versed at what they are doing," she said.
When contacted, the Swazi woman said she was busy with her tertiary studies and could not entertain such at this point in time.
Meanwhile, a Mulana (equivalent to a priest/pastor in the Islam religion), who preferred anonymity, said in the 16 years he has been in the country he had not yet heard of such.
"If there are Muslim men making women pregnant out of wedlock and they make things worse by abandoning both mother and child, I would like them to know that this is unacceptable," he said.
Mulana said Muslims were not supposed to indulge in sexual affairs, have children and abandon them. "The Prophet Mohamed in the Holy Quran teaches that a man must be responsible and take care of women and not bring them shame. Allah will punish them for what that they are doing," he said.
Self control not a religious but moral issue
There is just as much fornication and adultery within all religions regardless of people defending themselves through their religious beliefs, says *Rasheed Mohamed.
"We can hide behind the tradition and religion card for so long but the truth is there is nothing stopping you from engaging in sexual relations with a woman if chances and longing present themselves at the same time," he said. Mohamed said as a young man of Indian origin, who grew up in Swaziland, he was not so stifled nor did he conform to the practices his parents lived by. He admitted that he indulged in a lot of activities his parents would frown upon. "All I can say is that I do take alcohol occasionally and I am not a virgin though unmarried," he said. "You can't really tell whether these women have borne illegitimate children or are married," said *Khosi Dlamini, a clerk at the Mbabane Government Hospital. She said there were quite a few women who came and gave birth to children of mixed race. "Some of them are fetched by men of Asian origin after the birth and some leave on their own. Maybe if you had access to their birth certificates you would have a better picture," she said.
Religion, tradition does now allow it – Asian elders
A section of a prominent Hindu family based in Matsapha operating a wholesaling business vehemently denied that they fornicate or have adulterous relations with their workers or any other women other than their wives.
Patel said as old as he was, he had only ever had relations with his wife and had never looked at any other woman in a sexual manner. "As it happens, Hindus usually have only two children each and not more," he said before referring further questions to Patel Ashvan, another elder in the family. The 50-year-old Ashvan said in his wisdom he could not speak for all Hindus nor say that this abominable practice was predominantly a Muslim one. "The old generation had values instilled in them, but the younger generation goes to school and lives under different influences so there is no confirming nor defending what is being said about them fathering offspring in this manner," he said. Ashvan elaborated that it was a personal decision and sadly, such people who slept around brought diseases to their families and endangered the lives of their women. Meanwhile, *Salim Bashwani said he had only ever had sexual relations with his wife. "I am 32 years old and recently arrived from India, but from what I have heard, Swazi women are promiscuous.
"How can you sleep with a man who is not your husband? Where is the pride? I have heard that there are a lot of single mothers in this country. It is a shame," he said. Bashwani said the Hindu culture was protective of its women and that as the men worked on the shop floor, the women were upstairs looking after the children.
"You people send your women to work and struggle for themselves, I would never allow my wife to be exposed like that. That is the reason I work from 7am to 7pm," he said shaking his head.
Two female employees who were asked whether they were sexually harassed or had ever heard of sexual harassment happening to workers in the shop said they were not aware of anything untoward happening in their presence, adding that they could, however, not talk for others.
http://www.observer.org.sz/news/60292-swazi-women-bearing-kids-with-asian-men.html
----------
Spotlight on Palestinian woman honored by White House
1 April 2014
Nahla al-Kayali, a California-based Palestinian-American civil worker, was honored by the White House as a leader of change earlier this week.
The activist was the only Arab among the ten recipients of the prestigious White House award.
Despite dropping out of school at the age of 16, Kayali served America's Arab and Muslim communities since 1976, and has since become a pioneer in civil and social services.
"It honestly comes down to the work we do in California and our engagement in social volunteer work in the United States representing our Arab and Muslim community," Kayali told Al Arabiya News Channel.
Besides her social work at the Arab Community Center for Economic and Social Services (ACCESS), Kayali also played a major role in establishing the first Arab Museum in Detroit, and was commissioned by a former California governor to serve on a special committee.
Kayali's volunteer work at ACCESS included securing health insurance to low-income families, offering English language classes for foreign migrants and issuing food ration cards to women and children.
"I'm proud to be one of the ten people honored today by the White House. It will bring me pride until the end of my life to receive such an award. Today I would like to present my award to the Arab and Muslim community," she said.
Kayali said she was surprised when the White House informed her about the award, but confirmed that her work will not end as she continues to be an active civil leader working for a "better future."
http://english.alarabiya.net/en/perspective/features/2014/04/01/Palestinian-woman-honored-by-White-House.html
----------
Turkey: South-eastern town elects 27-year-old female candidate for mayor
1 April 2014
At only 27, Leyla İmret was selected as the new mayor of Cizre in the south-eastern province of Şırnak, becoming one of the youngest mayors to serve the country with a record 83 percent of the vote.
Born in the town, which lies near the Syrian border, İmret was five years old when she witnessed her father's death. The family then first moved to the coastal city of Mersin before settling in Germany.
Despite growing up in Europe, İmret decided to return to her hometown and step into politics and was presented as a co-mayor candidate from the ranks of the Peace and Democracy Party (BDP).
She says her decision was motivated after she visited her father's tomb in Cizre for the first time after 22 years.
Together with the BDP's co-candidate Kadir Konur, İmret has achieved the difficult task of becoming one of the strongest-backed mayors in a man's world.
İmret says her task now is to become a bridge between the border town, where tensions are recurrent, and Europe.
But İmret is not the only young and female candidate boldly promoted by the BDP in south-eastern Turkey, where the patriarchal system is much stronger compared to the Western parts of Turkey.
In Diyarbakır's Lice province, another young co-candidate, 25-year-old student Rezan Zuğurli has been selected mayor with 91 percent of votes.
The BDP and its sister party, the People's Democracy Party (HDP) have been sensitive about the issue of nominating women, adopting the formula of presenting co-mayors in many of the constituencies where they took part in the race.
http://www.hurriyetdailynews.com/southeastern-town-elects-27-year-old-female-candidate-for-mayor.aspx?pageID=238&nID=64387&NewsCatID=338
----------
Headscarved mayor on return to Turkish municipality where she was once fired
April 01 2014
Following a successful campaign in the Turkish local elections, AK Party's female candidate Fethiye Atli has become one of the first headscarved women in the country's history as a republic to be voted in as a municipal mayor.
Ironically, after the coup that forced former Prime Minister Necmettin Erbakan to step down on 28 February 1997, Fethiye Atli was fired from her job at the same municipality where she is now due to take on her new duties as mayor.
Having worked as a civil servant for over 10 years, Atli was fired from her job in the year 2000 after ignoring a number of warnings and fines regarding her religious dress code. Eventually, an official from Ankara came and terminated her contract. She tried to appeal to the courts but her appeal was rejected.
She was just one of many women all over Turkey who were forced out of the public sphere due to their choice of clothing amid a crackdown on all open displays of Islamic identity. The ban on the headscarf was officially lifted in late 2013 when Turkish Prime Minister Recep Tayyip Erdogan announced his 'democratization packet'.
http://www.worldbulletin.net/news/132580/headscarved-mayor-on-return-to-turkish-municipality-where-she-was-once-fired
----------
URL: https://newageislam.com/islam-women-feminism/pakistani-girl-her-mother-put/d/66368