New Age Islam News Bureau
31 Oct 2018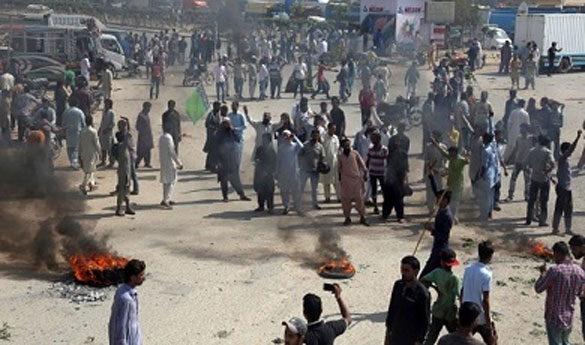 Source: Supporters of a Pakistani religious group burn tires while block a main road during a protest after a court decision in Karachi, Pakistan, Wednesday, Oct. 31, 2018. Pakistan's top court has acquitted a Christian woman who has been on death row since 2010 for insulting Islam's Prophet Muhammad. In Wednesday's verdict, the court ordered authorities to free Asia Bibi. (AP Photo/Shakil Adil)
---------
• Women cannot be silenced anymore
• WDF demands to repeal ban on media coverage of KP's girls' schools
• US voters poised to elect 2 Muslim women to Congress
• In first, Israel appoints woman as ambassador to Egypt
• Tunisia woman suicide bomber was jobless graduate: prosecution
• Moroccan girl, 9, wins $136,000 Arab reading prize
• Envoy visits Turkish woman who was attacked in Germany
• Islamabad police station for women gains praise
• Woman's daring face-off with police van reignites Iran hijab debate
• Two Egyptian women sentenced to three years over death of three children
• PM intervenes on niqab issue, Islamists lose a battle
• Women wrestlers take on rivals and tradition in south Iraq
• New Arab feminism: Consciousness, art and action
• Saudi pilot speaks about how she hit the glass ceiling
• Sports for Life: 100 Saudi women support cancer patients with community event
Compiled by New Age Islam News Bureau
URL: https://www.newageislam.com/islam-women-feminism/pakistani-court-acquits-asia-bibi/d/116758
--------
Pakistani Court acquits Asia Bibi, a Christian woman facing death for blasphemy
October 31, 2018
ISLAMABAD: Pakistan's top court on Wednesday acquitted a Christian woman who was sentenced to death in 2010 on blasphemy charges, a landmark ruling that could ignite mass protests or violence by hard-line Islamists.
Chief Justice Mian Saqib Nisar announced the verdict to a packed courtroom and ordered Asia Bibi released. She has been held at an undisclosed location for security reasons and is expected to leave the country.
The charges against Bibi date back to a hot day in 2009 when she went to get water for her and her fellow farmworkers. Two Muslim women refused to drink from a container used by a Christian. A few days later, a mob accused her of blasphemy. She was convicted and sentenced to death.
The mere rumor of blasphemy can ignite mob violence and lynchings in Pakistan, and combatting alleged blasphemy has become a central rallying cry for hard-line Islamists. Salman Taseer, the governor of Punjab province, was shot and killed by one of his guards in 2011 for defending Bibi and criticizing the misuse of the blasphemy law. The assassin, Mumtaz Qadri, has been celebrated as a martyr by hard-liners since he was hanged for the killing, with millions visiting a shrine set up for him near Islamabad.
Ahead of the verdict, Khadim Hussain Rizvi, a hard-line cleric who has brought tens of thousands of people into the streets for past rallies, called on his supporters to gather in all major cities to express their love for the prophet and to protest if Bibi is released. Authorities have stepped up security at churches around the country.
Shortly after the ruling, hundreds of Islamists blocked a key road linking the city of Rawalpindi with the capital, Islamabad. Islamists in Pakistan's largest city of Karachi and in the northwestern city of Peshawar were also gathering for the protests. Similar rallies were held elsewhere. Police urged demonstrators to disperse peacefully.
Bibi's family and her lawyer say she never insulted the prophet. In previous hearings her attorney, Saiful Malook, pointed to contradictions in testimony from witnesses. The two Muslim women who pressed charges against Bibi denied they quarreled with her, saying her outbursts against Islam were unprovoked.
Critics of the blasphemy law have said it is used to settle personal scores or to attack minority communities. Bibi's case was closely followed internationally amid concern for Pakistan's religious minorities, who have frequently come under attack by extremists in recent years.
Bibi's husband hailed Wednesday's verdict.
"I am very happy. My children are very happy. We are grateful to God. We are grateful to the judges for giving us justice. We knew that she is innocent," said Ashiq Masih.
http://www.arabnews.com/node/1396901/world
--------
Women cannot be silenced anymore
Fatima Atiq
OCTOBER 31, 2018
There is no fault in claiming we have come a long way since the 80's, in terms of fashion, style, our music, the technology. The society has taken a giant leap forward into the current era of modernization and technological development in the past couple decades.
Sadly! Though when it comes to treatment of women in Pakistan there hasn't been much change observed.
There aren't many laws in Pakistan regarding women rights. Especially laws regarding abuse, molestation, female genital mutilation etc. The criteria for a women to be considered a sexual assault victim in Pakistan is jarring and narrow minded, to even talk about such incidents is not a possibility for most, according to Hudood Ordinance which was put in place along with the Council Of Islamic Ideology (CII), according to which DNA cannot be taken as primary evidence in sexual assault cases and can only be considered as a corroborating evidence.
Staring into our face is the startling reality that, unless the women has shown any physical sign of struggle and has proof in the form of bruises and torn clothes. She'll be no considered an assault victim. But even that is only if the assaulter was a practical stranger.
If she have had any from has any form of inclination towards the man or has had a one-on-one communication with him at any given point, she'll be considered of lose character and having brought the inevitable onto herself.
Although, it will be unfair to assume that only women are the victim of such horrifying acts. Painfull incidents where young boys also suffer the same fate keep surfacing on to the media mercilessly. But the statics in comparison to female are jarringly low.
What is more appalling is the treatment of and the accusations made against the women who have suffered such horrific crimes. Especially those who have dared to speak out against the terrible crimes that were committed against them, resulting in their character assassination and public humiliation. Even though they are the true victims, they are still treated as if they were the one who has committed a crime.
Their crime being that they have sought out justice for themselves? Which is rarely ever found as most of such victims are silenced in the name family's pride. Pummeling them with dialogues such as "your life is already ruined think of your sibling. Who'll marry them?" or "what has happened is done don't drag it out anymore, you've humiliated us enough" Or outright killing them.
On a less depressing note however certain amendment have been made in the anti-rape law, considering DNA profiling as a crucial evidence during the investigation.
While this is a healthy and positive step towards Lessening such crimes against women in our country, one must remember that it is a long and uphill climb. One must never stop hoping for change, because it does happen, however slow it may be.
https://dailytimes.com.pk/316586/women-cannot-be-silenced-anymore/
--------
WDF demands to repeal ban on media coverage of KP's girls' schools
Oct 31, 2018
ISLAMABAD: Leaders of Women Democratic Front (WDF) have condemned the recent Khyber Pakhtunkhwa (KP) government order of banning media and social media coverage of all events in girls' schools across the province.
In a joint statement issued here on Tuesday, WDF leaders Mumtaz Tajik and Ismat Shahjahan said this action reinforces the existing gender segregation; one of the many tools to systematically degrade women's position in the society.
They said that gender segregation reinforces the idea of the "natural" role of a woman in a patriarchal society, limiting her to the confines of a home and away from the public sphere. "It also paves the way for depriving women of opportunities and limiting their access to resources, services and recognition," they added.
WDF Information Secretary Tooba Syed said that in this particular case, the achievements of the girls will not be shared on social media and with the public in the name of "protection" and upholding their "modesty" to maintain their pardah.
"The imposition of this ban means no recognition for their achievements because they need to be kept away from the public eye while the achievements of boys will be celebrated, which is a thoroughly unconstitutional form of discrimination," she added.
WDF General Secretary Alya Bakhshal said that the Pakistan Tehreek-e-Insaf (PTI), similar to its previous tenure, continues its discriminatory practices against women.
"During the last tenure, the KP government failed to pass any pro-women legislation and instead left the issue of the bill of the violence against women at the behest of the Council of the Islamic Ideology (CII)," she added.
The WDF demanded for this ban to be removed by the KP government at once. "The decision to observe pardah or not is solely a woman's own decision. The institutionalisation of the conservative practice of gender segregation amounts to a degradation of women's economic, social and political position in society," they said.
"WDF stands against this institutionalisation of the harmful practice of gender segregation and reasserts its objective of struggling for the elimination of discriminatory laws and practices against women," they concluded.
https://www.pakistantoday.com.pk/2018/10/30/wdf-demands-to-repeal-ban-on-media-coverage-of-kps-girls-schools/
--------
US voters poised to elect 2 Muslim women to Congress
31 Oct 2018
CHICAGO: US voters are poised to elect two Muslim women to Congress in the midterm election next week, marking a historic first even as anti-Muslim and anti-immigrant rhetoric has been on the rise.
Ilhan Omar, a Somali refugee, is all but certain to be elected to the US House of Representatives in a heavily-Democratic district in the Midwestern state of Minnesota, where she is the party's nominee.
Rashida Tlaib, a social worker born in Detroit to Palestinian immigrant parents, will win a House seat in a district where she is running unopposed.
The two will be the first Muslim women to serve in the US Congress. They will increase the total number of Muslims in Congress to three.
Congressman Andre Carson, who is Muslim and African American, is likely to win reelection in his safely-Democratic district in the state of Indiana.
The expected electoral milestone is in stark contrast to the rise in anti-Muslim sentiment around the country. The Council on American-Islamic Relations (CAIR) reported a 21 percent increase in anti-Muslim hate crimes in the first six months of 2018.
TRUMP A "WAKE-UP CALL"
Both Tlaib and Omar have positioned themselves as polar opposites of President Donald Trump and his Republican Party.
They oppose Trump's restrictive immigration policies, support a universal health care system which Republicans oppose, and want to abolish US Immigration and Customs Enforcement.
ICE has conducted raids throughout the country, leaving immigrant communities terrified of deportations - including longtime Iraqi refugees in Michigan.
"The election of Donald Trump was a wake-up call," Colin Christopher of the Islamic Society of North America told AFP.
"Now we're seeing communities that were once absent from public conversations... all of a sudden are really engaged."
The two women are part of a historically diverse crop of candidates - by race, gender, and sexuality - challenging Republican incumbents.
They reflect a Trump era in which race and women's rights and empowerment have emerged as flashpoint issues for Democrats, and identity politics are increasingly important.
Polls indicate next week's election will likely hand Democrats control of the lower house of Congress in a rebuke of Trump's administration. The Senate is seen as more likely to stay in Republican majority control.
ANTI-TRUMP MESSAGE
Tlaib was born and raised in Detroit -- the eldest of 14 children. In 2008, she became the first Muslim woman to serve in the Michigan state legislature.
The 42-year-old has positioned herself as a champion of the working class and strongly anti-Trump. During the 2016 presidential campaign, she heckled then-candidate Trump during a speech in Detroit.
Tlaib won the Democratic party's primary election in August in a predominantly African American district.
"Her district does not have many Muslims in it," said Dawud Walid, executive director of CAIR's Michigan chapter.
"I don't believe that her ethnic or religious identity has had much of a part to play in her victory nor any opposition against her."
Tlaib has been mindful of the historic nature of her candidacy. During her tearful primary election victory speech in August, with her mother by her side, she said relatives in the West Bank were watching her success.
"It just shows how incredibly wonderful our country can be," she said. "All the ugliness and the hatred that you hear out there, it's not who we are."
With no Republican opposing Tlaib, she will be elected next week to a two-year term to replace longtime Congressman John Conyers who stepped down in December amid sexual harassment allegations and failing health.
FIRST SOMALI-AMERICAN LAWMAKER
Ilhan Omar also has forged a progressive political identity. She supports free college education, housing for all, and criminal justice reform.
The hijab-wearing Minnesota state lawmaker's personal identity has played a big role in her campaign. She is the first Somali-American legislator in the US.
Omar fled her native country's civil war at the age of eight, and later immigrated with her family to the US.
She was inspired by politics early on, when accompanying her grandfather to his first election vote.
"I just fell in love with politics and with what it could do," she told Elle magazine in September.
"I decided to run because I was one of many people I knew who really wanted to demonstrate what representative democracies are supposed to be."
In 2016, the 36-year-old won an uncontested seat in the legislature of her Midwestern home state, where there is a sizable Somali population.
Running for a congressional seat in a heavily-Democratic district that includes the city of Minneapolis, she is expected to easily defeat her Republican challenger.
She would replace Keith Ellison, who was the first Muslim elected to Congress in 2006. He gave up his seat to run for the state's attorney general's office.
https://www.channelnewsasia.com/news/world/us-voters-poised-to-elect-2-muslim-women-to-congress-10881844
--------
In first, Israel appoints woman as ambassador to Egypt
30 October 2018
On Tuesday, Israel appointed its first female ambassador to Cairo since the Egypt-Israel peace treaty was signed in 1979. Amira Oron will be succeeding outgoing ambassador David Govrin, after he finished his mandate nearly two years after taking office.
Oron is the second Israeli woman to serve as ambassador to an Arab country after Einat Schlein, who was Israel's top representative in Jordan.
Oron has vast experience in diplomacy where she served as Israel's ambassador to Turkey for two years, and has been working at the foreign ministry for 27 years. She was also the director of the Foreign Ministry's Department of Communications in the Arab World.
Oron studied Islamic and Middle Eastern studies and speaks Arabic.
Cairo and Tel Aviv did not reveal the date of the new ambassador's arrival.
Egypt and Israel signed a peace treaty in 1979 after four wars between the two countries.
https://english.alarabiya.net/en/News/middle-east/2018/10/30/In-first-Israel-appoints-woman-as-ambassador-to-Egypt.html
--------
Tunisia woman suicide bomber was jobless graduate: prosecution
30 October 2018
A woman who blew herself up on a busy street of the Tunisian capital this week has been identified as an unemployed graduate, the prosecution said Tuesday.
Mna Guebla detonated a bomb Monday near a gathering of police cars in Tunis' upmarket Avenue Habib Bourguiba, wounding 15 officers and two teenagers in the first such attack in the city since 2015.
The bomber, from the eastern region of Mahdia, was aged 30 and had a degree in business English, said prosecution spokesman Sofiene Sliti, who also represents the country's anti-terrorism unit.
Guebla did not have a job related to her studies, but sometimes worked as a shepherdess to help her family, according to Tunisian media.
Eight years since a revolution that toppled longtime dictator Zine El Abidine Ben Ali, Tunisia's economy is stagnant and around a third of young graduates are unemployed.
Authorities had not previously identified Guebla as a potential extremist, Sliti told AFP.
The prosecution spokesman said there had not yet been any arrests in connection with Monday's attack.
Authorities said nobody was seriously injured in the explosion.
Tunis returned to normal on Tuesday apart from a reinforced police presence around the blast site, on a major artery and close to the North African country's interior ministry and French embassy.
Municipal workers had used high-pressure water hoses to clean the area, where tourists were walking again and cafes had re-opened.
https://english.alarabiya.net/en/News/north-africa/2018/10/30/Tunisia-woman-suicide-bomber-was-jobless-graduate-prosecution.html
--------
Moroccan girl, 9, wins $136,000 Arab reading prize
30 October 2018
A nine-year-old Moroccan girl on Tuesday won $136,000 (120,000 euros) in an Arabic-language reading competition organized by the Dubai government.
Maryam Amjoun beat 16 other finalists all aged under 18 from across the Arab world to land the top prize in the third annual Arab Reading Challenge.
Organizers said that this years literacy initiative -- in which competitors have to read at least 50 books to qualify -- saw "10.5 million students from the Arab region and worldwide" take part.
The Al-Ikhlas school, in Kuwait, won a $270,000 prize for the best reading initiatives for students.
Aisha al-Tuwairqi, from Saudi Arabia, won the title of Outstanding Reading Supervisor and took home $82,000, while Tasneem Eidi, from France, was recognised for her reading efforts in non-Arab countries and won $27,000.
Last year, 17-year-old Palestinian high school student Afaf Raed Sharif won first prize.
https://english.alarabiya.net/en/life-style/art-and-culture/2018/10/30/Moroccan-girl-9-wins-136-000-Arab-reading-prize.html
--------
Envoy visits Turkish woman who was attacked in Germany
30.10.2018
A Turkish woman who last week suffered a violent attack by a stranger in Germany got a visit on Tuesday from the local Turkish diplomat.
Hacer Ugurlu told Anadolu Agency the story of her assault in the city of Cologne, saying: "I took the tram to go to work in the afternoon. The tram was crowded, the person sitting next to me looked me in the face and mumbled something, and then swore.
"As I stood to get off at my station, he punched me in the face and head. No one did anything to stop him."
Saying her life was in danger, Ugurlu said she didn't know why she was targeted.
Visiting Ugurlu at Eduardus Hospital where she is getting treatment, Ceyhun Erciyes, Turkey's consul in Cologne, denounced the attack and requested details from the police about it. He also demanded the attacker be caught so he could face justice.
Ugurlu also said her attacker was able to leave the train unhindered.
"The tram driver came in, I asked him why he opened the door, and he said the attacker had escaped. I told him we could find him from the security cameras and he said, 'Only if they're working'."
Ugurlu said she is certain all public transportation areas have camera systems recording everything and the drivers can see what is happening inside trams.
She voiced her determination to not let the matter go without getting justice.
Though the motives for the assault were unclear, Turkey has denounced rising xenophobia in Europe and attacks on Germans with foreign roots.
https://www.aa.com.tr/en/europe/envoy-visits-turkish-woman-who-was-attacked-in-germany/1298140
--------
Islamabad police station for women gains praise
October 30, 2018
Islamabad: Islamabad police's new Violence Against Women Centre in the city's Sector G-7 has turned into a model institute providing quick legal, medical, mental and psychological relief for women victims of domestic and physical violence, rape, acid attacks and other social and gender-related crimes.
The establishment of a police station for women is seen as a step in the right direction by the federal police chiefs.
A help line (8090) dedicated only to women's grievances has been set up in the police station where all complaints are addressed through a quick mobile response unit, SP Sumaira, Superintendent of Police (SP) Headquarters and In Charge of the centre, told Gulf News.
In order to swiftly respond and to provide instant assistance to victims, a doctor and two psychiatrists provide round-the-clock care, she said, adding that a one-referral pathway has also been designed in order to ensure hassle-free help.
An ambulance is also available to move victims in case of emergency to a nearby hospital, she added.
Sumaira said that apart from complaints of violence, other issues such as workplace harassment are also registered as per law.
Representatives from women's organisations, diplomats and human rights activists have been visiting the station in order to find out about the 'soft image' of the tough police.
A female delegation of the Metropolitan Corporation of Islamabad (MCI) under a Gender Responsive Policing Project (GRPP) also visited the centre and got a tour of its various departments. A library, day care centre and a home-like environment all encourage victims to feel safe and protected so she can explain her problems better.
Australian High Commissioner Margaret Adamson also visited the centre and termed it a positive initiative of the Islamabad police.
Deputy Director Gender Crime Cell Nighat Haider appreciated the efforts of the GRPP team and assured cooperation for community meetings.
Later, talking to media persons, an female MCI member said it was a positive initiative taken by the Islamabad police as the usual rigid environment intimidates a complainant and does not help her give a candid statement against the harasser.
https://gulfnews.com/news/asia/pakistan/islamabad-police-station-for-women-gains-praise-1.2295885
--------
Woman's daring face-off with police van reignites Iran hijab debate
October 30, 2018
Iran's morality police once again sparked outrage this week after a video went viral, renewing debate on the controlling practice. In the footage, apparently captured Oct. 27, a female student is seen confronting a police van that drives into her and almost runs her over before it is surrounded with bystanders. The woman is said to have been protesting the arrest of a friend over her failure to observe proper hijab, an offense Iran's morality police exists to punish.
The incident took place in what looks like a parking lot outside a branch of Azad University in Tehran's northeastern Sohanak area. Despite being omnipresent in crowded and popular spots, the morality police rarely flex their muscles near university campuses.
Senior Iranian Reformist lawmaker Mohammad Reza Aref, who is commonly admonished by pro-Reform youths for his muted responses to rights violations, surpassed their expectations this time. He condemned the incident as a "violation of the sovereignty of universities." Aref also touched on similar incidents in the past decades, when university campuses were stormed by plainclothes forces crushing any sign of student unrest.
The commander of the Tehran Police Department, Hossein Rahimi, did not deny the incident, but offered his own version of "a woman confronting the police vehicle before the driver immediately pulled the brake." The footage, however, shows the van pushing the woman several meters. "The posted video was an edited version," he claimed.
The explanation did little to ease the growing public fury. "A brave woman confronting a bully" read one tweet that juxtaposed a screenshot of the video with that of the iconic Tank Man who stood up to the Chinese military in Beijing's Tiananmen Square during the notorious 1989 massacre.
Some went even further, likening the morality police with what they termed "IS patrols," accusing the Islamic Republic of "savagery." Similar posts could be found under the Persian hashtag "our camera is our weapon," a trend that has gained momentum in recent months to turn the spotlight on the issue of mandatory hijab in Iran. The photography campaign encourages ordinary citizens to capture moments of police mistreatment. It has also recorded women daring to lift their headscarves in public as a symbol of defiance, a gesture that has already seen several of them beaten or sent to prison for "disturbing public order" and a plethora of other security-related charges.
A popular venue for these individual protests has been central Tehran's crowded Enghelab Square and the street leading to it. It was the site of yet another such protest Oct. 29. Cheered on by crowds, a woman climbed to the top of the square's dome-like structure. She was approached by a police officer and reportedly taken into custody.
Mandatory hijab has been an almost indisputable principle in the Islamic Republic. But a debate has been going on for quite some time on whether the morality police is the right strategy to enforce it. Jumping on the bandwagon of public discontent against the policy, Iran's moderate President Hassan Rouhani spoke against it during his election campaigns in 2013 and 2017, reviving hopes among Iranian women that the patrol was about to be abolished. However, the president's failure to live up to those promises has left many wondering if he lacks the authority to challenge Iran's conservative clerical community as the main driver behind the unpopular practice.
https://www.al-monitor.com/pulse/originals/2018/10/iran-hijab-morality-police-video-viral-enghelab-square.html
--------
Two Egyptian women sentenced to three years over death of three children
30 Oct 2018
An Egyptian misdemeanour court has sentenced two women to three years in prison and one man to one year over negligence that led to the killing of three children in Giza last July.
On 10 July, the bodies of the three children were found in Talbiya Giza, almost decomposed and wrapped in two plastic bags and a carpet and dumped on a roadside. The children, aged two, four and five, had died in an apartment fire a few days earlier when the mother and her flatmate were out.
The defendants were charged by the prosecution with negligence leading to the children's deaths, as well as failing to notify authorities and discarding the bodies without burial.
The husband of the flatmate was sentenced to one year in prison.
The verdict is subject to appeal.
http://english.ahram.org.eg/NewsContent/1/64/315412/Egypt/Politics-/Two-Egyptian-women-sentenced-to-three-years-over-d.aspx
--------
PM intervenes on niqab issue, Islamists lose a battle
31 October 2018
The Algerian prime minister's recent reiteration of a ban on the wearing of the niqab (face veil) by all public service employees in the workplace, including universities, can be seen as evidence of a push to enforce a rule that has existed since 2006 but not strictly applied because of pressure from Islamists.
In a letter to governors (walis) and officials of public administrations on 8 October, Ahmed Ouyahia reminded officials that civil servants and public officials are "subject to specific legal and statutory obligations" and must "comply with the rules and requirements of security and communication within their department, which impose their systematic and permanent physical identification, particularly on their location."
The prime minister urged the walis to instruct all public servants and officials in their sectors to "refrain from wearing any clothing that hinders the performance of their public service missions, particularly the wearing of the niqab which is strictly prohibited in the workplace".
At the start of the current school year, Minister of National Education, Nouria Benghebrit also reminded schools of the obligation for female teachers to reveal their faces in class, a move that has sparked the ire of Islamists seeking to impose "correct" dress codes on girls in particular.
The recent communiques by the prime minister and his minister endorse a law that has existed since 2006 (Ordinance No. 06-03 of 15 July 2006), but was not strictly applied in certain administrations, including universities, because of pressure from Islamists seeking to impose their religious vision of Islam on students, particularly females, through dress.
Last year, officials and student unions affiliated to Islamist parties at several universities caused controversy by imposing a dress code in response to what they perceived as "extravagant" or "indecent" attire.
At the University of Algiers, students were reportedly reminded of a 2015 order that females should not wear short dresses or tight pants because such attire was "not consistent with our traditions and morals". The order created controversy, since it targets only a sector of the student body, allowing Islamists to continue to wear the niqab without censure.
At the time, Minister of Higher Education Tahar Hadjar was forced to intervene and remind universities of the republican character of the state. He reportedly accused unions he considers illegitimate, namely, the General Union of Free Students (UGEL) and the National Council of Higher Education Teachers (CNES) of trying to destabilise the university.
Shortly after the prime minister's October instruction was issued, Association of Algerian Muslim Scholars president Abderrezak Guessoum denounced them, arguing it was an attack on individual liberties.
However, Guessoum admitted that the instruction does not contradict the prescriptions of Islam because that the latter speaks of the hijab (head scarf) and not the niqab (face veil).
The Islamist deputy Messaoud Amraoui, went further, arguing that the instruction constitutes "a declared war against Islam", and asserted that the wearing of the niqab is a question of individual freedom. He said it would constitute "social justice" if the instruction were extended to those who wear extravagant and revealing clothes inside institutions, including educational inistitutions.
Others approve the prime minister's intervention which they see as a challenge to the strength of the Islamists. Aicha Bakhti, a civil rights activist, questioned the need to link the banning of the niqab to the problem of extravagant outfits.
"When we say that the Western clothes are not Algerian, we have to say the niqab too is not Algerian ... For me, the niqab is a political uniform supporting a fascist ideology" and to recall that the measure of banning the niqab in schools and public administrations was justified, given cases where terrorists used the niqab to hide and go unnoticed," she said.
http://www.universityworldnews.com/article.php?story=20181029064911448
--------
Women wrestlers take on rivals and tradition in south Iraq
October 30, 2018
DIWANIYAH, IRAQ: Sports teacher Nehaya Dhaher was living a quiet life looking after her elderly mother in Iraq's tribal south when she was asked to set up the country's first women's wrestling squad.
Taking on a sport largely reserved for men in a region with strict traditions was quite a challenge but one that both Dhaher and young female sports fans embraced.
"Recruiting wasn't a problem," said Dhaher, a tight blue hijab framing her round face.
"On the other hand, it's been difficult to convince society because our traditions aren't really headed in this direction," the 52-year-old said.
Dhaher was working as a school sports teacher and trainer at a sports club but never imagined that one day she would be coaching a group of young female wrestlers in her conservative city of Diwaniyah.
But when the Iraqi Wrestling Federation approached her two years ago with the opportunity to lead the team due to her proven track record with women athletes, she leapt at the chance.
To start off, she found five volunteers at her local sports club to train the Al-Rafidain — "the two rivers" — whose name pays tribute to Iraq's mighty Tigris and Euphrates.
'TRIBES RULE'
Today, the team has about 20 members aged from around 15 to 30 who train three times a week in two-hour sessions after school.
On a broad blue mat with a red circle at its center, the wrestlers tumble with determination under the watchful eye of Dhaher, wearing a grey tracksuit.
The gym's windows are thrown wide open to ease the stifling heat.
Dressed in an assortment of shorts, tights and T-shirts, the young women alternate between stretches and sparring drills.
But when training ends, the wrestlers file out of the building in long robes, most of them wearing headscarves, seamlessly blending into the city where most women are cloaked in black.
"Here, the tribes rule the lives of all. I've received direct and indirect threats but we've managed to win respect," said Dhaher.
To do so, they had to put in more effort than the average coach, according to Dhaher's assistant, Nadia Saeb.
"We've built bonds of trust with the wrestlers' families," she said.
"We look after the girls, picking them up from their home before practice and returning them afterwards," she said.
"We even follow up on their schooling," added the 47-year-old proudly.
The approach has paid off.
At first unsure what to make of the sport's new female competitors, today people in Diwaniyah come out to support the team during competitions, according to Dhaher.
Al-Rafidain's success has pushed others elsewhere in Iraq to try the same, with women's teams popping up in the ethnically mixed city of Kirkuk, north of the capital, and in Basra in the country's far south.
'LITTLE BY LITTLE'
As the sport gained popularity across the country, "little by little, people finally accepted us," said Alia Hussein, the team's star who sports a stylish short haircut.
In September, she won a silver medal at the Women Classic International Tournament in Beirut in the under 75 kg category.
Alongside her budding wrestling career, the 26-year-old hopes to finish her high school diploma after having put her studies on hold to help her family.
After graduating, she hopes to study physical education at university.
Her mother, who has adorned their modest family home with Alia's trophies alongside paintings showing revered Shiite imams and figures, has always been supportive.
"We're sure of what we do, so people can say what they want — we don't care, we haven't done anything wrong, so no one has the right to say anything," she said.
Wrestling federation chief Ahmad Shamseddine has been supportive of Iraq's women wrestlers since day one.
When Al-Rafidain first got started in 2016, the federation was only able to give it "a very small budget," with about $40 a month allocated to each member, he said.
But in 2019, he added, "they will have more because the team has had good results."
http://www.arabnews.com/node/1396491/sport
--------
New Arab feminism: Consciousness, art and action
30 October, 2018
Today's new wave of Arab feminism has proven that the liberating struggles of Egyptian Nawal el-Saadawi, Moroccan Fatima Mernissi, Lebanese Joumana Haddad, and Saudi Manal al-Sharif have had their ripple effects on the female millennial generation.
We have seen many of them walking the streets during the 2011 Arab Uprising, defending gender equality and equal rights as a non-negotiable condition to establish real long-lasting democracies in the Middle East and North Africa.
Feminism has now, more than ever, become a plural concept, embodying the opinions, perspectives, and voices on a wide spectrum.
In Saudi Arabia, many feminists have paid and are still paying a high price for such stand. In May this year, Loujain al-Hathloul was arrested by security officers in her car as she was driving near her university in Abu Dhabi. She was forced onto a plane back to her homeland and spent several days in prison.
Far from the street claims, academic papers, and books, feminism today is shaping its way across horizontal channels, that conveys its multiple messages to a larger and more diverse audience; in opposition to the once homogenic well educated and high social class audiences.
Of course, social media is partially where this new reclaiming of Arab feminism is taking place. However, new feminisms are sharing deep self-empowering and artistic messages that puts them in the centre of their own agency.
The empowered mind among young women
Much of the literature written by feminists on women issues have very much helped lay downed the concepts of gender structures. Today's feminism is taking a more implementational practical approach in translating a fairer world for women.
Patriarchal oppressive tools have long prevented women of their power think, hence stripping them of their own power to change their circumstances. A higher focus has been placed on creating a freer internal world and a sense of self-responsibility.
"I firmly believe that the first step to a positive societal change would be to freely start thinking about and questioning our role, impact and actions in our societies: Why do I do what I do, or think what I think, feel what I feel? Hence, to me, at least, 'independence' begins in our minds," says Sana Afouaiz, a feminist and the Founder of Womenpreneur, a social enterprise empowering women to build their own company.
"It begins in the images that are created by our minds; in the mindsets that drive our individual and societal actions and behaviours," she adds.
Much of that consciousness began by deconstructing the very ground for gender construction to shit the power balance towards a fairer more inclusive dynamic.
"The mental and psychological ideal any healthy society should aim for is that the apparent physical gender differences cannot provide the basis for conceptions of power and subjections," says Sana.
Beyond the discourse, there has been a more individual grassroots awareness. Feminism is in the air and enters the realm of grand personal questioning.
"Feminism did not start as a conscious thing. It took a long process for me to start admitting that I am one. I could not live my everyday life without being bothered with the political, economic, and social inequalities among men and women," says Dima Abdu, a Palestinian from Haifa.
Much of these thoughts have rapidly transformed into behaviours.
"In my everyday life, feminism has taught me this important lesson: to be myself, to wear whatever I want because I feel good in it. I stand up for my parents whenever my brother gets away with wrongdoings because he is a male," says Dima.
Much of the consciousness has grown onto the power dynamics in itself; away from hardcore feminism.
"What I hate about not being a feminist is the pressure put on men because of the financial responsibility imposed to them in our cultures. Men are still expected to pay when they date and when they marry, leaving marrying at an older age," says Racha Haffar Arensdorf, a Tunisian-Syrian social entrepreneur.
Much efforts are focused on shifting the balance of power.
"Why wouldn't they just work together and build together? Both men and women should take equal responsibility. That is not fair for men and takes the agency away from women," explains Racha.
Channelling through art
Art Forms have become the main arena helping to empower mindsets, seeking to deconstruct old deep-rooted beliefs and power structures.
"Dance, drawing, singing, but also graphic design has been changing the patriarchal perspective in such a way that is seen as a threat to misogynist group and even to political Islam," says Dareen Hassan, a Syrian filmmaker and founder of Nasawiya, an organisation that introduces art forms to the service of women's cause.
More recently, Moroccan illustrator Zainab Fasiki published her first comic Hshouma, which portrays women in their daily lives, with anecdotes leading to wider discussions of women's rights. Such forms of alternative arts have yet to push forward into the mainstream.
"Yet, one of our biggest obstacles remain mainstream commercial art in the Arab World. Video clips showcasing women who underwent heavy beauty surgeries with submissive behaviours to men are not helping our cause at all. The clips and their lyrics confine women solely to be a wife and a mother without any other aspiration or ambition," Dareen adds.
https://www.alaraby.co.uk/english/indepth/2018/10/30/new-arab-feminism-consciousness-art-and-action
--------
Saudi pilot speaks about how she hit the glass ceiling
31 October 2018
JEDDAH: Hanadi Al-Hindi hasn't flown for five years, but her name will be remembered as the first Saudi woman to fly with a Saudi commercial pilot license.
Al-Hindi's late father Zakaria Al-Hindi was her inspiration. He wanted to become a pilot but he couldn't achieve his dream due to finances — so he made sure he fully supported his daughter.
Prince Al-Waleed bin Talal then took Al-Hindi under his wing, backing her as the first Saudi female to pursue piloting. "What I faced when I flew back in 2012 with Al-Waleed, American women had undergone in the '70s. ATC (air traffic control) used to dismiss my calls for landing, just because I am a woman. But the prince told me to keep persevering and to keep on calling until I was heard, and then they did; they even started calling me Captain Hanadi, and whenever I was landing the prince's private plane they'd secure my landing before any other plane." That wasn't before many trials and errors involving her mentioning them on their social media platforms to recognize her and acknowledge her existence.
Her journey started in 2002, and since then she has dedicated 16 years of her life to aviation.
When at high school Al-Hanadi had a talk with her father about what she wanted to do, her ambition was straightforward: "I don't want to be a teacher or a doctor — I want something extraordinary, something only men can do in this country; I want to challenge men."
When she embarked on life as a university student, she considered majoring in English, as she dreamed of speaking the language fluently like the Englishmen and women she watched on television — and so she did. Then during a visit to Jeddah, an airplane flew past and her father asked her what she thought about becoming a pilot.
The first thing Al-Hanadi considered was whether or not she would be studying abroad; she recalls the only thing her father asked of her before shipping her off to Jordan was for a photo of her in her uniform holding her license to showcase to his friends so he could proudly say "Meet my daughter the pilot."
"My mother used to collapse every time I left for Jordan, and an ambulance would have to take her to the hospital — she took my departure the hardest. My family gave up so much for my success, and that is why I cannot ever abandon aviation. They did the impossible for me, and I won't let them down. My duty (to them) was to succeed," she said.
She believes that no parents could supersede what her parents did, going above and beyond, to ensure her success. She said that at the time it was not about being the first or second or last pilot — she just wanted to turn her father's dream into reality. "At the time, my dad faced more obstacles than I did, having a daughter bold enough to pursue aviation in the early 2000s. He worked at a courthouse for the Ministry of Justice — director of the Office of the President of the General Court in Makkah — so you can imagine how much backlash he went through."
Al-Hanadi's father sent her to Jordan during his first year of retirement in 2002, and many retaliated when the media began broadcasting her story by asking him to bring her back. Her father responded by saying "If you spent a penny on her education, bring her back, but since I'm the one who's paying for her education then it is settled.
"He was told to not have me write his name on any outlets, to act as if he wasn't my dad, but when I asked him if he wanted me to exclude his name from any documentation, he told me: I forbid it. I want everyone to know that you are my daughter."
In 2003, her name was all over the media, and it resurfaced when she signed a contract with Al-Waleed bin Talal in 2004. She graduated in 2005 from the Middle East Academy for Commercial Aviation before falling into a slump until 2013, during which she kept herself busy by trying to obtain a commercial pilot license in Saudi. When she obtained it in 2015, it caused some ruckus, but not as much as it would have done today.
While attempting to acquire a Saudi license, Al-Hindi faced rejection following her return to Saudi Arabia after graduating.
Instead of succumbing to hopelessness, she decided to travel to the UK and continue studying where piloting is at its toughest. Hanadi's journey was halted, however, when she was undergoing medical checks for flying and doctors discovered kidney stones that required immediate surgical removal if she wished to acquire the class 1 medical needed to fly. The surgery resulted in complications, keeping Hanadi out of action for two years. In 2009, her doctor told her to forget about her dreams when her kidney condition was found to be critical.
A year later, doctors were forced to remove it after several attempts to save it.
A day after the surgery, Al-Hindi received a call from a Saudi captain, congratulating her on obtaining a first-class medical pass. At first, she was dubious, but he reassured her that many captains who were born with a single kidney were certified and that she should recover and apply for the medical certificate. She applied for both the American and Saudi's General Authority of Civil Aviation (GACA) class 1 medical at the same time, as they both required similar documents. The American certificate wasn't issued immediately and required further medical reports, however, GACA issued the first class 1 medical certificate to her in 2011.
She went to America and completed her stay at the Federal Aviation Administration (FAA) and then returned to the Kingdom in 2013, officially applying for a commercial license. She was given a week to prepare for her three written exams, and when she went to perform her tests she passed with flying colors. Her flight test was performed in Jordan. She was observed by two proctors, flying for two hours rather than the one her male counterparts undertook, but she did not budge. After the flight, the examiner asked her how she thought she did. "I told him, I don't think I've ever performed as well as I did today — I think you need to hand me my license right now. And he did." After that, she was able to fly Prince Al-Waleed bin Talal.
Recounting her lessons to her father — which was a request he made before she left to Jordan — may have encouraged the love of aviation teaching in Al-Hindi at a younger age; being a focused, studious individual must have also helped her as a year ago she began teaching written aviation exam material.
"Saving money, saving time," is her motto when it comes to teaching the written aspects needed before any aviation exam, a job she is currently passionately performing at the Pilot Training Center (PTC) on Prince Sultan Road in Jeddah.
"This makes it easier for a lot of to-be-pilots. They can study the written material here, which helps them immensely so that when they take the test in the US, they do not have to worry about it at all. Besides that, it is cheaper for them, and they'd be doing it in their environment, studying and preparing then finishing classes in time to have dinner with their families."
Al-Hindi hasn't been able to fly locally yet, so instead of staying idle she chose to teach people how to fly, or at least to supplement them with the basics.
"The book I teach here is the same one they cover in every airline and school, but I don't just give it to my students to memorize. I summarize the gist and point out to them what they will use when they practice piloting," she said.
"When I teach my students, the stakes I place on them are high — I tell them 'your grade is my grade' and that their effort reflects my work and what I've poured into them. When asked about who taught them, it will be my name they utter, and I want them to always remember me well."
http://www.arabnews.com/node/1396736/saudi-arabia
--------
Sports for Life: 100 Saudi women support cancer patients with community event
30 October 2018
100 Saudi women have participated in a social initiative to support cancer patients under the slogan "Sports for Life" aimed at spreading awareness about cancer and ways to combat it.
The initiative is led by an American sports instructor, Tracy Aldreian, who became a Saudi national by marriage, said always had the idea of wanting to support women patients with breast cancer and those who recovered from the illness.
"We are here at Sports for Life event, which is being held as part of the Community Sports Initiative, the concept of playing sports for life is translated through these Saudi young women who have opted to participate to improve their physical fitness, as well as networking and volunteering."
Young women participating in the event agreed that sport contributes to the care and support of cancer patients in Saudi Arabia.
It aims not only to raise awareness and fun among women, but also to spread healthy concepts about the quality of life.
https://english.alarabiya.net/en/sports/2018/10/30/Sports-for-Life-100-Saudi-women-support-cancer-patients-with-community-event.html
--------
URL: https://www.newageislam.com/islam-women-feminism/pakistani-court-acquits-asia-bibi/d/116758
New Age Islam, Islam Online, Islamic Website, African Muslim News, Arab World News, South Asia News, Indian Muslim News, World Muslim News, Women in Islam, Islamic Feminism, Arab Women, Women In Arab, Islamophobia in America, Muslim Women in West, Islam Women and Feminism