New Age Islam News Bureau
26 Oct 2012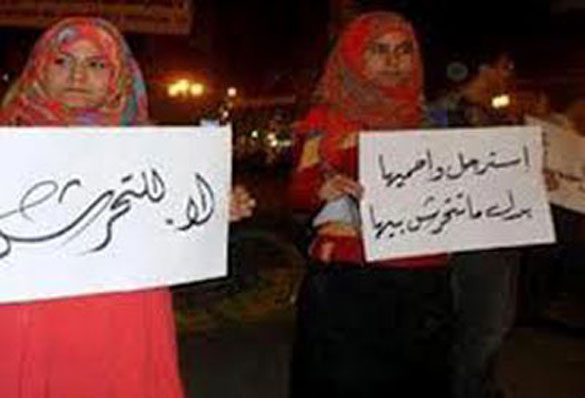 • Egyptian Women Organise 'Catch A Harasser' To Demand Respect during Eid
• Malala Yousufzai Inspires Pakistani Students as Taliban continue to destroy • schools in her hometown Mingora in Swat
• 'First' Pakistan Astronaut Wants To Make Peace in Space
• Pakistani Journalist, Zubeida Mustafa, Honoured By Prominent Women Media Group
• Malala Yousufzai Visited By Family, in Britain
• Girl Killed In a Blast in Pakistan
Compiled by New Age Islam News Bureau
Photo: Egyptian Women Organise 'Catch A Harasser' To Demand Respect during Eid
URL: https://newageislam.com/islam-women-feminism/pakistani-actress-leave-showbiz,-become/d/9104
---------------
Pakistani Actress to Leave Showbiz, Become a Religious Scholar
October 25, 2012
LAHORE: After 20 years in Lollywood, Pakistani artist Nargis has decided to bid farewell to showbiz and become a religious scholar, Express News reported.
Returning after two years to Pakistan, Nargis held a press conference at her residence in Lahore where she told the media that she had decided to quit showbiz six years ago but had to continue working to pay off debts and for completing her beauty parlour.
Nargis said that she will now do a scholarly course and hopes that artists who consider her their ideal will also follow the same path.
She rejected accusations of getting Juna Butt killed and swore by the Quran as well.
Nargis also added that she was faced with baseless allegations every time she went on an international trip, adding that this accusation was part of the same.
http://tribune.com.pk/story/456774/lollywoods-nargis-to-leave-showbiz-become-a-religious-scholar/
---------------
Egyptian women organise 'Catch a Harasser' to demand respect during Eid
Women and men members of "Catch a Harasser" movement and Egyptian Democratic Institute protest in Damanhour city against sexual harassment of women, as Eid approaches
25 Oct 2012
About 25 members of the "Catch a Harasser" movement and members of the Egyptian Democratic Institute in Baharia held a silent stand on Wednesday in the nothern Delta city of Damanhour to fight the exacerbation of sexual harassment of women during the upcoming Eid.
Contributors, women and men, carried signs declaring slogans such as "no to harassment" and "catch a harasser for a harassment-free Eid."
During the event, which lasted about an hour, participants also distributed a statement to drivers and passers-by, "Do as you please; you reap what you sow."
The statement addressed those who sexually harass women saying, "I'm your sister, your mother, your wife, your daughter. Do you stand for my humiliation and the loss of my dignity?"
"If you dislike my clothes or my walk, is that an excuse to molest me? If that was so, why do you still harass me when I'm veiled or fully veiled? All the aforementioned are just justifications you use to explain your shameful actions. I would like to walk freely and safely. I want your respect. No to harassment. No excuse for harassment. Harassment is a disease. You reap what you sow."
The event impressed many citizens, who lauded the organisers.
During the recent years, sexual harassment of women has been steadily increasing in the Egyptian streets. This increase usually reaches a climax during the Eid, were crowds makes it easier for culprits to go unpunished.
According to a survey issued in 2008 by the Egyptian Centre for Women Rights, 83 per cent of women in Egypt and 98 per cent of foreign women have been exposed to sexual harassment at least once.
Prime Minister Hisham Qandil stated on 21 October using his official Facebook page that his cabinet, along with the Ministry of Interior (MOI) and the National Council for Women, are working on finding ways to wipe out sexual harassment in Egypt.
Qandil revealed in the statement that a law is currently being drafted to combat harassment on the streets through imposing harsh penalties, adding that they are "dealing with sexual harassment as a disastrous phenomenon."
This statement came after the National Women Council started a national campaign, "Patrols Against Sexual Harassment," in August 2012 to combat sexual harassment in Cairo, specifically during Eid. This decision is to fight the wide-spread harassment.
The council also addressed the Ministry of Endowments and the Coptic Church to include this subject in Friday prayer sermons and Sunday church services, especially before the Eid El-Adha.
http://english.ahram.org.eg/NewsContentP/1/56500/Egypt/Egyptian-women-organise-Catch-a-Harasser-to-demand.aspx
---------------
Malala Yousufzai Inspires Pakistani Students as Taliban continue to destroy schools in her hometown Mingora in Swat
October 26, 2012
PESHAWAR: The courage of schoolgirl Malala Yousafzai has renewed Pakistani students' determination to learn despite the poor state of the country's education system, undermined by poverty and under attack from militants.
The 15-year-old is recovering in a British hospital after the gunmen of the outlawed Tehrik-i-Taliban Pakistan (TTP) shot her in the head in a cold-blooded murder attempt for daring to promote the right of girls to go to school.
The October 9 attack came in Malala's hometown Mingora in Swat, part of Pakistan's restive northwestern province Khyber Pakhtunkhwa, where insurgents bitterly opposed to a secular curriculum, and girls' education in particular, have destroyed hundreds of schools in recent years.
Militants have destroyed four schools in the last week alone, according to officials, two on Wednesday in Mohmand tribal district and two more in Khyber Pakhtunkhwa.
The provincial government says more than 700,000 students have been affected, though casualties are low as most school attacks happen at night when students are at home.
"The insurgents mostly target girl's schools and order both teachers and students to stay inside their homes as per their version of Islamic teachings or face the dire consequences," said provincial information minister Iftikhar Hussain.
Naseem Baigam, a teacher at the government-run Islamia Collegiate girls' high school in Peshawar, the main city of Khyber Pakhtunkhwa, told AFP the destruction of schools and the attack on Malala had frightened parents.
But students at the school said they were inspired by Malala, who rose to prominence with a blog for the BBC chronicling life under the local Taliban, the hardline Islamists who terrorised the picturesque Swat valley from 2007 until an army offensive in 2009.
"It is disappointing that Taliban are destroying schools," Saba Riaz, a final year student, told AFP.
"Such attacks are disturbing but Malala has given us courage to fight for the cause of education." Her friend Razia Khan agreed: "Girls will never be scared by such attacks. In any case we will continue our studies, even if they are destroying schools or attacking girls like Malala."
But it is not only militancy that schools in Pakistan have to contend with. The nuclear-armed nation's spending on education is tiny, less than 2.5 per cent of GDP, according to the UN children's agency Unicef. Only nine countries in the world spend less on education.
Pakistan's official literacy rate is 58 per cent, with less than half of women able to read and write, yet in 2011-12 the government's spending on defense was more than 10 times greater than education.
The country of 180 million people languishes near the bottom of the world literacy list, 159th out of 184 countries categorised by the UN Development Programme.
A recent Unesco report said at least 5.1 million Pakistani children are out of school, 63 per cent of whom are girls.
Pakistan Social and Living Standards Measurement (PSLM), a government survey, found gender disparity in education across the country, but most severe in Khyber Pakhtunkhwa and Balochistan provinces.
In Kohistan district of Khyber Pakhtunkhwa just six per cent of students are girls, and in Balochistan's Dera Bugti the figure falls to one per cent.
Poverty is also a factor. More than a fifth of the population is classed as poor by the government, though activists believe the figure could be closer to 30 per cent.
"People are getting poorer, that is making us more illiterate and more hungry. The girl child becomes the first casualty of poverty and illiteracy,"said Tauseef Ahmed Khan, of Karachi's Urdu University.
Free and compulsory education is a right of Pakistani children enshrined in the constitution, but for many parents a child at school is a child not earning money, an estimated 3.3 million under-14s in Pakistan work.
"A poor family prefers to send a boy to school. Most families think educating girls is wasting money, which can be saved and spent on their marriages," Zohra Yousuf, who heads the independent Human Rights Commission of Pakistan, said.
Girls often leave school young to join their parents in cottage industries and most poor girls are married off as teenagers.
But some parents are determined that their own children should have a different future, and see Malala as a hero.
Mother-of-four Azra Shabbir, now 32, was just 14 when her father married her off, forcing her to leave school and work with her husband in a shoe factory.
"I have two girls, both are in colleges like their brothers. I want to see them literate, see them prosperous no matter how much hard work I have to do for this," she said with a glint of hope in her eyes.
"Our poverty haunts us like Taliban, but we can fight against it, like Malala did against Taliban," she smiled.
http://dawn.com/2012/10/26/shot-schoolgirl-malala-inspires-pakistani-students/
---------------
'First' Pakistan astronaut wants to make peace in space
October 26, 2012
Once you've been to both poles, skydived over Mount Everest and set up your country's first consulate in Monaco, the question is: what next?
For 37-year-old explorer Namira Salim the answer is easy - become the first Pakistani to go into space. Her flight with Richard
Branson's Virgin Galactic space tourism project is planned for next year. Although no date has been fixed for the venture's first commercial flight, she is looking forward to fulfilling a lifelong obsession.
"As a child I always believed I would go to space. It's not that I read about it one fine day and thought of signing up. I've always said this was in my DNA," she told AFP by Skype from Dubai.
"I must have been less than five years old and I was crying very hard. My father was trying to pacify me and I was like 'I don't want anything, I just want to go to space. I don't want any toys, nothing, just send me to space.'"
Full report at:
http://www.hindustantimes.com/world-news/Pakistan/First-Pakistan-astronaut-wants-to-make-peace-in-space/Article1-950289.aspx
---------------
Pakistani Journalist, Zubeida Mustafa, Honoured By Prominent Women Media Group
October 26, 2012
NEW YORK: Renowned Pakistani journalist Zubeida Mustafa received the lifetime achievement award from the International Women's Media Foundation at an event held in New York on Wednesday.
Honoured as the first woman in Pakistani mainstream media, Ms Mustafa, 70, worked to enact hiring policies favourable to women during her 30 years at Dawn, the women's media group said.
Full report at:
http://dawn.com/2012/10/26/pakistani-journalist-honoured-by-prominent-women-media-group/
---------------
Malala Yousufzai Visited By Family, in Britain
October 26, 2012
LONDON: The family of Malala Yousufzai, who was shot in the head by the Taliban, have visited her in hospital after arriving in Britain, a spokeswoman said Friday.
The 14-year-old's mother, father and two brothers arrived in the city of Birmingham in central England on Thursday and went straight to see her at the Queen Elizabeth Hospital.
"Her mum, dad and her two brothers are here in the UK," a spokeswoman for the hospital told AFP.
Full report at:
http://dawn.com/2012/10/26/malala-yousufzai-visited-by-family/
---------------
Girl Killed In a Blast in Pakistan
October 26, 2012
ISLAMABAD: A girl was killed and three others, including two children were injured when the roof collapsed due to a blast beside their house in Hangu. According to DPO Hangu Saeed Ahmed said, unidentified men had placed the explosives beside the wall of a house that detonated and as a result, the roof of the house collapsed and injured four persons of a family, a private television channel reported. The injured were being shifted to the hospital for treatment where 18-year-old Aisha succumbed to her injuries. Police have started the investigation of the incident.
http://www.dailytimes.com.pk/default.asp?page=2012\10\26\story_26-10-2012_pg7_9
---------------
URL: https://newageislam.com/islam-women-feminism/pakistani-actress-leave-showbiz,-become/d/9104