New Age Islam News Bureau
06 June 2022
• Pakistani Female Police Officers Attend US Conference On Crimes Against Women
• First Women's Fatwa Councils: Women Flocked To a Mosque in Southern Cairo to Receive Fatwas
• Dubai: Woman Overcomes Fear of Cops To Become One Of The Youngest Forensic Experts On The Force
• Saudi Woman Finds Out She Is Male Due to a 'Medical Error', After 20 Years
• Woman Wishing To Perform Hajj Cannot Add Mahram Performed Hajj In Last 5 Years
Compiled by New Age Islam News Bureau
URL: https://newageislam.com/islam-women-feminism/pakistan-tennis-meheq-sania/d/127183
--------
Pakistan Tennis Star, Meheq Khokhar, Requests Sania Mirza To Coach Pakistan Women's National Squad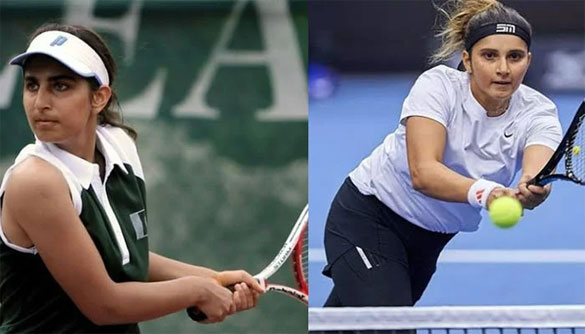 Meheq Khokar (L) and Sania Mirza (R) — Reporter
-----
Ateeq ur Rehman
Jun 06 2022
Pakistani tennis star Meheq Khokhar wants Indian tennis icon Sania Mirza to coach the Pakistan women's team.
Khokhar, regarded as one of the best players, said that the Pakistan Federation Cup and other international tennis competitions are approaching.
"Sania Mirza frequently visits Pakistan, and I request her to coach the Pakistan team on her next trip so we can learn from her experience," she said.
Khokhar also appealed to Sania Mirza's husband and Pakistan cricketer Shoaib Malik to persuade Mirza to coach the Pakistan tennis squad.
"I appeal Shoaib Malik to ask bhabhi (sister-in-law) to train [the] Pakistani tennis squad," she said.
Source: Geo TV
https://www.geo.tv/latest/420931-pakistan-tennis-star-requests-sania-mirza-to-coach-national-squad
--------
Pakistani Female Police Officers Attend US Conference On Crimes Against Women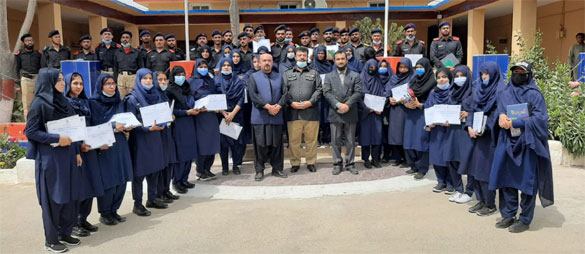 © UNODC
---
Tahir Mahmood Chaudhry
6 Jun, 2022
NEW YORK – A group of 22 Pakistani women police officers attended a conference on high level police training in Dallas, Texas. This group of women police officers includes middle and senior level police officers. Pakistani female police officers visiting the United States to attended the annual conference on crimes against women in Dallas from May 23 to May 27, 2022.
After attending the conference, police officers have been visiting various US departments related to law enforcement. Last Friday, Pakistani police officers visited the Dallas Police Department headquarters. They were received by senior officers of the Dallas Police Department.
At Dallas Police Headquarters, the group had the opportunity to meet with police detectives and personnel from the Domestic Violence Unit, Crimes Against Children and Crime Scene Response Section, and discussed that how various crimes are investigated by police detectives, investigators and crime scene technicians in Dallas and Pakistan. A group photo was also taken with Lonzo Anderson, executive assistant chief of the Dallas Police Department, during the visit of Pakistani female police officers.
In May, a group of 19 Pakistani male police officers also came to the United States to attend a similar conference in Dallas, Texas. The tour of Pakistani police officers was organized and sponsored by the US State Department's Bureau of International Narcotics and Law Enforcement Affairs (INL).
The US International Narcotics and Law Enforcement Agency has so far trained more than 2,000 Pakistani prosecutors, judges, courtroom administrators and investigators for effective prosecution. In addition, INL has sponsored more than 314 Pakistani prison officers for advanced training at the "International Correctional Management Training Center" in Colorado, USA.
Source: Daily Pakistan
https://en.dailypakistan.com.pk/06-Jun-2022/pakistani-female-police-officers-attend-us-conference-on-crimes-against-women
--------
First Women's Fatwa Councils: Women Flocked To a Mosque in Southern Cairo to Receive Fatwas
Hagar Saeed Mohamed
June 5, 2022
CAIRO — Women flocked to a mosque in southern Cairo May 21 to receive fatwas (religious rulings) on private female issues from a female preacher who is present at the mosque on Saturdays between 5 p.m. and 8 p.m.
Nevine Mokhtar is one of four female preachers recently authorized by the government to issue fatwas on women's affairs.
On May 21, the Ministry of Awqaf (Religious Endowments) launched the first four women fatwa councils — at four different mosques in Cairo — to provide fatwas for women. The ministry plans to launch more councils in different Egyptian governorates.
Before being allowed to take on this role, Mokhtar and her colleagues received specialized training. The four women were among 144 female preachers appointed by the Ministry of Awqaf in 2017. Since then, the ministry has been preparing the female preachers to issue fatwas through organizing intensive courses. Mokhtar and her colleagues were chosen to issue fatwas as they were the top achievers of a test that included knowledge of the Quran, sunna (verbally transmitted accounts of the Prophet's deeds and sayings) and Islamic jurisprudence.
"We have received intensive training since 2017 on how to deal with Islamic texts and issue fatwas in a way that recognizes the time, location, customs and circumstances of individuals. We also passed tests in the holy Quran, the sunna and Islamic jurisprudence to answer women's questions," Mokhtar told Al-Monitor.
Mokhtar regards setting up women fatwa councils as a "dream come true."
"During my three-hour presence in the mosque on the first day of the fatwa council, I had no break. I received many women who were comfortable asking me questions on private matters. More than 100 women attended the first day," she said.
"Some women may feel too embarrassed to direct questions to male preachers on female-specific affairs. As a result, women may turn to unreliable female preachers for advice. The presence of qualified muftyias [female fatwa issuers] in mosques will eliminate this barrier and help women better understand their religion," Mokhtar added.
Egyptian women have expressed happiness with this move as it will allow them to communicate directly with a female scholar whom they can discuss private matters with.
"I used to come to the mosque to listen to male preachers, but I was not able to direct questions to them on issues related to women because I felt shy and also because there was a barrier between men and women," Doaa Ezzat, a housewife, told Al-Monitor. "The situation is different now. I can ask any question to the female preacher regarding my religion without feeling shy. She is a woman like me."
Ahmed Ragab, director of the Dar El Iftaa's social networking sites, told Al-Monitor that roughly 75% of the questions they receive daily across Dar El Iftaa's official website or social media pages come from women.
"At times, women feel shy to ask male preachers certain questions. This is what pushed the Ministry of Awqaf to prepare female preachers over the past five years to issue fatwas," Ragab said.
In a May 24 statement, head of the National Council for Women Maya Morsi, hailed the Ministry of Awqaf's decision to set up women fatwa councils as an "achievement and precedent of women's emancipation."
"This great step came as part of the Ministry of Awqaf's efforts to attain women empowerment, which falls also within the framework of the state's keenness on implementing the National Strategy for the Empowerment of Women 2030," Morsi noted.
For decades, Egypt's mosques, which have separate praying spaces for women, had male imams only. But this changed in February 2017 with the appointment of 144 female imams by the Ministry of Awqaf.
Also, and for the first time in Egypt's history, a missionary convoy consisting of five female preachers was sent to Sudan in January this year to spread the moderate Islamic thought.
A report issued March 23 by the Egyptian Cabinet's Media Center showed that Egypt has reached its best level in 10 years regarding progress made in empowering women. The percentage of women's representation in the House of Representatives increased, reaching 27.8% in 2022 with 165 seats, compared to 14.9% in 2016 with 89 seats and 1.8% in 2012 with 9 seats. The representation of women in the judiciary increased, reaching 3,115 female judges in 2022, compared to 2,130 female judges in 2014. For the first time, 98 female judges were appointed to the State Council in March.
"And now setting up women entities to issue women-related fatwas is considered another important move for the empowerment of women in Egypt," said Amna Nosseir, professor of Islamic studies at Al-Azhar University and former member of the Egyptian House of Representatives.
She told Al-Monitor, "Issuing fatwas is not limited to men. Women too can prove their success in the field as long as they have gained the experience needed for it. They must know the Quran, sunna and Islamic law, and mustn't be fanatic about a certain right. they must adopt a moderate attitude. Islam calls for this," she said.
Nosseir stressed that scholars delivering fatwas should continuously be trained and prepared for new contemporary issues and emerging societal problems.
Source: Al Monitor
https://www.al-monitor.com/originals/2022/05/egypt-launches-first-womens-fatwa-councils
--------
Dubai: Woman overcomes fear of cops to become one of the youngest forensic experts on the force
by Waheed Abbas
6 Jun 2022
Hanan Al Mulla was scared of the police and had never imagined that she would one day become a part of the force.
One of UAE's young scientists, Al Mulla now works with Dubai Police as a forensic DNA expert.
"I watched CSI (Crime Scene Investigation) stuff a lot and I still do. I watched every crime documentary on Netflix. I never realised that I was actually going to work in the police. I thought the police was actually a scary thing, but when you meet them that they're very friendly, they carry out a lot of initiatives to become closer to society," says the young scientist.
Hanan, who was always fascinated by biotechnology, biology and modern sciences, even during her school days, joined Dubai Police in 2019 after getting a Bachelor's degree.
"But they told me that I have to get a Master's Degree first with their scholarship. So I got a Master's Degree in bioinformatics from the University of Birmingham. When I worked with Dubai Police, I never thought in my whole life that I worked in the police force. But when I went there, it was so interesting – we have lab work, desk jobs and fieldwork as well. All that diversity is really good to work in."
Hanan's father was an Emirati and her mother is from the Philippines, thereby giving her a wide view of society. She experienced two very different cultures from the early days of her childhood. Her first language was English.
"I went to a private British school until the second grade and I was a topper in my class. I moved to a government school in the third grade, because my family wanted me to learn Arabic. In exams, I had either zeros or ones after that, because I didn't know what the teacher was saying. Then I had a tutor for three months. Next year, I came 6th in fourth grade because I chose good friends. In the ninth grade, I was back at the top of my class again."
Being an introvert, Hanan likes spending a lot of time alone. "When I'm alone, I can think clearly and exactly what I want. And I think it's useful for me to have my own time for myself. But, of course, not all the time."
She also received good support from her family and friends at school. Hanan credits her mother for playing a big part in shaping her personality.
"My dad's family also supports me all the time because whenever I win an award or I speak at a public forum, they always send me a message of congratulations. It's always nice to know that they have my back. If I need help, I know I can go to them. They always say 'we're proud of you'. So, that's very encouraging."
While sharing details of her experience in school, Hanan said she had heard about the mixed-race students being bullied, but she never experienced it. "My schoolmates actually admired me, which gave me the confidence to go out and explore the world, study abroad and work in the police."
For people, especially youngsters, it's easier to progress when they surround themselves with people of the same interest, she noted.
Hanan, who holds the highest degree in bioinformatics – which is a combination of computer science, big data, biology and statistics, is also a member of the Dubai Police Scientists Council. The Council was established to bring improvement and development of research work.
But when Hanan is not solving crimes, she loves to read and paint.
"I read a lot of books – both fiction and nonfiction. I read to teach myself a lot of stuff. I set my goals and accordingly use my time to paint, write or read. I even appreciate and analyse movies," Hanan told Khaleej Times during a recent conference in Dubai. The young and inspiring scientist takes part in different television programmes and panel discussions at forums in Dubai.
Hanan has set multiple goals for herself, she says, her only challenge is to follow through with them.
"I try to discipline myself as much possible. But I want at least three or four targets to be achieved everyday. We get carried away with our daily work. We don't realise we're on the phone, for example, for a long time. Sometimes friends ask you to go out. So, before I go to bed, I try to look at how much time I have spent working on my goals. And then you're shocked to realise it's not much."
What is a typical day at work?
For Hanan, it's a regular nine to five. Sometimes, she gets calls to witness reports in the court.
"To women, police give the choice whether they want to go through crime scenes or not. For me, I said yes. I told them if it happens anytime – even if it's like 3am or 4am, I'm willing to join."
Why did Hanan quit social media?
Hanan Al Mulla believes that society, especially youngsters, need to increasingly focus on more using social media productively.
"I believe social media is very useful, but I wish society would focus on the more useful, beneficial or positive part rather than the other side. It's not bad per se, but its a waste of time if not 8used productively. Improper use is counterproductive and kind of addictive as well. We have to control ourselves. People should hold themselves responsible and make sure that they do something that benefits them."
Hanan added that she spends a lot more time online now. Once she realised the impact it had, she deleted all social media applications from her phone.
"I deleted all my social media applications a long time ago. Now, I'm realising that I really have to organise my time and use LinkedIn and Instagram."
In her message to young Emiratis, she asks them to watch documentaries and learn new skills in a fun way.
She also advised them to listen to the wise words of UAE leaders as they strive for excellence.
Source: Khaleej Times
https://www.khaleejtimes.com/uae/dubai-woman-overcomes-fear-of-cops-to-become-one-of-the-youngest-forensic-experts-on-the-force
--------
Saudi Woman Finds Out She Is Male Due to a 'Medical Error', After 20 Years
May 21, 2022
JEDDAH — A young Saudi woman discovered that she is a male after 20 years of birth due to a 'medical error'.
According to Al Ekhbariya TV, the Saudi citizen did not know that she had male private parts hidden inside the abdomen.
At the time of his birth in a government hospital in Riyadh, she had some deformities in the genital area. However, the doctors thought that the baby was female and the family named the newborn as Randa.
As she was growing, Randa grew suspicious when she did not develop any signs of female puberty. When she went to a hospital for a thorough check-up, she was shocked to know that her male genitalia were hidden in the abdomen.
"In the beginning, it was a completely strange feeling, as if they were lying to me. It was illogical to me as if I had gone back to square one in my life. A new name, a new identity, no friends, no relatives," Randa said.
"Now, I'm supposed to undergo a surgery to take out the hidden genitals. A doctor recommended that I have to travel to the UK for the operation," Randa added.
According to Al Ekhbariya TV, Randa's family filed a complaint to the former Saudi Health Minister but no action has been taken. The victim's father said that he tried to contact the hospital where Randa was born but to no avail. — SG
Source: Saudi Gazette
https://saudigazette.com.sa/article/620770/SAUDI-ARABIA/Saudi-woman-finds-out-she-is-male-after-20-years
--------
Woman wishing to perform Hajj cannot add Mahram performed Hajj in last 5 years
June 05, 2022
RIYADH — The Ministry of Hajj and Umrah has stated that women who seek to perform Hajj this year, cannot add a Mahram (male guardian) who has already performed the ritual of Hajj during the last 5 years.
The ministry's statement came after several inquiries were made seeking clarification whether a woman wishing to perform Hajj could add a Mahram who had previously performed Hajj rituals.
The addition of a Mahram who has not performed Hajj during the previous five years is a condition for women to perform Hajj, the ministry said.
It is noteworthy that the Ministry of Hajj and Umrah had announced earlier the start of registration of domestic pilgrims for Hajj this year 1443H/2022, effective from Friday, June 3, and will last 9 days until Saturday, June 11.
It announced that it would use the e-draw in the mechanism of nominating applicants from domestic pilgrims for Hajj 2022, in order to provide equal opportunities for applicants to perform Hajj from within the Kingdom.
The ministry said that the nominators who meet the requirements would be selected through an e-draw, stressing that the results will be without prioritizing, criteria or setting specific preferences, whether in gender or nationality.
It noted that notifying the nominators of their qualification for Hajj 2022 will begin on Sunday 13/11/1443 AH corresponding to 12/6/2022.
Source: Saudi Gazette
https://saudigazette.com.sa/article/621417
--------
URL: https://newageislam.com/islam-women-feminism/pakistan-tennis-meheq-sania/d/127183
New Age Islam Islam Online, Islamic Website, African Muslim News, Arab World News, South Asia News, Indian Muslim News, World Muslim News, Women in Islam, Islamic Feminism, Arab Women, Women In Arab, Islamophobia in America, Muslim Women in West, Islam Women and Feminism