New Age Islam News Bureau
31 May 2017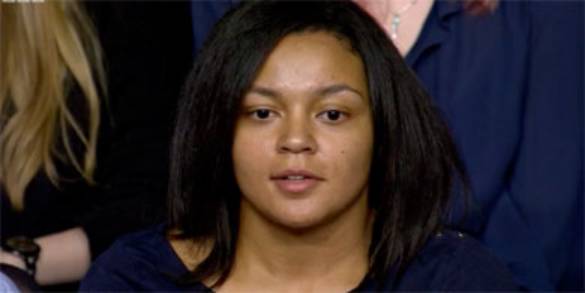 BBC Question Time Manchester Muslim Woman Praised For Condemning 'Radicalisation And Extremism'
----
• British Muslim Woman Suggests Saudi-Financed Mosques in England Be Closed
• British Photographer Traps Herself in Cave in Animal Rights Protest
• Malawi Government Clarifies Its Controversial Policy towards Muslim Women Wearing Hijab
• Muslim British Leader Calls for End to Face Veils
• New Transitional Home Will Serve Muslim Women in Windsor
• Should Non-Muslim Women Wear The Hijab To Fight 'Rampant Islamophobia?'
Compiled by New Age Islam News Bureau
URL: https://www.newageislam.com/islam-women-feminism/pakistan-teen-raped-sentenced-death/d/111358
--------
Pakistan Teen Raped and Sentenced To Death by Stoning For Adultery
30 May 2017
A 19-year-old woman has been sentenced to death in Pakistan after she accused her cousin of raping her at gunpoint.
The woman said she was asleep at her family home in Rajanpur, in the country's central Punjab province, when the attack happened.
She reported the crime to the local Panchayat, a tribal court that operates outside the official justice system in remote areas of the country, but was told she had intentionally seduced her attacker.
The Panchayat, which included the alleged rapist's father, then found her guilty of adultery and declared her a Kari, or adulteress, the Express Tribune reports.
As a result the teen was sentenced to death by stoning or to be sold off, according to the Hindustan Times and Tribune.
The council decided no action needed to be taken against the alleged rapist.
The following day the woman and her father went to the police, who have now launched an official investigation.
An arrest warrant has now been issued for the members of the tribal council, and the woman taken to a refuge away from the village.
Women declared Kari are often executed by their own family in so-called honour killings to restore their reputation.
Another warrant has also been issued for the alleged rapist, local media reports.
http://www.dailymail.co.uk/news/article-4555734/Woman-19-sentenced-die-raped-Pakistan.html
--------
British Muslim Woman Suggests Saudi-Financed Mosques in England Be Closed
May 31, 2017
A Muslim woman in Britain was applauded after making a far-reaching suggestion that all Saudi-financed mosques in England be closed; insisting terrorism is "being imported right under our noses."
Just days after the deadly terrorist attack in Manchester that claimed the lives of 22 people, the woman appeared on the BBC talk show "Question Time" to say that this is something "we have to accept and we have to deal with."
"I am a British Muslim, and I am very proud of my heritage," she explained. "But I am also a realist and there is an elephant in the room here and unfortunately, it's very unfortunate, there is an issue with regards to radicalization and extremism that does exist within our community."
The woman then agreed with an earlier comment about mosques.
"Yes, we do have an issue within our mosques, within our religious institutions," she stated. "We have children being taught the Wahhabi interpretation of the Quran. We have Saudi-trained clerics coming in and speaking to children as young as seven."
"We have to do something about it," she concluded.
And her recommendation was to temporarily shut down all Saudi-financed mosques in her country.
A fellow audience member suggested there are no longer any such mosques, but the woman shot her down, saying emphatically: "Yes there are, yes there are!"
http://www.rightlyreport.com/muslim-woman-applauded-when-she-lays-out-reality-terrorism-is-being-imported-right-under-our-noses/9230
--------
British photographer traps herself in cave in animal rights protest
May 31, 2017
PETALING JAYA: British photographer Hannah Morris, 30, trapped herself in MacKinnon's cave for a YouTube video she published on May 28 to raise awareness and gain signatures for the "Free Lasah the abused Malaysian Elephant" petition.
Hannah has called the demonstration "Trapped".
According to Hannah, Lasah is 37 years old, and is forced to give rides all day wearing a heavy saddle. When he is not making money for his owners, Hannah said the elephant was chained every evening and every night, and left to wade in his own excrement.
"He lives alone with no other elephants, and has open wounds. Elephants are extremely intelligent and his suffering must end," she said.
Hannah, along with Malaysian NGO FOTO (Friends of the Orangutan), have been trying to get Lasah moved to the Kuala Gandah elephant sanctuary.
"I am hoping the Malaysian wildlife department (Perhilitan) head Abdul Kadir Abu Hashim, and the Natural Resources and Environment Minister Wan Junaidi Tuanku Jaafar will watch my video.
"I wanted to do this not just for Lasah, but for all the animals trapped in the tourist industry, as well as the millions of animals trapped and used in the farming, fur and beauty industries.
She said she was not asking for donations, just awareness and signatures so Lasah the elephant could be saved.
Recounting her experience Hannah said, "It was so dark in the cave I couldn't see clearly what was beside or above me as my torches were not powerful enough and my camera flash only fired for a split second.
"It wasn't until I got home and digitally lightened the photos that I realised how amazingly high the cave was.
"I wouldn't advise ever lighting a fire in a cave, but if you have to, then light it at the cave entrance, never inside. Would I sleep inside the cave again? I would visit for an afternoon, but as for sleeping in there alone? No, I won't be doing that again."
MacKinnon's Cave, on the island of Mull, in Scotland, UK, is the longest sea cave in all the Hebrides, twisting 152.4 metres long and 27.43 metres high at the cave entrance.
The cave gets completely cut off by the tide and is only accessible below half tide via a difficult scramble across the shore of boulders. Low tide is roughly every 12 hours and great care is needed to ensure you can visit the cave – and return in one piece.
The cave is number 11, on CalMac's list of most haunting locations on Scotland's west coast.
There is a ghostly tale of the piper who tried to outdo the fairies in a piping competition and walked into the cave along with his dog. Only the dog returned, crazed with fear and hairless. Some say the piper went right through the hill and emerged on the other side of the headland at Tiroran on Loch Scridain.
Hannah said readers who would like to help Lasah, could send emails asking for him to be freed to the addresses at this link:
http://www.freemalaysiatoday.com/category/nation/2017/05/31/woman-traps-herself-in-cave-in-animal-rights-protest/
--------
Malawi Government clarifies its controversial Policy towards Muslim women wearing Hijab
May 31, 2017
MANA. Blantyre, May 30: The Department of Road Traffic and Safety Services (DRTSS), has denounced claims that it is harassing Muslim women when processing road traffic documents, and said the office operates within the laws of the country.
Recent social media reports highlighted concerns from some Malawians who felt the need for Muslim women to remove their head gear (Hijab) when taking pictures for their traffic documents, is harassment.
"This has come in with a purpose of bringing to the attention of the whole Muslim community, and the public, that all procedures undertaken by the department in processing every document, are governed by the Road Traffic Act 1997, and Road Traffic Regulations 2000," reads a recent press statement issued by the DRTSS.
According to the DRTSS, all Muslim women are being assured that the department will endeavor to execute its rules and mandates in line with the legal framework, and professionally without necessarily discriminating, victimizing or marginalizing anybody on the basis of creed, tribe, colour, or social-economic status.
"In light of the foregoing, DRTSS management, and Muslim Association of Malawi (MAM), engaged in serious talks and an agreement was reached as to how Muslim women may not be required to remove the head gear entirely, but they should at least expose necessary facial features for facial recognition," reads the statement in part.
However, speaking in an interview with the Malawi News Agency (MANA) on Monday, spokesperson for Muslims Association of Malawi, Sheikh Dinala Chabulika, said what is important is not to remove the head gear.
"While respecting that the Road Traffic Directorate has recently issued licenses to Muslim women with the head gear, can the road traffic directorate issue a license to women with artificial hair?" said Chabulika.
https://www.google.co.in/search?biw=1152&bih=758&tbm=nws&q=africa+muslim&oq=africa+muslim&gs_l=serp.3..0.498066.501661.0.501982.13.13.0.0.0.0.202.2138.0j12j1.13.0....0...1.1.64.serp..0.13.2134...0i10k1.ervIHO6F4UY
--------
Muslim British Leader Calls For End To Face Veils
May 31, 2017
One of Britain's leading female Muslim politicians, Sayeeda Warsi, remarked Monday that she hopes Islamic face veils will disappear from Britain within the next 20 years.
Lawyer and member of the House of Lords, Warsi said she did not want the niqab to be banned by a decree but encourages "British Muslims to lead the charge".
Warsi, a Conservative, has previously defended the wearing of the full-face veil, but said Monday at the Hay Festival that she did not "know what its purpose is in terms of British Islam."
She made clear that wearing the veil is not a "British manifestation," adding that its use can be understood historically because "if you were running through the desert it was good because you didn't get sand in your face."
http://dailycaller.com/2017/05/30/muslim-british-leader-calls-for-end-to-face-veils/
--------
New transitional home will serve Muslim women in Windsor
May 30, 2017
A new transitional home will soon provide a safe place for Muslim women in Windsor who are fleeing domestic violence, struggling with poverty or seeking asylum.
Mahwish Ayub will act as the project manager for Nisa Homes when it opens a local site in August. She said she discovered the need for a place of refuge after working with the Windsor Islamic Association and seeing how many women were searching for help.
"Sometimes they don't have anywhere to go," she explained. "Sometimes they're looking for somebody so they can open up and I feel like if we have a home set up for them they'll have an option to just reach out when they really need it."
The home will be set up at a secret location to protect the privacy of the women who live there and will be able to cater to the cultural needs of Muslim women.
"Our goal is to empower these women to give them resources to make them empowered, self-sufficient women," said Ayub.
Lady Laforet from the Welcome Centre Shelter for Women said it's difficult to calculate how many Muslim women use shelters in the area because religion and culture are not something staff typically ask about.
She estimates the centre sees about 10 Muslim women a year, but added that number represents just a small portion of those looking for assistance.
"I think it's small compared to what the need is," she said. "That speaks to the stigma of reaching out and accessing services."
Laforet added that a home tailored to Muslim women will be able to meet needs other shelters can't and that a smaller, more residential style setup will make them more comfortable.
Nisa Homes already has locations in Surrey B.C. and Mississauga, but Ayub said she hopes the organization will continue to grow.
"I think the need is everywhere," she said. "It's not just in Windsor, but all over Canada."
http://www.cbc.ca/news/canada/windsor/new-transitional-home-will-serve-muslim-women-in-windsor-1.4137970
--------
Should non-Muslim women wear the hijab to fight 'rampant Islamophobia?'
31 May 2017
Islamic dress has been quite the hot topic across Europe in recent times.
Just last month the German parliament voted in support of a draft law banning women working in certain industries from wearing the burqa and niqab and Dutch MPs voted for a similar prohibition in the Netherlands last year.
And the President of Austria has stirred things up again as he called for all women to wear headscarves in solidarity with Muslims to fight 'rampant Islamophobia'. His words came just months after the Austrian government banned the full-face veil in public spaces, as part of an attempt to counter the rise of the far-right Freedom Party.
Left wing Alexander Van der Bellen, who only just beat a far-right candidate to take office at the start of the year, said freedom of expression was a fundamental right.
Speaking to an audience of school pupils he said: "It is every woman's right to always dress how she wants.
"And it is not only Muslim women, all women can wear a headscarf, and if this real and rampant Islamophobia continues, there will come a date where we must ask all women to wear a headscarf, all, out of solidarity to those who do it for religious reasons."
Never forced
President Van der Bellen suggested the action to defy fascists and stand strong with Muslim citizens while responding to a question from a schoolgirl. She had argued that a ban on Islamic headscarves or veils would reduce women to their appearance rather than achievements and shut some out of the labour market.
While many Muslims welcomed the president's words, Saudi-based Ain Ul-Khalil says, though a great gesture, it would only prove useful if women wanted to wear them.
She says: "I feel, being a Muslim myself, it's nice to see a non-Muslim having a positive attitude towards us and not judging us on the negative false news which is so widely spread. However, it would only be OK if he suggested his citizens wear it not commanded. If it's still on the citizens to decide, it's fine. We Muslims are never forced to wear the hijab and we are also free to choose what we want to wear."
Ain believes President Van der Bellen encouraging his electorate to wear the hijab in solidarity could help them to 'look into the real world of Muslims'.
Indeed, just a couple of years ago Christian mum-of-two Jessey Eagan decided to wear a hijab for 40 days to remind herself what it felt like 'to be an outsider' in her native America. After spending some time living in Jordan teaching at an Islamic school, she said she 'stuck out like a sore thumb' and wanted to remind herself what it felt like to be an outsider so that she could better love all people 'no matter what they look like.' Wearing the hijab in her home town of Illinois she said it opened her eyes to how outsiders are treated.
Dubai-based Muslim, Dalal believes wearing traditional dress is a good way for non-Muslims to see life through the eyes of others. However, she believes education as to why Muslim women wear certain garments would be key to getting the most from the experience.
She says: "The best part about wearing hijab is the beauty of obeying your creator, the expectation of a reward from ones' lord and knowing that you follow the example of righteous women in history.
"I think it's a great idea for non-Muslims to wear hijabs for a day in solidarity with Muslim women but I don't think they will enjoy the experience of it as much as Muslim women do because they will be missing out on the spiritual aspect of it."
https://english.alarabiya.net/en/life-style/art-and-culture/2017/05/31/Should-non-Muslim-women-to-wear-the-hijab-in-solidarity-.html
--------
URL: https://www.newageislam.com/islam-women-feminism/pakistan-teen-raped-sentenced-death/d/111358
New Age Islam, Islam Online, Islamic Website, African Muslim News, Arab World News, South Asia News, Indian Muslim News, World Muslim News, Women in Islam, Islamic Feminism, Arab Women, Women In Arab, Islamophobia in America, Muslim Women in West, Islam Women and Feminism