New Age Islam News Bureau
14 Jan 2018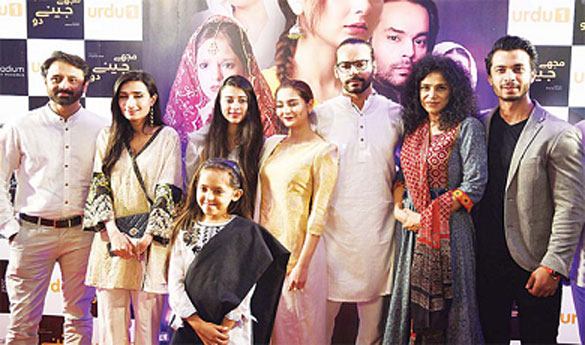 Photo: This photograph taken on Sept 7, 2017, shows Pakistani director Angeline Malik (second right), posing for a photograph with actors during a promotional event for social drama serial 'Mujhe Jeene Do' (Let Me Live) in Karachi. (AFP)
---------
• Women Seek a Bigger Role in Arab Gulf's Energy Sector
• Hundreds Protest In Nabi Saleh to Demand Freedom for Tamimi Women
• Egypt Squash Stars Proud To Contest Final of Historic Event in Saudi Arabia
• Bank Nizwa Empowers Women in Oman with 'Ladies Only' Banking Services
• Lincoln Woman Qualifies For Miss Arab USA Pageant, Learning About Her Lebanese Heritage
• Pakistan: More Rape Attempts against Girls Reported
• Stars 'Shocked' At Gender Pay Disparity in Hollywood
• At vanguard of protest, women drive a chink in mullahs' armour
Compiled by New Age Islam News Bureau
URL: https://www.newageislam.com/islam-women-feminism/pakistan-soap-operas-seek-break/d/113927
----------
Pakistan soap operas seek to break taboos
This photograph taken on Sept 7, 2017, shows Pakistani director Angeline Malik (second right), posing for a photograph with actors during a promotional event for social drama serial 'MujheJeene Do' (Let Me Live) in Karachi. (AFP)
ISLAMABAD, Jan 13, (AFP): In life, she chased fame, hoping to make her mark in Pakistani society. In death, murdered social media starlet Qandeel Baloch may have achieved her goal. Today she is a household name, and her tragic story has been turned into a soap opera — one of several immensely popular TV shows seeking to challenge the country's conservative taboos. 'Baaghi', which means 'Rebel', charts the rise of Baloch from young, exploited girl to internet sensation infamous for her provocative selfies until her shocking murder, with her brother confessing to the high-profile killing. The show airs on private TV channel Urdu 1 every Thursday.
Viewing figures are unavailable, but its pilot episode has been viewed more than 1.6 million times on YouTube. "That girl was a lioness. She should not have died yet," says Shazia Khan, a writer on the series. Baloch's fate polarised Pakistan. For some, it inflamed outrage over so-called "honour" killings in which hundreds of predominantly women are killed each year, usually by male relatives, for bringing what they perceive as shame on their families. But the concept of "honour" is deeply embedded in parts of Pakistan's patriarchial culture, and other voices argued that Baloch had made herself a target by her actions — tame by Western standards but deemed provocative in the conservative country. The decision to turn her death into one of Pakistan's popular television soap operas has ensured the debate surrounding such murders of women endures.
Notorious for its high-profile story, Baaghi is just one of a wave of soap operas and dramas airing plotlines that revolve around such social issues: from domestic violence to child abuse, forced and child marriages, misogyny and women's rights. They are devoured by Pakistan's 207 million strong population. Research by Pakistan's media regulator shows that in 2016, 65 percent of television viewers watched drama channels featuring such soap operas. Another survey by Gallup Pakistan shows 67 percent of adult female viewers and 56 percent of adult male viewers watch entertainment shows, mainly soaps.
Progress
Their popularity makes them a potentially powerful vehicle for progress, says lawyer Benazir Jatoi, who works for women's rights watchdog the Aurat Foundation and has long argued that laws protecting women are not enough to effect grassroots change. "MujheJeene Do" (Let Me Live), another soap on Urdu 1, highlights the issue of child marriages. "If there (is) not widespread awareness, who would know that it is a crime?" Angeline Malik, the show's director, tells AFP.
Pakistan's biggest entertainment channel, Hum TV, is a pioneer in using social issues as soap opera fodder. In 2016 the channel aired "Uddari", or "Flight", which told the story of a young girl sexually abused by her stepfather and ignited a debate about the sexual abuse of children inside the home. "Uddari took the sensitive subject … to every household where discussion on sex is still a taboo," says one avid fan, Aabida Rani. In "Sammi", which revolves around its eponymous star character, the station highlighted honour killings, forced marriages, and denial of property inheritance to women all in one show. Sultana Siddiqui, a producer who later set up her own TV station, said they wanted Sammi to be a mirror of society, and an example of "how a taboo issue could be displayed in proper manner."
Their efforts are not without backlash, and Siddiqui describes pressure from media regulators as well as a wave of vitriol on social media with people accusing her and her channel of spreading vulgarity and destroying social values. But the shows' popularity kept them on the air despite the blowback, she says. Even as the shows push for awareness and change, the way soap opera heroines are portrayed can cause consternation.
Sadaf Haider, a blogger at the country's major Dawn.com news portal, wrote in October that the storyline for Baaghi followed a predictable Pakistani track relieving the heroine of autonomy — essentially portraying Baloch as a victim. "The actual Qandeel didn't consider herself a beychari (helpless) at all, even a cursory reading of her interviews shows she worked hard and was proud of what she had achieved," Haider wrote. "Qandeel took full responsibility for her choices… So why has Baaghi portrayed something else entirely?" Pakistani journalist FifiHaroon has complained the portrayal of women in such shows still fits in to a patriarchal narrative.
arabtimesonline.com/news/pakistan-soap-operas-seek-break-taboos/
---------
Women Seek a Bigger Role in Arab Gulf's Energy Sector
BY LARRY LUXNER
Women are a rare sight at the headquarters of Saudi Aramco, and they're almost never seen in the oilfields. Hiba Dialdin wants to change that—even if it means changing the entire corporate culture of the largest petroleum conglomerate on Earth.
Dialdin, a petroleum engineering consultant at Saudi Aramco, was one of five women to speak January 13 in Abu Dhabi at a panel during the Atlantic Council's Global Energy Forum. The discussion coincided with the release of the Council's report, "Energy: Driving Force Behind Increasing Female Participation in the Gulf?"
"This report looks at the importance of female participation in the workforce of [Gulf Cooperation Council] countries such as Saudi Arabia, Kuwait, Qatar, and the United Arab Emirates," said Bina Hussein, an associate director in the Atlantic Council's Global Energy Center and the author of the report. "I looked at energy because it's the backbone of these nations' economies. And if that's the most important sector, it should also set an example for the rest of the country."
According to the report, the UAE ranks as the best-performing Gulf nation on the 2017 Global Gender Gap Index, and the second-best in the Arab world, outranked only by Tunisia. As of 2015, the Abu Dhabi National Oil Company (ADNOC)—the UAE's state-owned energy utility—had more than 65,000 employees, of which 34.1 percent were Emirati and 10.3 percent were female.
By contrast, of Saudi Aramco's 65,000 employees, about 85 percent are Saudis. But only 8 percent of that 85 percent are women, according to Dialdin.
"This is something the company recognizes needs to change," she said. "In 2016, we signed up with the World Economic Forum's call to action on bridging the gender gap, narrowing it down and increasing the number of women in the workforce."
Saudi Aramco had already established two initiatives—Women in Business and Women in Leadership—resulting in eighty-four female executives by 2015. Yet Aramco has never been led by a woman, nor do women occupy any positions on the Aramco's board of directors or its corporate management team.
"The company is aware of its track record, and there really is a push to include more women. This is something that's definitely on the radar," Dialdin said. To that end, Saudi Aramco has launched a high-school outreach program to lure more girls into STEM [science, technology, engineering and math] programs, and explain what it means to be an engineer or a scientist.
"We send out about 200 to 300 students every year to colleges, and we mandate that 25 percent of them must be women—mostly in the science fields," Dialdin said. But the main obstacle to further progress, she said, remains Saudi Arabia's deeply conservative Islamic culture.
"Most of the time, this attitude is out of protection for their daughters. Parents don't want them to work in a dirty oil field," she said. "But this outreach program helps. As society becomes more educated and Vision 2030 takes off, you're going to see a reduction in the number of people who actually think this way."
A perhaps deeper problem is encouraging women to be confident in their own abilities.
Citing a recent study, Dialdin said that when offered a new job opportunity, a man will grab it even if he has only 60 percent of the training and experience necessary for that job, "whereas a woman feels she has to have 100 percent of that knowledge and experience" before accepting the offer.
"Until now, most [Saudi] men and even some women see women as somehow less than [men]," she said. "They still do not have the idea that women can do whatever job a man can do."
atlanticcouncil.org/blogs/new-atlanticist/women-seek-a-bigger-role-in-arab-gulf-s-energy-sector
---------
Hundreds protest in Nabi Saleh to demand freedom for Tamimi women
Israeli forces try to prevent demonstrators from reaching the village, and fire barrages of tear gas at demonstrators.
Women, including former member of the European Parliament Luisa Morgentini, leading the march in Nabi Saleh. January 13, 2018. (Oren Ziv/Activstills.org)
Demonstrators, including former member of the European Parliament Luisa Morgentini, lead the march in Nabi Saleh. January 13, 2018. (Oren Ziv/Activstills.org)
Roughly 300 people — Palestinians, Israelis, and internationals — marched in the West Bank village on Nabi Saleh on Saturday to demand that Israel free the Tamimi family women, 16-year-old Ahed and her mother, Nariman, as well as other members of the popular resistance committees who have been arrested over the past several weeks.
In addition to the residents of Nabi Saleh, the demonstrators included Joint List head MK Ayman Odeh; Palestinian Legislative Council member Mustafa Barghouti; Mohammad Barakeh, chairman of the High Follow-Up Committee for Arab Citizens of Israel; and Luisa Morgentini, a former member of the European Parliament. Activists from the popular resistance committees of Al-Masara, Bil'in, Ni'lin, Kadum, Hebron, and other cities and towns across the West Bank also joined the protest, as did members of Anarchists Against the Wall, Combatants for Peace, and Ta'ayush.
Israeli forces blocked the main entrance to village early in the morning, but activists managed to arrive in Nabi Saleh via other routes. The demonstrators gathered in the center of the village and began to march, at first led by a line of women to represent the strong female leadership of the popular struggle in the village. They were joined by NailaAyesh, a leader during the First Intifada, whose story is featured in the film "Naila and the Uprising," recently released by Just Vision (and for which I had the honor of helping do research). Ayesh's presence linked the previous generation of female Palestinian leadership with the new, young female leadership of the current popular struggle. As the march continued, however, a group of men eventually passed the front line of women—perhaps no less symbolic.
On a hill overlooking the village's spring, the demonstrators gathered to hear speeches from various prominent figures in attendance. The popular struggle in Nabi Saleh began when settlers from the adjacent settlement of Halamish seized the spring and prevented the village's residents from reaching it.
As the speeches went on, a number of Palestinian youths engaged in small skirmishes with the soldiers guarding the spring. The soldiers fired tear gas at the youths, and at the rally, which was a considerable distance away. Following the barrage of tear gas, the demonstrators retreated into the village, where they regrouped.
The demonstrators then marched toward the army blockade on the village's main road. Soldiers met the demonstrators, again, with a massive barrage of tear gas grenades, as well as with the "skunk," a putrid-smelling phosphorescent liquid the army uses to disperse crowds. Several Palestinian teenagers threw rocks and kicked tear gas canisters back in the direction of the army. After an hour or so of skirmishes in the area around the main road, the protest ended.
"I came to Nabi Saleh today to join the residents in their call for the release of Ahed and NarimanTamimi, the heroines who have struggled against the cruel occupation with their bare hands," MK Ayman Odeh said. "I was happy to see a large group of Jewish Israelis here, who recognize that a nation that oppresses another nation cannot be free, and that the struggle to end the occupation is the highest shared interest of both nations."
The residents of Nabi Saleh have long protested against the occupation, against the settlements, and against the seizure of their spring. The village held regular protests for several years, until early 2017. Following U.S. President Donald Trump's Jerusalem declaration, the residents of Nabi Saleh resumed their protests. During one such protest last month, Israeli soldiers shot 15-year-old Mohammed Tamimi in the head with a rubber-coated bullet, badly injuring him.
Shortly after Mohammed was shot, his cousin, AhedTamimi, was filmed attempting to push soldiers off the porch of her family's house. The video quickly went viral in Israel and around the world. Several days later, the army arrested Ahed. AhedTamimi has been in Israeli military prison for nearly a month, along with her mother, who was arrested one day later. Ahed faces 12 different charges, including assault of a soldier, disrupting the work of a soldier, and incitement. Her mother Nariman faces has been charged with incitement for live-streaming Ahed's interaction with the two Israeli soldiers.
Since her arrest, Ahed has become an international symbol of the Palestinian struggle against the Israeli military regime, the settlements, and the detention of Palestinian children and members of the popular resistance committees.
972mag.com/hundreds-protest-in-nabi-saleh-to-demand-freedom-for-tamimi-women/132388/
---------
Egypt squash stars proud to contest final of historic event in Saudi Arabia
ARAB NEWS | Published — Sunday 14 January 2018
LONDON: Egypt star and world No. 1 Nour El-Sherbini said she was "extremely proud" to be crowned the first Professional Squash Association Saudi Women's Masters champion after beating compatriot Raneem El-Welily in the final in Riyadh.
In what was the first professional women's squash tournament ever to take place in Saudi Arabia, El-Sherbini, 22, controlled proceedings to prevail a comfortable 3-0 winner and become the first female athlete in any sport to win a professional tournament staged in the Kingdom.
"I am extremely proud to have been part of this historical tournament," El-Sherbini told SquashSite. "I want to thank everybody that made this event possible for us, we are blessed to have been part of it.
"I am proud to be the first PSA Saudi Women's Masters champion — I hope to come back next year to defend my title — and from the bottom of my heart, I want to thank HRH Princess Reema and (PSA Chairman) Ziad Al-Turki and the crowd that came and supported us all week. We are all very grateful."
The victory in the PSA World Series event was sweet for El-Sherbini as she lost to El-Welily in the final of last month's Women's AJ Bell PSA World Championship final. It moves her above El-Welily in the PSA World Series Standings and all but guarantees her place at the PSA World Series Finals in June.
"I felt that I was in control but at no time it was easy, even though I was ahead in the score, she was always coming back," El Sherbini said. "After losing in the World Championship final, this match and this victory means a lot to me. But I know we will have many many more battles."
El-Welily was disappointed to lose 11-7, 11-8, 13-11 but was just proud to be mark of a landmark event.
"This was an incredibly important tournament," El-Welily said. "We all want to thank those who have achieved great things by putting on this event. We are grateful to Saudi Arabia for the opportunity to play here and to HRH Princess Reema and Ziad Al-Turki for their efforts in making the event happen and the opportunity to play in such an incredible tournament."
arabnews.com/node/1225466/sports
---------
Bank Nizwa Empowers Women in Oman With 'Ladies Only' Banking Services
Published January 14th, 2018
"We are dedicated to empowering women throughout the Sultanate with knowledge of Islamic finance."We are dedicated to empowering women throughout the Sultanate with knowledge of Islamic finance." - Suhaila Al Ismaili, Senior Manager at Bank Nizwa
As part of its celebrations of Omani Women's achievements this year; Bank Nizwa launched a series of roadshows in several governorates to outline the many benefits of its Ladies Banking Account services. The roadshow offered shoppers in Nizwa Grand Mall, Oman Avenues Mall, Muscat City Center, and Salalah Gardens Mall a gateway into Oman's growing Islamic finance sector. The bank is the first and only Islamic financial institution in the Sultanate to offer such an unprecedented range of Shari'a-compliant services exclusively to women, making a host of value-added services accessible to all.
Suhaila Al Ismaili, Senior Manager Card Products said, "We are dedicated to empowering women throughout the Sultanate with knowledge of Islamic finance. Our Ladies Banking services were developed by our experts to provide women with the tools necessary to achieve their financial goals, professional aspirations and suit the requirements of today's demanding lifestyle needs. With the full support of our Islamic finance specialists, women in Oman can broaden their investment and financial horizons to unprecedented heights with a wide range of tailored solutions dedicated and ready for them to avail of."
The bank's Ladies Banking Account offers a host of unique benefits designed to meet the exclusive needs of women in the Sultanate. Delivering preferential treatment in any of Bank Nizwa's 11 branch network, female customers also receive complimentary financial advisory services, exclusive access to lounges, as well as discounts in a number of Oman's most popular hospitality and dining establishments.
Additionally, Bank Nizwa's Ladies Banking Account provides all customers with exquisite mother-of-pearl Platinum MasterCard® Debit Card featuring its own exclusive deals in Oman, the GCC and around the world.
Since its inception in 2013, Bank Nizwa, Oman's leading Islamic financial institution, has been offering a number of feature-rich Shari'a-compliant solutions to meet the wide variety of requirements facing modern banking customers. In addition to mobile banking, the bank offers its own app and instant access to a select group of its dedicated experts.
albawaba.com/business/pr/bank-nizwa-empowers-women-oman-dedicated-ladies-banking-services-1073404
---------
Lincoln Woman Qualifies For Miss Arab USA Pageant, Learning About Her Lebanese Heritage
CORY MATTESON Lincoln Journal Star Jan 13, 2018
Leah Thomas is one of 20 finalists chosen to go to Chandler, Arizona, later this month for the Miss Arab USA pageant.
Leah Thomas' collection of childhood mementos includes exactly zero sashes. Though she has gone on to pose as a model, the trophies she chased in her adolescence required birdies, not evening wear.
Thomas, 25, grew up in York, the daughter of a golf pro, and she followed his lead even as her mom (and dad) tried, repeatedly, to get her to enter beauty pageants. Nada.
"So now that we didn't have anything to do with this, she got herself in one," said Bill Thomas, her dad.
What her parents couldn't do, an Instagram ad featuring a woman named BaianTaleb did. In the post, children surrounded Taleb, a U.S. citizen of Syrian origin, as she wore the sash she won the past two consecutive years — Miss Arab USA.
On Jan. 21, Thomas will be one of 20 contestants competing for the title in Chandler, Arizona.
"When I saw 'Arab' and 'USA' in the same sentence, that immediately caught my eye," she said. "I said, 'Hey, that's me.'"
One of her great-grandparents, her father's grandfather, came to the U.S. from Lebanon. At Ellis Island, Bill Thomas said, his grandfather changed his last name from Howayek to Thomas and settled in Pennsylvania.
Bill Thomas never met his dad's grandparents, and his knowledge about his family's Lebanese roots was limited to little more than the previous paragraph's information, but he said his daughter always hung onto that thread of family history.
"She's always been interested in that part," he said. "When she texts, she always puts the Lebanese flag in there."
Between that distant connection and the sight of Taleb volunteering with a group of children, Leah Thomas was convinced to fill out a registration form for the 2018 Miss Arab USA pageant last fall.
"This one spoke to me," she said.
The Miss Arab USA pageant, according to the nonprofit that produces it, began in 2010 as a charitable event meant to highlight women of Arabic descent. Billed as a nonpolitical event that celebrates the heritage of its contestants, Miss Arab USA eschews some of the typical pageant fare — there's no swimsuit competition out of respect for some of its contestants' religious beliefs, for instance — in favour of a focus on "personality, skills, knowledge, education and community involvement," according to the pageant's FAQ page.
"The pageant redefines the image of the Arab woman as a leader and a vital partner in the development of The Middle East and the world," the Arab American Festival Organization wrote about the event.
"It's not all about beauty and what you're wearing and what your body has to offer," Leah Thomas said. "It's about what's inside."
Neither she nor her parents had the highest hopes about her advancing. She had to fill out a request for a special exemption, as the pageant rules state that contestants must have a parent or grandparent of Arab origin.
Not only did pageant officials grant her exemption, they also called to tell her she was one of the 100 finalists who would be interviewed for a spot in the pageant.
During a phone interview with pageant officials, Leah Thomas said she was asked an array of questions, about everything from her Lebanese background to who the president of Egypt and king of Jordan are.
Leah Thomas didn't know much about either, but she told them she was using this opportunity to explore that part of her heritage.
"I'm very excited to learn," she said. "One of the past queens asked us what we were most excited about. That was my answer, to learn."
Last month, she found out she was invited to the pageant.
"I know, it's crazy!" she said.
Since then, she's split her hours raising money for the Miss Arab USA charity and researching the Middle East, and her family's background. Bill Thomas said he's reached out to an uncle in Pennsylvania in an effort to learn more about his grandfather. Leah said she's peppered another pageant contestant with more direct ties to Lebanon with questions about what it's like there. Fundraising, she said, has gone well, with businesses in both York and Lincoln offering financial support after she explains the pageant to them.
She's also seeking support in an online vote, the winner of which automatically advances to the final five contestants. To vote, you must donate a minimum of $10 to the pageant producers at vote.missarab.org.
The winner of the Miss Arab USA pageant has, in past years, toured refugee camps, along with making more-traditional pageant-winning personal appearances. Leah Thomas said that, if she were to win, she would want to spend her year bridging cultural gaps, the way she has for herself since she first learned about the pageant.
"I just want to let my hometown know I'm out here nationally, doing my best to bring home the crown and put a good name out there for York and Nebraska, for Lincoln and Omaha," she said. "I know that if I do win the crown, I'm going to do great things with it and make everyone proud."
journalstar.com/news/local/lincoln-woman-qualifies-for-miss-arab-usa-pageant-learning-about/article_13b111e8-15bf-5570-81e3-3c456b37286f.html
---------
Pakistan: More rape attempts against girls reported
January 14, 2018
DERA GHAZI KHAN: Police arrested a man who allegedly tried to rape a class six girl in Kalawas village when she was on her way to mosque in the morning, police said. Her screams attracted the attention of neighbours. The suspect fled the scene.
Kala police registered a case against and arrested the suspect.
SARGODHA: Police registered a case a man, of Bkhar Bar in Shahpur, for kidnapping and trying to rape a seven-year-old girl. The girl's parents alleged police were avoiding to arrest the suspect.
TOBA TEK SINGH: Rajana police arrested on Saturday the main accused of a girl's kidnapping and gang rape case.
The suspect with his accomplice, who is already in police custody, had kidnapped and gangraped the teenage girl, the daughter of a farmer of chak 358 GB one week ago.
Rajana police had rescued the girl from outhouse of main accused on Jan 11.
According to the family, the girl's medical examination report had proved that she was gang raped.
dawn.com/news/1382789/more-rape-attempts-against-girls-reported
---------
Stars 'shocked' at gender pay disparity in Hollywood
AP | Published — Sunday 14 January 2018
LOS ANGELES: Stars are sharing their shock at reports of a significant pay disparity between Mark Wahlberg and Michelle Williams for reshoots on the Ridley Scott film "All the Money in the World."
Two reports say Wahlberg was paid far more than Williams for the reshoots in which Kevin Spacey was replaced by Christopher Plummer after accusations of sexual misconduct surfaced against Spacey. USA Today reported this week that Wahlberg was paid $1.5 million for the 10 days of reshoots, while Williams got less than $1,000 for the same work.
Representatives for Wahlberg and Williams did not respond to requests for comment on Friday. Imperative Entertainment, which produced the film, declined to comment.
But actor Liam Neeson said it is a healthy and necessary discussion to have, because "the disparity, sometimes, is (expletive) disgraceful."
"We as men have got to be part of it," he told The Associated Press earlier this week. "We started it, so we have to be part of the solution."
He said he would not take a pay cut to make things equal, "but there has to be parity. There just has to be."
Actress Diane Kruger said she was surprised by the size of the wage gap between Wahlberg and Williams, but that she also is not paid the same as the men she works with.
"I have never been paid the same as my male co-star, ever," Kruger said. "But often it is not them. It is the studios or whoever makes the deal, and it is terrible because it makes you feel undervalued or easily exchangeable. And it is just not OK, in any field, not just as an actor...
"I think we need to be more conscious when we make deals, to be strong and stay united... where we have a coherent plan of us women, what we need to do to make this happen."
Veteran actress Rita Moreno also said she was shocked by the news, but she does not blame Wahlberg.
"That is his business. That is what actors do — they get paid very handsomely, especially if they are big stars," she said. "She's a big star too though. I don't get that."
Guillermo del Toro, who shouted about women's equality as credits rolled on the Critics' Choice Awards Thursday night, said he makes sure actresses on his productions are treated fairly.
"I think it's incredibly important, because the work and the profession are exactly the same," he said, adding that Hollywood used to recognize that. "If you go back to the golden era of Hollywood, this is not something that was happening then. You had great actresses — Joan Crawford, Bette Davis — that were fuel for the movies, that were engines for the movies, and were treated and paid and considered in the same realm. Whenever it changed, it should change back."
"The Handmaid's Tale" actor Joseph Fiennes said women should take action if things do not change.
"I'm reminded of Iceland, 1979, when all the women went on strike," he said. "They went on strike; they gave the babies to the men; they disappeared. The country fell down and now it is the only country in Europe that has practically parity of pay and has since had two female leaders. So, you have to go on strike. You can't give up, and you get results that way."
arabnews.com/node/1225041/offbeat
---------
At vanguard of protest, women drive a chink in mullahs' armour
Iranian women have lost the "egg revolution" but they have demonstrated an ongoing appetite to protest against second-class citizenship in a sexist police state.
The image of a woman removing her hijab on the reformist website My Stealthy Freedom became a symbol of the unrest and could eventually emerge as its icon.
Despite absent freedom of speech, assembly or association, women have fought back since the 1979 Islamic Revolution, which not only failed to deliver the political participation they expected but reversed most of the rights won. Ayatollah Khomeini repealed the 1967 Family Protection Law, thereby facilitating polygyny, easy divorce for men and custody of children, unequal inheritance, and the marriage age for girls reduced to nine. Islamic laws of retribution were introduced to permit flogging and stoning for adultery, personal injury and violation of Islamic dress codes. Women managed to retain the right to vote and certain educational opportunities.
In 1997, women played an important part in the election of ''reformist'' president Mohammad Khatami, who promised democratic and gender reforms, although he failed to deliver. After Shirin Ebadi was awarded the Nobel Peace Prize in 2003, women were energised, and starting in 2005, organised peaceful demonstrations and the one million signatures campaign against discriminatory laws. Although protesters insisted they were not opposed to the regime or Islam, they were attacked by police, including female squads, cynically trained by the regimen. Many were arrested.
The daring commitment of the women's movement arguably formed the vanguard of the demonstrations after the disputed presidential election of 2009, and the Arab Spring.
Considering the vast organs of repression at the call of the Islamic republic, dissidents have displayed remarkable courage. Like the old Soviet Union, Iran depends on coercion through a web of police, informants and paramilitaries to defend itself against insurrection. Apart from more than 200,000 general police and affiliates, the Basij civil militia forms the backbone. Consisting of five million mostly volunteer members spread over 50,000 locations, the Basij monitors state and private institutions, its rapid-reaction battalions on alert to crush unrest. A sister Basij arm claims more than five million members.Patrolling the streets, they act as morality police, arresting women for Islamic dress violations, and have impounded over 40,000 cars driven by women in "bad hijab".
Without international pressure, extending an uprising is destined to fail. The US response in 2009 was muted, a reaction Barack Obama adviser Dennis Ross regrets. The support of Donald Trump undoubtedly encouraged the latest protesters.
Despite their military successes in proxy wars abroad and widespread police control internally, the regimen is weak.
The economy is beset with inflation and youth unemployment, estimated at 40 per cent. A cut in subsidies for low-income families and increases in food prices while allocating $US8 billion to the Revolutionary Guards generated the protests last month, especially in working-class areas.
Iranians were promised a better future by President Hasan Rowhani, who offered the 2015 nuclear deal as the key to future prosperity. Instead, the regime channelled the dividends to the Guards to expand Iran's reach in Syria, Gaza, Lebanon, Iraq and Yemen.
To placate rebellious, unemployed youth, the mullahs have turned a blind eye to underground Westoxification. Illegal rock music, dancing, drinking, drugs and mixed gender parties proliferate. Increasing numbers of unmarried couples are cohabiting in a society that criminalises men and women shaking hands. Private expressions of rebellion might be tolerated but public defiance is penalised. When six young people made a video of themselves dancing to Pharrell Williams' Happy in 2014, it was seen by over a million people on YouTube, but the dancers were sentenced to prison and lashes.
With over 60 per cent of the population under 30, Iran has one of the largest number of bloggers in the world. A demographic bulge of internet-savvy and politically active youth is a growing threat to the regime.
Moreover, the moral and social base of the Islamist government is eroding. The regime depends on the depiction of Westernisation as an existential threat. Many mosques are empty and a career as a cleric has little appeal. Low fertility is another problem for the regime, prompting the discontinuation of family planning.
Women are the battleground for the mullahs. The radical Shia bubble could be seriously punctured if many women were to rise in defiance. Judging by the subdued response in the West, Iranian women can expect little support from the countries that backed the nuclear deal, or do business with Iran following the lifting of sanctions. Women have the most to gain from protest movements but the regime is prepared to dispatch its police forces to incarcerate them in jails known for torture and rape. It is inexcusable for the feminist movement and defenders of human rights to stay silent.
The recent uprising offered the Iranian women's movement a chink in the regime's theocratic armour. Centralised in Tehran, they were probably caught unaware by the spontaneous provincial unrest and had insufficient time to organise and consolidate their strategies.
The next rebellion might offer a better opportunity for the end of a tyrannical regime masquerading imperialism and paranoia as virtue and piety.
theaustralian.com.au/news/world/at-vanguard-of-protest-women-drive-a-chink-in-mullahs-armour/news-story/e891e8b0a91152e7cdea586ade2677af
URL: https://www.newageislam.com/islam-women-feminism/pakistan-soap-operas-seek-break/d/113927