New Age Islam News Bureau
20 March 2019
• Afghan Refugee Nadia Nadim Scales Summit of Women's Football
• UAE Appoints First Female Judges
• How Saudi Women Are Getting Ahead Of Men as STEM Graduates
• France's Attack on Muslim Women Must Stop
• Muslim Woman Attacked in Brooklyn in Possible Hate Crime: Cops
• Pak Woman Who Entered J&K with Kashmiri Husband Gets Five Years Jail
Compiled by New Age Islam News Bureau
URL: https://www.newageislam.com/islam-women-feminism/pakistan-sending-good-morning-texts/d/118083
--------
Pakistan: Sending 'Good Morning' Texts to Women Is Also Harassment
March 20, 2019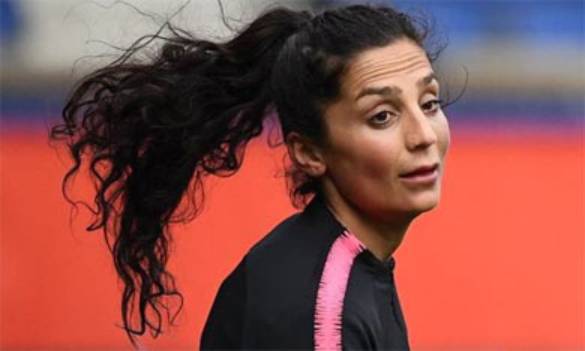 Afghan Refugee Nadia Nadim, a 31-year-old forward who recently completed a switch from Manchester City to Paris Saint-Germain
-----
Kashmala Tariq, federal ombudsperson for protection against harassment at workplaces, on Tuesday said that sending 'good morning' text messages to women at the workplace is also considered harassment.
Addressing an event on women's day at the Rawalpindi Chamber of Commerce and Industry (RCCI), Kashmala said, "I have received complaints in which peons have also harassed women at offices."
She said that harassment is not only limited to being sexual, but can be of any form. "If someone constantly asks you out for tea, it is also a kind of harassment," she said.
She said that there should be a harassment committee in every institution and CCTV cameras should be installed everywhere at an office.
The ombudsperson said that her institution is not only for women but for men as well, as they can bring their complaints too regarding harassment.
https://www.pakistantoday.com.pk/2019/03/19/sending-good-morning-texts-to-women-is-also-harassment-says-kashmala/
--------
Afghan Refugee Nadia Nadim Scales Summit of Women's Football
March 19, 2019
PARIS: "I don't really think about the past and what happened," says Nadia Nadim, the daughter of an executed Afghan general who spent years playing football in the fields beside her refugee camp before becoming a Denmark international.
"I am fortunate to be in a situation where I can play football and love what I do," adds Nadim, a 31-year-old forward who recently completed a switch from Manchester City to Paris Saint-Germain.
Her story is a remarkable one. She was barely 10 years old when her father was killed by the Taliban, her family fleeing the war-torn nation and finding a new home in Denmark.
The journey from her home in Herat was a long one, via Pakistan and then on to Italy with the aid of human traffickers in a bid to get to Britain where she had family. Instead they found refuge in Denmark.
"We came to Denmark in 2000 when I was 10 or 11 years old, and we used to be in this camp, and just beside this camp there was these amazing football fields," Nadim told AFP.
"Every day after school me and other refugee kids used to go and watch these other guys train. One day I asked if I could join in, and the coach was like 'yeah, of course'," she explained.
Away from the turmoil of her homeland at that time, her teenage years in Denmark were peaceful and she enjoyed comics, school — and especially sport.
"I feel happy and I feel grateful every day. I am fortunate to be in a situation where I can play football, be the player I want to be and meet new people all the time," she says.
Nadim, who has embarked on studies to become a surgeon after her football days are over, feels the sport is a wonderful social leveller.
"There were a lot of kids from different areas ... Arabs, Iraqi, Bosnian, Somalian, nobody could speak the language, and no-one spoke English, so the only way we communicated was with the game," she recalled of her early days in Denmark.
"Everyone was included, nobody would say 'No' because you are different ... that is what I still love about the game, everyone can be a part of it. It doesn't matter if you're black, white, Christian or Muslim, it's a game."
While women's equality is relatively advanced in Denmark, Nadim concedes that the situation is far more complicated in Afghanistan.
"In Afghanistan girls are not supposed to do sports, not supposed to wear shorts," she says.
"But you can use sports to change points of view ... I have seen this myself.
"When I was younger my Mum would be like don't play football with the boys because the women, my friends, think that there is something else going on.
"I used to hide myself on the street — we used to play street football — because my Mum was like, if they see you they are going to start talking.
"That was so stupid."
Nadim went on to become a full Denmark international and played in the European championships final in 2017 where she scored the opening goal but could not prevent her side losing 4-2 to the Netherlands.
However, to her enormous chagrin, Denmark did not qualify for the World Cup, which kicks off in France in June.
"I was so disappointed," she says.
She is circumspect when asked if she thinks the World Cup is going to be a "turning point" for the growth of women's football.
"I don't think there's one tournament or one point that's going to change everything," she said. "I don't think that's how it works. It's going to take time, but we're on the right path."
When she hangs up her boots, the woman who was forced to flee conflict herself says she hopes to combine her burgeoning medical career with humanitarian work.
"I think Doctors Without Borders do a great job and I'd love to be there for a couple of years to gain experience, but also be in an area where you probably are the only person who can help these people."
http://www.arabnews.com/node/1469131/sport
--------
UAE Appoints First Female Judges
March 20, 2019
DUBAI: Two women have been appointed as the UAE's first female judges, state news agency WAM reported.
The UAE's President Khalifa Al-Nahyan issued the federal decree this week appointing Khadija Khamis Al-Malas as an appeals judge, and Salama Rashid Al-Ketbi as First Instance Court judge.
http://www.arabnews.com/node/1469606/middle-east
--------
How Saudi Women Are Getting Ahead Of Men as STEM Graduates
March 19, 2019
DUBAI: More and more girls in Saudi Arabia are opting for an education in science, technology, engineering and maths (STEM), and now the challenge is finding them employment, said Dr. Fatima Alakeel, a cybersecurity expert and faculty member at King Saud University (KSU) in Riyadh.
"In the Kingdom, STEM-related jobs are limited at the moment, as the economy is primarily oil-based and there are few technical jobs available," said Alakeel, who is also the founder and CEO of the non-profit Confidentiality, Integrity & Availability Group (CIAG), which focuses on information security training and research in Riyadh.
According to a government report on the labor market situation in the third quarter of 2018, more than 30 percent of Saudi women aged between 15 and 65 are unemployed.
Among them, the highest rate of unemployment is among 20-24-year-olds (more than 70 percent) and among 25-29-year-olds (55 percent).
According to the report, there are 923,504 Saudi jobseekers, of whom 765,378 are women (82.2 percent).
"We have more girls in STEM education compared to Western countries," said Alakeel, who completed her doctoral degree in computer science in the UK at the University of Southampton in 2017.
According to a report prepared by the Saudi Education Ministry, girls accounted for 57 percent of undergraduates for the year 2015-2016 in the Kingdom.
That same year, women outnumbered men in graduating with a bachelor's in biology, information technology (IT), mathematics and statistics, and physics.
According to a survey Alakeel recently conducted on social media, "almost 80 percent of (Saudi) girls were keen to study STEM, but securing a job after the degree remains the challenge," she said.
Maha Al-Taleb, 22, graduated earlier this year with a degree in technology from KSU, specializing in IT networks and security.
"It's common for girls in the Kingdom to opt for STEM education," said Al-Taleb, who now works in a public sector company in Riyadh as a junior information security analyst.
"Saudi women are ambitious. We're acquiring high degrees and seeking successful careers. I don't know why the world assumes that Saudi women are a backward tribal species who have no say in these matters. This entire perception is flawed."
Al-Taleb got a job offer immediately after university, but realizes that not all her peers are as fortunate. Women "are facing problems in securing jobs, not because companies don't want to hire us, but because employment for Saudi youths is a major challenge," she said.
"In today's Saudi Arabia, parents are encouraging their daughters to get a degree not just in the Kingdom; they also want them to go to Western universities. It has become a common phenomenon. Things have changed. Women are a crucial part of the nation's development process."
Not all women graduating in the Kingdom are as lucky, among them Razan Al-Qahtani. "It has been several months since I graduated, yet I haven't been able to find a job. It has been a struggle so far," said the 25-year-old IT graduate. "We have more talented and qualified girls, especially in the field of technology, but there are few jobs available. It's a difficult situation, but we're hopeful things will change very soon."
Al-Qahtani expressed confidence that the Kingdom's Vision 2030 reform plan will bring opportunities for qualified Saudis.
As part of Vision 2030, the government has committed to raise employment among Saudi women.
Alakeel said the government is working hard to find a solution, and it is only a matter of time until more such jobs are on offer.
"As per Vision 2030, there will be more jobs, including technical jobs, available in the country. Once we have more jobs, women will eventually get their due share," she added. According to Alakeel, female empowerment and promotion to leading roles have made huge progress in Saudi Arabia, and this may affect existing STEM job opportunities.
"We're glad to see Her Royal Highness Princess Reema bint Bandar Al-Saud becoming the first female ambassador of the country. It only suggests change is on the way," Alakeel said.
Al-Taleb expressed pride in the way her parents have supported her, saying: "My father isn't educated and my mother has basic literacy, but both provided me with the education I desired. They want their daughters to be as successful as their sons."
Like women in any country, the transition from university to the workplace is not always easy, even for young Saudi women with technology degrees. Yet they are not losing hope.
"We realize these are difficult times in terms of employment, especially in technology-related fields, but things will change," Al-Taleb said. "Saudi women will soon be ruling the fields of STEM all over the country."
http://www.arabnews.com/node/1469381/saudi-arabia
--------
France's Attack on Muslim Women Must Stop
Hajar El Jahidi
19 March 2019
Last month, faced with a public backlash and violent threats, French sports retailer Decathlon pulled plans to sell a "running" hijab in France.
This is not an isolated case, but part of a larger, structural stigmatisation and exclusion of French Muslim women.
This intersectional form of discrimination marginalises the most vulnerable women and is part of a historical continuum of fundamental rights infringements - one that is set to continue, unless it is acknowledged by France's institutions, political elite and civil rights defenders.
The visibility of the Muslim presence in France - notably through the wearing of the hijab - has become a controversial topic, whose history spans several decades.
Obsession with the headscarf
In 1989, three Muslim girls were suspended from their school in a suburb of Paris for wearing the hijab. Since then, France has entered a regulation frenzy, consumed by the question of Muslim women's head coverings.
This obsession has taken shape through different laws, including the 2004 law banning the headscarf from schools and the 2011 ban on full face veils in public spaces.
Every now and then, advocates float the idea of banning the hijab in universities or even in all public spaces, dragging unwilling French Muslim women into yet another public debate.
Such developments reveal how the French state wants to regulate and confine the Muslim presence - in particular, the visibility of Muslim women - through legal means. Such laws, which clearly infringe on fundamental rights, have not been properly assessed to determine their impacts on the women targeted by them.
This profusion of French laws leads to the misinterpretation by the state apparatus and the population at large of the legal framework, leading to illegal exclusions and discrimination against Muslim women.
The over-zealousness of civil servants in protecting their own interpretation of French laicite (secularism) laws leads them to go beyond the actual laws - which are already "liberticide" in many regards.
According to a 2017 report by the Collective Against Islamophobia in France, 40 percent of Islamophobic acts were committed by government authorities, and a further 53 percent by legal entities.
The burkini controversy is a perfect example of state officials infringing on Muslim women's rights to wear religious clothing, or simply to dress as they wish, despite the absence of a legal framework for such interdictions. More than a dozen municipalities banned burkinis on public beaches, a clear breach of women's constitutional rights and freedoms.
Over-zealous secularism
In an even more vicious case of misinterpretation of the law, young women have been cast out of schools for wearing long skirts, interpreted as a religious symbol because of the young women's religious identity.
Such discrimination is not limited to the state: from social media, to traditional media, to the French streets and over-zealous secular citizens, French Muslim women are routinely excluded.
The Decathlon case marks the advent of a new strategy of exclusion. While many politicians and observers have rightly pointed to the legality and freedom of a private business to sell this product in France - and while there appears to be a consensus that it is not forbidden for Muslim women to run while wearing the hijab - a large fringe of the French elite took it upon themselves to feed the controversy.
This strategy heralds a new phase in the demonisation of the hijab and of Muslim women in France. If something cannot be banned through legal means, opponents turn to other methods, including violent threats, to target the country's Muslim presence.
Enemies of the state
This sustained attack on the visibility of Muslim identity has created a situation in which Muslim women are viewed as public enemies of the French state. The end result is collective hysteria whenever a headscarf is seen in the public sphere.
This has been seen over and over again, from the two women who were thrown out of a Paris restaurant because they were wearing headscarves, to the mother who was barred from attending a school field trip with her daughter because of her hijab, to the woman who was forced by local police to strip off her burkini on a public beach - and the list goes on.
As women around the world marked International Women's Day earlier this month, Muslim women in France face significant barriers to attending school, working in the public or private sector, swimming, and now even running. Their safety is constantly at risk.
It is time for civil society in France and elsewhere to see the situation for what it really is. Far from the bucolic and romantic image that France likes to portray, this is now a country that stigmatises, excludes and marginalises its Muslim minority - in particular, its Muslim women - to an extent beyond any other Western country in the last half-century.
https://www.middleeasteye.net/opinion/frances-attack-muslim-women-must-stop
--------
Muslim Woman Attacked in Brooklyn in Possible Hate Crime: Cops
By Stephanie Pagones
March 19, 2019
A stranger allegedly attacked a Muslim woman in Brooklyn — repeatedly kicking her and trying to trip her — in what police are eyeing as a possible hate crime, authorities said.
The NYPD's Hate Crimes Task Force is investigating the assault, which happened around 3:30 p.m. Saturday on Avenue H in Flatbush.
The stranger approached the 41-year-old woman, who was wearing traditional Muslim clothing, including a hijab, police said. Without uttering a word, the man kicked at her feet in an alleged attempt to trip her. When that was unsuccessful, he kicked her in the right shin, cops said.
She was treated by medics at the scene.
Meanwhile, investigators are still looking for the suspect, who fled west on Avenue H after the attack.
Police described him as a white man with an average build, approximately 5 feet 7 and 20 to 25 years old. He was wearing a dark jacket with light sleeves.
https://nypost.com/2019/03/19/muslim-woman-attacked-in-possible-hate-crime-cops/
--------
Pak Woman Who Entered J&K with Kashmiri Husband Gets Five Years Jail
Written by Arun Sharma
March 20, 2019
A 27-year-old woman, who in 2012 allegedly accompanied her husband and their three minor children on his return to Jammu and Kashmir from Pakistan occupied Kashmir (PoK) under a scheme for the return and rehabilitation of former militants, was on Monday sentenced to five years' imprisonment and fined Rs 20,000.
In 2005, Sheraz Ahmed alias Shakir married Faiza Begum in PoK and the couple travelled to J&K with their three minor children in 2012 via Nepal. While Faiza – a Pakistani national – was booked under provisions of Foreigners Act and Passport Act, Sheraz was arrested under provisions of Unlawful Activities Act, Enemy Agents Ordinance, Conspiracy, and Egress and Internal Movement Control Ordinance (E&IMCO).
On Monday, Principal Sessions Judge, Jammu, Vinod Chatterji Koul sentenced Faiza to three years' imprisonment and fined Rs 10,000 for violating provisions of Section 14-A of the Foreigners (Amendment) Act, 2004, which says that no foreigner shall enter into, or remain in any protected area except under and in accordance with a permit issued by Central government or any officer authorised by it in this behalf.
She was sentenced with imprisonment for a further two years and fined Rs 10,000 more under provisions of the Passport Act for entering India without a valid passport, with the judge stating that the two sentences shall run concurrently.
According to the prosecution, DySP (Operation) Gool in 2012 received information that two militants, Ghulam Ali and Sheraz, have returned to India via Nepal after having undergone arms training in PoK. A police party in Jammu then arrested Ghulam, Sheraz, and Faiza.
On Monday, the judge sentenced Faiza but acquitted Sheraz and Ghulam Ali for want of evidence.
However, the case of Faiza was different, with the judge observing that she is a resident of Rawalpindi, Pakistan, and there is not dispute over it.
In 2010, the then Omar Abdullah government had announced a rehabilitation policy for Kashmiri militants who had crossed over to Pakistan between 1989-2009 for arms training, and who, after a change of heart, wanted to leave the gun and return home to lead a peaceful life. It identified four points for the return of those former militants – the Wagah border in Punjab, the Indira Gandhi International Airport in Delhi, and the Chakkan Da Bagh and Salamabad LoC crossing points in J&K's Poonch and Uri respectively.
https://indianexpress.com/article/india/pak-woman-who-entered-jk-with-kashmiri-husband-gets-five-years-jail-5634849/
--------
URL: https://www.newageislam.com/islam-women-feminism/pakistan-sending-good-morning-texts/d/118083
New Age Islam, Islam Online, Islamic Website, African Muslim News, Arab World News, South Asia News, Indian Muslim News, World Muslim News, Women in Islam, Islamic Feminism, Arab Women, Women In Arab, Islamophobia in America, Muslim Women in West, Islam Women and Feminism