New Age Islam News Bureau
22 Aug 2019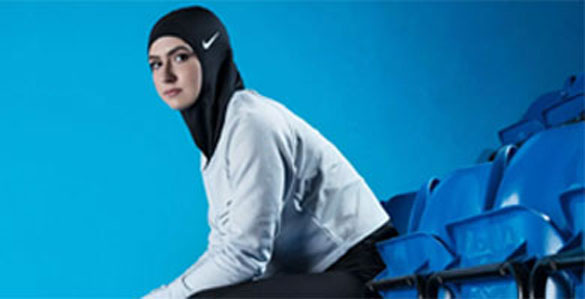 Sports clothing manufacturer Nike is introducing a new line of Muslim friendly sportswear which will include a hijab
-----
• In Afghanistan, Dubious and Violative Virginity Tests Persist
• Southeast Asia's Hidden Female Genital Mutilation Challenge
• The Nike Ambassador Who Started A Sportswear Brand For Muslim Women
• Belgium's Muslim Executive Drafts in Women as Teachers and Preachers
• Saudi Female Bowlers Off To Las Vegas Tournament
• Saudi Arabia Appoints First Female Spokesperson for Public Education
• Women in Morocco: An Appraisal of their Current Status
• Iranian Bike-Sharing App Sparks Outrage after Refusing Women Service
• WWDC Starts New Vocational Courses For Poor Women
Compiled by New Age Islam News Bureau
URL: https://www.newageislam.com/islam-women-feminism/pakistan-senate-body-rejects-bill/d/119538
--------
Pakistan Senate Body Rejects Bill to Set Minimum Age for Marriage At 18
August 22 2019
ISLAMABAD: The Senate's Standing Committee on Law and Justice on Wednesday rejected a bill about setting an age limit for marriage at 18 years with a majority of votes. Three votes were cast in favour of the bill while six were cast against it.
The committee with leaders from varying political parties including the ruling Pakistan Tehreek-e-Insaf (PTI), Pakistan People's Party (PPP) and Jamiat Ulema-e-Islam-Fazl (JUI-F) deliberated over the matter of minimum marriage age.
During the meeting which was chaired by Senator Javed Abbasi, Dr Qibla Ayaz, Chairperson Council of Islamic Ideology (CII), termed determination of age for marriage un-Islamic.
"In a 1961 law, the minimum age for marriage is 16 which was unIslamic" and stressed, "it will also be against the sharia if the minimum age for marriage is set at 18," he said.
Dr Ramesh Kumar, also a member of the committee, advocated for fixing the marriage age limit at 18 years while JUI-F's Alia Kamran opposed the idea of establishing an age limit for marriage.
PTI's Sanaullah Masti Khel and Malik Farooq Azam decided not to favour any unIslamic law.
"Senate has already approved a law which limits the minimum age for marriage at 18 years," said officials of the Ministry of Human Rights.
Sanaullah argued, "Can we change Pakistan's name if the ministry decides tomorrow that the word Islamic should get replaced with public in the country's name."
"No restriction can be imposed on the age for marriage," JUI-F's Alia insisted.
On this occasion, PPP Secretary Information Dr Nafeesa Shah asked if 16 years was an Islamic age for marriage, how could 18 years be un-Islamic?
"Senate has approved a bill over early marriages. Has the entire Senate apostatized now?" Chairman Senate Standing Committee on Law and Justice Senator Javed Abbasi asked Chairperson CII.
"I am not saying the Senate did not approve a law as per the teachings of Islam but the CII will deliberate over the recommendations proposed by the senate committee about it," Dr Qibla replied.
"This matter has been viewed administratively and not from a religious point of view," he added.
https://www.pakistantoday.com.pk/2019/08/21/senate-body-rejects-bill-to-set-minimum-age-for-marriage-at-18/
--------
In Afghanistan, Dubious and Violative Virginity Tests Persist
Ruchi Kumar
August 22 2019
In the winter of 2009, as a young teenager, Soraya says she was raped by a 22-year-old male teacher at her English language school in Eastern Afghanistan. A few months later, she was spotted by Afghan police walking with her rapist on the street. After being taken to the police station, she was forced to call her father, who was informed that she had likely engaged in adultery. Soraya's father hit her when he arrived at the station and insisted that she be submitted to a virginity test.
The test was administered by a male doctor at a clinic the next day. "He put his fingers in my vagina, he looked at me, and said you are not [a] virgin," Soraya, now 25, recently recalled to a friend, who submitted the details in a letter to Undark on the condition that Soraya's real name and whereabouts be withheld for fear of retribution from members of her still-estranged family. "He seemed to enjoy that — not just my suffering, but also touching me."
For reasons unclear to Soraya — perhaps it was her tears and begging, or a bribe from her younger brother — the doctor agreed not to tell her enraged father, who was waiting in the next room. Instead, he pronounced Soraya dokhtaret pak ast in her native Dari, or "the girl is pure." But the experience left her devastated. She attempted suicide, and ultimately fled Afghanistan. "I was a good and a happy girl," she said, "but the virginity test killed me."
Soraya is far from alone. While many Taliban-era strictures have been dismantled, human relationships — and female sexuality in particular — remain matters of strict control in Afghanistan. Simply admitting publicly to sex with a man outside of wedlock remains an illegal and punishable offence in the country, and Afghan police routinely question men and women who fraternise in public. Failure to provide satisfactory answers or evidence of a legal, moral association can lead to an arrest and investigation — largely focused on the character of the woman involved.
One of the first actions taken in such cases is that the woman is subjected to an invasive and scientifically dubious "virginity test." If it is determined that the woman has engaged in sexual intercourse, she can be sentenced to up to 15 years in prison. In 2013, the non-governmental organisation Human Rights Watch (HRW) estimated that "half of all women in prison and about 95% of girls in juvenile detention in Afghanistan had been arrested on 'moral crimes' charges." Virtually all of these women are believed to have been subjected to virginity testing. The practice has also been documented in nearly 20 countries, from the Middle East to parts of South and Southeast Asia, Africa, South America, and Europe, according to the World Health Organisation (WHO).
The organisation notes that amid increased globalisation and migration, "requests for and cases of virginity testing are emerging in countries that have no known previous history of the practice, including Belgium, Canada, the Netherlands, Spain, and Sweden."
In Afghanistan, efforts have been made to curb the practice. Afghanistan President Ashraf Ghani issued an order last year that essentially banned virginity testing without a woman's consent— considered a human rights violation by the WHO — in the nation's hospitals and clinics. And a coalition of public health advocates and local leaders are now working to spread the word at health care facilities across the land. Still, the practice remains widespread, and earlier orders from the country's own Independent Human Rights Commission, according to HRW, failed to persuade many local judges, prosecutors, and law enforcement personnel to abandon virginity testing.
"The harmful practice of virginity testing is a social, cultural, and political issue," the WHO and the UN declared in an interagency statement on the practice last fall, "and its elimination will require a comprehensive societal response supported by the public health community and health professionals."
The test can take different forms. In some cases, "we pull from the [labia major] towards us so we can physically see the hymen," said Dr N. Akbari, a female gynaecologist from the northern provinces of Afghanistan who requested that her full name not be used and her location be withheld in order to speak safely and openly.
Another method employed by doctors is the so-called "two-finger test," in which two fingers are inserted into the woman's or girl's vagina to determine its laxity. Neither test has any scientific basis or clinical utility.
"Aside from being unreliable, this test is extremely uncomfortable," Akbari said. "The hymen differs from person to person and may not even be formed. It is a mucous membrane that may or may not be there. Any doctor with a degree and medical staff knows this." And yet, Akbari admitted that she had conducted more than 1,000 such tests herself, due to the powerful social forces at play. Some doctors also see the test as an opportunity to extort the victim for payment in return for a certification of virginity, Akbari said.
Asked for details and the prevalence of virginity testing, the doctor shared that as a young professional still undergoing her residency, she witnessed at least two such tests each day, and more during the nightshift. She conducted the test for the first time herself in 2012. "Women would be dragged to the hospitals on their wedding nights if they didn't bleed while consummating the marriage," she recalled. "It would be evident that they had been beaten or threatened and were forced to come to us. This was one of the most common types of cases we saw."
In other instances, young girls would come to the clinic on their own. "Grade 12 or university students with access to the internet might read something online about the delicate nature of the hymen," Akbari said, "and then come to us out of fear that they had lost their virginity cycling or doing sports."
A final recollection brought the doctor to tears: In 2014, an 18-year-old woman was brought into Akbari's clinic, beaten and shot by her family because they had seen her at a restaurant with a boy. "Since it was a criminal case involving accusations of adultery, we were asked to do a hymen exam to see if she had had intercourse," Akbari said. "I found that her hymen was intact and wrote that in my report."
The family did not believe the finding and demanded that she change the results. "They showed up with armed men threatening me," Akbari said. "I had to escape the hospital hiding under a burqa and for the next month continued to go to hospital wearing full-face veil."
The girl died from her injuries later that night, Akbari said.
"No girl should have to go through this examination; it's unscientific and humiliating, and just because we are women, we are asked to prove," the doctor said, adding that she has helped many desperate and fearful women to repair their hymen and avoid a dire fate. "As a woman, and as a human being with compassion, I have helped several girls who have been raped. If I hadn't, their fathers, brothers and husbands might have killed them."
The Afghan Ministry of Public Health issued a new policy on virginity testing last summer, but the section banning the test was not approved by the parliament, according to Dr Kubra Panahi, who works with the ministry to implement training workshops designed to educate medical services providers in hospitals and clinics about the realities of virginity testing, and to deter them from performing it.
Responding to the lack of parliamentary support, President Ghani introduced an executive order directing all government health workers to stop virginity testing. "[This] basically entails that virginity testing can only be ordered by a court, and it requires the permission of the woman being tested," Panahi said.
A policy issued alongside the executive order now requires medical professionals to undergo anti-virginity training workshops like those conducted by Panahi, who was herself trained by Marie Stopes International, a nongovernmental organization focused on global family planning and reproductive health, which is now working with officials in Afghanistan to spread the word. Additional funding for the workshops has been provided by the Swedish government.
During one recent workshop conducted at the Isteqlal Hospital in west Kabul, some 25 female health care workers in the obstetrics and gynaecology ward gathered to hear details about the new policy changes regarding virginity testing, and to be reminded of its lack of scientific support. Despite their medical training, the subject is considered too sensitive for a mixed-gender session, though Panahi says she conducts sessions with male doctors as well. The men, she says, tend to be much more defensive on the topic.
As the women, ranging from junior to senior medical staff, began to occupy the seats at the back of the room, Panahi coaxed them closer to the front, where she gave a presentation explaining the ineffectiveness of the test and outlined the legal restrictions against it. She also made an emotional appeal rooted in religion.
"We present our argument through the legal lens, the Islamic lens, and of course the medical explanation which they already know. Just putting forth the legal reasoning is not enough in Afghanistan, and we have to connect it to the religion to convey our message," Panahi explained. This includes the use of Quranic verses that highlight the equal rights of men and women. "We point to parts in the Quran," she said, "that ask believers to not judge and interfere in someone else's private affairs."
Panahi said she often faces pushback during these sessions. "The medical community in the provinces tends to get very defensive about their work in virginity testing," she said, recalling arguments with her colleagues who have even accused her of promoting an immoral culture. Like Akbari, Panahi said she's keenly aware of the risks she faces in conducting this work, but as threats of a resurgence of the Taliban continue to percolate — particularly following faltering peace talks with the US — addressing this issue now, she says, is perhaps more important than ever. "There needs to be at least one person who should raise their voice against injustice," Panahi said, "and I think it should be me."
For all her efforts, Panahi acknowledges that change will be slow — and for women like Soraya, it is already too late.
After years of mental anguish and threats to her life, Soraya said she managed to escape Afghanistan with the help of her younger brother in 2013. She has since returned to work with an international organization, but she hasn't informed her family that she is back. "I can't forgive neither my family, nor myself, because of all shit that they have done with me," she said. "I am the victim. I still suffer. The virginity testing was a bad part of it. He had put his finger in my vagina, and [was] playing and enjoying."
"When I remember I can't sleep [and] I knew I would never feel in love again," she added. "I hate men. I hate my father too."
Ruchi Kumar is an Indian journalist currently working in Kabul, Afghanistan, focusing on news stories from the Afghanistan-Pakistan region. Her work has been published in Foreign Policy, The Guardian, NPR, The National, Al Jazeera, and The Washington Post, among other outlets.
https://thewire.in/health/afghanistan-women-virginity-tests
--------
Southeast Asia's Hidden Female Genital Mutilation Challenge
By Preeti Jha
August 21, 2019
A dearth of data and transparency about female genital mutilation in Southeast Asia has stymied efforts to stop it. Global attention and advocacy on the subject have tended to focus on African nations. But now a new pan-Asia network aims to unpack the region's FGM problem as it works to end the practice.
Around 200 million girls and women are estimated to have been subjected to FGM — the partial or total removal of their external genitalia. But this data on the practice is almost entirely drawn from African countries and doesn't incorporate most Southeast Asian nations where FGM is also known to take place, including Malaysia, Brunei, Singapore, the Philippines, and southern Thailand.
"People don't usually think of FGM as something that happens in Asia. It still has an association with Africa," said Sivananthi Thanenthiran, executive director of the Asian-Pacific Resource and Research Centre for Women (ARROW), a Malaysia-based regional advocacy group. Global meetings tend to be held in countries in Africa, where the practice is concentrated, and funding follows suit.
This premise was challenged in 2016 when Indonesia became the first Asian country to be included in the UN's global report on FGM prevalence. The "dramatic increase" in the figures "unsettled governments" in Southeast Asia, Sivananthi said, as it showed FGM was more widespread than previously thought. Among the findings was the startling figure that nearly half of Indonesian girls aged 11 and under had undergone FGM.
In recent years victims of botched FGM procedures have spoken out in Singapore, while concerns have been voiced about the unregulated nature of the practice in southern Thailand. In Malaysia, a 2012 study found that more than 93 percent of Muslim women surveyed had undergone FGM.
To strengthen advocacy in the region, ARROW, in June, launched the Asia Network to End FGM/C in partnership with British charity the Orchid Project (FGC, female genital cutting, is a term some people use instead of FGM for reasons explored here). The network seeks to build collaboration between groups already campaigning to end FGM – focusing advocacy work on communities, religious leaders and governments to help eradicate the practice. It is also hoping to address the Asia data gap. Better evidence about the practice's prevalence, especially governmental reporting, could go a long way to inform Asian advocacy on FGM.
Within Southeast Asia Indonesia has been the most pro-active in challenging FGM — a movement led by women's rights groups but also at times by the state. In 2006, the government banned the practice (as many countries have, including at least 25 in Africa). But four years later it succumbed to pressure from religious groups, issuing a regulation allowing FGM if performed by medical staff.
The law has been "ambiguous" ever since, said Nina Nurmila, a gender and Islamic studies professor who also sits on Indonesia's National Commission on Violence Against Women. She thinks FGM ought to be banned alongside a widespread public education campaign about the health risks. But the official advice now just refers Indonesians to an Islamic health council to provide FGM guidelines, effectively putting no bars on the practice. The country's women's minister announced a renewed campaign to end FGM in 2016, but opposition from religious leaders has only increased amid growing Islamic conservatism.
Yet the Quran makes no mention of FGM. Leading Islamic scholars worldwide have said there is no basis for the practice, which predates the rise of both Islam and Christianity. And FGM is not practiced in many Islamic societies while it is undertaken by some non-Islamic groups including Christians and Ethiopian Jews. But in Southeast Asia many Muslims believe the practice is compulsory.
In Malaysia, it didn't help that in 2009 the National Council of Islamic Religious Affairs issued a fatwa that ruled FGM obligatory for Muslims. Unfortunately, there is almost no political will to correct the powerful religious lobby. Last year Malaysia's Deputy Prime Minister Wan Azizah Wan Ismail, who is also a medical doctor, said FGM was a part of Malaysian culture – despite international consensus that cultural arguments cannot be used to condone violence against people. FGM has no health benefits and procedures can cause severe bleeding and problems including infections and childbirth complications.
The job of reframing the archaic practice as a humans rights issue rooted in extreme discrimination rather than a religious one has been left mostly to activists. The added problem in Malaysia is that FGM has been "normalized" by being offered as a routine medical procedure, said Azrul Mohd Khalib, head of the Galen Centre for Health and Social Policy, a Kuala Lumpur-based think-tank.
As in Indonesia, procedures are even offered as part of "birthing packages" in some hospitals, which further serves to legitimize them. In both countries FGM tends to be conducted at infancy, which activists say makes it a more "hidden" practice. Many women will not remember the trauma they underwent – unlike in countries where FGM is performed when a girl reaches adolescence in a more ceremonial and public manner that she can likely recount.
"For some reason the image is that FGC is not as traumatic as in Africa and is harmless," Azrul said. "I completely disagree. An invasive procedure is an invasive procedure. You're basically mutilating a child. And there is no religious justification."
The new Asia network has started consulting activists around the region on how to move forwards. One strategy showing promise in Indonesia, said Risya Kori, a UNFPA gender specialist in Jakarta, is targeting young Muslims more receptive to change. The country's growing female ulama (Islamic scholars) movement has also been a positive catalyst with more voices denouncing FGM, she said.
There are communities across Africa that are questioning and even abandoning FGM as a result of longstanding activism and the political will to enforce change. The hope is that Southeast Asian nations will soon do the same.
https://thediplomat.com/2019/08/southeast-asias-hidden-female-genital-mutilation-challenge/
--------
The Nike Ambassador Who Started A Sportswear Brand For Muslim Women
August 22 2019
Shazia Hossen started wearing a hijab in the summer of 2015. She was 19, a self-described "sneakerhead" with a part-time job in Footlocker and an obsession with matching her outfit with her trainers. She was also a big fan of working out at the gym, where she would do strength training and resistance, partly to prove to her brother that she could do press-ups. Wearing the hijab provided a new challenge: "I didn't know how to do my headscarves in general, let alone at the gym!"
https://www.independent.co.uk/news/business/indyventure/nike-hijab-ambassador-shazia-hossen-sportswear-muslim-women-a9071981.html
--------
Belgium's Muslim Executive Drafts in Women as Teachers and Preachers
21 August 2019
The Muslim Executive, the body that represents Belgium's Muslim community to the public authorities, is to take on 18 women in religion-related roles for the first time.
The Executive will take on nine theological experts and nine preachers, who will work in the officially recognised mosques in Belgium, who will be paid for by the federal government.
The Muslim Executive, as well as being the recognised point of contact between the government and Belgium's Muslims, also organises Muslim education and the presentation and training of imams, and is the body through which local mosques seek official recognition.
The 18 vacancies will be split evenly between the three regions of Belgium – three theologians and three preachers each for Flanders, Brussels and Wallonia. At present, the number of recognised mosques in the regions stands at 28, 39 and 17 respectively.
The Executive – official title the Executive of the Muslims of Belgium (EMB) – has also been given the clearance to employ four advisers nationwide. The salaries of all 22 new posts – worth a total of 780,000 euros a year – will be paid by the federal justice ministry, which has the responsibility for all religions.
https://www.brusselstimes.com/all-news/belgium-all-news/64717/muslim-executive-drafts-in-women-as-teachers-and-preachers/
--------
Saudi Female Bowlers Off To Las Vegas Tournament
August 21, 2019
JEDDAH: The Saudi women's bowling team left on Wednesday to participate in the sixth World Bowling Women's Championship, a first in the history of Saudi bowling. The championship will be held at the South Point Bowling Plaza in Las Vegas from Aug. 22-31.
The six bowlers who will participate in the championship are Mashael Al-Abdulwahid, Ghada Nimir and Amani Al-Ghamdi from Riyadh, Nahla Adas and Mariam Al-Dosari from Alkhobar and Hadeel Termein from Jeddah, under the supervision of British coach Mario Joseph.
The Saudi delegation will be headed by Badr bin Abdullah Al-Asheikh (head of the delegation), Dr. Razan Baker, team manager, Waleed Al-Dawsari, team director and media relations official Hamd Al-Shaghrood.
The team's six members joined a training camp in Riyadh in preparation for the championship, and participated in three local open tournaments in Riyadh, Jeddah and Alkhobar this year. The team will participate in the singles, doubles, trios and team competitions.
In an interview with Adas, who won third place in the fourth Women's Championship held in Alkhobar this year, said: "It is a great honor for me to participate in this world championship, and this is a feat by itself. I have always dreamed about standing next to the world's women champions, and my dream is coming true now, after one year of effort and giving, under the leadership of the federation's chairman Badr Al-Asheikh and his constant support. He is like a leader who ventures out, challenges and allows us to compete for a bright vision full of achievements in the Arab world and internationally."
Nimir spoke about the playoffs in Riyadh, having scored the highest total: "From the beginning to the end of the playoffs which qualified me for the world championship, I was able to win first place in Riyadh. This feeling has been indescribable, a dream come true due to my love for the game, practice as a hobby then as a professional and now participation in the world championship. I am very happy to participate in this international and historical event, and I hope we achieve a positive result in this championship. I also thank the Saudi Federation with all its members for their efforts and this opportunity they gave us."
As for Al-Ghamdi, she spoke about her passion for bowling which pushed her to reach an international level. She said: "Bowling is a sophisticated sport that requires concentration, training, perseverance and skills, and the women's empowerment we are witnessing today has greatly contributed to our presence in all the local and international events. That is why I cannot describe my feelings to have qualified for the world championship, and I am grateful for your support of our dear and beloved country."
Al-Abdulwahid, who won the bronze medal at the federation's women's championships in 2018 and 2019, said: "I cannot describe my happiness to see my dream come true, and this is my first move toward my goal. I have had this dream since I was a child, and I am proud to have qualified among the best players of the Saudi national team in order to participate in the world championship which is a precious chance. I am lucky to be honored to play with professionals from all over the world, which will give me confidence and experience in my bowling career, and I hope that our presence will be honorable, positive and fruitful for the rest of the players and motivate them to excel."
Termein said: "I am happy and proud to represent my country first, and my city second since I am the only qualified player from Jeddah. I aim to reach advanced rankings in the championship, and I would like to thank the Saudi Bowling Federation for giving us the chance to join the international championship."
Al-Dosari, who also won a bronze medal in the federation's championship in 2018, expressed her happiness saying: "I am grateful and proud to have this opportunity and qualify to participate in the international championship to represent the Kingdom. I consider this a great honor and I am very excited seeking to give my best performance."
http://www.arabnews.com/node/1543401/sport
--------
Saudi Arabia Appoints First Female Spokesperson for Public Education
21 August 2019
Saudi Arabia's Ministry of Education has appointed Ibtissam al-Shehri as its first female spokesperson for public education.
Al-Shehri, who has been a supervisor for schools in the Kingdom's eastern province, was announced on Tuesday as the ministry's spokesperson for public education.
"In order to enhance the communication with public education employees, society and with the media, this will be the account for the spokesperson for public education. I hope to achieve your ambitions and aspirations, and to update you about anything new regarding the ministry," al-Shehri tweeted under the newly-created @spokesp_moe account.
According to local media outlets, al-Shehri has been teaching English for the past 17 years and has studied abroad in the United States.
https://english.alarabiya.net/en/News/gulf/2019/08/21/Saudi-Arabia-appoints-first-female-spokesperson-for-public-education.html
--------
Women in Morocco: An Appraisal of their Current Status
By Mohamed Chtatou
Aug 21, 2019
Rabat – These changes include the ratification of the CEDAW (Convention on the Elimination of All Forms of Discrimination Against Women) in 1993,
the reformation of the Moudawwana in 2004, constitutional changes for gender equality in 2011, and as well as countless others.
While women are guaranteed more rights in a legal sense, there has arguablybeen minimal progress within their day-to-day lives. Reasons for this disconnect are active resistance, lack of awareness, and the patriarchal stronghold within the country.
This work will explore the positive aspects and limitations of a few of the legal changes in Morocco that shape the status of women within the country.
Changes to the family law, Moudouwwana
The changes to the Moudawwana in 2004 were extensive and progressive. Among the most significant were: raising the minimum age for marriage to 18, permitting a wife to divorce her husband for domestic violence, abandonment, abstinence, or not following a condition in their marriage contract. The changes also allowed spouses to inherit from each other.
The reforms also changed the laws relating to men taking multiple wives, a husband can now only marry a second wife with approval from a judge (Human Rights Education Associates). The Moudawwana did not abolish the institution of polygamy but instead implemented a strict set of guidelines.
A judge is able to grant permission to those who want to marry another wife only after they present detailed documentation of their finances, valid,signed consent from their first wife or wives, and proof that all their wives will receive equal treatment. The reform has successfully reduced the number of polygamous marriages in Morocco. The abolishment of repudiation is an equally important change to the family code. A husband is no longer entitled to divorce his wife through repudiation and women are able to file for divorce for the reasons listed above.
The changes in 2011 to the constitution include Article 19 stating, "men and women have equal civil, political, economic, social, cultural and environmental rights and freedoms" and "the state shall work towards the establishment of parity between men and women. »
Morocco's parliament recently reealed a penal code that allowed rapists to escape prosecution by marrying their victims. The change came two years after sixteen-year-old Amina al-Filali committed suicide after being forced, by her parents and a judge, to marry her rapist. Subsequently, Article 475 of the penal code became the subject of international debate and placed Morocco under intense scrutiny, forcing the country to make a change, albeit a particularly slow one.
These changes are all significant strides for women's rights in Morocco, but still leave much to be desired in terms of their implementation and reforms that were not made.
Inheritance law dilemma
The laws of inheritance have been a growing, contentious issue in the Muslim world.
The traditional laws derived from the Qur'an were preserved in the most recent Moudawwana of Morocco.
Changes to the inheritance laws have faced fierce resistance because of their specificity in the Qur'an.
The sacredness of the words make them nearly impossible to question, but this has not stopped Moroccan feminists from trying to create a dialogue and implement change. Saida Kouzzi argues : "This law of inheritance was based on the fact that men were the head of the households, which is not the case anymore as many women are the ones who provide for the family or at least contribute in a significant manner."
Moroccan society does not function exactly as Islam dictates. Men do not always provide for the women in their families, as they should; more frequently, women have no relations with men and/or have an independent source of income. Families have been working around the law by leaving their property in the name of their children, especially the girls.
Ultimately, if any changes to the inheritance laws are to be made, the religious and conservative sides of Morocco must be appealed to.
Aida Alami asserts that the argument for change needs to include the fact that Islam is based on the concept of justice and thus there must be room to reinterpret the texts to be in line with the idea of justice.
While many feminists, amongst other citizens, strongly desire, or are open to, consider changes to laws of inheritance, many Muslims reject the reform because of a desire to preserve tradition and follow the Qur'an's clear orders.
Muslims in the country opposed to the reform most certainly include women, even when the current laws have detrimental effects on them.
This kind of understanding can also be applied when considering the legality of marital rape.
It is not illegal or recognized as a crime in Morocco. Fatima Mernissi outlines the Islamic understanding that the only legitimate sexual intercourse occurs between married people, that marriage guarantees sexual satisfaction for both husband and wife, and that men and women are penalized for failing to provide sexual services to each other.
This framework dictating the nature of sexual relationships within marriages exists to prevent zina or illicit sexual intercourse outside of marriage.
Those who are most likely to engage in zina are sexually frustrated individuals, who are considered dangerous to members of the Muslim community (Fatima Mernissi). With this in mind, it may be hard for some individuals to understand a woman's refusal to engage in sexual intercourse with her husband to the extent that they would consider sex, while she refuses, as rape.
There is in fact an understanding that the man is entitled to withhold material goods from his wife if she refuses his sexual advances (Fatima Mernissi).
In an ideal world, husband and wife would happily engage in a sexual relationship with each other, but unfortunately, this is not always the case and the law must reflect this inconsistency. There is a long road ahead in Morocco for changing social attitudes and creating an atmosphere of open mindedness for reinterpretation of holy Islamic texts in order to legally guarantee women's rights.
Resistance to reforms
To further understand resistance to reforms in the name of women's rights, one must
consider the history of the feminist movement in Morocco. Moroccan feminism grew out of the wealthy and urban ranks of women from Fez. These women all had fathers who were members of the Istiqlal party, which viewed women's progression as a way to progress society at large.
The advancement of women thus became a necessary stepping-stone towards modernization. For example, Hassan Ouazzani called for equitable inheritance laws because he viewed them as a necessary step towards establishing a "modern egalitarian society" not because the current laws are harmful to women.
This notion of women's rights for the sake of progress became problematic in the imaginary of many Moroccans, especially when considering their relatively newfound independence from various colonial powers.
During and after the French protectorate period in Morocco, there was a rejection of western influence and change. This resistance to western ideals is one of the motivating factors, which delayed and prevents necessary changes in Morocco.
Preservation of the patriarchal society
Preservation of the patriarchal society is often enforced, not only by the average citizens
of Morocco, but also by those in power. According to a data report from 2010 by the Justice
Ministry, in 90% of cases, judges have granted permission for the marriage of minors. This is six years after the changes in the Moudawwana. Some may find a way around the law while others may genuinely not be aware of the amendments.
This issue extends to various other legal changes that the judges and people either refuse to enforce or remain ignorant of. According to Noureddin ELKhayaty, implementing the reforms throughout Morocco has proven to be a difficult challenge.
Leadership Féminin conducted a study which revealed that 87% of women in six different rural areas of Morocco were unaware of the changes to the Moudawwana (Fatima Mernissi).
Rural areas where men's, and especially women's, illiteracy rates are high are less likely to be aware of the changes. As a side note, even women who are aware of the changes in the law may still refrain from invoking their rights or reporting crimes against them for fear of various social consequences or lack of resources.
Depending on one's location and literacy level, some citizens, especially those that live in rural communities, may not be aware of the new laws and their new rights. Laws specific to marriage in the Moudawwana are particularly questionable in their effectiveness because rural communities do not always have access to court systems and legal contracts.
Final word
The most recent legal changes in Morocco in the Moudawwana and constitution are helping build a framework for protecting women's rights, but more steps should be taken in order for the changes to be effective in everyday life.
While changes to laws are extremely important, implementation and awareness of these changes is vital to their success. While women's rights in Morocco have made significant gains in a legal sense, there is still work to do to achieve justice for women in everyday life.
https://www.moroccoworldnews.com/2019/08/280801/women-morocco-appraisal-family-law/
--------
Iranian Bike-Sharing App Sparks Outrage after Refusing Women Service
Maya Oppenheim
August 22 2019
An Iranian bike-sharing firm has provoked fury after customers noticed it was not offering services to women and they were unable to register on its app.
There have been reports Bdood, based in the capital of Tehran, had faced pressure from the police and prosecutor-general's office to stop offering services to women or be in danger of having to shut.
The Centre for Human Rights in Iran, a New-York based organisation that documents rights violations in the country, tweeted: "The Tehran prosecutor has forced Iran bike-sharing company Bdood to block women from using their bikes.
"This screenshot shows women being rejected when they declare their gender on the app. Religious officials say women riding bikes in pubic is 'sinful', but many do anyway."
One user warned others on Twitter about the saga – claiming the bike-sharing company had been "banned" from offering its services to women.
"If the story is true, I'm never going to use Bdood again," another critic said.
While there are no laws which forbid women from riding bicycles in public, prominent hard-line clerics in the country have ruled it is "provocative" and consequently goes against Sharia law.
The prosecutor in Isfahan, Iran's third-largest city which is known as the city of bicycles due to its many cycling lanes, announced women had been banned from cycling in public in May.
Ali Esfahani argued it was "haram" and prohibited under Islam and ordered the police to issue warnings to women riding bicycles in public and seize their ID cards.
Supreme Leader Ayatollah Ali Khamenei issued a fatwa in 2016 explicitly barring women from cycling in public but it was not strictly enforced.
Women's rights are stringently restricted in Iran. Iranian women have been barred from watching stadium football matches for most of the 40 years since the Islamic Revolution.
The clerical regime has been reported to have hired security forces since August last year to deal with women who attempt to sneak into the stadium with men's make-up.
Wearing the Islamic headscarf is compulsory in public for all women in the country – with those who do not wear a hijab, or are seen to be wearing a "bad hijab" by allowing some of their hair to show, facing punishments ranging from fines to imprisonment.
Amnesty International says women and girls are regularly stopped in the street by morality police and vigilantes. The human rights organisation estimates at least 39 women were arrested last year in connection with anti-hijab protests.
Last year, an Iranian woman was sentenced to two years in prison and 18 years of probation for removing her headscarf in a protest.
Shaparak Shajarizadeh said she had been sentenced for "opposing the compulsory hijab" and "waving a white flag of peace in the street".
There has been mounting resistance to the enforced hijab over recent years in Iran – with some women shaving their hair and dressing as men.
https://www.independent.co.uk/news/world/middle-east/bdood-bike-sharing-app-women-iran-tehran-a9072891.html
--------
WWDC Starts New Vocational Courses For Poor Women
August 21, 2019
Islamabad: Women Welfare Development Center (WWDC) in collaboration with National Vocational and Technical Training Commission (NAVTTC) and United Nations High Commissioner for Refugees (UNHCR) Pakistan has started new vocational courses for deserving women.
According to an official, the said collaboration would help to empower underprivileged women to make them self-governing and economically strong. He said that the courses including Beautician, Fashion Designing, Information Technology , textile designing and computer courses.
He further told that the deserving women would be given 3,000 monthly stipend to help them financially. He said that deserving candidates can download courses s form online and last date for submission will be Aug 24.Duration of courses will be 6 month and after that new courses would be announced, he sated.
He further said that 'Every year WWDC imparts new courses to deserving women for making them economically sound to earn with dignity.' WWDC was working since 1993 and has so far trained 20,000 women in various skills adding that the centre has also expanded its activities, she added.
https://www.thenews.com.pk/print/515035-wwdc-starts-new-vocational-courses-for-poor-women
--------
URL: https://www.newageislam.com/islam-women-feminism/pakistan-senate-body-rejects-bill/d/119538
New Age Islam, Islam Online, Islamic Website, African Muslim News, Arab World News, South Asia News, Indian Muslim News, World Muslim News, Women in Islam, Islamic Feminism, Arab Women, Women In Arab, Islamophobia in America, Muslim Women in West, Islam Women and Feminism