New Age Islam News Bureau
24 Apr 2018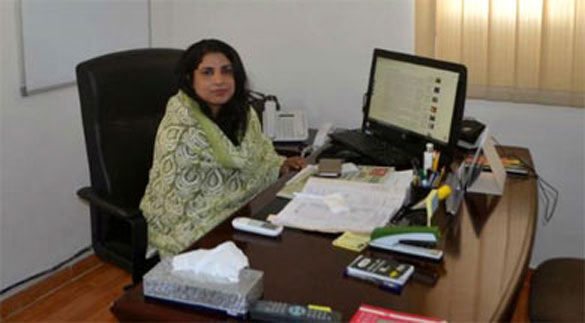 Fozia Fayyaz Ahmed has been appointed as the first female consular at Consulate General Pakistan Jeddah in its 70 years history. Photo: Saudi Gazette
-----
• Fozia Ahmed Becomes First Female Consular for Pakistan in Saudi Arabia
• Assault on Woman by Iranian Cops Sparks Headscarves Debate
• Jewish and Muslim Women Pledge to Work Together To Combat Hate
• Only One Woman to Run In Kuwait Municipal Polls
• Iran Set To Revive Women's Islamic Games: Sports Minister
• Sikh Woman Who Remarried In Pakistan Likely To Get Visa Extension
• 8 Muslim Women From UP Who Wanted To Go For Haj without Mehram Withdraw Application
• Former Indonesian First Lady Named On Most Influential List
• Iran: No Information on the Status of Two Women Arrested In Ahwaz
• Iran: Young Women of the College Of Environment Staged A Strike
Compiled by New Age Islam News Bureau
URL: https://www.newageislam.com/islam-women-feminism/pakistan-top-judge-hear-asia/d/115032
--------
Pakistan's top judge to hear Asia Bibi's death sentence appeal
April 23, 2018
Pakistan's top judge has announced he will take up the appeal of a Catholic mother of five children who has been on death row since 2010 for blasphemy.
Chief Justice Saqib Nisar told lawyer Saif ul Malook — the chief counsel for Asia Bibi — to prepare for her appeal.
"Be ready, Saif ul Malook. I am going to fix your case soon and I myself will preside over the bench," Nisar told Malook on April 21.
The judge made his comments as the lawyer appeared before the Supreme Court seeking police protection for taking on Bibi's case after it had been withdrawn by the Punjab police. Nisar ordered the Punjab police to again provide Malook with protection.
Malook said that he had high hopes of Bibi's conviction being struck down by the Supreme Court.
"Bibi's family and everyone else who understands her ordeal, are ecstatic at the news that her appeal will be heard soon," Malook said.
Bibi was arrested in 2009 for allegedly insulting the Prophet Muhammad during an argument with Muslim women at an orchard in a small town in Punjab province.
Bibi has maintained her innocence and said she was punished for daring to drink water meant for Muslims only. Many Muslims in the Islamist country regard Christians as impure due to a deep-rooted culture of religious discrimination.
In November 2010, a trial court convicted Asia Bibi for blasphemy and sentenced her to death. Four years later, the Lahore High Court upheld her death sentence.
The Supreme Court admitted her appeal in July 2015 and the first appeal took place on Oct. 13, 2016, but the top court adjourned the hearing after one of the three judges on the bench, Justice Iqbal Hameed-ur-Rehman, recused himself, claiming a conflict of interest.
Since then the Supreme Court has been unable to set up a new bench to hear Bibi's appeal. This appears to have now changed with Nisar's court declaration.
https://www.ucanews.com/news/pakistans-top-judge-to-hear-asia-bibis-death-sentence-appeal/82125
--------
Fozia Ahmed becomes first female consular for Pakistan in Saudi Arabia
APRIL 24, 2018
Ms Fozia Fayyaz Ahmed has become Pakistan's first female consular at the Consulate General for Pakistan in Jeddah in seventy years of history between the two Muslim nations.
Ms Fozia in an interview claimed that Pakistan is a country that adheres to progressive values and that recognises the potential and status of women.
Ms Fozia claimed that her desire to succeed stemmed from her father who had always been supportive of her. She also added that her appointment had resulted in more women joining her section of the embassy in Jeddah.
The diplomat graduated from the Islamia University in Bahawalpur with a Master's degree in English Literature and was first appointed in Washington D.C, after which she worked in New Delhi.
Fozia Ahmed's appointment mirrors a modernisation drive that is occurring in Saudi Arabia under the aegis of Crown Prince Mohammad bin Salman. This drive envisions a greater role for women in a country that has historically frowned upon feminism and on movements that see women playing a more active role in society.
https://dailytimes.com.pk/231893/fozia-ahmed-becomes-first-female-consular-for-pakistan-in-saudi-arabia/
--------
Assault on woman by Iranian cops sparks headscarves debate
April 24, 2018
A grainy video of female officers from Iran's morality police assaulting a young woman whose headscarf only loosely covered her hair has sparked a new public debate on the decades-long requirement for women in the Islamic Republic.
While officials of all ranks up to President Hassan Rouhani have weighed in on the incident, it has seen women in Iran not only question the rule that they must wear the hijab in the street but also their faith in the theocratic Shiite-dominated nation.
Even before the 1979 Islamic Revolution, the long, flowing black robes for women known as chadors and the headscarves, or hijabs, were both a political and religious symbol in the Shiite-dominated nation.
"I used to be a person who would always say her prayers and deeply believed in God," said Afrouz, 28, who like other women who spoke to The Associated Press in Tehran would only give their first name for fear of retribution. "I would always say grace before having a meal. Right now, I believe in none of those things."
The video appeared online last week, with activists suggesting it was taken in Tehran, though nothing in it offers hints at its location.
It shows a young woman with a long red scarf loosely covering her head, her hair clearly showing, being surrounded by three morality policewomen wearing chadors, who grab her. One grabs her by the throat. She screams, they pick her up off her feet. She then ends up on the ground, weeping as another woman comforts her before the officers grab her again.
"Why are you hitting me? You have been destroying us for 30 years," she is heard shouting at one point.
The video went viral on social media and drew an immediate reaction from officials. Iran's interior minister, Abdolreza Rahmani Fazli, ordered authorities on Thursday to investigate the incident soon after Masoumeh Ebtekar, a female vice president for women's affairs, condemned the police's "violent" approach to the situation.
Reformist lawmaker Tayebeh Siavoshi said Saturday that the policewoman seen in the video grabbing the young woman's throat has been suspended pending the investigation. None of the women in the video have been identified.
"Imposing (force on women) will lead nowhere," she said.
President Rouhani, a cleric who is considered a moderate within Iran's political system, also criticized the morality police in a speech on Saturday. The police force's stated mandate is "promoting virtue and preventing vice."
"Grabbing people's collars to promote virtue will not work," Rouhani warned. "You cannot do it by being aggressive."
Hard-liners, however, have dismissed the video as a foreign plot. The hard-line Kayhan daily on Sunday described the video as "strange and suspicious," noting foreign activists have promoted it. Previously, hard-liners pointed to a campaign challenging the hijab launched by a journalist at the Persian service of the Voice of America, which is funded by the U.S. government.
On Monday, judiciary chief Ayatollah Sadegh Amoli Larijani said he supported the morality police, adding that "law enforcement should not withdraw a single inch."
But on the streets of Tehran, women are openly discussing the video and their own encounters with morality police.
"I think that it was very unnecessary the way that the police, or the morality police, handled the situation," said Hamraz, 27, an Austrian national born to Iranian parents who is on vacation in Tehran. "It was very unfortunate that it was caught on camera, but in a way it was good that everyone got to see how people are being treated: very unjust and very unfair."
Sahar, a 25-year-old university student, agreed.
"I think everyone must be free to choose what they believe in and we can deal with each other more peacefully instead of trying to induce people to do what you think is right," she said. "This method surely will not work."
The hijab and chador have long been parts of Persian culture. They became political symbols in 1936, when Iran's pro-Western ruler Reza Shah Pahlavi banned the garments amid his efforts to rapidly modernize Iran. The ban became a source of humiliation for some pious Muslim women in the country.
As the 1979 Islamic Revolution took hold, Ayatollah Ruhollah Khomeini ordered female civil servants to wear the chador. At first, thousands of women protested the decision in Tehran and Khomeini later said officials should not insult women who chose not to wear it — though he also called the chador "the flag of the revolution."
The hijab and loose-fitting clothing later became mandatory for all women in Iran. And though some freedoms for women were curtailed in the years that followed, Iranian women were still allowed to drive, unlike in Saudi Arabia, and hold public office.
In Tehran today, some fashionable young women wear tighter clothes with a scarf loosely covering their head, technically meeting the requirements of the law while drawing the ire of conservatives.
Women arrested for showing their hair in public in Iran can receive jail terms of two months or less and face fines equivalent to $25.
In December, Tehran's police said they would no longer arrest women for not observing the Islamic dress code as video clips of women choosing not to wear hijabs and walking the streets with their heads uncovered spread across social media.
One image — of a young woman, head uncovered and waving her hijab like a flag in Tehran's Enghelab Street — became famous during economic protests that swept Iran later that month. Tehran's prosecutor, Abbas Jafari Dolatabadi, said in March that the woman had been sentenced to 24 months in prison.
The telecommunication junction box she stood on in the photograph has since been re-welded to stop women from standing on it, though protests continue.
http://www.egyptindependent.com/assault-woman-iranian-cops-sparks-headscarves-debate/
--------
Jewish and Muslim women pledge to work together to combat hate
April 24, 2018
The largest conference gathering of Muslims and Jews in Europe has seen women from both faiths vow to work together to combat hate.
More than 200 women took part in the Change Makers event on Sunday organised by Nisa-Nashim, Britain's Jewish-Muslim women's network, with sessions on topics ranging from the Middle East to self-defence.
They bonded over food, poetry and yoga, and at one stage an afternoon prayer service was held side-by-side, with Muslim participants kneeling as Jewish women davened mincha across the room.
Attendees at the central London conference travelled from towns and cities including Manchester, Leeds, Luton, Exeter, Peterborough and across London.
Robi Damelin moved delegates to tears by speaking about families who have lost relatives in the Israeli-Palestinian conflict. Ms Damelin is a member of the Parents Circle Families Forum which has brought together more than 600 families.
A panel session included Helen Pankhurst, the activist and author who is the great-granddaughter of Emmeline Pankhurst; Gabby Edlin of the Bloody Good Period charity; Farzana Baduel, chief executive of PR firm Curzon; and Pinky Lilani, founder of the Women of the Future group. The debate was chaired by Nomia Iqbal from the BBC's Asian Network.
Opening the event, Nisa-Nashim co-founder Laura Marks said: "Antisemitic hate incidents have reached a record level in the UK. Anti-Muslim hate crime has increased, both here and abroad. But what we are focussing on is the need to stick together — and genuinely support each other — no ifs, no buts, no what abouts, just friendship and support.
"One thing I have learned over many years of campaigning with and for women is that we get things done and we don't put more barriers in the way in doing so. Women are driving change in society today and everyone in this room is a part of that."
Fellow co-founder Julie Siddiqi added: "The Nisa-Nashim approach is one of collaboration, of meeting and getting to know each other as friends, to understand that in many ways we have a lot in common, in other ways we are different and all of that is fine, to be celebrated and above all, respected.
"We need to be brave, we need to make changes, we need to be the change we want to see in the world and we need to take others with us."
https://www.thejc.com/news/uk-news/jewish-and-muslim-women-pledge-to-work-together-to-combat-hate-1.462982
--------
Only one woman to run in Kuwait municipal polls
April 23, 2018
Manama: Only one woman, Fatima Al Rasheedi, will be contesting in Kuwait's municipal elections next month compared with the 72 men who signed up their names.
Kuwait typically has low female representation, but the number marks a sharp decrease from the last election in 2013 where four women registered to run.
Municipal elections usually generate less excitement than parliamentary polls among voters.
The Fourth District is leading with 17 candidates, followed by the Third District with 13 candidates, the eighth with nine, the sixth with seven, including one woman, the ninth with six, the fifth and tenth with five each, the first and the second with four each and the seventh with three candidates.
The assistant director general for legal affairs in elections Salah Shatti said that the education ministry would provide 102 schools that would be used as polling stations in the elections on May 12.
Candidates who want to pull out of the race have until the end of the working hours on May 4 to withdraw their applications, he said.
"They must submit a handwritten letter stating their intention to withdraw," he said.
If candidates in a specific district withdraw and only one remains in the race, he or she is automatically elected, Al Shatti added.
Municipal elections are held in Kuwait every four years with the winners of the ten districts forming the Municipal Council.
Six other members are appointed by the prime minister, bringing the total number of the council to 16.
The council elects its own chairman and vice chairman.
In October last year, the cabinet dissolved the municipal council and an interim committee was tasked with carrying out its duties until the elections next month.
Women were given the right to vote and run in parliamentary and municipal elections in 2005.
Only one woman was elected Member of Parliament in November last year.
https://gulfnews.com/news/gulf/kuwait/only-one-woman-to-run-in-kuwait-municipal-polls-1.2210215
--------
Iran set to revive Women's Islamic Games: sports minister
April 23, 2018
Iran is seriously attempting to preserve and revive the rights of Muslim female athletes in international events such as Olympic Games, Asian games and other events observing the cultural and religious limits, he added.
Iran is the forerunner in the sports of women of Muslim countries, IRNA quoted Saltanifar as saying.
After Iran's success in approving the presence of female basketball players with Islamic dress code in international events, Iran has provided the ground for other Muslim athletes to participate in triathlon events.
A triathlon is a multiple-stage competition involving the completion of three continuous and sequential endurance disciplines.
Iran has widespread relationship with countries and societies which are the members of world sports communities as well as organizations responsible for sports and youths, he added.
Soltanifar also noted that the proposal for membership of Iran among the five members of the council of ministers of the Organization of Islamic Cooperation was approved at the 4th Session of the Islamic Conference of Youth and Sports Ministers (ICYSM) held in Baku, the Republic of Azerbaijan on April 17-19, 2018.
The Women's Islamic Games were an international multi-sport event started in 1993. The event was organized by the Islamic Federation of Women's Sport (IFWS). Muslim women of all nationalities were allowed to take part in the Games.
http://www.tehrantimes.com/news/422912/Iran-set-to-revive-Women-s-Islamic-Games-sports-minister
--------
Sikh woman who remarried in Pakistan likely to get visa extension
April 23, 2018
Hamza Ameer
Kiran Bala aka Amna Bibi, the woman from Punjab who married a Pakistani, is likely to get a visa extension in the neighbouring country.
Bibi, who married Pakistani citizen Mohammad Azam, is now looking at options to ensure that she never has to leave Pakistan. She has filed two applications to the Lahore High Court requesting the Federal Ministry of Foreign Affairs (MOFA) to extend her visa by at least six months and also to grant her citizenship of Pakistan during her extended stay in the country.
Directing the relevant authorities to respond on the matter at the earliest, the Lahore High Court (LHC) has extended Bibi's visa by one month.
However, as the case does not fall under the domain of Ministry of Foreign Affairs, it was forwarded to the Federal Ministry of Interior which is currently looking into the applications and verifying all relevant documents required to proceed with the applications.
Among the two applications filed by Amna Bibi, Pakistan's law permits her to be eligible for citizenship if she gets extension up to six months. However, as per the Indo-Pak treaty, citizens of either country can attain the others nationality after at least seven years.
During Amna's stay in Pakistan, she will have to renew her visa every six months for the next seven years. After seven years of stay, Amna Bibi will be able to apply for Pakistani citizenship, if she has no complaints of law or constitutional violations.
While Amna Bibi's wish to stay in Pakistan will be catered and reviewed every six months, her will to attain Pakistani citizenship will have to wait.
Kiran Bala went to Pakistan on April 12 as a member of the Shirmoni Gurdwara Prabandhak Committee group. Visited Nankana Sahib on April 14. Vanished on April 16. A video of her getting married surfaced the next day. She had become Amna Bibi. The nikaah document in the video shows her name as Amina.
Thirty-two-year-old Kiran, a widow and a mother of three, left India on April 10, saying she wanted to visit Nankana Sahib in Pakistan on Baisakhi.
Later, however, she told her family that she had converted to Islam and become Amna Bibi.
https://www.indiatoday.in/world/story/sikh-woman-who-remarried-in-pakistan-likely-to-get-visa-extension-1218649-2018-04-23
--------
8 Muslim women from UP who wanted to go for Haj without Mehram withdraw application
Apr 23, 2018
LUCKNOW: Eight Muslim women from Uttar Pradesh who had earlier applied to go on Haj pilgrimage with a Mehram (husband or a male first blood relation as guardian) had withdrawn their application.
According to the UP Haj Committee, at least 32 Muslim women had in past applied to go on Haj without a 'mehram'.
The Central Haj Committee later cleared their application. However, eight women applicants have now withdrawn their application to go on Haj, leaving just 24 from the state.
Their sudden decision to withdraw Haj application has come as a big sock to the UP Haj Committee, which is mum on the issue.
Under the Government's new Haj Policy, those Muslim women who have applied to go for Haj without a 'mehram' this year will be exempted from the lucky draw system that the Haj Committee operates.
Normally, the Haj Committee of India (HCI) finalises the names of pilgrims who can go for Haj from the HCI quota through a lucky draw as it receives applications many times more than India's fixed quota of around 1,70,000 pilgrims.
This implies that all the 1,300-odd women who have applied for Haj will be able to travel with no quota restrictions.
The announcement in this regard was made the Minority Affairs Ministry after Prime Minister Narendra Modi, in his monthly radio programme 'Mann Ki Baat', said that Muslim women should get equal opportunities as men.
As per the new Haj policy, women can now travel for Haj without a mehram in groups of four.
Earlier, women were barred from performing Haj alone.
http://zeenews.india.com/uttar-pradesh/8-muslim-women-from-up-who-wanted-to-go-for-haj-without-mehram-withdraw-application-2102472.html
--------
Former Indonesian first lady named on most influential list
April 24, 2018
The naming of Indonesia's former first lady, Sinta Nuriyah Wahid, as one of the as one of 2018's 100 most influential people by Time magazine has been welcomed by Christian leaders.
Nuriyah, 70, wife of the late Indonesia President Abdurrahman Wahid or Gus Dur, is known for her progressiveness, support for democracy and work in protecting the rights of minority groups.
She has remained undeterred amid the challenges from hard-line Islamic groups in recent years, Time said.
The magazine cited her work in providing counseling for transgender women, support for, Basuki Tjahaja Purnama — the former Christian governor of Jakarta convicted of blasphemy last year.
Christian leaders said Nuriyah fully deserved to be on the list.
Theophilus Bella, a Catholic lay leader and former chairman of the Jakarta Christian Communications Forum said Nuriyah is a shining example of what her late husband was fighting for.
"Her tolerant and very open attitude is a light that always gives hope to minority groups who face intimidation and harassment," he told ucanews.com on April 23.
"Her commitment inspires minorities to think that Indonesia will overcome those groups looking to undermine it secular philosophy," he added.
Reverend Palti Panjaitan, from the Batak Protestant Church (HKBP) Filadelfia in Bekasi, West Java said Nuriyah was "a loving mother."
The Filadelfia church was forced to close several years ago because of opposition from hard-line Muslim groups, an example of which the congregation pelted with animal dung, stones and bags of urine when trying to attend a church service.
Panjaitan, who is also the chairman of the rights group Solidarity of Victims of Violations of Freedom of Religion and Beliefs, said he often met Nuriyah to discuss the problems they faced.
"She always told us to keep fighting and respect others, including those who attacked us, as fellow human beings," he said.
https://www.ucanews.com/news/former-indonesian-first-lady-named-on-most-influential-list/82123
--------
Iran: No information on the status of two women arrested in Ahwaz
23 April 2018
Twenty days after the arrest of two women in Ahwaz, southwestern Iran, there is no information on their whereabouts and conditions.
Ezzat Ka'abi and Nadia Mohammadipour (Hamidi), both married, were arrested 20 days ago by agents of the Intelligence Department of Ahwaz and taken to an unknown location.
Their families have not been able to obtain any information on their place of detentioin or their conditions despite referring to security agencies and courts.
Khalediyeh Tarfi and Leila Bervayeh have also been identified among the women arrested in Khuzistan.
The people of Khuzistan took to the streets of Ahwaz and other cities for more than a week beginning on March 28, 2018, to protest against the state televisions offensive approach by ignoring the Arab ethnic group in its program. Women were actively involved in these protests.
More than 400 persons including dozens of women were arrested in these protests.
The names of Ayesheh Neassi, 19 and student of English language at Payam Nour University, and Khadijeh Neassi had been already published among the arrested women.
https://women.ncr-iran.org/iran-women-news/4997-iran-no-information-on-the-status-of-two-women-arrested-in-ahwaz
--------
Iran: Young women of the College of Environment staged a strike
23 April 2018
Young women participated in an act of protest at the College of Environment in Karaj, where students refused to attend classes to protest transformation of the college into a training center for environmental protection guards.
The College of Environment in Karaj is the first and only specialist school of environment in Iran and the Middle East since 1972.
The decision to transform the college into a training center is attributed by the press to Eassa Kalantari, head of the Environmental Protection Organization and deputy to Hassan Rouhani, the mullahs' President.
According to this decision, the college is not going to admit any more students. On Saturday, April 21, a number of professors of the school's faculty of science were dismissed in the middle of the term and replaced by temporary instructors. Those students who were writing their final thesis have lost their supervising professor as a result of the dismissals while only six sessions remain from the term.
A number of protesting students have been threatened to be expelled from school. At the same time, a number of experienced employees of the college have been laid off and threatened to be deprived of their unemployment insurance. (The state-run Mehr news agency – April 22, 2018)
https://women.ncr-iran.org/iran-women-news/4996-iran-young-women-of-the-college-of-environment-staged-a-strike
--------
URL: https://www.newageislam.com/islam-women-feminism/pakistan-top-judge-hear-asia/d/115032
New Age Islam, Islam Online, Islamic Website, African Muslim News, Arab World News, South Asia News, Indian Muslim News, World Muslim News, Women in Islam, Islamic Feminism, Arab Women, Women In Arab, Islamophobia in America, Muslim Women in West, Islam Women and Feminism