New Age Islam News Bureau
15 Apr 2019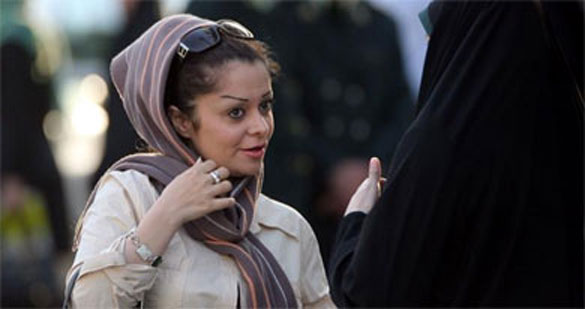 The headscarf has been in mandatory in Iran since the Iranian revolution in 1979 [File: Majid Saeedi/Getty]
-----
• Iranian Woman Who Removed Headscarf 'Pardoned' After Jail Sentence
• Kuwaiti Female Wins Silver Medal In World Kickboxing Championship
• TIFF Holds Contemporary Arab Women Filmmakers Retrospective Ahead Of 2019 Festival
• Activists slam Saudi Arabia for arresting 'pregnant woman'
• Dubai-Based Pakistani Wins Chartered Accountant Woman of the Year Award
Compiled by New Age Islam News Bureau
URL: https://www.newageislam.com/islam-women-feminism/pakistan-releasing-christian-woman-asia/d/118327
--------
Pakistan Releasing Christian Woman, Asia Bibi, Long Imprisoned For Blasphemy
APRIL 15, 2019
Pakistani Prime Minister Imran Khan has announced that Asia Bibi, a Christian woman who last year was saved from death row after being accused of blasphemy against Islam, will soon leave Pakistan to be reunited with her family.
"She will leave Pakistan in a couple of weeks," Khan told foreign journalists in Islamabad.
News of the impending release came on the heels of British Foreign Secretary Jeremy Hunt's statement in the UK Parliament earlier this month that Bibi's freedom was being negotiated.
"Making sure that she is safe and has somewhere safe to go is a top priority for this government," Hunt told legislators. "We have had numerous discussions in private with [the] Pakistani government about how to progress on this. We are making progress, and I'm very hopeful that this will have a positive outcome."
Pakistani authorities confirmed to The Media Line that the necessary documentation, including visa and air tickets, was ready.
"She is all set to travel abroad. We are waiting for the green signal from concerned authorities in this regard," a senior government official told The Media Line on condition of anonymity.
Bibi, a Christian mother of five, had been on death row since 2010. She was accused of committing blasphemy in 2009, when she left home early one June morning for farm work, like many of the women in her village.
On that fateful day, as she was picking berries under the scorching sun, she was asked by her colleagues to fetch some water from the nearby well. She set off, jug in hand. But on her way back, she took a sip of the water before handing it over to her Muslim co-workers, which made them furious.
In Pakistan, most Muslims refrain from eating or drinking with people of other faiths, whom they believe are impure. Angered by Asia's taking a sip of water, her Muslim colleagues told her she was dirty and not worthy of drinking from the same cup as they.
A fierce argument erupted and harsh words were exchanged, climaxing with the Muslim workers accusing Bibi of insulting the Prophet Muhammad.
Several days later, police barged into Bibi's house and arrested her on suspicion of blasphemy. During her trial, she maintained her innocence, but in 2010 was sentenced to death. She spent the past nine years in solitary confinement.
Bibi's case came under scrutiny on January 4, 2011, when Salmaan Taseer, one of Pakistan's most prominent politicians and the governor of Punjab, the country's biggest province, was assassinated in Islamabad by one of his bodyguards, apparently for trying to secure Bibi's release. International media described the assassination as "one of the most traumatic events in Pakistani history."
Hopes for Bibi's early release sank following Taseer's death, but her family never lost hope, her husband appealing the death sentence before Pakistan's Supreme Court.
On October 31, 2018, the court acquitted Bibi, citing "material contradictions and inconsistent statements of the witnesses" that "cast a shadow of doubt on the prosecution's version of the facts."
The ruling sparked nationwide protests headed by right-wing Islamist parties. Meanwhile, human rights groups such as International Christian Concern, Open Doors and Aid to the Church in Need widely hailed the decision.
The government filed a review petition before the Supreme Court against her acquittal. Meanwhile, on November 7, the authorities released her, moving her to a safe house in Islamabad in response to death threats. One of the threats came from hardline Muslim cleric Maulana Yousaf Qureshi, who offered a reward of 500,000 rupees ($3,700) to anyone who would kill her.
On January 29, the government petition appealing Bibi's acquittal was rejected, lifting the last legal hurdle in the case and paving the way for her to leave the country. Her family had already moved to Canada due to the death threats.
"I am missing her so much," Bibi's youngest daughter, Eisham Ashiq, 18, told The Daily Mail on Sunday. "I think about her all the time and I speak to her on the phone all the time. I say to her, 'Have faith in God, because if God can release you from jail, God can release you from where you are now. He will bring you out.'"
Pakistani Foreign Office spokesman Mohammad Faisal told The Media Line that Asia was free following the court's decision.
"To the best of my knowledge, Asia Bibi is still in Pakistan. She is a free woman. Only she can decide whether to live in Pakistan or move abroad," Faisal said.
Ahmer Shaheen, managing editor of Pakistan's The Daily Times, says Pakistan is not doing anyone a favor by letting an innocent person go.
"Asia Bibi's case was high profile," he told The Media Line. "Punjab's former governor Shaheed Salman Taseer and former federal minister of minorities Shaheed Shahbaz Bhatti gave their lives to highlight her plight. [But] many more languish in jails, as the state is not ready to give them justice as yet…. The state needs to be sympathetic toward all its citizens, because that is its primary responsibility. Acting on international pressure will always be too little too late."
While many in Pakistan and abroad have hailed the prime minister's statement about Bibi's imminent release and reunion with her family abroad, her case is highly unlikely to change the situation for Pakistan's Christian community.
In February, a teenage Christian girl was allegedly abducted and forcefully converted to Islam. The victim's family claims her abductors are using the country's legal system to keep her from returning home.
According to International Christian Concern (ICC), 13-year-old Sadaf Masih was abducted by three men identified as Maqbool Hussain, Mubashir Hussain Baloch and Azhir Hussain Baloch. Eight days after her abduction, her family was told that she had converted to Islam and married a Muslim man.
ICC noted that abductions and forced conversions to Islam were common among religious minorities in Pakistan. An estimated 1,000 women from the country's Christian and Hindu communities are abducted, raped, and forcefully converted to Islam each year.
https://www.jpost.com/Middle-East/Pakistan-releasing-Christian-woman-long-imprisoned-for-blasphemy-586863
--------
Iranian Woman Who Removed Headscarf 'Pardoned' After Jail Sentence
April 14, 2019
TEHRAN: An Iranian woman who removed her obligatory headscarf in a public protest has been sentenced to one year in prison but pardoned by the supreme leader, her lawyer said Sunday.
A court sentenced Vida Movahed in March after finding her guilty of encouraging public "corruption," her lawyer, Payam Derefshan, told The Associated Press. Movahed was arrested in November. Derefshan, who first revealed the verdict to local media on Sunday, said she is on a pardon list but the release procedures are still underway.
There was no official comment. Supreme Leader Ali Khamenei occasionally issues pardons, usually tied to public holidays.
Movahed, 32, was dubbed the "Girl of Enghelab Street" and briefly arrested in 2017 after she took off her headscarf and held it in the air. Video clips of the protest were widely shared on social media, and authorities briefly detained 29 women on similar charges the following year. Three have reportedly been sentenced to two years in prison and some others are believed to have left the country. Iranian court proceedings are usually closed to the public and verdicts are often not publicized.
Iranian law requires women to dress conservatively and cover their hair in public. Those who violate the rules are usually sentenced to two months in prison or less and fined around $25.
Authorities have adopted a tougher approach toward the protests, which they say are part of a campaign orchestrated from abroad by opposition groups and social media networks.
Also on Sunday, the official IRNA news agency reported that an appeals court upheld the 13-year prison sentence of a lawyer who was jailed in 2018 after voicing support for people detained during anti-government protests.
Mohammad Najafi was sentenced in December to 10 years for "conveying information to a hostile country" through interviews with foreign media, two years for insulting the supreme leader and one year for publicly supporting opposition groups.
The same appeals court reduced the sentence of his associate, Ali Bagheri, from 12 years to five years. He had faced similar charges.
The demonstrations in late 2017 and early 2018, which focused on economic grievances, lasted for days and resulted in the deaths of dozens and the arrest of hundreds more.
http://www.arabnews.com/node/1482246/middle-east
--------
Kuwaiti Female Wins Silver Medal In World Kickboxing Championship
Apr 15, 2019
VIENNA, April 14, (KUNA): A Kuwait female kickboxer won Saturday the silver medal at the Kickboxing World Cup, held in the Austrian city of Innsbruck.
Hamayel Al-Yaqout defeated an Ukranian fighter in the 65kg category but lost in aggregate and won the silver.
Al-Yaqout, in a statement to KUNA following the fight, thanked His Highness the Amir Sheikh Sabah Al-Ahmad Al-Jaber Al-Sabah for his support of Kuwaiti women to compete at different levels.
She said she could not describe her feelings for this "historic" achievement.
Al-Yaqout won the gold medal for the 70kg category in the Arab kickboxing championship in 2017.
Abdulaziz Murad is competing in the men's fights.
Meanwhile, Kuwait 2019 powerboat-racing season culminated in the third round, organized by the sailing and wake boarding committee of Kuwait Sea Sport Club, on Saturday.
The one-day round saw Mahmoud Al-Shatti leading the Pro-Class 28 feet category, followed by Khallad Eyada and Mustafa Dashti in the second and third places, respectively.
Mustafa Dashti led the 23-ft yacht race, while Mohammad Al-Shatti and Khaled Habb Erromman came second and third places, respectively.
Over the three rounds of the race, the competitors showed a high level of professionalism and fighting spirit, Ali Al-Shimali, head of the sailing and wake boarding committee, said in statements to KUNA.
The committee aims to attract larger numbers of Kuwaiti citizens and expatriates to this competition and promote the sea sports, he added.
https://www.arabtimesonline.com/news/kuwaiti-female-wins-silver-medal-in-world-kickboxing-championship/
--------
TIFF Holds Contemporary Arab Women Filmmakers Retrospective Ahead Of 2019 Festival
14 Apr 2019
As part of the Toronto International Film Festival's year-long programming, 'Here and Now: Contemporary Arab Women Filmmakers,' will see a lineup of nine films by Arab women, including one Egyptian.
The programme of award-winning films aims to "explore this vital and growing cinema that remains lamentably underscreened in North America," as described on the website.
The selection offers a wide range of styles, from documentaries to features, and hopes to act as a retrospective and entry point for audiences in North America on the rich works of contemporary Arab filmmakers.
"If any overarching theme can be detected in these films, it is how, in different forms and genres, and with different topics and tones, they seek to engage with the world, and ask the viewer to do the same — right here and right now," an intro to the programme on TIFF reads.
Egyptian director Hala Lotfy's film Coming Forth by Day is among the films to be screened at TIFF Bell Lightbox, a cultural centre run by the festival all year round. Lotfy's film screens 22 August.
Other films include Loubia Hamra (Bloody Beans) directed by established Algerian film producer Narimane Mari, and Tunisian director Raja Amari's sensual Red Satin, Syrian filmmaker Soudade Kaadan's documentary Obscure, and Moroccan director Tala Hadid's non-fiction House in the Fields, the first part of a Morocco-set triptych.
Additionally there are two films from Lebanon: Joana Hadjithomas and Khalil Joreige's A Perfect Day, and Where Do We Go Now? by recent Oscar winner Nadine Labaki and winner of the 2011 TIFF People's Choice Award.
Two films from Palestine will screen: Annemarie Jacir's Salt of This Sea, and Mai Masri's 3000 Nights.
http://english.ahram.org.eg/NewsContent/5/32/330010/Arts--Culture/Film/TIFF-holds-Contemporary-Arab-Women-Filmmakers-retr.aspx
--------
Activists slam Saudi Arabia for arresting 'pregnant woman'
April 11, 2019
Saudi activists yesterday launched a widescale campaign on social media networks to stand in solidarity with prominent feminist writer, Khadija Al-Harbi, who was reportedly arrested from her home a few days ago despite being pregnant, local media has reported.
Al-Harbi, who had been advocating for women's rights, was arrested, along with her husband Thumar Al-Mazouqi, on 4 April by Saudi police from her home. She was reported to have been in the "late stages of pregnancy".
The Saudi campaign, dubbed "the arrest of a pregnant woman in Saudi Arabia", went viral on social media platforms slamming the kingdom's authorities.
Campaigners called on the authorities to "immediately release Al-Harbi", describing her detention as a "big shame".
Al-Harbi and Al-Mazouqi were said to have been advocating for the release of a number of female activists who had been detained in the kingdom.
Reuters reported last week that the Saudi authorities had arrested eight journalists and writers, including two American citizens in what rights groups had described as a "new campaign of arbitrary arrests." Among the detainees was Salah Al-Haydar, a Saudi citizen of US nationality, who has a family home in the US but lives with his wife and child in the Saudi capital Riyadh. His mother is prominent women's rights activist Aziza Al-Yusuf, who is being tried and was recently released from prison.
Riyadh has been carrying out an arrest crackdown against government opponents. The campaign is headed by Crown Prince Mohamed Bin Salman.
https://www.middleeastmonitor.com/20190411-activists-slam-saudi-arabia-for-arresting-pregnant-woman/
--------
Dubai-Based Pakistani Wins Chartered Accountant Woman of the Year Award
Ashfaq Ahmed
April 14, 2019
Dubai: Dubai-based Pakistani expat, Asma Jan Mohammad, has become the first overseas recipient of the Chartered Accountant Woman of the Year 2019 award.
Pakistan President Dr Arif Alvi conferred the award upon Asma in Islamabad on April 11 at a ceremony organised by the Chartered Accountant (CA) Women Committee, of the Institute of Chartered Accountants of Pakistan (ICAP).
CA Women Awards are given to honour outstanding female professionals in the field. The winners are selected by an independent jury based on pre-defined criteria from a pool of names nominated by the CA members.
Asma is a Chartered Accountant, with professional experience of 14 years in diverse industry sectors. She has been living and working in Dubai since 2007.
Speaking to Gulf News, Asma said that she is currently working with Jamal Al Ghurair group, and is also the Chairperson of the Managing Committee of UAE Chapter of ICAP members. This was established under the aegis of Pakistan Association Dubai to represent the largest community of ICAP overseas members - more than 1,000 members - well-represented at many prestigious organisations in the UAE.
"The aim of the award is to encourage women to work in this field which is heavily dominated by men as only eight per cent of the more than 8000 certified Pakistani chartered accountant are women," said Asma.
The idea behind this award is also to appreciate women who join this profession.
"I became [a] member of the UAE CA Chapter a few years ago and then, last year, became the first woman to be elected as the Chairperson of this prestigious group in the UAE," said Asma.
She said that being backed by a premier qualification and extensive training experience, ICAP professionals are highly ranked and sought after by reputed entities in UAE.
The UAE Chapter of ICAP members, Asma explained, aimed at branding CA Pakistan in the local market and increasing members' engagement by regularly organising events relating to continuing professional development (CPD), networking, conferences and social engagements for the benefit of UAE-based finance professionals.
Asma has also won this year's Most Professional Accountancy by Women Entrepreneurship Forum Dubai. She is a double gold-medalist in the CA Foundation exams by ICAP, which she took in 2000.
Asma has also launched an initiative titled "Femme-Passion" aimed at a stronger and more rewarding role for professionally qualified female CAs in the UAE. At present Femme Passion has over 30 members.
Asma is raising two kids, endeavoring to have a work-life balance along side her career.
https://gulfnews.com/lifestyle/community/dubai-based-pakistani-wins-chartered-accountant-woman-of-the-year-award-1.63328065
--------
URL: https://www.newageislam.com/islam-women-feminism/pakistan-releasing-christian-woman-asia/d/118327
New Age Islam, Islam Online, Islamic Website, African Muslim News, Arab World News, South Asia News, Indian Muslim News, World Muslim News, Women in Islam, Islamic Feminism, Arab Women, Women In Arab, Islamophobia in America, Muslim Women in West, Islam Women and Feminism