New Age Islam News Bureau
28 Feb 2016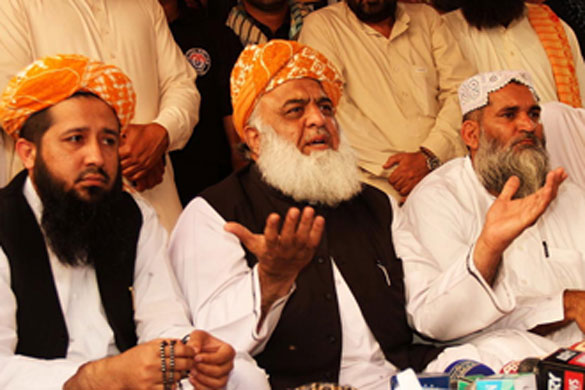 Photo: Jamiat-i-Ulema Islam (Fazl) chief Maulana Fazlur Rehman remained highly critical of Punjab Assembly's recent pro-women enactment and termed it a law which is in conflict with the constitution and certain Sharia laws simultaneously.
--------
• Ninth Cairo International Women's Film Festival Hosts 60 International Movies
• Why Saving Pakistani Women from Honour Killing Requires More Than Just Telling Their Stories
• Beauty and Power – The Women who Ruled Egypt
• Arab Women In Boardrooms – What Gets In The Way?
• Women in Film Call for Equality
• IRAN: Maryam Rajavi Addresses Paris Conference on the Eve of International Women's Day 2016
Compiled by New Age Islam News Bureau
URL: https://newageislam.com/islam-women-feminism/pakistan-pro-women-law-constitution,/d/106492
------------
Pakistan Pro-Women Law against Constitution, Sharia: Maulana Fazlur Rehman
February 28th, 2016
Jamiat-i-Ulema Islam (Fazl) Chief Maulana Fazlur Rehman remained highly critical of Punjab Assembly's recent pro-women enactment and termed it a law which is in conflict with the constitution and certain Sharia laws simultaneously.
While talking to journalists on Saturday, the JUI-F chief described it as an NGO-driven legislation, saying "NGOs follow the West for their pecuniary interests".
Fazl maintained that the law seeks to intrude the privacy of every individual and it would torment Pakistan's strong family structure which is something lacking in the West.
"Husband and wife are considered partners in the West, but it is not the case in Pakistan," he said and explained that the protection offered under this law is already available in the existing laws.
"Islam gives respect to women in a manner that no other law in the world ensures," said the JUI-F chief, adding that "this law makes a man insecure".
Fazl wondered "it is the same PML-N which didn't sign pro-women legislation in Musharraf era but now it has gone even many steps further to introduce a controversial law".
What kind of distortion is this and what it wants to make of Pakistan? he asked and said "it is an attempt to make Pakistan a colony again".
Fazl said that matter of extension of the army chief had been pointlessly made an issue in the country as if it is the army chief himself who has to decide whether to extend his current tenure or not.
I think it is the constitutional power and authority of the prime minister and the government to extend it or otherwise, said the JUI-F chief
"Such debate [extension in army chief's tenure] doesn't look appropriate in democratic dispensation," he said when it was pointed to him that politicians are talking about a possible extension and even advertisements are seen in this regard.
He clarified that since in Pakistani democracy the institution of military has certain edge therefore an impression is being created as if it depends on the army chief himself to extend his tenure.
"It happens only in martial law where the chief martial law gets his tenure extended," Fazl maintained.
"Leave it for the people who are constitutionally empowered to take a decision in this regard and if they allow extension then no one should object it and if the tenure is not extended then anyone shouldn't object either," he remarked.
He said that it is institution of army which is engaged and if there is any change in command then new chief would devise to move forward.
"I don't want to discuss the extension of army chief, however, there is no doubt that the current army chief enjoys good reputation," he said.
In response to a question Fazl dwelt at length on National Action Plan (NAP), asking why the civilian institutions including judiciary are presented as helpless. "Why are we told that military courts are inevitable?" he questioned.
The JUI-F chief said he failed to understand why the sect-based related clauses are inserted in 21st Amendment and why the religious institutions in the country, which happens to be a Muslim state, are presented as centers of terrorism.
"Show some shame," Fazl lamented.
pakistantoday.com.pk/2016/02/27/national/punjabs-pro-women-law-against-constitution-sharia-fazl/
----------
Ninth Cairo International Women's Film Festival hosts 60 international movies
February 28th, 2016
The festival aims to introduce the Egyptian audience to artistic works of female filmmakers worldwide (Public Domain)
Over the past eight years, the Cairo International Women's Film Festival created a meeting space for female filmmakers from around the globe. In addition to screening a large number of local and international features, documentaries, and animation, the festival shed light on dozens of social, cultural, and political issues from a different perspective.
The festival intends to hold its ninth annual edition from 27 February to 3 March that will organise screenings for 60 Egyptian, Arab, and international movies for amateur and experienced filmmakers from 40 countries worldwide.
"The main objective of the festival is to introduce the Egyptian audience to artistic works of female filmmakers worldwide. We provide audiences with a kind of cinema they would never find anywhere else," founder and director of the festival Amal Ramsis said."The movies don't have to be fully dedicated to feminist issues, however they must have a female director to be accepted in the festival since we want people to try to see the world thorough women's eyes."
One of the participating films at the festival (Public Domain Photo)
One of the participating films at the festival
(Public Domain Photo)
The festival was initially founded by a group of women who work in the cultural management fields but Ramsis is the only one who studied cinema in Spain. "We depend mainly on individual efforts but the Egyptian Ministry of Culture allowed us to use Markaz El-Ebdaa, Al-Falaki theatre, and Goethe Cultural Centre for screening the movies," she said.
According to the its official website, the festival has organised screenings of films in other countries over the past eight years, including Lebanon, Syria, Jordan, Morocco, Palestine, Spain, Bolivia, Argentina, Cuba, Colombia, Costa Rica, Peru, Mexico, El Salvador, Paraguay, Germany, Nicaragua, Algeria, and Slovenia.
In addition to allowing filmmakers to submit their movies online, the festival also coordinates contact of international festivals to keep track of the best films, and invite their directors to come and share their experience in Egypt. The preparation for the festival takes from five to six months annually.
"In the beginning, we didn't expect to receive large audiences on our screening nights. However we were astonished that people from different social and cultural backgrounds became more attracted to attending the shows and actively participated in the seminars and open discussions held after each show," Ramsis said.
Therefore the administration decided to let the audience vote for the best movies deserving of awards. "Audiences always surprise us with their good artistic taste . In 2013, an experimental fiction movie won the competition and an Iranian documentary won first prize in 2014. This refutes claims by Egyptian filmmakers who always assume that people prefer watching commercial movies regardless of the quality or the content they present," she said.
In her opinion, people will always be attracted to a good film. However Egyptian audiences need free of charge screenings for international movies that must also be translated into Arabic to allow people from different educational backgrounds to feel involved. This is what mainly distinguishes the women's film festival from others.
"The festival attracted men and women from different age groups and this was our main goal. We didn't want to restrict our shows to an elite audience but we wanted to get out to all people and give them a chance to understand international movies and perceive their various messages," she said.
Although the festival caught the attention of different media outlets, it still does not receive the same attention directed to governmental festivals. "We managed to establish a good reputation despite being restricted to personal efforts and financial resources. People have been waiting for us to get closer to women's cinema that opens different international topics other than female genital circumcision (FGM) and domestic violence," she said.
This year, a new section called "Cinema and Dance" will be introduced to the festival's schedule. "We also plan to honour the great documentary director Nabeha Lotfy who passed away this year and screen one of her movies for the first time," Ramsis said
dailynewsegypt.com/2016/02/28/ninth-cairo-international-womens-film-festival-hosts-60-international-movies/
----------
Why saving Pakistani women from honour killing requires more than just telling their stories
February 28th, 2016
Pakistani Prime Minister Nawaz Sharif recently watched A Girl in the River: The Price of Forgiveness, Sharmeen Obaid Chinoy's Oscar-nominated documentary about honour killings. In a statement following the screening, he told Chinoy and his audience that there is no honour in murder.
It has since been announced that the government will move to plug holes in laws that currently allow killers, often family members, to go unpunished. Chinoy has expressed the hope that her film would help put an end to honour killings in Pakistan.
It would be wonderful if her wish came true. The reasons it will not are the ones that the government needs to address if it truly wishes to tackle the problem.
The root of the problem is that women (and men) are considered social capital in a family.
The 'honour' scourge
But before reasons, let's consider context. I pulled up two sets of statistics compiled by the Human Rights Commission of Pakistan. The first covers the period spanning February 2004 to February 2006. During this time, there were 988 incidents of honour killings in Pakistan. Nearly, but not exactly, half did not even have FIRs registered for the crime. Firearms were the weapon of choice for doing away with the victims, followed by blunt force injury with a heavy weapon.
Fast-forward a decade. I pulled out another set of statistics from the Human Rights Commission of Pakistan database for the period spanning February 2014 to February 2016. The number of honour killings during this time was 1,276, nearly 400 did not have FIRs registered, and most of the victims were killed by guns.
The intervening decade has not been without legislative initiatives or civil society campaigns to end honour killings. I chose the period immediately following 2004 because that marked the passage of a bill against honour crimes. The bill that was actually passed was a diluted version of the one first introduced by senator Sherry Rehman. There was much clapping and clamour then.
The whole thing repeated itself in March 2015 with the passage through the Senate of the Anti-Honour Killings Laws (Criminal Laws Amendment) Bill, 2014. Meanwhile, international human rights organisations have devoted budgets and campaigns to ending honour killings in Pakistan. But as the numbers show, honour killings (to the extent they are even reported) have continued, and even increased.
Social security
Here is why. First, legislative initiatives have focused on the legal dimensions of the issue – the latest a much needed amendment to the qisas (retribution) and diyat (blood money) laws that would prevent the pardoning of honour killers. This is a great idea.
At the same time, like legislative initiatives of the past, it has no teeth at all against the root of the problem: that women (and men) are considered social capital in a family, and marrying them is a form of adding assets, creating relationships that families, increasingly torn by migration and demographic change, require.
When a woman rebels against this mechanism, not only does the family lose the possibility of capital accrued from arranging her marriage, her decision jeopardises the future of her remaining brothers and sisters and their chances of making good matches that sustain them in a web of relationships where individual choice defeats collective security.
In a cultural and sociological system where the family and tribe are still the only and often unitary form of social insurance against catastrophe, the death of a breadwinner, illness and job losses, collective control over the individual is the glue that holds everything together.
Honour killers kill because they think they are preserving the system, saving the sisters who did not run away. To overcome honour killings, a robust state must take the place of the family in providing basic guarantees of security against debilitating losses. Until it does so, the cruel elimination of those who wish to make their own choices will continue.
Grassroots change
The second reason for failure lies in the broken mechanisms of international advocacy, particularly as they exist in countries like Pakistan, which have faced the brunt of international aggression. Simply put, since "saving brown women" became the reason to go to war, stories of hapless victims of honour killings in countries like Afghanistan, Pakistan, Iraq and Syria have served to fuel a moral reason as to why such imperial overtures are justified. Some brown women, those at risk of honour killings, are to be saved; others who happen to be near target zones for drones are not.
The hypocrisy of this is not lost on local populations but it manifests in a particularly grotesque way in the towns and villages of Pakistan that have borne direct hits from American aggression. Maintaining honour, which translates roughly to controlling women, has become a nationalistic goal, a stand for local sovereignty.
Women are paying with their lives. Simply telling their stories has not saved them and will not save them. This last point is important, for it represents a very troubling moral bifurcation in the aid and advocacy economy via which campaigns against honour killings are funded, and the communities in which moral change must take place. The campaigns are providing jobs and causes and in some cases, international acclaim for a few. But that will never bridge the vast chasm between top-down advocacy and urgently needed grassroots change.
The words of the prime minister are heartening. Like most women, I would rather have a leader willing and sincere in recognising the horror of honour crimes than one who capitulates as so many others have done.
A Pakistani woman honoured at the Oscars is also a good thing, an inspiring individual victory and a hopeful honouring, even if it is one that cannot stop future murders of less lucky Pakistani women. For that, a deeper effort is required – a local and grassroots conversation directed at those for whom family, honour and survival are intertwined, the murderous killing of the rebel justified because it pretends to be saving all the rest.
scroll.in/article/804110/why-saving-pakistani-women-from-honour-killing-requires-more-than-just-telling-their-stories
----------
Beauty and Power – The Women who Ruled Egypt
February 28, 2016
Elaborate, apt costumes and decoration adorned the dancers of the Divine Elements Belly Dance Company as they created scenes of Ancient Egyptian life in a contemporary way. Traditional belly dance and Arabic music was fused with modern styles to give an eclectic creation for our evening of Beauty and Power – The Women Who Ruled Egypt.
A troupe of seven dancers, five of them each performing their own individual ritual, relayed stories of the life of powerful women in Ancient Egypt.
A dazzling blue and sequined costume covered one of the dancers who shimmered as well as the best belly dancers of Egypt, and the version of a Saidi (stick) dance was excellent.
Other dancers made offerings to the Gods before entertaining us with traditional belly dance using silk veils to create shapes in the air with swirling movements. The mourning dance was alluring with a stunning black and gold shimmering costume.
The costumes were a work of art, and the creativity and concentration of each dancer was a credit to them. The finale of Walk Like an Egyptian got the crowd dancing.
What a wonderful performance giving us insight into the life of the Queen and the mourning of her King.
Beauty and Power – The Women who Ruled Egypt continues at The Garage International @ Adelaide Town Hall until March 5.
ripitup.com.au/festivals/adelaide-fringe-festival/adelaide-fringe-reviews/beauty-and-power-the-women-who-ruled-egypt#.VtLPiVIprSh
----------
Arab Women In Boardrooms – What Gets In The Way?
Saturday, 27 February 2016
Yara al-Wazir
When it comes to female Arab leaders, the numbers are sparse. From politics to the boardroom, the participation of women trails well below the international average. In the gulf Cooperation Council (GCC) member countries, a study by Hawkamah showed that women occupy a mere 1.5 percent of board seats across companies in the GCC, compared to the global average of 15.3 percent.
Keeping in mind the structure of private and public companies in the region, whereby many of them are family-run or family-started, one must raise the question: what is getting in the way of women entering leadership positions, and more importantly, what can be done to grow the region's women and economy.
Family support
Recognizing the main factors that influence the way in which Arab women lead their lives, one must consider the impact of family, society, culture, politics, and economic mobility into the equation of creating a successful career.
Not surprisingly PwC's Arab Women Leadership Outlook report showed that direct family members, namely a woman's mother, father, and husband, have the greatest influence in career progression. Family members are at least 60 percent positive about the career progression of their daughters or wives.
Clearly, behind closed doors, women are being encouraged to progress and pursue their careers, however, once outside of their homes, they are negatively influenced by their community, their bosses, and by religious figures. A total of 42 percent cited that their own bosses had a negative influence on their career progression. The negative influence of the bosses is greater than that of any other influencers, including religious figures, siblings, children, or even the community.
The issue of bosses getting in the way of career progression is an interesting one. Although more comprehensive research is not available on the root causes of this obstacle, one would imagine the thoughts going through the boss's mind in the career-planning and development process of his employees. Geographic mobility, work and family-life balance, as well as educational background are factors that are taken into account.
Family members – who the same research says are generally positive about career progression among women – heavily influence these factors. Clearly, bosses are missing the point and assume how a woman's family would react to events such as moving cities for her job or the ability to balance work and family life. Women have an excellent support system at home to aid their career progression – bosses and company executives need to recognize that and allow women to thrive.
Catching up
Structural legal reforms are required to encourage female participation in the economy, and specifically in the boardroom. Countries in the GCC offer localization policies to encourage companies to employ local citizens. There is no reason why the same type of policy can't be introduced to encourage companies to offer women the chance they deserve, rather than living the land of assumptions.
The fact remains that although women play a prominent role in leading families, the region simply hasn't experienced women in leadership positions outside of the family home. Therefore, the very concept is alien to companies, and without a direct incentive offered by the local government, the region won't move as fast as it needs to.
Additionally, women's leadership abilities must be targeted at early education levels. The same opportunities that young boys are encouraged to participate in, such as sports and networking opportunities, which help develop leadership qualities, must be offered and pushed for in young women.
Encouraging women to join the boardroom is not about giving women more power, rather about empowering the economy. On average, companies with the highest number of women board directors outperformed those with the lest by 53 percent on return on equity, 42 percent on return on sales, and 66 percent on return on capital investment, according to 2007 research sponsored by The Chubb corporation.
The opportunity cost associated with relying on an all-male board is far too high for the region to risk. If companies in the Arab world want to grow to be international global competitors, they need more women on board.
english.alarabiya.net/en/views/news/middle-east/2016/02/27/Arab-women-in-boardrooms-what-gets-in-the-way-.html
----------
Women in Film Call for Equality
Sunday 28 February 2016
It's time for action, said Cathy Schulman, Oscar-winning producer of "Crash."
"No more talking about it. No more dealing with it as only philanthropy," Schulman told guests Friday at Women in Film's ninth annual pre-Oscars cocktail party. "This is a business issue. Movies and television for women and girls make money."
More than a dozen women nominated for Academy Awards this year attended the private event at Hyde Sunset Kitchen + Cocktails in West Hollywood, California, where Patricia Arquette and Jennifer Lawrence renewed their call for wage equality for women.
Besides Lawrence, other Oscar nominees in attendance included supporting-actress favorite Alicia Vikander ("The Danish Girl") and Jennifer Jason Leigh ("The Hateful Eight"), screenwriters Emma Donoghue ("Room") and Andrea Berloff ("Straight Outta Compton"), songwriter Diane Warren and costume designer Sandy Powell ("Carol" and "Cinderella"), who wore flame-red hair, silver platform sneakers and a tuxedo tailcoat over a T-shirt that read, "Straight Outta Brixton."
Arquette, who raised the issue of equal pay for women during last year's Oscar show when she accepted the supporting actress award, also announced the launch of a new change.org petition (www.change.org/era ) to support an equal-rights amendment to the Constitution. "Be careful of your lawmakers," she said, "because your rights depend on who's in office at any given time, unless you have a constitutional amendment."
arabnews.com/offbeat/news/887221
----------
IRAN: Maryam Rajavi Addresses Paris Conference on the Eve of International Women's Day 2016
Sunday, 28 February 2016 01:18
Maryam Rajavi: With women's active and equal participation in political leadership, we will turn this century into the era of women's emancipation
• Iranian regime's elections was a competition among incumbent and former officials in charge of executions, torture and export of terrorism
• Participants pointed to the successful example of the Iranian Resistance in realizing equality and pioneering role of women. They emphasized that with solidarity and unity of action, women can play a decisive, key role in the fight against fundamentalism and realization of equality
NCRI - On Saturday, February 27, 2016, on the eve of the International Women's Day, a grand gathering entitled, "Pledge for Parity: Women United against Fundamentalism" was held in the presence of the Iranian Resistance's President-elect Maryam Rajavi and a number of political dignitaries, intellectuals, prominent personalities, and activists of the equality movement from 26 countries and four continents.
In her speech to the conference, Mrs. Rajavi addressed the Iranian regime's sham elections saying that what was held yesterday was not an election of people's representatives. It was a competition between the incumbent and former officials in charge of torture, execution and export of terrorism; something that foiled the myth of moderation of the regime.
As such, the sham election met with repugnance of the majority of the Iranian people and especially the youth. By holding this election, Khamenei seeks to further concentrate his regime on the war in Syria and on the misogynous suppression in Iran. However, it will be the beginning of an era of unprecedented fragility and decadence of the Velayat-e Faqih and he will not be able to do away with the consequences.
She added: "Mandatory veil, is an all-inclusive and permanent tool for suppression of women. In a matter of only one year, 3.6 million women were inspected and questioned on the streets for "improper veiling" and 18,000 women were put on trial. Common practice of violence and rape against women and widespread addiction and misery of women are among products of the mullahs' corrupt Sharia. In Iran under the rule of the mullahs, polygamy, anti-human treatment of women and girl children, sexual abuse of girl children under 9 years of age are justified and imposed on women. Velayat-e Faqih is a senseless monopoly that is confronting women's equal rights full force. Maryam Rajavi said: They have turned Iran into a big prison for women.
She reiterated: Anything that promotes compulsion, denies people's free choice and anything that denies women's equal rights is not Islam but against Islam. We do not tolerate violation of women's rights in the guise of religion or under any other pretext. In the face of extremism, fundamentalism and exploiting the religion, we advocate democratic Islam. By realization of women's equality and their active and equal participation in political leadership, we seek to turn this century in the name of women into the era of women's emancipation. Our plan for tomorrow's Iran is to establish a democracy based on freedom, equality and separation of religion and state, where death penalty is abolished. Equality in basic rights and freedoms, equality before the law, economic equality, equality in the family as well as freedom of choice of clothing and active and equal participation in political leadership.
Mrs. Rajavi addressed Iranian women and said: You and your pioneering sisters in Camp Liberty can and must sweep away the mullahs' religious tyranny and all the fundamentalist groups emanating from it under any name. You can restore freedom to Iran, peace to the region and security to the world. You deserve to take your fate in your own hands in an Iran without Velayat-e Faqih. Women of the Iranian Resistance struggle so that the people of Iran, and especially women, could be free and able to exercise their right in determining their own destiny.
Amongst the speakers were Linda Chavez, former White House Director of Public Liaison and US expert to UN Sub-Commission on Human Rights; Rama Yade, former French Minister of Human Rights; Ingrid Betancourt, former Colombian presidential candidate; Rita Sussmuth, former President of German Bundestag; Ranjana Kumari, Director of the Centre for Social Research and 5th winner of the Lotus Leadership Award from India; Nagham Ghaderi, Vice-President of Syrian National Coalition; Rashida Manjoo and Yakin Erturk, former UN Special Rapporteurs on Violence against Women; Christine Ockrent, French journalist, writer and renowned TV commentator; Beatriz Becerra, member of the European parliament from Spain; Stefania Pezzopane, Italian Senator; Margarita Durán Vadell, Spanish Senator; Fatiha Bakkali on behalf of women legislators from Morocco; Najima Thay Thay, former Minister of Education and Youth from Morraco; Anissa Boumediene, former first lady of Algeria, Islamic scholar and jurist; Azza Heikal, Egyptian writer and professor of Arab Academic University affiliated with the Arab League and a leader of women's council of Arab tribes; Majedeh Novaishi, Vice-President of Arab Women Representatives Coalition from Egypt; Drita Avdyli, former Deputy Minister and current Chairwoman of National Chamber of Mediation, Diana Culi, writer journalist and politician, Sevim Arbana, founder of organization Useful to Albanian Women from Albania; a delegation of jurists including Fatoumata Dembélé Diarra (Mali), judge for ICTY and ICC judge since 2003, Kristy Brimelow, Queen's Counsel and Chairwoman of Bar Human Rights Committee of England and Wales, and Sara Chandler (Britain), Chair of Human Rights Commission of Federation of European Bar Associations; Maria Candida Almeida, Attorney General Deputy in the Supreme Court (Portugal); Zinat Mir-Hashemi, member of the National Council of Resistance of Iran and chief editor of Nabard Khalq paper; Safora Sadidi, member of PMOI Central Council; and a number of chairs of associations and communities and youth supportive of the Iranian Resistance.
Ms. Sarvnaz Chitsaz, Chair of NCRI Women's Committee, Ms. Zolal Habibi, member of PMOI Central Council, and Ms. Linda Chavez were the moderators of the program.
Nancy Pelosi, Minority Leader of the United States House of Representatives; Baroness Boothroyd, former speaker of UK House of Commons; US Congresswomen Loretta Sanchez and Judy Chu; and prominent French anthropologist and writer Françoise Heritier sent messages to the conference.
The speakers discussed ways of confronting Islamic extremism as the world's main challenge. Pointing to the successful example of the Iranian Resistance in realizing women's equality and pioneering role in all areas of struggle against fundamentalism, they stressed on Mrs. Rajavi's leadership.
They declared that women are the main victims of fundamentalism. With solidarity and unity of action, they can play a significant and key role in combatting this ominous phenomenon that has surpassed all geographic borders and all limits of violence, today. The grand gathering featured a performance by a Syrian child depicting the pain and suffering of the people of Syria, performances portraying executions of young Iranian women and the role of mothers of political prisoners, also the tragedy of acid attacks on young women of Iran.
A group of musicians from Albania, Mmes. Marjan and Gisoo Shakeri, renowned singers and members of the Iranian Resistance, as well as young Iranian singer, Ms. Ayda, performed in the Paris gathering.
ncr-iran.org/en/ncri-statements/president-elect/19951-iran-maryam-rajavi-addresses-at-paris-conference-on-the-eve-of-international-women-s-day-2016
URL: https://newageislam.com/islam-women-feminism/pakistan-pro-women-law-constitution,/d/106492
New Age Islam, Islam Online, Islamic Website, African Muslim News, Arab World News, South Asia News, Indian Muslim News, World Muslim News, Womens in Islam, Islamic Feminism, Arab Women, Womens In Arab, Islamphobia in America, Muslim Women in West, Islam Women and Feminism