New Age Islam News Bureau
5 March 2019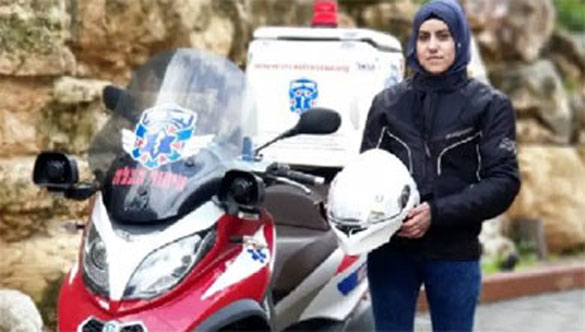 Sanaa Mahameed, first Muslim woman to ride a medical motorcycle . (photo credit: MAAYAN JAFFE-HOFFMAN)
------
• 'Child Marriages Must End To Avoid Cervical Cancer': Pakistan University
• Egypt: Grand Imam Endorses Monogamy as Fairness to Women, Children
• Paperwork for Women without Guardian, Shoura Says No
• Malala Writes Letters to PM Imran, Modi to Defuse Tensions
• After Islamic State, Women Lead the Way in a Bold Democratic Experiment in Raqqa
• Mahameed Becomes First Muslim Woman to Ride a Medical Motorcycle
• U.S. Judge Declines to Fast-Track Lawsuit Brought By Alabama Woman Who Joined Islamic State
• Emotional Reunion of Yazidis with Families after Escaping ISIS
• Indonesia's Aceh Whips Unmarried Couples after Hotel Raid
• 66 More Female Bangladeshi Workers to Return from Saudi Arabia
• Iranian women's development process unique: VP
• 'No Money, No Marriage' Sparks Duelling Social Media Campaigns
Compiled by New Age Islam News Bureau
URL: https://www.newageislam.com/islam-women-feminism/pakistan-islamic-law-board-mulls/d/117927
--------
Pakistan Islamic Law Board Mulls Giving Women Right to Divorce, AIMPLB Calls It 'Delegated' Right
March 4, 2019
New Delhi: As the government of India promulgated the Muslim Women Marriage ordinance for the third time making the act of instantaneous divorce by Muslim men a criminal offence, Pakistan too has taken steps to introduce measures that would enable women have the right to divorce their husbands in accordance with Shariah.
The Council of Islamic Ideology (CII), a constitutional body responsible for giving legal advice on Islamic issues to the Pakistan government and its parliament, has proposed major amendments in the Nikahnama (marriage document).
The council headed by chairman Qibla Ayaz, has suggested that the priest or the Nikahkhawan, who performs the marital ceremony will now have to mandatorily inform the woman of her right to dissolve the marriage.
The CII is a statutory body with a minimum of eight and a maximum of 20 members, including one woman, whose function is to advise parliament on whether laws are in consonance with Islamic injunctions.
While in India, the law makes it a criminal offence to pronounce triple Talaq with a penalty of maximum three years in jail, the CII too has recommended it to be made a punishable offence, but said the punishment will only be meted out after scholars of different Islamic schools are consulted with.
Currently, women in Pakistan can only resort to 'Khula' or divorce by approaching the courts. But activists have complained that women are often subjected to serious mental and physical harassment whenever such a step is sought to be taken.
Under the newly proposed amendments, the council has drafted a Talaqnama which would specifically mention the rights of women and have the clause that she reserves the right to dissolve the marriage.
But under the amended law, it's only the woman who can delete the clause or have the clause deleted with her consent. Now it would be up to the woman on whether she would surrender the rights and give her husband the power to dissolve the marriage or not. With Pakistan taking this step, it now remains to be seen whether the Indian government uses this as an example while again attempting to pass the triple Talaq bill in Parliament.
However, the All India Muslim Personal Law Board (AIMPLB) said this form of divorce where woman has the right to divorce her husband was "not absolute but is a delegated right."
Zafaryab Jilani, a member and counsel of AIMPLB, said, "This is known as as Talaq e Tafweez and can only be given if the husband allows her to do so."
"This concept of Talaq is prevalent in India over several years. It was in early 1990s that the board had decided to introduce the clause in the Nikahnama where she can have the right to divorce subject to the husband's approval. But this is not widely practised," Jilani said.
https://www.news18.com/news/india/pakistan-islamic-law-advisory-board-proposes-giving-women-right-to-divorce-aimplb-calls-it-delegated-right-2055293.html
--------
'Child Marriages Must End To Avoid Cervical Cancer': Pakistan University
March 04, 2019
LAHORE: Punjab University Institute of Social and Cultural Studies Director Prof Dr Rubeena Zakar has said that child marriages must be controlled to avoid cervical cancer.
She said that although the exact incidence and prevalence of cervical cancer was not known, 20 women were diagnosed with the cancer daily. She was addressing an awareness seminar on prevention of cervical cancer in Pakistan. The session was attended by students, representatives of non-governmental organisations, academia as well as civil society organisations.
Dr Rubeena highlighted the importance of cervical cancer screening and prevention and said that the cancer could be prevented if risk factors could be controlled such as child marriages, smoking, and promoting a healthy lifestyle.
She said that screening and early detection could prevent the growing deaths due to cancer.
Prof Dr Javeria Saleem discussed the risk factors of cervical cancer and how it could be protected through various vaccinations. She also apprised the audience of HPV acquisition and its prevention by vaccination during adolescence.
An informative video was also screened for the audience regarding signs and symptoms of cervical cancer.
https://www.dawn.com/news/1467471/child-marriages-must-end-to-avoid-cervical-cancer
--------
Egypt: Grand Imam Endorses Monogamy as Fairness to Women, Children
March 4, 2019
Grand Imam of al-Azhar institute, Egypt's Sunni Islam highest authority, has taken a stand against polygamy, noting that monogamy is the rule in the holy book and that polygamy hurts women and children.
Sheikh Ahmed al-Tayeb who is considered as Egypt's Grand Iman said those who practice polygamy understand the Koran wrongly.
"Those who say that marriage must be polygamous are all wrong," the top cleric said during his weekly television program and on Twitter.
For the religious top leader a Muslim man should fulfil conditions of fairness if he wants to marry multiple wives. Without fairness, the man is forbidden to get more than one wife.
While saying that his comments do not outlaw polygamy, Sheikh al-Tayeb bolstered his stance in favor of women, who constitute half of the society and therefore must be respected.
"Women represent half of society. If we don't care for them it's like walking on one foot only," he Twitted.
The Sheikh's comments received accolades from Egypt's National Council for Women.
"The Muslim religion honors women- it brought justice and numerous rights which didn't exist before," said Maya Morsi, the council's president.
http://northafricapost.com/28570-egypt-grand-imam-endorses-monogamy-as-fairness-to-women-children.html
--------
Paperwork for Women without Guardian, Shoura Says No
2019-03-04
RIYADH — The Shoura Council on Monday rejected a proposal to carry out studies to allow Saudi women to have paper work done without the consent of their legal guardian.
Dr. Iqbal Darandri, a member, urged the Ministry of Interior to carry out studies about the reasons for the delay in implementing a royal order, directing all the concerned agencies to allow women to carry out paper work with regard to getting services done or terminate services or speed up processing of services without the consent of their legal guardian.
Yahya Al-Samaan, assistant president of the Council, said the Council rejected the proposal with a majority vote after listening to a briefing from chairman of the Council's security committee.
that the concerned agencies at the ministry have made no delay in implementing provision of these services to women without the consent of their legal guardian. — SG/SPA
http://saudigazette.com.sa/article/560437/SAUDI-ARABIA/Paperwork-for-women-without-guardian-Shoura-says-no
--------
Malala Writes Letters to PM Imran, Modi to Defuse Tensions
MARCH 5, 2019
Malala Yousafzai has written letters to the prime ministers of India and Pakistan urging them to "defuse the rising tensions" between the two countries.
As per a statement, a letter signed by the Nobel laureates, under the aegis of the Laureates and Leaders for Children, was submitted to India and Pakistan's permanent representatives to the UN.
"In the best interest of our children, we, the Laureates and Leaders for Children call upon Prime Minister of India Narendra Modi and Pakistani Prime Minister Imran Khan to demonstrate wise leadership and exercise immediate restraint at this critical juncture to avoid any escalation into a full-fledged war," the letter read.
"There is no place for violence, extremism and terrorism in a civilised world. This epidemic has to be through concrete and time-bound actions." "We reiterate that children never create wars but are the worst sufferers. Therefore, we appeal to the two Prime Ministers, faith institutions, media, youth and the citizens of both India and Pakistan to work towards the restoration of peace the restoration of peace in the region with utmost urgency," the letter continued.
The Nobel laureates who have signed the appeal included Leyma Gbowee, Shirin Ebadi, Tawakkol Karman, Malala Yousafzai, Muhammad Yunus, José Ramos-Horta, Edvard Ingjald Moser, May-Britt Mose and others.
https://dailytimes.com.pk/361521/malala-writes-letters-to-pm-imran-modi-to-defuse-tensions/
--------
After Islamic State, Women Lead the Way in a Bold Democratic Experiment in Raqqa
MARCH 5, 2019
Leila Mustapha seems out of place. Almost anywhere else the skinny jeans, leather-bomber jacket wearing 30-year-old probably wouldn't draw a second look.
But we're in Raqqa, the once notorious capital of the so-called Islamic State, where women were confined to the house and could only be seen in public in full covering with a male guardian.
What's more, Leila is the city's new leader.
"Give me a minute to finish my cigarette, just don't film me smoking," she says as she flips back loose hair that's come out of a slicked-back messy bun.
While I wouldn't ordinarily film someone smoking, Raqqa's female Civil Council leader puffing away in her office would've been a simple way to show how far the city has come since it pushed Islamic State (IS) out two years ago.
Smoking was banned under IS and its record on women is atrocious.
But I'm more keen to tour the city with the former civil engineer to find out more about reconstruction efforts. It's midday, and we only have a few hours of winter sunlight left for filming. We also have to leave Raqqa before it gets dark.
The city may have pushed IS out, but it has morphed into an underground network and still poses threats — especially to people like Leila.
"We're expected to take precautions, but these precautions don't prevent us from our work."
Religious freedom, gender equality enshrined in law
Leila is a part of the Autonomous Administration of North East Syria, the little-known authority that rules roughly one-quarter of Syria.
The dull name belies a set of principles that could challenge those of many Western countries.
The Kurdish-majority administration is enacting the philosophy laid out by a leftist revolutionary named Abdullah Ocalan.
Equal representation of men and women in all areas of governance are enshrined in law, as is religious freedom.
This democratic experiment is being rolled out in areas that the Kurdish-majority Syrian Democratic Forces (SDF) liberated from IS.
The SDF, backed by a US-led coalition, is nearing the last of that territorial campaign with just a sliver of land still under the group's control in the village of Baghuz in the Deir ez-Zor region.
The administration is seeking autonomy within a federated Syria
It hasn't been recognised internationally but on the ground it functions as would any other state, from leading large-scale reconstruction efforts including the opening of schools and hospitals to the more bureaucratic work of registering births, deaths and marriages.
But this young democracy may soon face a far bigger threat than IS.
The US is planning to pull out about 2,000 troops that have been providing support to the SDF campaign against IS. They plan to leave behind only a small peacekeeping force.
When that happens, the Kurdish-led authority will lose its protection.
Turkey has pledged to invade northern Syria and smash the Kurds. It fears autonomy here will embolden the 15 million Kurds inside Turkey to rise up with similar demands.
"When the coalition pull out from here we know that there are other people who are worse than ISIS who want to fight us," SDF Commander Simko Shikaki says.
"We will watch the situation, and once Turkey attacks we will have a response for it."
'A life that we didn't even dream of is being built'
Fatigued with war, young people are taking control of what they can. In a bar in the town of Kobani, close to the Turkish border, I meet with a 19-year-old journalist about to get married.
"The situation is peaceful for the time being. So we thought we'd get married now," Bercem Abd al-Kadr tells me.
Her fiance Azad Ahmad is a little more optimistic about the future. He's a 26-year-old fighter with the YPG, the Kurdish military force.
"As a Kurd, the Kurdish flag is being raised."
What makes their union exceptional is that their marriage will be a civil rather than a religious one.
The Autonomous Administration of North East Syria has brought in civil marriage, allowing people from different religious groups to legally marry.
It may seem like a small detail, but it's radical in a region where sectarianism and tribalism dominate and where Islamic law had previously prevailed.
Bercem and Azad invited us to their vibrant and very Kurdish wedding party. It's a time to celebrate, but there is also the lurking prospect of a conflict with Turkey.
"If needed, he will go to war and I will continue working," Bercem says on the day of her marriage.
https://www.abc.net.au/news/2019-03-05/after-islamic-state-raqqa-survivors-empowered-by-democracy/10865548
--------
Mahameed Becomes First Muslim Woman to Ride a Medical Motorcycle
MARCH 5, 2019
The first Muslim woman to become a volunteer in United Hatzalah celebrated another first on Monday, when she became the first female Muslim to receive a Hatzalah ambucycle.
Ambucycles are dual-sport motorcycles that hold a medic's life-saving equipment on board. An ambucycle rider generally reaches the scene of an accident or the home of a patient in an average of 90 seconds.
Sanaa Mahameed, 31, received her ambucycle near her home in Umm el-Fahm.
Mahameed was all smiles as she tested out her new three-wheel bike on the city's hills and potholed roads. She told The Jerusalem Post that despite the bike's speed, "I am not worried about it being dangerous. I am strong."
Rather, she said that she is excited because she will have more opportunities to provide help.
"There is a lot of traffic in my area and it can be hard for a car to navigate," Mahameed said. "I want to be the first on the scene [of an accident]."
Mahameed trained to ride the bike in a driving school in Afula. She paid for the training course herself.
Mahameed started out as an EMT two years ago, when she joined Hatzalah's force of 5,000 volunteers. Of those, there are only around 400 Muslims and 450 women.
In addition to her volunteer work with Hatzalah, Mahameed drives an ambulance for the local EMS organization and works at the local Clalit health clinic. She often serves as the EMT on duty at collegiate and high school sporting events and as the accompanying EMT on school field trips.
She said that she has known since she was a teenager that she wanted to become an EMT. When she was 16, her aunt called her in a panic because her uncle had passed out on the couch and was not responsive. No one was at home, so she ran to her aunt's house to try to help. Lacking medical training, all she could do was call an ambulance, which came fast – but not fast enough. Her uncle died.
During the incident, she recalled that her cousin was "standing over him screaming at him, 'Daddy! Daddy! Please wake up!'"
"After the incident," she continued, "I decided that I would learn to become an EMT in order to be able to help next time. I pray to God that I can help whoever needs me."
She has seen her share of successes and tragedies.
There was the time a man was shot in the chest and she was the first to arrive on the scene. She managed to stop the bleeding and administer fluids, which kept him alive until the ambulance came 40 minutes later. He underwent surgery and survived.
Then there was the 80-year-old man who suffered a heart attack. She revived him, but one month later he died.
And there was a three-car pile up to which she found one of the drivers had died before she arrived at the scene.
"There are so many stories," she said with a sigh. "But I am not fazed. I continue to leave work, my house – morning, evening, the middle of the night – it could be 2 a.m. or 3 a.m., and I will go."
Her family and community embrace her decision.
"They look at me and say, 'kol hakavod,'" she said, referencing the Hebrew phrase for respect. She said that members of her Muslim community think it is unique that she is a religious woman doing work that many assume is meant for a man. Mahameed dresses modestly and covers her head with a traditional Muslim hijab.
In a video interview, her father said that he and his wife have always been supportive of their daughter.
"I told her that we would gladly help her with whatever she needed to succeed," he said. "My whole family holds our heads up high because of her."
Mahameed said that many young women approach her and express interest in her career. She tries her best to offer guidance and support.
"I have helped many of them, thank God," she said.
She also plans to continue pursuing her own dreams. She told the Post that she would like to complete training to fly an emergency response helicopter.
"It is very difficult to do this, but this is my dream," she said. "And please God, I will succeed."
However, for now, Mahameed said that she is happy with her new three-wheel ambucycle.
"The amount of focus it takes to drive a regular motorcycle is incredible in its own right, especially on the roads and highways in Israel where driving can be treacherous at its best," said Raphael Poch, head of resource development and community relations for Hatzalah. "Riding an ambucycle, knowing that at any moment you have to shift gears into emergency mode, and driving with all of the care and responsibility that comes with it is a task only given to the select few."
"Sababa," Mahameed said with a smile. "It's great."
https://www.jpost.com/Israel-News/Mahameed-becomes-first-Muslim-woman-to-ride-a-medical-motorcycle-582424
--------
U.S. Judge Declines to Fast-Track Lawsuit Brought By Alabama Woman Who Joined Islamic State
By Spencer S. Hsu and
MARCH 4, 2019
A federal judge Monday declined to fast-track a lawsuit brought by the family of an American-born woman from Alabama who alleges the Trump administration unlawfully denied her return to the country after she joined the Islamic State in Syria.
U.S. District Judge Reggie B. Walton of Washington rejected an emergency motion to recognize the U.S. citizenship claim of Hoda Muthana, saying her family's attorneys had not proved she would be "irreparably harmed" by remaining in a refu­gee camp with her 18-month-old son while litigation continued at a normal pace.
Muthana's father brought the case, and Walton indicated he would rule on her citizenship claim in litigation that lawyers said could be completed by summer.
Muthana, now 24, left her life as a University of Alabama student to go to Syria in 2014. She eventually married three Islamic State fighters in the country, having a child with her second husband, who was killed in battle. In December, she escaped from the dwindling territory held by the militant group and surrendered to Kurdish forces.
"Today we're disappointed but understand the judge's ruling . . . focusing on whether there's immediate harm," lead Muthana attorney Charles D. Swift of the Constitutional Law Center for Muslims in America said after the 90-minute hearing Monday.
"In the meantime, we're also very encouraged. The judge's comments certainly foreshadow the ultimate outcome of this case in our viewpoint . . . the fact that Hoda Muthana is a United States citizen," Swift said.
An undated image provided by family attorney Hassan Shibly shows Hoda Muthana. (Hassan Shibly/AP)
The case of the "ISIS bride" centers on a determination on when Muthana's father, Ahmed Ali Muthana, stopped being classified as a diplomat accredited to the Yemeni mission to the United Nations in New York.
Ahmed Ali Muthana said Yemen terminated his diplomatic posting before her birth but did not notify the U.S. government of that fact until after she was born in the United States.
Justice Department attorneys argued "Muthana is not and has never been a U.S. citizen, and her son likewise is not a U.S. citizen. Settled law applied to the relevant events clearly demonstrates that Plaintiff enjoyed diplomatic-agent-level immunity until February 6, 1995 — after Muthana's birth," wrote Joseph F. Carilli Jr., a Justice Department immigration litigation trial attorney.
While she was living in the self-declared caliphate in Syria, Hoda Muthana helped spread Islamic State propaganda on social media and called for the death of Americans.
"This is a woman who went online and tried to kill young men and women of the United States of America," U.S. Secretary of State Mike Pompeo said Monday in a radio interview in Kansas. "She advocated for jihad, for people to drive vans across streets here in the United States and kill Americans. She's not a U.S. citizen. She has no claim of U.S. citizenship. In fact, she's a terrorist, and we shouldn't bring back foreign terrorists to the United States of America."
In an interview last month with the Guardian newspaper, Muthana described herself as having been "brainwashed." She said she regrets her decision and wants to return home so her son can grow up as an American citizen.
"I look back now, and I think I was very arrogant," she said. "Now I'm worried about my son's future."
Her case presented the administration with a dilemma. Hundreds of former Islamic State militants are being held in Syria by Kurds who now feel abandoned by President Trump's decision to withdraw most U.S. troops from the country. The possibility of radicalized Islamist militants being set free has led Pompeo to publicly urge other countries to repatriate their own citizens.
But Trump tweeted last month that he ordered Pompeo not to allow Muthana back into the country. The State Department has revoked the U.S. passport she possessed based on her birth certificate showing she was born in Hackensack, N.J.
Hassan Shibly, a Tampa attorney who also represents the Muthana family, has accused the Trump administration of trying to "wrongfully strip citizens of their citizenship."
Shibly has released a 2004 document from the U.S. mission to the United Nations saying Muthana's father stopped being a diplomat Sept. 1, 1994, two months before his daughter was born. It is unclear when his diplomatic visa was changed.
After Monday's hearing, Swift called the government's position that a former diplomat retains the status until the United States is told of the change "incredibly shortsighted." He argued it could give other countries "license to smuggle spies or others into the United States" under diplomatic cover, terminate their position to disclaim responsibility yet not notify the U.S. government, and allow the individuals to assert immunity from any illegal conduct they might commit.
"That is insane. That is really opening us up to danger," Swift said, noting that Walton, the judge, suggested the government was "grasping at straws."
Swift said he did not sign up to defend Muthana's conduct or argue if she was a sympathetic character but to defend her rights as a citizen, which he said are not forfeited based on political viewpoint, "incredible unpopular statements" or other conduct.
"The loss of citizenship is not a punishment," Swift said, saying Americans should "think long and hard" about setting a precedent allowing the government to bar citizens from returning to the United States by asserting their dangerousness.
However, at the hearing Walton said he was not yet reaching a decision on the merits of Muthana's citizenship claim because her father had not established that she faced an immediate threat.
Swift claimed that because Muthana in news accounts has denounced the Islamic State and sought to return to the United States, she was viewed by the terrorist group's supporters in one refugee camp as "a heretic — she now is not a Muslim and should be executed and killed, so she faces significant danger from them." As a result, Swift said, Muthana was moved to another camp for her safety.
Her attorneys also claimed urgency by arguing that if the United States pulls out of Syria, Kurdish forces holding Muthana would be less likely to cooperate and aid her in making a return.
Walton called the arguments speculative and said that he could not rely on media accounts absent other evidence . He sai d if any emerged, Muthana's legal team could bring it to his attention later.
Attorneys for the U.S. government said Muthana should be denied emergency treatment because she created her situation by deciding to leave the United States in 2014 and join a foreign terrorist organization, and did not until now challenge a January 2016 determination that she is not an American citizen.
"Muthana would have understood this unchallenged determination that she was not a U.S. citizen when she gave birth to her son abroad, and his circumstance is like that of any child born abroad to a non-citizen," Carilli wrote. "To the extent that there are any plausible exigencies, they are of Muthana's own creation."
https://www.washingtonpost.com/local/legal-issues/us-judge-declines-to-fast-track-lawsuit-brought-by-alabama-woman-who-joined-islamic-state/2019/03/04/f7378670-3e9c-11e9-922c-64d6b7840b82_story.html
--------
Emotional Reunion of Yazidis with Families after Escaping ISIS
MIRNA ABDULAAL
MARCH 4, 2019
After five years of captivity at the hands of the terrorist group Islamic Sate, a group of Yazidi women and children reunited with their families in Iraq on Saturday, Associated Press reports.
Families were cheering, hugging and kissing their relatives in an emotional scene, and one teenage boy reportedly collapsed in his aunt's arms and broke down in tears.
The group of three Yazidi women and eighteen children were among thousands of civilians who managed to escape in the last few days from the last territory held by the Islamic State group in the village of Baghouz, in eastern Syria.
They crossed into Iraq from Syria on Friday, and were picked up by their families on Saturday.
More than 3,000 Yazidis are still missing after Islamic State militants attacked their communities in the Sinjar region in northwest Iraq in 2014, and enslaved, raped and killed thousands of them.
Yazidi tribal leaders and organisations have recently called on the international community to help investigate the fate of thousands of women and children still missing after being kidnapped by Isis, and to punish ISIS fighters for their crimes.
"We call on the coalition forces, namely the US and all other troops that fight Isis under the leadership of the coalition, to discover the destiny of victims and help to return the prisoners soon," said a statement from the Yazidi leaders, according to the news website Kurdistan 24.
"We also call on the Foreign Ministry of Iraq to shoulder the responsibility it has on its citizens to search for the Yazidi girls and return the bodies of the martyrs or their remains through their relations with the concerned governments," it added.
In November 2018, more than 200 mass graves containing up to 12,000 victims were found in Iraq that held evidence of war crimes by the Islamic State group, the UN said Tuesday.
"It is outrageous that thousands of our women and girls have been missing since 2014 and it has not been a priority or main area of discussion with the Global Coalition and the international community," said Pari Ibrahim, founder of the Free Yazidi Foundation.
In 2014, ISIS fighters killed thousands of Yazidis and took more than 6,000 women and children as slaves. The UN later declared the attack and the ongoing enslavement of Yazidi women as genocide.
The Yazidis are mostly Kurmanji-speaking religious and ethnic minority in Iraq and northern Syria. Their religion, Yazidism, or Sharfadin, is a monotheistic religion and combines elements of all Abrahamic religions: Christianity, Judaism and Islam.
https://egyptianstreets.com/2019/03/04/emotional-reunion-of-yazidis-with-families-after-escaping-isis/
--------
Indonesia's Aceh Whips Unmarried Couples after Hotel Raid
March 04, 2019
BANDA ACEH, Indonesia: Six couples were publicly whipped in Indonesia's conservative Aceh province Monday for relations outside marriage, with at least two women unable to walk after the painful punishment.
Flogging is common for a range of offenses in the region at the tip of Sumatra island, including gambling, drinking alcohol, and having gay sex.
It is the only province in the world's biggest Muslim-majority country that imposes Islamic law.
The twelve people whipped Monday were arrested late last year during a raid on a hotel in the province's capital Banda Aceh.
Four people were each flogged seven times after being found with a member of the opposite sex who wasn't a relation.
The others — who were caught in more compromising positions — received between 17-25 strokes for having intimate relations outside of marriage, an official said.
All 12 also served several months in prison before the public punishment.
Some women cried out in pain as a masked sharia officer lashed them, and at least two had to be carried from the scene by sharia officers.
Dozens of spectators and journalists watched quietly. Some winced occasionally after the blows, while others used smartphones and tablets to film the spectacle.
"This law is designed to have a deterrent effect, not only for the offenders but for the spectators who watch the caning," said the head of the local public order agency, Marwan, who like many Indonesian goes by one name.
He added: "The pain of being flogged is not that bad, the embarrassment is worse."
Rights groups have slammed public caning as cruel, and Indonesia's President Joko Widodo has called for it to end.
But the practice has wide support among Aceh's mostly Muslim population — around 98 percent of its five million residents practice Islam.
Aceh adopted religious law after it was granted special autonomy in 2001, an attempt by the central government to quell a long-running separatist insurgency.
In December, two men caught having sex with underage girls were whipped 100 times each.
http://www.arabnews.com/node/1461546/offbeat
--------
66 More Female Bangladeshi Workers to Return from Saudi Arabia
March 5th, 2019
Sixty-six female Bangladeshi workers, residing in Saudi Arabia, are set to return to their homeland on Tuesday.
They are returning on the SV 804 flight at 9:20pm. They had been residing at immigration camps in Saudi Arabia and at a safe home which is run by the Bangladesh Embassy.
Twenty-five more women returned to Bangladesh, this morning, from Jeddah.
The information was confirmed by Head of Brac Migration Program Shariful Hasan.
Unable to bear barbaric torture at the hands of their employers, 90 Bangladeshi women who worked as domestic help in Saudi Arabia returned home on February 27.
About 182 housemaids came back in January this year, according to Brac.
More than 1,500 women had also returned from Saudi Arabia last year.
https://www.dhakatribune.com/bangladesh/nation/2019/03/05/66-more-female-bangladeshi-workers-to-return-from-saudi-arabia
--------
Iranian women's development process unique: VP
March 4, 2019
Imam Khomeini, the late Leader of the Islamic Revolution, has introduced a new ideology for women's rights in order to preserve their dignity, stated the VP.
Ebtekar further described the Islamic Republic of Iran as a successful model for the role of women in the social sphere while preserving religious and moral values in the world.
Iranian women, honoring religious values, have taken important steps in many different social fields and achieved great success.
The vice president touched on the achievements and experiences of the Islamic Republic of Iran in the field of women which can be used in international arenas, especially in Islamic countries, which should be given more serious attention in this regard.
Women's discourse, challenges and issues they are facing now are among the most important issues in all communities to be considered, the official said.
Ebtekar further appreciated measures taken by Qom Religions and Denominations University to pave the way for interactions among different religions.
She also emphasized the empowerment of women as one of the aspects of development of the Islamic Republic of Iran, noting that women play an active role in various fields of education, health, sports, and politics.
Women's achievements do not mean that there exists no challenges and all the demands of the young people have been met, Ebtekar explained.
Current barriers and problems should be removed through taking appropriate policies about women, she specified.
https://www.tehrantimes.com/news/433667/Iranian-women-s-development-process-unique-VP
--------
'No Money, No Marriage' Sparks Duelling Social Media Campaigns
N.A. Hussein
March 4, 2019
CAIRO — An Egyptian campaign calling for a marriage boycott until prospective brides' families lower their financial expectations of would-be sons-in-law has spurred strong reactions from Dar al-Ifta, Egypt's ultimate religious authority, and young women themselves.
The online campaign Let Her Stay Single, launched on Facebook, urges young people, primarily men, to boycott marriage rather than struggle to meet the financial demands of women's families before they consent to their daughters marrying. A typical demand might include a fully furnished home, jewelry for the bride and family and a big wedding. The campaign, whose logo depicts a bride, a groom and a crossed red circle, kicked off on Facebook in early January. Its popularity attracted the attention of local media.
Many of the online postings maintain that if jewelry and a huge wedding are required to get married, it might be best for young women to instead remain at home and accept "spinsterhood." Supporters share cartoons or pictures of what they call "old maids" or "spinsters" along with anecdotes about how they failed to marry the woman they desired because they could not afford her family's demands.
A young man in his 20s who posted his experience on the campaign's Facebook page and requested anonymity told Al-Monitor that his first relationship ended two years ago because his girlfriend's family requested a house in an affluent neighborhood, a huge dowry, an expensive wedding ring and a wedding party in a luxury hotel. The total cost would have been 1.5 million Egyptian pounds ($85,709).
Although the young man earned a monthly salary of 8,000 pounds ($457), which is better than most, he could not meet all of their requests over the course of a two-year engagement. "I calculated that I had to save more than three-quarters of my income for more than 200 months to fulfill their demands," he told Al-Monitor.
Egyptian women who feel that the anti-marriage campaign portrays women and their families as money-grabbers were quick to start a campaign of their own, using the hashtag #stayinyourmother'slap. Since its launch on Jan. 28, a number of groups and individuals behind various Facebook pages have adopted the hashtag with the common objective being to counter the claims that men face the financial burdens of marriage alone. Many posts note that the brides' families shoulder costs as well.
Heba Abdel Aziz, a campaign co-founder, told Al-Monitor that Let Her Stay Single depicts most girls' parents as materialistic, but it is actually only "uneducated" families that seek to ensure material gains through the marriage of their daughters. "Well-educated families that are keen on their daughters' future do not tie marriage to money, especially since the girls' parents traditionally bear half the cost of the wedding."
Mohamed el-Masri, a co-founder of Let Her Stay Single, told Al-Monitor his side of the story. "Our campaign does not intend to insult women," he asserted. "Nor do we portray only the girls as spinsters. Spinsterhood is a description that applies to men and women. Many girls who have been denied marriage because of their parents' exaggerated demands support us."
Meanwhile, Dar al-Ifta has condemned Let Her Stay Single, declaring it "contrary to Islamic law," even if those behind it had good intentions. In a report published Feb. 14 on its fatwa website, the authority called on Egyptians not to join the campaign because reluctance to marriage could push youths into extramarital relations, which is contrary to Sharia.
Dar al-Ifta also pointed out the need to remove social and financial obstacles to marriage. It urged families to lower their dowry requests and for young people to take advantage of loan programs for newlyweds.
Responding to Dar al-Ifta, Masri said, "We [also] believe that marriage is God's will. Ours is a call to end the harsh conditions imposed for getting married. … We are calling for a temporary boycott, not an indefinite boycott."
Some activists, among them Ahmed Hijazi, believe the campaign is unlikely to achieve anything. "These young men are not only frustrated but immature," he told Al-Monitor, additionally claiming that they were mainly chasing beautiful and rich girls beyond their economic class and therefore unattainable. He also called them shallow in terms of their choices.
Siham Afifi, a retired sociology professor at Menoufia University, explained the problem of financial demands in terms of "inherited traditions." "The fact that these traditions continue to be observed today reflects the strong domination of the older generations at the familial level," she told Al-Monitor. The younger generation, male and female, according to Afifi, often end up bowing to their demands.
Afifi said that she hopes the social media campaigns will create awareness and empower young Egyptians, especially women, to demand greater freedom to make personal decisions about marriage and in other areas of their lives. She called on families to limit their input to advice and guidance, with ultimate decisions being left to their children.
https://www.al-monitor.com/pulse/originals/2019/03/why-are-young-egyptians-boycotting-marriage.html
--------
URL: https://www.newageislam.com/islam-women-feminism/pakistan-islamic-law-board-mulls/d/117927
New Age Islam, Islam Online, Islamic Website, African Muslim News, Arab World News, South Asia News, Indian Muslim News, World Muslim News, Women in Islam, Islamic Feminism, Arab Women, Women In Arab, Islamophobia in America, Muslim Women in West, Islam Women and Feminism