New Age Islam News Bureau
12 September 2020
• Women to Discuss Business with Arab Countries in Webinar
• Pakistan Woman Cyclist Groped While Riding on Islamabad Road
• Iranians Call Out Education Ministry for Removing Images of Girls from Math Textbook
• Indian Mission in Dubai Repatriates 112 Distressed Women In 2020
• As war and coronavirus pandemic rages, Yemeni girls find strength in kickboxing
Compiled by New Age Islam News Bureau
URL: https://www.newageislam.com/islam-women-feminism/pakistan-investigator-says-woman-raped/d/122843
--------
Pakistan Investigator Says Woman Raped in Front of Her Children Shouldn't Have Driven Alone
11 Sep 2020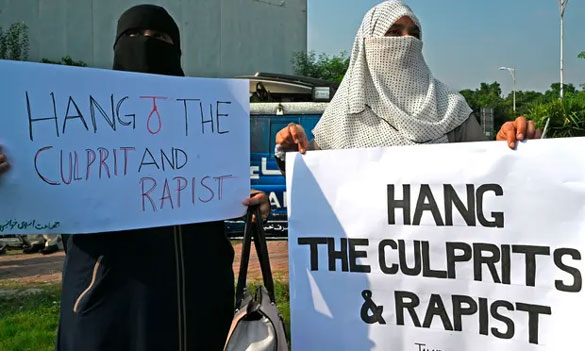 Some of the protesters in Lahore. Photograph: Aamir Qureshi/AFP
-----
The gang-rape of a woman in front of her children after her car broke down on a motorway has prompted outrage and protests in Pakistan, with anger further fuelled by police, who appeared to blame the victim for travelling alone.
Fifteen people have been arrested in connection with the gang-rape, which happened at about 1.30am by the side of a motorway in Lahore.
The woman had called police when she ran out of fuel but, as she waited for help, at least two men broke the windows of her car, dragged her and her two children out of the vehicle and attacked and raped her multiple times in front of the children. They then stole her jewellery, cash and bank cards.
Disgust around the case increased when Umar Sheikh, the lead police investigator, told media that the woman should have known better than to travel alone at night. He said no one in Pakistani society would "allow their sisters and daughters to travel alone so late" and she should have taken a safer highway and made sure she had enough fuel for the journey.
The victim is a resident of France, and Sheikh said she "mistook that Pakistani society is just as safe".
His comments caused outrage, with many people citing them as yet another example of a culture of victim-blaming in cases of sexual violence in Pakistan, where women who report cases are often treated as criminals.
Shireen Mazari, the minister for human rights, said the investigator's remarks were "unacceptable", adding: "Nothing can ever rationalise the crime of rape." Protests were planned across Pakistan on Friday and women's rights activists called for Sheikh to resign.
The attack came just days after the kidnapping, rape and murder of a five-year-old girl in Karachi.
Imran Khan, the prime minister, said in a statement on Twitter that he was following the case closely and had asked investigators for the "arrest and sentencing of those involved in the incident as soon as possible". He added: "Such brutality and bestiality cannot be allowed in any civilised society."
https://www.theguardian.com/society/2020/sep/11/backlash-in-pakistan-as-police-appear-to-blame-woman-motorist-for-gang
--------
Women to Discuss Business with Arab Countries in Webinar
11/09/2020
Bruna Garcia Fonseca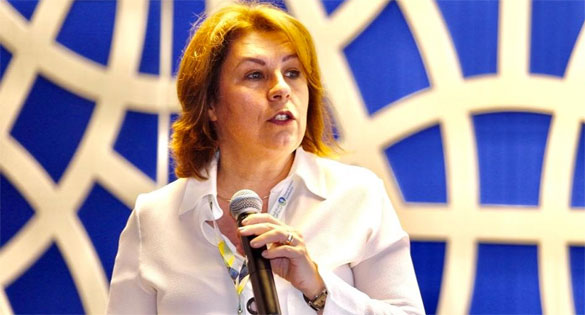 Hosted by the Arab Brazilian Chamber's Women's Committee and the Women Inside Trade group, a free online event
-----
São Paulo – In a bid to demystify the business culture of Arab countries, the WAHI – Women Who Inspire committee of the Arab Brazilian Chamber of Commerce (ABCC) and the Women Inside Trade (WIT) group are hosting, at 9 am on Wednesday (16), the webinar "Challenges and Opportunities for Women Doing Business with the Arab Countries." Registration is open. The event is free of charge, and simultaneous translation into English and Portuguese will be available.
WAHI Board chairwoman and research firm H2R Pesquisas Avançadas commercial director Alessandra Frisso (pictured above) will open the webinar. International NGO Women Inside Trade (WIT) cofounders Veronica Prates and Monica Rodriguez will respectively speak during the event's opening and wrap-up.
According to Frisso, the ABCC Women's Committee works to connect Brazilian and Arab women along three pillars – business, social responsibility, and culture. "We are building bridges when it comes to business development. One of them is our partnership with WIT, an international trade-oriented women's group. Our purpose is to relay some of the experiences of women who are used to working with the Arab countries and who have been able to carve out opportunities, so that we can share their stories," Frisso said.
Lack of knowledge is conducive to myth and distancing, Frisso said. "We wish to encourage deal-making through the experiences of those that have done it before, and who not only have overcome challenges, but managed to consolidate business opportunities," she explained.
The webinar is intended to spread knowledge and awareness regarding business relations with "We are all too often restricted to what we know. We intend to provide an opportunity for us to get to know and get close to one another, so that in the near future we can do busines based on cultural understanding," she said.
WIT
Aside from being the cofounder of Women Inside Trade, Monica Rodriguez is also an international trade consultant with BMJ. The WIT works to empower women through a worldwide network of professionals, as well as specialized training and leadership development.
"The WIT is an organization of women working together for the shared purpose of bringing together women involved in foreign trade. International trade is a very masculine world, so the idea is to carve out a space for women, in spite of the difficulties," said Rodriguez.
Rodriguez said the partnership with the WAHI committee is designed to create synergy and collaboration through the discussion of aspects of foreign trade. "The WIT is a space for dialogue and knowledge-sharing," the businesswoman said.
The international group was established in Brasília in 2017. It has a website and social media pages. The work is entirely pro bono, and there's also a WhatsApp group of some 250 women who share information on business-related events and topics.
"We intend to espouse the notion that yes, doing business with Arabs is possible. To demystify misleading stereotypes and encourage businesswomen to make their way into new markets and find new business possibilities," she concluded.
The speakers in the online event will be Karen Jones, Head of Operations for the Middle East & North Africa at the Brazilian Trade and Investment Promotion Agency (Apex-Brasil); Grazielle Parente, chairman of the board at the Brazilian Food Industry Association (Abia); Shamsa Al-Falasi, Cluster head of the Citibank Global Subsidiaries Group for the GCC & Iraq; Heuda Farah Guessous; Heuda Farah Guessous, cofounder of Morocco's Foodeshow event; and Kellen Amorim, a strategist on Personal Branding and Positioning, Communication and Female Leadership.
The webinar will be moderated by the ABCC's Institutional Relations maanger, Fernanda Baltazar. ABCC president Rubens Hannun will also be featured. Questions will be asked by guests JBS Business director Janaína Azevedo; Julia de Biase, Al Ward/Royal Queen partner and Date Crown representative for Brazil and Latin America.
https://anba.com.br/en/women-to-discuss-business-with-arab-countries-in-webinar/
--------
Pakistan Woman Cyclist Groped While Riding on Islamabad Road
Sep 11, 2020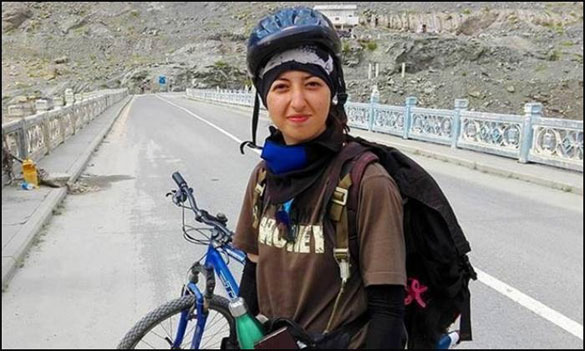 Lady-biker Samar Khan gets 'grobed' by stranger in Islamabad
-----
Cyclist Samar Khan has said that she will not spare the man who harassed her while she was riding her bicycle in Islamabad.
"I will not spare anyone and we must make an example of such people [harassers]," she said while speaking in a video uploaded on her Facebook page on Wednesday.
Khan, the first Pakistani woman who has cycled on glaciers in the Karakoram Range and Kilimanjaro in Africa, shared that she was riding her bicycle when a man in a maroon shirt groped her.
"When I reached the turning near Faizabad, I felt something on my back. At first, I thought it was my bag but then I felt the movement go up and then down," she said in another video posted on Friday. "I turned around and saw a man smiling at me. He was riding a motorcycle behind me. I started screaming at me but he grinned and then sped past me."
I could not reach him in time because I was on a bicycle, she said. "I asked people to help me but the man had fled by then."
The cyclist said that rather than questioning her clothes, people, specifically men, should focus on making society better for me. "Men tell their wives and daughters not to leave the house when it's dark outside. I just want to know, do men turn into beasts at night that they can't control themselves and behave? Do you not trust yourselves at all?"
She said she doesn't understand what thrill some men get from groping women. "I am not trying to spread anything against men. I just want to know why other men don't do something when women are harassed on the road?"
After her video was uploaded, the Islamabad police called her and inquired about the incident. The Islamabad police said people's security is of utmost importance to them, adding that they will find the culprit and take him to task.
https://www.samaa.tv/news/2020/09/pakistan-harassment-law-samar-khan-islamabad/
--------
Iranians call out education ministry for removing images of girls from math textbook
Tamara Abueish
Iran removed illustrations of girls from the front covers of a third-grade math textbook, prompting dozens of Iranians to take to social media platforms to call out the Ministry of Education.
As schools in Iran reopened following months-long closure due to the coronavirus pandemic, Iranian parents noticed that the cover of the latest edition of a textbook was different.
For all the latest headlines follow our Google News channel online or via the app.
In previous years, an illustration of three boys and two girls playing under a tree was sketched on the front cover. This year, however, only the three boys remained.
"I think I drew this in the year [1992] for the third grade math textbook… it is unbelievable to me that they would take [someone's] drawing so easily and remove the girls!" the drawing's illustrator, Nasim Bahari said in an Instagram post of an earlier version of the book alongside the latest copy.
According to Bahari, the illustration was changed because one girl was drawn sitting on a tree while another looked as if she was reaching out to hug one of the boys.
"Iran's Department of Education removed picture of girls from 3rd grade Math book cover! Just a reminder that Iranian Mathematician Maryam Mirzakhani who was the first women in the world that received the highest award in math! You can delete female pictures but not their success!" one Twitter user said.
Another Twitter account, dedicated to reporting on Iran, wrote "#Iran's Ministry of Education said the pics of girls were removed from this year's 3rd-grade math books due to "artistic, aesthetic and psychological" reasons and because the front cover was "too crowded."
Under Iranian law, the rights of women are limited and so much of their freedom is dependent on whether they have their male relatives' permission. Iran has also made hijab compulsory for all women, punishing for all those who muster the courage to defy the rigid laws.
https://english.alarabiya.net/en/News/middle-east/2020/09/11/Iranians-call-out-education-ministry-for-removing-images-of-girls-from-math-textbook
--------
Indian mission in Dubai repatriates 112 distressed women in 2020
September 9, 2020
Majority of the women who wished to return were victims of illegal job scams.
A total of 112 distressed Indian women were repatriated since January this year, a senior official at the Consulate-General of India in Dubai told Khaleej Times. "Of these, 82 were sent from the consulate shelter, while 30 were repatriated directly," said Neeraj Agarwal, Consul - press, information and culture.
On Tuesday and Wednesday (September 7 and 8), two women were repatriated to Hyderabad and Amritsar.
The diplomat said majority of the women who wished to return were victims of illegal job scams. "Many others could not cope with the job requirements and some were subjected to some form of trauma as well," said Agarwal.
"On Tuesday, we had two cases. Rani was brought to the UAE by an illegal agent on the promise of a better job opportunity, but was left stranded. We provided her with shelter," he said.
The second woman, Sandeep Kaur, arrived in the UAE with the promise of a lucrative job. "She did not have a problem with her employer as such and had some medical issues," Agarwal explained.
Don't bypass e-migrate system
He stressed that it was very important that women who come on housemaid visas not bypass the e-migrate system. "The system ensures their safety and well-being. We do not want them to fall into trouble once they arrive here," he added.
Roop Sidhu, general secretary of the Indian Association in Ajman, said they have helped repatriate 60 women. "Housemaid cases are a daily issue for us. The cases are a mixed bag, but I can say a majority of the cases are women who come here on a visit visa in search of a job as domestic helpers. They are mostly victims of fraudulent recruitment agents.
"Once they come here, they realise the situation is very different. They are kept in various homes on a trial basis and if their work is satisfactory, they are hired. Not everyone is comfortable with the process."
He said some of them are not happy with the work, some are ill-treated, while others have a language problem.
In such cases, Chaya Devi, the distress cases in-charge at the Indian Association Ajman intervenes, and with help from the consulate, repatriate them.
Hiring an Indian housemaid via the e-migrate system requires individuals to deposit a refundable amount of Dh9,200. "This is not an affordable amount for many. That is why people end up going to independent agents since it is cheaper," he explained.
https://www.khaleejtimes.com/uae/dubai/indian-mission-in-dubai-repatriates-112-distressed-women-in-2020
--------
As war and coronavirus pandemic rages, Yemeni girls find strength in kickboxing
Posted by: Alfea Jamal
Sep 11, 2020
At the centre of Yemen's capital Sanaa, a city battered by years of war and months of pandemic, a row of young girls in red, white and black white uniforms pummel punching bags and practice self defence. In the corner a mother looks on in pride as a female instructor shows her daughter how to thwart an assailant with a gun. The girls are all students at Academia gym, a project set up by champion Yemeni kickboxer Seham Amer.
"In Yemeni society, people fear for girls," she said. "Many come to train to learn self-defence, others train for fitness." Amer set up the gym to empower women and girls in the city in 2015, a year after the Iran-aligned Houthi group took over Sanaa and most of north Yemen after ousting the Saudi-backed government of President Abd-Rabbu Mansour Hadi. The Houthis are now engaged in a running battle with a Saudi-led coalition - a war that has killed more than 100,000 people across Yemen and reduced large parts of the capital to rubble.
But the classes have kept going through the fighting, and through the restrictions imposed to contain the spread of the coronavirus. Parts of the programme have even expanded, said Amer, who has won gold and silver medals in international kickboxing competitions, and prizes and certificates in other martial arts. "Before we had a problem with little girls who stop their training by 12 to 14 years as they could not continue with male trainers," she said. "I feel that I have changed that now, older women come to train with me in my gym."
Around 50 women and girls have signed up for kickboxing, karate, kung fu and other programmes. "The first thing that happened when I started training was that I lost weight, then my self-confidence had a boost and my personality got stronger," one of the students, Dhikra, said.
https://www.hindustantimes.com/more-lifestyle/as-war-and-coronavirus-pandemic-rages-yemeni-girls-find-strength-in-kickboxing/story-lDj9CjVaGnIIh8bRm2JG6H.html
--------
URL: https://www.newageislam.com/islam-women-feminism/pakistan-investigator-says-woman-raped/d/122843
New Age Islam, Islam Online, Islamic Website, African Muslim News, Arab World News, South Asia News, Indian Muslim News, World Muslim News, Women in Islam, Islamic Feminism, Arab Women, Women In Arab, Islamophobia in America, Muslim Women in West, Islam Women and Feminism