New Age Islam News Bureau
24 Nov 2014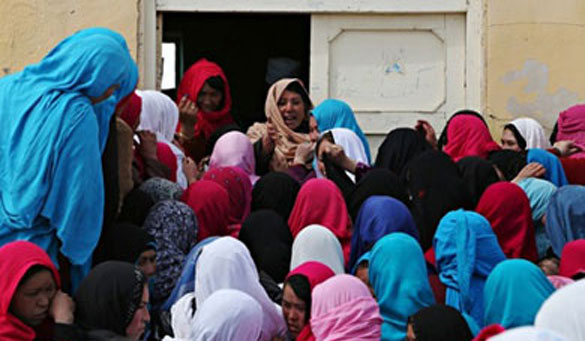 Afghan women in Bamiyan vote during April's elections. Oxfam fears that progress on women's rights in Afghanistan could be undone. Photograph: Shefayee/AFP/Getty
-----------
• Anger Boils Over 'No Single Women' Signs at Restaurants in Dammam
• Stigma of Saudi Women Working In Hotels Gradually Disappearing
• Saudi Women in Fashion Design Demand Recognition
• 42 Acid Attacks In Pakistan Punjab; Victims Await Justice
• Pakistani Women Trained In Entrepreneurship Skills
• Afghan Women Fear Rights Rollback in Taliban Peace Talks - Oxfam
• British-Iranian Woman Jailed For Watching Volleyball Match Released On Bail
Compiled by New Age Islam News Bureau
URL: https://www.newageislam.com/islam,-women-and-feminism/new-age-islam-news-bureau/pakistan--girl's-ear-chopped-off-over-turning-down-of-the-marriage-proposal/d/100168
--------------
Pakistan: Girl's Ear Chopped off over Turning down of the Marriage Proposal
November 24 2014
OKARA: An ear of a girl was chopped off by five men over turning down of the marriage proposal by her parents at Chak 11/GD on Sunday.
Reports said that Kausar Bibi was on her way to a shop when Altaf, Zulfiqar, Niaz and their two accomplices overpowered her, thrashed and later chopped off her ear with a knife.
The Ravi police have registered a case against the five accused on the complaint of victim's father Abdul Sattar.
Reports said the Lahore-based victim along with her brother and sister stayed at the house of 'spiritual healer' Ejaz who raped her on Saturday night. A rape case has been registered against the accused.
http://www.dawn.com/news/1146458/girls-ear-chopped-off
------------
Anger Boils Over 'No Single Women' Signs at Restaurants in Dammam
24 Nov, 2014
DAMMAM — The National Society for Human Rights (NSHR) has asked a number of restaurants to take down signs banning the entry of women who are unaccompanied by their male guardians, Al-Hayat daily reported.
In a statement, the NSHR described these signs as illegal and said should be removed immediately because they were put up at the request of their owners, not the authorities.
The manager of a restaurant that had such a sign told the newspaper: "We put up these signs because we have seen numerous incidents of flirting taking place inside the restaurant.
"We'll only remove these signs when we make sure such incidents never happen again on our premises because such type of behaviour negatively impacts our business."
Many Saudis have lashed back at the restaurants on the social media websites, describing the signs as degrading to women and a flagrant example of discrimination.
One of them tweeted that these signs used to exist but they had disappeared long time ago.
Seeing them again is a step backward and an attempt to turn people away from restaurants, said the tweeter.
NSHR spokesman Khalid Al-Fakhri said restaurants do not have the right to require single women to bring male guardians along with them when they want to eat out.
"These signs are against the law and reflect the personal opinions of the restaurant owners," Al-Fakhri said. Restaurants should come up with alternative solutions if its customers are behaving inappropriately, he said.
Lama Sulaiman, citizen, said restaurants and cafes are the two main recreational places for women in the country.
"If they're going to ban us from entering restaurants, where are we supposed to go?" she said. In her opinion, customers should boycott any restaurant that display such signs.
http://www.saudigazette.com.sa/index.cfm?method=home.regcon&contentid=20141124225345
-----------
Stigma Of Saudi Women Working In Hotels Gradually Disappearing
24 Nov, 2014
AL-KHOBAR – A group of Saudi women who have been working in the hotel industry said the stigma attached to women in this field is disappearing, Al-Hayat daily reported.
Until a few years ago, women in such jobs were frowned upon by many members of society. As a result, few women worked in the hotel industry because of fears that they would find it difficult to get married as most men disapproved of marrying hotel employees, especially receptionists.
However, the past four years have seen a gradual shift in the negative views associated with hotel industry jobs, thanks to the Ministry of Labor's laws requiring hotels to hire more women.
Foaz Al-Zahrani, director of marketing for a hotel in Dammam, said women working in the hospitality industry are viewed with more respect today as they have shown to the world they can be trustworthy and professional. "No doubt the ministry's regulations have helped in changing the negative view on us," Al-Zahrani said.
She said women who work at hotels get to meet different types of people from all walks of life, something that improves their people skills.
"We get to work side by side with different male colleagues and learn about the way they think and behave. This helps us learn things we wouldn't have learned had we stayed at home," Al-Zahrani said.
Mona Badawood, a hotel receptionist, agreed with Al-Zahrani and said people's views on women working in hotels is changing.
"In the past, if you had told someone you were a hotel receptionist, they would jump to conclusions and think you didn't have a good reputation as a woman. After all, we live in a conservative society. Today, everything has changed because of the new regulations, which had a profound effect on the way people look at us," Badawood said.
Basim Al-Nahari, a human resources manager at a hotel here, said hiring women in the hotel industry has been a good opportunity to remove negative stigmas attached to women who choose to work in this field.
"The chances women find jobs at hotels are bigger now than they used to be. Besides, women tend to stay longer in these types of jobs, which encourages hotels to hire them," Al-Nahari said.
http://www.saudigazette.com.sa/index.cfm?method=home.regcon&contentid=20141123225249
-----------
Saudi Women in Fashion Design Demand Recognition
24 Nov, 2014
JEDDAH — Saudi authorities still do not recognize fashion design as a valid career path in the Kingdom despite the fact that many Saudi designers have earned relevant degrees from national and international universities, said an industry expert.
Rania Khogeer, member of the Jeddah Chamber of Commerce and Industry's female fashion designers committee, said there are no specific licenses for such businesses and the Saudisation drive has harmed the industry in the Kingdom because it is squeezing out expatriate tailors who were previously easily obtainable.
Speaking during the committee-organized First Forum of Fashion Designers on Saturday, she said: "There aren't many experienced Saudi fashion designers in the country and not many Saudi women want to work as tailors (whom designers need to bring their creations to life).
"In return, many fashion designers seek to open their own businesses outside of the Kingdom where they can secure their intellectual properties and find experienced tailors and co-designers."
It was disclosed at the forum that the fashion industry in the Kingdom is worth around SR13 billion.
The Jeddah Chamber of Commerce and Industry's deputy secretary-general Muhyiddin Al-Hakami said the female fashion designers committee is the only one of its kind in Jeddah that links professional women designers with the chamber and tackles the obstacles they face.
The committee aims to unify professionals in the industry to create unique Saudi products that can rival their international counterparts. It also aims to produce designs with the combination of modernity and Hijazi heritage.
Committee head Umaimah Mahmoud Azzouz said: "The committee made sure to invite all of the talented and interested girls and women from schools, institutes and universities.
"The fashion design market can provide 70,000 job opportunities for Saudi females within the next five years. This will decrease the rate of female unemployment in the Kingdom by 18 percent.
"Statistics show the number of tailor shops in the Kingdom reached 70,000 last year. This is a clear indication that more funding and support should be granted to women, especially in the field of fashion and design. The committee aims to establish a national factory that utilizes local talent to produce internationally acknowledged designs."
Designers are trying to advertise their designs locally and internationally by cooperating with companies through their corporate social responsibility programs.
The committee also aims to establish a fashion design academy to train over 500 Saudi women on an annual basis and employ over 5,000 of them. This can be done by founding more small and medium enterprises in the industry, said Azzouz.
The forum was packed with university students, designers and fashion design enthusiasts.
More than 300 Saudi female fashion designers gathered to discuss the obstacles faced by female designers, businesswomen and female fashion enthusiasts in the Kingdom. The recommendations of the forum will be forwarded to the concerned authorities.
http://www.saudigazette.com.sa/index.cfm?method=home.regcon&contentid=20141123225248
-----------
42 Acid Attacks In Pakistan Punjab; Victims Await Justice
24 Nov, 2014
LAHORE: Noreen Jabbar removes the bandage to reveal a swollen, blackened hole that was once her eye.
"Look at what he has done to my face," she says, her voice wavers and her good eye swells up with tears. She tries not to cry because it hurts too much.
Noreen was dropping her three daughters to school when her former husband Azeem who had divorced her in a fit of rage three months ago suddenly pounced on her from behind, covered the faces of the children, and, as Noreen turned to see, splashed steaming acid on the left side of her face.
"He had threatened me right after divorce, saying if he cannot have me then no one else will either," she said.
"The acid has hurt my daughters too, their arms are burnt and the oldest is just seven years old."
Noreen's brother Shakeel says although police are trying to trace Azeem, he seems to have disappeared.
"Unfortunately, not even one political representative from our area of Gulshan-i-Ravi and Noreen's area of Qila Gujjar Singh has come to visit us," he says.
Like Noreen, several other women have been victims of acid attacks during this year. Statistics compiled by the Aurat Foundation in a report reveal that from January to September 2014, about 42 cases of acid attacks (excluding Noreen's) have been recorded in Punjab only. These included 51 women and eight men as victims.
What is discouraging is that from 2012-13, a 13pc decrease had been recorded in acid attacks, but in 2014 only the first nine months show a rise.
Earlier this year, the Acid Survivors' Foundation, another NGO, told the Punjab Commission on Status of Women and the parliamentary caucus for women that about 56pc of Pakistan's acid attacks occur in Punjab. An official from the NGO said 65pc of acid and burn victims were women and girls, 15pc children and 80pc of the survivors earned less than Rs8,000 a month.
The report stated the prosecution rate was only 35pc, and in the rest of the cases there were problems in the investigation and trial stages and out-of-court settlement added to the problems of victims.
Meanwhile, according to Aurat Foundation, about 22 cases of the 42 this year occurred in rural areas of Punjab, while even urban areas recorded an alarming number of 17 cases. Surprisingly, Lahore, the most developed city in Punjab, recorded six out of these 17 incidents. This was followed by Faisalabad and Rahim Yar Khan with five cases each, Khanewal four, Rawalpindi three, Okara, Kasur, Vehari, Bahawalpur and Bhawalnagar two each, and Gujranwala, Gujrat, Narowal, Sialkot, Jhang, Sheikhupura, Multan, Sahiwal and Muzaffargarh one each.
Statistics show that a common trigger is domestic dispute. Out of the 42 cases of acid attacks, 12 stemmed from domestic disputes. Most victims were married women while a small number were divorced. In 13 out of these cases, the perpetrator was the husband. Other family members who were accused of throwing acid included former husband and in-laws. However, there were high incidences of rivals or neighbours throwing acid.
Besides domestic disputes, motives behind these cases include revenge, grievance of divorce, Watta Satta or compensation marriage, monetary dispute, rejection of marriage proposal, suspicions of illicit relations, marriage of choice, quarrel with husband, property dispute and family feud. There was even a case where a mother was injured with acid because she gave birth to a girl. Such frequent acid throwing incidents point to the fact that acid is readily available in the market. Although police and lawmakers both say it is not legal to buy acid without a prescription and an identity card, there is still little implementation.
PML-N MPA Azma Bukhari says there is a huge gap in what the law states and its implementation.
"Seeing increase in acid attack cases, the women's caucus will now have to be updated by various departments, including police, on what is being done so we can see why there is a failure to implement the law," she says. "Unfortunately, lack of implementation has most serious repercussions where violence against women is concerned."
She says the local administration is responsible for these acts, acid throwing in particular, as it is all about the sale and easy access of acid in the market.
Aurat Foundation Punjab Director Mumtaz Mughal also blames the district administration but says it is actually the responsibility of the excise department to monitor the sale of acid.
"An amendment has been introduced in the Poison Act terming all corrosive substances as poison and banning purchase and sale of acid without a prescription and registration of the ID cards," she says. "The shopkeeper must keep a copy of the buyer's ID card."
But these are bookish rules for women like Noreen, who believes she will never be compensated by the government nor will she find any financial security for her three children.
"My only source of income was through stitching," she says. "How am I to earn now?"
http://www.dawn.com/news/1146476/42-acid-attacks-in-punjab-victims-await-justice
-----------
Pakistani Women Trained In Entrepreneurship Skills
24 Nov, 2014
ISLAMABAD: An orientation and business workshop for women was held here with the aim of realising the dream of economic empowerment and improving gender equality in Pakistan.
Over 30 entrepreneurs paired in teams and participated in the The Indus Entrepreneurs' (TiE) first Mentors' Orientation and Build a Business workshop designed to visually facilitate about 97 women through universal steps required to start and build a viable business.
Sean Griffin, founder and CEO of Start-up Cup Inc USA, while conducting the orientation, spoke about training and development of operations for start-ups. Griffin, who is on his second trip to Pakistan, told The Express Tribune that this was one of the first training programmes focused on educating mentors on how to train and support women entrepreneurs.
He said "They will learn how to ask strategic questions, listen more intently about what the real needs are, support pushing and motivating measures to get to the market as soon as possible."
The mentors are likely to be part of TiE's Women's Entrepreneurial Center of Resources, Education, Access, and Training for Economic Empowerment Project (WECREATE), which is a physical entrepreneurial community centre likely to be launched in Islamabad early next year. This is the first of the WECREATE centres to be launched in more than 20 countries worldwide. "The team here is one of the most prolific and high-impact one" said Griffin.
WECREATE is specifically designed to end gender inequality in entrepreneurship through a portfolio of programmes, tools and events created to address the barriers faced by women who aim to start or excel in their business.
Griffin added that participants will also learn traditional models that focus on revenue development and lesser on reliability of funds. They will also be taught on how to eliminate toxics — the negative forces within the ecosystem — and work to identify them and make sure they are removed and so we have the best collection of entrepreneurs.
"You can't increase the quality and quantity of entrepreneurs unless you increase local mentors," said Griffin. "It is not virtual, but those with local knowledge and wisdom understand the dynamics and culture that no one else can understand from outside," he added.
Griffin said the operations were likely to expand from the capital to Lahore, Karachi and even Peshawar.
Dalia al Said, senior community and entrepreneur development expert, said female entrepreneurs in Pakistan face the same obstacles as women across the world. However, they were successfully managing to cope with social and cultural issues along with businesses. She said women entrepreneurs in Pakistan do not just sew clothes and are involved in a myriad of businesses.
http://tribune.com.pk/story/794945/towards-economic-prosperity-women-trained-in-entrepreneurship-skills/
-----------
Afghan Women Fear Rights Rollback in Taliban Peace Talks - Oxfam
24 Nov, 2014
LONDON, Nov 24 (Thomson Reuters Foundation) - Afghanistan's women could see their rights bargained away in the country's peace talks with the Taliban unless they are included in negotiations, aid agency Oxfam warned on Monday.
It said peace would be unsustainable without women's involvement in the expected talks and that enormous gains in women's rights since the Taliban was ousted in 2001 would be lost.
The report follows the inauguration of Ashraf Ghani in September, Afghanistan's first new president in a decade, who appealed to the Taliban and other militants to join peace talks and put an end to more than a decade of violence.
Jorrit Kamminga, co-author of the Behind Closed Doors report, said the international community was not pushing strongly enough to involve women in peace talks.
"They should be fighting for women's rights, which have seen rollbacks in recent years," Kamminga told the Thomson Reuters Foundation in a telephone interview.
"The international community used women's rights to justify their intervention in Afghanistan, and while there have been improvements in the past decade, there is not enough meaningful representation from women in taking the country forward."
The report said nine out of 70 members of Afghanistan's High Peace Council (HPC) were female, yet women were only present during two of 23 known peace talks held between the Taliban, Afghan government, and international community since 2005.
One female member, Gulali Noor Safi, told Oxfam that women within the HPC had been sidelined from major consultations and decision making, while Afghan Women's Network said their repeated requests to be involved in negotiations were ignored.
RISING VIOLENCE AGAINST WOMEN
According to the report, almost 4 million girls are in education, the highest number in Afghanistan's history, laws have been established to protect women's rights, and there is a higher proportion of female Members of Parliament in Afghanistan than in the United Kingdom or United States.
Yet rising levels of violence towards women, the continued practice of baad, where girls and women are exchanged to settle family disputes, and increasingly conservative attitudes in rural areas suggested declining support for women's rights, Oxfam said.
Sima Samar, chair of the Afghanistan Independent Human Rights Commission (AIHRC), told Reuters earlier this year that violent crime against women in Afghanistan had hit record levels and become increasingly brutal in 2013.
She attributed the increase to a culture of impunity and the departure of international troops and aid workers, leaving women more exposed to attack.
Oxfam's country director for Afghanistan, John Watt, said women's rights were fragile "from the villages where we work to the highest levels of government".
"With new peace talks just around the corner, it's time for the Afghan government and their Western allies to once again champion women's leading role in Afghanistan's future.
"They cannot fail them now and decide their future behind closed doors," Watt said in a statement.
http://www.trust.org/item/20141123235958-i8znu/?source=jtOtherNews1
-----------
British-Iranian Woman Jailed For Watching Volleyball Match Released On Bail
24 Nov, 2014
A British-Iranian woman controversially jailed months ago in Tehran after trying to attend a men's volleyball match was released on bail on Sunday pending an appeal court verdict, her family said.
The case of Ghoncheh Ghavami, a law graduate from London, has been surrounded by confusion since her lawyer said earlier this month that the 25-year-old had been sentenced to a year in prison for committing propaganda against the Iranian regime.
That reported jail term has been denied by judicial authorities, but in a fresh twist Ghavami's mother Susan Moshtaghian said a judge had agreed to let her daughter leave jail on bail of 1,000,000,000 Iranian rials (around $30,700).
"Right now, my daughter is freed until the Court of Appeal issues the final verdict," she told the ISNA news agency in a report in which she also appeared to confirm the initial prison sentence.
Saying that the one-year jail term and an additional two-year restriction on leaving Iran had been communicated to her, Moshtaghian added: "My daughter merely defended herself in the preliminary court and insisted on herself being innocent.
"We hope she'll be acquitted by the appeal court of the charges."
Ghavami was detained outside Azadi ("Freedom" in Persian) Stadium in the capital on June 20, having gone there to watch a volleyball match.
She was refused entry as women are not allowed to watch male athletes in the Islamic republic.
Officials have said that Ghavami was arrested for security reasons unrelated to the sporting event.
Her release on bail came after Moshtaghian went to court on Sunday to seek her release on medical grounds, but by allowing the young woman out on bail the judge said "there would be no need for sick leave".
Hunger strikes
Ghavami is said to have developed gastrointestinal problems after going on hunger strike twice. She has also lost weight since being jailed.
Her brother, Iman, told AFP separately that she "was released on bail just a couple of hours ago and she will stay with my parents" in Tehran.
However, he said there remained the possibility that she would be returned to jail, as the Court of Appeal must still decide how she must serve her full sentence.
"She might go back to prison," he said in London, noting that efforts to impose additional charges against his sister had failed and she was in the end sentenced for "propaganda against the regime".
"It was unexpected that she was released, it was out of the blue," he said, adding that he had managed to speak to his sister for "just a few seconds - I think she sounded happy".
But he insisted: "Everyone knows that she didn't do anything. She shouldn't have been in prison for the past five months anyway."
Female fans and women journalists were told they could not attend the volleyball match, leading to a brief protest.
Ghavami was initially released after a few hours, but was rearrested days later at a police station when she went to reclaim items that had been confiscated near the stadium.
Her case has drawn international attention and been described by Amnesty International as "appalling".
The British Foreign Office has raised concerns about the court's ruling as well as "grounds for this prosecution, due process during the trial and Miss Ghavami's treatment while in custody".
Ghavami's family have said that at least 41 days of her detention before trial were spent in solitary confinement.
The case comes with Tehran under pressure over its human rights record, after the easing of Iran's international isolation following last year's election of moderate Hassan Rouhani as president.
http://www.hindustantimes.com/world-news/british-iranian-woman-jailed-for-watching-men-s-volleyball-match-released-on-bail/article1-1289437.aspx#sthash.JwGuQkST.dpuf
-----------
URL: https://www.newageislam.com/islam,-women-and-feminism/new-age-islam-news-bureau/pakistan--girl's-ear-chopped-off-over-turning-down-of-the-marriage-proposal/d/100168