New Age Islam News Bureau
6 Jul 2018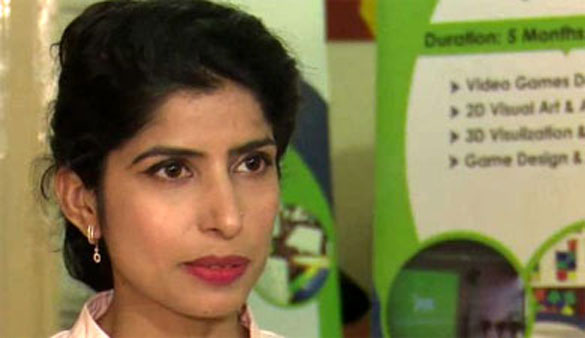 Sadia Bashir had to battle to follow her passion for video games
-----
• Record Number of 171 Women in the Run for NA General Seats in Pakistan
• Early Marriages of Girl Children in Iran Have Dire Consequences
• Egypt's Women Football Referees Push for League Promotion
• How ISNA-Canada's 1st Female Chair Hopes To Overcome a Major Scandal
• India Today Busts Fake News Linking Muslims To 96 Per Cent Rapes In India
• Saudi Women Driving Toward Progress
Compiled by New Age Islam News Bureau
URL: https://www.newageislam.com/islam-women-feminism/pakistan-female-game-designer-mission/d/115751
--------
Pakistan Female Game Designer on a Mission for Change
6 July 2018
Gender roles are becoming more fluid than ever in Pakistan - but 29-year-old Sadia Bashir still stands out.
Although women have become more visible in sports and other areas in Pakistan, video gaming is still overwhelmingly for the boys.
Sadia was not put off, however. She started not just playing video games, but developing them as well - from the age of 13.
"My interest in computers began with video gaming, so I just continued to develop it," she told BBC Urdu.
At one point, she even persuaded her parents to change her school so she could study computing.
Deciding whether to continue her studies at university was also hard, as she knew her family might find it difficult to support her.
"Being a female in our society, people generally invest less in girls' education as compared to boys," she says.
'Mesmerised by CGI'
But the university decided to offer her a scholarship because of her ability and she completed her graduation.
She was mesmerised by the beauty of computer graphics.
"I started making video games from there. My final-year project was to make a game that helps with cancer treatment by mimicking the action of treatments attacking cancer cells in an affected person's body."
The idea was to visualise for cancer patients the therapy they are having to help them cope with their illness.
"Before that the video game was just a source of fun for me. But after this research project, I saw a different aspect to gaming and decided to further work in this field," she said.
Sadia worked in the gaming industry for a year and a half, but felt she wasn't able to achieve what she wanted to do.
There are no real centres specialising in video game-making in Pakistan, she says.
"I realised my dream was to learn how to make my own games. That's why I started my master's thesis and tried to know what mistakes are made and what is useful in making video games."
'Even a housewife can make games'
Sadia realised that whatever she had learned from education and research was not available to many young people.
She abandoned her job and started an institution named Pixel Art Academy, where she trains young people in how to make video games.
"There is no game design concept in the gaming industry in Pakistan. People have great ideas - but how to turn those into good games is the skill they lack. This is what we teach our students."
Designing is not down to special education or skill, she believes.
"We tell people that this can be done by anyone. Whatever your education, even a school student or a housewife can make games."
https://www.bbc.com/news/world-asia-43966675
--------
Record Number of 171 Women in the Run for NA General Seats in Pakistan
Iftikhar A. Khan
July 06, 2018
ISLAMABAD: In what is the highest number of women candidates in Pakistan's electoral history, as many as 171 women candidates will be in the run against 272 general seats of the National Assembly across the country.
According to an analysis of the complete list of candidates for the coming general elections slated to be held on July 25, 105 women have been awarded party tickets while another 66 will be contesting as independent candidates.
The number of women candidates in 2013 elections was 135 with the number of independent candidates higher than those of party ticket holders — 74 and 61, respectively. In 2008 elections the number of women candidates was as low as 72, including 41 party ticket holders and 31 independents.
This time the Pakistan Peoples Party (PPP) has awarded the maximum number of tickets (19) to women candidates — 11 in Punjab, five in Sindh and three in Khyber Pakhtunkhwa. The Muttahida Majlis-i-Amal (MMA) has awarded 14 tickets to women candidates — eight in Punjab and six in Sindh. The Pakistan Tehreek-i-Insaf (PTI) has fielded 11 women candidates — seven in Punjab and four in Sindh. The Pakistan Muslim League-N (PML-N) has given tickets to 11 women — five in Punjab, three in Sindh, two in KP and one in Balochistan.
Take a look: Women politicians angry at being passed over for male candidates
The number of women candidates fielded by the Allah-o-Akbar Tehreek (AAT) and the National Party (NP) in Punjab is three each. The All Pakistan Muslim League (APML) has two women candidates. The Awami National Party, the PTI- Gulalai, the PML-Q and nine little known parties have also fielded one candidate each.
The number of independent women candidates in Punjab is 44.
Prominent among those contesting for general seats are Maryam Nawaz, daughter of former prime minister Nawaz Sharif (NA-127), Sumaira Malik (NA-93) and Begum Tehmina Daultana (NA-164) of the PML-N, Asma Alamgir ((NA-27), Mehreen Anwar Raja (NA-57) and Samina Khalid Ghurki (NA-132) of the PPP and Dr Firdous Ashiq Awan (NA-72) and Dr Yasmeen Rashid (NA-125) of the PTI.
Ayesha Gulalai, who has her own faction of the PTI, will be contesting election from four constituencies in KP, Punjab, Islamabad and Sindh — NA-25, NA-53, NA-161 and NA-231.
The total number of women candidates in Sindh is 46, including 16 independents. In the province, the MMA has awarded tickets to six women candidates, PPP to five, PTI to four, PML-N, Pak Sarzameen Party (PSP) and Grand Democratic Alliance to three each and ANP to two women candidates.
In KP, the total number of women candidates is 15, including three independents. The PPP has awarded tickets to three women candidates, followed by two each by PML-N and ANP and one each by PML-Q, PTI-G, Tehrik-i-Labbiak Pakistan (TLP), PSP and Pakistan Justice and Democratic Party led by former chief justice Iftikhar Muhammad Chaudhry.
The PTI has not awarded a single party ticket to a woman candidate in KP. Ali Begum Khan is the only woman contesting election from the tribal districts.
In Balochistan, as many as seven women candidates will be contesting election for National Assembly's general seats. They include two independents, two from the NP and one each from the Balochistan National Party-Mengal, BNP-Awami and PML-N.
There are many constituencies where the number of women candidates is more than one. In NA-54 (Islamabad) four women candidates — Fatima Malik, Saima Sheraz, Maimoonah and Nousheen Gul Kharal — are in the run. Likewise, four candidates – Allah Rakhi (PPP), Saira Tarar (PML-N), Fahmida Kausar (MMA) and Sadia Liaquat Abbasi (independent) — are face to face in NA-87 (Hafizabad). There are four women candidates contesting elections from NA-90 as well.
https://www.dawn.com/news/1418269/record-number-of-171-women-in-the-run-for-na-general-seats
--------
Early Marriages of Girl Children in Iran Have Dire Consequences
06 July 2018
Early marriages of girl children in Iran have dire consequences for them. Zahra Mirzaii, a social researcher said this in an interview on the outcome of her research into early marriages of girl children in Iran. She added, "Many social harms related to women is due to early and forced marriages." (The state-run pana.ir website - July 4, 2018)
As one of the first consequences of early marriages of girl children in Iran, Mirzaii said these girls do not have any knowledge of family planning, so they face consecutive pregnancies with short intervals and without proper medical care, all of which jeopardize their health.
As for other consequences of early marriages of girl children in Iran, Mirzaii explained, "Chances of death during delivery is twice as much for women between 15 and 19 years of age compared to women above 20. Chances of unwanted pregnancies is twice as much for women under 16. Chances of pregnancy poisoning is six times greater in young mothers.
Chances of contracting cervical cancer is 2.5 times greater. 84 per cent of women contracting cancer of the cervix have gotten married under 18 years of age. And the number of underweight infants delivered by young mothers is three times greater.
Statistics show 18,000 divorces in marriages taking place under 19 years of age. In reviewing this data, it should be considered that not all early marriages are registered and the actual figures are certainly higher.
Also, 30% of women who prostitute say they got married when they were under 15 years of age.
Mirzaii added that economic consequences such as poverty, divorce, prostitution, addiction and others are among the consequences of early marriages of girl children in Iran.
Last year, too, Amir Taghizadeh, deputy for cultural and youth affairs in the General Department of Sports and Youth in East Azerbaijan Province, announced that the number of forced marriages of young girls had increased in this province. Taghizadeh said, girl children between 10 and 15 years of age are forced to get married. He said, "In 2015, some 4,000 girls between 10 and 15 years old got married but this year, this number increased to 4,164." (The state-run Kayhan newspaper, September 3, 2017)
https://women.ncr-iran.org/iran-women-news/5311-early-marriages-of-girl-children-in-iran-have-dire-consequences
--------
Egypt's Women Football Referees Push for League Promotion
July 06, 2018
On the sidelines of a small football pitch at a university in Cairo, Hanan Hassan remembers starting out as a referee and the response she got from one female player's mother.
"In a loud voice she yelled as she was looking towards me: 'god bless you my daughter and I hope that my own daughter becomes like you'," Hassan recalls, proudly.
For years, women referees in Egypt have officiated at lower-level football matches but now have their sights set on the premier league.
"My colleagues abroad have already presided over the men's tournaments in their countries, so why not in Egypt?" asked fellow referee Mona Atalla.
Dressed in trousers and a pink shirt carrying the FIFA logo, Hassan and Atalla, both 37, presided over the evening all-women friendly game at Ain Shams University in the Egyptian capital. While Hassan started her career as a professional referee in 2006, Atalla was part of the first group of female referees registered in Egypt in 1998 who were allowed to oversee all-women and junior male tournaments.
After years on the pitch, Atalla and her female colleague Pousy Said were finally allowed in April to officiate a match in the men's second and third division leagues. The decision by the Egyptian Football Association's referee committee raised hopes that women referees will soon be holding the red and yellow cards in the top-tier premier league. Atalla has already worked at international women's tournaments, including the under-20s World Cup.
"Our expertise is not inferior to that of the male referees, and the law (on football refereeing) is the same and should be implemented," she added.
Hassan, who also holds an international referee licence, argued women may actually have an advantage on the pitch.
"If the men's game does include some violence, the presence of a female referee could push some players to be more appropriate," she said. There are just 15 women working as referees in Egypt, out of 60 registered with the country's FA, according to referee committee head Azab Haggag.
https://www.dailysabah.com/football/2018/07/06/egypts-women-football-referees-push-for-league-promotion
--------
How ISNA-Canada's 1st Female Chair Hopes To Overcome a Major Scandal
Jul 06, 2018
When Katherine Bullock converted to Islam 24 years ago, the political science professor and mother of two teenage boys says she wouldn't have believed it was possible.
But now, she's the first woman to lead one of Canada's largest Muslim organizations — the Islamic Society of North America - Canada (ISNA-Canada) — at a time in its 50-year history when it needs to regain the trust of the community after a major scandal.
One of her first acts: encouraging seniors in the GTA to become more active and socially connected. It's a small step, but Bullock says it's a crucial part of the effort to reconnect with Muslim Canadians.
"People are really looking for an organization that can be their voice in the wider Canadian public. They feel like ISNA has the potential to be that voice, but it's not," Bullock told CBC Toronto.
ISNA-Canada has some of the nation's most diverse mosques, attracting Muslims from around the world. It offers a private school, runs a Halal meat certification agency, hosts marriages and funerals and even provides services for Syrian refugees.
But in 2013, its members were shocked when a Toronto Star investigation revealed that the Canada Revenue Agency had revoked the organization's charitable status after discovering it had sent some $280,000 worth of donations to the Hizbul Mujahideen — a Pakistani group with connections to violent militants in Kashmir.
"The people that made those decisions are not ISNA. They don't speak for us," Bullock told CBC Toronto.
"ISNA's brand has been damaged."
Bullock, who teaches the politics of Islam at the University of Toronto, became ISNA-Canada's chair in January.
With the election of Khajida Saidi and Burhana Bello-Ayorinde, the board is also the first gender-balanced, most ethnically diverse and youthful board the organization has ever had.
Senior forum aims to forge connections
The revival of a seniors' group that was disbanded after the scandal hit is just one of several initiatives the organization is leading to earn back the community's trust.
The Muslim Senior Forum, which launches Friday, aims to create a space where seniors can participate in physical activities and an educational program that focuses on topics relevant to them, such as health and changes in technology.
Seniors, along with Bullock, are gathering at ISNA-Canada's headquarters, located near 2200 South Sheridan Way in Mississauga, to kickstart the program with a discussion on how seniors can be positive contributors to society and to the community.
A new ISNA-Canada
Aside from the revival of a seniors forum, community members say other changes are being made.
ISNA-Canada has participated in various focus groups as a part of a campaign called ISNA Listens, which has heard from women's groups, social service groups, imams, youths, civic activists, and think tanks in the Islamic community, according to Bullock.
"This is incredibly important. The ISNA brand has suffered for the last few years, so this is a way to ask the community what is important to you, what challenges do you face, what solutions do you want to see," Bullock said.
Arshia Lakhani, 25, a marketing adviser for Islamic Relief Canada and a long-time member of the ISNA-Canada community, says Bullock's election has made her confident that the organization can address these concerns in its mosques.
"I remember going there for prayers with my mom during Ramadan and she would force me to sit quietly while we prayed. There was never any programs for women during Ramadan," Lakhani said.
"Women were often seen around the mosque, but never in leadership positions. They were doing the grunt work, the babysitting program, the clean up, but never decision-making power."
Lakhani says Bullock's election means that the needs of the community in the mosque will be more adequately heard and met.
"It represents what Islam means to me, what being a Muslim woman means, and it shatters all stereotypes of women in leadership," and Islam, Lakhani said.
For Bullock, the Muslim Senior Forum is just the beginning for ISNA-Canada.
"Because Muslims are so talked about in the media and in public spaces, and because we're the subject for so much hatred, there needs to be a voice that addresses the needs of the community and the perspective of the community."
https://www.cbc.ca/news/canada/toronto/isna-seniors-forum-1.4734877
--------
India Today Busts Fake News Linking Muslims To 96 Per Cent Rapes In India
Anil Kumar
New Delhi
July 6, 2018
Rumour-mongers communalising crime, beware! India Today's Viral Test has exposed attempts to fuel communal hatred by linking Muslims with incidents of rape.
A co-founder of right-wing propaganda portal Postcard News, Mahesh Hegde made a sensationalist claim on Twitter on July 3.
He came out with data that suggested most rapes were committed by Muslims.
Hegde, who had been earlier arrested in Karnataka for spreading fake news, issued some figures on his Twitter handle.
According to him, Muslims accounted for 96 per cent of rapes in the 2016-18 period.
"From 2016-2018, total 84374 rapes happened in the country 81000 rapists were Musl*ms 96 % of the women and the children targeted by the rapists were Hindus In nation it's not Musl*ms Who are in danger but HINDUS," he wrote in the post that has generated more than 1,200 retweets.
From 2016-2018,
Total 84374 rapes happened in the country
81000 rapists were Musl*ms
96 % of the women and the children targeted by the rapists were Hindus
In nation it's not Musl*ms
Who are in danger but HINDUS
Mahesh Vikram Hegde (@mvmeet) July 3, 2018
Hegde cited no official source for the figures he circulated. "I have the data backing this message but I am not sharing it with anybody at this point of time," he told India Today when asked about the source.
But our fact check busted his claims.
The Viral Test team examined the National Crime Records Bureau (NCRB) and found it had published no data beyond 2016.
We next checked the NCRB thoroughly to look for any religion-based statistics. But there was none segregating criminal cases community wise
The NCRB, the Viral Test found, categorises rape data on the basis of the victims' age and caste if SC/ST and offenders' relation with the victims.
India Today's Viral Test debunked the malicious attempts to give a communal colour to sexual assaults.
https://www.indiatoday.in/fact-check/story/india-today-busts-fake-news-linking-muslims-to-96-per-cent-rapes-in-india-1278750-2018-07-06
--------
Saudi Women Driving Toward Progress
July 5, 2018
Saudi women still have some way to go before they can claim equality, but they have every reason to celebrate their new-found right to drive. This is not their only new right, but in recent years driving has been their most public and most emblematic struggle.
Driving also brings practical and economic benefits to a car-centred nation poorly served by public transport. Women have had to make complex and expensive arrangements to make sure they get where they or their children need to go.
Saudi women are hardly the world's most oppressed. More women than men graduate from university, and since 2015 they have had voting rights. Yet Saudi laws and customs still underpin male guardianship and treat women as children. They can't open a bank account, gain employment, obtain a passport or marry without a male guardian's permission. One man's legal testimony carries the weight of two women, and after a divorce, it is hard for women to get custody of their children. The Hai'a, the religious police, can no longer arrest women for infringing tribal rules of attire, but they still have influence. Although women are not compelled to cover their faces, the religious police still hound them if they do not wear the abaya in public.
Part of the credit for the recent change must be handed to the young crown prince, Mohammed bin Salman, a man with the influence and the power to frogmarch the nation into the twentieth century. He has challenged the formerly all-powerful clerics, even arresting them if they oppose progress.
Naturally, change cannot be attributed to one man. A broad appetite for progress has been apparent throughout Saudi society, partly because of simple demographics: too many of Saudi Arabia's predominantly young population are no longer willing to adhere to the conservative ideas of a decrepit and out-of-touch elite.
Progress in this vast country varies by region, and even among women themselves, not all are comfortable with the changes. For example, the Washington Post reports that in the forward-thinking western coastal city of Jeddah, many women do not don their headscarves in public. However, in the more traditional capital, Riyadh, most still wear all-covering niqabs even though they are not required to.
Broader change will happen, but at a pace that Saudi citizens find comfortable. While they wait for more, Saudi women can at least hit the road, and they are doing so. Some have suggested that having women drivers may soften Saudi Arabia's notoriously macho road culture: around 20 people die on the roads every day in a country with around the same population as Canada. That remains to be seen. In the meantime, smiling women can be seen at the wheel on their way to have coffee with friends. That in itself is progress, but the real test will be dismantling the pervasive male guardianship.
Push can lead to counter-push, but if the change is gradual and moderate enough, hopefully, the extreme conservatives can be sidelined, a backlash can be avoided and in a few years, Saudi women will be free to go wherever their aspirations lead them.
Last month at the French Grand Prix, Saudi woman Aseel Al Hamad took a Formula 1 Renault for a demo lap. What greater symbol can there be of a woman breaking male stereotypes?
https://torontosun.com/opinion/columnists/hassan-saudi-women-driving-toward-progress
--------
URL: https://www.newageislam.com/islam-women-feminism/pakistan-female-game-designer-mission/d/115751
New Age Islam, Islam Online, Islamic Website, African Muslim News, Arab World News, South Asia News, Indian Muslim News, World Muslim News, Women in Islam, Islamic Feminism, Arab Women, Women In Arab, Islamophobia in America, Muslim Women in West, Islam Women and Feminism