New Age Islam News Bureau
28 Jun 2014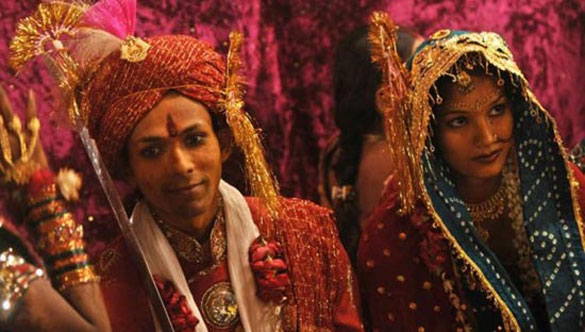 A Pakistani Hindu bride and groom during a mass marriage ceremony. -AFP/File Photo
-----------
• By The Time She Ran Away, Maimuna Bore the Scars of a Short but Brutal Marriage
• Khartoum: First Women's Football Match Since 1989
• UNICEF: Yemeni Children Victims of Al-Qaeda Sexual Abuse
• World Cup Ban? Iran's Women Just Don't Care
• Pakistan: Draft Bill Seeks End to Forced Marriages of Hindu Girls
• İsmailağa Community Denies Calling on Women to Cover Up At Beaches
• Woman Has Face Photoshopped across World to Gauge Beauty Ideals
• In Season of Flight, Four Nurses Head Back To Iraq
• Sudan Releases Christian Convert But Insists She Stay in the Country
• Empowering Emirati Women with Job Skills
Compiled by New Age Islam News Bureau
URL: https://www.newageislam.com/islam,-women-and-feminism/new-age-islam-news-bureau/pakistan-couple-beheaded-in-public-over-love-marriage/d/97798
-------------
Pakistan Couple Beheaded In Public over Love Marriage
Jun 28, 2014
SIALKOT: A couple was beheaded in cold blood by the family of the girl over love marriage in Satrah village of Daska tehsil, some 65km from here, on Friday.
According to the FIR lodged with Satrah police station, Sajjad Ahmed, 27, of village Hasanabad, Sialkot, had contracted a love marriage with Muafia Bibi, 23, of Satrah on June 18.
On Friday, seven members of Muafia's family, including her father Dilshad alias Kulla, uncle Ghulam Husain, Shamshad, Afzaal Husain and Bashiran Bibi, stormed into house of the newly-weds in Hasanabad, bundled them into a van and took them to an outhouse at Satrah.
The suspects tied up the legs and arms of Sajjad and Muafia and cut off their heads with choppers in public but nobody dared stop them, the FIR said. The suspects fled from the village after the incident.
Sajjad's family told Dawn the couple had come into contact several months ago and wanted to get married but Muafia's parents didn't agree to her marriage with Sajjad which led to their love marriage. They said the couple was issued threats by the girl's family.
Police handed over the bodies to Sajjad's family after autopsy at Daska Civil Hospital. They were laid to rest amid police security.
Daska DSP Rana Zahid Husain told newsmen that police were conducting raids to arrest the suspects. The FIR was registered under various sections of the PPC and Section 7 of the Anti-Terrorism Act.
http://www.dawn.com/news/1115658/couple-beheaded-in-public-over-love-marriage
-------------
By The Time She Ran Away, Maimuna Bore the Scars of a Short but Brutal Marriage
Nigeria girl among thousands of divorced children
Jun 28, 2014
KADUNA, Nigeria — By the time she ran away, Maimuna bore the scars of a short but brutal marriage.
Her battered face swelled so much that doctors feared her husband had dislocated her jaw. Her back and arms bristled with angry welts from the whipping her father gave her for fleeing to him. She was gaunt from hunger, dressed in filthy rags. And barely a year after her wedding, she was divorced.
It would be a tragic story for a woman of any age. But for Maimuna Abdullahi, it all happened by the time she was 14.
"I'm too scared to go back home," she whispers, a frown crinkling her brow as she fiddles nervously with her hands. "I know they will force me to go back to my husband."
Maimuna is one of thousands of divorced girls in Nigeria, children who were forced into marriage and have since run away or been thrown out by their husbands. They are victims of a belief that girls should get wed rather than educated, which drew the world's attention after Boko Haram terrorists abducted more than 200 schoolgirls two months ago and threatened to marry them off. Most are still missing.
Maimuna's former husband, Mahammadu Saidu, blames her few years of school for her disobedience. A handsome man of 28 who is obviously proud of his ankle-high boots, he does not deny beating his wife.
"She had too much ABCD," he says. "Too much ABCD."
Nigeria, a young country of about 170 million, has one of the highest rates of child marriage in the world. The law of the land states that the age of consent, and thus of marriage, is 18. However, the custom of child marriage is still ingrained enough that even a middle-aged federal senator has married five child brides and divorced at least one.
Across the country, one in five girls are married before the age of 15, according to the United Nations. In the desperately poor Muslim north, where child marriage is often considered acceptable by Shariah or Islamic law, that number goes up to one in two.
This is also where Boko Haram is trying to impose its extreme version of Islam, changing the face of the region and especially of its girls. Children as young as five now hide their heads and shoulders in Hijabs, a rare sight just a few years ago. Some girls become wives as early as 9.
There are no official numbers for just how many of these girls get divorced, often ending up destitute and shunned by their families. But they are all too visible. A few miles from where Maimuna lives, children her age and younger sell their bodies to truck drivers, flitting in and out of vehicles.
Maimuna was saved from this fate by Saadatu Aliyu, who has turned an old family home into a school for divorced girls. At the Tattalli Free School, which gets by on private donations, a couple of dozen girls gather in the courtyard for a sewing lesson. Toddlers mill around, the children of divorced girls who came in pregnant.
"Nobody knows how many thousands of them there are," says Aliyu of the girls. "That's why we have so many prostitutes, and very young ones, in the north."
Maimuna grew up on the outskirts of Kaduna, in a half-finished brick building on the edge of a middle-class suburb. Her father, a farmer called Haruna Abdullahi, picks up a stone and throws it at a stray dog as scrawny as he is. At 45, he's been married for 30 years and has fathered eight children.
"It's our culture to give our girls in marriage," he says in a reasoning tone. "From the age of 12, a girl can go to her husband's house."
His wife, Rabi Abdullahi, nods, and asks her husband's permission before talking. She too was a child when she married, although she does not know exactly how old.
"It is our way of life," she says. "In my day, a bride would never dare to run away."
Her life is hard, she says, but her marriage good. She insists that her husband is not a cruel man, pointing to a well he built so she did not need to walk more than a mile to collect water.
The tradition of child marriage is rooted partly in poverty. This is an area where most people do not have running water, electricity or indoor toilets, where children get only three or four years of schooling. A marriageable daughter can bring in a bride price and mean one less mouth to feed.
So in late 2012, Maimuna's father arranged to marry his eldest daughter to his best friend's eldest son. The son, Saidu, paid a dowry of $210 or 35,000 naira for Maimuna — more cash than Abdullahi has had in his life. She was 13, and he twice her age.
Saidu farms his own plot of land and owns a small motorbike, making him relatively well off and eligible. He says he has known Maimuna all his life, and waited years for her to reach what he considers marriageable age.
"When she was a kid, I would bring her candy and call her 'wifey,'" he says. "We were always meant to be together."
Saidu left his village school at fifth grade, the highest level offered, and says he regrets it. The high school was in another village, too far to walk. Now he cannot write, and must find someone else to read him even the most personal of letters.
He says he promised Maimuna she could carry on going to school, even if it meant he had to find work in town. But he also worried.
"If she is educated, she will be looking down on me because I didn't go to school, so she will be the husband and I will be the wife," he explains.
Maimuna said she did not love him and begged her father to let her stay in school. She had always been a good daughter, obedient, hard-working and popular among her friends, so her stubborn refusal to accept her marriage surprised her parents.
But her wishes were not up for discussion. Her father was clear on what counts: "It's what is good for the family and the community."
The link between child marriage and education is clear. Only 2 percent of married girls in Nigeria go to school, compared to 69 percent of unmarried girls, according to the United Nations. Some 73 percent of married girls received no schooling, and three out of four cannot read at all.
Many of Maimuna's friends from school were already married and not one was happy, but they had no idea how to escape.
Nobody prepared Maimuna for the marriage bed. There was no advice, no warning of what to expect, even from her married friends.
She settled into a new life where she felt like a slave. When she wasn't working in the fields, she was cleaning, carrying water and firewood, cooking and at the beck and call of her husband's demanding parents. Every day she was exhausted, and when she finally got to bed, her husband wanted to "bother" her, she says.
He never kept his promise to let her go to school.
When she objected to her treatment, her husband locked her into their hut, for days. He would not even allow her to visit her parents.
Maimuna bided her time until the rainy season was over and her husband went to town to find work. Nine months ago, she took off, escaping to her father and begging him to let her return home. Instead, he whipped her until her back was raw. Then he summoned her husband and forced her to go back to him.
Saidu, humiliated and furious, slapped her repeatedly in the face, jerking her head from side to side with the force of his blows. She fled once again, first to a sympathetic aunt in a nearby village and then to a cousin in Kaduna.
She now shares one cramped room with her cousin's family, just a short walk away from Tattalli School, down a dusty alley and along a road lined by open drains stinking of stagnant water.
When Maimuna showed up at the school, she had been badly beaten and refused to speak, says teacher Victoria Dung. They took her to the hospital, where doctors found she was badly malnourished. The whip marks on her back may last a lifetime.
Her husband waited the customary three months to make sure there was no baby. Then he divorced her, as a husband can do under Shariah or Islamic law by declaring the divorce aloud three times. He informed her parents of the divorce in a letter dated Feb. 14, which he could not write himself.
Maimuna considers herself among the lucky ones. She balances a broken chair on a tree stump at the school to sit in front of a sewing machine, learning to make garments she can sell in the market. She thinks she'd like nursing, and wants to master English and Arabic.
"I don't know what I want to be when I grow up but, even if I get married, I want to have some education to back me up," she says in her native Hausa, with a teacher translating. "I pray that what I have done will help the younger ones, that my parents learn from the experience of my running away from home."
It is by no means certain.
After her departure, Maimuna's father called a community meeting to discuss the problem with elders. He says he knows of many girls who ran away from home because of marriages, but the elders have not yet come up with a solution.
Abdullahi denies beating his daughter, and says he is no longer angry with her. He insists he is happy that she has found a place where she can get the education she craves. Yet he gets visibly upset, the tendons in his neck standing out, as he describes the financial problem she has left him.
Maimuna's former husband is demanding back his money, but Abdullahi has spent it on land. And Saidu already has land — what he wants is cash, so he can look for another bride. Abdullahi does not know where he will find it.
Asked if he will treat his five younger daughters differently, he is ambivalent. The eyes in his chiseled face narrow and he looks down at the ground.
"I would allow my daughters to go to school if I had the money. I have seen what happens, otherwise," he says. "But my reason is poverty, always financial problems. What can I do but give them out in marriage?"
Saidu, in the meantime, says he no longer cares for Maimuna and will move ahead with his life.
"This time I will marry a girl of 12, so that she will do what I want to do," he says. "Because if you marry a girl who is older, then she will not listen to you."
As he speaks, his eyes slide to the porch where Maimuna's 10-year-old sister, Hafsat, is cuddling a neighbor's baby. A sly smile curls his lips.
http://www.lasvegassun.com/news/2014/jun/27/nigeria-girl-among-thousands-divorced-children/
-------------
Khartoum: First Women's Football Match Since 1989
Jun 28, 2014
Khartoum has witnessed the first women's football match since the Islamic government led by the President Omar al-Bashir came to the power in 1989, APA can confirm Friday. The government had banned women's football activities in 1990, describing it as a violation of Sharia laws.
Thursday's match was hosted at the Hashim Deifallah Sports Hall in the plush Amarat district of Khartoum.
Large numbers of fans, representatives of civil society organizations, as well as some foreign diplomats in Khartoum, turned up to support the teams.
The organizers of the match told APA that the both teams belong to the so-called Women's Challenge Team, established in 2001 at the Comboni playground in Khartoum.
According to the organizers of the match, the Women's Challenge Team is preparing for international matches.
The team is made up of 52 female players.
Before the start of the match, 22 members of the Women's Challenge Team were divided into a teams.
http://en.starafrica.com/sport/khartoum-first-womens-football-match-since-1989.html
-------------
UNICEF: Yemeni children victims of al-Qaeda sexual abuse
By Abu Bakr al Yamani in Sanaa
Jun 28, 2014
The UN International Children's Emergency Fund (UNICEF) recently accused al-Qaeda of sexually exploiting Yemeni children.
In a June 17th report, UNICEF said it recorded cases of sexual abuse against boys and girls in Abyan province in 2012.
In 2011, al-Qaeda in the Arabian Peninsula (AQAP) affiliate Ansar al-Sharia seized control of swaths of Abyan and declared them "Islamic emirates" during a time of political unrest.
The group gained control of Jaar in March 2011 and the provincial capital Zinjibar in May, holding them until the Yemeni army recaptured them in June 2012 and expelled al-Qaeda elements.
One of the forms of al-Qaeda violence was the forced marriage of up to 100 girls in Abyan province, attended by Ansar al-Sharia leaders and fighters, the UNICEF report said.
"Seven cases of forced marriage involving girls under 13 have been verified," the report said.
Most of the girls who were forcibly married -- some of whom had borne children -- were abandoned when their fighter husbands fled Abyan as government forces regained control, it said.
UNICEF said it had been difficult to document the sexual abuse of young boys recruited by al-Qaeda but that it had recorded three cases in 2012.
"The process of verifying the occurrence of these cases in the field is very difficult, even though the report has listed some of these abuses, especially in the absence of channels of communication with the related parties," said Mohammed al-Assaadi, head of communications at the UNICEF office in Yemen.
Therefore, he said, "the 2014 UNICEF report contained al-Qaeda-linked issues covering health, education, nutrition and protection aspects, and also touched on the subject of poverty and high unemployment which have direct negative effects on children's rights in general".
"These aspects are worthy of attention from all parties, including the government, donors and civil society organisations, so they may work to address them, each in their own area of concern," he told Al-Shorfa.
"Improving the reality of childhood in Yemen calls for concerted efforts by all parties to create an encouraging humanitarian and economic environment that contributes to providing conditions conducive to improving this reality," said Minister of Planning and International Co-operation Mohammed al-Saadi.
The situation in Yemen "is still complicated and the political, economic and security challenges continue to dictate the degree of success and fairness of integrated development", he said.
"Children make up more than half of the total population in Yemen, and paying attention to this vital segment of society represents looking towards future horizons and is a humanitarian investment," said UNICEF representative in Sanaa Julien Harneis.
UNICEF will continue to support and implement programmes and projects that further government efforts to strengthen the situation of motherhood and childhood in Yemen, he said.
UNDERAGE MARRIAGE
"Al-Qaeda entered Abyan province and put it under the rule of iron and fire, especially in regard to the recruitment of children, such that none of the residents could stand in their way at the time," deputy Abyan governor Mohammed Nasser al-Jamha told Al-Shorfa.
Al-Qaeda's violations included underage marriages, al-Jamha added, saying the organisation may have used money to coerce families to marry their daughters to its members.
The fate of underage girls married to al-Qaeda members is "losing the family and the children" to people who live by the organisation's extremist ideology, said Saeed Abdul Momen, a researcher who studies Islamist groups.
The UNICEF report described girls who were abandoned with their children after their al-Qaeda fighter husbands fled, he said, pointing out that the negative effects of such marriages are multiplied in these cases, with both the wife and her children suffering.
"Violent groups, including al-Qaeda, encourage underage marriages […] amid attempts [by religious and legal entities] to legislate the issue to address its problematic consequences," said researcher Nabil al-Bukairi, who also studies Islamist groups.
"It is absolutely objectionable to accept these instances of sexual violence against children by such groups which [claim to speak] in the name of religion", he added.
http://al-shorfa.com/en_GB/articles/meii/features/2014/06/27/feature-01
-------------
World Cup ban? Iran's women just don't care
Jun 28, 2014
Iran's female football fans have openly defied their country's regime. How? By watching the World Cup in the company of their male family and friends. Over the past two weeks - before their national team crashed out of the tournament - women were spotted in cafes and restaurants, in the company of men, enjoying Iran's most popular sport.
By law, such behaviour is illegal. Men and women aren't permitted to gather together in public places to watch matches. Women are also banned from entering stadiums.
Iranian authorities imposed the rule following the 1979 revolution, stating that mixed crowds were 'un-Islamic.' So, for the past three decades (aside from two brief periods in 2005 and 2013 when women were allowed to watch volleyball) the spectators at all sporting events have been entirely male.
Live broadcast of matches are delayed by a few seconds to ensure that any women accidentally caught on camera are censored and not shown on TV. While women are not allowed to appear on football billboards.
Former President Mahmoud Ahmadinejad apparently called for the ban to be permanently lifted in 2006, but was opposed by senior clerics. Hardliners argue that it's not appropriate for women to attend such events, because men are lewd and the players wear shorts, so are not fully dressed.
Two days before the 2014 World Cup kicked-off, restaurateurs were warned by the authorities not to show the games, as it might cause 'problems' (although many have defied the ban). The president of the Coffee Shop Owners Union told ISNA news agency that "we have told our members that during the World Cup games they must either turn the TV off or switch to a channel which is not broadcasting the games." Cinema owners were also banned from showing the games to mixed crowds and told to segregate men and women.
But that hasn't stopped many women gathering in eateries, mingling with the opposite sex and smoking Shisha pipes - ignoring any jeers or taunts.
Those female fans who actually travelled to Brazil to attend World Cup matches faced criticism on social media.
It's a devastating blow for Iran's female population. Football is highly popular among many Iranian women, despite the religious rules that bar them from watching matches between male teams.
Last summer, when Iran qualified for the 2014 World Cup, huge celebrations were held inside Tehran's Azadi Stadium. Pictures showed distraught women outside its doors – banned from entering.
The move led to furious protests and a number of women were arrested. The Iran Football Federation released a statement which said: "In this ceremony only men are allowed to be present and women who like the national team are asked to avoid coming to the Freedom Stadium."
Other protests have sprung up over the past 35 years. During the late Nineties, the famous 'White Headscarves' campaign saw women gather outside stadiums, carrying billboards with the slogan; 'Women's Rights Equals Half the Freedom.' While in 1997, after Iran defeated Australia in World Cup qualification, millions took to the streets - with women breaking down police barriers and storming the stadium.
Granted, watching matches in restaurants might not be quite that dramatic. But Iran's women refuse to be silenced. They often buy tickets on the black market, or use their male relatives ID numbers to make purchases online – only to be turned away at the stadium, while female fans from the opposing foreign team are waved through the gates.
Extreme measures are called for. Recently, a group of female Iranian volleyball fans managed to sneak into a game, disguised as Brazilian women (ironic, when you consider that members of the Iranian women's national team were thrown out for not being 'fully female').
Only this week, female fans and journalists were thrown out of the Azadi Stadium during a volleyball game (Iran is in the World League, making this a popular national sport). While a two people were arrested after a group of young men and women without headscarves, released a video in which they sang and danced in support of their national football team.
National police chief-general Esmail Ahmadi Moghaddam said it was "not yet in the public interest" for men and women to attend such events together and a small group of protestors was arrested.
Iran's female population argues that the law is outdated and that it's more exciting for sports fans when groups can gather together. "We have rights too. We should be able to go to games," Negar Valayi told CNN. "[It's] 100 percent it's better this way," she continued. "It doesn't happen often. It would be great if we have more of this."
According to state media, the ban has compelled female Vice President Shahindokht Molaverdi to investigate. While Iranian president Hassan Rouhani was pictured at home, wearing a tracksuit and watching Iran's first round clash with Nigeria. Mr Rouhani has reportedly ordered an official investigation into whether women should be allowed to attend men's football matches, a practice currently forbidden under the country's Islamic laws.
Whether any changes will be in place in time for the 2018 World Cup remains to be seen.
http://www.telegraph.co.uk/women/womens-life/10927470/World-Cup-ban-Irans-women-just-dont-care.html
-------------
Pakistan: Draft bill seeks end to forced marriages of Hindu girls
Jun 28, 2014
ISLAMABAD: The National Assembly Standing Committee on Law, Justice and Human Rights on Friday decided to finalise and approve a comprehensive draft regarding the Hindu Marriage Bill 2014 in its next meeting to stop forced marriages of Hindu girls with Muslim men.
According to the draft, girls belonging to the Hindu minority will not be allowed to marry below the age of 18.
The committee meeting was chaired by MNA Chaudhry Mahmood Bashir Virk and was attended by its members and officials of the concerned Ministry of Law and Justice.
The secretary law told committee members that the Ministry of Law, Justice and Human Rights has conducted a series of consultations with the Ministry of Religious Affairs and Interfaith Harmony, the relevant federal ministries, divisions and National Commission on the Status of Women, to finalise a draft for the Hindu Marriage Bill 2014.
He said that the draft is more comprehensive and within constitutional limits while the bill is in accordance with the wishes of the Hindu community.
Virk said that the committee should also invite MNA Dr Ramesh Kumar to finalise a more comprehensive draft of the bill in this regard.
When contacted, PML-N MNA Dr Ramesh Kumar said that he had already discussed the draft of the bill with the Council of Islamic Ideology (CII) chairman Maulana Muhammad Khan Sherani. The CII chairman agreed with the contents of the draft bill in this regard, he added.
"It has been suggested in the bill that a Muslim will be unable to marry a Hindu girl within three-and-half years of separation from her husband," he informed.
The draft bill recommends that National Database and Registration Authority (Nadra) should issue computerised marriage registration certificates to Hindu couples.
Meanwhile the minimum requirements to get the certificate will be to submit copies of the CNICs of the groom, bride, and their parents.
It will also be important for Hindu couples to submit a copy of the marriage certificate issued by a Pandit or Hindu Council along with a copy of the Pandit's CNIC who solemnised the marriage.
http://www.dawn.com/news/1115507/draft-bill-seeks-end-to-forced-marriages-of-hindu-girls
-------------
İsmailağa community denies calling on women to cover up at beaches
Jun 28, 2014
One of Turkey's most prominent religious communities, known as the İsmailağa, announced on June 27 that it had no ties with the men who advised women to cover up at a public beach in the province of Sakarya.
"The men who distributed brochures to people at the beach in Karasu, calling on women to cover up, are not members of the İsmailağa foundation," said the İsmailağa community on its website on June 26.
On the sandy beaches of Kaynarca, located in the Karasu district of Sakarya, two men wearing thobes and kufis had caused a stir last weekend after distributing brochures to beach-goers, offering advice on the correct Islamic deportment.
The two men, who were accompanied by a child, said they were members of an Islamic foundation from the ultra-conservative neighborhood of Çarşamba, in Istanbul's Fatih district.
The brochure, titled "The lady that God wants" contained a total of 72 instructions, including the following: "The lady should be covered; she should not shake hands with male strangers; she should not go outside without asking for permission from her husband; she should not go to weddings where there is music; and she should not sit in public areas."
http://www.hurriyetdailynews.com/ismailaga-community-denies-calling-on-women-to-cover-up-at-beaches.aspx?pageID=238&nID=68366&NewsCatID=341
-------------
In season of flight, four nurses head back to Iraq
Jun 28, 2014
Even when torn by war, Iraq is her only hope. She took a Rs 2.5 lakh loan to pay for her study and her mother's dialysis.
She has a diploma in nursing, but jobs in India pay only about Rs 12,000 a month. For 26-year-old Sindhu Somarajan from Pathanamthitta in Kerala, the return to Iraq was non-negotiable.
On Wednesday night, Sindhu and three other nurses flew back to Iraq from India, having exhausted the 20-day leave that they got after working for 10 months.
"I couldn't wait to see my mother. Her dialysis costs Rs 20,000 a week. I have a sister, and my father is now too old to work. I had no choice but to return to Iraq," Sindhu told The Indian Express over the phone from Nasiriyah, where she works at the Al Haboubi hospital.
"If I had a choice, I would have stayed in India. But I need the money, and the facilities that we get here are not available in India. Every now and then we are told terrorists have infiltrated our area. But we have to stay on."
Sindhu said the Iraqi government pays for the nurses' ticket home, and food and stay in Iraq are free. "They treat us well and we are paid Rs 50,000 a month. I am able to send home Rs 40,000."
Sindhu was among 106 nurses who left for Iraq on August 3 last year. Each of them has a story, and a reason to leave.
Sonia Jomon, 32, left behind two children aged 6 and 3, and an ailing father with her husband and mother after borrowing Rs 6 lakh from relatives. Her husband's salary typically runs out by the middle of every month. His own parents are ailing too.
Sonia is currently at home in Kottayam, and will return to Iraq on August 7.
"With the money I borrowed, I paid for my education and the recruitment agency's fee of Rs 1.5 lakh. Given a choice, I would have chosen another country, but my educational qualification is a major deterrent," Sonia said.
Most of the nurses who go to Iraq only have a three-and-a-half-year diploma in General Nursing and Midwifery. Those with higher degrees go to the UK, US or Canada, with salaries of Rs 1 lakh to Rs 2 lakh a month.
"If I had the means, I would have pursued an Honours degree, but even for a diploma we had to to borrow money. I had done a pre-degree course in 1999, which didn't have Biology, which is compulsory for B.Sc. My father was a driver, but he doesn't work anymore. I didn't have a choice then, I don't have one now," Sonia said.
Her father Simon said, "We don't want her to return, but how else will we pay our relatives back? We are scared when we hear of the situation in that country. But my daughter tells me her place is safe."
The dangers are real, but there is no choice. The journey to Iraq must be made, and none of the nurses misses the irony. Peaceful India is home, but war-torn Iraq is the land of opportunity.
http://indianexpress.com/article/india/india-others/in-season-of-flight-four-nurses-head-back-to-iraq/99/
-------------
Sudan releases Christian convert but insists she stay in the country
Jun 28, 2014
A Sudanese woman who was spared the death penalty for converting to Christianity but was then detained as she tried to leave the country was released from custody on Thursday, on condition she remains in Sudan, her lawyer said.
Mariam Yahya Ibrahim, 27, was detained at Khartoum airport on Tuesday, one day after an appeals court overturned a death sentence imposed for having converted from Islam to marry her Christian American husband.
Her lawyer Mohaned Mostafa said Ibrahim, her husband and two children had all gone to the U.S. embassy after the release.
Ibrahim was detained on Tuesday for trying to use documents issued by the embassy of South Sudan to fly out of Khartoum with her American-South Sudanese husband and their two children.
Ibrahim waved at reporters as she and her family left the police station where she had been held for questioning and while she found a guarantor to ensure she did not flee Sudan.
"Mariam was released after a guarantor was found, but, of course, she would not be able to leave the country," lawyer Mostafa said.
Despite lifting her death sentence after huge international pressure, Sudan still does not recognise Ibrahim as a Christian and therefore does not recognise her marriage, as Muslim women are not permitted to marry Christian men under the Islamic laws applied in the African country.
South Sudan, which has a majority Christian population, became independent from the mostly Muslim north after a referendum in 2011 that ended years of civil war.
Ibrahim's case has been closely monitored by Washington and London, which last month summoned the Sudanese charge d'affaires to protest against Ibrahim's initial death sentence and urged Sudan to uphold its international obligations on freedom of religion and belief.
A U.S. spokeswoman said on Thursday that Ibrahim had all the documents she needed to travel to the United States.
"It's up to the government of Sudan to allow her to exit the country," spokeswoman Marie Harf told a regular State Department news briefing before Ibrahim's release.
"We are in communication with the Sudanese Foreign Ministry to ensure that she and her family will be free to travel as quickly as possible."
The United States has imposed economic sanctions on Sudan since 1997 over alleged human rights violations. It intensified sanctions in 2006 over Khartoum's actions in its conflict with rebels in the western region of Darfur.
http://blogs.reuters.com/faithworld/2014/06/27/sudan-releases-christian-convert-but-insists-she-stay-in-the-country/
-------------
Empowering Emirati women with job skills
Jun 28, 2014
Dubai: It's never too late for Emirati women to continue their learning experience and enter the workforce.
A programme by the College of Islamic and Arabic Studies in Dubai called 'Injaz' (Arabic for achievement) is giving Emirati women of all paths of life the opportunity to enhance their basic skills and develop their knowledge in different areas, in order to meet job market requirements.
The programme, a joint partnership between the college and the Higher Colleges of Technology (HCT), was first launched in 2013 in Dubai, and was expanded to Fujairah this year to help women in the eastern region.
"Injaz aims to empower Emirati women of all ages and stages of life who want to work by preparing them with the right skills to find jobs — it's never too late," said Dr Mohammad Abd Al Rahman, Vice Chancellor of the college in an exclusive interview with Gulf News.
The programme currently has 140 students enrolled in the Dubai Injaz programme, and 300 students in Fujariah.
Injaz is also funded by Juma Al Majid, Director of the College of Islamic and Arabic Studies and is in line with the 'Absher' initiative launched by President His Highness Shaikh Khalifa Bin Zayed Al Nahyan.
The Absher initiative is designed to promote Emiratisation and help get more Emiratis into the job market.
Free of charge and exclusive to Emirati women, the three-semester programme, which is 18 weeks long, offers courses and classes in Arabic and English communication skills, computer skills, math skills, works skills, and job specific skills, said Al Rahman. Students enrolled acquire 25 hours of classes per week.
He explained that the Injaz certificate in work readiness programme is beneficial to high school female graduates, as it increases their employment opportunities.
It also benefits those who decide to continue their higher education and are seeking to develop their skills.
The programme is also available to all Emirati women over the age of 18, such as house wives, and middle aged women who have decided to start working or to re-enter the job market.
"The work placement training is designed for both private and public sector jobs, and transportation is also offered to all the enrolled students for free."
Mother of two, 32 year-old Fatima Al Shamsi decided to join the programme with the aim of entering the work force.
"I wanted to start something new in my life that I can use to help myself, my family and my country- and Injaz provided me with the opportunity," Fatima said.
The Ajman resident said she uses the transportation bus provided by the college to attend the courses.
"The IT and works skills classes in particular, I would say, have changed the lives of many women," she said. Fatima aims to search for a job in customer service after she gets her certificate at the Injaz programme.
Another enrolled student 27 year-old Amna Ganem, said she has especially developed her communication skills and etiquette.
"I have learnt a lot from the programme from communication in Arabic and English, to IT and basic math skills."
Amna is aiming to look for a job opportunity after she completes her third semester in the start of next year, before continuing with her higher education.
Towards the end of their last semester, students also have the option to get first-hand experience of working in a company for two months.
http://gulfnews.com/news/gulf/uae/education/empowering-emirati-women-with-job-skills-1.1352952
-------------
URL: https://www.newageislam.com/islam,-women-and-feminism/new-age-islam-news-bureau/pakistan-couple-beheaded-in-public-over-love-marriage/d/97798