New Age Islam News Bureau
26 Feb 2013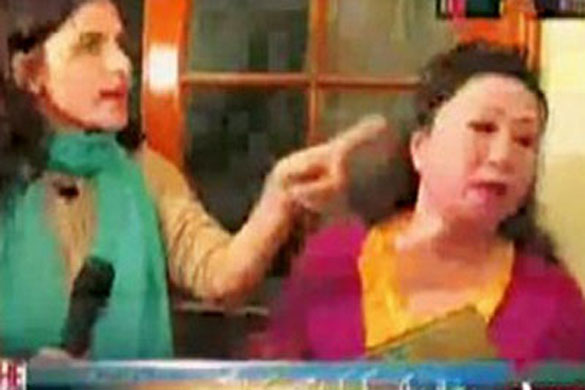 • Bahraini model becomes first Gulf woman nominee for Miss Universe
• Spot The Difference? Michelle Obama's Dress Gets Iranian Photoshop Restyle
• Saudi Women Have a Positive Role to Play, Believes King Abdullah
• Saudi Woman Disguises as Man to Drive Bus
• Saudis May Drop Screen for Women Advisers
• Syria Kurd Women Set Up Battalion: NGO
• Nigerian Actress Makes TV Debut In U.S.
• Why the Arab World needs a new wave Of Feminism -- And Who Could Lead It
• Nigeria: Paths 2 Trains 80 Doctors to Save Women's Lives
• Madinah Governor to Help Establish Women's Industrial Firm
• 'Al-Qaeda Lady' Is In Her Home While Hamza Stays In Prison
• Widow of Tunisian Opposition Activist Demands To Know 'Who Ordered' Killing
• 'More Than 300,000 Women in Lahore Still Without Identity'
• 'Advocate Women's Rights of Pakistan to Help Fight Domestic Violence'
• Bangladesh: Tortured Teenage Domestic Help Groans At Hospital
• The High Cost of Unsafe Abortion in Uganda
• ROTA's Female Volunteers Set to Make Impact in Cambodia
Compiled by New Age Islam News Bureau
Photo: Pak TV Anchors Turn Moral Police, Spark Outrage
URL: https://www.newageislam.com/islam,-women-and-feminism/new-age-islam-news-bureau/pak-tv-anchors-turn-moral-police,-spark-outrage/d/10562
-------------
Pak TV Anchors Turn Moral Police, Spark Outrage
Ruchika Talwar
Feb 26 2013
New Delhi: Late last month, a dentist-turned-anchorperson of Pakistani news TV channel Express News gate crashed a massage parlour in Lahore with her cameraman and two policemen and "uncovered" an alleged brothel.
She is believed to have ransacked the parlour, ordered the police around, threatened arrests, and the policemen seemed to have obeyed dutifully. Express News telecast the incident on February 1.
It wasn't the first incident of its kind, but the latest in a growing trend of Pakistan's aggressive news TV channels taking to moral policing and vigilantism in a battle for popularity and ratings. The phenomenon has offended viewers and media observers and the two sides often confront each other in the social media.
Kamran Shahid, a former college lecturer and now anchor on Dunya TV's show 'On the front with Kamran Shahid', about a month ago suggested doing away with co-education in Pakistan's universities as a measure to curb sexual harassment of female students.
In the Lahore incident, Dr Maria Zulfiqar, a little known Express News anchor who hosts a show called Baat se Baat, allegedly forced open the doors of a massage parlour run by Chinese and Russian women and threatened a Pakistani employee that she would get her arrested if she didn't admit the place was a brothel.
Among the more infamous incidents that marked the early days of this trend involved anchor Maya Khan "raiding" parks in Karachi in January last year to "catch" dating couples for her breakfast show Subah sawere Maya Khan ke saath on CNBC Samaa TV. Cameras were shoved in the faces of couples in total disregard of their privacy. They were bullied and questioned if they were married and if their parents knew what they were up to.
Not surprisingly, the phenomena has sparked outrage among Pakistani rights activists and ordinary TV viewers, some of whom have taken to Twitter and Facebook to brand this as moral policing.
Pakistan has a regulatory body called the Pakistan Electronic Media Regulatory Authority (PEMRA) which has framed a code of conduct for broadcasters to follow. However, PEMRA's record is patchy and its role itself has been the subject of controversies in the past. The PEMRA chairman did not respond to requests from The Indian Express for a comment for this report.
A letter complaining against Khan was written by a viewer to CNBC Samaa's CEO, who replied saying Khan was asked to tender an unconditional apology and she and her team were sacked as she refused to apologise.
Khan went on to join ARY channel, and on one show there in July 2012, helped an Islamic cleric convert a Hindu Dalit boy named Sunil to Islam on live TV. The audiences called in to cheer, congratulate and welcome "Mohammad Abdullah" into the faith. But former human rights minister Ansar Burney threatened to sue Khan saying Sunil was his employee and called the entire incident a "drama".
Last month, prominent rights activist Marvi Sirmed took on Shahid on Twitter. "I told him that the law enforcement agencies have to deal with sexual harassment as a crime. Creating separate universities for men and women will not ensure crimes against women are not committed," she said. "He called me a bigot."
Identifying what lies beneath these recent phenomena of vigilante anchorpersons, she said: "They are not trained journalists, so they don't have a news sense. They can't identify issue from non-issue. The lure of making a quick buck and easy fame drives them to rake up issues which do not warrant any discussion. You will not find a single reputed TV journalist dealing with such frivolous issues as there is no dearth of real issues in Pakistan."
Raza Rumi, a well-known columnist and rights activist based in Lahore, says this trend took root around the time of the Lal Masjid operation in 2007. "Chinese massage parlours in Islamabad and surrounding areas were raided and depicted as brothels. Thus began the 'moral cleansing' of Pakistan when the clerics of Lal Masjid took the law into their hands, raided these parlours and got the employees arrested. They vowed Shariah would be imposed and this helped the smuggling of arms into the mosque, which ended in a bloody encounter ordered by Pervez Musharraf," Rumi said.
"Well-turned out TV anchors with no background in journalism are being fed with right-wing scripts to cash in on the the populist religious-moral sentiment in Pakistan. They have no way of justifying their action in the name of journalism," added Sirmed.
http://www.indianexpress.com/news/pak-tv-anchors-turn-moral-police-spark-outrage/1079741/
-------------
Bahraini model becomes first Gulf woman nominee for Miss Universe
25 February 2013
A Bahraini model has been nominated for Miss Universe 2013, becoming the first Arab Gulf women to take part in the largest beauty pageant in the world.
In an interview with Elaph website, which reported the news, Shaila Sabt called for all fans in the Gulf and the Arab World to support and vote for her.
Sabt was previously crowned as "Bahrain's Top Model 2010" during a six-month-long event where an audience voted for who they wanted to be crowned the top model. A panel of referees was responsible for the screening, assortment and vote counting.
At about the age of 23, Sabt has solidified her career in modeling in the Middle East and now takes her beauty to the world stage.
However, Sabt isn't just a beauty. She has a bachelor degree in Human resources, even though she has previously expressed in an interview with Khaleejesque, a Gulf fashion website that her main dream is to become an international model that represents her country.
Miss Universe delegates usually have certain characteristics. As individuals they have a will to advance their careers, personal and humanitarian goals, and as women seek to improve the lives of others.
There have been other Arab nominees for Miss Universe. In 2012, Lebanese-Australian beauty Jessica Kahawaty won third place in the Miss World 2012 competition, as a representative of Australia.
It was not Kahawaty's first bid in beauty contests; she participated in the 2008 Miss Lebanon Emigrant and also competed for Miss Lebanon 2010.
Among other beauty contestants with Lebanese heritage, Rima Fakih won the 2010 Miss USA title, becoming the first Arab-American and the first Muslim to win that title.
http://english.alarabiya.net/articles/2013/02/25/268282.html
--------------
Spot The Difference? Michelle Obama's Dress Gets Iranian Photoshop Restyle
26 February 2013
It's not a game of spot the difference, though it would be an easy one to figure out if it were.
U.S. First Lady Michelle Obama was given a quick makeover by Iranian media on Monday, during her appearance at the Oscars.
Her shoulders and chest area were covered up by a speedy Photoshop snip of her Oscars dress while she appeared at the ceremony via a video link from the White House to announce that Iranian hostage thriller "Argo" had won best picture.
The Iranian audience watching the live broadcast was shown the "Iranian redesign" of Michelle's dress, with the censor made to conform to the country's restrictions on images of the female body in the media.
Fars, which is affiliated to the Islamic republic's elite Revolutionary Guards, changed the U.S. first lady's dress to stand by rules stipulating that Iranian women shown on Iran's state television should have a Hijab that covers their hair, arms and legs.
"The length of the censor's ruler varies for foreigners. A foreign woman travelling inside the Islamic republic should comply with the same restriction on Iranian women, but those shown on TV, such as dignitaries or actors, are tolerated without the hijab, up to a point. Men enjoy relatively more freedom, but only sportsmen are allowed to be shown with bare legs on TV," the Guardian reported on Monday.
"When Iranian media are obliged to use a picture that contravenes these rules, it is not unusual for Photoshop to come to their rescue," the report added, noting that the EU's foreign policy chief, Catherine Ashton has also fallen victim to similar Photoshop redesigning on Iranian television.
Meanwhile, Iran's state television was quick to dismiss Argo as an "advertisement for the CIA" and some Iranians called the award a political statement by America for its unflattering portrayal of the aftermath of the 1979 Islamic Revolution.
State television also said Michelle's involvement "increases speculation that awarding this movie was politically motivated."
Argo has not appeared in any Iranian cinema.
http://english.alarabiya.net/articles/2013/02/26/268396.html
-------------
Saudi Women Have a Positive Role to Play, Believes King Abdullah
February 25, 2013
Dr. Abdulrahman Al-Habiband Khaled Al-Faris
RIYADH — In the third part of the interview about the life of Custodian of the Two Holy Mosques King Abdullah, Prince Miteb Bin Abdullah, Minister of State, Cabinet member and Commander of the National Guard, focuses on the King's view on the role of women.
Asked about the King's criteria in choosing officials including Shoura Council members, Prince Miteb said the most important thing King Abdullah is concerned about is that the official should be God-fearing in private and public before anything else.
Also, he should be concerned about the interest and reputation of his nation. He considers these to be the most important basic factors for those whom he listens to for their views and to participate in formulating decisions besides their knowledge, experience and integrity, said Prince Miteb.
King Abdullah has deep belief that knowledge and experience are two sides of the same coin and those who are knowledgeable and experienced are worth trusting, should be heard and can shoulder any responsibility. As for integrity, it reflects the King's strong belief on the importance of integrity, objectivity, and the correct viewpoint, stance and decision. This applies to women members of the Shoura Council.
Discussing the King's recent appointment of 30 women as members in the Shoura Council, Prince Miteb said King Abdullah believes that women are half of society. Throughout Islamic history women had a presence and an educational, humanitarian and social role. With women the family and society can be reformed.
The King is keen that the Saudi woman's personality should be polished and she should be given the opportunity to serve herself, her family and society within the bounds of religious teachings, said Prince Miteb. This is what the Royal Order said on women's entry in the Shoura Council after consulting the Ulema and according to Shariah guidelines. "God willing, Saudi women will form an important addition in the Shoura Council. Islamic history testifies that women were a help to men in various fields. The Prophet (peace be upon him) used to consult women," said Prince Miteb.
Asked whether there is an effective role for women in the National Guard, Prince Miteb said the National Guard believes in women getting involved.
"Women can work in tasks that suit their nature. In the hospital, the Saudi woman works as a doctor, nurse, technician, in the administration, as a worker, and in other services. Women are sent on scholarship."
He expressed his hope that someday women will work as soldiers.
http://www.saudigazette.com.sa/index.cfm?method=home.regcon&contentid=20130226154599
-------------
Saudi woman disguises as man to drive bus
By Habib Toumi
February 25, 2013
Manama: A Saudi woman said that she had to disguise herself as a man to be able to drive a bus and help her needy family.
Women are not allowed to drive in Saudi Arabia, even though there is no legal text to support the ban.
However, Saliha who lived with her parents and four sisters in a remote area in the south west of the Saudi kingdom, said that she volunteered to take up the job to assist her old father.
"I live with my parents and four sisters and our conditions are very difficult," Saliha said. "One day, my father thought about launching a bus service to drive female students in our area to their schools. He discussed the idea with the village men and they all agreed since they trusted my father and they were confident that he would be keen on protecting them. They also thought that driving the bus would be an opportunity for him to make some money," she told local Arabic daily Al Sharq.
However, Saliha thought that she could help her father and do the job instead.
"I looked at his poor health condition and advanced age and I requested him to allow me to replace him, especially that I was a good driver. My father in fact taught me how to drive since I was young. It took some time before he was convinced that I could drive the bus instead of him," she said.
Saliha put on a man's clothes, hid her facial features and sat behind the steering wheel. For some time, nobody spotted the ruse.
"One day, I put on henna designs and some young men saw it," she said.
"They assembled around me to try to understand why a 'man' would put some henna on and I told them that I was a woman and explained the whole situation. The next day, some elders from the village came to see my father and we were afraid they would reprimand him for what happened. However, we were relieved to learn that they were delighted with the fact that I could drive their daughters to school," she said.
Saliha said that she reverted to her woman's clothes and that she was earning SR4,000 a month for her job.
"The fact that there is no traffic police in the area and the absence of major administrative facilities have enabled me to drive freely," she said.
http://gulfnews.com/news/gulf/saudi-arabia/saudi-woman-disguises-as-man-to-drive-bus-1.1150721
-------------
Saudis May Drop Screen for Women Advisers
By THE ASSOCIATED PRESS
26 FEBRUARY 2013
RIYADH, Saudi Arabia (AP) — A Saudi newspaper says officials may consider dropping plans for a barrier separating men and the newly appointed women in the country's top advisory body.
The reports follow the swearing-in ceremony Sunday for the first women in the ultraconservative kingdom's Shura Council. There was no barrier during the event as the 30 women sat on one side of the chamber and the 130 men on the other.
Full report at:
http://www.nytimes.com/aponline/2013/02/25/world/middleeast/ap-ml-saudi-
-------------
Syria Kurd women set up battalion: NGO
24 February 2013
Around 150 Kurdish women in the war-wracked northern Syrian province of Aleppo have set up a fighting battalion, a monitoring group said on Saturday.
"The Kurdish popular committees have set up the first women's battalion, comprising some 150 women fighters. The battalion is named the Martyr Rokan Battalion," said the Syrian Observatory for Human Rights.
Full report at:
http://english.alarabiya.net/articles/2013/02/24/268008.html
-------------
Nigerian Actress Makes TV Debut In U.S.
BY CHRISTABEL ABIODUN
25 FEBRUARY 2013
There is no stopping Nollywood actress and singer, Omotola Jolade-Ekeinde. Barely a few weeks after she celebrated her 35th birthday in Atlanta, Georgia, United States, Omosexy as she is fondly called, has made her debut in an American television drama series, Bounce.
The actress confirmed the news via her Twitter handle, @realomosexy, saying, "Just had the most funtime on set with @ikimberlyelise. Beautiful soul...GirlsRock #on set with beautiful method actor...God is good..#paramount #hollywood onset...." She attached some location pictures of herself and Kimberley Elise on instagram via her twitterhandle @realomosexy.
Full report at:
http://allafrica.com/stories/201302251692.html
-------------
Why The Arab World Needs a New Wave of Feminism -- and Who Could Lead It
02/25/2013
Ida Lichter, M.D.Author, 'Muslim Women Reformers: Inspiring Voices Against Oppression'
An article in a Hamas daily accused women for spreading a recent outbreak of Swine flu. The columnist blamed women for being transmitters of epidemics, due to their predilection for congregating in groups to exchange news and rumors. He suggested that outbreaks could be averted if men imposed more limitations on women's movements.
Full report at:
http://www.huffingtonpost.com/ida-lichter-md/arab-world-needs-a-new-wave-of-feminism_b_2630093.html
-------------
Nigeria: Paths 2 Trains 80 Doctors to Save Women's Lives
BY SOLA OGUNDIPE
26 FEBRUARY 2013
EIGHTY doctors selected from secondary health care facilities in Lagos, Enugu, Jigawa, Kaduna and Kano States, have been empowered to utilise state-of-the-art ultrasound scanners in health facilities for provision of comprehensive emergency obstetrics services.
The 4-day training at the Lagos State University Teaching Hospital, LASUTH, Ikeja, was geared towards addressing the unacceptably high maternal and infant mortality ratios often incidented by obstetric failures.
Full report at:
http://allafrica.com/stories/201302260320.html
-------------
Madinah Governor to Help Establish Women's Industrial Firm
26 February 2013
Madinah Governor Prince Faisal bin Salman promised businesswomen in Yanbu that he would help them establish a women's industrial company during a visit to the women's section of the Yanbu Chambers of Commerce and Industry (YCCI) on Sunday.
The businesswomen's center requested the prince to launch a female industrial zone to manufacture chocolates, soap, textiles and accessories. They also discussed with the prince the possibility of establishing an all-women's factory for plastic products, using the by-products of the Saudi Arabian Basic Industries Corporation (SABIC).
Full report at:
http://www.arabnews.com/saudi-arabia/prince-faisal-help-establish-women%E2%80%99s-industrial-firm
-------------
'Al-Qaeda Lady' Is In Her Home While Hamza Stays In Prison
February 25, 2013
In one of her famous advices, Ayesha (may Allah be pleased with her) has asked Muslim leaders to avert the Hudood (Islamic punishments) as best as they could. "If you find a way out for a Muslim in a certain fault, release him. It is better for the leader to make mistakes in pardoning than to make them in punishment".
Therefore it is kind of foolishness to advocate the imprisonment of people. Al-Hayat newspaper recently published a report about the release of the notorious "Al-Qaeda lady". It said the judicial committee decided that the woman should complete her remaining jail term at her home on condition that she should not be allowed to travel. This is the punishment of a woman who was charged with collecting money for the Al-Qaeda organization, facilitating recruitment of a number of youths and getting them in touch with other Al-Qaeda members.
Full report at:
http://www.saudigazette.com.sa/index.cfm?method=home.regcon&contentid=20130226154589
-------------
Widow of Tunisian Opposition Activist Demands To Know 'Who Ordered' Killing
February 26, 2013
PARIS: The widow of murdered Tunisian opposition activist Chokri Belaid urged authorities on Tuesday to pursue those who allegedly ordered her husband's killing, following the arrest of a suspect.
"It is good to know who carried it out, but for me it is very important to know who ordered it... because this was a very well-organised crime," Basma Belaid told France's Europe 1 radio during a visit to Paris.
Full report at:
http://www.dailystar.com.lb/News/Middle-East/2013/Feb-26/207971-widow-demands-to-know-who-ordered-belaid-killing.ashx#ixzz2M00QagUP
-------------
'More than 300,000 women in Lahore still without identity'
February 26, 2013
LAHORE: The participants of a seminar were informed that more than 300,000 women are deprived of their identity in Lahore, which was an alarming situation.
NA-130 under the umbrella of SANGAT Foundation conducted the one-day seminar titled 'Meri Shankaht, Mera Vote, Lekin…?' at the TMA Hall Samanabad.
Representatives of the ECP, NADRA, PML-N, MQM and Awami Muslim League participated in the seminar as key-note speakers.
Full report at:
http://www.dailytimes.com.pk/default.asp?page=2013\02\26\story_26-2-2013_pg13_1
-------------
'Advocate Women's Rights of Pakistan to Help Fight Domestic Violence'
February 26, 2013
ISLAMABAD: Domestic violence is a serious threat to the family system and can have adverse long-term effects on women and children.
This was revealed at the launch of five research studies titled "Researching Aspects of Gender-Based Violence in Pakistan", launched by Aurat Foundation under its USAID-funded Gender Equity Programme here on Monday. The studies provide a comprehensive analysis of some key aspects of gender-based violence (GBV) in the country.
Full report at:
http://tribune.com.pk/story/512366/research-studies-advocate-womens-rights-to-help-fight-domestic-violence/
-------------
Bangladesh: Tortured Teenage Domestic Help Groans At Hospital
26 FEBRUARY 2013
A domestic help, tortured allegedly at her master's house in Dhaka, is now undergoing treatment at Patuakhali General Hospital.
The hapless teenage girl, Sharmin, is a daughter of Mojibur Rahman of Jainkathi village in Sadar upazila.
Full report at:
http://www.thedailystar.net/newDesign/news-details.php?nid=270357
-------------
The High Cost of Unsafe Abortion in Uganda
25 FEBRUARY 2013
Kampala — Boosting women's access to reproductive healthcare could significantly reduce both the number of unsafe abortions and the high cost of post-abortion medical care in Uganda, experts say.
Although there are few studies on the subject, experts estimate that some 297,000 abortions are performed annually, with 85,000 women treated for complications.
"Post-abortion care is estimated to cost nearly US$14 million annually in Uganda... The epidemic of unsafe abortion takes a tragic toll on women and their families. It poses a significant, avoidable economic burden on Uganda's already underfinanced health system," Moses Mulumba, director of the Kampala-based Centre for Human Rights and Development (CEHURD), told IRIN.
Full report at:
http://allafrica.com/stories/201302260173.html
-------------
ROTA's female volunteers set to make impact in Cambodia
26 FEBRUARY 2013
DOHA TWENTY-THREE female volunteers from four independent girls' secondary schools will set out on an eight-day trip to Cambodia organised by Reach Out To Asia (ROTA from March 1
In collaboration with ROTA's Cambodian partner, the Monithapana Foundation and under the sponsorship of Vodafone-Qatar, the group from Al Bayan Independent Secondary School for Girls, Al Sailiyah Independent Secondary School for Girls, Qatar Independent School and Amna Bint Wahab Independent Secondary School for Girls, will host several workshops in Cambodia during their stay in the country.
Full report at:
http://www.qatar-tribune.com/data/20130226/content.asp?section=Nation6_1
-------------
URL: https://www.newageislam.com/islam,-women-and-feminism/new-age-islam-news-bureau/pak-tv-anchors-turn-moral-police,-spark-outrage/d/10562