New Age Islam News Bureau
23 Jun 2016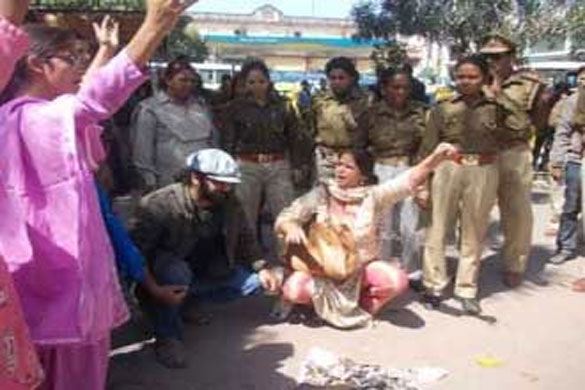 Photo: Women slam Muslim clerics over triple talaq in Lucknow
--------
• Women Slam Muslim Clerics Over Triple Talaq in Lucknow
• Kyrgyz women find true calling
• Angelina Jolie and Muslim Women Speakers at Islamic Centers
• In honouring strong Muslim women, Edmonton school names send powerful message
• Muslim Women Tipped On Dress Code During Ramadhan
Compiled by New Age Islam News Bureau
URL: https://newageislam.com/islam,-women-and-feminism/new-age-islam-news-bureau/pak-panel-says-conversion-of-women-from-other-religions-to-islam-'un-islamic'/d/107743
---
Pak panel says conversion of women from other religions to Islam 'un-Islamic'
Jun 22, 2016
An influential Pakistani parliamentary panel has declared the conversion of women from other religions to Islam as "un-Islamic" and expressed concern over the practice.
"Forced conversion of girls to Islam is against the teachings of Islam and also a violation of the law in the country," said Hafiz Hamdullah, chairman of the Senate Standing Committee on Religious Affairs.
His remarks came in the wake of an incident in Chitral Valley, where a young woman from the animist Kalash community converted to Islam, triggering clashes between members of the community and local Muslims.
Religious minorities have argued there is no law to protect members of their faith from being forcibly converted to Islam. A recent law that formalised Hindu marriages in Pakistan too did not touch on the issue.
Hamdullah observed that non-Muslim women were being converted across Pakistan on a daily basis, which is a dilemma for society. Religion is a personal matter of every individual, and a person cannot be converted by force, he said.
Raja Zafrul Haq, the Leader of House in the Senate, too said compelling anyone to convert is against the teachings of Islam. "We are already under observation from human rights organisations due to growing incidents of forced conversions," he said.
Senator Gian Chand, also a leader of the Pakistan Hindu Council, informed the committee that Hindu girls in Sindh province are victims of forced conversions, which have acquired alarming proportions. Chand was of the opinion that police and the local administration do not help victims or their families.
The committee urged the government to adopt a comprehensive mechanism for protecting women from minority communities. The panel directed the federal and provincial governments to draft legislation to curb the practice.
Last year, a move to criminalise forced conversions and to prevent misuse of the blasphemy law was endorsed by members of the Senate's Functional Committee on Human Rights.
hindustantimes.com/world-news/pak-panel-says-conversion-of-women-from-other-religions-to-islam-un-islamic/story-ixIrQI4mmtpbBzMb10DwLL.html
--
Women Slam Muslim Clerics Over Triple Talaq in Lucknow
June 22, 2016
Activist Naish Hasan has been targeted on social media when she went against clerics who support 'Talaq-e-Bid'at,' (triple Talaq) as an unchangeable personal law of Muslim community.
She along with other similar sufferers had burnt the effigy of Muslim clerics despite heavy police deployment in Lucknow.
Naish's counter arguments had provoked the wrath of orthodox Muslims, who wrote vulgar, cheap and defamatory comments on her Facebook page.
Despite opposition from such elements, she is at hand to provide legal assistance to victims of domestic violence and triple Talaq.
Naish told Tehelka, "I have faith in my religion, but I am against its misrepresentation. Shariat law relating to triple Talaq is not a recognised practice under Quran and hence not binding in nature."
Perhaps that is why, most Islamic countries have either banned or abolished the provisions of triple talaq from their personal law of Shariat, considering it the worst form of subjugating a woman.
Referring to Shah Bano case, she said, "The movement, which picked up during the Shah Bano case, was again put on the backburner due to Congress' abject surrender to reactionary forces. This time, we are more aware and organised. We support Shayra Bano case and hope for justice this time."
Echoing similar sentiments, an Aligarh Muslim University alumnae Tahira Hasan quoting Quran verses, said even Prophet Mohammad never approved the method of triple talaq. She deplored the practice as even many Islamic countries have banned it.
She questioned when a Quazi and witnesses are present during a Nikah, why are they absent in talaq. She said why only women are subjected to such atrocities? Don't we live in a secular democracy, which gives equal rights to both men and women irrespective of caste, creed or religion," she asked.
tehelka.com/2016/06/women-slam-muslim-clerics-over-triple-talaq-in-lucknow/
--
Kyrgyz Women Find True Calling
June 22, 2016
DUBAI: Nine months ago when Nurgul Esenova set foot in Dubai little did she know that the city would help her open up her heart and soul to Islam.
Soul searching
Although she was born into a Muslim family in the Central Asian state of Kyrgyzstan, she neither practised Islam nor had ever read about it in school. However, this Ramadan has brought about a difference. Esenova said she is experiencing spiritual rejuvenation for the first time in her life and is in awe of the city that has provided her an opportunity to introspect.
The 25-year-old, who works as a sales girl at a local mall, said that she can't thank Allah enough for enlightening her. "Life has become so much simpler and easier after I studied Islam. I realised what I was missing."
"I had teething troubles adjusting in Dubai. A friend suggested I pray and read the Quran. Luckily I came across the South African Islamic Centre (SAIC) in Barsha and it helped me rediscover my forgotten faith."
Esenova feels she's on a spiritual plane and doesn't want to get off. "This Ramadan I feel the floodgates of spirituality have opened on me; I can't hold my tears listening to the recitation of the Quran during the taraweeh prayers."
A graduate of economics from Kirakol, the fourth largest city of Kyrgyzstan, Esenova said that she has started wearing the hijab, something she never thought of doing back home.
"With every passing day, I am learning something new about the teachings of Islam. If it wasn't for Dubai, this spiritual transformation wouldn't have happened. I feel so blessed," she says.
Road to rediscovery
Another Muslim Krygyz woman who has renewed her faith in Islam with the help of SAIC is Sandzheza Laguzova. The 29-year-old now spends most of her time reading books to learn more about the religion.
"This is the first time when I am fasting and praying in Ramadan. Earlier I never took it seriously. I feel blessed knowing how forgiving and merciful Allah is."
Laguzoza came to Dubai around two years ago and works as a sales administrator at a fashion line. "I am bowled over by the beauty of the Arabic language," said Laguzova, who hails from Kyrgyzstan's capital Bishkek and considers herself extremely fortunate to be living in a city where she found her true calling.
gulfnews.com/xpress/news/kyrgyz-women-find-true-calling-1.1850761
--
Angelina Jolie and Muslim Women Speakers at Islamic Centers
June 22, 2016
Congratulations on centering refugees, ADAMS community on World Refugee Day.
It's nice to see that Angelina Jolie can sit up front on the stage and speak to a mixed audience at the Islamic Center. Now Insha'Allah Muslim women can do the same. Perhaps more women- and not just the usual long-standing 'representatives' – can speak and be engaged at higher levels at large Masajid like ADAMS.
Congratulations, Angelina, on doing what many of us Muslim women haven't been able to do. Despite many years of community work and religious service, most of us cannot speak to mixed audiences at our local Islamic Centers.
Last time I tried to get my rather progressive mosque to feature women scholars discussing their research, we couldn't get more than a single person on the Board to agree. I bet they'd love to host Angelina, though.
Angelina, it's great you got the brothers to take pictures of you and applaud as you did so, when many of those pious brothers are too pious to countenance Muslim women in full modest attire speaking to mixed audiences.
My daughter is always asking why we always have to sit and listen to the guys. Now I can tell her it's going to be okay.
I guess we should invite Angelina Jolie to visit all our local Islamic Centers. All the resistance will melt away.
Update: Some folks have been upset because there were Muslim women in the audience and perhaps one on the stage, listening to Angelina. I really don't feel the need to respond to that. People have also said that in ADAMS, women are more visible than they are in other mosques: I'm aware of this. I've lived in Northern Virginia and am very familiar with the ADAMS community. I don't pick on ADAMS because it's worse than most. It's not. It's better than most. This is in fact the most distressing thing to women – that this "better" is so sadly inadequate. The same women "represent" 50% of the community for years on end, and women's voices are still never equal to those of men. Don't give me particular cases of women who happen to serve on the board in mid-tier or labor positions. Men are still, mostly or always (depending on the space), the voices, the leadership, the religious leaders in these spaces. This remains the case nationwide in most mosques. It is what will drive away our daughters (and many of our sons). Those who want to comfort themselves with the number of women who show up as followers, listeners, and attendees may do so. Angelina Jolie still gets more respect in a mosque from men than most women who have spent years in the service of the community.
altmuslimah.com/2016/06/angelina-jolie-muslim-women-speakers-islamic-centers/
--
In honouring strong Muslim women, Edmonton school names send powerful message
June 22, 2016
She was born in Limerick, Sask., in 1924. Her father was a Syrian immigrant. Her American mother, a great-niece of Zachary Taylor, the 12th president of the United States, was a Methodist who converted to Islam when the couple married and moved to Canada. Fahlman was a mother, teacher, school counsellor. She was the first Canadian woman to earn a PhD in educational psychology. She served as an Edmonton public school board trustee, the first Muslim in Canada to do so. She was the Muslim chaplain at the University of Alberta, the first woman to hold such a post at any North American university. She founded the Canadian Council of Muslim Women and the World Council of Muslim Women Foundation.
She led the campaign to save Rutherford House from the wrecking ball. She was also a passionate advocate of interfaith dialogue, as vice-chairwoman of Vision TV, head of the World Interfaith Education Association, and co-founder of the Edmonton Interfaith Centre.
Hilwie Johma Hamdon was an even earlier feminist Muslim pioneer. Born in 1905 in Lebanon, Hamdon moved to northern Alberta as a teenage bride with her husband, Ali Hamdon, a fur trader. They spent their early married life in Fort Chipewyan. Hilwie wanted a better education for her children and insisted they move to Edmonton.
In the 1930s, she led efforts to build Edmonton's first mosque. She convinced Mayor John Fry to donate land. Then she convinced Muslims across Alberta and Saskatchewan, as well as Edmontonians of all faiths and backgrounds, to donate to the mosque, raising the necessary $5,000. The Al-Rashid Mosque, the first in Canada, opened in 1938.
On Tuesday, the Edmonton Public School district announced it was naming new schools for both Hamdon and Falhman.
Hilwie Hamdon will be a K-9 school in the Hudson neighbourhood of northwest Edmonton. Dr. Lila Fahlman School will be a K-9 school in the southwest Allard area.
In all, Edmonton public announced names for nine new schools. Those honoured include former premier Don Getty; former PC education minister and public education activist Dave King; Jan Reimer, Edmonton's first woman mayor; Shauna Seneca, a powerful advocate for First Nations education; former Edmonton school board chair Svend Hansen; Kim Hung, a Chinese community leader who helped introduce Edmonton Public's successful Mandarin bilingual programs; and Edmonton police Const. Daniel Woodall, a hate crimes investigator who was murdered last year by a Freemen-on-the-Land extremist.
It's the second time the school board has solicited community nominations and the results have been great — a far more diverse pool of honourees, representing a broader spectrum of our city's history and culture. They're all worthy namesakes.
But at this particular moment in history, I want to recognize Edmonton public for naming not one, but two new public schools after powerful Muslim women.
From the ugly Brexit referendum campaign in Britain, to the Trump electoral morass in the United States, to the attack on a Muslim woman in an Ontario grocery store this week, we see toxic Islamophobia at work all around us, corroding our pluralist social contract.
There is no better time to remind Edmontonians of the deep roots of the Islamic community in our city, of the Muslim social and political leadership that helped build this place, and of these two courageous women who did so much to explain their faith and their culture to their neighbours, and to integrate new immigrants into the fabric of this place.
At the same time, we need only look around the world to realize this is also a time of growing fundamentalist Islamic extremism. We see the rising power of particularly toxic sects of Islam which seek to marginalize and dehumanize women, to push them out of the public sphere and out of public life — often violently so. And that's why Fahlman, who died in 2006, and Hamdon, who died in 1988, are such vital role models and powerful symbols today.
They were strong prairie women who believed in their right to speak, their right to lead. As Muslim feminists, they had to overcome two kinds of discrimination. They let no prejudice stand in their way.
The lives of Lila Fahlman and Hilwie Hamdon will stand as powerful lessons to the students who attend these schools. But the naming of these schools is also a teachable moment, if you'll pardon the cliché, for our whole community.
It's a chance to celebrate the richness of Edmonton's story. And it's a chance to recognize that education and engagement can trump bigotry, fundamentalism and isolationism — if only we let them.
edmontonjournal.com/news/local-news/paula-simons-in-honouring-strong-muslim-women-edmonton-school-names-send-powerful-message
--
Muslim women tipped on dress code during Ramadhan
22nd June 2016
Muslim women have been called upon to observe appropriate dress code during this holy month of Ramadhan and to avoid worldly things that can taint their fasting.
"Women should cover their bodies by wearing long clothes, covering from head to the knee and this should not stop in the mosque but also out in the public," said Hajat Faridah Nambi Bbaale, the founder for Union of Muslim Women and Organisations in Uganda (UMWOU).
UMWOU is a non-government organisation that brings together Muslim women in Mpigi and Butambala districts.
The organisation held Madarasa lessons for Muslim women in Mpigi and Butambala districts to sensitize them about their roles in the proper upbringing of the children and also ensure stable families.
During the Madarasa at Masgid Noor in Mpigi town council on Friday, Bbaale urged Muslims to educate their children especially the girls because an uneducated Muslim girl has no space in this developing world.
Shielk Muzamir Abbas Kawooya, appealed to Muslim women to always pray Swalah taraween known as night prayer before eating the night meal 'Dakuh' because it is another way of getting blessings from Allah as it is taught by Prophet Muhamad.
Meanwhile, in the Madarasa held at Kabasanda Mosque on Tuesday, Muslim women thanked the government and President Yoweri Museveni for accepting Islamic banking to operate in Uganda, saying many of them have not been using these commercial banks because they are against the Muslim teachings.
Women were also given assorted goods like sugar and rice to help them during this holy month of Ramadhan. - See more at: newvision.co.ug/new_vision/news/1427621/muslim-women-tipped-dress-code-ramadhan#sthash.xu7AGZHx.dpuf
URL: https://newageislam.com/islam,-women-and-feminism/new-age-islam-news-bureau/pak-panel-says-conversion-of-women-from-other-religions-to-islam-'un-islamic'/d/107743
New Age Islam, Islam Online, Islamic Website, African Muslim News, Arab World News, South Asia News, Indian Muslim News, World Muslim News, Womens in Islam, Islamic Feminism, Arab Women, Womens In Arab, Islamphobia in America, Muslim Women in West, Islam Women and Feminism