New Age Islam News Bureau
26 Aug 2013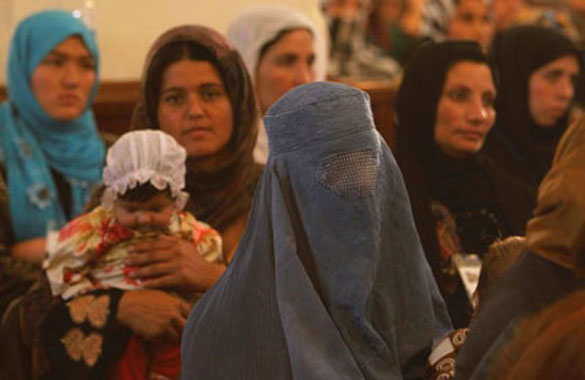 Women listen to Hamid Karzai during a district assembly gathering, in Kabul May 30, 2013. REUTERS/Omar Sobhani
----------
• Wednesday, a Fun Day for Women at Karachi Zoo
• Diana's Pakistani ex-lover calls her biopic 'a cruel lie'
• India will have to get used to women in journalism
• Women Leaders Demand More Female Candidates
• 700,000 Visas to Ease Maid Crisis in Saudi Kingdom
• Women Are Reshaping Tunisia's Political Landscape
• HAIA Busts Prostitution Ring in Makkah
• FGM Campaign In Sudan Slammed For 'Not Getting Message Across'
• 5-Year Plan to Address Rise in Women's Illiteracy in Saudi Kingdom
• Many Weddings in Egypt Cancelled Due To Curfew
• Afghan Women: "No Nation Can Donate Liberation to Another"*
• Libraries for Afghan Women Are Scots Aid Worker's Legacy
• Indians in KSA Demand Harsher Punishment for Rapists At Home
Compiled by New Age Islam News Bureau
URL: https://newageislam.com/islam-women-feminism/pak-afghan-women-eye-sustainable/d/13209
----------
Pak-Afghan Women Eye Sustainable Peace in Region
August 26, 2013
ISLAMABAD: Delegates from Pakistan and Afghanistan have expressed a firm resolve to bring peace and prosperity to the region through people-to-people contact and by enhancing interactions between women of both the countries.
Participants of a roundtable conference 'Way Forward to Bring Peace and Stability Between the Two Neighbouring Countries' concluded that people of the two neighbouring countries had a long history of suffering due to wars, violence and conflicts and now it was time to join hands for the sustainable peace and to promote trade and economic activities in the region.
The Peace Education and Development (PEAD) Foundation and the Women Development Network (WDN) held the conference. Members of the Pak-Afghan Women's Forum for Peace and Democracy (PAWFPD) as well as representatives from media, civil society and organisations related to business and trade attended the conference.
PEAD Foundation Executive Director Samina Imtiaz opened the forum to retrieve recommendations of the participants after five days of hectic deliberations and interactions by the members of PAWFPD. She said, "People from both the countries were committed to peace and we need to strengthen the linkages at various levels to usher in a new era of peace and prosperity in the region."
The participants, including Naheed Farid, member of the Afghan parliament, Najlla Habibyar, CEO at Exports Promotion Agency, Afghanistan and Pakistani delegates Dr Rakhshanda Parveen, Salma Malik and Meraj Hamayun Khan emphasised the importance of media to bridge the gap between the people of the two countries.
The delegates suggested that sports and cultural activities should be enhanced to bring the people closer and redress various kinds of misperceptions about each other. The issues of disabilities resulting from conflict, especially among women also came under discussion and participants stressed the need of efforts aimed at bringing these women into the mainstream.
The participants called for the creation of new linkages by virtue of this forum and said that steps should be taken to encourage women entrepreneurship in Pakistan and Afghanistan.
They also stressed the importance of music and entertainment and its potential to promote the message of peace and harmony. The establishment of women's think tanks, student exchanges, and business schools for women was also suggested.
The delegates also interacted with the Women's Parliamentary Caucus. Pakistan People's Party Parliamentarians (PPP-P) MNA Dr Azra Fazal Pechucho, on the occasion, highlighted the role and functioning of the Women's Parliamentary Caucus. The members of PAWFPD suggested bringing women to the forefront to engage them in policy making, as they had a crucial role in peace processes.
Earlier, the members of PAWFPD interacted with members of SAARC Chambers of Commerce and Industry Islamabad, Women Chamber of Commerce and Industry and representatives of various trade bodies and civil society organisations. They explored avenues of mutual cooperation with regard to women empowerment and peace and prosperity in the region
http://www.dailytimes.com.pk/default.asp?page=2013\08\25\story_25-8-2013_pg11_3
----------
Wednesday, a Fun Day for Women at Karachi Zoo
By Ahtesham Azhar
August 26, 2013
KARACHI: Since the wave of violence and terror has captured Karachi, most women of the metropolis cannot even think about going somewhere alone.
However, Karachi Zoological Gardens remain one of the few places where women can go alone or with their female friends and relatives, without any fear of sexual harassment on Wednesdays, a day reserved for ladies and children below 12 years of age.
The Karachi Zoo does not even allow husbands, brothers and children above 12 years to enter the premises on Wednesday, a decades-old practice.
There are a number of parks in Karachi and many of them reserve some days in a week for families, but Karachi Zoo might be the only Zoo, which offers a "women's day" and five "family days" with Sunday for visitors of all ages.
Talking to Daily Times, a visitor Nazo Begum commented, "Today is Wednesday, so I have come with my sister-in-law and two daughters to see the animals."
Replying to a question, she said, "We cannot travel alone in Karachi anymore due to the worsening law and order situation and unsafe environment in the metropolis, particularly for women in terms of sexual harassment." She said that visiting the zoo at least once a month is now a ritual for her, and one of the only ways to get away from daily routine.
In the city bustling with eateries and amusement parks, weak harassment laws make it an ordeal for women, especially those who travel in public transport, to move around freely.
Anum Sheikh, while watching the white tiger, said that she visits the zoo every Wednesday along with her sister. "I think this kind of facility should be provided by other parks too so that women are free to enjoy, without any hesitation," she said, adding that we avoid going alone anywhere due to the unsafe environment.
"If we go somewhere alone, boys start following us to get our contact number, attention and continuously harass us. At times they even follow us all the way home," Anum said, adding that roaming in the zoo, in the absence of men is very comfortable.
Working women, and those who dare to go out for education without the presence of men are often looked at as free targets. Often men, regardless of educational background indulge in ogling, catcalls and even groping, making it extremely difficult for women to retain confidence. This is also a reason many women feel that covering in a burka or a niqab will provide safety.
Kanwal Khan, who was visiting along with five of her friends said that reserving a day for ladies allowed women who wore a niqab to be free and roam around without the face cover.
She was of the view that due to the tough routine in Karachi, many husbands do not have time to take their wives for a picnic or even for a walk in the park. In such conditions, a facility as the one provided by the Karachi Zoo allows women to enjoy with sisters, mothers and friends.
Kanwal further said that she is satisfied with security and has no complaints, as the zoo environment feels safe without any men around, except some security guards, who are obviously necessary to keep boys at bay.
Karachi Zoo Director Muhammad Faheem Khan while talking to Daily Times said, "Due to secure and positive environment, every Wednesday a large number of ladies visit the park. If the environment was not secure, people will not 'allow' women to visit the zoo alone."
Explaining how the zoo handles security, he said that since he took charge, he requested the concerned police station to deploy personnel at the gates particularly on Wednesday to stop men, who try to enter the premises by force.
"Ladies who have kids below 12 years like to come here with minors, as children love watching animals."
In reply to a query, he said that they cannot reserve two days for ladies despite a large number of visitors. "Due to less awareness some women also bring children above 12 years of age, which becomes a problem for us," he said.
The director said that their first priority was to provide a secure environment to visitors.
http://www.dailytimes.com.pk/default.asp?page=2013\08\25\story_25-8-2013_pg12_10
----------
Diana's Pakistani ex-lover calls her biopic 'a cruel lie'
Kounteya Sinha, TNN | Aug 26, 2013
LONDON: Britain's princess Diana's former lover has called the new film about her life "a cruel lie about their love" .
The big budget film starring Naomi Watts as Diana to be released soon, explores Diana's affair with Pakistani cardiologist Hasnat Khan.
In a rare interview, Hasnat said the story is "completely wrong" and he "will never watch it" . Speaking days before the release of the film, he also denied claims by the producer that the movie had his 'tacit acceptance' .
He said in an interview to the Daily Mail, "I have never given any approval."
According to British socialite Jemima Khan, Diana was madly in love with the surgeon and had made up her mind to marry him following a two-year courtship. Jemima said the princess had secretly met Hasnat's family in Pakistan to discuss the possibility of a wedding.
Diana began to date Dodi Al Fayed in order to spite Hasnat when their relationship started to crumble. Hasnat's reluctance to marry was bothering her, something that wasn't an issue with Al Fayed, whom she reportedly believed was going to give her a ring.
He has hardly spoken about Diana for the past 16 years.
http://timesofindia.indiatimes.com/world/uk/Dianas-Pakistani-ex-lover-calls-her-biopic-a-cruel-lie/articleshow/22059187.cms
---------
India will have to get used to women in journalism
Rachel Lopez
August 26, 2013
Five years ago, on my first day at a new job, the HR-head made this statement in her new-employee presentation: "We are proud to say that the male-to-female ratio in this organisation is closer to 50:50". I wondered why they'd mention this, but I realised soon enough. The magazine I'd joined was owned by a corporate house that also had established businesses in oil, steel, shipping and telecommunications. The healthy sex ratio in their fledgling media company was worth a Powerpoint slide because it was a statistic none of their other businesses could claim. Indeed, the magazine office still had only one toilet for women as opposed to three for men.
This is what most people outside of journalism don't realise about print media: Ours is not a world where women are the wives back home or the dismissible minority. There are far more women in newspaper and magazine offices than most other business and they cover more than lifestyle, arts and entertainment. They test-drive SUVs, report from Swine Flu wards, walk into abattoirs, interview the kin of murder accused, make rounds of police stations, count wickets and go on assignment to areas without sanitation, electricity or mobile-phone connectivity. Several editorial teams (including those at this newspaper) are run entirely by women. So, when it's time to dispatch the best man for the job, we do exactly that. And often, the best man happens to be a woman.
If India is unprepared for an almost-equal sex ratio in the corporate world, then changes in the media industry will come as a bigger shock. Journalism and media schools now have more women students than men. The MBA-equivalent diploma programme at Mudra Institute of Communications, Ahmedabad, has 50 per cent female students. A male-dominated BMM batch is unheard of and men often comprise as little as 15 per cent of a media studies class. At Mumbai University's Department of Communication and Journalism, the ratio of women to men students is now 60:40 and associate professor Sanjay Ranade believes the majority will grow larger still. "Parents actively discourage sons from taking up journalism because they see it as a soft-skills profession not befitting a boy," he says. He adds that the market, which now offers short-term contracts without gratuity, is another deterrent for anyone expected to support a family.
In addition, more families now open to working daughters are starting to see the media as a respectable trade. "Men have more established options to choose from, says Tarun Tripathi who lectures on media at MICA and some IIMs. "But for most women, this is the first generation in which career paths are being forged." It means that soon, there will be largely women producing your magazine, newspaper, TV show or web site. Largely women commissioning, writing, shooting, editing and walking into 'unsafe' places. India is going to have to get used to a woman doing what was mistakenly seen as a man's job. And we're all going to need more women's toilets.
http://www.hindustantimes.com/India-news/mumbai/India-will-have-to-get-used-to-women-in-journalism/Article1-1112971.aspx
---------
Women leaders demand more female candidates
August 26, 2013
Some women leaders yesterday urged all political parties to nominate more females as candidates in the upcoming parliamentary election to accelerate the political empowerment of women.
In their election manifestos, the parties should pledge that at least 33 percent of the representatives at every tier of the organisational structures and decision-making bodies will be women, they demanded.
They were addressing a press conference organised by the Bangladesh Alliance for Women Leadership (BDAWL) in support with USAID, The Asia Foundation, and UKaid at the capital's Jatiya Press Club.
The BDAWL, a platform of women leaders of different sectors, has been pushing for earmarking 33 percent of the leadership positions for women by 2015 and 50 percent by 2021 in parliament, political parties, and in public and private sectors since the last few years.
The alliance's Executive Director Nasim Firdaus recommended increasing the number of reserved seats for women to 100 from existing 50 before the next national election.
As a pre-condition for registration, the Election Commission must ask political parties to include in their election manifestos the pledge for increasing women's representation to 33 percent by 2015 and 50 percent by 2021 in the decision-making bodies of all political parties at all levels, she said.
BDAWL Executive Committee Member Prof Ishrat Shamim proposed several formulas to enhance women's representation in parliament and politics.
One of those called "Rotation Formula" says every third seat in the 300-seat parliament must be set aside for female candidates in at least two consecutive elections. If a woman wins the first election, it will strengthen her ability to run for a re-election. By the third election, she will be presumed to be capable of contesting any candidate–male or female.
A second formula, "40:40:20 Model", says 40 percent of the leadership positions will be set aside for women, 40 percent for men, and the remaining 20 percent for all.
Without political empowerment of women, it is not possible to ensure their overall development and empowerment, the women leaders observed. They also stressed a change in the mindset of men to end the practice of suppressing and discriminating against women despite their talents and skills.
The BDAWL yesterday declared lawmaker Sarah Begum Kabari as the goodwill ambassador of the alliance. Kabari emphasised increasing confidence and skills of women for their advancement.
Women leaders of different political parties and women representatives of different local government bodies from across the country attended the function.
http://www.thedailystar.net/beta2/news/women-leaders-demand-more-female-candidates/
----------
700,000 Visas to Ease Maid Crisis in Saudi Kingdom
August 26, 2013
The Labor Ministry wants to put an end to the black market for maids by allowing new recruitment companies to bring in more maids from different countries to meet the requirements.
The ministry has informed 10 new recruitment companies that they would be given 700,000 visas for the recruitment of foreign workers, including housemaids.
The ministry's assurance came following a meeting between its officials with representatives of new recruitment companies, where they said a considerable number of new visas would be allocated for maids.
However, the ministry urged the companies to speed up administrative and other arrangements to begin work as quickly as possible.
The move will help Saudis hire maids legally instead of approaching the black market. Salaries of maids skyrocketed recently as a result of the black market. The companies have agreed to supply maids at the rate of SR1, 500 monthly and they have said that employers need not pay for visa, Iqama and treatment. They have also agreed to pay them overtime for work on the weekly off-day.
http://www.arabnews.com/news/462543
----------
Women are reshaping Tunisia's political landscape
August 26, 2013
Despite the recent political chaos in the country, Tunisia cannot be written off as a potentially failed state. Behind the scenes, citizens - especially women - are keeping Ennahdha, the Islamic party ruling in a coalition with two secular parties, from slipping into extremism.
The country was thrown into turmoil late last month after the second assassination of an opposition leader by a suspected hardline Salafist. Mohammed Brahmi, a member of the National Constituent Assembly and member of the Popular Movement Party, was, according to Interior Minister LoutfiBen Jeddou, killed by the same weapon used on Feb. 6 to kill Chokri Belaid. Both opposition leaders, who were strong critics of the ruling Islamist Ennahdha Party, were part of the same leftist coalition.
On Friday, opposition members rejected dialogue with Ennahdha, saying the government must resign before any negotiations begin. Opposition leaders say they are pushing ahead with plans for a rally Saturday outside the National Constituent Assembly building in Bardo, a suburb of Tunis. The rally will kick off a week of protests that organizers are calling "Rahil," or departure week.
International Women's Day this year saw hundreds of gatherings to celebrate the accomplishments of Tunisian women and the continuing fight for equal rights. La Presse, one of Tunisia's key French newspapers, highlighted the invaluable role women have been playing in the development of post-revolution Tunisia.
The World Social Forum, held in Tunis during the spring, was mostly organized by women from the Tunisian Association for Democratic Women, the Association of Tunisian Women for Research and Development and the Tunisian League for Human Rights.
Today, more women than men are graduating from Tunisian universities and women occupy posts in politics, academia and business as well as in dynamic non-government organizations (NGO).
In the elected National Constituent Assembly, 26 per cent of the members are women.
Women's rights legislation introduced in 1956 by Habib Bourguiba, the first post-independence president, gave Tunisian women a head start in the Arab world.
And when Ennahdha proposed Shariah law as the basis for a new constitution, a huge protest by women led to the party's withdrawal of the proposal. As issues arise, protest groups - including female judges, lawyers, doctors and leaders of technology companies - march peacefully to effect change. Here are some of their stories: Essma Ben Hamida Eager to break barriers, Ben Hamida is a leading proponent of social and economic justice for women in post-revolution Tunisia.
With her husband, Michael Cracknell, she directs Enda Inter-Arabe, a Tunisian microcredit organization that since 1995 has helped lift more than 400,000 clients, mostly women, out of poverty through loans for businesses as well as financial and business training. She responded to the country's unemployment crisis by offering a special loan program to young people for enterprises larger than most microcredit schemes. "Over 2,000 entrepreneurs, half of them women, took loans for hairdressing, dressmaking, restaurants, grocery stores, pizza shops, taxis and for call centres, computer shops and daycare/tutoring services," she said.
To promote democratic practices, she works with other NGOs and offers civic education coaching to Enda clients in local communities. "We want women to be aware of their rights, to get on voters lists, for example, and learn about the policies of the various parties."
A former international journalist specializing in development issues, Ben Hamida is also a founding member of Sanabel, a Cairo-based microfinance network of 83 members from 12 Arab countries.
In her view, the Arab world will be saved by its women.
Ben Hamida graduated from a Tunisian university and supported herself by working as a freelance journalist. Later, she became United Nations bureau chief in New York for a Tunisian news agency. After writing for a Rome-based wire service, she returned to Tunisia to launch the country's first microfinance institution.
In 2009, Enda Inter-Arabe was ranked No. 21 of the top 100 microfinance institutions in the world. In 2010, Ben Hamida was named the year's social entrepreneur at the World Economic Forum for the Middle East and North Africa.
Essia Nciri The revolution may not have delivered the changes Tunisians dreamed the government would provide, but behind the scenes it has spurred support for the marginalized from women like Nciri, who runs Enda Inter-Arabe Microfinance's branch in Sidi Bouzid, birthplace of the Arab Spring.
Nciri, 32, knows about poverty. Her mother supported a family of seven by raising animals when her father died after a long illness.
After graduating from university with a degree in multimedia, she began working as a credit agent in 2005 when the branch first opened. She supervises 17 loan officers handling 7,000 clients.
"I saw the branch as a baby that had to be nurtured because of the 20-to 30-per-cent poverty here in the city and the 40-per-cent poverty in the rural areas," she said.
"In surrounding villages, I went door-to-door working with farm women needing loans to raise animals and to grow fruits and vegetables.
"During the revolution, some clients faced enormous problems, but we didn't abandon them," she said.
One of them was Zaynub Ajmi, 39, mother of two boys ages 11 and seven. "Nciri," she said, "saved me from economic collapse. "One night during the revolution," she said, "thieves came into my shop and stole stock and money for a total of 4,000 dinars or about $2,600. "Enda came to the rescue with a 'disaster' loan to relaunch my enterprise and at a low interest rate that allowed me to quickly pay it off."
http://www.windsorstar.com/women+reshaping+tunisia+political+landscape/8829328/story.html
----------
Haia busts prostitution ring in Makkah
Fahd Al-Manaee
August 26, 2013
MAKKAH — The Commission for the Promotion of Virtue and Prevention of Vice (Haia) nabbed an Arab expatriate who managed a prostitution ring using overstaying women of various nationalities, the Haia said in a statement on Sunday.
It did not name the foreigner or specify his country of origin but said he was caught red-handed in an apartment at Al-Hindawiyah district of the holy city.
The Haia said it received information that a foreigner was running a prostitution ring comprising a number of illegal foreign women.
The Haia set up an ambush and caught him in an immoral act with a foreign woman in the apartment and handed them both over to the police station at Al-Mansour district.
After receiving the tip-off, the Haia set up a plan to catch the foreigner at the weekend when he was expected to arrange a series of rendezvous.
Members of the Haia had the apartment under surveillance for several days before raiding it to arrest the man and the foreign woman with him.
http://www.saudigazette.com.sa/index.cfm?method=home.regcon&contentid=20130826178188
----------
FGM Campaign In Sudan Slammed For 'Not Getting Message Across'
By Reem Abbas, Women's eNews
August 26, 2013
In 2007 U.N. organizations, civil society groups and other institutions working to stop female genital mutilation got together and brainstormed a campaign to end the practice in Sudan.
The result was Saleema, a word that translates to complete, to signify that a girl should remain the way she was born.
The campaign has been ramping up recently in its fight against FGM, as the practice is called (it's also referred to as female genital cutting), with extensive media outreach, opening a new dialogue about this once-taboo issue in Sudan. Still, activists here criticized the campaign as being presented in such a way as to appease conservatives and to avoid clashes.
"The name, Saleema, is a vague name in itself in my opinion and this reflects that the campaign is trying to avoid clashes with the extremists who do not want to see FGM eradicated," said Sana Mekkawi, who works at Salmmah Women's Resource Center in Khartoum.
The billboards covering the streets of Khartoum, for example, show celebrities and respected individuals and have the slogan "She is born Saleema, let her grow Saleema," but they do not mention FGM.
"The concept is straightforward, saying no to FGM, but the slogan 'Let every girl born Saleema grow Saleema' does not get this message across," Samah Osman told Women's eNews, adding that the campaign should have referred to FGM in the advertisement. Osman, a recent chemical engineering graduate, is one of many youth who took to Twitter to express their opinions on the campaign as part of a heated day-long discussion that took place on the social media outlet on July 23, during the holy month of Ramadan, when the television advertisements of the campaign are at their peak.
Muzan Al-Neel, a blogger and social media activist, told Women's eNews that when she saw the television advertisement, she had to ask about it.
"When I asked about it and was told it was about circumcision then it vaguely made sense to me," said Al-Neel, adding that the actors in the advertisement were irrelevant to the ad's message. FGM is sometimes called female circumcision.
Some attribute the omission of the term FGM to social conservatism. "The advertisements were done professionally and do not want to clash, although they are already clashing with a large number of people who are attached to old traditions," Al-Wathiq Al-Sadig, a Sudanese filmmaker, told Women's eNews.
Practice Still Legal
Though the Saleema campaign is nationwide and supported by state institutions, FGM is not criminalized by law in Sudan.
In 2010, activists were surprised to find an article banning the practice dropped from the much-awaited Child Law. A bill that prohibits FGM and sets a sentence of a maximum of 10 years of imprisonment for parents if the daughter dies has been in the parliament to be reviewed since 2007, to no avail.
For decades, civil society groups such as Babiker Badri Scientific Association for Women's Studies, based at Ahfad University for Women in Omdurman, the twin city of the capital Khartoum, have been working to combat FGM by focusing on the negative consequences of the practice.
"We used to talk about the harmful sides of FGM and for the longest time, no real change was observed in attitudes and in practice," said Mahasin Ali, who coordinates the FGM project at the organization. "Then we changed our approach and began selling the positive aspects, what is positive about not carrying out FGM on a girl."
Talking to women in different communities made the association, which is involved in the Saleema campaign, begin to realize they needed a new approach and that they had to make the campaign inclusive.
"We had group discussions in communities with women and then we began targeting men at sports and cultural clubs in neighborhoods," said Ali, adding that they also trained minivan and rickshaw drivers so they are able to initiate this discussion with their passengers.
This approach has helped shape the Saleema campaign, which has only recently made its presence more known, though it was launched in 2008. Saleema now is broadening its reach through an intensive media campaign that includes television and radio advertisements as well as billboards plastered in different cities in Sudan.
Grassroots Roots
"Before the media buzz, the campaign was always grassroots," said Batool Abdel-Rahman, a program coordinator at the Saleema campaign unit at the National Council for Child Welfare. "We reached out to hospitals and trained nurses to speak to mothers about FGM to discourage them from doing it to their daughters, we reached out to communities and educated them about FGM."
Abdel-Rahman said they know they've had a breakthrough in a community when they are invited back for a celebration in which the community declares that they will not carry out this practice, and they even sign this claim.
"Over 600 communities have joined the Saleema campaign so far and have signed a document pledging to boycott this practice," said Abdel-Rahman.
FGM is an age-old practice dating to Pharaonic times in Egypt and Sudan. It comes in three types; the least severe being when the clitoral hood and sometimes part of clitoris are removed to the most severe being when all external genitalia are removed, leaving only a small opening for urine and menstrual blood.
The struggle to ban FGM in Sudan began in the 19th century by community leaders. In 1946 the British administration in Sudan created legislation against the severe type of FGM. But this did not end the practice, which affects 88 percent of women ages 15 to 49 in the country, according to UNICEF.
When asked about whether the campaign will be backed by an effort to outlaw the practice, Saleema's Abdel-Rahman said there are positive steps already in place.
"Some states have legislations to ban FGM by law, such as Gedarif and South Kordofan. We encourage that as our center be represented in all states," said Abdel-Rahman.
Previous laws that aimed to ban FGM in Sudan were considered conservative. The 1946 law against FGM, for example, banned the severe type of cutting, but does not ban the other types. Even this limited law was dropped in 1983 and no new law has been brought into effect since then.
http://www.huffingtonpost.com/2013/08/19/female-genital-mutilation-sudan_n_3779524.html
----------
5-Year Plan to Address Rise in Women's Illiteracy in Saudi Kingdom
ALI FAYYAZ
26 August 2013
The government is spending 25 percent of its annual budget on education to empower youth and enhance its economy after the unemployment rate in the Kingdom reached 30 percent.
The government also unfolded a five-year road map after illiteracy among Saudi women rose to 19 percent, a local daily said.
In a recent report, the Education Ministry attributed the shortage of female teachers and poor transportation as the main causes for the increasing illiteracy rate. "The highest number of illiterate women can be found in villages and remote places," the ministry said.
The government has shown a keen interest in the development of education and economy and allocated SR204 billion for education in the 2013 budget.
According to a World Bank report, the Saudi literacy rate has risen from 30 percent in 1970 to 97 percent in 2013. However, the International Monetary Fund says that improving competition in the private sector could also decrease youth unemployment in Saudi Arabia.
Habiba Ahmad, a Saudi girl working in a local hospital said: "We need to focus on communication skills and choose the right profession for sustainable growth in the education sector. Increasing productivity and efficiency in the work place is most important for long-term success, so we need to focus on loyalty toward work and career-building."
She said that a strong education system will play a key role in enhancing the skills and knowledge of local people. It will also throw up new ideas, which will lead to economic growth.
Muhammad Omer, a Saudi student, said: "The government should focus more on higher education if it wants to expand the economy and improve literacy rates in the Kingdom. The government should provide more opportunities to talented students to study abroad, as these graduates will serve the Kingdom after the completion of studies."
In 2009, 3.8 million Saudis were employed, which translated into an overall rate of employment of 32 percent. In 2012, the number of Saudis employed was pegged at 4.4 million and the rate of employment improved to 34 percent.
Last year, Saudi Arabia celebrated a 60 percent drop in illiteracy among men and women, bringing illiteracy levels to an all-time low of 4 percent through an action plan that will continue for 40 years.
http://www.arabnews.com/news/462534
----------
Many weddings in Egypt cancelled due to curfew
Renad Ghanem
August 26, 2013
JEDDAH — The curfew imposed by the Egyptian government from 7:00 p.m. until 6:00 a.m. has forced many Egyptian families planning weddings to change the time or the date.
Some of the families were forced to cancel their weddings until the political situation is more stable. According to the Egyptian government, the curfew is to last for one month only. The curfew was revised recently to 9:00 p.m. local Egyptian time until 6:00 a.m. the next day.
Most Egyptian families tend to hold their weddings during summer. It did not occur to many families planning their weddings that clashes between police and protesters would reach the current state. It is after Ramadan that many families planned for their weddings.
Mariam Wagdy, a 26-year-old Egyptian bride, was forced to change her wedding from nighttime to day because of curfew.
"I live in UAE along with my fiancée. We booked our wedding three months ago and we applied for a one month vacation. We arrived in Egypt a few days before the clashes took place," she said.
Mariam wasn't able to delay her wedding, which took place last Wednesday, because she had no more vacation time. "I was forced to hold the wedding in the afternoon which is unusual in the Egyptian culture because all the weddings take place at night. I had to chance the time from 8:00 p.m. – 12:00 o'clock to 1:30 p.m. to 5:30 p.m.," she said.
She said that the hotel where the ceremony would take place refused to refund the money saying that they can only change the date.
"The cost of my wedding is very high and unfortunately did not go the way I wanted and dreamed it to be. Few people attended my wedding and it was limited to family and close friends," she said.
Sorayaa Ahmed, another 27-year-old Egyptian bride, is planning her wedding coming Thursday. It did not previously occur to her that the date of her wedding will land during the curfew period.
"I wanted to delay the wedding to a later date until the political situation is stable but my fiancée cannot take another vacation from his work in Saudi. If I wanted to change the date, then it means delaying the wedding for at least another year," said Sorayaa.
She said that she is afraid that the situation might worsen in the coming days. She hopes that on the day of the wedding no one would block the roads or create any problems. The hotel where the wedding is taking place is located on a major road that is monitored by police and the military.
"The wedding has cost about 120,000 Egyptian pounds and it's not refundable. I am not happy with it because of the curfew. It is not going the way I wanted. Many of the guests told me that that they will not be able to make it to the wedding, some even from my family," she said.
Shorouk Abdullah was the luckiest of all because she managed to get a refund of all her money from the hotel after the curfew was announced and is now planning to hold a small wedding at home.
"I'm planning to hold small ceremony in our garden for family and close friends only. I am lucky because most of my family lives in the same neighborhood," she said. She was initially planning to invite more than 200 guests at a total cost of more than 30,000 Egyptian pounds. She managed to save most of the money after the cancellation and limited the guests at her home to 50 only.
Christina Azzer is a 29-year-old Egyptian who had delayed her wedding indefinitely. She was planning to hold her wedding at a church in Cairo but canceled the wedding because of the violence. "The wedding ceremony was supposed to start at the Church and then we go to the banquet hall at the hotel for the reception. I was forced to postpone the wedding until a later date because of the curfew," she said. "Many churches were targeted recently in the series of violence and my family saw the best in postponing the wedding until the situation is stable."
"We lost a lot of money because we booked our honeymoon trip and the money was not refundable. It's frustrating to delay the wedding especially that we've been engaged for three years now. I hope that everything settles down so that people can get back to their normal lives," said Christina.
http://www.saudigazette.com.sa/index.cfm?method=home.regcon&contentid=20130826178259
----------
Afghan Women: "No nation can donate liberation to another"*
26 Aug 2013
By Saira Zuberi and Shareen Gokal
June 2013 marked the handover of security from NATO to Afghan forces and US troops are preparing for their final withdrawal from Afghanistan next year after more than a decade of occupation. The growing concerns of women's and human rights groups and observers both within and outside the country over the transition process are well-documented. In the approach to the handover, there has been an escalation of violence with women and children the primary casualties. While both occupying forces and insurgents have been responsible for injury and loss of civilian life, the insurgents have been at the forefront of the most recent violence.
Worrying news of attacks against women in high profile and leadership positions, girls schools [1, 2, 3] and women and girls in the family and public sphere, and against what hard-won gains have been made in recent years is on the increase. While in 2012 civilian casualties were lower than they had been for 6 previous years, a UN report on the subject found that there was a 20% increase in the numbers of women and girls killed or injured during the last year.
Legislative and policy changes aimed at improving the lives of women and girls are also being targeted. For instance, the landmark 2009 Elimination of Violence Against Women law may be amended by a proposed revision to criminal laws, which would prohibit relatives of the accused from being questioned about abuses they have witnessed. This follows a series of efforts to weaken the law, including a recent debate in the lower house where some parliamentarians called for eliminating the minimum marriage age, abolishing women's shelters, and removing criminal penalties for rape and VAW.
Furthermore, quotas provided for in the Electoral Law which had set aside 25-30% of seats in the lower house, provincial and district councils for women candidates were threatened to be cut out entirely, but then were recently decreased to 20%; the proposed changes await review. Mary Akrami, executive director of the Afghan Women Skills Development Center, fears, the "fragile achievements made in regard to women's rights in [this] highly patriarchal society are faced with major challenges."
Speaking of her anecdotal observations, Wazhma Frogh, executive director of the Research Institute for Women Peace and Security in Afghanistan, notes that at the first Women Peace and Security Forum held in December 2012, less than 50% of the 30 women attending came with a mahram (a close male relative with whom marriage is precluded), but at the second forum in early July 2013, every single woman came with a mahram, stating that the security situation for women has changed. As Wazhma notes, this signals "there [are] more restrictions on women's mobility, personal attacks, assassinations, murders and intimidating women to leave their jobs, and in some provinces, the religious groups already started issuing fatwas to ban women travelling without a mahram from the house."
In the meantime, the opening of a Taliban office in Doha, Qatar and the announcement of direct US-Taliban talks, notwithstanding their eventual cancellation, show that the process of legitimizing the Taliban as an acceptable partner in peace-building is well under way. This formal acceptance of the political resurgence of the Taliban along with the fact that many of the leaders in the Afghan government are also warlords and war criminals poses a challenging backdrop for the transition process ahead.
Caught between foreign occupation, a corrupt government, warlords and the Taliban insurgents for more than a decade, it is crucial that the inclusion and meaningful participation of women be made non-negotiables in the transition process and in any discussions of peace and security. As former Afghan MP Malalai Joya so emphatically reminds us "only nations that liberate themselves can be free". There remains a wide chasm between the cynical geopolitical and military interests of the US and NATO forces, the human rights violations committed by the occupiers, and the empty rhetoric of liberation, democracy and women's rights.
But it remains to be seen what freedom from occupation will bring in the near future; whether it will open up the space for domestic activism and democratic self-determination as some are hoping, or continue to heighten insecurity, violence (particularly for women), and destroy any fragile gains in rights made in the last decade. What is clear is that there needs to be sustained pressure from activists inside Afghanistan with support from the international community to ensure that issues of peace and security as defined by Afghan women themselves are finally given the priority they urgently need as the country enters into this uncertain and undoubtedly challenging phase.
* Former Afghan MP Malalai Joya
--Saira Zuberi and Shareen Gokal work with the Challenging Religious Initiative at the Association for Women's Rights in Development
http://www.trust.org/item/20130826005807-9wi58/?source=hppartner
----------
Libraries for Afghan women are Scots aid worker's legacy
David Ross, Highland Correspondent
26 August 2013
The Linda Norgrove Foundation will set up the scheme after receiving a grant of nearly £500,000 from the United States International Development Agency (USAID), specifically to fund the establishment of the libraries and literacy schemes for women and girls.
Some 840 women will receive literacy classes and more than 20,000 people are expected to use the community libraries being set up by Afghanistan Reads, a community literacy project supported by the Norgrove Foundation.
Literacy in Afghanistan is among the lowest in the world. It is estimated only 20% of women are literate and the figure is three times lower in rural areas.
Recent research from Unicef Afghanistan suggests only a third of women educated to primary school level retain their literacy skills because of a lack of ongoing access to written materials.
A pilot project, run by Canadian Women for Women in Afghanistan (CW4WAfghan) in partnership with the Norgrove Foundation, has already proved successful in tackling the problem.
Linda Norgrove grew up on Lewis, and was working in Afghanistan for the second time in 2010 when she was kidnapped. The 36-year-old was killed by a grenade thrown by a member of the US special forces in a failed rescue attempt.
Her parents, who still live on the island, set up the foundation in her name.
So far it has distributed £305,000 to projects and groups supporting women and children affected by the war in Afghanistan.
Linda's father John Norgrove welcomed the news of the $625,000 USAID grant. He said: "This is a project which can change so many lives. Education will empower women and is fundamental to the future of Afghanistan. It was a cause that Linda believed in passionately.
"This is a country that has seen so much turmoil and tragedy over the years but we believe that will only come to an end if the citizens, particularly women , are educated and empowered to change things for the better.
"We are a very small charity largely run by volunteers and do not have the capacity to run a project of this size. The opportunity to work with an established charity, with an established operation in Afghanistan, meant we could apply for support from USAID."
The Linda Norgrove Foundation has funded the literacy pilot project for some time and was impressed by the commitment and organisation of the members of the Canadian charity.
They realised what could be delivered if similar support was available on a wider scale.
The USAID grant will allow CW4WAfghan to run the community literacy project for two years. It is a huge boost in funds, but Mr Norgrove said donations were still needed to fund other important work.
"This is a generous sum, but it is ring-fenced and we will have to continue to find money for the other vital projects we support such as the Disabled Children's Home, the scholarships for women to study law and the medical treatments for children and women," he said.
CW4WAfghan executive director Janice Eisenhauer said she was very encouraged by the partnership with the foundation and the expanding relationship developing between the two community-based organisations.
She said: "It is an honour and a pleasure for our members in Canada and our Afghan staff in Kabul to have this opportunity to work in partnership with the Linda Norgrove Foundation. We share the same passion, commitment and goals towards universal human rights in Afghanistan and together we can strengthen our grassroots efforts."
http://www.heraldscotland.com/news/home-news/libraries-for-afghan-women-are-scots-aid-workers-legacy.21955110
----------
Indians in KSA demand harsher punishment for rapists at home
RASHID HASSAN
26 August 2013
Indian expats in the Kingdom have voiced their unanimous opinion that rape incidents can be avoided in India through harsher punishment.
Many have said that it is time to get rid of existing flexible laws and come up with punitive measures akin to those prescribed by Shariah and practiced by Saudi Arabia.
The gang rape of a young photojournalist in India's financial capital Mumbai, a city which is seen as far safer for women than other Indian metropolitan cities, has once again triggered an avalanche of outrage in India and condemned as despicable and shameful, stirring memories of a similar incident on Dec. 16 last year in New Delhi. The Delhi gang rape led to nationwide protests, as thousands of demonstrators laid siege to the country's power center in the national capital demanding capital punishment for the rapists of the 23-year-old paramedic student.
Naseem Ahmad, an academic, said that the recurrence of such acts makes it clear that the government has failed to enhance the safety and security of women in India and that new laws are proving insufficient to curb such crimes.
Rashid Khan, a media and marketing executive in Riyadh, said sex assaults must be dealt with "in the severest manner, as we cannot afford to let women and girls live in insecurity."
He also advised lawmakers in India to be as harsh on rapists as the Kingdom is in its punishment.
"The weakness of our laws are reflected in the recurrence of such ghastly acts," he said.
Dr. Shahid, a hospital administrator in Riyadh, said: "It only compels us to think the government is reasonably unintelligent. It simply can't handle repeated cases of assault on women. The nation is heading into an abysmal pit, with our government behind the steering wheel."
An expatriate housewife living in Riyadh, who requested anonymity, said: "It is tough time for women in India. Even schoolgirls are not safe anymore, as the administration is seemingly doing nothing to curb the recurrence of such incidents."
She added, "Even after 67 years of independence, we girls/women are not safe anywhere, whether in Delhi, Mumbai or other cities. Harsher punishment must be implemented."
Kamran Khan, a management graduate in Riyadh, said the "horrifying incident" has shocked the entire country once again, raising the issue of the safety of women.
"If a journalist in a metropolitan city is not safe, what of the safety of girls in smaller towns and villages, which are more vulnerable to crime," he said. The government must maintain law and order in every part of the country, he added.
Expatriate workers have also used social media to express their anguish.
Arif Anwar, who lives in Dammam, tweeted: "Another bout of shame. A photo journo gang-raped by five men in Mumbai. No wonder India is considered the most unsafe place for women."
"Girls are getting raped, killed and courts still move at snail's pace. They better wake up before this country becomes a lawless capital," said Mohammad Shameem, an IT professional.
http://www.arabnews.com/news/462539
----------
URL: https://newageislam.com/islam-women-feminism/pak-afghan-women-eye-sustainable/d/13209