New Age Islam News Bureau
24 June 2022
• No Muslim Girl Should Face A Choice between Faith and Education — Muslim Students' Society of Nigeria
• "I Feel Bad About My Studies. I Was Not Allowed To Sit In the Exam, With a Hijab: Afiya from Karnataka (Name Changed)
• Apsana Begum, British Muslim Labour MP, Signed Off Sick after 'Misogynistic Abuse and Harassment'
• Naira Ashraf's Murder Must Be The Last: Egyptian Women's Rights Activists
Compiled by New Age Islam News Bureau
URL: https://newageislam.com/islam-women-feminism/hijabi-muslim-woman-capitol/d/127316
--------
Painting of Hijabi Muslim Woman, with the Message "My Hijab Makes Me Powerful", Hung in US Capitol Building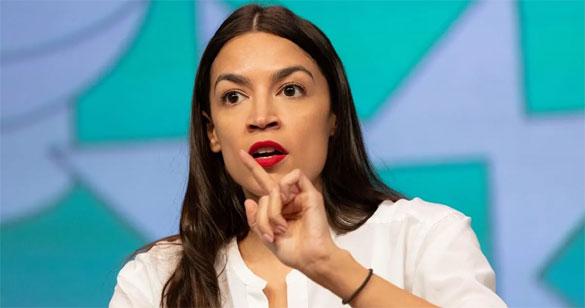 US Congresswoman Alexandria Ocasio-Cortez in Texas, US on 10 March 2019 [nrkbeta/Flickr]
-----
June 23, 2022
An American high school student has had her artwork portraying a hijab-clad woman put on display at the US Capitol building, in a choice made by Democrat representative Alexandria Ocasio-Cortez.
Sally Almaklani, a freshman at Renaissance High School for Musical Theatre & the Arts in the Bronx borough of New York City was, this year, part of the annual Congressional Art Competition, which is sponsored by the Members of the US House of Representatives, and is an opportunity to encourage artistic talent in different congressional districts.
Following the selection of the winners, they are then recognised at a reception in Washington DC later in June, with their artwork displayed for one year in the US Capitol building. Almaklani's final submission portrayed a Muslim woman wearing her hijab, with the message "my hijab makes me powerful" written on top in Arabic.
Her artwork was selected as the winner for the 14th District of New York by representative Alexandria Ocasio-Cortez, commonly referred to as AOC. In an Instagram post congratulating and announcing the selection, AOC stated that the artwork "contains striking visuals and a counter-narrative on hijab: that as a tool of self-expression, a hijab can empower young women."
She added that "Sally's depiction of a radiant young Muslim woman compellingly contrasts Islamophobic stereotypes against the hijab. And, the beautiful aesthetic, coupled with the powerful message certainly speaks to our district."
Speaking to the New York-based News 12 network, Almaklani expressed her hope that the artwork can "send a message to a lot of people" through its inclusive depiction of a hijab-clad Muslim woman. "I hope that every Muslim girl feels comfortable, that them wearing their hijab is what makes them protected and powerful in the future and in society," she said.
Source: Middle East Monitor
https://www.middleeastmonitor.com/20220623-painting-of-hijabi-muslim-woman-hung-in-us-capitol-building/
--------
No Muslim Girl Should Face A Choice between Faith and Education — Muslim Students' Society of Nigeria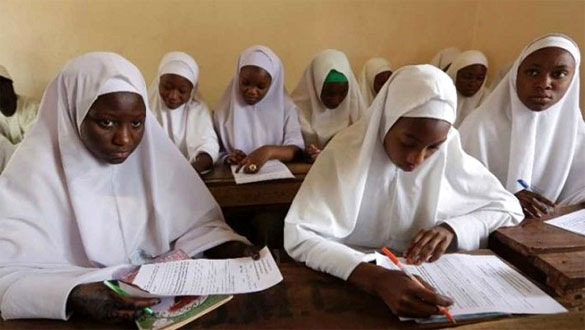 Nigerian female students wearing Hijab
-----
By Saheed Salawu
Jun 24, 2022
Never again should a Muslim girl be told to choose between her faith and education in Lagos State or elsewhere in Nigeria because both are her constitutional rights.
The amir (president) of the Muslim Students' Society of Nigeria (MSSN), Lagos State Area Unit, Miftahudeen Thanni, made this declaration on Wednesday in Lagos at a press conference addressed by the body and other stakeholders in respect of last week's Supreme Court judgment approving the use of hijab in the state's schools.
Speaking at the event, Thanni urged the state government to promptly implement the judgment and caution its officials against harassing Muslim females wearing the hijab
He explained that the government issuing a circular in this respect would prevent "overzealous" teachers and principals from committing contempt of court.
The MSSN leader said: "This is not to castigate the Lagos State government but to appeal for prompt implementation of the Supreme Court judgment.
"We waited patiently to get the judgment and we were lawful throughout. During the period, we consulted, collaborated, protested, held rallies and sensitised government officials on why a willing Muslim female should be allowed to put on the hijab.
"For no reason should a girl-child be denied education again in Lagos State and Nigeria as a whole.
"The images of Muslim students sent out of the examination hall for wearing hijab touch the heart and consistently bring tears to the eyes. We do not want this to recur. The education of the girl-child is very paramount in our hearts. No Muslim girl should ever be told to choose between her faith and education. Both are her rights.
"We demand that the Lagos State government issue a circular within 30 days of the delivery of the judgment allowing hijab. The Lagos State government should sanction officials who go against the Supreme Court judgment and hold a meeting with MSSN-Lagos, Muslim leaders and other Islamic organisations on the size and modalities of using the hijab."
On her part, Asiyat AbdulKareem, who sued the state government, called for a stop to victimisation of Muslim students.
Also, the Ameerah (female head) of MSSN-Lagos, Basheerah Majekodunmi, called on all Muslims to be lawful and report any violation to the appropriate quarters.
The Executive Secretary of Hijab Rights Advocacy Initiative, Shereefat Enessi, said the Supreme Court judgment "is not a victory for the Muslims alone but also for civilisation, for democracy and for peace," Enessi said.
The National Amir of the MSSN, Uthman Abubakar, also spoke at the event through the General Secretary of MSSN-Lagos, Hamzah AbdulFattah.
He said: "The MSSN salutes the courage, understanding and application of the constitutional law, as it is, by the panel of the justices.
"The judgment is manifestly credible and guarantees hijab as one of the fundamental human hights granted to Muslims and any other adherents of a religion."
Source: Tribune Online Nigeria
https://tribuneonlineng.com/no-muslim-girl-should-face-a-choice-between-faith-and-education-mssn-lagos-amir/
--------
"I Feel Bad About My Studies. I Was Not Allowed To Sit In the Exam, With a Hijab: Afiya from Karnataka (Name Changed)
Ahmad Adil
24.06.2022
NEW DELHI
For many months, 18-year-old Afiya (name changed) from the southern Indian province of Karnataka was burning the midnight oil to appear in the 12th-grade exam and then appear in the competitive test to seek admission to a medical college.
But she could not appear in the test, as the school did not allow her to enter the examination hall wearing the hijab or headscarf.
After the Karnataka High Court on March 15, upheld the ban imposed by educational institutions on wearing headscarves inside the premises, many Muslim female students have either opted out from the examinations or are finding alternative means to pursue education.
The court ruled that "wearing of hijab by Muslim women doesn't form a part of essential religious practice in the Islamic faith."
"I feel bad about my studies. I was not allowed to sit in the exam, with a hijab...I won't be able to even sit in the NEET (National Eligibility cum Entrance Test) for admission to medical college," said Afiya.
She is now looking to seek admission to another school, where she is allowed to wear a hijab.
"I don't know about my future. I feel my dreams are getting shattered every day," said Afiya, adding that she stopped going to school in February this year.
Like Afiya, dreams of many Muslim girls have come crashing, who had been left to choose between their identity, freedom, dress, and their education.
The issue started in January when female Muslim students were barred to enter their classrooms in a government college in the Udupi district in Karnataka for wearing hijab. Subsequently, other institutions also followed the diktat.
The students have now pinned their hopes on the Supreme Court which is hearing the case.
"We are wearing hijab since childhood and not recently. They (college) should allow us to write exams in hijab. Earlier they had no problems, but they were banned after the court order came," said Hiba Sheikh another student who is also not attending college since March.
Not allowed to enter premises
She has already missed one college semester.
"These days fourth-semester classes are going on. We don't go because they are not allowing us to enter the premises," she said.
Sheikh said she was hopeful that the apex court will dispense justice.
"Students are mentally traumatized. Everyone is tensed about what is going to happen in the future," she added.
Speaking to Anadolu Agency, Kidiyoor Nihal, national secretary of Students Islamic Organization of India – the students' wing of socio-religious organization Jamaat-e-Islami said the issue has put the future of thousands of female students at stake.
"This deliberate, vengeful, hateful agenda to deny access to students to education is a calamitous situation which would result in loss of trust in public institutions which have far-reaching consequences," he said.
Nihal said that the situation could have been amicably resolved at an early stage and level if there was ever an intention to do it.
"At every instance, the situation was politicized from college level to district to state boards to courts. We feel that dialogue and deliberations are the cornerstones of our society and Indian constitution," he said.
He said since it was an issue of personal choice and autonomy, he hoped that the apex court will deliver justice.
"This is an important landmark for our institutions to show spine and stand up for the citizens of this country," he said.
Government defends ban
The former top bureaucrat and now an educationist Syed Zafar Mahmood told Anadolu Agency that the matter needs to be resolved by the elders and learned persons of the Muslim community and representatives of other communities.
"Yes, the hijab gets its accreditation from the Holy Quran. But simultaneously, Islam also requires the believers to obey the law of the land where they live. An order of a High Court in India is final unless and until overruled by the Supreme Court. Hence, as of date, the Karnataka High Court's order on Hijab has to be necessarily complied with. Such adherence is mandated by the Constitution of India as well as by the Quranic injunction...," he said.
Defending the hijab ban, Ganesh Karnik, a spokesman for the ruling Bharatiya Janata Party (BJP) told Anadolu Agency that the students much follow the rules and regulations governing educational institutions.
"Any responsible student should understand their responsibility and accountability and follow the rules of the institutions," he said.
Karnik said the "institutions have their rules and regulations" which need to be followed like "one individual has own rights and choices."
"All these students if they are responsible students and citizens, must understand that the first duty as a citizen is to follow the rules. If they are not doing, they are not irresponsible. If they want to break the rules or attend the schools, it is their decision," he said.
Source: Anadolu Agency
https://www.aa.com.tr/en/asia-pacific/hijab-ban-ends-educational-dreams-of-many-muslim-girls-in-indian-province/2621421
--------
Apsana Begum, British Muslim Labour MP, Signed Off Sick after 'Misogynistic Abuse and Harassment'
23 June, 2022
A British Muslim Labour MP said Wednesday that she had been signed off sick after being subjected to a "sustained campaign of misogynistic abuse and harassment".
Apsana Begum, MP for the Poplar and Limehouse constituency in east London, said she was signed off sick by her doctor earlier this month because the abuse she had received had a "significant effect" on her mental and physical health.
"It is hard to have to take time off from my work representing the constituency in which I grew up and live," Begum said in a statement released Wednesday.
Begum said the abuse had been "particularly painful and difficult… as a survivor of domestic abuse".
She did not specify who had been targeting her.
Begum – Britain's first hijab-wearing MP – was elected to parliament in 2019. She is a fierce critic of Islamophobia and anti-Semitism, and is staunchly pro-Palestine.
She said her experience of abuse and harassment was far from exceptional.
"The treatment I have faced will be all too familiar to women, socialists and those from minority ethnic backgrounds… if the Labour party is to be the party of equality, it must do all it can to ensure that such behaviour is never tolerated," she said.
The MP thanked those who had shown her solidarity, promising:" I will see you all once I am better".
Begum has previously warned that Islamophobia is on the rise in Britain, and shared her personal experiences during a debate for Islamophobia Awareness Month last November.
"Every single day people from Muslim backgrounds like me face discrimination and prejudice… I myself am never allowed to forget that my presence in parliament… makes many uncomfortable," Begum said at the time.
Other Muslim MPs have said that have suffered harassment and discrimination due to their religious background.
Nusrat Ghani, who was sacked as a transport minister in 2020, said that her "Muslimness" had been "raised as an issue" by a government whip.
Source: The New Arab
https://english.alaraby.co.uk/news/muslim-labour-mp-signed-sick-after-misogynistic-abuse
--------
Naira Ashraf's murder must be the last: Egyptian women's rights activists
23 June, 2022
The gruesome murder of an Egyptian university student in daylight must be the last straw in a toxic male-dominated society where violence against women is not fully criminalised, a number of high-profile women's rights advocates in Egypt have said.
Earlier this week, a university student stabbed his classmate, Naira Ashraf, to death and then slit her throat in broad daylight outside Mansoura University, located northwest of the Egyptian capital of Cairo. The victim was in her early twenties.
The perpetrator confessed to the murder to authorities and said the reason was that Ashraf had repeatedly turned down his marriage proposal.
"It may seem a crime of passion on the surface. But it, actually, revealed societal endemic ills," prominent political sociologist Said Sadek told The New Arab.
"The incident spotlighted the violence and injustice women are subjected to in the absence of deterring laws or religious and social awareness that could confront regressive thoughts," said Sadek, who is also a feminist.
Seham Ali, lawyer and board member of the Center for Egyptian Women's Legal Assistance, agrees with Sadek.
"We witnessed some reactions to the murder that nobody could've ever imagined. This crime is the law straw, a warning that there must be a decisive action to protect women in the society," Ali told The New Arab.
"It is time for a law to be enacted to confront violence against women, socially and family-wise. There is no definite law on this purpose, only some articles within some laws," she added.
In the few days following the incident, a further debate erupted on social media regarding the victim not abiding by the Islamic hijab, whether she does not deserve God's mercy and whether those unveiled could meet the same fate for wearing ordinary or revealing outfits.
Mabrouk Attia, a preacher and professor of Islamic Sharia at Al-Azhar University, said in a video released on social media demanding women "to fully cover up" or else "meet the same fate" as the Mansoura University victim.
"The horrific incident highlighted the dreadfulness of the religious discourse of extremists and the masculine obsession of covering women up. So it's not OK to seek mercy for an unveiled woman, while at the same time, advocating for the culture of suppressing women in the name of religion," Sadek remarked about the preacher's comments.
A number of women's rights supporters as well as the National Council for Women were quick to condemn Attia's statements and filed official complaints before the prosecutor general, accusing him of several legal offences, among them were "inciting hate speech and violence against women."
"There is a citizen named Mabrouk Attia, who claims to be a sheikh, asking girls to wear 'tents' in order to preserve themselves. He justifies the murder of the Mansoura University girl that this is the nature of the Egyptian society," renowned lawyer Nehad Aboul-Komsan said in a video shared online addressing the prosecutor general and her followers.
"If women are required to protect themselves [as he said in the video], then there are no laws or a constitution," she said.
"We won't wear 'tents' or live in ones…I speak as a mother of two daughters and in my capacity as the head of the Egyptian Centre for Women's Rights," she added.
After being faced with widespread criticism, Attia, a common face on TV, appeared in another video and declared he will take an indefinite time off and may not even appear publicly ever again.
Azhar institution released a fatwa (religious edict) on Facebook in what seems to be a response to the ongoing debate in which it denounced any justification for killing women.
In the written fatwa, Azhar noted that "it is religiously prohibited to underestimate a woman, whether veiled or unveiled, and taking that as an excuse to assault her is a heinous crime."
"After this wake-up call, now what? Will laws be amended? Will those in charge consider threats ahead of women and work on the ailing male-dominated culture? Will TV channels quit hosting extremist Islamic preachers who talk about women for some time until fatwas against women are purged?" Sadek wondered.
Source: The New Arab
https://english.alaraby.co.uk/news/naira-ashrafs-murder-must-be-last-egyptian-feminists
--------
URL: https://newageislam.com/islam-women-feminism/hijabi-muslim-woman-capitol/d/127316
New Age Islam Islam Online, Islamic Website, African Muslim News, Arab World News, South Asia News, Indian Muslim News, World Muslim News, Women in Islam, Islamic Feminism, Arab Women, Women In Arab, Islamophobia in America, Muslim Women in West, Islam Women and Feminism