New Age Islam News Bureau
17 December 2020
• Meet The Players Competing in the First Women's Football League in Saudi Arabia
• Saudi Arabia Cracks Down On Women-Only Businesses
• Jobseekers Warned As 12 Indian Women Duped By Recruitment Agents Are Rescued In UAE
• Egypt Fights Sexual Harassment on The Train With Commuter Campaign
• Edmonton Police Charge Woman In Assault On Black Muslim Woman
Compiled by New Age Islam News Bureau
URL: https://www.newageislam.com/islam-women-feminism/overcoming-war-disability-yemen-women/d/123791
--------
Overcoming War and Disability: Yemen's Women Basketball Players Hit The Court
Dec 15, 2020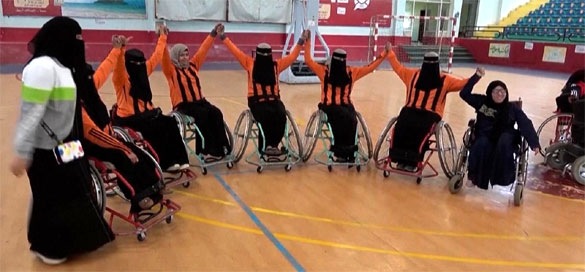 Yemen's disabled basketball players overcoming adversity on court
------
SANAA: In Yemen's capital Sanaa, women in long-sleeved athletics shirts raced down a basketball court in wheelchairs, dribbling and passing as a small crowd cheered them on.
"If the Yemeni people are suffering from the war, then those with disabilities are suffering twice as much," said Amal Hizam from the sidelines, herself also in a wheelchair.
The Arab world's poorest country is devastated by conflict, the novel coronavirus and a humanitarian crisis that the United Nations has called the world's worst.
But all that didn't stop a local wheelchair basketball championship going ahead in Sanaa this month.
Five all-women teams were part of the competition, only the second of its kind, including Al-Erada -- Arabic for "The Will", and Al-Mustaqbal, or "The Future".
Tens of thousands have been killed in Yemen since 2015, when a Saudi-led coalition intervened to support the government after Huthi rebels took control of Sanaa the year before.
A UN-brokered agreement reached two years ago between the government and the Iran-backed Huthis offered some hope, but a peaceful settlement has yet to materialise.
The female players, some wearing face coverings as well as their headscarves, jostled and shot baskets from sports wheelchairs painted red and light-green at the indoor court.
Hizam, assistant director of Yemen's sports federation for people with disabilities, said initiatives such as the tournament were "practically non-existent".
"I wish society wouldn't look down on those who are disabled, and that it would see our capabilities," said one of the Al-Erada players, 28-year-old Tahani al-Omari.
"Disability is a gift, not an obstacle," she told AFP, wearing her team's striped orange vest.
Teenage girls in the bleechers squirmed with excitement, throwing their arms into the air to cheer on the players.
Yemen's conflict has displaced some 3.3 million people, and around 80 percent of the population needs humanitarian aid and protection, according to the UN.
There are estimated to be around four million people with disabilities in Yemen, according to World Health Organization data.
"Millions of people with disabilities in Yemen have not only endured years of armed conflict but are also among those most excluded," rights group Amnesty International said last year.
"What we want is inclusion and support, and we can be involved in any field," Omari said.
"We need special wheelchairs equipped for playing and, most importantly, moral support."
A coach of multiple teams, Abdo Mohammed Zayed, said Yemen's lack of clubs and facilities for players with disabilities presented another challenge.
The goal of the tournament, he said, was to "offer social and moral support to those with disabilities, and allow them to showcase their capabilities and creativity."
https://timesofindia.indiatimes.com/sports/more-sports/others/overcoming-war-and-disability-yemens-women-basketball-players-hit-the-court/articleshow/79733209.cms
--------
Meet The Players Competing In The First Women's Football League In Saudi Arabia
16-12-2020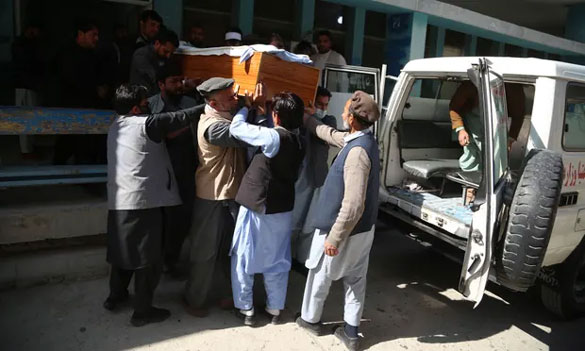 A women's football team in Saudi Arabia
------
A female football team in Saudi Arabia hopes to become the best in the country's first women's football league.
Dribbling and kicking a ball across a football field is a dream come true for Saudi player Mariam Alangari. The young woman is part of a newly formed football team in the Kingdom, established after the government allowed the formation of an amateur league for women on November 17.
"Finally! I'm so happy that there is a chance to achieve my dream. I used to play abroad but now thank God I can play in my country, and if God is willing, I will get the chance to become a professional player," said Alangari, who dreams of one day become a professional player.
Saudi Arabia's first women's football league officially kicked off in November after initially being postponed due to the coronavirus pandemic.
At a training session for the Eastern Flames Football Club in Saudi Arabia's Al Khobar, a total of 52 players of various ages ran dribbling and passing drills, running up and down a large field in the city.
"We train them and develop their skills in different ways including overall fitness, neuromuscular compatibility, football skills, and more. Hopefully, we will help them become professional players," said coach of Eastern Flames FC, Maram Albutairi.
The coach said she had received many certificates from FIFA and has previously worked with the UAE national team. "Hopefully, we can win many tournaments," she added.
The historic Saudi Women's Football league will see 24 teams across Jeddah, Riyadh and Dammam competing for a championship cup and a $133,000 cash prize.
"As a mother of one of the players here, the Saudi player Renad Alghamdi, I'm so proud of her, and I will support her, and she will be a bright name in the future since the field is open now in Saudi Arabia," one supportive mother of a female football player said.
The mother said she was happy her daughter "can live her dream and do the thing she loves, the things that we couldn't do before."
In February 2020, Saudi Arabia launched its first women's football league, the latest step in the Kingdom's wide-reaching reform of its sport and entertainment sectors.
The Saudi Sports for All Federation (SFA) inaugurated the official Women's Football League (WFL) at a launch event in Riyadh. The WFL will launch next season with matches being played in the cities of Riyadh, Jeddah, and Dammam.
https://en.ammonnews.net/article/45243
--------
Saudi Arabia cracks down on women-only businesses
December 17, 2020
Samir Salama
Abu Dhabi: Female inspection teams from the Saudi Ministry of Human Resources and Social Development have carried out more than 1,000 visits in six months to women-only businesses to ensure owners adhere to work regulations.
Private schools, workshops and sports clubs were also visited, in addition to some small women's projects across the capital Riyadh.
Inspectors recorded 100 violations, most of them related to employment of foreign workers in jobs restricted to Saudis and employment of men in jobs restricted to Saudi women, in addition to violations of the absence of work and medical insurance contracts.
The ministry said the work of female inspectors is not limited to issuing tickets, but also extends to professional counseling for female employees in the private sector and answering their inquiries related to rights and duties.
It stressed the inspection campaigns will continue throughout the year to follow up on commitment to the rules and organisation of the labour market.
https://gulfnews.com/world/gulf/saudi/saudi-arabia-cracks-down-on-women-only-businesses-1.75953467
--------
Jobseekers warned as 12 Indian women duped by recruitment agents are rescued in UAE
December 15, 2020
Sajila Saseendran
Ajman: Authorities and social workers have worked together to rescue 12 Indian women who were duped by recruitment agents, prompting the Indian mission in Dubai to reiterate its warning against job-seekers flying into the UAE on visit visas. The women, who were brought to the UAE on visit visas, had initially pleaded for help through their families and a social worker — Amjad Ullah Khan — in India. One of them also informed the police about their plight, following which they were rescued.
The Indian Consulate in Dubai said the mission was initially informed about five women who got trapped after being brought to work in the UAE.
"When we enquired, initially we got to know there were three more. We took action and made more enquiries through the Indian Association in Ajman. Then we found out that there were actually 12 women. We have provided them temporary accommodation and they are being taken care of," Neeraj Agrawal, Consul for Press, Information and Culture told Gulf News.
Roop Sidhu, general secretary of the Indian Association in Ajman, said all the women, except one from Karnataka, hail from Hyderabadin south India. Aged between 21 and 46, they were given false hopes of jobs as housemaids. "They were not given proper jobs and they complained of being ill-treated," said Sidhu.
What the maids say
A 21-year-old woman from Hyderabad, the youngest in the group, told Gulf News she had come in September and had been requesting the agent to send her back from the very next day after her arrival because she was being treated badly.
A 38-year-old woman hailing from Bengaluru said that she decided to complain against the agent who had locked up seven women. "My issue was about not legalising my papers. The agent told me to work in different houses for which I was not ready. Then he kept me with the other six women. I saw them being treated very badly. They were not given proper food. He was taking their money and abusing them. So I complained," she said.
Sidhu said Ajman Police had already arrested one agent, while rescuing the seven women who were locked up in an apartment. "We also managed to rescue another group of five women from another accommodation managed by the same agent over the weekend," said Sidhu.
On the advice of the consulate, he said he had given an undertaking on behalf of the association to provide food and accommodation to the women and also taken the seven women to issue their statement related to the case to the Public Prosecutor, along with volunteer Chaya Devi who handles such cases. On being pressured, the maids' India-based agent booked tickets for two women and one managed to fly back home on Sunday, he said.
Recruitment portal
Thanking Ajman Police for their timely intervention, Agrawal said the women would be assisted with repatriation once they get clearance from the local authorities. The official reiterated that expats should not come to the UAE on visit visas to seek jobs. "People should only come through proper channels and should not fall prey to the middlemen," the diplomat pointed out.
The employment of Indian housemaids is done through the online recruitment portal e-Migrate to avoid middlemen and also to ensure the welfare of job applicants.
The woman, who had complained against the agent, however, said the maids were not aware of the e-Migrate system.
"I have worked in Saudi Arabia and Oman earlier. I went on visit visas to take up jobs there. We usually approach the agents who get us visit visas. They give us the visas and tickets upon reaching the airport. That is what usually happens. We get residence visa and labour contract done after reaching the Gulf country. Maybe they are getting more commission for the way they brought us here. That is why they are not telling us about the e-Migrate system," she said, highlighting the need for better awareness among women like her back in India about the government-authorised recruitment channel.
https://gulfnews.com/uae/jobseekers-warned-as-12-indian-women-duped-by-recruitment-agents-are-rescued-in-uae-1.75896965
--------
Egypt fights sexual harassment on the train with commuter campaign
December 14, 2020
Sexual harassment is so common on Egypt's railways that many women avoid travelling by train, but a new initiative aims to make female passengers feel safer and embolden victims of abuse to report it.
Billboards reading "The Railway is Safe" have been installed at Cairo's main rail terminus, a complaints hotline has been set up and from now on dedicated conductors will be on trains to handle complaints of groping or sexual harassment.
The government-led initiative comes amid a growing debate about sexual harassment and violence in the socially conservative country, and women's groups said it was a positive step.
"It addresses the economic and social empowerment of women as a lot of them fear going to their workplaces or schools or universities to avoid sexual harassment on public transport," said Randa Fakhr El Deen, executive director of the NGOs Union on Harmful Practices Against Women and Children.
A 2017 Thomson Reuters Foundation poll found Cairo to be the most dangerous megacity for women, and a United Nations' survey in 2013 found that 99% of women had experienced harassment in Egypt, a country where women have long felt disadvantaged.
The same UN study showed 70% of Egyptian women do not feel safe commuting on public transport.
Raising awareness is a top priority of the Japanese-funded scheme, which involves the state-run rail operator, the National Council for Women (NCW), and the European Bank for Reconstruction and Development, said NCW member Um Kulthum Shalash.
"Train stations are places that gather people from different cities and backgrounds and are the perfect venue for raising awareness about a controversial and crucial topic like sexual harassment," she told the Thomson Reuters Foundation.
In addition to the billboards, the project also involves promotional videos on station screens and passenger announcements, while volunteers have been briefing passengers on two major routes into the capital this month.
"We tell women how to react when faced with any sexual harassment incident and we've taken details of several complaints," said Rahma Mahmoud, a 19-year-old volunteer.
Rail traveller Soha Ahmed said similar initiatives on public transport had not led to major progress on stamping out sexual harassment.
"We need strict law enforcement on public transport and anywhere else to reduce sexual harassment cases," she said.
https://www.middleeastmonitor.com/20201214-egypt-fights-sexual-harassment-on-the-train-with-commuter-campaign/
--------
Edmonton Police Charge Woman in Assault On Black Muslim Woman
By Fakiha Baig
Dec. 16, 2020
EDMONTON - The CEO of the National Council of Canadian Muslims says she's worried that two separate attacks on Black Muslim women in Edmonton will affect their mental well-being.
"'I think for folks who wear a hijab, they're often walking around feeling like there is a target on their backs. And I think it's terrifying that it can actually be true," said Nadia Hasan, who added the city needs to do more to protect Muslim women in public spaces.
Police said Wednesday they had charged a woman after another woman wearing a hijab was assaulted at a light-rail transit station while her attacker shouted racial slurs at her.
It was the second attack near Southgate Mall in just over a week.
In Tuesday's attack, the 23-year-old woman had just entered the transit station when she was approached by a woman who yelled at her and tried to hit her on the head with a shopping bag. The woman was able to run away and an Edmonton Transit Service peace officer called police.
Rene Ladouceur, 32, is charged with assault with a weapon. She also has nine outstanding warrants against her for unrelated events.
The Edmonton Police Service hate crimes unit said in a release that it is recommending that a section of the Criminal Code be applied "allowing the courts to consider increased sentencing when there is evidence the offence was motivated by hatred."
The first attack on Dec. 8 happened as two women wearing hijabs were sitting in a car in the mall's parking lot. Police say a man came up to the passenger side and began screaming. They say he eventually shattered the window by punching it.
The woman on the passenger side tried to run away, but the man chased her, pushed her to the ground and began hitting her. The second woman tried to help, but she was also pushed down.
Richard Bradley Stevens, 41, faces two counts of assaultand one count of mischief.
The Southgate neighbourhood is a big part of the Edmonton Muslim community, Hasan said.
"It's certainly something that is disturbing, where you think that you're safe, especially when you're in public and you know everyone can see you."
The council has contacted the two women who were attacked last week. They are still traumatized and have several injuries, Hasan said.
"Especially with the two women who were attacked, just the extent of the violence is extremely alarming, and indicates the need for us to do more to really ensure the security and safety of Muslim women, and particularly Black Muslim women in public spaces," Hasan said.
A statement by the Alberta Anti-Racism Advisory Council said racists have no place in Alberta.
"Our great province was built by people from different cultures and ethnicities" it said. "The overwhelming majority of Albertans are welcoming and tolerant."
This report by The Canadian Press was first published Dec. 16, 2020
https://www.thestar.com/news/canada/2020/12/16/edmonton-police-charge-woman-after-assault-on-black-muslim-woman.html
--------
URL: https://www.newageislam.com/islam-women-feminism/overcoming-war-disability-yemen-women/d/123791
New Age Islam, Islam Online, Islamic Website, African Muslim News, Arab World News, South Asia News, Indian Muslim News, World Muslim News, Women in Islam, Islamic Feminism, Arab Women, Women In Arab, Islamophobia in America, Muslim Women in West, Islam Women and Feminism