New Age Islam News Bureau
05 September 2022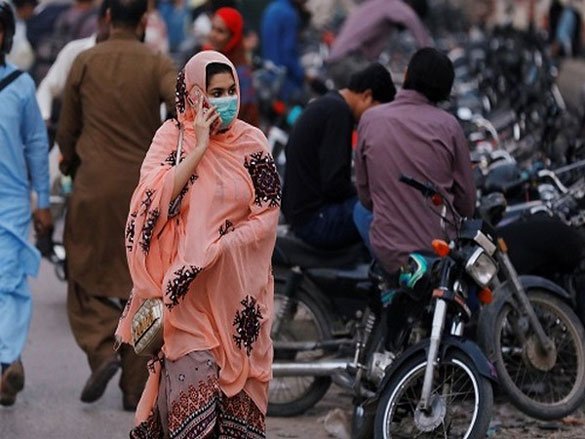 A woman wears a protective mask while walking along a road in Karachi, Pakistan. ANI
------------
• Jamaat's women's wing seeks President's intervention in BilkisBano convicts' remission
• A 19-year-old Egyptian girl shot dead by man for refusing engagement proposal
• Syrian jihadist group HTS blocks married women in Idlib from studying
• Riyadh police arrest 8 persons including a Saudi women for committing crimes
• Over 6,000 athletes to participate in Saudi Games 2022
• Saudi-Indonesian integration system for migrant workers will improve relations, say officials
• Iranian authorities plan to use facial recognition to enforce new hijab law
• Fatwa against Muslim woman in Aligarh for installing Ganpati idol at her home
• Is the rise of Arab female gamers triggering demand for dedicated content, platforms?
• Revival of wetlands by women, local communities
Compiled by New Age Islam News Bureau
URL: https://www.newageislam.com/islam-women-feminism/women-shelter-camps-across-pakistan-sindh/d/127881
--------
Over 47,000 pregnant women in shelter camps across Pakistan's Sindh
Sep 04, 2022
More than 47,000 pregnant women affected by the floods in Pakistan are in shelter camps across Sindh province, local media citing the provincial health minister reported on Sunday.
Sindh Health Minister AzraPechuho has shared statistics of women affected by the flood. She said hundreds of thousands of people have contracted various diseases after the floods.
"More than 1.34 lakh cases of diarrhoea and 44,000 cases of malaria have been reported in the province," she added, as quoted by Dawn.
On August 30, the United Nations Population Fund (UNFPA), a sexual and reproductive health agency, said that at least 6.5 lakh pregnant women, of whom 73,000 were expected to deliver this month across the country, in the flood-affected areas were in dire need of maternal health service.
Pechuho further said over a lakh skin-related diseases, 101 snake bites and 500 dog bites have been reported so far among flood affectees, Dawn newspaper reported.
The UN agency had also warned that many women and girls were at an increased risk of gender-based violence as almost one million houses were damaged in the floods that spelled suffering for millions across Pakistan.
"Up to 73,000 women expected to deliver in September will need skilled birth attendants, newborn care, and support," the agency had said as quoted by Dawn.
It added that pregnancies and childbirth cannot wait for emergencies or natural disasters to be over as this is when a woman and baby are vulnerable and need the most care.
Pakistan, this year has faced unprecedented floods, which have affected nearly 33 million people in the country and left tens of thousands of people displaced. Due to internal displacement, more than 5 lakh people are currently living in relief camps across Balochistan, Khyber Pakhtunkhwa, Sindh, and Punjab.
Source:TribuneIndia
https://www.tribuneindia.com/news/world/over-47-000-pregnant-women-in-shelter-camps-across-pakistans-sindh-428537
--------
Jamaat's women's wing seeks President's intervention in BilkisBano convicts' remission
Ziya Us Salam
SEPTEMBER 04, 2022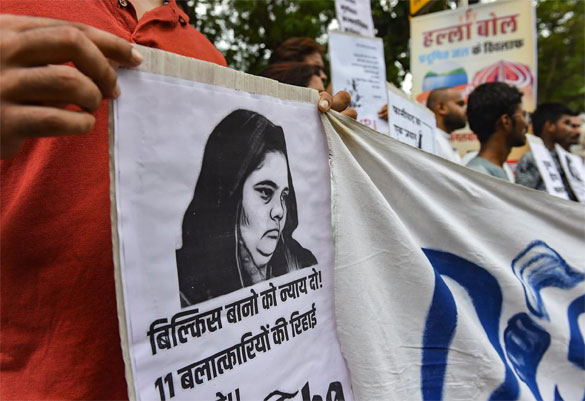 A placard held by a protester during a protest against remission of the sentence given to the convicts of Bilkis Bano's case by Gujarat government, at Jantar Mantar in New Delhi, on Aug. 30, 2022. | Photo Credit: PTI
-----------
They have urged her to call an urgent meeting of the Prime Minister, Governor of Gujarat and other legal experts
BilkisBano has got some belated support from Muslim women's bodies. The Jamaat-e-Islami Hind's women's wing has sought President's "intervention" in the remission of the 11 convicts in the BilkisBano gang rape case and murder of 14 of her family members. Demanding that the convicts recently released be sent back to jail at the earliest, the women's wing has written to President DroupadiMurmu, requesting her to intervene in the matter by calling "an urgent meeting of the Prime Minister, Governor of Gujarat and other legal experts". The support of the Muslim body's women's wing comes on the heels of many secular women's bodies criticising the remission.
Speaking to The Hindu, AtiyaSiddiqua, national secretary, JIH women's wing, said the move to grant remission is aimed at garnering electoral dividends in the forthcoming elections in Gujarat. "The release of her tormentors on August 15 makes a mockery of the Prime Minister's assurance to the nation regarding protecting the dignity of women. Releasing the rape convicts is an attempt to appease members of a particular community. It is meant to reap political dividends, and is highly objectionable. At a time when the Prime Minister talks of BetiBachao, BetiPadhao, what signal does it send to other women fighting for justice after a crime? And what signal does it send to Ms. Bilkis who has shown immense faith and fortitude in fighting for justice since 2002?"
She disclosed that the body has sent a letter to the President, requesting her to give "directions to the Gujarat Government through the Prime Minister and the Home Minister to reverse the decision".
"Madam President, as a woman, you can understand the pain and trauma that BilkisBano underwent when she was gang-raped and members of her family were killed before her eyes. The premature and unjustified release of her tormentors destroys any semblance of justice. We appeal to you to intervene in the matter by calling an urgent meeting of the Prime Minister, Governor of Gujarat and other legal experts to see how this grave injustice can be stopped," the letter stated.
With the vice-president of JIH, Salim Engineer by her side, Ms. Siddiqua hoped that the Supreme Court where a petition has been filed will "reverse the grave injustice carried out under the guise of official government policy". "The remission policy should be applied to those languishing in jails for petty crimes, not for heinous ones like gang rape and mass murder," she stated, adding, "The move is bound to embolden criminals as they would be confident of being bailed out sooner rather than later even for heinous crimes. It is bound to shake a woman's faith in the system."
The women's wing also lambasted the felicitation and garlanding of the convicts, calling it "reprehensible". The women asked, "What kind of people treat rapists to sweets? What kind of society welcomes murderers with garlands? "The Jamaat's women have also sought a meeting with the President to press for cancellation of remission."
Earlier, the Jamaat also expressed concern over the Supreme Court closing all the proceedings arising out of the demolition of the Babri Masjid and the 2002 Godhra anti-Muslim riot cases. A Supreme Court Bench said that it was unfortunate that the contempt petition pertaining to the Babri Masjid demolition was not taken up. Prof. Engineer asked who was responsible for not hearing these cases. "Now the Supreme Court says that much time has passed and hence, there is no need to hear them. Whose job is it to hear the cases in the court? The judicial system is failing to deliver justice to the people. People are losing faith in the judiciary," he rued.
Source:TheHindu
https://www.thehindu.com/news/national/jamaats-womens-wing-seeks-presidents-intervention-in-bilkis-bano-convicts-remission/article65845423.ece
--------
A 19-year-old Egyptian girl shot dead by man for refusing engagement proposal
04 September, 2022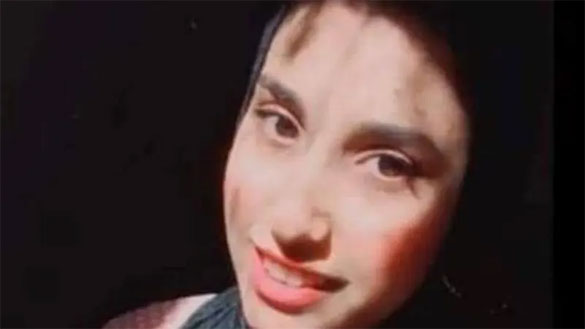 Amani Abdul-Karim al-Gazzar, 19, was shot dead by a man after she refused to get engaged to him, September 4, 2022. (Twitter)
-----------
A 19-year-old Egyptian girl was shot dead in the Menofia Governorate Saturday by a man after she reportedly refused to get engaged to him, Al Arabiya reported, in another occurrence of such incidents to have rocked Egypt.
Ahmad FathiAmeirah, 29, killed Amani Abdul-Karim al-Gazzar in TukhTanbisha village after she and her family rejected his proposal to get engaged to her. Al-Gazzar was reportedly a student at the Faculty of Physical Education.
The suspect was reportedly infuriated by the rejection and shot al-Gazzar "in the back in front of her family home and fled afterwards," residents from the village told Al Arabiya.
They said that she rejected Ameirah for his bad behavior, adding that she was an excellent student.
Al-Gazzar's body was taken to the hospital and attempts to resurrect her failed. The police were dispatched to the crime scene and search teams were instructed to find and bring the suspect into custody, according to Egyptian daily al-Masry al-Youm.
A video shared on social media following the incident showed residents in a state of panic and terror. Screams were heard as the residents gathered around the crime scene.
Al-Gazzar's death comes after a series of crimes against women, with mainly the same reasons behind the killings. Within the last couple of months, 21-year-old Egyptian student Naiyera Ashraf was killed by a man whose marriage proposal she rejected and Salma Bahjat, 21, was killed by a man for breaking up with him.
The first trial session Bahjat's murder began at the Zagazig Criminal Court Sunday, Al Arabiya said.
Source: Al Arabiya
https://english.alarabiya.net/News/middle-east/2022/09/04/A-19-year-old-Egyptian-girl-shot-dead-by-man-for-refusing-engagement-proposal-
--------
Syrian jihadist group HTS blocks married women in Idlib from studying
MounebTaim
September 3, 2022
Syrian students from "Aleppo University in Liberated Areas," controlled by the pro-Turkey opposition, sit with microscopes at a laboratory facility, Marea, northern countryside of Aleppo province, Syria, Nov. 26, 2020. - Bakr Alkasem/AFP via Getty Images
----------
Women in Syria's northwestern province of Idlib face daily violations of their rights at the hands of Hayat Tahrir al-Sham (HTS), which controls the province. The group's members have been repeatedly accused of violations and restrictions against the people of Idlib.
Most recently, married women have been deprived of their right to education. On Aug. 15, the Education Directorate of the Salvation Government, HTS' civilian arm, issued a decision banning married female students from attending public schools and universities.
The decision deprived dozens of married women of their basic rights to education and to continue their studies, as part of HTS' systematic policy of tightening the noose on residents of Idlib province.
All attempts by Rawan al-Atrash, from Binnish city in the countryside of Idlib, to be admitted to school and fulfill her dream of becoming a teacher in the future were unsuccessful.
Atrash, 16, told Al-Monitor, "I am one of dozens of married students who were deprived of education in Syria because of the decisions of the Education Directorate of the Salvation Government to prevent married female students from pursuing their studies."
On a more personal level, she said that her father forced her to drop out of school when she was in sixth grade because she was his eldest daughter and had to help her mother and learn sewing, cooking and housework in order to get married.
When she turned 14, she was coerced by her family into marrying her cousin. After two years of marriage and a child and another on the way, her husband agreed to her completing her education in ninth grade. However, she was surprised by the refusal of the school administration in Binnish to admit her. She did not disclose the name of the school out of fear for her personal safety.
Shortly after, her married friend Aisha told her that several married students had been rejected at the same school, and they had been given the same reason by the school principal — that there were no spots available.
Atrash said that denying her the possibility of completing her education deeply affected her, especially as the first rejection came from her family at a young age. Once she had convinced her husband to allow her to pursue her studies, since the school was nearby and all her married friends would be in the same class, she was rejected by the Education Directorate.
In 2019 statements, Mahmoud al-Maarawi, the first Sharia judge in Damascus, who heads the religious court that oversees personal status issues in Syria, said that the percentage of underage marriage during the Syrian war rose to 13%, compared to 3% before the war. Most marriages were concluded as per customary contracts, according to Maarawi.
Speaking to Al-Monitor, Raghad al-Jassem, a 19-year-old woman from Idlib, said she was deprived of her right to education, which would have helped her become more independent and self-sufficient.
She was unable to continue her studies after her husband was killed two years ago during battles with HTS in Idlib's countryside, as she was forced to drop out of school and tend to her family.
This year, she decided to go back to school. But although she is not technically married, but rather a widow, she is trying to hide her status at the Education Directorate through her inside contacts to circumvent the recent decision, and be able to finish her high school studies and achieve her dream of becoming a nurse.
Jassem described HTS' recent decision as unjust and arbitrary, adding that there is no article or clause preventing married women from education in the Syrian Constitution, Syrian laws or even in Islam.
For years, the education sector in Idlib and its countryside has been suffering from great difficulties that have encumbered thousands of male and female students from education.
On the other hand, a school principal in MaarratMisrin, in the north of Idlib, told Al-Monitor that she was recently asked by the Education Directorate of the Salvation Government not to enroll married female students in public schools that are affiliated with the directorate.
The source, who refused to reveal her name and the name of the school, said that the decision was not in writing, but it was verbally mentioned to her.
She said that she would be held accountable if any married student is enrolled at her school, and she would be punished.
She noted that the decision applies to all schools in Idlib and its countryside that are affiliated with the Education Directorate.
The school principal said she was also asked to tell married women seeking education that there are no available spots.
The source said she is personally implementing this mandatory decision, as she believes the most suitable place for a woman is her husband's house and raising her children. She noted that a married woman would take the place of another student because she would have to suspend education during pregnancy and childbearing for an extended period, and that would deprive an unmarried student of the spot.
She said that the way unmarried and married female students think is totally different, especially when it comes to marital conversations in school. This might affect other girls' thinking.
She concluded by saying that, as a school principal, she believes the decision is correct, and any married woman should abide by it and by her husband's opinion completely.
An Idlib-based activist who spoke to Al-Monitor on condition of anonymity said that banning married women from enrolling in public schools is arbitrary and unjust, amid lack of justifications, except for HTS' control of the area and its systematic crackdown on citizens and education of women, married or unmarried, but mainly the married ones.
Women have bigger responsibilities and burdens, and education can boost their self-confidence and empower them to interact with others and with society, she said, adding that depriving women of education negatively affects their lives, weakens their character and robs them of economic independence.
HTS is trying to completely control the education sector in Idlib and indoctrinate students with its ideas and beliefs by luring them to its religious schools and offering them benefits.
There are several religious schools affiliated with HTS in Idlib, like Dar al-Wahi al-Sharif, which is one of the largest in Idlib. HTS funds its religious schools from its own resources.
In February, teachers who volunteer at schools affiliated with Idlib and Hama education directorates closed schools until they have paid their outstanding wages, as part of a general strike. Teachers in Idlib, who were forced to work as volunteers after years of unpaid salaries, had been protesting in recent years the deteriorating conditions of schools in Idlib. But their demands continue to fall on deaf ears.
Source: Al Monitor
https://www.al-monitor.com/originals/2022/08/syrian-jihadist-group-hts-blocks-married-women-idlib-studying
--------
Riyadh police arrest 8 persons including a Saudi women for committing crimes
September 03, 2022
RIYADH — The Riyadh police has announced that it had arrested 7 persons and a Saudi woman for committing several criminal incidents.
Riyadh police stated that the criminal incidents represented robbing of houses, the theft of jewelry, electronic devices and several other belongings.
The investigation showed that 5 of the detainees are Yemeni residents, and a resident of Burkinabe, in addition to a Burundian domestic worker violating the residency law and registered as absent from work (Huroob), as well as a Saudi woman.
Riyadh police said that half of the stolen items were returned, noting that they have referred the detainees to the Public Prosecution, and have taken legal measures against them.
Source: Saudi Gazette
https://www.saudigazette.com.sa/article/624561
--------
Over 6,000 athletes to participate in Saudi Games 2022
September 04, 2022
RIYADH — A huge number of male and female athletes are set to compete in various games to qualify for the Saudi Games 2022.
More than 6,000 athletes representing 200 clubs and competing in 45 Olympic sport would participate at the biggest national sport event in Saudi Arabia to be held in Riyadh from Oct. 27 till Nov. 7.
During the past few days, several qualifying rounds were held for men in Jeddah, Riyadh, Dammam in Karting and Billiards, while qualifiers for women were held in Bowling, Badminton, Squash and Fencing.
Fifteen athletes have officially qualified to the first version of the Saudi Games in the Karting qualifying round, with one place remaining to be nominated by the organizing committee.
Additionally, 15 athletes taking part in Billiards have qualified, while 28 athletes from both sexes have qualified to the tournament finals in Bowling.
In Badminton, the 30 qualifiers, both men and women, have reached the finals, as well as 15 athletes qualified to the Squash's finals, and 40 women athletes have qualified in the Fencing in the finals of the Saber, Épée, and Foil weapons.
The pre qualifying rounds will continue till Sept. 10 with the chess competition qualifiers taking place in Dammam and Riyadh. The e-games competitions will be held remotely with Darts qualifiers in Jeddah; Sailing in Jubail and the Padel and Taekwondo events in Riyadh.
Additionally, the qualifying stages will also include Billiards for women in Jeddah; Baloot in Riyadh, Indoor Rowing in Jubail and Al-Khobar; as well as Triathlon in Jeddah, Riyadh, and Al-Khobar; Athletics in Riyadh; Tennis in Riyadh and Al-Khobar; Thai Boxing (Muay Thai) in Riyadh; Weightlifting in Jeddah; Table Tennis (Ping Pong) in Dammam, Riyadh and Jeddah.
The first stage of the Saudi Games 2022 has begun via athletes' registering in the sports that requires them to achieve the qualifying standards set by the organizers. These are 23 sports: e-sports; Padel; Taekwondo; Indoor Rowing; Tennis; Cycling (Road Racing); Bowling; Triathlon; Karting; Weightlifting; Wrestling; Darts; Badminton; Skateboarding; Thai Boxing (Muay Thai); Table Tennis (Pong Pong); Billiards; Chess; Squash; Baloot; Sailing; Climbing; and Athletics.
Source: Saudi Gazette
https://saudigazette.com.sa/article/624580
--------
Saudi-Indonesian integration system for migrant workers will improve relations, say officials
September 03, 2022
JAKARTA: The integration of a placement system for Indonesian migrant workers in Saudi Arabia will help lift a ban by Jakarta, improve protection of the group, and boost bilateral relations, officials from the Southeast Asian country have said.
Indonesian and Saudi officials have been working on establishing an integrated placement system between the two countries and renewed a technical arrangement agreement last month to speed up this process.
Jakarta had placed a permanent ban on sending new domestic helpers to the Middle East in 2015 following a temporary suspension, although hundreds of workers still left for jobs in the wealthier region in the years since.
Eko Hartono, Indonesia's consul general in Jeddah, told Arab News that the one-channel system would help to lift the moratorium while also boosting relations between the archipelago nation and the Kingdom.
"This will definitely elevate relations, especially labor relations," Hartono said. "The system integration is important because it will guarantee the fulfillment of the rights of Indonesian migrant workers working in Saudi Arabia. Once the system integration is complete and done, it can pave the way to lift the moratorium."
Suhartono, a director general at Indonesia's Manpower Ministry, told Arab News that officials were expecting the integration process to conclude before the end of this year.
"We estimate (it will be ready) by November 2022 at the latest," Suhartono said. "The system is one of the instruments for both governments to monitor and evaluate, while also controlling recruitment, placement, and protection of Indonesian migrant workers to Saudi Arabia."
Indonesia is also hoping to increase the placement of Indonesian migrant workers in the formal sector, Suhartono added, while also improving relations in other aspects of labor such as training, mutual recognition arrangements, and joint labor inspection.
Jakarta-based advocacy group Migrant Care said the Indonesian government should ensure a thorough evaluation of existing arrangements between Jakarta and Riyadh. It also called for a renewal of bilateral agreements related to migrant workers.
"The moratorium has been in place for quite some time," Migrant Care director AnisHidayah told Arab News.
"We have new laws, Saudi also has new regulations and new political context, which will serve as context between our two countries and affect what we want to push for. The most important thing is to have a thorough evaluation."
Source:ArabNews
https://www.arabnews.com/node/2155596/world
--------
Iranian authorities plan to use facial recognition to enforce new hijab law
WeronikaStrzyżyńska
Mon 5 Sep 2022
The Iranian government is planning to use facial recognition technology on public transport to identify women who are not complying with a strict new law on wearing the hijab, as the regime continues its increasingly punitive crackdown on women's dress.
The secretary of Iran's Headquarters for Promoting Virtue and Preventing Vice, Mohammad Saleh HashemiGolpayegani, announced in a recent interview that the government was planning to use surveillance technology against women in public places following a new decree signed by the country's hardline president, EbrahimRaisi, on restricting women's clothing.
The decree was signed on 15 August, a month after the 12 July national "Hijab and Chastity Day", which sparked countrywide protests by women who posted videos of themselves on social media with their heads uncovered on streets and on buses and trains. In recent weeks, the Iranian authorities have responded with a spate of arrests, detentions and forced confessions on television.
"The Iranian government has long played with the idea of using facial recognition to identify people who violate the law," said AzadehAkbari, a researcher at the University of Twente, in the Netherlands. "The regime combines violent 'old-fashioned' forms of totalitarian control dressed up in new technologies."
The hijab, a head-covering worn by Muslim women, became mandatory after Iran's revolution in 1979. Yet, over the decades since, women have pushed the limits of the stipulated dress code.
Some of the women arrested for defying the new decree were identified after videos were posted online of them being harassed on public transport for not wearing the hijab properly. One, 28-year-old SepidehRashno, was arrested after a video circulated on social media of her being berated for "improper dress" by a fellow passenger, who was then forced off the vehicle by bystanders intervening on Rashno's behalf. According to the human rights group Hrana, Rashno was beaten after her arrest and subsequently forced to apologise on television to the passenger who harassed her.
Rashno is not the first person to suffer violent repression as a result of going viral on the internet. In 2014, six Iranians – three men and three women – were sentenced to one year in prison and 91 lashes after a video of them dancing in Tehran to Pharrell Williams's song Happy had more than 150,000 views.
Since 2015, the Iranian government has been phasing in biometric identity cards, which include a chip that stores data such as iris scans, fingerprints and facial images. Researchers worry that this information will now be used with facial recognition technology to identify people who violate the mandated dress code, both in the streets and cyberspace.
"A large chunk of the Iranian population is now in this national biometric data bank, as many public services are becoming dependent on biometric IDs," said Akbari. "So the government has access to all the faces; they know where people come from and they can easily find them. A person in a viral video can be identified in seconds."
She added: "By doing that, the government proves a point: 'Don't think that a small thing happening on a bus somewhere is going to be forgotten. We know who you are and we will find you and then you will have to suffer the consequences.'"
"EbrahimRaisi is a real ideologue," said Annabelle Sreberny, professor emeritus at the Centre for Iranian Studies at Soas University of London. "There are terrible economic and environmental problems facing Iran. The inflation rate may now be reaching 50%, but the government is choosing to focus on women's rights."
Sreberny added: "I think it is part and parcel of a failing government that is simply not dealing with these massive infrastructural, economic and environmental issues. And women are seen to be a soft target."
Thank you for joining us from India.
The end of the right to abortion in the United States will have devastating consequences around the world. A half century ago, the Supreme Court's landmark Roe v Wade decision inspired a new era of reproductive freedom in dozens of countries. The court's reversal will empower anti-abortion voices everywhere, threatening reproductive freedom and the right to control one's destiny.
The Guardian views reproductive choice as a fundamental human right and will pursue this story even after it recedes from headlines, with a focus on the people most impacted by restrictions. But we need your help to do this work.
Unlike many others, the Guardian has no shareholders and no billionaire owner. Just the determination and passion to deliver high-impact global reporting, always free from commercial or political influence. Reporting like this is vital for democracy, for fairness and to demand better from the powerful.
And we provide all this for free, for everyone to read. We do this because we believe in information equality. Greater numbers of people can keep track of the events shaping our world, understand their impact on people and communities, and become inspired to take meaningful action. Millions can benefit from open access to quality, truthful news, regardless of their ability to pay for it.
Every contribution, however big or small, powers our journalism in tight economic times and sustains our future. Support the Guardian from as little as $1 – it only takes a minute. If you can, please consider supporting us with a regular amount each month. Thank you.
Source:TheGuardian
https://www.theguardian.com/global-development/2022/sep/05/iran-government-facial-recognition-technology-hijab-law-crackdown
--------
Fatwa against Muslim woman in Aligarh for installing Ganpati idol at her home
Siraj Qureshi
Agra
September 4, 2022
A Muslim woman, Ruby Khan, in Aligarh installed a Ganpati idol at her home on Ganesh Chaturthi. Infuriated with this act, Islamic fundamentalists raised this issue before the religious leaders at the DarulUloom (Islamic Court) at Deoband. The Muslim clerics issued a 'fatwa' against the woman.
Consequently, today the Fatwa Mobile Service chairman of Deoband, Maulana Arshad Farooqi released a video, threatening that anyone who acts against the religion, will face the same punishment that is written in Islam for such a person.
Reacting to the Maulana's statement, social activist Ruby Khan told India Today that she considers such Fatwa-toting Maulanas as 'jehadis' and 'terrorists'.
Aligarh Muslim University's former head of the Sunni Theology department said that Ruby Khan could not be a Muslim if she doesn't know that by worshipping a statue, she has committed 'shirk' in the eyes of Allah.
All India QuomiTanzeem state vice-president M Jamal Khan said that Ruby Khan claims to be a social activist, but she is a BJP leader and she does what the BJP wants her to do. Right now, Ruby wanted to remain in the media highlights to please her political masters, so she placed a Ganpati idol at her home.
Rashtriya Muslim VikasParishad chairman Sami Aghai ridiculed Ruby Khan's attempt to make a place for herself in the BJP by establishing a statue of Ganpati at her home. He said that Ruby Khan may go up to any extent, including denouncing her own religion to please the BJP, but the BJP will never give importance to a Muslim in its organization. Mukhtar Abbas Naqvi, ShahnawazHussain, and other Muslim BJP leaders are prime examples of this.
Social activist Sameer claimed that Ruby Khan was not the first Muslim to worship Ganpati, in fact, the 'Khans of Bollywood' are glaring examples of how Ganpati worship has started transcending religious boundaries in the Indian culture. In fact, Salman Khan just recently released a video of himself worshipping Ganpati at his sister Arpita's home.
However, he said, Ruby Khan should have kept this fact in mind that while Ganpati worship by a Muslim celebrity may be acceptable in Maharashtra, it could be hardly tolerated in a state like Uttar Pradesh which is the home to several different Muslim sects, including both Deoband and Barelvi.
Source:IndiaToday
https://www.indiatoday.in/india/story/fatwa-against-muslim-woman-aligarh-installing-ganpati-idol-at-her-home-1996394-2022-09-04
--------
Is the rise of Arab female gamers triggering demand for dedicated content, platforms?
September 04, 2022
Abdulla Rasheed
Dubai: Female gamers have historically been underserved by the gaming community but a new wave of women gamers and dedicated platforms for them is bucking the trend in the region, a leading industry expert has said.
In an exclusive interview with Gulf News, Matt Pickering, CEO of Power League Gaming (PLG), said the female gaming segment has crossed the 40 per cent mark of the Middle East and North African (MENA) gaming audiences.
"Through our insight that this segment was historically underserved by both brands, content, and experiences, we took the early step to develop IPs that specifically cater to female gamers... Our first step into developing specialised female gaming platforms was the development of Miss eSports, the region's leading incubator and accelerator program for female gaming and eSports talent, which then expanded into the development of 'female only' eSports leagues," added Pickering.
"We have also recently launched a Saudi-focused female gaming platform, Saudi Girl Gamer, which will provide gaming content, experiences, and competitions to the Saudi female gaming community – a community that has behavioural characteristics which are mildly different from the wider MENA audiences."
PLG describes itself as "Arabic First, meaning we actively seek to engage Arabic audiences".
'Most UAE youth are gamers'
According to research cited by Pickering, in the UAE, the majority (76 per cent) of youth (14 to 24 age range) identify themselves as gamers. "Engagement within this segment is consistently far more than the industry benchmark when compared to more traditional forms of entertainment and content, such as film or music," the CEO added.
"The UAE is also one of the fastest growing countries for gaming in the world, with the rapid adoption of new tech and mobile penetration. The ecosystem for the youth of the UAE is prime in terms of accelerated growth potential, behaviour, and infrastructure."
Pickering said this rising community has spawned the constant need for upskilling in the fast-changing gaming technology. He added: "We are also heavily invested in directly upskilling the next generation of UAE gaming content creators and eSports professionals. We do this through our education platforms which we deliver through our education partners and education platforms..."
About Matt Pickering
Beginning his career in Europe and moving to Dubai later in 2008, Matt Pickering, CEO of Power League Gaming (PLG), comes from a career background having worked for Red Bull, TBWA and launching his own digital media agency, Air Media. In March 2020, Matt joined PLG as CEO and Partner, making the following 12 months PLG's fastest period of growth, almost doubling the size of the business.
Source:GulfNews
https://gulfnews.com/uae/is-the-rise-of-arab-female-gamers-triggering-demand-for-dedicated-content-platforms-1.90313169
--------
Revival of wetlands by women, local communities
September 4, 2022
For many years, the DOE has tried to elicit the participation of women and establish effective communication with local communities to preserve and revive the natural reserves, ArezooAshrafizadeh said.
In this regard, the Marine Environment and Wetlands Affairs, in the form of Iran's Wetlands Protection Plan, has set a pattern for people's participation in the restoration of Urmia Lake, she noted.
A significant part of these measures, which started in 2013, was to pay attention to sustainable livelihoods in rural and nomadic areas, and "diversification to livelihoods compatible with wetland resources" in two categories of "agricultural jobs" and "non-agricultural jobs".
The goal of implementing this project is to create and develop livelihoods compatible with wetland resources, reduce the pressure on natural resources, establish a sustainable agriculture program for wetlands, build the capacity of regional stakeholder networks, participate in local communities and manage sustainable agriculture.
It was planned to use the local capacities, especially the capacity of women in 54 villages in the four provinces of West Azarbaijan, East Azarbaijan, Fars, and Khuzestan, to preserve wetlands. It showed that women and locals are the most cooperative in preserving the environment and wetlands.
Women and the environment are the beating hearts of countries, but unfortunately, they have been neglected for many years, and perhaps now is the best opportunity to compensate for the past, considering the country's environmental conditions.
So, investing to empower women is an indirect investment to preserve the environment, as well as the education and training of locals.
Ashrafizadeh considered the participation of 76 percent of women in specialized training workshops and the participation of 66.5 percent of women in environmental information workshops in pilot villages as part of the achievements of the DOE.
Wetlands' importance
Wetlands are indispensable for the countless benefits or "ecosystem services" that they provide humanity, ranging from freshwater supply, food and building materials, and biodiversity, to flood control, groundwater recharge, and climate change mitigation.
Yet study after study demonstrates that wetland area and quality continue to decline in most regions of the world. As a result, the ecosystem services that wetlands provide to people are compromised.
Managing wetlands is a global challenge and the Convention presently counts 172 countries as Contracting Parties, which recognize the value of having one international treaty dedicated to a single ecosystem.
The Ramsar Convention uses a broad definition of wetlands. This includes all lakes and rivers, underground aquifers, swamps and marshes, wet grasslands, peatlands, oases, estuaries, deltas, tidal flats, mangroves, and other coastal areas, coral reefs, and all human-made sites such as fish ponds, rice paddies, reservoirs, and salt pans.
The Convention on Wetlands is an intergovernmental treaty that provides the framework for the conservation and wise use of wetlands and their resources.
It was adopted in the Iranian city of Ramsar in 1971 and came into force in 1975. Since then, almost 90% of UN member states, from all the world's geographic regions, have acceded to becoming "Contracting Parties".
In Iran, 141 wetlands with ecological value with an area of over 3 million hectares have been identified, of which 25 wetlands are designated as wetlands of international importance (registered in the Ramsar Convention) covering more than 1.4 million hectares and four sites are biosphere reserves.
Some 43 percent of the country's wetlands have the potential to become a source of sand and dust storms (SDSs), SediqehModarres, an official with the DOE, stated.
Source: Tehran Times
https://www.tehrantimes.com/news/476386/Revival-of-wetlands-by-women-local-communities
--------
URL: https://www.newageislam.com/islam-women-feminism/women-shelter-camps-across-pakistan-sindh/d/127881
New Age Islam, Islam Online, Islamic Website, African Muslim News, Arab World News, South Asia News, Indian Muslim News, World Muslim News, Women in Islam, Islamic Feminism, Arab Women, Women In Arab, Islamophobia in America, Muslim Women in West, Islam Women and Feminism