New Age Islam News Bureau
20 May 2015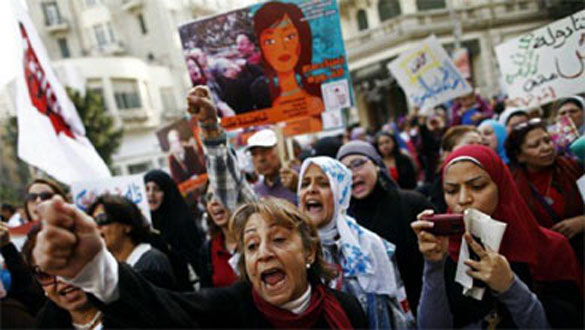 (Sexual violence used in Egypt on 'massive scale') Human rights groups have accused the authorities of failing to address the issue. Photo: AFP
---------
• An Antidote to IS Recruitment of Women
• Kenya: Two Missing Girls Claim They've Joined Islamist Group in Syria
• Sexual Violence by Security Forces Used In Egypt on 'Massive Scale'
• Girls Boxing For Self-Defense, Empowerment in Kolkata, India
• Muslim Women's Hip-Hop Collective Confronts Stereotypes and Breaks Up the Boys' Club
• Schoolgirl Rifqa Bary Who Converted To Christianity over Facebook Is Living In Fear
Compiled by New Age Islam News Bureau
URL: https://www.newageislam.com/islam,-women-and-feminism/new-age-islam-news-bureau/over-1,000-women-in-saudi-arabia-ask-for-divorce-in-six-months/d/103057
---------------
Over 1,000 women in Saudi Arabia ask for divorce in six months
20 May 2015
A total of 1,163 women in various parts of the Kingdom have during the past six months, asked for khula (petitioning for a court divorce without the husband's consent and without having to prove any grounds for wanting it).
According to local daily Al-Madina on Tuesday, the wives have either petitioned for khula or for documenting it.
According to the report, Makkah Province, with 311 khula cases, tops all other regions. Riyadh came second with 238 cases followed by the Eastern Province with 144.
There were 73 khula cases in Al-Jouf, 59 in Jazan, 53 in Asir, 32 in Qassim and 20 cases each in the Northern Border Province, Tabuk and Hail.
The report said Madinah Province had 17 khula lawsuits filed, Najran 12 and Al-Baha eight.
http://english.alarabiya.net/en/perspective/features/2015/05/20/Over-1-000-women-in-Saudi-Arabia-ask-for-divorce-in-six-months.html
-------------
An Antidote to IS Recruitment of Women
20 May, 2015
An intriguing aspect of Islamic State is its recruitment of women to support the war in Iraq and Syria. "I wonder if I can pull a Mulan and enter the battlefield," tweeted one woman under the name of Umm Ubaydah, with a reference to the Disney movie about a warrior girl.
The group's use of hundreds of women has drawn the attention of both news media and governments for at least a couple reasons. These female jihadists are effective on social media in recruiting even more women to IS (aka ISIS). And they could easily slip back into their home countries as terrorists.
Yet this attention overlooks a contrary trend in the Islamic world: the increasing ability of Muslim women to exercise authority within Islamic institutions as preachers, teachers, counsellors, and interpreters of religious text – not as warriors. This rise of women in religious leadership, despite a long tradition against it, could be an effective antidote to the IS recruitment efforts.
These new female authority figures are particularly effective in reaching into the homes of would-be IS recruits, teaching them the Islamic tradition of compassion and equality toward others. A recent report on women joining IS by the Institute for Strategic Dialogue, a Britain-based think tank, recommends that governments help families prevent their daughters from travelling to IS territory by teaching them to "engage emotionally and intellectually with the arguments in favour of joining ISIS."
"As the female migrants themselves have told us, families have a great deal of emotional and practical influence on aspiring migrants," the report stated.
In recent years, a few Islamic countries have encouraged women to rise up within mosques and madrasas – although women leading men in prayer is still widely considered to be forbidden. They most often cater to other women or to children in religious settings. In Britain and the United States, some Muslim women have formed their own mosques while in Muslim areas of China; women have a long history of holding top posts, including being imams.
One Arab country promoting women to act as Islamic leaders reaching vulnerable young people is Morocco. After a suicide bombing in 2003 in Casablanca, the government began to train women as spiritual guides, or morchidat. Hundreds of these women now go to schools, prisons, or homes to teach a tolerant version of Islam and to steer people there away from radical groups. Algeria has had a similar program since its conflict with radical Islamists in the 1990s.
Other Muslim countries have now taken an interest in Morocco's program, helped by a new documentary film about it. Perhaps if the world paid more attention to this other kind of recruitment of women, that might help reduce the flow of young people, especially women, to IS.
http://news.yahoo.com/antidote-recruitment-women-205446975--politics.html
--------------
Sexual Violence by Security Forces Used In Egypt on 'Massive Scale'
20 May, 2015
Egyptian security forces are using sexual violence against detainees on a massive scale, according to the International Federation for Human Rights.
A report by the organisation suggests men, women and children are being abused "to eliminate public protest".
Many are subjected to virginity tests, rape and gang rape after arrest.
Egypt's Interior Ministry said it would not comment until it had studied the report.
The study notes a surge in sexual violence after the Egyptian military takeover in July 2013.
The perpetrators are rarely held to account and the impunity points to a "cynical political strategy aimed at silencing all opposition".
Police, intelligence officers and members of the military are guilty of targeting male and female detainees, according to the report.
Among the victims are student demonstrators, human rights activists, gay people and children.
The authors said they did not have evidence that commanders were giving the orders, but the scale of the violence - and the impunity - suggested there was a political strategy.
They claim that victims who file complaints are systematically obstructed by the justice system, and face threats and reprisals by police officers and prison guards.
Sexual violence has long been a problem within the general population in Egypt, with assaults dramatically increasing in the years since Hosni Mubarak was removed from power.
Last year, President Abdul Fattah al-Sisi ordered police to launch a crackdown amid growing public anger.
He said sexual assaults, were "an unacceptable form of conduct" and called for citizens to "reinstate moral values in society".
http://www.thedailystar.net/world/egyptian-authorities-use-sexual-violence-massive-scale%E2%80%99-83989
--------------
Girls Boxing For Self-Defence, Empowerment in Kolkata, India
20 May, 2015
Women boxers are having an impact on India. Light-flyweight Mary Kom won a world boxing championship in 2003, and now she is an example for many Indian girls, especially after the release of the Bollywood film, "Mary Kom" (2014).
In 2011, there were around 200 female boxers in India, and Muslim communities of West Bengal contributed about 55 percent of the total. In 1998, Asit Banerjee, president of the South Calcutta Physical Cultural Association, campaigned for women's participation in the sport at a meeting of the Indian Boxing Federation.
Training academies around Kolkata set out to boosts girls' morale, and self-confidence, as well as to help them stay fit and learn self-defense. With a rape occurring every 20 minutes in a country with a population of 1.2 billion, women suffer violence in many segments of Indian society.
However, for some young women, boxing is not only a means of self-defense, but a way of life. Photojournalist Alice Sassu began documenting Simmi, Karamjit, Aditi, and sisters Ajmira and Kashmira while they train as boxers at the Kidderpore School of Physical Culture, a club in a Muslim area in Kolkata.
Simmi, 19, started boxing at the age of 13, and has since participated in state and national level competitions. Her dream is to box in international championships.
"I want to make my parents, my club and my country proud of what I am doing, so that people believe that even the Muslim community is an advanced one, and that they would not demean us anymore," Simmi said. "I want to get a job and make my own identity."
Karamjit began boxing a year ago and medaled in competitions in no time. Boxing was her passion from her childhood, following in the footsteps of her friend Simmi. Aditi also started boxing a year ago. "There is no game only for boys or only for girls," she said.
Ajmira and Kashmira live in a small Muslim village located 32 km from Kolkata, in Sealdah. Everyday they take a two-hour trip each way by train and bus to Ekbalpore to train at the club; a minor hurdle for these dedicated athletes.
"In the future I want to become a boxing coach," Ajmira said. "I have faced many financial problems to reach a high level. I want to train students so that they don't face such problems; so that they get all the help and facilities they want."
Ekbalpore, near Kolkata's docks, is a Muslim-dominated neighborhood dotted with dingy slums and gambling. Unemployment is high. The coaches of the KSOPC Boxing Club, Merajuddin Ahmed, popularly known as "Cheena Bhai," and his brother Nasim Ahmed try to help the youth in their neighborhood without any kind of sponsorship. The main problem here is poverty: Many families can't even afford the bus fare or the good diet necessary for a boxer. Girls share boxing gloves at the club, as they are expensive, and lament the fact that there are no sponsors for women.
Nasim Ahmed said, "right now, we need moral support and strength to give them [the athletes] better equipment and food. Some students are from very poor financial backgrounds.
"Their parents work as taxi drivers, servants, etc. We can't advance like this. It is necessary for us that people should come forward and help us and our club. Only then will we be able to produce gold medalists like Ali Kuwar and international boxers like Mustafa Kamal."
http://www.washingtonpost.com/news/in-sight/wp/2015/05/19/eye-of-the-tiger-girls-boxing-for-self-defense-empowerment-in-kolkata-india/
--------------
Muslim Women's Hip-Hop Collective Confronts Stereotypes and Breaks Up the Boys' Club
20 May, 2015
A new collective of hip-hop and spoken word artists are taking on stereotypes one rhyme at a time in the Bay Area.
Earlier this month, The Hijabi Chronicles, a collective of female artists of the Muslim faith, launched via their first event at La Peña Cultural Centre in Berkeley, California. It is said to be the first event of its kind in California, if not nationwide.
Alia Sharrief, the group's founder, explained to AJ+ in a video Monday that the objective of the group is convey that Muslim women belong in hip-hop, even if the genre has traditionally been male-dominated as well as generally frowned upon in more conservative corners of the Muslim community.
"We're knowledgeable, we have rhymes, we have soul and we have something to say," Sharrief told AJ+.
Sharrief, who was born and raised in Sacramento and lives in the Bay Area, released her debut album, "Mental Cycles and Mood Swings," in 2012. Her second album, "Back On My Deen," is on the way and its first single, "Who Ready," was released in February. The song's music video is inspired by Malcolm X.
Sharrief and other artists associated with the collective make it a point to address current issues, particularly as they relate to matters of race and gender.
"I rhyme about helping people, protesting, speaking up for humanity, having dignity, and self respect to say the least," Sharrief wrote last year in a feature on Muslimah Montage, an online platform for Muslim women.
In another video, released last fall, Sharrief and fellow artist Aminah Bell responded to rapper Iggy Azalea, who some have criticized for cultural appropriation, over the beat of Azalea's "Black Widow."
http://www.huffingtonpost.com/2015/05/19/hijabi-chronicles-muslim-hip-hop_n_7317106.html?ir=India&adsSiteOverride=in
--------------
Schoolgirl Rifqa Bary Who Converted To Christianity over Facebook Is Living In Fear
20 May, 2015
Rifqa Bary, the Ohio teen who made national headlines in 2009 when she ran away from her Muslim family after secretly converting to Christianity, writes in her new book that nearly six years after her escape she still lives in fear but does not regret her decision.
Born Fatima Rifqa Bary, the Sri Lankan native moved with her family to the US in 2000, when she was 8 years old, ostensibly to seek medical treatment after an accident involving a toy airplane left her blind in her right eye.
At age 12, Rifqa secretly became a Christian. When her devout Muslim parents discovered her conversion four years later, the teen fled her family's home in New Albany, Ohio, and sought refuge in Central Florida.
Bary, now 22, is a college student majoring in philosophy. She still lives in an undisclosed location for fear of retribution.
In her new book, Hiding in the Light: Why I risked Everything to Leave Islam and Follow Jesus, released Tuesday by the WaterBrook Press division of Penguin Random House, Bary details her transformation from a girl growing up in a strict Muslim household to an apostate who, according to some people, shamed her family.
'Those who do understand it, and understand it very well, are those who have wanted me dead. That's why I have taken, and continue to take, precautions to protect my life and safety,' she writes, according to Columbus Dispatch.
The book also sheds light on Rifqa's strict upbringing, her first religious experiences as a Christian convert and a battle with cancer that nearly cost Bary her life at age 18.
In her memoir, the 22-year-old aspiring lawyer reveals that she had been molested as a child by a member of her extended family - an incident that ultimately prompted her parents to leave Sri Lanka and move to the US.
'In some Muslim cultures, like mine, this kind of violation is a great source of dishonor,' Bary explains. 'Yet the shame is not attached to the abuser; it is cast on the victim.
'So not only was I viewed now in my parents' eyes as a half-blind picture of imperfection, but I was also a shameful disgrace to the Bary name. My mere presence and appearance were a stain against the most important thing of all — our family honor.'
On July 19, 2009, Rifqa Bary boarded a Greyhound bus in Ohio and traveled nearly 1,000 miles southeast to Central Florida.
Police used phone and computer records to track her to the Reverend Blake Lorenz, pastor of Orlando, Florida-based Global Revolution Church, whom she had met through a Facebook prayer group.
When local authorities threatened the pastor and his wife with criminal charges for harboring the teenage fugitive, Rifqa turned herself in to police and spent two days behind bars at a juvenile detention facility.
Rifqa claimed her father threatened to kill her for converting to Christianity and her mother threatened to ship her off to a mental institution in Sri Lanka.
The teenage runaway told a Florida judge at one point she feared she would become the victim of an 'honor killing,' but investigations carried out by the Columbus Police Department and Florida Department of Law Enforcement failed to corroborate this threat, according to Orlando Sentinel.
After several rounds of court hearings, Bary was returned to Ohio where she bounced between foster homes until she turned 18.
In her book, Rifqa Bary writes critically of her family and their local mosque, suggesting that they were the deciding factors in her decision to turn her back on Islam and flee.
According to Bary, her parents and older brother routinely abused her and prevented her from spending time with friends because in Islam, she write, 'the place for women was at home close to their families, close to Allah.'
She also describes in the book how strict religious rules imposed by the leaders at the mosque attended by her family created a 'whiplash of abuse' at her home.
Fearing her family's wrath, Bary said she would hide her Bible and lie to her parents so she could sneak off to church services.
Bary's parents have repeatedly denied the allegations of abuse and claimed that they allowed her to freely practice Christianity.
Describing Bary as the 'apple of the eye of her father,' attorney Shayan Elahi said the family is heartbroken over her estrangement and wish Rifqa would reconcile with them.
Elahi, who represented Mohamed Bary, Rifqa's father, in Florida during the custody battle, claimed that as a teenager she came to be exploited and manipulated by 'Islamophobes' pursuing their own political and religious agendas.
Rifqa Bary details in her autobiography how she was drawn to Christianity as a young girl because it offered her a chance to worship God in a more personal way, not by compulsion, and in a language she could understand.
'To think that someone could pray in English about whatever they wanted to was both scandalous and fascinating to me,' she writes.
Describing her first Christian chruch service, the 22-year-old college sophomore writes how she broke down in tears looking at a cross, which to her symbolized 'freedom,' 'hope' and 'unyielding love.'
Upon her return to Ohio, Rifqa Bary was diagnosed with a rare form of uterine cancer and given a year to live.
After undergoing eight weeks of chemotherapy and several surgeries to remove the malignant tumor, Bary stopped treatment and refused to undergo a hysterectomy citing her religious beliefs.
Against overwhelming odds, today the 22-year-old is in remission.
But as she tries to lead a normal life, Rifqa says the fear of retaliation is always lurking in the background.
'I still feel like my life is in danger,' she says. 'I don't live in fear all the time but I still have to be wise and cautious.'
http://www.dailymail.co.uk/news/article-3088805/I-feel-like-life-danger-College-student-22-famously-fled-Muslim-home-Christian-reveals-new-memoir-abused-child-threatened-mental-institution.html#ixzz3afbUZg9c
---------------
URL: https://www.newageislam.com/islam,-women-and-feminism/new-age-islam-news-bureau/over-1,000-women-in-saudi-arabia-ask-for-divorce-in-six-months/d/103057