New Age Islam News Bureau
17Dec 2013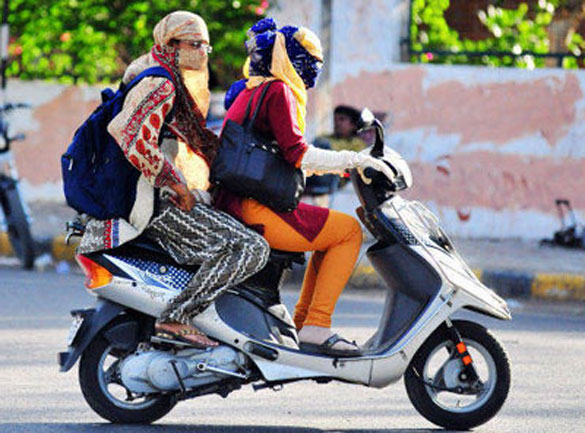 Bhopal city with a split psyche with New Bhopal spawning a masked generation while its old areas boldly coming out of the cocoon with many spurning the Burqa
---------
• Mumbai Sunni Cleric Says Avoid e-Chat, Women's Groups See Red
• MP Underlines Iranian Women's Eye-Catching Growth in Various Fields
• Modern-Day Bhopal, under the 'Veil', For Different Reasons
• 10th class topper attributes success to Islam
• In Tanzania, Maasai Women Who Reject FGM Are Refused As Brides
• Emirates Women Police Association Encourages Women to Contribute Socially and Culturally
• U.N. Women Launches First Database Mapping Gender Provisions In Constitutions
• Nigerian Lawyer Defends Human Rights of Women in West Africa
• Ex-Playboy Bunny Defends Decision to Don Hijab Despite Being Non-Muslim
• White Widow Samantha Lewthwaite linked to Kenya grenade
• Freedoms for Saudi University Girls End At Gates
• Ex-Husband Found Guilty Of Killing Pashtun Singer Ghazala Javed
Compiled by New Age Islam News Bureau
URL: https://newageislam.com/islam,-women-and-feminism/new-age-islam-news-bureau/outrage-in-britain-as-muslims-push-women-to-back-of-auditorium/d/34875
---------------
Outrage in Britain as Muslims Push Women to Back of Auditorium
Dec 17, 2013
Reports have surfaced in Britain about women attending college events sponsored by Muslim groups being forced to sit separate from men or in the back of the room — and women's rights activists and attendees are outraged.
Britain's Sunday Times reported that women were pushed to the back of the gathering hall at a recent seminar by the Queen Mary Islamic Society at Queen Mary University of London. They also were banned from speaking and forced to enter the assembly through a "sisters only" entrance, The Blaze reported.
Men at the event, meanwhile, were seated in the front rows and were allowed to ask questions verbally. The women had to write their questions on pieces of paper and pass them along for consideration, The Blaze said.
The event was called "Deceptions of the Dunya," which means "world," and the keynote speaker was Ustadh Abu Abdillah, the British newspaper The Sunday Times reported.
Women in attendance expressed outrage.
One told The Sunday Times that the entire fiasco was degrading, adding that "it's not just about segregation but also about how they're treating women." A self-proclaimed Muslim herself, the student also said, as The Blaze reported, "You just want to shake them and say, why are you being so disrespectful?'"
A spokesman for the university said in the newspaper that "segregated events are not in line with Queen Mary's values or equality policy. We will be raising this with our students' union as this should extend to student society-organized events with external speakers such as this one."
That event, which took place in November, came on the heels of another earlier this year at the University of Leicester. There, women were seated in rows behind men at an assembly by the University of Leicester Islamic Society, The Blaze reported.
http://www.washingtontimes.com/news/2013/dec/16/outrage-britain-muslims-push-women-back-auditorium/?utm_source=RSS_Feed&utm_medium=RSS
---------------
Mumbai Sunni Cleric Says Avoid e-Chat, Women's Groups See Red
Mohammed Wajihuddin, TNN Dec 15, 2013
MUMBAI: Progressive Muslim women's groups have slammed a Sunni cleric's advice to women against internet chats and visits to beauty parlours. They said such "regressive" words would discourage girls from keeping pace with a globalized world.
Mufti Zubair Islahi, while taking queries from women at the Sunni Dawat e Islami conclave at Azad Maidan on Friday, said chatting with strangers online was un-Islamic. He also spoke against women's visits to beauty parlours. "If girls use the internet for college admission or for jobs, it is perfect. But many enter relationships with strangers via the internet and are later exploited," Islahi said.
Noorjahan Safia Niaz of Bhartiya Muslim Mahila Andolan said, "There was no internet during the Prophet's time. Clerics should understand the revolution it has brought."
Islamic scholar Zeenat Shaukat Ali asked, "What about restrictions for men?" Haseena Khan of Awaze Niswan, referred to a case where a man gave talaq through Facebook and asked his wife to check it online. "Why is Facebook and other modern forms of communication fine if used by men, but bad for women?" Khan asked.
http://articles.timesofindia.indiatimes.com/2013-12-15/mumbai/45215519_1_beauty-parlours-noorjahan-safia-niaz-haseena-khan
---------------
MP Underlines Iranian Women's Eye-Catching Growth in Various Fields
Dec 17, 2013
TEHRAN (FNA)- A senior Iranian parliamentarian dismissed as baseless the West's propaganda against women's situation in Iran, stressing that women, shoulder to shoulder with men, have successful presence in the country's scientific, academic, cultural, sports, and political arenas.
"In the years after the victory of the Islamic Revolution (in Iran), Iranian women attained a special status in the Iranian society and they managed to play an important role and have an active presence in different scientific and academic fields," Head of the Iranian Parliament's Women Fraction said.
"An incorrect image has been depicted from the Iranian society, especially from the Iranian women, in the years after the victory of the Islamic Revolution," she added.
Iranian women stood first in the Asian Karate Championships in the United Arab Emirates (UAE).
Earlier this month, the Iranian women karate team defeated China 3-0 in the final match and won the title for the first time in Asia.
The Iranian team became the winner of the Asian championship after Hamideh Abbasali won a gold, Pegah Zanganeh won a silver and Delaram Dousti, Fatemeh Chalaki and Sahar Karaji won three bronze medals.
In November, Iranian Women Blind Football Team qualified for the first time for the international competitions which will be held in Finland next year.
The Iranian team defeated Australia in the Asia-Pacific Championship contests and received the permission to take part in the International Competitions 2014 in Finland.
http://english.farsnews.com/newstext.aspx?nn=13920924000769
---------------
Modern-Day Bhopal, under the 'Veil', For Different Reasons
Asmita Pandey, TNN | Dec 17, 2013
BHOPAL: You can barely steal a fleeting glimpse of their eyes, faces wrapped in anonymity, drifting past sidewalks or zooming away in the fast lane. Modern-day Bhopal is under the veil, GenNext women heavily shrouded in scarves, tugging onto a medieval mask even in upscale areas, glitzy malls or behind the wheel. Not shackled by religion, but hooked to a fetish for camouflage - a shocking scorn for the metropolitan craze for fashion.
But just few km away in areas hugging the sprawling Nawabi legacy of old Bhopal under shadows of spiralling mosque spires, the Burqa is tradition. It's not a guise or guile to conceal identity. And Muslim women can be seen flaunting mascara, thick kajal under their eyes - the modest Hijab in silhouette, clearly revealing their radiant faces.
It's a city with a split psyche with New Bhopal spawning a masked generation while its old areas boldly coming out of the cocoon with many spurning the burqa. And the GenNext trend is not about a protection from pollution - Bhopal is one of the greenest cities in India - it's a strange psychological phenomena.
For some girls, the hooded attire is a fashion statement, for many a shield to stave off lechers on the prowl and for others an identity buffer during a romantic date.
For Meghna Bhardwaj, a young professional, the veil is her defence mechanism. A stalker left her face blotched after she spurned his advances. "He smeared mud on my face and struck me with a blade. I never step out of my house without wrapping my face with a stole," she said.
Anjali Barjatya, an 18-year-old college student of Arera Colony, said, "I cover my face as I don't want to get noticed by goons on the street. I am aware of acid attacks and want to keep myself safe."
The stole gives a sense of security and confidence to Sujata Gupta, an MBA student. "The scarf keeps me safe from prying eyes of stalkers. I do not want to be subjected to lewd remarks."
But there are some like Shweta Laharia, who use the wrap to retain their sheen. "The stole is a shield against pollution and sunburn". This sounds a little far-fetched as Bhopal's pollution levels are far lower than other metros.
To put the record straight, this is what Jyoti Shukla, a professional, had to say. "The pollution theory is hogwash. I think it is the bandwagon effect in full display. The stole has become a fashion statement in Bhopal," she said.
City psychologists feel the trend has picked up over the last five to six years. Dr Preeti Mathur, a well-known psychologist said, "Rising incidence of eve-teasing has triggered panic among women. A sense of fear has sunk. The veil is a precaution. And women think twice before stepping out of their homes without covering their face."
But, this argument loses steam when one talks to women in Old Bhopal. Riding a Scooty on way to pick her child from school, Chandna, a housewife said, "I live in Old City which is far more polluted than New Bhopal. I never face any problem here, so why I should cover my pretty face. Beauty is to be displayed, not concealed."
Her statement is corroborated by the ambience in the Walled City. Be it Jehangirabad or the by lanes of Moti Masjid, women briskly move through bazaars without the heavy wraparound. The Burqa is ubiquitous, but many women don't conceal their face.
Saira Ali, an advocate, "I have never received any lewd remark. I don't feel insecure and don't feel the need to cover my face."
Trashing the 'self-imposed Talibanisation' by women of Bhopal, Fahmida and Tarannum, both commerce graduates, said, "Even in traditional Islamic countries like Saudi Arabia, women are challenging orthodoxy. So why have women here suddenly decided to go into purdah. Why talk of insecurity outside homes, when statistics show women are more insecure inside the four walls of their house. Should we cover our face at home too? In an era of women's empowerment, it is strange that Bhopal is slipping into medieval times." Brave words, indeed! But are women of New Bhopal listening?
http://timesofindia.indiatimes.com/city/bhopal/Modern-day-Bhopal-under-the-veil/articleshow/27483015.cms
---------------
10th class topper attributes success to Islam
Dec 17, 2013
Srinagar: Kauser jan of Iqbal Memorial (Girls) Higher Secondary School Bemina was excited when she came to know that she had bagged first position in class 10 examination. Kauser Jan under Roll number 874272 secured 98 per cent with 495 marks. "It is not my parents only who guided me but my will to believe in Islam and follow its tenets in letter and spirit helped me to come off with flying colours," jubilant Kauser told CNS at her Bemina residence.
"Islam is a complete way of life. Besides preparing for class 10 examinations I always set apart time for Islamic studies. The Holy Quran and teachings of our beloved Prophet Muhammad (PBUH) guided me during odd times and gave me strength," Kauser said.
She said that the aim of her life is to become a doctor and serve the society. "I attribute my success to the teachings of Islam. Islam teaches me not to let down our parents. It teaches me how to muster courage to face any odd situation. I was emotional after hearing the news of my success but without getting carries away, I bowed before Almighty and offered Salah," she told CNS adding that she has firm faith that hard work never goes waste. "I worked hard throughout the year and was optimistic that I will top," she said.
Belonging to a middle class family and daughter of Professor Muhammad Maqbool Rather, Kauser Jan hails from Nehalpora Pattan and presently she is residing her own house at Madina Colony Bemina.
Kauser's father is jubilant over the success of her daughter and wants her daughter to top the Common Entrance Test (CET) for admission to professional courses. "I was delighted to hear that my little daughter has topped the merit list of 10 class. Her triumph is proof that girls are no lesser than boys," he said. (CNS)
http://kashmirwatch.com/news.php/2013/12/16/10th-class-topper-attributes-success-to-islam.html
---------------
In Tanzania, Maasai women who reject FGM are refused as brides
Dec 17, 2013
DAR ES SALAAM (Thomson Reuters Foundation) - Lozwi Longinai was preparing for her wedding day last month in northern Lingate village, but at the last minute her groom changed his mind after realising that his 18-year-old fiancée had not been circumcised.
"This is very bad. We are being rejectedby our own society because we have refused to be circumcised," Longinai complained.
While female genital mutilation (FGM) is on the decline in Tanzania, the practice remains widespread in some rural areas, and in Maasai communities like Lingate in the northern Arusha region, dozens of women are being turned away in marriage because they have refused to be cut, according to an NGO working in the region.
Despite efforts to end the practice, some Maasai tribal elders embrace the tradition and want their daughters circumcised.
"This practice must be eliminated as it denies women the right to enjoy life and make appropriate decisions on their lives," said Jamboi Barmayegu, an official from the NGO, the Ujamaa Community Resource Team.
FGM - the cutting or total removal of the clitoris and other vaginal tissue - is often done in Tanzania using unclean knives or blades. Side effects of FGM include excruciating pain, urinary tract infections and even death.
UNICEF estimates more than 125 million girls and women have undergone genital mutilation in 29 countries across Africa and the Middle East.
In Tanzania, the practice seems to be on the decline, with the prevalence rate having dropped from 18 percent in 1996 to 15 percent in 2005, according to the Demographic and Health Survey commissioned by the Ministry of Health.
However, the survey indicated that most women were still being cut in several regions, including two regions just south of Arusha - Manyara, where 81 percent of women have undergone some form of genital mutilation, followed by Dodoma, where approximately 68 percent of women have undergone the procedure.
TOUGHER LAWS NEEDED
Women's rights activists say the Tanzania government must enact tougher laws to deter FGM, which they see as a violation of human rights.
The country's Sexual Offences Special Provisions Act of 1998 prohibits FGM from being performed on girls younger than 18, but it does not provide any protection for women once they pass that threshold age.
Critics say enforcement of this legislation is difficult due to insufficient knowledge of the law among the people, as well as victims' reluctance to testify against community members for fear of reprisal from those who practice it.
"Since it is technically difficult for the law enforcers to reach remote areas, most communities still embrace the practice," said Helen-Kijo Bisimba, an activist from the Dar es Salaam-based Legal and Human Rights Centre.
TIME TO FIGHT TRADITION
Women rights groups say the best way to stop FGM is by engaging those who have abandoned the practice to educate society about its risks - including the family of girls like Sara Lukumai, a Maasai woman who narrowly escaped the procedure.
She was 16 when her mother told her it was time to face the knife as part of the Maasai tradition that prepares girls to be women.
"As I was coming from school one day, I saw a group of women gathered at our home singing and ululating. I realised it was my turn, but I strongly refused," the woman, now 19, told Thomson Reuters Foundation in an interview.
Her father, Lengai Ole Lukumai - a Maasai herder in the village of Oldonyosambu, about 35km from Arusha - supported his daughter's refusal because his six other daughters did not benefit from undergoing the procedure.
"I have had enough of it. I know it is a break in tradition, but I wanted to show how bad some of our customs are," he said. "I am still a follower of my traditions, but I just don't want any more cuts for my children because I have realised it brings more harm than good."
His wife was not pleased because their daughter's rejection of the ritual was a disgrace to the family and would be seen as an act of cowardice, but she could not argue with her husband.
The girl, meanwhile, was ridiculed by friends who had been circumcised, but she saw it as a necessary act of defiance to tell villagers that it was high time to abandon outdated traditions.
In her impoverished community, many parents are unable to afford school fees and so marry their girls off at a young age. Uneducated and too young to fight back, many girls undergo FGM as the traditional precursor to marriage.
Grateful that her father supported her, Sara Lukumai sees education as the way to fight poverty and FGM.
"I want to study. It is through education that I can help my family get out of poverty," said the girl, who is now in her second year at a secondary school in Arusha. "I want to be a teacher so that I can help fellow citizens to reject bad traditions."
http://www.trust.org/item/20131216094140-k5c2x/?source=hpeditorial
---------------
Emirates Women Police Association Encourages Women to Contribute Socially and Culturally
Dec 17, 2013
The Emirates Women Police Association and the Rewaq Ousha Bint Hussein Cultural Society have signed an agreement to collaborate in order to encourage women to contribute both socially and culturally.
Major Amina Mohamed Khamis Al Baloushi, Chairperson of the Emirates Women Police Association, discussed the different aspects of cultural and social cooperation with Dr. Moza Ghobash, Head of the Rewaq Ousha Bint Hussein Cultural Society. Al Baloushi briefed her on the activities hosted by the Emirates Women Police Association. She briefed her on the Regional Conference of Women Police and how they hosted a number of international delegations. She also briefed her on how Abu Dhabi was chosen as the regional headquarters for the International Association of Women Police, and how they are joining as the 16th region.
She also spoke about the Emirates Women Police Association's committees. These include the Studies and Research Committee; Social and Cultural Committee; the Disabled Women's Committee; Internal and External Relations Committee; and the Training, Development and Media Committee.
Dr. Moza Ghobash said that Rewaq Ousha Bint Hussein Cultural Society is a leading association in terms of cultural, intellectual and charitable work. It contributes to the strengthening of culture and identity in the UAE by promoting family values through its annual awards ceremony. These awards include the Ideal Mother, the Ideal Father, and the Creative Disabled award. These awards honor their recipients, and encourage them to care about future generations.
Dr. Ghobash talked about the society's charitable goals, and how they increase the sense of social responsibility among the citizens of the country. She said that it motivates them to participate and take the initiative in serving and developing the community. She said it also promotes participation and encourages them to help victims of natural and social disasters. She also said that the society aims to strengthen the culture of volunteering, and described how the society distributes brochures that highlight major social issues during public events.
She expressed her appreciation of the efforts made by the Emirates Women Police Association in improving women's work in the police force. She stressed that cooperation between the EWPA and the Rewaq Ousha Bint Hussein Cultural Society will result in a lot of productivity.
http://www.zawya.com/story/Emirates_Women_Police_Association_and_Rewaq_Ousha_Encourage_Women_to_Contribute_Socially_and_Culturally-ZAWYA20131215140523/
---------------
U.N. Women launches first database mapping gender provisions in constitutions
Dec 17, 2013
NEW YORK (Thomson Reuters Foundation) - The U.N. agency for gender equality and women's empowerment has launched the first ever global database mapping national constitutions in terms of how they guarantee, deny or protect the rights of women and girls.
The interactive database, accessible on the U.N. Women website at http://constitutions.unwomen.org, covers 195 countries in Africa, the Americas, Asia, Europe and Oceania. All the constitutions are available in English, as well as in their 62 original languages.
Expected to be updated annually, the database provides a country-by-country overview of the current status of principles and rules relevant to women's rights and gender equality, as well as a comparison of data across various countries. It is designed to be a tool for gender equality and human rights activists and experts.
Using keywords, researchers can choose from legal provisions grouped into 16 categories, including rights of women; public authorities, institutions and services; political participation and freedom of association; citizenship and nationality; education; employment; marriage and family life; status of religious/customary law; status of international law (including human rights law); right to property/inheritance; and reproductive rights.
The constitutional database was conceived by U.N. Women and supported by the Swedish International Development Agency (SIDA).
http://www.trust.org/item/20131217073958-4er0x/?source=hptop
---------------
Nigerian lawyer defends human rights of women in West Africa
Dec 17, 2013
Hauwa Ibrahim was enjoying a snack of a fried bean cake in the public square of her village in northern Nigeria when she noticed a picture on the newspaper used to wrap her food.
The photograph of a person dressed in a graduation cap and gown captivated her.
"I wasn't looking at who the person was, whether it was a man or a woman, but what confidence the person had," Ibrahim recalled some 40 years later. "There was something about the confidence that person had, and I wanted to have that confidence when I grew up."
Today, Ibrahim exudes a calm confidence as she describes her remarkable journey from an 11-year-old girl who ran away from home to pursue her education to a lawyer recognized internationally for defending people, particularly women, facing flogging, amputation or even death for violating local interpretations of Islamic law, also known as Sharia.
An observant Muslim, Ibrahim has patiently and persistently worked within the religious and cultural systems of her native land to persuade local leaders to look beyond local customs and apply what she believes is the just and equal treatment required by the Quran, Islam's holy book.
"For us, winning is not going into the courtroom with a wig and gown and arguing all day long," she said. "You may win there, but if you come back and you don't have the village behind you it won't matter. We don't want that to happen."
Ibrahim has spent the past three years at Harvard Divinity School's Women's Studies in Religion program articulating her strategy of "walking from within" in her new book "Practicing Law in Shariah Courts: Seven Strategies for Achieving Justice in Sharia Court" (American Bar Association, $49.95).
"I explain Sharia and how we practice it, what are the strategies that can be adopted in any given society," she said. "So, I hope it can be a teaching tool to help people see justice from another angle."
In Utah recently to deliver a lecture at the Christian Center of Park City, Ibrahim took time to sit down with the Deseret News and express her views about Sharia and human rights.
Deseret News: Explain how you apply your theory of "walking from within" to ensure your clients are treated fairly.
Hauwa Ibrahim: My team would have a local leader, a (Muslim) imam of the village, and a local lawyer to give us local input because Sharia is not always the same in every village or town. Having a son or daughter of the soil enhances our ability. In some of the cultures, if you go there and they offer you water and you don't drink it, you lose them before you even start. Even if the water looks like mud, you drink it if you want their confidence and trust. These are things that are subtle, and if you don't know them you lose out.
DN: In the first Sharia case you took on in 2001, you made a public statement that stoning was not in the Quran and the local imams accused you through the local media of being anti-Muslim and anti-Sharia. How did you win their trust?
HI: (Their accusation) meant I was an apostate and should be stoned to death. I could either go into hiding or come out and face it. I decided to face it, so I called the (BBC) reporter asked him to introduce me to the imams. They accepted to see me in a mosque. So, I covered myself from my head to my toes and went into meet with them. ... There were eight of them sitting on chairs, and there was a chair for me, but I walked toward them and knelt down on the floor. I was looking at the floor because you are not allowed to look at them. They asked me to sit on the chair but I said, "How can I, your daughter, sit on a chair when you my fathers sit on a chair." By that act of humility, I captured their ears just to listen.
I told them I was a silly lawyer and came to visit with them because they had a knowledge I did not have. We had a long conversation about Sharia and about Islam, about obedience, about morality. ... After we finished they said my (copy) of the Quran was too small, so they gave me a bigger Quran. But most importantly they said to me, "We, publicly, will not support what you are doing, also, publicly, we will not be against you." That was a huge security statement. They toned down their rhetoric and that really helped us. (Our client) was discharged and acquitted.
DN: Most religious traditions have some sort of internal legal system to enforce their moral codes of conduct. But why are some of the punishments in Sharia so extreme — even death?
HI: The strict punishments come from interpretations or translations of the Quran. Maliki is the only school of thought that mentions these harsh punishments. He got his ideas from where he was from ... Mecca and Medina. He never left that area. For example, in Egypt, they have Sharia but they don't have stoning. The largest Islamic country in the world is Indonesia and they don't have Sharia. The countries that have stoning are those that have decided to interpret their own systems and cultures and Islam together.
DN: Can an Islamic community in the United States effectively implement Sharia?
HI: They cannot, especially the criminal aspects. The civil aspects they should have the opportunity to practice if it has no conflict with national, civil laws. That would be marriage and custody issues. ... I think people should be allowed to settle those disputes in ways that enhance society and families. But in criminal matters there are certain prohibitions that are in conflict with accepted standards of human rights and dignity.
DN: How do you respond to people who want to ban Sharia in state or federal statutes?
HI: It is redundant. Your constitution has already laid out issues of crime and for that reason the foreign law doesn't fit into your lifestyle. And the members of a (state) House and Senate have already sworn to uphold their constitutions.
DN: How can you be an advocate for women's rights and also uphold Islam and Sharia law, which seem at odds with women's rights?
HI: Because Islam is peace and the bedrock of Islam is justice and fairness. That is why I stand with that aspect of the Quran, for Sharia and for women. Standing up for women is just what Sharia is all about — it's about justice and fairness.
http://www.deseretnews.com/article/865592322/Nigeria-lawyer-defends-sharia-and-human-rights-of-women-in-West-Africa.html?pg=all
---------------
Ex-Playboy bunny defends decision to don Hijab despite being non-Muslim
Dec 17, 2013
Kuala Lumpur: First Malaysian Playboy bunny and model Felixia Yeap's decision to don the hijab despite being a non-Muslim has shocked many, with some fans berating her and labelling it as a "publicity stunt".
The 27-year-old Ipoh beauty, who has been modelling since she was 19, however, remained unperturbed by all the scepticism and criticism that she had been receiving since she started donning the hijab a few months ago.
"They say I did this to find a rich Malay Datuk to marry.
If I wanted to find a rich man, I would have done it a long time ago when I was still actively modelling in sexy poses. Their criticisms defy logic.
All I wanted to do was to cover up more and do more decent modelling," she said.
Yeap said while it had come as a surprise to her fans, her love for Muslim attire had started a long time ago when she was still in school.
Yeap's action had been criticised by Muslims as well as non-Muslims who said she was being "disrespectful" towards Islam for wearing a hijab.
They said before donning the hijab, she should have removed the pictures of her in a Playboy bunny outfit and also others which showed her in sexy poses and revealing attire. Some of her over 148,000 fans on Facebook and her blog had criticised her action as a publicity stunt to gain more popularity and fame. Some even left her social media site after that.
Yeap, who is still receiving invitations to appear at Playboy events and functions all over the world despite ending her career as a bunny in 2010, defended her action.
"I had always wanted to wear the hijab but I only got the chance to try it this year when I went for a casting call in a Celcom television commercial for the Hari Raya celebration.
"It was a blue hijab and I fell in love with it. Then, I had another chance to wear the hijab again when I was hired as a model for a Muslim boutique in a fashion show during the Hari Raya season," she said.
She said although some Muslims had criticised her, most of the negative comments had come from non-Muslims.
She said she had always loved Baju Kurung and Malay-Muslim traditions.
Yeap, a former kindergarten teacher, started her career in modelling in 2005 when she entered the Dewi Remaja contest organised by a magazine and became one of its finalists.
She then joined many beauty pageants and at the peak of her career, she was invited to be a Playboy bunny and worked at its club in Macau.
But her career at the club only lasted a month as Yeap decided to return home to pursue her modelling career.
"There was no intention of working there for a long time.
Yes, it was fun and I learnt many things but modelling is where my heart is, not working at the club," said Yeap.
On the negative perception towards her for donning the hijab, Yeap said she did not blame the fans for being "confused" with her action.
"I won't blame them. People who don't know me, do not read what I write, will get confused.
"My past photoshoots and modelling gigs which I have on my Facebook and blog, those are my achievements.
"I want people to know, if I can stop being sexy, cover myself up, be a better person, a respected woman, why can't they understand the story and moral behind it? Let it be a story to inspire people," said Yeap.
She said she feels better when she covers herself up.
"People are not looking at you because of the size of your breasts or your body shape, instead, people look at you because of your intelligence and your character.
"I don't deny that I had cried after several modelling jobs recently.
I love to cover myself up, so when I have to give in to the demands of my work which required me to be sexy, I felt exploited," she said.
"If people think I am weird to be a non-Muslim model covering myself up, so be it," said Yeap.
On her family's acceptance, Yeap said her mother was very supportive.
"She even say I looked good with the hijab."
On her sexy modelling gigs, Yeap said she is completing her remaining commitments which she had agreed to before she decided to wear the hijab.
"This month would be my last assignments. I have to make several appearances for Playboy Bunny International. Many failed to understand that this is a work commitment and I am a professional model.
I have to complete the job by hook or by crook.
Even if I want to leave something I want to leave it with pride."
What would be her New Year resolution? Yeap said she is going to be selective in her modelling gigs.
Asked if she would be wearing the hijab permanently, Yeap said she is slowly learning to be a better person.
"I want to be a better person, a better woman. The year 2014 will be the beginning of something beautiful," said Yeap.
Yeap had been featured in the local and foreign FHM magazines before she was hired as a Playboy bunny.
Before that, she had participated in a television reality show called "I Wanna Be a Model" and was among the finalists in season three of the show.
She was also the first runner-up for Miss Chinese World Malaysia 2006 and the finalist for Dewi Remaja Malaysia.
http://www.dailyexpress.com.my/news.cfm?NewsID=87445
---------------
White Widow Samantha Lewthwaite linked to Kenya grenade
BY JOHN MCGURK
Dec 17, 2013
An extremist Islamic terror group with connections to Banbridge-born 'White Widow' Samantha Lewthwaite is believed to have been behind a Kenya bomb attack which killed four people.
The victims lost their lives when a grenade exploded inside a passenger mini-bus near a girls school in Nairobi on Saturday.
Twenty-five people were also injured when the blast ripped through the 32-seater vehicle while travelling in the Eastleigh area of the Kenyan capital.
The area, nicknamed 'Little Mogadishu' due to its large population of ethnic Somalians, has direct connections to the al-Shabab militant group of which Lewthwaite is a leading member.
All four attackers believed to be responsible for the deaths of 67 people in the bloody shopping mall siege in Nairobi on September 21 were Somalians living for some months in the Eastleigh area.
Lewthwaite, who grew up on the Whyte Acres estate in Banbridge and whose grandmother
still lives in the County Down town, is believed to have been actively involved in the planning and possible execution of the murderous mall attack.
Yesterday's bus bomb in Eastleigh is bound to raise suspicions that Lewthwaite's Al-Shabab group have struck again in Kenya.
After the mall attack, Interpol issued a Red Alert for 29-year-old mother-of-three Lewthwaite — making her the world's most wanted female terror suspect.
The daughter of a British soldier and Northern Ireland mother, she married Germaine Lindsay, who was one of the suicide bombers who killed himself and 26 innocent people on a London tube train in July 2005.
She is believed to be hiding out in east Africa and actively involved in the al-Qaeda connected al-Shabab terrorist group.
Commenting on yesterday's bomb atrocity, a spokesman for the Kenyan Interior Ministry said: "A group of assailants threw a grenade into a bus with 32 seats.
"The attack is an unfortunate and cowardly incident which will not be tolerated."
http://www.belfasttelegraph.co.uk/news/local-national/northern-ireland/white-widow-samantha-lewthwaite-linked-to-kenya-grenade-29840245.html
---------------
Freedoms for Saudi university girls end at gates
Dec 17, 2013
RIYADH, Saudi Arabia — Within their female-only campuses, women at Saudi Arabia's universities let loose. Trendy sneakers, colorful tops, a myriad of hairstyles. Some experiment with bleach blonde or even dip-dyed blue hair. The more adventurous ones have cropped their hair into short buzzes.
In their bags, the textbooks vary, but one item is mandatory: a floor-length black abaya robe that each must cover herself with when she steps through the university gates back to the outside world of the kingdom.
audi Arabia has spent billions of dollars to improve women's education, part of a broader drive to empower young Saudis for the marketplace. That has meant improved campuses, better facilities and research programs and a slight expansion in the curriculum for women. For years, Saudi King Abdullah has been making startling, if incremental, moves to ease restrictions on women in the kingdom, where the word of strict ultraconservative Wahhabi clerics is virtually law.
But a look inside the women's universities that have sprung up over the past decade illustrates how change only goes so far.
Within the campus grounds — a world of strictly female students, teachers and staff — women have some greater freedoms. But outside, women remain bound by a web of customs and religious strictures. Women are kept segregated from men, are barred from simple rights like driving and required to adhere to strict dress codes that often require them to cover their hair and face with a black veil. They are ruled by the whim of male relatives whose permission is required for a woman to work, get an education or travel under "guardianship laws."
With those restrictions in place, women's rights advocates say, the king's drive to modernize the oil-rich nation will always hit a wall.
"No matter what happens, women are still bound by male guardianship laws and strict cultural norms," said Aziza Yousef, a professor at the women's college of King Saud University. "If you are lucky and your male guardian is good, you will move ahead in life fine. If you are in a family where the male guardian is strict, your life will be paralyzed."
Women also face limited job opportunities once they leave the university. Women's participation in the workplace is minimal, in part due to segregation requirements and traditions that encourage women to focus on marriage and children. Although girls make up almost 58 percent of undergraduates, or around 474,000 students, women hold only a third of the jobs in the public sector, and in the private sector the percentage of working women is in the low single digits.
The education push fuels young Saudi women's ambitions, but they still struggle to navigate the limited possibilities.
"I want to be independent and work before I get married," said Shaden el-Hamdan, a 22-year-old studying an English degree at Riyadh's Imam Mohammed bin Saud Islamic University. She's lucky in that her family is not pressing her to get married — her father tells to wait another six years before thinking about it.
But she said she knows getting a job is difficult. She doesn't want to be a teacher, the job of an estimated 78 percent of the women who work. So she talks about trying to find a position at one of the multinational corporations operating in the kingdom. If she can't, she'll stay in school for a Master's.
The overhaul of women's education over the past decade has been significant. Previously, women's colleges were overseen by the Department of Religious Guidance, putting female students under the direct power of clerics. In 2002, they were put under the Education Ministry, which oversees male education. Five years later, the first full women's university was created, the Princess Nora University in Riyadh.
In 2009, the country's first gender-mixed university, the King Abdullah University of Science and Technology, was opened. It was a show of defiance by the king against the country's ultraconservatives, on whose support his power is partly based. When one prominent government cleric criticized the university, the king fired him. Still, it remains the only university where men and women attend lectures together.
Princess Nora University represents the kingdom's focus on beefing up separate women's schooling — and it provides the most visible contrast between campus and street life.
In 2011, a gleaming new PNU campus was inaugurated, able to accommodate 50,000 students. Along with a brand new hospital and an architecturally stunning library, it boasts a state-of-the-art sports complex with a swimming pool, gym, indoor running track and sprawling outdoor soccer fields, a major shift for a country where female athletics have long been frowned upon.
Arabesque latticework, known as mashrabiyas, over the windows provide privacy, and enclosed pedestrian bridges and four metro lines ferry girls around the 800 hectare (nearly 2,000 acre) campus, ensuring that will never be seen by male drivers and campus police outside the buildings.
Several young women on campus quietly described it as a "golden cage."
"The campus itself and the buildings are great, but the faculty is not very strong," 20-year-old Nada el-Agmy said. "I feel like I'm learning things I already know."
Though some science and business courses are taught, degrees in Teaching and Home Economics are geared toward professions perceived as feminine. At the campus bookstore, a text on Islam leans next to a book on "how to think like a businessman."
Curricula for women remain limited. No universities offer engineering degrees for women, and many courses are geared toward traditional fields such as nursing and teaching. With clerics opposed to women TV newscasters, communications and journalism degrees are rare — the King Saud University in Riyadh, for example, only began to offer one for female undergraduates this year.
In the end, increased women's rights is not the aim: The priority for the ambitious overhaul in the quality of education for men and women is to wean Saudis off the generous welfare state funded by the country's oil riches and push them into the job market, particularly outside the oil sector.
Almost a third of the kingdom's population is under the age of 15 and more than half under the age of 25. The International Monetary Fund says that across the Gulf Arab region, an expected 1 million new entrants into the workforce could find themselves without jobs by 2018 if the private sector does not expand.
Saudi unemployment is estimated at 12 percent. Yet foreign workers overwhelmingly dominate jobs in the private sector, where only 10 percent of the workers are Saudi nationals. Saudis prefer to work in the public sector, where lucrative benefits are guaranteed.
Education spending makes up more than a quarter of the state budget, at $45 million in 2012 and an expected $54.5 billion this year, according to the Oxford Business Group. Money has been allocated the past two years for 1,300 new schools, including universities and colleges.
But teaching is strictly targeted to the marketplace. There are few political courses.
"There is a big difference between manpower and rights. They need teachers and positions filled, they don't need political science people and decision-makers," said Yousef, of King Saud University.
And for women, "education itself will not change things," she said, saying women must be educated in a culture of rights. "They can be Ph.D's, but not know their rights."
http://www.washingtonpost.com/world/middle_east/freedoms-for-saudi-university-girls-end-at-gates/2013/12/16/f89bcd38-667e-11e3-997b-9213b17dac97_story.html
---------------
Ex-husband found guilty of killing Pashtun singer Ghazala Javed
ZAHIR SHAH SHERAZI
Dec 17, 2013
PESHAWAR: Swat District and Sessions Court found the former husband of Pashtun singer Ghazala Javed guilty of killing her and awarded him two death sentences along with Rs70 million in fines.
Additional Sessions Judge Swat (II) Mohammad Tariq Pervaiz Baloch awarded two death sentences to Jahangir Khan for killing his former wife and her father.
The convict was fined Rs50 million for murdering Javed and Rs20m for killing her father. The judge further awarded Rs1m fine for injuring Farhat, Javed's sister in the attack.
The handcuffed accused appeared in the court amid tight security and after the sentence was taken back to Peshawar.
Initially the case was registered in Peshawar but after an appeal by the victim's mother, the case was shifted to Swat.
Javed had married Khan on Feb 7, 2010 but after developing differences, she filed for divorce in 2011.
Khan was opposed to her singing career and wanted her to stop singing. He had threatened her with dire consequences for leaving him.
On June 18, 2012, Javed, along with her father, was shot dead in Peshawar by unidentified gunmen on a motorcycle. Initially, Taliban were blamed for her killing.
Javed had fled from Swat following the Taliban takeover of the area and settled in Peshawar to pursue her music career.
http://www.dawn.com/news/1074454/ex-husband-found-guilty-of-killing-pashtun-singer-ghazala-javed
---------------
URL: https://newageislam.com/islam,-women-and-feminism/new-age-islam-news-bureau/outrage-in-britain-as-muslims-push-women-to-back-of-auditorium/d/34875