New Age Islam News Bureau
21 Jan 2016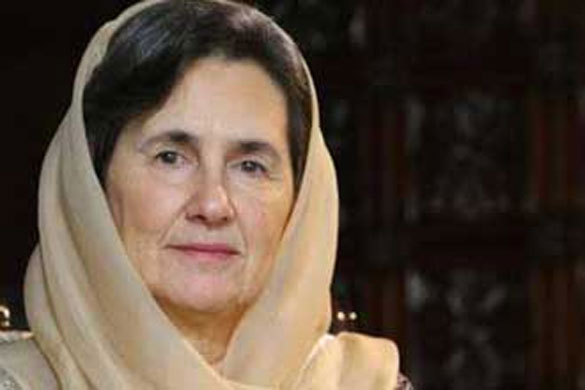 Photo: Afghanistan's First Lady Rula Ghani
---------
• Afghanistan to Build Its First Women's University: First Lady Rula Ghani
• Female President of Islamic Society of Britain to Give an Insight into Islam, Christianity and British Muslims
• Woman Sentenced To 11 Months for Alleged Offensive Hand Gesture against Erdoğan
• Women Rulers of the Arab and Muslim World: Khayzuran and Zubayda
• As More Pregnant Women in US Found With Mosquito-Borne Zika Virus, CDC Issues New Guidelines
Compiled by New Age Islam News Bureau
URL: https://newageislam.com/islam-women-feminism/only-muslim-women-reform-islam/d/106071
------------
Only Muslim Women Can Reform Islam
20 JANUARY 2016
A lecturer friend was shocked when a student asked if she could miss class to accompany her mum to hospital. The daughter needed to translate for the mother who had lived in east London for more than 30 years. When my friend wondered how that was possible, the daughter replied: "My dad didn't want mum to learn English so she never did."
Sadly, her case is far from unique. Some 22 per cent of Muslim women in the UK – around 190,000 – speak little or no English. That's not a huge figure in itself, but multiply it by the number of their children and suddenly you have an awful lot of five-year-olds turning up at school without a clue how to talk to their teachers or classmates. Without a clue about the culture of their country.
"No one is ever going to convince me that shrouding a woman's body and face says anything other than Subjugated Female Within"
Shaista Gohir, chair of the Muslim Women's Network UK, says women tell her that their husbands or in-laws don't want them to learn English because it will "disturb the status quo". So you live in the UK, where you get all the benefits of the world's fifth largest economy, but you can still treat your wives and daughters as if you were back in rural Pakistan. Result! You can ensure that women are confined mainly to the home while the men go out and speak for your community.
Sometimes, there are segregated meetings where men get the chairs and women sit in the corridor. If girls attend an Islamic school, they are covered in black from head to toe from a young age. No one outside their community wants to talk to them because they look scary – and this, too, suits your purposes. They never get access to the opportunities enjoyed by other British young women. Good. Who knows what ideas that might give them…
The most senior judge in England and Wales said he recognised the wearing of the niqab - the Muslim garment which leaves only a woman's eyes visible - was "divisive" CREDIT: ALAMY
Oh, and if you want to divorce your wife, you use a Sharia court where women are seen as having half the worth of men. So much nicer than British justice with its crazy insistence on equality!
Well, if Muslim men think like that, then they deserve to have their "status quo" disturbed. That is why we should give a cautious welcome to David Cameron's £20 million plan to improve English classes for immigrants and, more specifically, to bring Muslim women into mainstream society. I say cautious because any plan which threatens to deport women for failing to learn English when it's the men who are keeping them locked away is grossly unfair. Muslim women have got quite enough outrageous sexism to deal with as it is.
Three cheers, though, for the Prime Minister's proposed ban on women wearing veils in schools, courts and other British institutions. The niqab is just horrible. How can children learn from a teacher who can't be seen, or jurors assess a hidden woman's evidence? And I'm sorry, but no one is ever going to convince me that shrouding a woman's body and face says anything other than Subjugated Female Within.
"Multiculturalism leads to parallel societies and therefore remains a 'life lie', or a sham"
At last, our PM has had the balls to confront the "appalling practices" of a patriarchal culture which has seen discrimination against women and girls flourish. Of course, the PC mob are still in denial. Andy Burnham, the Shadow Home Secretary, tweeted: "Cameron's simplistic, headline-driven approach to extremism risks unfairly stigmatising a whole community, thereby making the problem worse."
Let's pause for a moment and think what Burnham's party did. Apart from turning a blind eye to Pakistani girls "disappearing" from schools (into forced marriages) so Labour could hang on to their fathers' votes, it was Labour that spread the pernicious doctrine of multiculturalism, which says that all cultures are equal. What, even the ones that treat 14-year-old girls like brood mares?
Shush, madam. Don't go worrying your pretty little head about that; go indoors and do something with a mop, please.
As Angela Merkel put it recently: "Multiculturalism leads to parallel societies and therefore remains a 'life lie', or a sham." Back in the Eighties, I taught English to Bengali and Bangladeshi women and was moved by how hungry they were to learn. But multiculturalism, combined with their mens' reluctance to grant them western freedoms, ensured that they ended up in ghettoes. That mistake was to cost this country dear.
The UK is still spending £100 million a year on interpreters. One hospital trust in the North West uses interpreters 74 times a day. In the NHS, the sum spent on foreign-language services has risen by 41 per cent over the past four years to at least £33 million. That would buy a helping hand for the steelworkers of Port Talbot, wouldn't it? Now there's a vulnerable minority for you, but I'm afraid they're white, working class and Welsh. Bad luck, boys.
By bending over backwards to adapt to immigrants, instead of the other way around, we put them at a terrible disadvantage. Naz Shah, Labour MP for Bradford West, admits that the poor standard of English among many women in her constituency is a "huge barrier to integration" and damages the educational prospects of their children. Some in the Pakistani community, She said, seemed to be going backwards. "When my parents came over, my mum had to learn the basics to get by. Now, with the third and fourth generations, it's perfectly possible to live a life where you never have to speak English because everyone where you live speaks your language."
"Mothers can teach their sons better, but not if they don't have the words"
Incredibly, it is easier in 2016 for a Muslim to lead a life broadly untouched by English language and culture than it was 30 years ago. And that really matters at a time when home-grown terrorism is such a threat. This week, yet more British Muslims (four students this time) were on trial for allegedly plotting drive-by shootings against police and soldiers. Such cases make a nonsense of Andy Burnham's claim that the Prime Minister's plan "stigmatises" Muslims.
Muslims are well and truly stigmatised already, I'm sorry to say, and the PM to his credit is making a bold attempt to tackle a toxic situation.
When Donald Trump, he of the multi-directional apricot hair, made his inflammatory remarks about banning Muslims from the US, a woman called Saba Ahmed turned up on TV to take him on. I was delighted. Here was a bright, funny Republican lady who just happened to be wearing a headscarf. Ahmed was obviously a patriotic American in every fibre of her being. In the States, they are lucky they can take such happy integration for granted.
In the UK, men too often do the talking for Muslim women. That needs to stop. Let's ban segregated meetings from taking place in public buildings. Stop Sharia courts hearing matrimonial and family cases where women are treated as second-class citizens. Close down those single-sex faith schools in which girls are given a rotten education that equips them only to be silent handmaidens (and, no, you're not shutting CofE schools as well, because they're not misogynist like the Islamic schools).
Only women, I think, have the ability to reform Islam. Mothers can teach their sons better, but not if they don't have the words. It may take several generations, but learning English is a good start.
http://www.telegraph.co.uk/women/politics/only-muslim-women-can-reform-islam/
--------
Afghanistan to Build Its First Women's University: First Lady Rula Ghani
By KHAAMA PRESS - Thu Jan 21 2016, 11:39 am
The National Unity Government (NUG) has been working on building Afghanistan's first-ever women's university in capital Kabul.
In a press conference on Wednesday, first lady Rula Ghani said that President Mohammad Ashraf Ghani has been working to establish the university in near future.
Rula Ghani added that the initiative would help girls who are not allowed to study at other universities to continue their education at the women's university.
She further said during the conference which was also attended by cabinet members, including Higher Education Minister Farida Mohmand, civil society activists and women students that building a university for girls was one of the promises of President Ghani during his presidential campaign.
Farid Mohmand, the Minister of Higher Education said during the conference that the university would be constructed on around 47 acres of land in Tapa-e-Maranjan area of Kabul with the assistance of Turkish government.
She said that the university would be named as Mawlana Afghan-Turk University.
The university has already received pledges of assistance.
President of the American University of Afghanistan (AUAF) Dr. Mark A. English said they will help the university to develop programs and increase its resources.
http://www.khaama.com/afghanistan-to-build-its-first-womens-university-4503
--------
Female President of Islamic Society of Britain to Give an Insight into Islam, Christianity and British Muslims
20 JANUARY 2016
THE first woman to be appointed president of the Islamic Society of Britain, Sughra Ahmed, will give the next Ferguson Lecture at Bishop's Stortford College.
She will give an insight into Islam, Christianity and British Muslims.
The Ferguson Lectures are a programme to provide opportunities for people to meet, discuss and ponder on a wide range of contemporary topics, named after an eminent former pupil Professor John Ferguson to commemorate his outstanding contribution to education.
Sughra, pictured, is programmes manager at the Woolf Institute in the Centre for Policy and Public Education at Cambridge, where she has responsibility for the design and delivery of research and training on issues such as faith, belief, integration and cohesion.
Previously, she worked as research fellow in the Policy Research Centre where she explored the migratory and settlement experiences of first generation Muslim women and men in the UK, and worked with a number of organisations to consider the issues young people face whilst growing up in the UK and the impact of this on wider British communities. She has published a number of papers and key reports – Seen and Not Heard: Voices of Young British Muslims (2009) and British by Dissent (2014).
Sughra is a trustee of the Inter Faith Network UK, the president of Islamic Society of Britain and an advisor to FaithxChange. She has a BA (Hons) in English language and literature and an MA in Islamic studies. She is also a qualified chaplain and holds a diploma in Islamic jurisprudence.
Active in interfaith work both locally and nationally working with organisations to help build stronger and more effective relationships across faith and beliefs, Sughra regularly contributes to debates in the media and is a contributor to Radio 2's Pause for Thought. She was recently awarded the Noor Inayat Khan Memorial Award, for Muslim Woman of the Year at the British Muslim Awards.
http://www.muslimwomennews.com/n.php?nid=7093
--------
Woman sentenced to 11 months for alleged offensive hand gesture against Erdoğan
January 20, 2016
A woman has been sentenced to almost one year in prison for allegedly insulting President Recep Tayyip Erdoğan by making offensive hand gestures toward him in the western province of İzmir in 2014.
Filiz A. was alleged to have made an offensive hand gesture and made insulting statements to then-Prime Minister Erdoğan while his bus was passing her on its way from Gündoğdu Square where a rally had taken place on March 16, 2014. The woman was reportedly seized by Erdoğan's security guards, who entered her home without showing any ID and took her to the police station while she was still dressed in her pajamas. The prosecutor of the case was seeking up to two years in prison for Filiz A. for allegedly insulting Erdoğan.
According to the Doğan news agency, the sixth hearing of the case, in which Erdoğan was the complainant, was held at the İzmir 41st Court of First Instance on Wednesday. Filiz A., her lawyer Anıl Güler and Erdoğan's lawyer Sema Cansu Bozkurt Sütçü were in attendance.
In her plea, Filiz A. denied all charges attributed to her, saying she was innocent and did not commit any crime.
Her lawyer Güler said there were two witnesses to the incident, one of whom is a member of the ruling Justice and Development Party (AK Party), which Erdoğan was the leader of at the time, and the other from the Nationalist Movement Party (MHP), a right-wing party. Stating that there is no concrete evidence supporting the allegation that his client committed the crime, Güler demanded her acquittal.
Judge Hakim Oruç said the CDs in the case file were examined by experts and there were no recordings proving that the suspect made the alleged hand gesture; however, he pointed to the statements of witnesses and police officers claiming that Filiz A. made the offensive hand gesture. The judge decided to sentence Filiz A. to six months in prison and then raised the sentence to 11 months, 20 days due to the complainant's being a public official. The court did not suspend the prison sentence as Filiz A. had a previous criminal record. After the hearing she was seen in tears, with her lawyer saying that they would appeal the decision.
A large number of people, including high school students, activists and even a former Miss Turkey, have been prosecuted for allegedly insulting Erdoğan. According to a human rights report released by Republican People's Party (CHP) deputy Sezgin Tanrıkulu on Dec. 5, 2015, more than 1,500 people have been sued by Erdoğan on libel charges and 400 more investigations are awaiting approval from the Justice Ministry.
http://www.todayszaman.com/national_woman-sentenced-to-11-months-for-alleged-offensive-hand-gesture-against-erdogan_410149.html
--------
Women Rulers of the Arab and Muslim World: Khayzuran and Zubayda
TOM VERDE JANUARY 20, 2016
From Indonesia to Pakistan, Kyrgyzstan to Nigeria, Senegal to Turkey, it is not particularly rare in our own times for women in Muslim-majority countries to be appointed and elected to high offices—including heads of state. Nor has it ever been.
Stretching back more than 14 centuries to the advent of Islam, women have held positions among many ruling elites, from malikas, or queens, to powerful advisors. Some ascended to rule in their own right; others rose as regents for incapacitated husbands or male successors yet too young for a throne. Some proved insightful administrators, courageous military commanders or both; others differed little from equally flawed male potentates who sowed the seeds of their own downfalls.
This six-part series presents some of the most notable historical female leaders
of Muslim dynasties, empires and caliphates.
We begin in Baghdad.
The story of Khayzuran is one of rags to riches, captivity to sovereignty. Born in the south-western part of the Arabian Peninsula around the middle of the eighth century, a bit more than 100 years after the death of Prophet Muhammad, she was kidnapped by slave traders while still a child. Sometime between 758 and 765, she was sold in Makkah to none other than the founder of Baghdad, Abbasid Caliph al-Mansur, who gave her to his son and successor, al-Mahdi.
She bore al-Mahdi a daughter and two sons, both of whom became caliphs—one the renowned Harun al-Rashid. By the time of her death in 789, her annual income had reached 160 million dirhams, which was roughly half of the entire state revenue, according to the 10th-century historian al-Masudi. Her personal wealth made her "undoubtedly, next to [her son Caliph Harun al-Rashid], the richest person in the Moslem world of her day," observes historian Nabia Abbott, whose Two Queens of Baghdad: Mother and Wife of Harun al-Rashid is a seminal work in Middle Eastern women's studies.
Khayzuran's path to political power, like that of many women in the long era predating today's nation-states, was via the royal haram, or women's quarters. A favorite of al-Mahdi, she enjoyed a level of trust that rivaled, and may have exceeded, that of Rita, al-Mahdi's first wife and cousin whose origins could not have differed more from Khayuran's: Rita was a royal, the daughter of Abu Abbas Abdullah, founder of the Abbasid empire.
A brief statement in al-Tabari's monumental, ninth-century History of the Prophets and Kings shows al-Mahdi's regard for his first lady of the haram: "In this year [775] al-Mahdi manumitted his slave girl … al-Khayzuran and married her." At a time when caliphs were expected to marry fellow members of the aristocracy, elevating Khayzuran to queen was "a bold break with convention," modern historian Hugh Kennedy has observed.
And not unsurprisingly, the medieval Arab chronicles indicate that this led to court intrigue: The high-born ladies of the Abbasid court sneered at Khayzuran's presence, yet she is said to have deflected their snobbery with cordial grace. Though history provides no evidence of direct tension between Rita and Khayzuran, the fact that the latter's sons—Musa al-Hadi and Harun al-Rashid—were named as heirs to the caliphate while the former's were never even considered indicates Rita's "tacit recognition of the futility of challenging" Khayzuran, Abbott speculates.
Described as "slender and graceful as a reed," according to Abbott (khayzuran is Arabic for "reed"), she hardly relied on beauty alone for her success. She was intelligent, freely quoted poetry and studied the Qur'an, hadith (sayings of Prophet Muhammad) and law at the feet of leading scholars.
THE STORY OF KHAYZURAN IS ONE OF RAGS TO RICHES, BUT ZUBAYDA WAS BORN INTO NEARLY LIMITLESS LUXURY.
She is also said to have enjoyed practical jokes and shared al-Mahdi's sense of humor, such as privately mocking Caliph al-Mansur's flashes of temper. Yet when it came to governing, she was all business: "At the opening of [her first son al-Hadi's] caliphate, al-Khayzuran used to exercise her authority over him in all his affairs without consulting him at all … assuming sole control over matters of ordaining and forbidding, just as she had done previously with his father," al-Tabari remarks on al-Hadi's accession upon al-Mahdi's death in 785.
The new caliph chafed at his mother's dominance. Perhaps it was because al-Hadi didn't live up to Khayzuran's expectations, or perhaps he resented her long-standing preference for his younger brother, Harun al-Rashid. The discord did not last long: al-Hadi died the following year. (Rumors circulated that Khayzuran had him poisoned but there is no authoritative account.) Harun al-Rashid became caliph of an empire from Morocco to Persia and ushered in the zenith of the Abbasid era. When his mother died in 789, the caliph displayed the depths of his grief and devotion by helping to shoulder her bier, barefoot, through the mud.
The histories do not detail Khayzuran's political achievements but coins were struck in her name, palaces were named for her and the cemetery in which subsequent Abbasid rulers were laid to rest also carried her name, all testifying not only to status but also to a civic largesse. Notably, she passed on this sense of civic duty to Amat al-Aziz, known to history by the unflattering if sonorous name Zubayda.
Zubayda was both Khayzuran's niece and, after Zubayda's marriage to Harun al-Rashid, her daughter-in-law. It was her grandfather, al-Mansur, who no doubt intended affection in nicknaming her Zubayda (which means "Little Butter Ball") "on account of her plumpness" as a child, according to 13th-century biographer Ibn Khalikhan.
As an adult, the chronicler goes on to say, her "charity was ample, her conduct virtuous." He adds that in her chambers, a hundred slave girls tasked with memorizing the Qur'an recited one-tenth of it daily, "so that her palace resounded with a continual humming like that of bees."
Born into the lap of the extreme luxury of the Abbasid Empire at its zenith, Zubayda quickly developed extravagant tastes. According to al-Zubayr's 11th-century Book of Gifts and Rarities—a sort of "Lifestyles of the Rich and Famous" of its day—the cost of her wedding, "the likes of which had never … been seen in [Islamic] times," ran to 50 million dinars. (For comparison, the annual cost of living for an average family in Baghdad was about 240 dinars.) The event featured a waistcoat encrusted with rubies and pearls "whose value could not be assessed" for the bride; guests received gifts of gold dinars in silver bowls and silver dinars in golden bowls.
A trendsetter of high style, Zubayda was "the first to introduce the fashion for slippers embroidered with precious stones and for candles made of ambergris—fashions which spread to the public," according to al-Masudi. On state occasions, it was said, she "could scarcely walk under the weight of her jewelry and dresses," and she had to be propped up by servants.
SHE SPENT NO LESS LAVISHLY ON PUBLIC WORKS, TO HER ENDURING RENOWN.
Yet she spent no less lavishly on public works, to her enduring renown. She made at least five pilgrimages to Makkah, as it was on her fifth, in 805, that she was distressed to see that drought had devastated the populace and reduced the sacred well of Zamzam to a mere trickle. She ordered that the well be deepened and she spent nearly 2 million dinars improving the water supply of Makkah and the surrounding province.
This included the construction of an aqueduct from the spring of Hunayn, 95 kilometers to the east, as well as the famed "Spring of Zubayda" on the plain of Arafat, one of the ritual locations on the Hajj. When her engineers cautioned her about the expense, never mind the technical difficulties, she replied that she was determined to carry out the work "were every stroke of a pickaxe to cost a dinar," according to Ibn Khalikhan.
Beyond Makkah, she financed one of the greatest public-works projects of the era: Construction of a 1,500-kilometer darb (road) from Kufa, south of Baghdad, all the way to Makkah, complete with water stations at regular intervals and hilltop fire beacons to guide travelers at night. Her contemporary historian al-Azraqi declares that "people of Makkah and the pilgrims owe their very life to [Zubayda] next to God," and pilgrim cries of "God bless Zubayda" echoed for generations along the route that is still called Darb Zubayda. (It fell into disuse when pilgrims opted for rail, auto and air travel over camel caravans.)
In a personally painful decision, in 813 Zubayda put the interests of the state ahead of her own flesh and blood by ultimately endorsing her stepson al-Ma'mun's accession to caliph when her own son, Caliph al-Amin, became intolerably corrupt. Her instincts were on the mark, and the cultured al-Ma'mun proved to be a just and erudite ruler who founded Baghdad's famed think tank, bayt al-hikma (house of wisdom), which became a center for the translation into Arabic of Greek, Roman and other classical texts that not only informed the Abbasid intellectual milieu, but also later became foundations of the European Renaissance.
Zubayda died in 831, yet her reputation as a woman of influence lived on in both history and literature. Her husband, Harun al-Rashid, became the protagonist caliph in the European collection of alf layla wa layla (1001 Nights), and it was Zubayda who became the real-life basis for the very fictional Scheherazade.
http://egyptianstreets.com/2016/01/20/women-rulers-of-the-arab-and-muslim-world-khayzuran-and-zubayda/
---------
As More Pregnant Women in US Found With Mosquito-Borne Zika Virus, CDC Issues New Guidelines
By GILLIAN MOHNEY
Jan 20, 2016
The Zika virus, a mosquito-borne pathogen that has been linked to a rise of birth defects in Brazil, has been found in at least five people this month in the U.S., prompting the Centres for Disease Control and Prevention to release new guidelines for pregnant women.
The new interim guidelines issued by the CDC on Tuesday advise doctors to ask all pregnant women if they have recently traveled to a country where the a Zika virus outbreak is ongoing. The CDC has also advised any pregnant women who have traveled to countries with the Zika virus to get tested for the virus if they are have two or more symptoms of the virus.
The illness often results in fever, joint pain and rash, health officials said. There is no cure or vaccine for the virus besides supportive care.
The guideline announcement came as two pregnant women in Illinois were reported on Tuesday to have contracted the disease, according to the Illinois Department of Public Health. Both of those women were believed to have been infected while out of the country.
Three other people in Florida were also diagnosed with the illness, officials said today. All of the infected people in Florida contracted the virus while out of the country -- in either Colombia or Venezuela.
Dr. William Schaffner, an infectious disease expert at Vanderbilt University Medical Center, said the increase in the cases reported in the U.S. may not be the result of more cases arriving in the U.S.
"I think this is likely to be increasing awareness on part of both the public [and] for women who are pregnant," said Schaffner, who explained pregnant women were already likely asking to be tested if they visited a country with a Zika virus outbreak.
Schaffner said the new guidelines will be helpful in stopping the virus from spreading in the U.S., but there is no treatment or vaccine for the virus.
"It will provoke a fair amount of anxiety in the pregnant women and their partner," Schaffner said. "I empathize with them as well as my colleagues in obstetrics. ... They don't have anything to offer except compassionate care."
On Friday, officials reported of the first case of a U.S. baby born with a birth defect likely linked to the virus. A Hawaii infant was born with microcephaly, an abnormally small head, which was likely caused when the infant's mother contracting Zika virus while pregnant, according to CDC officials, who also noted that the woman was likely exposed to the virus while living in Brazil last May.
The CDC issued guidelines last week advising pregnant woman to consider postponing travel to any country where the virus is being transmitted or to take extra precautions against mosquito bites if they are in that area.
The virus has been a problem in tropical settings in Africa, Southeast Asia and the Pacific Islands for years, but it's suspected link to birth defects was found late last year. It does not spread person to person, and the symptoms usually don't last more than a week, according to the CDC.
http://abcnews.go.com/Health/pregnant-women-us-found-mosquito-borne-zika-virus/story?id=36402557
URL: https://newageislam.com/islam-women-feminism/only-muslim-women-reform-islam/d/106071
New Age Islam, Islam Online, Islamic Website, African Muslim News, Arab World News, South Asia News, Indian Muslim News, World Muslim News, Womens in Islam, Islamic Feminism, Arab Women, Womens In Arab, Islamphobia in America, Muslim Women in West, Islam Women and Feminism Moderate Islam, Moderate Muslims, Progressive Islam, Progressive Muslims, Liberal Islam, Liberal Muslims