New Age Islam News Bureau
17 Feb 2017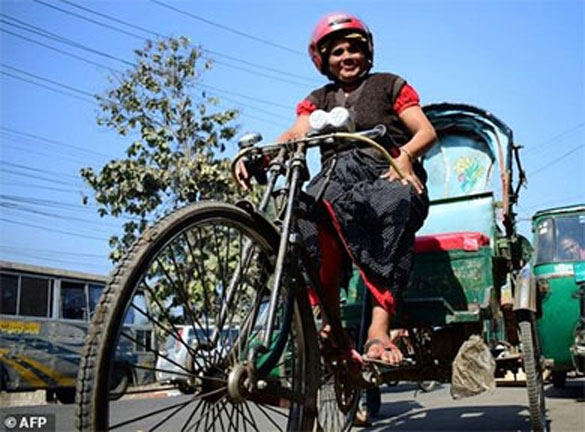 Bangladesh's lone female rickshaw puller Mosammat Jasmine says she would rather work to support her children than beg AFP/STR
------
• Pakistani Girl Undergoes Liver Transplant Surgery in India
• NIA Arrests Woman for Supplying Fake Indian Currency
• Air Raid Kills 9 Women, Child at Yemen Funeral
• Egypt to Appoint Its First Woman Governor
• Women's Rights Decreased In Putin's Russia and Trump's America, Writes Susie O'Brien
• See If Triple Talaq Impinges Muslim Women's Rights, Centre Tells SC
Compiled by New Age Islam News Bureau
URL: https://www.newageislam.com/islam,-women-and-feminism/new-age-islam-news-bureau/on-the-road-with-bangladesh-s-female-rickshaw-wallah/d/110113
--------
On the road with Bangladesh's female rickshaw wallah
Posted 17 Feb 2017
"Allah has given me a pair of hands and legs to work with. I don't beg - instead I earn a living by using his gifts," she adds.
Muslim-majority Bangladesh is one of Asia's most conservative societies where the concept of a woman doing such a job had been unheard of before Jasmine hit the road five years ago.
Left to fend for three young children when her husband ran off with another woman, Jasmine initially tried her hand at being a maid and then working in one of Bangladesh's garment factories, but found neither job suited her.
"A maid's job is good if you only have to worry about yourself but not if you've got children. And the factory work is really back-breaking and the pay is really poor," the 45-year-old explains.
Struggling to make ends meet and determined to pay for her children's education, she decided on her radical career change when a neighbour who owned a rickshaw offered to lend it to her for a few days.
Working out how to navigate the streets of Bangladesh's second city was the easy part although she did find it painful at times to peddle her brightly-coloured tricycle up some of its hilly neighbourhoods.
But finding willing passengers proved a stiffer challenge.
"Initially, many simply refused to get on board and some taunted me, saying I was doing a man's job," she recalls.
"Others told me that Islam does not permit a woman to roam around like this while there were some who refused to pay me the same fare as a male driver," Jasmine says, before adding: "I stuck to my guns as who else pays my bills, who is else is going to cover the cost of educating my sons?"
On average she earns 600 taka (US$8) a day for an eight hour shift on the rickshaw, part of which she pays as rent to the rickshaw owner. She works seven days a week.
Now a familiar sight on the streets of the bustling port city, she has won the respect of her colleagues. As she parked up by the bus station, she exchanged smiles and greetings with around a dozen male drivers.
"OVERWHELMING COURAGE"
Since switching last year to a battery-run electric rickshaw, the work has become a little less arduous but she is still an inspiration to many.
"Jasmine is unique. She is the only female rickshaw-puller among all of Bangladesh's 160-million populations. It is overwhelming to see her courage," local rights activist Suzana Salim told AFP.
The traffic police applaud her good road sense and for always wearing a helmet, unlike her male counterparts.
And even some with religious authority have started praising her.
"She is a good example to society given that many girls who fall on hard times turn to prostitution or drugs," said Nurul Alam Azmiri, the imam at a local mosque. "She has a vision for her kids, which is commendable."
Young people are particularly keen to flag her down, drawn in part by the loud music that blares from the speakers on "Pagli Khala's" (the Crazy Auntie's) vehicle.
Despite the growing acceptance, Jasmine - who is a practising Muslim - says she still faces taunts by people who question her faith.
"I don't listen to them," she said. "My sons need their education and so I'll do my best to ensure that for as long as I live."
http://www.channelnewsasia.com/news/asiapacific/on-the-road-with-bangladesh-s-female-rickshaw-wallah/3526862.html
--------
Pakistani girl undergoes liver transplant surgery in India
February 16, 2017
A five-year-old Pakistani girl has got a new lease of life after undergoing a liver transplant surgery in a private hospital with her father donating a portion of the vital organ. The patient, Anabiya, was suffering from Hyperoxaluria Type 1, a rare condition among children, which required a liver transplant.
This is an inherited condition in which a lack of enzyme leads to oxalate deposition takes place in the body causing renal and bladder stones. Stones cause urinary obstruction, secondary infection of urine and eventually kidney damage. This life threatening condition can only be cured by a liver transplant, Vivek Vij, Director of Liver Transplant Program at Fortis Hospital said. Fortis Hospital, Noida and Fortis Foundation (FF) supported the life-saving transplant surgery on the girl, after Anabiya's family who are not economically well to do requested for financial support for her treatment. The surgery took place on January 13.
"I assessed Anabiya's health at an outstation OPD in Pakistan. Lack of awareness, incorrect diagnosis and various factors had prevented her care givers from accessing the right treatment.
"We were able to diagnose the problem for which a liver transplant is the only treatment. The patient responded well to the treatment and has been discharged," Vij said.
The surgery was successfully conducted when her father, Mansoor Hussain, donated a portion of his liver. Anabiya was discharged after recovery and she is ready to go back home. Expressing gratitude, Hussain said, "We are thankful to Dr Vij for giving our daughter a new lease of life. We remain grateful for the support provided by the hospital."
http://indianexpress.com/article/india/pakistani-girl-undergoes-liver-transplant-surgery-in-india-4528681/
--------
NIA arrests woman for supplying fake Indian currency
February 17, 2017
Agra, Feb 16: The National Investigation Agency (NIA) on Thursday arrested a woman for her alleged role in the procurement and circulation of fake Indian currency notes, an official said.
Fatima, 43, was arrested from her residence in Sushil Nagar near Agra for carrying two fake Rs 1,000 notes and some incriminating documents. "Fatima could not use the notes due to demonetisation and kept it at her house. Her bank accounts revealed that lakhs of rupees were transacted in it," the NIA official said. Investigators learnt about her involvement in the illegal business while interrogating Bangladeshi national Mohammed Abdul Islam. Islam was arrested on January 18, 2016 from Kaliachak in West Bengal's Malda district in a joint operation of Border Security Force and police. He was carrying a consignment of high quality fake Indian currency notes. The NIA later took over the case following Home Ministry's order. Islam revealed that he used to collect the fake notes from his associate Ripon S.K. and further supply it to Fatima. Hailing from Bangladesh, Fatima married to one Sher Ali Khan and settled at his home town in Sushil Nagar. Islam and Ripon, already chargesheeted in fake currency supply case, are in judicial custody.
http://www.oneindia.com/india/nia-arrests-woman-for-supplying-fake-indian-currency-2350601.html
--------
Air raid kills 9 women, child at Yemen funeral
17 February 2017
SANAA: Warplanes of the Saudi-led coalition struck a house north of Yemen's capital where a crowd of mourners was gathered, residents said on Thursday, killing nine women and a child and injuring dozens.
The Saudi-led coalition said it was investigating reports of civilian casualties in the area.
The air strike hit the house of a local tribal leader in Ashira, a village north of Sanaa, on Wednesday night, a resident told Reuters. Mourners had gathered there to offer condolences after a woman died. "People heard the sound of planes and started running from the house but then the bombs hit the house directly. The roof collapsed. Blood was everywhere," a second resident of Ashira, who gave his name as Hamid Ali, told a Reuters cameraman. Pictures published by local media showed tribesmen searching through the rubble of a destroyed house said to belong to Mohammed al-Nakaya, a tribal leader allied with Yemen's Houthi movement.
One showed a man kneeling in the dust cradling the body of an elderly woman.
It was not immediately possible to verify the authenticity of the pictures.
"We are aware of media reports that Houthi rebels are claiming that Yemeni civilians were killed in an air raid overnight near Sanaa," the coalition said in statement. "There has been fighting between Yemeni armed forces and rebels in this area in recent days. We are investigating the reports."
In October the alliance of mainly Gulf Arab states was heavily criticised after launching an air strike on a funeral gathering in Sanaa that killed 140 people, according to one UN estimate.
The death toll from that strike was one of the highest in any single incident since the alliance began military operations in March 2015 to try to restore the administration of President Abd-Rabbu Mansour Hadi, who the Houthis ousted.
The White House said at the time it might consider cutting its support to the Saudi-led campaign which has been providing air support for Hadi's forces in a civil war that has killed more than 10,000 people and displaced millions.
The alliance, which says it does not target civilians, blamed the October funeral attack on incorrect information it said it received from the Yemeni military that armed Houthi leaders were in the area.
http://nation.com.pk/international/17-Feb-2017/air-raid-kills-9-women-child-at-yemen-funeral
--------
Egypt to appoint its first woman governor
16 February 2017
Five new provincial governors are to be sworn-in by President Abdel Fattah al-Sisi on Thursday, including a woman for the first time.
Nadia Abdou will be become the first female governor in Egypt, local news portal VetoGate reported.
She will be named as governor of al-Beheira Governorate after her remarkable efforts to promote Hepatitis C treatment in the city, the report said.
Abdou was appointed as the deputy governor of Behiera in August 2013.
She graduated in 1968 with a degree in chemical engineering and then received a masters degree in health engineering from Alexandria Univeristy.
She also headed a drinking water company for 12 years.
Abdou was previously nominated to be a governor of Alexandria after receiving the Dubai-based Mohammed Bin Rashid Al Maktoum Business Excellence Award for outstanding Arab women managers.
https://english.alarabiya.net/en/News/middle-east/2017/02/16/Egypt-to-appoint-its-first-woman-governor-.html
--------
Women's rights decreased in Putin's Russia and Trump's America, writes Susie O'Brien
February 17, 2017
BE AFRAID, be very afraid. Misogynist male megalomaniacs are taking over.
The latest evidence for the decline in women's rights is the Russian move to decriminalise domestic violence in cases where it does not cause "substantial bodily harm" and doesn't happen more than once a year.
Why should any form of bodily harm — substantial or not — be decriminalised?
And since when should perpetrators be given a free pass to beat their relatives every 12 months?
The Russian parliament voted for the change 380-3 and it's already been enacted after being rubber-stamped by Russian President Vladimir Putin.
Already fears that the move will encourage domestic violence have been realised. Police in the country's fourth biggest city, Yekaterinburg, have been responding to an extra 200 incidents of domestic violence a day since the law was changed.
The law has been defended by Russian ultra-conservatives who say it strengthens the family and the right of parents to beat their children. They say families shouldn't be broken up for the sake of "a slap". What else can you expect from a country where an old proverb says "If he beats you, it means he loves you".
It comes as an estimated 12,000 to 14,000 women die every year in Russia as a result of domestic violence, and an estimated one in three Russian women is physically abused by their partner. Just because it's spearheaded by a woman, MP Yelena Mizulina, doesn't make it right. Conservative women are often co-opted by conservative men to do their bidding.
It comes as US President Donald Trump gagged aid agencies that receive US funds from discussing abortion with women, illustrating yet again how women's bodies and rights are viewed as expendable.
He's also indicated his intention to appoint more anti-choice conservatives to the US Supreme Court.
Moreover, Trump's admiration of Putin — despite acknowledging his role as a "killer" — signals a broader return to the traditional male-dominated heterosexual family as the cornerstone of society.
Concern about this is reflected in the images of a topless Putin caressing a topless and pregnant Trump beamed on an Apple store this week courtesy of the app Hater.
It's a worrying development at a time when Islamic women's rights and safety continues to be under attack in extremist Muslim regimes. These females, subject to female genital mutilation, restrictions on their movements and role in public life, so-called honour killings and arranged marriages, rely on democracies such as the United States to take a strong stand on women's rights.
But Trump's ability to stand up for these women is under a cloud when he is willing to erode women's safety and health in his own country.
http://www.heraldsun.com.au/news/opinion/susie-obrien/womens-rights-decreased-in-putins-russia-and-trumps-america-susie-obrien-writes/news-story/5463ff573836b6fe571df897117188dd
--------
See if triple talaq impinges Muslim women's rights, Centre tells SC
February 16, 2017
The Centre on Thursday urged the Supreme Court to examine whether the practice of 'talaq-e-bidat' (instantaneous triple talaq), 'nikah halala' and polygamy were in conformity with the right to equality before law and protection of life and personal liberty guaranteed to the Muslim women under the Constitution.
Article 14 of the Constitution guarantees right to equality before law and Article 21 guarantees protection of life and personal liberty.
Even as the Centre submitted five questions to examine the validity of the 'triple talaq', a bench of Chief Justice Jagdish Singh Khehar, Justice N.V. Ramana and Justice D.Y. Chandrachud hinted that they may refer the entire issue to a Constitution Bench. Hinting that the matter could be heard by a five-judge bench, Chief Justice Khehar said: "This is such an important issue... it can't be scuttled."
"Every issue has so many nuances and we have to take into consideration each one of them," the bench observed in the course of the hearing on Thursday.
The Centre also urged the court to examine whether Article 25 (1) was subject to Part III of the Constitution spelling out the Fundamental Rights, particularly the right to equality before law and protection of life and personal liberty.
Article 25 guarantees freedom of conscience and free profession, practice and propagation of religion. Article 25(1) says: "Subject to public order, morality and health and to other provisions of this Part (Fundamental Rights) all persons are equally entitled to freedom of conscience and the right freely to profess, practice and propagate religion."
In another question, the Centre urged the top court to examine whether personal law is a "law" under Article 13 of the Constitution, which says that laws inconsistent with or in derogation of the Fundamental Rights would be void.
The top court has been urged to spell out whether practice of 'talaq-e-bidat', 'nikah halala' and polygamy were compatible with India's obligations under the international treaties and covenants to which it is a signatory.
The Union government earlier told the court that 'triple talaq', 'nikaah halala' and polygamy, as practiced by the Muslims in India, were not "integral to the practices of Islam or essential religious practices".
"The fact that Muslim countries where Islam is the state religion have undergone extensive reforms goes on to establish that the practice in question cannot be regarded as integral to the practices of Islam or essential religious practices," the Centre had earlier told the top court in its affidavit.
The government had cited the instances of changes in marriage laws in Iran, Egypt, Indonesia, Turkey, Tunisia, Morocco, Afghanistan, Bangladesh and Pakistan.
The All India Muslim Personal Law Board (AIMPLB) affidavit on September 2 last defended both polygamy and 'triple talaq', saying courts have no jurisdiction to examine the issue as it relates to their religion based on the Quran and Sharia law.
Contending that the "practice of one religion cannot be compared with other religion as it is unique feature of one's religion", the AIMPLB had reiterated that it was only Parliament that could deal with personal law and that it can't be interpreted by courts.
The Board earlier told the top court that the practice of 'triple talaq' and polygamy were a social need and a blessing and not a curse for women.
Directing for the next hearing on March 30, the court asked lawyers for both sides to submit their issues backed by short reasons and judgments they would relying on to the Attorney General.
The court also urged the lawyers of both the sides to split the issues they wish to address among themselves so that the hearing could be completed within allotted time.
http://www.business-standard.com/article/news-ians/see-if-triple-talaq-impinges-muslim-women-s-rights-centre-tells-sc-117021601120_1.html
--------
URL: https://www.newageislam.com/islam,-women-and-feminism/new-age-islam-news-bureau/on-the-road-with-bangladesh-s-female-rickshaw-wallah/d/110113
New Age Islam, Islam Online, Islamic Website, African Muslim News, Arab World News, South Asia News, Indian Muslim News, World Muslim News, Womens in Islam, Islamic Feminism, Arab Women, Womens In Arab, Islamphobia in America, Muslim Women in West, Islam Women and Feminism, Moderate Islam, Moderate Muslims, Progressive Islam, Progressive Muslims, Liberal Islam