New Age Islam News Bureau
8 March 2020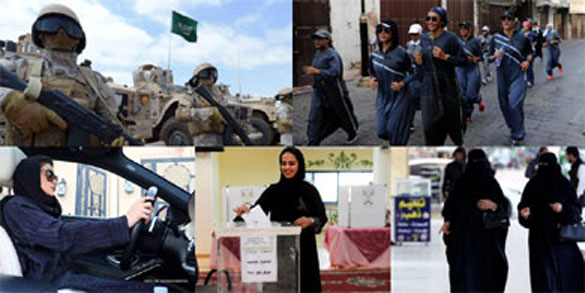 Women's Day 2020 celebrated in full swing in Saudi Arabia, where life of a Saudi women was not easy until now after social reforms.
----
• On International Women's Day, Saudi Women Celebrate New Freedoms
• 'Aurat March' Being Held Nationwide To Mark International Women's Day In Pakistan
• 'Feminism Is Not For Indonesia': Conservative Muslims' Recipe for Women's Empowerment
• No Country for Young Women? Myanmar's Battle against Rape
• Free to dance: The story of a Muslim woman
• Islam Has Given Dignity, Respect To Women: Punjab CM Usman Buzdar
• Women still neglected in Bangladesh political leaderships
• The World beyond Faiz: Meet the 'Sinful' Female Urdu Protest Poets Of Our Times
• 8 Phenomenal Moroccan Women That Were Ahead of Their Time
• Faces Of Saudi: Arab News Project Profiling Inspirational Women In Saudi Arabia
Compiled By New Age Islam News Bureau
URL: https://www.newageislam.com/islam-women-feminism/on-international-women-day-saudi/d/121255
-------
On International Women's Day, Saudi women celebrate new freedoms
NOOR NUGALI
March 08, 2020
RIYADH: Life for a woman in Saudi Arabia, especially a Saudi woman, was full of frustrations until recently.
Women were treated as second-class citizens and had to rely on a male guardians (mihram) for most aspects of their everyday life. Accomplishing anything independently was almost impossible without a mihram. An adult female was unable to travel without the consent of a man. Saudi women had to adhere to social rules implemented by extreme conservatives and could not apply for jobs or dine out without the permission or company of a male guardian.
Slowly but surely King Salman paved the way for women to live independently, free from these restrictions. On Aug. 1, 2019, a decree signed by King Salman declared that Saudi women no longer needed permission from a male guardian to travel or obtain a passport.
It was a life-changing moment for Saudi women, no matter how small it seemed to the outside world. And since that decree less than a year ago, coupled with the 2017 ruling — enforced in 2018 — allowing Saudi women to drive, Saudi women are flourishing and becoming more active in the workforce.
Balqis Fahad, a widow with three children, told Arab News that she wept on the day the royal decree was announced. Fahad's husband died when she was pregnant with her third child, and her children's futures were placed in her brother-in-law's care.
For Dr. Maysa Amer, a physician, the decree did not alter much in her own life, but she recognizes the impact it had on other women. "It didn't affect me personally, because my father gave me the green light in almost everything," she told Arab News. "But I'm happy for those women who didn't have my freedoms to finally get a chance to enjoy them."
Twenty-nine-year-old Aseel Blkhyour, an assistant consultant at the Ministry of Economy and Planning, shared the sentiments of most Saudi women. "This International Women's Day, Saudi women celebrate the new freedoms we have been granted. Freedoms which allow us to live. Freedoms we never thought possible. Thank you, King Salman and Crown Prince Mohammed bin Salman."
The current generation of young Saudi women are living in a golden age — one where they can look forward to a future in which hard work and ability will take them far, and their gender will not be an obstacle.
https://www.arabnews.com/node/1638266/saudi-arabia
-------
'Aurat March' Being Held Nationwide To Mark International Women's Day In Pakistan
March 08, 2020
The first Aurat March was held in 2018 in Karachi. Last year, it was extended to more cities, including Lahore, Multan, Faisalabad, Larkana and Hyderabad.
In Lahore, marchers have started gathering at the Lahore Press Club. Carrying placards, they played the drums, chanted slogans and clapped.
As the attendees gathered, they chanted slogans calling for the independence of women. The march is expected to go through Egerton road till KhayabanAiwan-e-Iqbal.
The Aurat March, as it has come to be known since its first iteration in 2018, was organised by Hum Aurtain — a feminist collective. It has a manifesto demanding basic rights for women in each field of life.
President ArifAlvi quoted Quaid-i-Azam Mohammad Ali Jinnah as saying: "Power of women is greater than the pen and sword."
In a tweet, he said: "On WomensDay we agree that Pakistan as a state and all its citizens must ensure for Women: Equal opportunities in education, health & jobs; inclusion; ensure inheritance; safety in all spaces; no harassment and no violence."
https://www.dawn.com/news/1539318/aurat-march-being-held-nationwide-to-mark-international-womens-day
------
'Feminism is not for Indonesia': Conservative Muslims' recipe for women's empowerment
IvanyAtinaArbi
March 8, 2020
MaimonHerawati is an accomplished woman who believes in equal opportunity for women. She finished her Master's degree at Abertay University in the United Kingdom in 2003, securing tenure as a lecturer of mass communication science in West Java's Padjadjaran University and then juggling her family life with her social and political activities.
Maimon is one of many empowered women who has been politically active but has worked against the feminist movement in Indonesia, including by protesting against a bill that is intended to eradicate sexual violence. Such women have been in a cultural clash against Indonesian feminists on several other issues, like the Pornography Law and, most recently, the family resilience bill.
The two warring groups both have highly educated women as members who express their opinions with confidence, are politically active and have made achievements in their lives. However, at some point, these empowered women who fight for women's empowerment have parted ways.
Antifeminist groups claim the sexual violence bill is "pro-adultery" since it only criminalizes nonconsensual sex. They said the bill should instead prohibit all extramarital sex, consensual or not.
Objections by the antifeminist group have halted deliberations over the bill, triggering protests from women's rights activists. The bill's supporters said they believe that since it defines more types of sexual violence than the prevailing Criminal Code, it would end impunity for sexual violence perpetrators and provide more help to survivors.
Neng Dara Afifah, the author of Muslimah Feminis: Penjelajahan Multi Identitas (Muslim Feminists: Multi-Identity Exploration), said the antifeminist movement had become counterproductive to gender mainstreaming efforts.
"What they are doing is a form of betrayal of feminism, which has allowed them to access the public sphere and eventually express their ideas," said the SyarifHidayatullah Islamic State University lecturer.
Maimon disagreed. She said she could be active politically because Islam allowed women to be so. Islam, she said, introduced gender equality some 14 centuries ago, long before feminism did.
Islam, which emerged from Arabian society during the so-called Age of Ignorance, had elevated women's dignity from being considered merely as property to having the right to inherit and secure their own property, Maimon said. She said she refused to be associated with feminism because "the idea came from the Western world, which is antithetical to Islamic values".
Maimon said that one of the basic principles of feminism that collides with Islamic principles is the notion of "my body is mine", meaning women possess full authority over their own bodies, no one else has the right to control them and they can wear whatever they want over their bodies in public. However, in Islam it does not work that way, Maimon explained.
Another prominent figure among conservative Muslims is EuisSunarti, a professor of family studies at the Bogor Agricultural Institute. Euis said feminism was problematic for Indonesia because its "liberal" values conflicted with the values of Islam, which were adopted by a majority of Indonesian citizens.
Feminism, she claimed, does not recognize the "division of roles" between men and women, husbands and wives. If a husband works and earns a certain amount of money, the wife should also do the same to achieve the goal of equality, Euis said.
"In fact, it does not have to be that way. If a married couple is committed to building a family and have children, then who should focus more on raising the kids?" Euis asked. She suggested mothers as the ones giving birth should take more responsibility in child-rearing but added that that did not mean mothers could not "actualize" themselves by participating in public affairs.
Women's rights activist NursyahbaniKatjasungkana clarified that feminism did not put money or power above all, but instead "fights for equal rights between men and women, inside and outside their homes".
Instead of applying gender stereotypes to domestic roles, Nursyahbani said, feminism actually promoted "cooperation within households" by which both parties were encouraged to play active roles in taking care of domestic affairs, "unlike the rigid role of husbands and wives as stipulated in the 1974 Marriage Law".
Article 31 of the law regulates that "husbands are the heads of the households and wives are homemakers". Article 34 further states that husbands are obliged to fulfill the family's needs, while the responsibility of wives is to properly manage domestic affairs.
"We want to eliminate the rigid legal norms because they're inconsistent with the social reality, where many women actually act as breadwinners in their respective families," said the founder of the Indonesian Women's Coalition and the Legal Aid Foundation of Indonesian Women Association for Justice.
https://www.thejakartapost.com/news/2020/03/08/feminism-is-not-for-indonesia-conservative-muslims-recipe-for-womens-empowerment.html
------
No country for young women? Myanmar's battle against rape
8 MAR 2020
YANGON - Officially, rape hardly happens in Myanmar and domestic abuse is non-existent. The reality? Violence against women is so pervasive it is regarded as normal -- and as a result -- woefully underreported, says lawyer and activist HlaHla Yee.
"Domestic abuse in Myanmar is regarded as a family matter and even if it is reported, the police fail to take action," she explains, adding that many still view it as a normal part of marriage that women must endure.
The UN has warned violence against women and girls is a "silent emergency" in the country, with incidents spanning groping on public transport to trafficking, and has called for a zero-tolerance approach in communities, police, and the justice system.
Analysis by the Demographic and Health Survey suggested at least one-fifth of women were abused by a partner in 2016.
According to government statistics, there were 1,405 rape cases in 2017, up from 1,110 the year before -- around two thirds committed against children.
Victims, who are required to prove there was no consent, are routinely blamed and ostracised in the rare cases when the perpetrator is found guilty.
There is no specific law against domestic abuse and the penalty of marital rape is a maximum of two years in prison.
While violence against women is a global problem -- the UN estimates 1 in 3 will experience abuse in their lifetime -- many in Myanmar feel there is no point speaking out due to police inaction, social stigma, and a male-dominated justice system.
Married women are often stuck with no financial or social means to escape. When rape happens outside of marriage, experts say a settlement between the perpetrator and families is often agreed without consulting the victim.
Outraged by how hard it is for marginalised groups to get justice, she and a group of lawyer friends used their own money to found and run the Legal Clinic Myanmar, which gives free consultations and legal aid to those least able to afford it.
In the nine years since the venture first opened, it has grown from less than a dozen staff to more than 70, with ten branches across Myanmar and operates mainly with women in leadership positions. It offers legal aid, training, and advice via a 24-hour hotline, and a mobile team which can reach people in need faster.
Breastfeeding her infant daughter as she answers calls or gives presentations, HlaHla Yee embodies the juggle of modern motherhood.
But she is keenly aware that Myanmar -- despite the rise to power of female civilian leader Aung San Suu Kyi -- is yet to catch up.
"I was really worried about marriage because of the abuse cases reported to us. I even thought of not marrying as I know the law that does not protect women," she reveals.
An updated draft of the National Prevention and Protection of Violence Against Women law came out in January after seven years of wrangling.
Rights' campaigners had hoped it would finally force change, but HlaHla Yee says it falls woefully short.
"I expected it to be much better than this. Now I'm worried how it could protect my daughter and others," she warns.
Currently, rape of a woman outside of marriage carries a maximum sentence of 20 years' imprisonment while punishment for paedophilia -- categorised as rape of a girl under the age of 12 -- is life in jail.
The number of incidents of sexual violence reported to authorities -- particularly against children -- has risen dramatically, she says.
It is unclear if the jump is due to increased awareness, or more cases happening, but she insists weak laws and ineffective policing mean there is little deterrent.
"The penal code is no longer in line with the modern age," she says, adding her team will write to MPs to demand revisions are made to the bill.
Public anger has spiralled after police mishandling of the rape of a two-year-old, with calls for "Justice for Victoria" on social media, prompting President Win Myint to demand action against bungling officers.
The UN's Independent International Fact-Finding Mission on Myanmar reported how the military weaponised sexual violence, using it with impunity on civilians during operations in Rakhine, home to the Muslim Rohingya, as well as Kachin and Shan states.
The military and government deny the allegations, but rights' groups say the evidence underlines the lack of accountability for violence against women in the nation's seats of power.
"Whether they are Rakhine, Muslims, Bengalis or Rohingya...the government should protect them because it is a crucial part of law enforcement. Women and children are the ones who bore the brunt of the war, and they should not be neglected," she says.
Experience with injustice came early, she says, recalling how authorities appeared tried to intimidate her family into selling their rice paddies for a low price.
"Since I was young, there is a strong feeling in my heart to not stay behind when I see the unfairness. When I see bullying and discrimination I speak out," she explains.
Unlike many rural households, her parents treated their sons and daughters equally and championed HlaHla Yee's legal ambitions.
She returned to the state after she qualified as a lawyer and helped poor farmers, sometimes accepting fruits in lieu of fees.
But she went to Rangoon after realising she would be able to drive social change by working with a collective of lawyers there.
"I realised I cannot fight this alone, but with the group we could beat injustice," she explains, adding: "The community should respect that women's rights are human rights, instead of undermining it."
https://www.bangkokpost.com/world/1874224/no-country-for-young-women-myanmars-battle-against-rape
------
Free to dance: The story of a Muslim woman
08-Mar-2020
GulnisaMemet likes showing the best of herself to the people around her. For her, it feels like flying in the sky whenever she dances on stage – it gives the young woman courage and confidence.
Two years ago, she was a completely different person. "I wore a long dark robe and veil all day long. I resisted going out to work," Gulnisa told CGTN. The native of Kashgar, the westernmost city in China, had mostly stayed home after graduating from junior middle school, relying primarily on her father's meager income as a driver back then. When he could no longer drive due to debilitating arthritis, her family sunk deeper into poverty as they relied only on her mother's income as a farmer.
Gulnisa had to get a job to help support her family, which by then was receiving government subsidies for households living below the rural poverty line.
"I went to a cosmetics store owned by one of my friends," she said coyly. "But since I never wore makeup and was loathe to learn how to do it, I had few customers." At the time, Gulnisa was convinced that Muslim women couldn't wear makeup. Such thinking wasn't uncommon in her village lying on the outskirts of Kashgar. For locals with lack of education and living in impoverished villages, it's relatively easy to let extreme thoughts penetrate their mind.
The Kashgar prefecture is home to 11 counties considered to be in deep poverty, accounting for half of Xinjiang's counties with such a designation. In this oasis clinging to the Taklamakan, over 750,000 people live under the poverty line.
Gulnisa was one of those influenced by extremist teachings. She never wore skirts or makeup; she performed poorly at work as she insisted on the idea that a Muslim woman should serve her husband and children at home.
Hence she quit after working a couple of months at the cosmetics store. "I could earn 1,800 yuan a month as the base pay while working there, but I don't know how to recommend skincare or makeup products to customers. Plus, there's always a voice haunting me: Muslim women should not work outside."
Her village told her about there were courses to help eradicate her extreme thoughts and develop more skills. "I wanted to have a try as gradually I started realizing that something had gone wrong." She had since attended classes at the vocational education and training center in eastern Kashgar and graduated after 17 months in March 2019. "The teachers are very amicable. They helped discover my talent in art, suggesting I take a dancing course,"she said.
After graduation, she was admitted to the art theater at the Apak Khoja Mausoleum as a figurant last April. The theater at this holy Muslim site of Xinjiang with a history of over 300 years gives five performances every day to tourists from around the world. In Kashgar, summer is the peak season for tourism and when the theater would be packed. She was paid 4,000 yuan a month, meaning she can finally lift her family out of poverty. Most importantly, Gulnisa likes to see herself in makeup and colorful costumes performing in front of a full house.
https://news.cgtn.com/news/2020-03-08/Free-to-dance-The-story-of-a-Muslim-woman--OGrAKLat4Q/index.html
-------
Islam has given dignity, respect to women: Punjab CM Usman Buzdar
March 8, 2020
LAHORE: Chief Minister Sardar Usman Buzdar has said that Allah Almighty has given respect to women with beautiful relations like mother, daughter and sister.
Islam has given dignity and respect to women. West cannot imagine the rights given to women in Islam, said Usman Buzdar in his message on the eve of International Women's Day.
The CM said that empowering women in the country was the mission of PTI government. He added historic steps were taken for the elimination of gender discrimination, safeguarding the rights of women and giving them socio-economic empowerment. Daycare centres have been set up for facilitating the working women in public and private institutes in Punjab, he stated. Punjab women helpline 0143 has been set up for providing guidance to the women, whereas, digital online magazine has been launched for creating awareness among the women. Equal opportunities have been provided to women in practical life. That is why women are working shoulder to shoulder with men in all sphere of life.
Usman Buzdar said provision of resources for empowering the women was a beneficial investment for setting up of enlightened society. He said that role of women in practical life for socio-economic development of the country could not be neglected.
He said no society could move forward without proper participation of women in practical life. Pakistani women are hard-working and capable and earned the name in different sectors. Even rural women work side by side with men. Usman Buzdar said that government would make the women of backward areas economically and socially strong. Women will get security, empowerment, respect and progress in new Pakistan.
He said, "Today we reiterate that all out efforts will be made to protect the rights of the women."
https://www.thenews.com.pk/print/625796-islam-has-given-dignity-respect-to-women-punjab-cm-usman-buzdar
------
Women still neglected in Bangladesh political leaderships
AhammadFoyez
Mar 08,2020
Almost all political parties in Bangladesh are set to miss the 2020 deadline for ensuring 33 per cent women representation in their committees as women still lag behind men in terms of participation in politics and empowerments.
The ruling Awami League has amended its constitution extending the deadline to 2021 for filling at least 33 per cent of the committee positions with women.
The opposition Bangladesh Nationalist Party has said that it will try to meet the target at its next national council session long overdue.
As the parties are set to miss the deadline, the Election Commission is looking for ways to overcome the problem.
The Representation of the People Order 1972 stipulates that all registered political parties have to increase the female representation in their committees to 33 per cent by 2020.
Election commissioner M Rafiqul Islam told New Age in the past week that the commission would hold a meeting soon to decide its next course of action on the issue.
According to commission officials, 38 of the 41 political parties registered with the commission have yet to ensure even 20 per cent representation of women in their committees.
They said that the parties were reminded that ensuring 33 per cent female representation by 2020 was a requisite for securing their registration.
Rafiqul said that the 1973 order would need to be amended to give time to the political parties the meet the target.
Ten of the parties claimed that they made progress while 29 others stated that they were trying to meet the deadline.
The rest two, National Democratic Party and Bangladesh Congress, registered with the commission in early 2019, are yet to inform the commission female representation in its committees.
Only the Ganafront and the Progressive Democratic Party stated in their progress report that they already ensured 33 per cent female representation in their committees.
IslamiAndolan Bangladesh spokesperson Sahidul Islam Kabir said that they ensured 33 per cent representation of women in the committees.
The Awami League ensured 25.67 per cent female representation with 19 women in its 81-member existing central executive committee.
According to the progress reports submitted by the parties, BNP has 15 per cent, Jatiya Party 20 per cent, Gantanry Party 15 per cent, JatiyaSamajtantrik Dal 12 per cent, JatiyaGanatantrik Party 12 per cent, Bangladesh Muslim League 6 per cent and Bangladesh Islami Front has 1 per cent representations of women in committees.
Jatiya Party-JP, KhelafatMojlish, Bangladesh National Awami Party-Bangladesh NAP, National Peoples' Party, Bangladesh Nationalist Front, Krishak Sramik Janata League, Bangladesh Kalyan Party, Socialist Party of Bangladesh, Communist Party of Bangladesh, JatiyaSamajtantrik Dal-JSD, Workers Party of Bangladesh, BangladesherSamyabadi Dal, Bangladesh Jatiya Party, Islamic Front Bangladesh, Liberal Democratic Party, Bangladesh SangskritikMuktijote, Zaker Party, Bangladesh KhelafatMajlish, Jamiat Ulama-e-Islam Bangladesh, IslamiOikyajote, Revolutionary Workers Party, KhelafatMajlish Bangladesh, IslamiAndolan Bangladesh, Bangladesh Muslim League-BML, Gono Forum and Bangladesh Tarikat Federation have informed the commission that they are trying to ensure representation of women in their committees.
AL presidium member Abdur Rahman said that the party would apply to the commission for time to ensure 33 per cent female participation in its committees by 2021.
BNP vice-chairman Selima Rahman said that the representation of women in politics was still poor as women were neglected in the society, politics and family.
She said that her party would try to meet the target at the next council session that was being delayed for reasons.
Bangladesh Mahila Parishad general secretary Maleka Banu said that the parties were putting women on their committees to meet the legal requisite only and those female leaders had hardly any important role in the parties.
She said that most female representatives in the parties as well as parliament and local government bodies were not active against the repression against women.
She said that statistics was not enough to ensure female leadership as quality leadership would be ensured by women vocal against women repressions.
SushashonerJonnoNagarik secretary BadiulAlam Majumdar said that reservation of seats for women in parliament and local government bodies failed to enhance active participation of women in politics.
He said that the system of reservation of seats was faulty and the role of women under the system was symbolic only.
'Direct election to the reserved seats for women was a must to encourage women in political competitions,' he added.
In the December 30 general election, 22 women were elected in direct elections in 300 constituencies.
Of the 22 lawmakers, 19 were elected from the Awami League, including its president Sheikh Hasina, two from the Jatiya Party and the rest one was from JatiyaSamajtantrik Dal.
In the latest elections to union parishads in 2016, only women were elected chairman at 29 of about 4,000 unions, said Election Commission officials.
In the latest elections to upazila parishads in 2015, about 1,500 women contested for the positions of chairman and vice-chairman reserved for women in about 400 upazilas while the number of female participants was 2,900 in 2009.
Women rights activist have expressed concern over the poor participation of women in politics while almost half of the voters are women.
According to the latest data, the number of total voters of the country was now 10,98,19,112 — 5,54,82,530 male, 5,43,36,22 female and 360 transgender people.
Secretary is the highest post in the bureaucracy. The country has a total of 76 secretaries and only seven of them, 9.21 per cent, are women.
https://www.newagebd.net/article/101585/women-still-neglected-in-bangladesh-political-leaderships
------
The World Beyond Faiz: Meet The 'Sinful' Female Urdu Protest Poets Of Our Times
MARCH 8, 2020
The crowd at Shaheen Bagh sat in rapt attention as the protest poet Iqra Khilji spoke truth to power, poetically. Holding the government accountable for alleged atrocities on the protestors uniting against the Citizenship Amendment Act, she recited – "Tiflbhinajisnebakshe tum use badnamkardo. Is hukumat is police ki tum haqeeqataamkardo (Expose those who were not kind to even the children)."
A law student from NLU, Khilji grew up reciting Ghalib and Iqbal. She started writing in English at 6, and Urdu poetry came to her at the age of 11. After school, her interest died down and returned only in 2018. "I think the turmoil within and around me, the multiple crises and the anger as a woman, the despair as a Muslim, revived the poet in me," said Khilji on how protesting in Urdu poetry happened to her, again.
Women protest poets aren't new. And the ever-increasing list of these women often gets missed even by the likes of Roger Waters. But their voices are not to be ignored.
For many of them, now, the joy is finding their work in graffitis and in being quoted at protest sites are satisfaction enough. Urdu protest poet Nabiya Khan, a student of History, has found people using her latest poem "AyegaInquilabpehenkibindi, chudiyan, bura, hijab" as graffiti, in posters, and on placards. She has seen videos of women reciting it with fervour in different sit-in protests.
As a woman, she said she is "moved by empathy and disturbed by hate." "My poetry is my protest against the tyranny of our times. I dream of a world that withholds metaphors and the pen becomes mightier than the sword has become and that too in the most actual sense of the phrase," said Khan.
Impressed with the work of the young Muslim women protest poets like Iqra and Nabiya is a law student, a poet, and a clapper to qawwalis-- Shraddha Meer from Ahmedabad. She pointed out the celebrated Urdu women poets are majorly from Pakistan and in the current political turmoil, the contemporary Indian women are finding a voice in Urdu speaking truth to power. "I feel this could be another moment of Urdu poetry, where women are finding a voice unique to womanhood and beyond that," she said and added, "… there are so few women Urdu poet, most are from Pakistan."
An ardent supporter of Urdu poetry and Mumbai based organization Katha Kathan Jameel Gulrays has seen the protest poetry in times of fight for citizenship by young Muslim women. The assertion by them is the sign of a community socially improving – "There was a time when women were not educated. If educated, then they would not be allowed to move out of their homes. They were expected to write munajatandnath (devotional/supplication). Parvin Shakir composed ghazal… bas toofanaagaya. The tradition of breaking boundaries continues with young girls as protest poets," he said.
In these times, he is reminded of Pakistani poet Fehmida Riaz who sought asylum in India under the Indira Gandhi regime to run away from the repression of her voice in Pakistan. He revisited her work – "Tum Bilkul Hum JaiseNikle", which is more relevant than ever. The poem compares the rising Hindutva in India and the rise of Islamic fundamentalism in Pakistan during Zia-ul-Haq's regime.
She wrote a moving poem in the wake of Babri mosque demolition in 1992."This is a poetry that Riaz sent to LK Advani during rath yatra… everything she said in it is coming true." On 8 March 2014, against the backdrop of rising concerns over intolerance in India, Riaz recited her poem "Tum bilkul hum jaiseynikley" at a seminar called 'Hum GunahgaarAuratein'.
The protest poets Khilji and Khan are influenced by Riaz, Shakir and famous poet KishwarNaheed who wrote, "We sinful women" – "Hum GunehgarAuratein."
The poetry is about the sinful women who raise the banner of truth as translation by Ruksana Ahmad highlights: "It is we sinful women who come out raising the banner of truth up against barricades of lies on the highways who find stories of persecution piled on each threshold who find that tongues which could speak have been severed."
The noted literary writer and critic Ashok Vajpayee said that there has been a tradition of Urdu protest poetry – not just Urdu but in other Urdu languages. Vajpayee noted that there is a certain kind of fearlessness and with this have recourse to writing their own lines, using phrases coined by others in "in an emotional and poetic way, which is creating impact and drawing attention to their plight."
"There has been protest poetry by the under-privileged like women, Dalits and minorities. They have their own experience of living in growing majoritarian India, which has been behind this provocation to fight," he said, adding, "Citizenship is seen by them under jeopardy, which makes them cite the constitution. It is being cited by Muslim women, the preamble is people charter, the national anthem is being sung and tri colour flourished. All the symbols of patriotism which Hindutva brigade tried to usurped have nullified by them through a kind of symbolism, which is deeply poetic."
Khan said, "We were at a place recently reciting with other poets. And when we left the event, we discovered that we were not even covered by the official handle of the event page for reasons better known to them. We have also seen influential media houses with big names covering only male poets while ignoring us. There is a bias and we cannot deny."
Khilji, however, sees it differently. Though the past three months since the protests against the CAA began, poetries "have altered the optics of our society drastically. Completely different worlds have mixed together."
The protest poet found that women who never left their homes are out on the roads. "Women from very different worlds have come to meet them and share their pain and fight alongside them."
This celebration of the proclamation of freedom from patriarchy and fascism is best done in the voices of women. "However," she added, "the challenge is in the fact that we're fighting multiple battles and if we speak of patriarchy one day and fascism the other, our allies in one battle will fight us in the other. But we must fight all the battles. No cause can take a backseat."
Writing poetry in the Urdu language is itself an act of revolution for Khan. "Right wing governments have always tried to portray it as a foreign language and otherized it. They have propagated the view that this language belongs to Muslims which is not true. It was originated in India," she said.
The Muslim women protest poets imagine a world free and fair. Their poetry brings the oppressed to the platform of empowerment but will they see the lines of rebellion translating into reality?
The question can be dealt with the way Khilji's friend from Kashmir compared her to Agha Shahid Ali. He said, "But Agha never saw peace in his homeland, I hope you do."
https://www.news18.com/news/buzz/the-world-beyond-faiz-meet-the-sinful-female-urdu-protest-poets-of-our-times-2530043.html
-----
8 Phenomenal Moroccan Women That Were Ahead of Their Time
By Josef AbdessalamZerbaoui
Mar 8, 2020
The UN International Women's Day is celebrated globally on March 8 every year. This important day is dedicated to celebrating women's social, economic, cultural, and political achievements throughout history. The event also aims to call for greater gender equality.
While significant progress has been made in the last 100 years, much is still left to do as no country in the world has yet achieved full gender equality, according to the United Nations. Moreover, the World Economic Forum estimates that it will take another 100 years to erase the global gender gap.
The theme for this year's International Women's Day is "I am Generation Equality: Realizing Women's Rights". The Generation Equality campaign is aimed at mobilizing global action to achieve gender equality and to bring together people of every gender, ethnicity, race, age, religion, and nationality.
In celebration of International Women's Day it is time to take a look at the achievements of some of the most prolific Moroccan women throughout history.
Fatima al-Fihri was born in A.D 800 in modern-day Tunisia, but moved to Fez with her family at a young age. Not much is known about her mother, but her father, Mohammad bin Abdullah al-Fihri, would become a successful merchant in the city.
The Al-Fihri family were well-off. Fatima's father made sure that she and her sister, Maryam, received a good education, something that was not common for women at the time. The two sisters inherited the fortune their father had earned following a series of unfortunate events. Fatima's brother, father and husband all died in rapid succession.
Al-Fihri was a devoted Muslim, and decided to give back to her local community with the sudden wealth she had received. The population of Fez had grown so significantly to the point where there were not enough Mosques to accommodate the city's inhabitants.
Despite not having any experience in building, she led and oversaw the construction of a grand mosque, a library, and what would become the world's first university.
The University of Al-Qarawiyyin was founded in 859 AD and is still operating today. UNESCO lists it as the oldest existing, continually operating higher educational institution in the world.
Al-Fihri was the first person in history to establish the concept of a university as we know it today.
Building the world's first university in the 9th century as a Arab Muslim woman is an astonishing feat, and for that she will always be remembered as the "mother of intellectuals".
Zaynab Al-Nafzawiyyah was a legendary woman who lived in the 11th century. She was one of few influential women in the patriarchal empire.
Al-Nafzawiiyah was very ambitious from an early age. She sought a position of power and refused to marry anyone who did not wish to become the ruler of the Maghreb.
With her wisdom, beauty, and nobility she could cast her spell on the most powerful leaders in the Almoravid dynasty. She was well informed about the complicated political situation of Morocco and that, in combination with her beauty, won her a lot of attention from rulers who wished to marry her.
Abu Bakr, commander of the Almoravids, married Al-Nafzawiiyah in 1068, but would divorce her just a couple of years later he saw it as his duty to go and fight in the Sahara. He knew that the desert lifestyle was not suited for her and instead advised her to marry his cousin Yusuf Ibn Tashfin who held the position of deputy at the time.
During this time many women lived in the shadow of their husbands, but Al-Nafzawiiyah excelled by Yusuf's side. She became the de-facto co-ruler of the empire and had a significant role in the decision-making process of public affairs.
Fatima Mernissi was an author, Muslim feminist and one of the greatest sociologists in Moroccan history.
Mernissi was born in Fez in 1940 and spent her childhood living with her mother and grandmother. She studied at the Mohammed V University in Rabat, the Sorbonne University in Paris, and earned a Ph.D. in Sociology from Brandeis University in Massachusetts in 1973.
Mernissi was a key figure of the Islamic feminist movement and wrote more than a dozen books in the fields of anthropology, sociology, and feminism. Her most famous literary works are "The Veil and the Male Elite: A Feminist Interpretation of Islam" and "Beyond the Veil: Male-Female Dynamics in Modern Muslim Society."
She passed away on November 30, 2015, but will always remain an icon of modern thinking who defied the norms in an era where there were strict and widespread views on women's role in society. She dedicated her whole life to defend gender equality, women's rights, and moderate Islam.
Her works spread across the Muslim Arab world rapidly and gave women a voice they previously did not have. Her ideas inspired millions of women around the world and paved the way for increased gender equality in the Muslim world.
Fatima Mernissi's efforts were recognized internationally and she received prestigious prizes such as the Prince of Asturias Award and the Erasmus Prize.
With her strong belief in women right's, vast knowledge and fearlessness, she was able to impact the Muslim world in an unprecedented way and for that her legacy will always live on.
MeriemeChadid was born in Casablanca on October 11, 1969. She developed an interest in astronomy from early teenage years after her brother gifted her a book about Johannes Kepler, a 17th century German astronomer and mathematician.
Her newfound interest led to her pursue studies in physics. In 1992, she earned her master's degree in Physics from University of Hassan II in Casablanca. Four years later she obtained her Ph.D. in Astronomy and Astrophysics from the Paul Sabatier University in Toulouse.
Not long after earning her Ph.D. she was recruited as a research engineer at the French National Center for Scientific Research.
Between 1998 and 2001 she was part of a successful mission to install the biggest telescope in the world in the driest and most hostile desert: The Atacama Desert in Chile.
In 2005, she became the first Moroccan woman to set foot in Antarctica. She planted a Moroccan flag to mark the achievement. It is the first Arab flag to ever be planted at the South Pole.
Chadid is renowned in her sphere for being the world's first astronomer committed to installing telescopes for a new large astronomical observatory in Antarctica. Her work at the Dome C is one of her proudest accomplishments. She has described the work there as "one of the coldest, most deserted and inaccessible places in the world" and has compared the complexity of installing the observatory to the difficulty of space missions.
For her astounding achievements in science she was awarded the Arab woman of the year in 2015. She has also featured on Forbes magazine's list of the thirty most interesting and fascinating workers in the world.
TouriaChaoui was born in Fez in 1936. She grew up in a time where women did not become pilots, especially not in the Arab world. There had only been one Arab women pilot before Chaoui, but she was firmly determined to achieve her goal despite all the obstacles she faced.
Her supportive father assisted her in enrolling into an aviation school in Tet Mellil, near Casablanca in 1950. The school was the only one of its kind in Morocco and was, in fact, reserved for French forces in Morocco. At the school there were no opportunities for Moroccans, let alone women.
The school admitted her with the belief that she was going to spectacularly fail in the demanding program. The French pilots laughed at the thought of a female Moroccan pilot.
The fearless young girl proved everyone wrong and obtained her aviation license at the age of 15. She did not let people at the school intimidate her, though they did their utmost to make her fail.
Chaoui's success story gave Moroccans inspiration and strength to fight for a free independent Morocco, while the French colonizers despised her.
She became a national symbol for Moroccans who sought independence from the French. Sultan Mohammed V of Morocco acknowledged her fantastic achievement and invited her for dinner at the royal palace where he gave her an award. The French authorities became furious with the Sultan and eventually forced him into exile.
TouriaChaoui was assassinated by unidentified gunmen at the age of 19 on March 1, 1956, one day before Morocco achieved independence. The brutal murder broke the hearts of Moroccans and Arabs who admired her.
Chaoui is not only a symbol for women, but is also remembered as a hero who fought for freedom for the whole nation.
AichaChenna is the most famous Moroccan women's right advocate and activist. Chenna was born in Casablanca in 1941. She left school at the age of 16 and began to work in a hospital. After working a couple of years, she decided to enter a nursing school on the recommendation of a few colleagues who had seen her potential.
Once she had earned her nursing diploma, Chenna began to work for the Ministry of Health giving hygiene workshops. During her time working at the ministry, she witnessed the miserable conditions of disadvantaged single-mothers and abandoned children.
In 1985, after seeing women in disadvantageous situations for several years, Chenna decided to found the Female Solidarity Association (ASF) in Casablanca.
ASF assists disadvantaged single-mothers and victims of abuse by training them in cooking, accounting and sewing. It also offers women literacy assistance and education about human and women's rights. The association provides basic daily healthcare and medical treatments, in addition to social, psychological, and legal support in order to help the women become independent.
Chenna has been recognized by King Mohammed VI for her admirable work, who gives financial support to her association.
In 2009, she became the first Muslim to win the Opus Prize, an award that recognizes unsung heroes who take on the most persistent social problems. She dedicated the $1 million prize money to continue the commendable work of her association.
The 79-year-old has dedicated her whole life to help the disadvantaged and is still advocating for their rights.
Nawal El Moutawakel made history in the 1984 Summer Olympics in Los Angeles when she became the first Arab and Muslim woman to win a gold medal in the Olympic games. Moreover, she was also the first Moroccan athlete to ever win a gold medal in the international sport event.
El Moutawakel was born in 1962 in Casablanca and dreamed of a career in sports, something unthinkable for many women in the Muslim world at that time.
Her unprecedented victory in women's 400 meter hurdles inspired hundreds of thousands of young Arab and Muslim women to tear down the wall of social and political barriers that kept women from participating in community life activities like track and field.
Her success earned her recognition from the Moroccan King at the time, Hassan II, who called her as soon as she had crossed the finish line. The King of Morocco declared that every girl born that day should be named Nawal in her honor.
The victory gave her a much-needed platform to raise awareness for Muslim women in sports. As a retired athlete, she has dedicated all her life to promoting women's participation in sports.
In 2012, she became the first Muslim, African and Arab woman to be elected Vice-President of the International Olympic Committee.
El Moutawakel is a living legend with a legacy that will always be remembered by Arabs, Africans, and women around the world.
Leila Slimani was born in 1983 in Rabat. When she was 17 years old, she left Rabat to pursue political science and media studies at the prestigious Sciences Po University in Paris.
After graduating, she took acting courses as she aspired to become an actress. In the end she decided to pursue a journalistic career and accepted a job offer at Jeune Afrique. The job required her to travel often, and after giving birth to a son and being arrested in 2011 in Tunisia amid the Arab Spring, she ended up leaving journalism to write a novel.
Her first novel was rejected by publishers, but she was determined to succeed and took writing courses before she wrote a new novel. Her second attempt was more successful as the novel "In the Garden of the Ogre" was published in 2014 and won the Moroccan La Mamounia literary award.
In 2016, she became an international literary star when she published the psychological thriller "The Perfect Nanny". The book was the most read book in France in that year and has been listed by New York Times as one of the 10 best books in 2018.
Slimani won the prestigious Goncourt Prize in 2016 for the book. In the 117-year history of France's most prestigious literary award, she became the first Moroccan woman to win the award, and the 12th woman overall to win it.
One year later, Slimani published the controversial book "Sex and Lies: Sexual Life in Morocco". The book explores sexuality in Morocco and the author calls for more sexual freedom and tolerance in the Kingdom.
In recent years, Slimani has become one of the most influential figures in France. Her works give a voice to the voiceless and highlights issues that may be viewed as controversial by many.
French president Emmanuel Macron has acknowledged her achievements and even offered her to become Minister of Culture of France in 2017. She rejected the offer, but instead accepted the appointment to become France's top emissary for Francophone affairs.
In 2018, Slimani was ranked second on Vanity Fair's 2018 top 50 list of the most influential people in France, while Macron placed fifth.
https://www.moroccoworldnews.com/2020/03/295467/8-phenomenal-moroccan-women-that-were-ahead-of-their-time/
------
Faces of Saudi: Arab News project profiling inspirational women in Saudi Arabia
March 08, 2020
To mark International Women's Day on March 8, Arab News, Saudi Arabia's English-language daily, is launching a special website that celebrates successful Saudi women.
FacesOfSaudi.com features portraits and profiles of inspiring Saudi women from a wide range of backgrounds who defy Western society's stereotypes.
"Saudi society is one that may still remain a mystery to some, but through this series I shed light on successful Saudi women in their homes, with their families," said Rawan Radwan, a Saudi journalist with Arab News and the paper's regional correspondent. "This series shows the world just who they are and their drive behind their success."
FacesOfSaudi.com is an expansion of Arab News' popular weekly feature The Face. "It was a wonderful experience being part of The Face, specifically the photography aspect where we were in our natural environment and not staged," said fitness entrepreneur Fatima Batook. "To be among many women who make a positive impact in their communities is an honor. So proud that it still continues."
FacesOfSaudi.com is the latest in a series of initiatives in keeping with the news organization's mandate as "the voice of a changing region."
"Arab News has been a champion of Saudi women as they step into their rightful place in society under the reforms of Vision 2030, including a 50/50 gender-balance target in our newsrooms," Radwan said. "FacesOfSaudi.com is one of the best expressions of what we do: Pulling the veil off the world's misconceptions of the Kingdom."
Among our first Faces are research scientist Dr. Yasmin Altwaijri, UN diplomat Basma Alshaalan and Dina Alfaris, cofounder of the first Saudi caviar farm and founder of the Qamrah fashion brand. "I remind myself and all women to own our aspirations, believe in our power to live up to our potential with confidence, and enjoy the purposeful world," Alfaris said. "We are ready to embrace ambition."
Faces of Saudi will have its own pages on Twitter, Instagram and Facebook where users can interact and share these fascinating and true stories of successful women from the Kingdom.
https://www.arabnews.com/node/1638281/saudi-arabia
--------
URL: https://www.newageislam.com/islam-women-feminism/on-international-women-day-saudi/d/121255
New Age Islam, Islam Online, Islamic Website, African Muslim News, Arab World News, South Asia News, Indian Muslim News, World Muslim News, Women in Islam, Islamic Feminism, Arab Women, Women In Arab, Islamophobia in America, Muslim Women in West, Islam Women and Feminism