19 June 2022
• Ms Marvel Is The Representation Muslim Women Have Been Waiting For
• 19-Year-Old Zara Rutherford Flew A Plane Around The World To Encourage More Women To Become Pilots
• UN Official Says Afghan Taliban Has Stripped Women's Rights
• Edmonton SafeWalk Helps Muslim Women Feel Safe In The City
Compiled by New Age Islam News Bureau
URL: https://newageislam.com/islam-women-feminism/disney-marvel-muslim/d/127273
--------
Disney Plus Show Ms Marvel Is The Representation Muslim Women Have Been Waiting For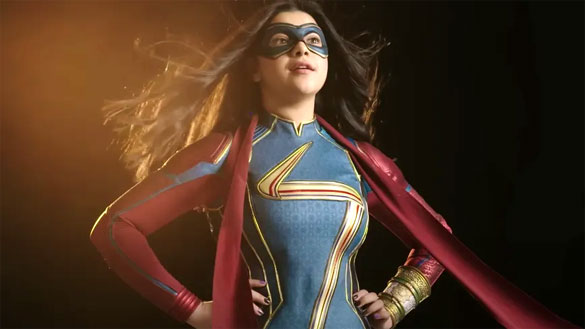 Seeing a Muslim superhero on TV is a dream come true.
-----
Furvah Shah
19-06-2022
Growing up, I never saw myself represented on screen. I longed to look like and relate to the stars of my favourite films and TV shows and ultimately ended up feeling lesser in comparison.
Being a woman of colour from a Pakistani Muslim background, depictions of people like me were few and far between, and when we were represented it was often through a stereotypical and one-dimensional lens. From the oppressed housewife or daughter to the violent terrorist, these portrayals were frustrating and didn't reflect me or the women I knew.
That is why I, and many others, are so excited to watch and finally feel seen in the new Disney Plus show Ms Marvel. The series follows the story of 17-year-old Kamala Khan, a Muslim-Pakistani girl and superhero fan from Jersey City, US, who suddenly finds herself dealing with her own superpowers.
Alongside her new superhuman skills, we see Khan navigate her cultural and religious background, friendships, crushes and other struggles of being a teenage girl.
The series is based on a collection of comics under the same name, which were a critical and commercial hit upon release in 2014, selling more than 500,000 digital copies, and they were one of the first times I felt truly seen within popular culture.
Now the much-loved comics have been adapted for the small screen with Pakistani-American actress Iman Vellani starring as Khan. The series is well under way after much anticipation from Marvel fans, south Asians and Muslims who, like me, have been searching for an accurate representation of themselves within the media.
In the series so far, we've seen explorations and references to Pakistani food, Eid celebrations, Islamic prayer, the partition of India and Pakistan, and the hijab, among other odes to culture and faith in between the superhuman elements – and it has been a joy to see.
Overwhelmingly, depictions of Muslims within the media have been absent or negative. A report by the University of Southern California found that Muslims made up just 1.6 per cent of characters in top films, despite making up almost a quarter of the world's population, and 90 per cent of those characters were linked to violence.
In regards to women, the ratio of male to female Muslim characters across the 200 films analysed in the study was 175 to 1. This shows exactly how ignored we are in the mainstream, and why Ms Marvel is such a breath of fresh air.
When I asked her about representations in the show, lead actress Vellani said: "This is one story of one girl of one family and Ms Marvel cannot represent all 2 billion Muslims or all south Asians in the world.
"We wanted to show it as we grew up and we had so many Muslims and south Asians working on the show and they all put so much of their own experiences into Kamala as a character and into the storytelling of it all."
Ms Marvel may not be relatable for everyone, but it can't be. However, it's a great start and I, for one, have resonated with the show so far.
To keep up to speed with all the latest opinions and comment, sign up to our free weekly Voices Dispatches newsletter by clicking here
One scene, in particular, has stuck with me. As Khan chats with a friend called Nakia who wears the hijab, instead of the generic spiel about women who wear hijabs being oppressed or brainwashed, Nakia says: "When I put this on, I feel like me."
That scene alone will send a message to so many people, Muslim and non-Muslim alike, that the hijab and dressing modestly isn't a source of oppression for all, but empowerment in being who you are. And it's one of many powerful messages that can and will educate audiences.
Representation matters. It makes people feel less alone and like they belong. I felt alienated by the media I watched growing up, but I am so excited for a new generation of young Muslims and south Asians who can watch shows like Ms Marvel and finally feel seen.
Source: Independent
Please click the following URL to read the full text of the original story:
https://www.independent.co.uk/voices/ms-marvel-iman-vellani-muslim-representation-b2103616.html
-----
19-Year-Old Zara Rutherford Flew A Plane Around The World To Encourage More Women To Become Pilots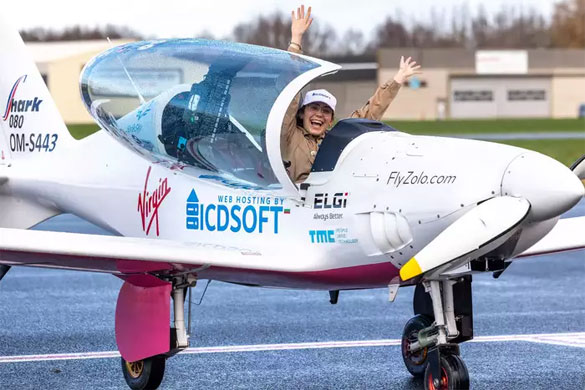 Zara Rutherford lands in Wevelgem airport in Belgium on January 20 after flying solo around the world. Olivier Matthys/Getty Images
-----
Abby Wallace
Jun 18, 2022
A 19-year-old woman who flew a plane around the world said she embarked on her epic journey to encourage more women and girls into careers in aviation and related fields.
Zara Rutherford became the youngest woman to circumnavigate the world solo in January. She is also the first person to fly around the world in a microlight plane.
Speaking to Insider at the European business aviation convention last month, Rutherford said she didn't see many female pilots growing up and didn't feel like she could talk about aviation with friends at her all-girls school.
"It was quite discouraging. Only 5% of commercial pilots are women, it's hard for a girl to see themselves in this field," she said.
Rutherford told Insider she originally intended to spend one night with a family in Alaska, but ended up staying for a month after her Russian visa expired and turbulent weather ruled out flying.
The 19-year-old said the flights from Alaska and over Siberia were the most difficult because "every single flight something went wrong," adding that she found it difficult to mentally "reset" after each flight.
Flying between the Russian cities of Anadyr and Magadan was also challenging because there was "just nothing" there apart from a weather station reporting temperatures of minus 35 degrees Celsius, Rutherford said.
"I was nervous because every single thing had to go perfectly – the weather had to be perfect, the wind had to be perfect, or I would run out fuel."
Reflecting on her flights around the world, Rutherford said she does not see her experience as something she needs to personally "beat."
"People keep asking me what's next. Flying around the world is tough to beat, but I don't see it like that. Whether it's flying around the world, or running a marathon, or even just overcoming a small challenge – you can't really compare them," Rutherford told Insider.
"Even if you could, I would argue flying around the world and solving a maths problem I've had hours of difficulty with … actually I'm just as proud of either.".
Source: Business Insider
https://www.businessinsider.com/youngest-woman-flew-around-the-world-zara-rutherford-2022-6?IR=T
-----
UN Official Says Afghan Taliban Has Stripped Women's Rights
Lisa Schlein
June 18, 2022
GENEVA —
U.N. High Commissioner for Human Rights Michelle Bachelet this week accused Afghanistan's ruling Taliban of stripping women and girls of their fundamental rights and freedoms and rendering them invisible in public life. Her report was submitted Wednesday to the U.N. Human Rights Council.
Bachelet told the council that Afghans are experiencing some of the darkest moments in a generation. Since the Taliban authorities took control in August, she said, the country has been plunged into a deep economic, social, humanitarian, and human rights crisis.
She pointed to a dramatic erosion of women's rights and freedoms since the Taliban assumed power. She said secondary school for girls has been banned, depriving more than a million of an education and a future.
She said women are forced to wear a hijab in all public places, are barred from employment, and cannot participate in public and political life. She said women's freedom of movement has been severely restricted.
"Let me be clear: what we are witnessing today in Afghanistan is the institutionalized systematic oppression of women," Bachelet said. "… Afghan women are rapidly facing the worst-case scenario many feared. While Afghanistan has ratified a number of international treaties … the de facto authorities remain far from complying with those international obligations, in both policy and practice, to respect and protect the rights of women and girls."
In the wake of the Taliban takeover of Afghanistan, conflict in the country dropped significantly and security improved. However, this positive effect has faded. Bachelet said attacks against dissident groups and ethnic and religious minorities have increased. She said civilians have been killed and injured at schools, places of worship, marketplaces, and on public transport.
"There are serious allegations, which require verification, that civilians have been exposed to violations of international human rights law and international humanitarian law, including arbitrary arrests, extrajudicial killings and torture," Bachelet said.
The Taliban could not respond to Bachelet's charges because the United Nations does not recognize the legitimacy of its rule. However, Nasir Ahmad Andisha, the previous Afghan government's ambassador to the U.N. in Geneva was allowed to speak and corroborated the information contained in Bachelet's report.
He meanwhile called on the outside world not to abandon Afghans, saying millions are suffering from acute hunger, lack of basic services, malnutrition, and disease.
Source: Voa News
https://www.voanews.com/a/un-official-says-afghan-taliban-has-stripped-women-s-rights/6622921.html
-----
Edmonton SafeWalk Helps Muslim Women Feel Safe In The City
Kashmala Fida Mohatarem
Jun 18, 2022
After several attacks on Black, Muslim women in Edmonton, a new initiative aims to make women feel safe while out and about in the city.
Edmonton SafeWalk is a new program by Sisters Dialogue, a grassroots organization that provides culturally safe spaces and supports for Muslim women and girls. The program offers a buddy system for Muslim women, especially Black women, when they are walking around or running errands in the city.
"Of all the things that have been happening against Muslim women, in particular Black Muslim women, there has been an increased sense of fear and hyper vigilance within our community," she said.
In closed women-only groups on Facebook, Muslim women shared tips to keep themselves safe, including keeping personal alarms, asking about carrying pepper spray or carrying sticks while going on walks.
Sisters Dialogue heard the concerns and decided to do something. The program works by pairing a Muslim woman with a volunteer who will accompany them while out on a walk or running errands.
The volunteers for the program are selected through a rigorous process, Ali said. They are interviewed by Sisters Dialogue and EFCL and have to provide a criminal record check.
"They also go through some training just to make sure that they're not causing more harm to the vulnerable people that reach out in looking for support," she said.
Although SafeWalk is aimed at protecting Black, Muslim women, Ali said the program is open to anyone who wants to feel safe while going out into the city.
The program launches on Saturday (June 17) at the Bannerman Community League hall with a community bazaar showcasing Muslim women-owned local businesses and free halal food.
Source: Cbc.Ca/News
https://www.cbc.ca/news/canada/edmonton/edmonton-safewalk-helps-muslim-women-feel-safe-in-the-city-1.6492754
-----
URL: https://newageislam.com/islam-women-feminism/disney-marvel-muslim/d/127273
New Age Islam, Islam Online, Islamic Website, African Muslim News, Arab World News, South Asia News, Indian Muslim News, World Muslim News, Women in Islam, Islamic Feminism, Arab Women, Women In Arab, Islamophobia in America, Muslim Women in West, Islam Women and Feminism