New Age Islam News Bureau
29 Jun 2014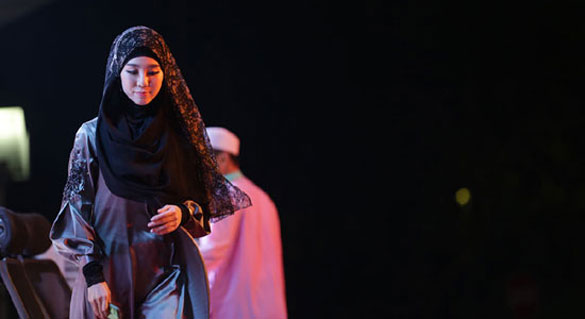 Former model Felixia Yeap told an audience of 2,000 in Shah Alam last night of her intention to embrace Islam on Wednesday. – The Malaysian Insider pic by Afif Abd Halim
----------
• Amira Osman Hamed, Sudanese Activist Charged With 'Indecent Dress'
• Muslim Women Targeted In a Rising Wave of Attacks in UK
• Girl Faces Death for Refusing a Proposal in Pakistan
• Couple Killed Over Love Marriage in Ghazni Province of Afghanistan
• Former Model, Felixia Yeap, Says She's Embracing Islam On July 3
• Muslim Man Murders Romanian Prostitute for Working near A Mosque in Britain
• Nigerian Pop Singer Adokiye Offers Her Virginity to Boko Haram In Exchange For Missing Girls
• New Saudi Law Helps Curb Cases of Domestic Abuse
• Saudi Housewives 'Most Effective Energy Savers'
• Understand the World from the Eyes of a Woman: Founder of an NGO
• Bangladesh Ambassador Ismat Jahan Re-Elected Member of the UN CEDAW
Compiled by New Age Islam News Bureau
URL: https://www.newageislam.com/islam,-women-and-feminism/new-age-islam-news-bureau/'objecting-to-wife-wearing-jeans,-kurta-is-ground-for-divorce'/d/97800
------------
'Objecting To Wife Wearing Jeans, Kurta Is Ground for Divorce'
Press Trust of India | Mumbai | June 29, 2014
Objecting to the wife wearing Kurta and jeans and forcing her to wear Saree amount to cruelty by the husband and can be a ground to seek divorce, a family court here has ruled.
Appearing in court, a woman pleaded that after marriage in December 2010, her husband did not buy her any clothes and she purchased Kurta and jeans from her salary. But her husband did not allow her to wear them, saying she should wear only Sarees.
In an order passed on June 24, principal judge of family court Dr Laxmi Rao granted divorce to the wife on the ground of cruelty as defined under Section 27(1)(d) of the Special Marriage Act, 1954.
"In view of the averments made in the petition which have gone unchallenged, it can be said that the petitioner has proved her case, hence, she can be granted divorce as prayed by her. Her plea that she was restrained from wearing jeans and Kurta amounts to cruelty as defined under the Act," the judge held.
The wife further alleged that her husband and in-laws asked her to bring Rs 1 lakh from her house or face dire consequences. They also asked her to quit her job.
The wife told the court that on March 15, 2011, she was thrown out of her matrimonial house as she failed to bring the money. Since then, she has been staying at her parents' house.
http://indianexpress.com/article/india/india-others/objecting-to-wife-wearing-jeans-kurta-is-ground-for-divorce-2/
------------
Amira Osman Hamed, Sudanese Activist Charged With 'Indecent Dress'
29 June, 2014
Amira Osman Hamed was arrested and charged with "indecent dress" in August last year after she was caught walking around Khartoum without wearing a headscarf.
Hamed, 31, is still awaiting trial if found guilty, she could be punished with public flogging.
"In Sudan, violations of women rights take place every day, which is why we launched the No to Oppressing Women Movement in 2009," Hamed stated.
"This regime is oppressing women…we will not stop protesting against their sexist and oppressive laws," she told Ahram Online.
Back in 2013, a police officer stopped Hamed in the Sudanese capital and asked her to cover her head. She replied by saying that she does not wear the veil.
According to Hamed, the police officer called her an "indecent woman", while another officer asked her not to look directly at a man while speaking to him.
The woman was then taken to the police station; she says the first question she was asked was which tribe she belonged to – a potentially controversial question in Sudan where race and ethnicity can be political issues.
Sudanese human rights activist and lawyer Ali Mahgoub says that in Sudan there are remnants of racism manifested in the question of tribal origin, and therefore bringing up the topic to Hamed while being in the police station was meant to disgrace her.
She was released on bail four hours later.
The law under which Hamed was charged is Article 152 of Sudan's 1991 Criminal Act. It is part of a wider set of "public order" laws and practices, which stipulate flogging as punishment for any kind of public and sometimes private behaviour deemed immoral.
Under the law, a woman charged with "indecent or immoral dress" may be sentenced to up to 40 lashes.
A date was set for Hamed's trial in November last year, and dozens of lawyers, activists and journalists gathered at the court for the session, but the judge did not attend and the case was postponed until the next week, and subsequently postponed again. No new date has been set.
The issue of public indecency arrests first came to global attention in 2009 through the case of journalist Lubna Hussein, who was arrested along with 12 other women, for wearing trousers. The court chose not to sentence Hussein to flogging following the international attention her case attracted, but she was jailed for a month for refusing to pay a fine and launching a public campaign about the issue.
Many women charged with such offences choose to remain silent about their experience, in part due to the trauma of their arrest and partly due to the stigma of being charged immorality.
Hamed said that the authorities tried to blackmail her to prevent her speaking to the media, but she refused to bargain.
Mahgoub argues that the Sudanese regime implements the laws in an attempt to protect its extremist allies.
"But the system also wants to clean up its international image," he argues.
http://english.ahram.org.eg/NewsContent/2/8/104968/World/Region/Sudanese-woman-charged-with-%E2%80%98indecent-dress%E2%80%99-will-.aspx
------------
Muslim Women Targeted In a Rising Wave of Attacks In UK
29 June 2014
Over half of Islamophobic attacks in Britain - which stand at around two every day - are committed against women, UK daily The Observer reported on Saturday.
The newly-published statistics on anti-Muslim attacks, which have been compiled in the nine months following the murder of British solider Lee Rigby in 2013 by extremists, come days after Saudi student Nahid al-Manea was stabbed to death in an Essex park.
In their research on Islamophobia, academics at a UK university studied calls to the Tell Mama hotline, which records Islamophobic crimes, academics at Teesside University found there were on average two incidents every day over the period.
More than half of reported attacks being against women, who are often targeted because they are wearing clothing associated with Islam, the data revealed.
Between the start of May 2013 and February this year, victims reported 734 incidents to the hotline – with 599 incidents of abuse being online and the remaining 135 offline.
The figures stand in contrast to the trend for hate crime, with government data showing the number of reported incidents dropping.
However, the report stated that a significant number of reported incidents were linked to groups such as the English Defense League, a far-Right street protest movement which opposes the spread of Islamism and Sharia Law in the UK.
The group originated from the city of Luton and has been described as Islamophobic.
http://english.alarabiya.net/en/News/world/2014/06/29/Muslim-women-targeted-in-a-rising-wave-of-attacks-in-UK.html
------------
Girl Faces Death for Refusing a Proposal In Pakistan
June 29, 2014
TOBA TEK SINGH- A man attacked a girl with acid and set her on fire for refusing a proposal for marriage.
The girl has died after contracting serious burn injuries, said police. The man threw acid on the girl before setting her on fire with petrol in Toba Tek Singh. The accused man was identified as 22-year-old Malik Fayyaz who vented his anger for his proposal rejection by a 20-year-old girl with sheer brutality.
Chief Minister Punjab Shahbaz Sharif has taken notice of the incident and sought report from district administration and local police.
The CM issued directives that the culprit should immediately be arrested and brought to book. Cases of acid attacks report mostly from southern parts of the country, with women mostly being the victims.
http://www.nation.com.pk/national/29-Jun-2014/girl-faces-death-for-refusing-a-proposal-cm-takes-notice
-------------
Couple killed over love marriage in Ghazni province of Afghanistan
29 June, 2014
A young couple in south eastern Ghazni province was tied up and had their throats slit with scythes after they married for love, villagers said Saturday.
The 19-year-old girl and 29-year-old man married on first week of June without the consent of their families in Dalil village of Gilan district .
The girl's mother and father lured the couple home late on Thursday with the promise that their marriage would receive a family blessing, said local police official in the area.
"When the couple reached there, they tied them with ropes," he said. "He (the girl's father) cut their throats."
A weak judiciary, a lack of law enforcement and widespread discriminatory practices against women are fuelling a rise in honour killings in Afghanistan, officials from the Afghan Independent Human Rights Commission (AIHRC) said.
According to AIHRC, dozens of women and girls have been killed by family members so far this year, a significant increase on the previous year. But rights activists say that the real number is much higher as many such cases go unreported, particularly in rural areas.
"Unfortunately, many women and girls continue to lose their lives due to this [honour killing] brutal crime. Sadly, it's totally ingrained in [Afghan] culture, particularly in rural areas of the country," Sabrina human rights activist in Kabul said.
She blamed weak prosecution of perpetrators and a lack of awareness among women about their rights as the key factors driving the practice.
Police arrested the family, who said they had been embarrassed by the marriage of their daughter, named Khadija, to a man from the other tribe.
Cultural traditions in many areas of Afghanistan mean that killing a woman whose behaviour is seen as immodest is widely accepted.
Immodest behaviour that sparked recent killings included singing, looking out of the window or talking to a man who is not a relative. For a woman to marry a man of her own choice is considered an unacceptable insult by many families.
The Human Rights Commission of Afghanistan said the number of honor killings increased in recent years across the country.
The Afghan government, battling with a troubled economy and a Taliban insurgency, does not collect centralized statistics and has no strategy to combat the killings.
Afghanistan law means that even if a woman's killer is convicted, her family is able to forgive the killer.
Many families simply nominate a member to do the killing, and then formally forgive the killer.
Despite considerable progress being made following the collapse of the hard line Taliban regime in late 2001 and women's rights being protected under the new constitution, violence against women such as self-immolation, forced marriages and rape remain widespread in Afghanistan.
The increase in such crimes against women has also been explained by the resurgence of the Taliban in Afghanistan's southern provinces. The killing, maiming and beating of women were practically institutionalized during their ultra-conservative rule from 1996 until late 2001.
The Afghan rights watchdog has registered some 704 cases of violence against women, including 89 cases of forced marriages and 50 cases of self-immolation so far in 2014, again, a significant increase over last year.
http://www.khaama.com/couple-killed-over-love-marriage-in-ghazni-province-6315
---------------
Former Model, Felixia Yeap, Says She's Embracing Islam On July 3
29 June, 2014
A former Playboy bunny and model, Felixia Yeap, whose interest in the Hijab drew intense media attention late last year, yesterday announced that she was embracing Islam this Ramadan.
The 28-year-old, speaking at a programme in Shah Alam in conjunction with the Islamic holy month which begins tomorrow, said she would officially recite the Muslim declaration of faith on July 3, which is her birthday, adding that the fifth day of Ramadan was Prophet Muhammad's favourite date.
Speaking in front of a 2,000-strong audience, Yeap said some of her friends have started to avoid her.
"My friends have distanced themselves from me, thinking that I wear the Hijab to become Malay, but the fact is I am attracted to Islam," she said, adding that she has support from her parents, especially her mother.
Yeap would announce her Muslim name later, saying she preferred not to reveal the place where she would recite the Shahadah or oath taken by a new Muslim.
The Ipoh-born, saying she faced a huge challenge in observing the fasting month because of her gastritis, said she had bought dates which were traditionally served for breaking of fast in Ramadan.
Last year, Felixia told The Malaysian Insider of the criticism she received after donning the Hijab.
"They say I did this to find a rich Malay Datuk to marry. If I wanted to find a rich man, I would have done it a long time ago when I was still modelling in sexy poses. Their criticism defied logic. All I wanted to do was to cover up more and do more decent modelling," she said.
A former kindergarten teacher, Yeap started modelling in 2005 when she entered the Dewi Remaja contest organised by a magazine and became one of its finalists.
She then joined many beauty pageants and at the peak of her career, she was invited to be a Playboy bunny and worked at its club in Macau.
http://www.themalaysianinsider.com/malaysia/article/ex-playboy-bunny-says-shes-embracing-islam-on-july-3#sthash.CaUCf2pu.dpuf
------------
Muslim Man Murders Romanian Prostitute for Working near A Mosque in Britain
29 June, 2014
A Muslim who stabbed a pregnant Romanian prostitute to death after warning her not to work near a mosque was jailed for at least 29 years today.
Farooq Shah, 21, plunged a knife into Mariana Popa's chest while riding his bicycle along a stretch of road notorious for sex workers.
Miss Popa, 24, had been in Britain for just three weeks and was trying to earn the money to support her family when she was stabbed in Ilford, Essex.
She staggered into Chicken & Pizza 4U in Ilford Lane and collapsed in a pool of blood as her killer rode away on his bike.
The mother-of-one was six weeks pregnant with her second child when she bled to death.
CCTV footage showed Shah waiting on the forecourt of a BP garage close to where prostitutes were working on Ilford Lane late on October 28.
Miss Popa could then be seen to walk towards him and speak to him before he stabbed her twice in the chest.
Prosecutors believe Shah was warning Miss Popa to leave the area - and she paid with her life when she refused.
Shah's distinctive appearance exactly matched that of the killer - but he claimed he was the victim of mistaken identity.
He was found with another stolen mobile when he was arrested for the murder of Miss Popa.
Shah claimed he was at home watching an episode of Family Guy at the time of the killing after returning from a party in Plaistow drunk and high from smoking cannabis.
He said a mystery man approached him on the street while on his way home and sold him the phone.
Judge Christopher Kinch QC jailed Shah for life and ordered he serve at least 29 years behind bars.
The judge said: 'It was an utterly terrible attack which inevitably led to her death. It was carried out with callous indifference on a defenceless woman. Mariana Popa did not stand a chance.'
During the trial Bobbie Cheema QC, prosecuting, asked Shah: 'What was that conversation with Miss Popa about?
'Did you ask her to go with you? Did you offer her money? Did she say no because you had a bike and didn't even have a car?
'Or were you on this night patrolling the area for prostitutes? Did you want to challenge Miss Popa and ask her to get out of that area, to get away from the mosques?'
In his account to the jury, Shah said having women sell their bodies near his mosque or home 'means nothing'
He insisted he was so handsome he would never need to hand over money for sex.
'I would never, ever do that, I'd never pay money for sex. Look at me - I'm not an ugly man'.
An hour before Shah stabbed Miss Popa, he had robbed Ikran Chohan, a blind man of £400 and his mobile phone at knifepoint.
A bicycle matching the description of Miss Popa's killer and Mr Chohan's assailant was also found outside Shah's flat on St Francis Way.
In a statement Miss Popa's boyfriend, Nicolae Drezaliu, said the two of them had moved to London just three weeks before she was killed, following the news that she was pregnant.
Jurors heard the couple, who left the Romanian city of Caracal in 2012 for Italy, decided to move to Ilford where Miss Popa had friends.
'It was while we were in Italy Mariana told me she was pregnant. It was a wanted pregnancy, we wanted to have a child', Mr Drezaliu said.
'Two or three nights she worked until 12.30am and then one time she didn't come back until 9am - she told me she had slept at friends, there was no reason to be suspicious at the time.
'After she was murdered police told me it was possible she was working as a prostitute on Ilford Lane.
'I'm still in shock and devastated. Our plans to have a family have been dashed'.
Shah, of Station Road, Forest Gate, east London, was found guilty of murdering Miss Popa and robbing Mr Chohan.
He was given six years in jail for the robbery to run concurrent.
http://www.dailymail.co.uk/news/article-2672538/Muslim-man-murders-pregnant-prostitute-working-near-mosque.html#ixzz3653lXuvI
------------
Nigerian pop singer Adokiye offers her virginity to Boko Haram in exchange for missing girls
29 June, 2014
Nigerian pop singer Adokiye has caused a social media storm by offering her virginity to Islamic militants Boko Haram in exchange for the return of hundreds of kidknapped schoolgirls.
A total of 276 girls were taken from the largely Christian north-eastern town of Chibok by the rebels, led by Abubakar Shekau, in April.
The majority of the schoolchildren remain missing, despite international pressure for their safe return - including the celebrity-endorsed #BringBackOurGirls social media campaign backed by Michelle Obama and David Cameron, among others.
However, the 23-year-old musician and actress from the country's Imo State, who is also a UN Ambassador of Peace, took the protest to the next extreme.
"It is just unfair. They are too young. I wish I could offer myself in exchange," she told Nigerian publicationVanguard.
"They are between 12 and 15 year old girls for Christ sake. I am older and more experienced. Even if 10 to 12 men have to take me every night, I don't care. Just release these girls and let them go back to their parents."
Her comments received a mixed reaction via social media. Some fans praised her offer as "brave" and branded her a "hero".
Others, however, interpreted her bold statement as an opportunistic publicity stunt.
Adokiye's apparent sacrifice comes after news that over 60 girls and women and 31 boys are suspected to have been abducted by Boko Haram from villages in northeast Nigeria.
The recent abductions took place during a series of raids in Borno over the past week, with dozens of people killed from the attacks. The survivors from various villages are now taking refuge in Adamawa, with others still fleeing on foot.
Meanwhile, at least 21 people have died in an explosion in a shopping area in Abuja, the capital of Nigeria. Police said 17 more were wounded when the blast ripped through Emab Plaza on Wednesday [25 June]. Again, Boko Haram are suspected of orchestrating the bloody attack.
http://timesofindia.indiatimes.com/world/rest-of-world/Nigerian-pop-singer-Adokiye-offers-her-virginity-to-Boko-Haram-in-exchange-for-missing-girls/articleshow/37268420.cms
------------
New Saudi law helps curb cases of domestic abuse
29 June, 2014
The anti-domestic violence law passed by the Council of Ministers last year allows the authorities concerned to quickly intervene when a domestic violence case is reported and provide protection to victims, executive director of the National Family Safety Program Maha al-Muneef told the Saudi Gazette.
She said the law contains several provisions that guarantees, among other things, medical care to victims, their social rehabilitation and prevent continuance or repetition of violence.
According to the new law, reporting domestic violence is the collective responsibility of society. The identity of those who report the abuse will be kept confidential, al-Muneef said while adding that the law calls for providing shelter to domestic violence victims and requires law enforcement agencies to investigate and prosecute perpetrators.
The law stipulates a minimum of one month or a maximum of one year imprisonment to perpetrators or a fine ranging between $1,300 and $13,000 or both. In case the crime is repeated, the penalties will be doubled.
Al-Muneef, who was honored by US President Barack Obama earlier this year with the US Secretary of State's International Woman of Courage Award, noted that the World Health Organization (WHO) has classified domestic abuse as a public health problem as well as a social and family problem.
"The 67th General Assembly of WHO underlined the need for strengthening the role of the health sector in dealing with victims of domestic abuse."
Al-Muneef said the new law has brought about a family safety culture wherein the rights of all parties are protected.
She said the family safety program aims at protecting the victims of domestic violence through a series of measures, including training programs and awareness campaigns.
"Saudi society strives to strengthen cooperation between government and private agencies as well as charities to increase awareness among members of society on the harmful effects of domestic violence and its negative impact in the long run," she said.
"The program is designed to take precautionary measures against domestic abuse through awareness campaigns," Al-Muneef said.
"The program has been instrumental in raising awareness among members of society in general and youths in particular about the dangers of domestic violence and child abuse. The program also works on providing training to increase awareness as well as to improve efficiency of professionals engaged in dealing with the cases of domestic violence, especially abuse of children."
Referring to other activities envisaged in the program, Al-Muneef said the Center for Excellence and Research carries out scientific research into ways of curbing domestic violence after identifying priorities. It also works on developing partnerships between academics and local and international research bodies, extends necessary academic and logistic support to students pursuing higher studies in the field.
The program also handles a helpline (number 116111) for children who are victims of abuse. "Anyone under 18 years of age who are victims of abuse and misconduct or face problems that hamper their growth and development can contact the helpline to get free advice," she added.
http://english.alarabiya.net/en/News/2014/06/29/New-law-helps-curb-cases-of-domestic-violence-in-Kingdom.html
------------
Saudi Housewives 'most effective energy savers'
29 June, 2014
Saudi housewives are the most frugal users of energy in their homes and the most likely to switch off air conditioners and lights, a recent survey found.
The survey conducted by the Saudi Energy Efficiency Center (SEEC), a government body, found that mothers switch off air conditioners and lights 81 and 79 percent of the time respectively.
The survey also found that 70 percent of those surveyed monitor their maids' energy use at home. However, 48 percent of those surveyed did not know when there was peak consumption in the country, and 46 percent said they have rising electricity bills.
The survey was conducted before the SEEC launched its Energy Efficiency Program. It also found that 77 percent of men urge their wives and children to use electricity sparingly at home, and would also hold family discussions on electricity bills.
"Over 43 percent agree that homes should be insulated but 19 percent thought that this didn't make any difference. While 56 percent said they don't leave air conditioners on if they are not in a room, 33 percent said they do," the survey said.
According to the survey, 55 percent of men said they only consider the manufacturer's name and price when buying an air conditioner, while 17 percent said they look at other factors. A total of 51.5 percent said they regularly maintain their home electrical equipment, while 48 percent said they rely on their wives when buying electrical equipment.
http://www.arabnews.com/news/593921
------------
Understand the World from the Eyes of a Woman: Founder of an NGO
29 June, 2014
Cambridge, Massachusetts: "Understand the world from the eyes of a woman" said Ayesha Khatun to an audience of over 60 people at the Massachusetts Institute of Technology (MIT) on June 25, 2014. In the hour-long talk Ayesha Khatun had her audience in rapt attention as she shared stories from the ground, cracked jokes, and talked about her struggles working for some of the most marginalized people in India.
Ayesha Khatun is the founder of Mohammed Bazaar Backward Classes Development Society (MBBCDS) that works on various aspects of empowerment of tribal and minority women in 35 villages in Birbhum, Murshidabad and Howrah districts of West Bengal. The event was hosted by Association for India's Development (MIT & Boston chapters).
Ayesha began the talk by sharing her motivation to do the challenging grass root work. Being a Muslim she was able to see the plight of women in the community up close. Mothers faced tremendous difficulties at home and outside and children were forced into child labour. "The woman is continuously oppressed", she said, "We cannot live like this - we have to fight for our rights and I wanted to be a part of this process".
She strongly felt that education is an important tool for development and has to be combined with women's empowerment. MBBCDS started their work by running a school and then in livelihood generation where women did Katha-stitching, jewellery-making using natural resources, doing Santhali wall-art on cloth and making low cost sanitary napkins. Nutrition gardens can provide year round livelihoods to women groups.
Through Participatory Rural Appraisal, MBBCDS volunteers engage the villagers in mapping out available resources and services in the village followed by a 5 year plan that is submitted to the panchayat and is also painted on highly visible walls. Ayesha highlighted the use of RTI (Right to Information)) to get information from the government and MNREGA (Mahatma Gandhi National Rural Employment Guarantee Act) programs to get 100 days of work annually.
The AID Boston chapter supports the Jambuni Child Growth Centre run by MBBCDS. Ayesha lovingly refers to the 800 children in the 8 school as Hamare Bachche - our children. MBBCDS recognizes that girl child is often discriminated at home so they make sure all work in their schools are equally shared by boys and girls. "I really like the education program's holistic approach incorporating sports, arts, self defence, vocational training, kitchen-gardening and teaching equity and justice", said Nikhil Dubbaka, an AID Boston volunteer who coordinates this project. The schools provide midday meals and emphasize the importance of health and hygiene. Drama is a tool that is used to understand the difficulties faced in their home life and how to deal with them.
Violence is endemic against girls from poor families who are mainly tribals, Muslims or Dalit Hindus. The hostels provide accommodation for 180 girls who want to pursue further studies in a safe environment. Some of the girls had been trafficked, raped or ostracized by their community and are determined to change their lives through education.
For MBBCDS, the bicycle became a symbol of liberation. Riding a bicycle and playing outdoor games continually breaks the cultural barriers that hold the girls back. "I was surprised to see teenage boys and girls playing football together when I visited them in Birbhum", said Somnath Mukherji, an AID volunteer. Girls from the 9th and 10th grade bring out a magazine on a regular basis where they report, publish interviews and write opinion pieces.
MBBCDS constantly looks at providing platform for young girls and women in the villages to come together and fight against abuse, violence and discrimination.
Ayesha ended the talk by a personal appeal to all, "Let us not be silent anymore in response to gender violence. Let us raise our voice. Let us protest. Let us work towards an India where every man and woman can call it their own and in whose making they have an effective voice!"
http://twocircles.net/2014jun27/understand_world_eyes_woman_ayesha_khatun.html#.U7C1wJRdU4V
------------
Bangladesh Ambassador Ismat Jahan Re-Elected Member of The UN CEDAW
29 June, 2014
Ismat Jahan, ambassador of Bangladesh in Brussels, has been re-elected member of the United Nations Committee on the Elimination of Discrimination against Women (CEDAW).
Previously a member of the committee for the 2011-2014 term, she will now serve as the new member for the next four years (2015-2018), said a release of the Foreign Affairs Ministry.
The election was held at the United Nations on Thursday and 18 candidates contested for 12 vacant posts of the body.
http://www.dhakatribune.com/bangladesh/2014/jun/28/ismat-jahan-re-elected-cedaw-member#sthash.eKNM2EVJ.dpuf
------------
URL: https://www.newageislam.com/islam,-women-and-feminism/new-age-islam-news-bureau/'objecting-to-wife-wearing-jeans,-kurta-is-ground-for-divorce'/d/97800