New Age Islam News Bureau
13 Nov 2013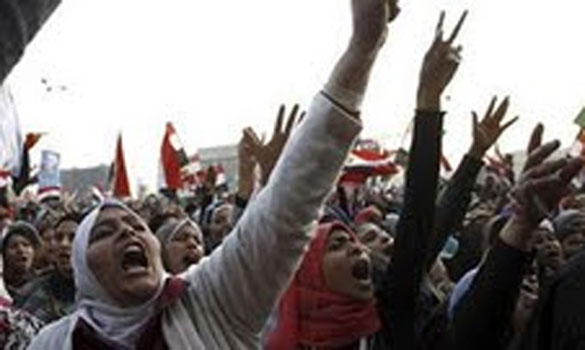 Women shout during a protest in Tahrir Square in Cairo January 25, 2013 (Photo: Reuters)
----------
• Her Hand Is Saved, but 10-Yr-Old Azra Has Lost Home, School Forever
• Teenage Syrian Refugees Wed 'For Protection'
• Poll Labelling Egypt Worst For Women in Arab World Is 'Misleading': Activists
• Syria Refugee Women Celebrate Their Cuisine in Lebanon
• Don't Sacrifice Afghan Women for A Deal With the Taliban
• Malaysia: We're On Right Track over Women Leaders
• Saudi Scientist, Dr. Hayat Sindi, Shares Her Inspiration with Students
• Sheikha Rima Al-Sabah among 117 Most Powerful DC Women
• Half of Israeli children abused
Compiled by New Age Islam News Bureau
URL: https://www.newageislam.com/islam,-women-and-feminism/new-age-islam-news-bureau/obama-s-daughter,-malala-among-time-s-most-influential-teens/d/24409
--------------
Obama's Daughter, Malala among Time's Most Influential Teens
PTI
New York, November 13, 2013
US President Barack Obama's elder daughter Malia and Pakistani girls' education activist Malala Yousafzai have been named among the 16 most influential teens of 2013 by Time magazine.
Time's list, that came out on Tuesday, comprises young singers, sports stars, technology and
science whiz kids, authors and media icons who have become inspirations for youngsters across the world due to their spectacular achievements through their work and passion.
The magazine said Malia, 15, and her younger sister Sasha act with the "poise of adults" at high-profile events like their father's second presidential inaugural address.
"Thanks in part to Michelle Obama, they seem to lead as normal lives as they can while still meeting the demands of being in the limelight. President Obama often mentions his daughters in speeches, and says that they influenced his stance on gay marriage," the magazine said.
Malala's vocal activism for girls' right to education made her a target of the Taliban, who shot her in the head as she was returning home in her school bus in Pakistan in 2012.
From being nominated for the Nobel Peace Prize, winning the Sakharov Prize for Freedom of Thought and a Clinton Global Citizen Award to discussing education rights with President Obama, meeting the Queen of England and addressing the United Nations, the 16-year-old has the world applauding her dreams, courage and vision.
"After surviving the attack, (Malala) didn't hide in fear but strengthened her voice. The world has been listening," Time said.
Malala had also met Malia when she visited the White House last month to meet President Obama and First Lady Michelle.
Also on the list is singer and pop icon Justin Bieber.
The 19-year-old Canadian-born pop star has become an "industry to himself", valued by Forbes at $58 million.
He released his first single at age 15, and in 2010, became the youngest solo male artist to hit the number one spot on the Billboard Hot 100 music charts.
The list includes 16-year-old Lydia Ko, a New Zealand golfer born in South Korea who has multiple Ladies Professional Golf Association (LPGA) wins.
Ko is the youngest person ever to win a professional golf tour event and the youngest person ever to win an LPGA event.
Another sports icon on the list is swimmer Missy Franklin, 18, who won six gold medals at the 2012 London Olympics becoming the "winningest female swimmer ever at a world meet" as well as the fifth swimmer to capture six or more golds at a worlds meet or the Olympics.
http://www.hindustantimes.com/world-news/obama-s-daughter-malala-among-time-s-most-influential-teens/article1-1150676.aspx
----------
Her Hand Is Saved, but 10-Yr-Old Azra Has Lost Home, School Forever
Nov 13 2013
New Delhi : A little over two months ago, 10-year-old Azra Qureshi watched frozen in terror as a group of men whom she had always known as her neighbours forced their way into her home in UP's Shamli district. They shot her grandmother, an uncle and an eight-year-old cousin dead; then hacked at the little girl's stomach with a sickle. As she instinctively tried to protect herself, Azra's right hand took the vicious, slashing blow.
Azra was discharged after over a month's treatment at AIIMS Trauma Centre on Tuesday. The sickle cut through vital muscles and nerves, and she will have to keep returning for extensive reconstructive surgery. She will be now united with her mother, who too was recently discharged from a hospital in Meerut, where she was being treated for pellet injuries.
Sitting with her father Aas Mohammad, Azra knew she wouldn't be returning to their home in Khadi Bahwdi village. "I have been wondering what has been happening in school, and how I will write again. Till now, I had been thinking of going home and resuming school, but Abbu says we can never go back," she said.
Doctors said the Class 4 student had come to them after about a week of sustaining the injury that left her hand with a fractured bone and severely infected muscle mass, and they had initially feared the hand would have to be amputated. "But we wanted to give her a chance because she is so young, and despite the grievous nature of the injuries," said a doctor from the orthopaedics department.
Surgeons performed debridement procedures to remove the infected tissue and mass before grafting on to her hand skin taken from her abdomen. The hand has healed well so far, doctors said.
"She will need more extensive reconstructive surgery to make the hand properly usable. We have called her after 15 days," the doctor said.
Sitting in the front row during a talk on women and riots organised by the All India Democratic Women's Association some hours after stepping out of hospital, Azra recalled the afternoon of September 8, as Communal violence raged across Muzaffarnagar and neighbouring districts.
"Our neighbours were banging on the door, and we hid in the kitchen. They forced themselves inside, and fired at us. My uncle, cousin and grandmother dropped dead. My mother and my four-year-old sister were near the door of the kitchen, and they sustained pellet injuries in their face and neck," she said.
"The men slashed at my stomach, and when I fell, trying to protect my stomach with my right hand, they hacked at it. I fell unconscious, and woke up in hospital."
Azra had been first admitted to Muzaffarnagar district hospital with her mother and sister, where her father, who works in Maharashtra, found her.
"My wife and Azra lay unconscious and bleeding in the kitchen for hours, alongside the three bodies... The rest of the family ran for their lives. They were brought to hospital with the help of the Army," Aas Mohammad said, his eyes welling up.
Returning home was out of the question, Aas Mohammad said. "My family has been wrecked. My children have seen their loved ones die, and fought for their own lives for two months. The place that has given us so much pain can no longer be our home," he said.
http://www.indianexpress.com/news/her-hand-is-saved-but-10yrold-azra-has-lost-home-school-forever/1194323/
----------
Teenage Syrian refugees wed 'for protection'
November 13, 2013
Za'atari, Jordan - Fatima sits in a beauty salon getting her hair and make-up done by young female refugees. Their pink, white and blue dresses with lots of little fake diamonds are shining in the afternoon sun.
The young stylists are giggling while lightening 15-year-old Fatima's skin with white powder, making her eyes look even darker than they already are, while others are brushing her long brown hair. Her face shows no signs of happiness or sadness, although today is an important day for Fatima. Today she is getting married to her distant cousin, an 18-year-old boy.
Za'atari is the second largest refugee camp in the world, and houses at least 120,000 Syrians. Weddings take place every day here. Young men roam down the main street, colloquially known here as the "Champs Elysées," eating, working, picking up groceries and looking for potential brides. Although the name of the street may refer to one of the most romantic places on earth, the men here are barely allowed to talk to girls, let alone flirt with them.
So when a young man in Za'atari does find a potential candidate, he ask questions of her. From what family in Syria is she? Is she a good girl? After that, he may visit her family to propose.
Mariam, Fatima's grandmother, tells a similar story in her trailer. When another of her granddaughters, Zeina, was walking back from school, the sister of a 22-year-old refugee wondered if she would be available to marry her brother. After a long talk, Mariam and her daughter made their final decision.
"Zeina's father is not here, so she doesn't have male protection," said Mariam. "Especially at night, Za'atari can be dangerous for young girls. I heard some horrible rumours about girls getting raped or kidnapped. So, when we found out that this young man had a college certificate and good potential to support and protect her in the future, we decided to say yes."
It wasn't the first proposal Zeina got. In the previous couple of months, four young men had come to visit their trailer. Mariam, the mother of nine children, and grandmother of 65 grandchildren, talks about it in a proud and strong voice.
"Our girls are most likely to get married at the age of 14 or 15," she told Al Jazeera. "This is not a new trend for refugees, as some organisations say."
She added: "If we asked Zeina for permission? Well, she said it was up to us to decide what's best for her. Besides, in our custom it is not necessary that the girl says yes. She knows this is the best thing we can do: making sure that somebody is taking care and protecting her."
When Mariam got married, she was also 14 years old.
Twenty-five marriage proposals
Yet another of Mariam's grandchildren has received more than 25 proposals since arriving in the camp just over a year ago. The girl's mother, however, rejected them all, wanting her daughter to finish her education. When asked if her 15-year-old daughter is very beautiful, she smiles tenderly.
"Yes, but that's what every mother thinks of her child," she says. Just like the rest of her female family members, her face is covered by a black niqab. Her daughter wears one too.
An early marriage is a common experience for Syrian girls from Daraa province, an area many of the refugees here fled from. Most of the girls in that province get married under the age of 18, according to UN Women. Around 51 percent of the girls from Daraa in Za'atari, and 13 percent of the boys, were married before the age of 18 - most before their arrival in Jordan.
While there is no conclusive evidence that Syrian refugees are marrying early at a higher rate in Jordan than in Syria, a UN Women study notes that the sense of economic and physical insecurity which, among other factors, drives early marriage is amplified in displacement. Some Syrian families marry their daughters off earlier than before to provide personal and financial safety for her.
The Jordanian court does not allow people under the age of 18 to get married, but a wedding in Za'atari doesn't require permission from the Jordanian government. As the rules stand, marriage contracts are prepared by mosque imams and sheikhs.
Sheikh Hussin admits that the oldest girl he married in the last couple of months was 18 years old, and the youngest just 14. Since he came to Za'atari, ten months ago, he has married thirty couples. According to him, the "standards" for men to marry a girl have lowered.
"Poor refugees cannot pay the dowry anymore and there isn't much paperwork," he says. "This increases the [number of] weddings that are taking place. The decision can be made faster than usual, without a lot of preparation. And young couples can get their own trailer after they get married too."
The sheikh never asks the girls if they really wanted to get married, or if they said yes because they felt pressured by family members. He says the biggest problem in this camp isn't an early marriage, but a marriage between Syrian girls and unknown men from outside the camp.
Saudi suitors
"A few months ago a widow with three children married a man from Saudi Arabia," he said. "After two months of living in Amman, he forced her to bring the children back to her mother in Za'atari. She refused and came back to the camp, where people started gossiping about her constantly. She couldn't take the severe pressure anymore, left, and committed suicide."
Women who work as marriage fixers for Jordanian or Saudi men often show up in the camp, asking people if they know any girls who want to get married. Human rights organisations report that some of these girls end up in prostitution or so called "pleasure marriages," whereby a man divorces the women shortly after consummating the marriage.
'Almost for free'
A Jordanian man, who spoke on condition of anonymity, said he had been advised to go to Za'atari if he wanted to get married fast:
"I told them I was looking for a wife. 'Go to the refugee camp,' they said, 'because Syrian women are almost for free."
According to people living in the refugee camp, these cases are declining, as permission is now required to enter Za'atari. Jordanian military guards check passports at the entrance, while, inside the streets are watched over by local "street guards," mostly men distributing a share of the aid provided by international and domestic organisations.
Although most of the Syrian brides here are under the age of 18 when they say yes to their future husband, older women also get married in the camp. Merwa, a 36-year-old, met her 53-year-old husband, Mohammed, seven months ago, when she was walking down the Za'atari streets. She didn't allow him to kiss her until he asked her to marry him.
With a twinkle in his eye, Mohammed looks at his wife, who wears colourful clothes. "When I saw her for the first time, I was madly in love, so we decided to get married right after I asked her. Unfortunately we didn't have a wedding party to celebrate. Merwa was a little bit sad because of that. She wanted to have a nice wedding party."
Both of them have been married before. In fact, Mohammed is still married to his first wife, whom he met in Syria - but Merwa doesn't consider this a problem, as Muslim men are allowed to marry four wives.
Two days ago, he was so inspired by his renewed happiness that he decided to help his 42-year-old Jordanian friend find a bride. But when he contacted the parents of a 25-year-old Syrian woman living in the camp, they refused immediately.
"But I'm still looking," he grins. "He is a good catch."
The next day, there are no customers at the bridal shop on Za'atari's Champs Elysées. The make-up artist says the girl who was supposed to get married today cancelled her appointment just a few hours ago.
"The wedding got postponed a few weeks, but I expect the next bride tomorrow," she concluded.
Follow Brenda Stoter on Twitter: @BrendaStoter
http://www.aljazeera.com/indepth/features/2013/11/teenage-syrian-refugees-wed-protection-201311101497543146.html
--------------
Poll labelling Egypt worst for women in Arab world is 'misleading': Activists
November 13, 2013
Egyptian activists expressed dismay at a recent expert survey that ranked Egypt as the worst Arab country to be a woman, describing the label as "misrepresentative" and "inaccurate."
In a report released on Tuesday, a poll of gender experts surveyed by the Thomson Reuters Foundation put Egypt last out of 22 Arab countries, just behind Iraq and Saudi Arabia.
The report drew rankings from expert evaluations of different categories, including women's participation in politics, society, economy, and the family, as well as reproductive rights and violence against women.
Sexual harassment, high rates of female genital mutilation, a surge in violence and the growth of Islamism after the 2011 revolution were cited as factors behind Egypt's low score.
Some activists expressed shock that Egypt scored worse than conservative Saudi Arabia, where women's access to public space is limited and women need a male guardian's permission to work, travel abroad, open a bank account or enrol in higher education.
"Yes, I'm subject to harassment and physical violence but that's because I get on the street in the first place...I'm subject to annoyances while driving but that's because I'm allowed to drive," said human rights activist Ghada Shahbender, referring to the controversial Saudi ban on women drivers.
But many activists agreed that Egyptian women face serious problems, including rising sexual violence.
"The status of women rights in Egypt in terrible," said Mariam Kirollos, a feminist advocate. "Sexual violence has for sure increased in numbers and mob assaults," she added.
Other activists were less concerned with the rankings.
"I don't care how they frame it... they would not create something that is not there," Dalia Abdel-Hameed of the Egyptian Initiative for Personal Rights said.
"The numbers needed more accuracy but there was nothing that could have lifted Egypt to the top of the list."
The poll was based on surveys of 336 experts, including healthcare and aid workers, women's rights activists, policy makers, journalists, academics, and lawyers at the regional, national and local levels.
Some activists questioned the methodology behind the rankings.
"The indicators they used are fairly reasonable but the sample is not representative. It's not a survey and does not depend on quantitative data. This is called a convenience sample," said Abdel-Hameed, who focuses on developmental gender programmes.
Some of the facts were just bypassed or not included in the survey, Kirollos said, giving the example of female-headed households, which she believes should have been taken in consideration when examining women's participation in the economy. According to the state statistics body, 16 percent of Egyptian families are mainly funded by women.
The report said it expected the status of women to get better three years after the 2011 revolution that toppled autocratic leader Hosni Mubarak. Instead, women remain "struggling to maintain rights gained before the 25 January revolution."
Looking ahead, the CEO of Thomson Reuters Foundation described the situation as "grim" to Ahram Online.
"Based on what the experts are saying, the outlook is obviously far from positive," Monique Villa said.
Abdel-Hameed believes a major part of solving the existing problems is to acknowledge and discuss them.
"We have achieved a lot in our field work... now there is no choice other than to continue fighting," she said.
Other activists played down the significance of the poll as anything other than an indication of problems.
"We should not overrate it or underrate it. We should read it critically and decide on the scope of the battle and the space we want on freedom, empowerment and presentation," Shahbender said.
After all it's a bunch of opinions," Kirollos said.
http://english.ahram.org.eg/NewsContent/1/64/86298/Egypt/Politics-/Poll-labelling-Egypt-worst-for-women-in-Arab-world.aspx
--------------
Syria Refugee Women Celebrate Their Cuisine in Lebanon
November 13, 2013
In a bustling neighborhood outside of Lebanon's capital Beirut, a group of Syrian refugee women are learning to translate knowledge of their regional dishes into a marketable skill.
They hail from different provinces across the war-torn country, united by their exile in Lebanon, and are hoping their famed cuisine can provide both an income and empowerment.
For about two months they have been participating in a food skills workshop dreamed up by a Lebanese restaurant and financed by the U.N.'s refugee agency UNHCR with help from the Lebanese branch of the Caritas charity.
In a modest basement belonging to Caritas in the Dekwaneh suburb of Beirut, Ibtissam Masto proudly shows off her "monk kibbeh" -- balls of bulghur wheat seasoned with pomegranate molasses that is a speciality of Jisr al-Shughur in northwestern Idlib province.
The petite young woman, wearing a black headscarf, fled several months ago from her home town, which is now better known for violence between rebels and regime troops than its culinary specialities.
"I had a great life in Jisr al-Shughur before the war. I used to sing anasheed (religious songs) during marriages and funerals," says Masto.
"I gave lessons at a religious school and I worked in a pharmacy," she adds, in a voice full of energy.
"Here, not only am I unemployed, but my husband, who is a plumber, is diabetic and can't work every day," she says as she prepares the pomegranate molasses, a key ingredient in Syrian cuisine.
"The idea of this workshop excited me. I hope I'll be able to make some money."
Though their primary motivation is financial, the workshop has also given the refugees -- most of whom are housewives -- a way to feel useful, to forget their exile and the war, and also to get to know Syrians from across their country.
Participants come from diverse regions including Idlib, northwestern Hasakeh and northern Aleppo provinces.
For Marlene Yukhanna, an Assyrian Christian from Hasakeh, the experience has been a chance to learn Syrian specialities that were new to her.
The 40-year-old mother-of-three can now whip up the Idlib dish of mahshi bulghur -- eggplants stuffed with bulghur and chickpeas -- and kibbeh semmayeh, which uses the spice sumac and hails from Aleppo.
In exchange, she and her friend Nahrain, who both fled Hasakeh three months ago as fighting between Kurds and jihadists there intensified, have been teaching their colleagues their specialties.
Among them is Assyrian kofta, pounded meat mixed with rice, parsley and tomato sauce, and kotal Mosul, a dish of cracked wheat with meat that comes from Iraq, which the Assyrian community was forced to flee in the early 20th century.
Because many dishes are common to cuisines throughout the Levant, the participants have been encouraged to produce only unique regional specialities little seen elsewhere.
"We did the same project previously with Palestinian refugees in Lebanon and it worked very well," said Jihan Shahla of Tawlet Souk al-Tayeb, the Lebanese restaurant behind the project.
"We're helping them have the ability to do something, to have an income, to build a brand image that will allow them to be sought out to cater a wedding, for example," she added.
Every participant carries with them a tale of grief.
"Hasakeh became unbearable in the last few months," said Yukhanna, who has short hair and who sports a white T-shirt.
"The (jihadist) Nusra Front harassed me, demanding that I put on the veil and they destroyed my husband's car. Then there were kidnappings."
Lubana, a 30-year-old mother of eight, cries as she describes the endless bombing that forced her from the town of Maaret al-Numan in Idlib.
"My house is destroyed, my husband has heart problems and my children cry because they aren't going to school in Lebanon," she said.
Like her colleagues, she says the workshop has allowed her "to do something in life".
Reem Azouri, a culinary consultant, oversees the women as they work, instructing them in the standards necessary for a professional cook.
"We have to constantly remind them that they are not cooking for their husband or their children," she smiles.
"They must learn how to store food, how to avoid contamination, how to set the table," she adds.
For Mariam, who fled Aleppo 14 months ago, the real joy of the workshop is the "mini-Syria" it has created.
"It's very beautiful. I feel that I'm at home, in my Syria."
http://english.alarabiya.net/en/variety/2013/11/11/Syria-refugees-celebrate-their-cuisine-in-Lebanon.html
--------------
Don't sacrifice Afghan women for a deal with the Taliban
November 13, 2013
ISLAMABAD AND KABUL: In November 2001, on the eve of the Taliban's ouster, former first lady Laura Bush tied the US-led intervention to the plight of Afghan women. "The fight against terrorism is also a fight for the rights and dignity of women, she said. Ten years later, in July 2011, Secretary of State Hillary Rodham Clinton stressed that any "potential for peace will be subverted if women and ethnic minorities are marginalized or silenced."
Yet Afghan women are increasingly concerned that, as the withdrawal of foreign troops nears, they will be sacrificed at the twin altars of international indifference and Afghan political expediency. They have reason to be concerned. Nonetheless, the gains they have made in the last 12 years can and should be secured with the help of the international community.
Before the US-led intervention of Afghanistan in 2001, more than two decades of internal conflict had devastated the country. Subjected to the Taliban's harsh version of sharia law and deprived of state protection or services, women suffered the most. Yet they remained resilient. They risked their lives by secretly educating young girls within Afghanistan and by standing up for their rights in the mujahideen-controlled refugee camps and squatter settlements of Pakistan and Iran.
The ouster of the Taliban gave Afghan women a chance to build better lives for themselves and their daughters. With international support and the acquiescence of Afghan powerbrokers, they helped draft a democratic constitution that gave equal rights to men and women and provided legal guarantees for women's political participation and access to education and healthcare. The Afghanistan Independent Human Rights Commission was set up to monitor human rights abuses and give protection to victims of violence, a dire need in a county where the culture of impunity has yet to disappear.
With the lessening of the Taliban's gender apartheid, millions of young girls have joined or rejoined school. Access to health care has reduced maternal mortality rates, though they remain much too high. Large numbers of policewomen have been recruited. They might lack the capacity or authority to tackle gender-based violence effectively, but their potential is great.
An unprecedented number of women now serve in Afghanistan's legislature. Women are government officials, teachers, doctors, lawyers, journalists, entrepreneurs, and civil society activists. Through their advocacy for women's rights, they have ensured that Kabul prioritizes, at least formally, women's political and economic empowerment through such programs as the Afghanistan National Development Strategy, a five-year road map for reconstruction and development, and the National Action Plan for Women, a 10-year plan to make gender concerns a routine consideration in state institutions.
Women have equal voting rights. They are legally protected against enforced and underage marriage and against violence – physical or verbal. Passed by presidential decree in 2009, the Elimination of Violence Against Women Law (EVAW) criminalized rape for the first time in Afghanistan's history. Women victims of violence can now find refuge in shelters and safe houses.
Of course, much more needs to be done. The quality of education and health services remains poor. There are very few women in senior government positions. Women parliamentarians, particularly the strongest proponents of women's rights, often work in isolation. Women in the countryside receive far fewer basic services and protections than their urban counterparts. Prosecutions under the EVAW law are few and convictions even fewer; many women have little recourse to the formal justice system and are at the mercy of jirgas and shuras, local councils dominated by male powerbrokers.
Removing these shortcomings and flaws and consolidating progress will depend on the efforts and commitment of Afghan women and also on continued international support. Given the enormous challenges they face – political, economic, and security-related – the global community, particularly the United States and European Union, which have invested so heavily in Afghanistan, must commit to their progress.
The threats to women's rights are increasing. Militants portray women's empowerment as a Western import, but this view is not confined to the insurgency. With presidential elections in April and foreign forces also drawing down next year, male powerbrokers within and outside government and parliament may be tempted to backtrack on women's rights – to consolidate their electoral base, to demonstrate independence from the West, or to appease insurgents.
Attacks on pro-women legislation have already begun, including on the EVAW law, which is criticized by parliamentary opponents as un-Islamic. While high-profile professional women are the most vulnerable, any woman or girl who dares to work or go to school is a potential target of the insurgents. Many have been assaulted, kidnapped, or killed. If the international community abandons Afghan women, they will be even more vulnerable to such threats and attacks, not just by the insurgents but also by pro-government warlords and militias.
Influential actors can best serve the cause of women's rights in Afghanistan by holding Kabul to its pledges under the July 2012 Tokyo Mutual Accountability Framework to defend human rights, and more specifically to fully implement the EVAW law. They must remind Kabul of its domestic and international obligations to uphold the rule of law.
Growing frustration with Kabul is tempting many international donors to reduce or even end assistance if the Afghan government fails to use it more effectively or continues to tolerate corruption. However, assistance to women, as well as organizations and projects that empower women (government-run or otherwise), should not be held hostage to Kabul's good behavior.
Nor should the US or EU member-states seek to broker peace with the Taliban at the expense of women's rights. Recognition of constitutionally guaranteed gender equality and adherence to laws that protect and empower women must be prerequisites for negotiations, not merely on the list of desired outcomes.
Robust international support for women's participation in elections, for increased female representation in government, and for women activists and groups is the way forward. Policymakers in the US and EU should realize that the costs of international indifference could take women in post-transition Afghanistan back to a terrible and not very distant past.
Samina Ahmed is the South Asia project director for the International Crisis Group.
http://www.csmonitor.com/Commentary/Opinion/2013/1112/Don-t-sacrifice-Afghan-women-for-a-deal-with-the-Taliban
--------------
Malaysia: We're On Right Track over Women Leaders
November 13, 2013
KUALA LUMPUR: Prime Minister Datuk Seri Najib Tun Razak has charted out clear policies to encourage more women to be in the workforce and in decision-making positions, both in the public and corporate sectors.
"Our leader made the right decision when he focused on economic empowerment of women," said Prof Dr Samsinar Md Sidin from the Faculty of Economics and Management, Universiti Putra Malaysia.
"However, in order to tap women's optimal economic performance, especially working mothers, there are several issues, such as domestic help and childcare, that must be addressed."
She added that this was crucial, considering that these matters were among the biggest issues that hindered women from working and developing their careers, despite having good qualifications, skills and track records.
"Working mums have to juggle between family and work. So, if these issues can be tackled, I have no qualms they will go all out to perform in their work," said Samsinar.
Aside from training and up skilling programmes, she said the Government and the private sector could consider other incentives to retain and draw women back to work.
Giving certain days of unrecorded leave to attend to family emergencies would be a good idea, she said.
Samsinar said Malaysia could also be a good example to other Muslim countries by leveraging on economic empowerment of women.
"I have travelled to a lot of Muslim countries and they have a good impression of our women," she said.
"They are impressed that our women are well-educated and have significant roles to play in nation-building and, at the same time, are able to uphold Islamic values."
To increase female participation in the workforce from the current 49.5% to 55% in three years, various initiatives have been introduced, including providing training and entrepreneurship programmes to women as well as giving tax reduction to companies who employ women after a career break.
Malaysia also set an ambitious goal – to have 30% women as senior decision-makers and on corporate boards by 2015.
To achieve that goal, a Women Directors Training Programme was launched last year and to date, has trained 485 women for such positions.
According to statistics from the Women, Family and Community Development Ministry, some 52 women from the programmes were successfully appointed as board directors this year.
The importance of economic empowerment of women was highlighted by Najib in his speech at the 9th World Islamic Economic Forum (WIEF) in London late last month.
Concurring with Samsinar, MCA Young Professionals Bureau chief Datuk Chua Tee Yong said the policy demonstrated the Government's commitment in empowering women to stimulate the economy.
He said proactive steps were also needed to address pipeline leakages of women in the workforce.
"Close to 70% of undergraduates in higher learning institutes were women and women represented about 49% of the workforce," Chua said.
"This figure has been quite stagnant for a long time. And I think the initiatives outlined can help to improve it."
http://www.thestar.com.my/News/Nation/2013/11/13/Don-Were-on-right-track-over-women-leaders-Msia-can-be-example-to-other-Muslim-countries.aspx
--------------
Saudi Scientist, Dr. Hayat Sindi, Shares Her Inspiration with Students
November 13, 2013
Dr. Hayat Sindi, a pioneering Saudi scientist, was invited by Harvard University to attend the popular "Nifty Fifty" US program, which seeks to inspire the future scientists and innovators to pursue their dreams.
Speaking to the students at the Washington DC-based Catholic School for Girls, Hayat shared with them her journey in becoming one of the world's most promising scientists.
Hayat told the students, "I now live the dream of making new discoveries and scientific breakthroughs that will transform the world and make a difference."
In her presentation to the young students, Hayat spoke of her personal experience of success. She said, "There are three secrets to the long-term success of any challenge: Persistence, patience and perfection."
The attendees, both students and their staff, warmly received Hayat's presentation.
A letter of thanks sent on behalf of the students read, "We just wanted to thank you for inviting Dr. Hayat Sindi to speak to us today. She is a powerful, well-spoken and successful woman who inspired us to
seek the possibility of new horizons."
Alexandria Hegeman, a 16-year-old girl who dreams of studying medicine at Harvard Medical School wrote to Hayat: "I just wanted to let you know that I absolutely loved listening to you, and learning from your experience. It was one of the best experiences of my life. You were so inspirational and your journey is amazing."
Known as one of the programs of Science Spark, "Nifty Fifty" features some of the most inspiring global leaders in science, technology, engineering and mathematics who will fan out across the Washington, DC area, in the 2013-2014 school year to speak about their work and careers at various middle and high schools.
http://www.arabnews.com/news/476686
--------------
Sheikha Rima Al-Sabah Among 117 Most Powerful DC Women
November 13, 2013
WASHINGTON, (KUNA): Once again, Sheikha Rima Al-Sabah, wife of Kuwaiti Ambassador to the United States Sheikh Salem Al- Sabah, ranked among the 117 most powerful women in the nation's capital on Washingtonian magazine's annual list of most influential women for her very strong presence in the humanitarian work. Sheikha Rima Al-Sabah, who topped the list in the category of "International Powers", was recognized as a "fixture" on the Washington philanthropy scene through hosting the highly-coveted Kuwait America Foundation gala dinners for humanitarian causes in many fields. Al-Sabah made the list alongside other influential females in the area in government, business, health, media, law, education and the arts, such as First Lady Michelle Obama, national security adviser Susan Rice, senior adviser to President Barack Obama Valerie Jarrett and IMF Managing Director Christine Lagarde, Sheikha Rima Al-Sabah is always grateful to her country Kuwait and the support it continuously gives her that she is able to do the philanthropic work she does.
She believes that the philanthropic work she does is a "continuation of a Kuwaiti tradition as Kuwait is a model for its philanthropic work and the assistance it provides to needy countries." Over the last eight years, Sheikha Rima and Ambassador Sheikh Salem Al-Sabah have undertaken many philanthropic endeavors, the latest being a fundraiser that raised USD1.5 million to benefit Georgetown University and the establishment of an endowment fund at its Center for Contemporary Arab Studies that will provide graduate studies scholarships to women from the Arab World based on merit and need. Every year, Kuwait's Ambassador Sheikh Salem Abdullah Al-Jaber Al- Sabah and Sheikha Rima Al-Sabah hold a gala dinner to raise money for a different beneficiary.
The Kuwait gala dinners have raised nearly $13.5 million for causes ranging from microcredit loans to women in the Middle East, the care of America's wounded, to establish schools and promote girls' education in remote regions of Pakistan and Afghanistan, to benefit the fight against climate change in Indonesia and Brazil, to support the fight against malaria in Africa, to fund the Basrah Children's Hospital in Iraq, to build schools for girls in Afghanistan and to assist Iraqi women and children refugees wishing to return home. Keynote speakers and special guests at the annual gala dinners have included former US presidents George W. Bush and Bill Clinton, US Secretary of State John Kerry, former first lady Laura Bush, former Secretaries of State Hillary Clinton, Condoleezza Rice and Colin Powell, Hollywood stars Ben Affleck, Leonardo Dicaprio, Michael Douglas, Catherine Zeta Jones and Angelina Jolie. The Al-Sabahs' gala dinners with their star-studded guest list have become one of Washington's most sought-after and exclusive event.
http://www.arabtimesonline.com/NewsDetails/tabid/96/smid/414/ArticleID/201207/reftab/96/t/Sheikha-Rima-Al-Sabah-among-117-most-powerful-DC-women/Default.aspx
----------------
Half of Israeli children abused
November 13, 2013
Data released on Tuesday suggests that a total of 1,273,804 children in Israel suffered abuse, violence or neglect, according to a study conducted by the Israeli National Council for Children (NCC) and Haifa University.
While official statistics released by the authorities cite around 50,000 reports of child abuse every year, which is a gross underestimation of reality.
Professors Zvi Izikowitz and Rachel Lev-Weisel found that 17.6% of all children surveyed for the three-year study had experienced sexual abuse. Direct from a sample of 8,239 Jewish children and 2,274 Arab children were examined in one of the most in-depth studies of child abuse ever.
Findings show that while 48.5% of children in public schools reported that they had experienced some form of abuse, 67.7% of Arab children were also abused. Children from religious schools were not sampled.
The government, which only counts the cases that are actually reported, stated that only 1.9% of all children had been victims of abuse, whereas these figures suggest that 48.5% of all children had been abused.
Over two-thirds of abused children had reported the case to someone, in most cases a friend or family member. One-third reported it to a teacher, and a little over a tenth had reported it to a social worker. 43% of those who had reported the abuse said that the situation had not changed afterwards.
The study showed that Jewish boys were more likely to be emotionally and physically abuse, while Jewish girls were more likely to experience sexual and domestic violence, with 81.3% of the abusers being men. Abuse was most likely to occur from someone within the family.
http://www.worldbulletin.net/?aType=haber&ArticleID=122790
------------
URL: https://www.newageislam.com/islam,-women-and-feminism/new-age-islam-news-bureau/obama-s-daughter,-malala-among-time-s-most-influential-teens/d/24409