New Age Islam News Bureau
3 May 2014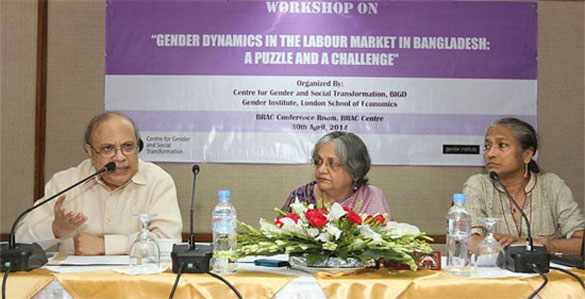 • Physical Education Classes For Girls a Major Sin: Hard-Line Scholar
• 'Violence Deters South Asian Women from Politics'
• Turkey to Help Kiribati's Bid To Stop Violence against Women
• Bahrainis Voice Support for Female Prisoners
• Zionist Forces 'Brutally' Beat Palestinian Woman
• Hudud Will Drive Rape Survivors Deeper into Shadows, Say Women's Groups
• Rights of Arab Women Working In Israel Being Violated
• Bangladesh: 'Increasing Number of Unpaid Women a Challenge'
• Indonesia Women Workers Demand Jokowi Fight for Their Rights
• Iranian Female Drivers to Participate In 6,925km Rally
• Women Eye Seats On Various Jeddah Chamber of Commerce Commissions
Compiled by New Age Islam News Bureau
URL: https://newageislam.com/islam-women-feminism/number-missing-nigerian-schoolgirls-rises/d/76859
------------
Number of missing Nigerian schoolgirls rises
03 May, 2014
The number of Nigerian schoolgirls still missing from recent kidnappings at a secondary school in Chibok has risen to 276 - 30 more than the previous estimate, police say.
Police Commissioner Tanko Lawan also said the number of girls who escaped from their captors had increased to 53.
Lawan said confusion over numbers occurred because students from other areas were brought into the Chibok Government Girls' Secondary School for final exams last month after other schools in the Borno state were shut because of attacks.
The schoolgirls were abducted by gunmen from the school in Nigeria's Borno state last Tuesday.
"The students were drawn from schools in Izge, Lassa, Ashigashiya and Warabe A. and that is why, after the unfortunate incident, there were various numbers flying around as to the actual number of girls that were taken away," Lawan said.
The army had estimated the number of missing girls at 129 but school officials said more than 200 students were taken during the attack.
Reports this week also indicated some had been forced into "marriage" with their abductors, who paid a nominal bride price equivalent to $12. Other reports that could not be verified said some had been taken across borders, to Chad, Cameroon and to an island in Lake Chad.
Girls who escaped say their captors identified themselves as fighters in the Boko Haram network, though the group has not claimed responsibility for the abductions.
Boko Haram, an armed group whose name means "Western education is sinful", is fighting what it calls Western influence and wants to form an Islamic state in Africa's largest oil producer country.
The kidnappings have fuelled protests in Nigeria's capital Abuja among parents and activists angry at government and security officials' failure to rescue the girls.
Abuja blast
Meanwhile, a blast in Abuja has killed at least a dozen people, witnesses and police sources say.
Thursday's car bombing hit the suburb of Nyanya, close to the site of a morning rush-hour bomb attack at a bus station on April 14 that killed at least 75 people.
Besides the dead, at least 19 people were wounded in the blast, the Associated Press news agency reported, quoting police sources.
A correspondent from the AFP news agency reported seeing nine bodies that had been brought from the scene of the attack, while a witness at the same hospital who requested anonymity reported seeing seven more bodies.
Boko Haram has claimed responsibility for the April 14 blast in Nyanya and threatened further attacks.
Thursday's blast came a week before Abuja was due to host the World Economic Forum on Africa, an annual gathering which brings together international leaders, policy makers and entrepreneurs.
Nigeria's government has announced a large security operation to protect the capital during the forum.
http://www.aljazeera.com/news/africa/2014/05/deadly-bomb-attack-nigerian-capital-20145-201452132527440523.html
------------
Physical Education Classes For Girls a Major Sin: Hard-Line Scholar
03 May, 2014
For the first time a group of Shoura Council members has opposed a scholar and told him that the Council does not care about his opinions regarding physical education classes for girls in schools.
I do not understand why the scholar opposes such classes which will take place inside the walls of schools, not at King Fahd Stadium and not broadcast on giant global TV screens. Girls will exercise and engage in sports in front of other girls and female teachers and no one will be able to watch them through the walls.
However, it seems that those who oppose these classes are worried about other things, such as, where the girls would take off their school uniforms. Frankly speaking, I have spent night after night racking my brains trying to understand the mentality of such scholars. What do they mean where will girls take off their clothes? Of course, they will do that in the bathroom or the locker room. Why are some people obsessed with these questions? It is beyond me.
I salute the male members of the Shoura Council who have stood up for women's rights and have asked the scholar to mind his own business.
This is, by the way, not the first time a hard-line scholar has spoken against physical education classes for girls. I think the best way to deal with such people is to ignore them and pay no attention to what they say. Do you know why? Because the scholar who attacked these classes described them as a major sin. He even described the members of the Council as a group of men who hold higher academic degrees but know nothing about Shariah rules. He also asked the members to leave such issues for scholars because only scholars are competent to decide such matters.
This scholar has a more famous fatwa to his credit than the one on PE classes for girls. He once before called for killing the owners of satellite TV channels and also strongly opposed any attempt to develop the legal system in the country. He was the first to oppose merging the Ministry of Education for Boys' Affairs with the Presidency of Girls' Education. He attacked the decision to allow women to take photographs for IDs with their faces uncovered.
This scholar and others have the right to say what they want but they should not describe the nation's development plans as major sins and sheer decadence. A hundred years ago, it was a major sin to drink coffee in Saudi society. Today, it is a shame on you if someone visits you and you do not offer them a cup of coffee. Decades ago, girls were not allowed to go to school, but today it is a shame on you if you prevent your daughter from going to school.
http://www.saudigazette.com.sa/index.cfm?method=home.regcon&contentid=20140503203838
------------
'Violence deters South Asian women from politics'
03 May, 2014
Percentage of women representatives in national bodies has dropped
Violence against women in politics is rampant in South Asia, according to a recent study conducted by the Centre for Social Research and U.N. Women. It has found that fear of violence kept up to 60 per cent of women out of politics.
The study, 'Violence against Women in Politics,' has revealed that insufficient implementation of laws, lack of support from the police and the judiciary, low awareness of politics and overall decline in 'moral' values were the major reasons for the violence.
While physical violence, verbal abuse and threat of violence are higher in India, character assassination is seen as a greater threat in Pakistan and Nepal. The nature and form of violence is expectation of sexual favours or insinuating sexual misdemeanour, character assassination and threats and emotional violence. Victims of violence were women who were either new to politics, young or first generation politicians.
Conducted in India, Pakistan and Nepal between 2003 and 2013, the study finds that while the percentage of female voters and women candidates fielded by political parties had increased in all three countries, the percentage of female representatives in national bodies has decreased.
"Almost 90 per cent of women in these countries feel that violence breaks their resolve to join politics. From our comprehensive review of laws on violence against women, it is clear that none of the three countries has legislation that deals strictly with offenders to prevent violence against women in politics," said Rebecca Reichmann Tavares, Representative U.N. Women's Office for India, Bhutan, Maldives and Sri Lanka.
http://www.thehindu.com/news/national/violence-deters-south-asian-women-from-politics/article5963775.ece
------------
Turkey to help Kiribati's bid to stop violence against women
03 May, 2014
Turkey's Family and Social Policies Ministry will share its experiments on the fight against domestic violence with officials from Kiribati.
The ministry will share the legal regulations made in the fight against violence on women with Kiribati, after Kiribati officials requested Turkey to help their campaign on the sidelines of a United Nations meeting.
Kiribati officials will visit Turkey to conduct field research and they will examine centers aimed at preventing violence in every Turkish city.
The pacific island Republic of Kiribati consulted Turkey on measures to protect women against gender-based violence, Kiribati officials said March 28.
The small island with a population of 100,000 has launched a campaign against gender violence in cooperation with the United Nations.
Kiribati officials submitted a written application to Turkey's Family and Social Policies Minister Ayşenur İslam and stated that they expect support from Turkey in their campaign to stop violence against women.
http://www.hurriyetdailynews.com/turkey-to-help-kiribatis-bid-to-stop-violence-against-women.aspx?pageID=238&nID=65812&NewsCatID=510
------------
Bahrainis Voice Support for Female Prisoners
03 May, 2014
Anti-regime protesters took to the streets in Bahrain to voice their solidarity with female prisoners jailed by the Al Khalifa regime.
The demonstrators shouted anti-regime slogans during the protest held in the Northeastern island of Sitra on Wednesday, press tv reported.
They expressed support for women held in prisons as part of the regime's crackdown on peaceful protesters.
A similar demonstration was held in the village of Sanabis, West of the capital Manama.
Since mid-February 2011, thousands of pro-democracy protesters have staged numerous demonstrations in the streets of Bahrain, calling for the Al Khalifa royal family to relinquish power.
On March 14, 2011, troops from Saudi Arabia and the United Arab Emirates invaded the country to assist the Bahraini government in its crackdown on the peaceful protesters.
According to local sources, scores of people have been killed and hundreds arrested.
Physicians for Human Rights says doctors and nurses have been detained, tortured, or disappeared because they have "evidence of atrocities committed by the authorities, security forces, and riot police" in the crackdown on anti-government protesters.
http://english.farsnews.com/newstext.aspx?nn=13930211000417
------------
Zionist Forces 'Brutally' Beat Palestinian Woman
03 May, 2014
Occupied Palestine: Zionist soldiers beat Palestinian women A fight broke out between local Palestinians and Zionist occupation forces in the Old City of Al-Quds (Jerusalem) on Thursday after a Palestinian woman and her teenage daughter were attacked by troops.
Umm Kalawoon al-Tawil and her 15-year-old daughter Layla were "brutally" beaten by Zionist forces, who dragged them out of their homes to a nearby playground in front of onlookers.
According to eye-witnesses, the older woman continued to be beaten until she passed out, Jawad Siyam, the director of the Wadi Hilweh Information Center in the Silwan neighborhood told Maan News.
Local residents then came out to confront the enemy troops, leading to a fistfight breaking out, as Umm Kalawoon al-Tawil was rushed to the Al-Maqadis hospital in an ambulance.
A spokesman for the Zionist police claimed to have no knowledge of the incident.
http://www.almanar.com.lb/english/adetails.php?eid=149466&cid=23&fromval=1&frid=23&seccatid=23&s1=1
------------
Hudud will drive rape survivors deeper into shadows, say women's groups
03 May, 2014
KUALA LUMPUR, May 3 ― In a country where the vast majority of rapes go unreported, women's groups fear that implementing hudud law will push survivors further towards silence for fear of punishment under the Islamic penal code.
Sisters in Islam (SIS) and Women's Aid Organisation (WAO) said rape survivors would a risk of being charged with adultery or fornication under the Islamic criminal law ― punishable with death by stoning or 100 lashes - should they come forward to report their sexual assault.
"They're going to be afraid to come out and report," WAO executive director Ivy Josiah told The Malay Mail Online yesterday.
Josiah said she knew of a Muslim woman who was jailed for adultery after she asked the police to look for her missing boyfriend because she was pregnant.
The women's rights activist also said it was "completely discriminatory and despicable" to require four Muslim male witnesses to prove the crime of rape under hudud.
"Already rape is so underreported, and you're adding the burden that she has to go and get a male witness. Our Federal Constitution is very clear that there cannot be discrimination on the basis of gender," said Josiah.
"We need to have an understanding of rape. For every one report, nine go unreported," she added.
Josiah cited police statistics on rape in Malaysia, which have steadily declined from 3,626 cases in 2009 to 2,998 cases in 2012, the latest year for which data is available.
SIS programme manager Suri Kempe said that according to human rights groups, 80 per cent of women in Pakistan's jails face adultery charges under the Islamic country's hudud laws.
"Girls as young as 12 or 13 have been convicted of 'zina' (adultery) and publicly whipped, even though they have been raped. With no safe recourse, rape victims often flee to the protection of influential families, which take them in as servants," she told The Malay Mail Online.
Kelantan Deputy Mentri Besar Datuk Mohd Amar Nik Abdullah said recently that under the state's proposed hudud law, the maximum punishment for adultery death by stoning and 100 lashes for premarital sex.
But the PAS Kelantan leader also said that if a woman could prove that she was raped, she would not be charged with adultery.
Despite the view that four Muslim witnesses were needed to convict for rape, Amar added a lesser sentence could be meted out if the accuser secures testimony from a doctor or psychologist, or obtains witnesses fewer than the required number.
Suri, however, called the proposed system inconsistent.
"Does a doctor or psychologist now speak for four witnesses? Will the conviction of a person based on the testimony of one man (instead of four) result in a reduced 'discount' sentence? Will the rape survivor still get charged with adultery? What will be the standard for evidence giving?" questioned the Muslim women's rights activist.
Suri said the Kelantan state government was contradicting the Quran by shifting the burden of proof to a rape victim.
"The source of Kelantan's hudud bill on rape is a gross misinterpretation of Surah An Nur 24:4 which aims to protect chaste women from slander. Anyone who accuses a woman of zina or adultery has to produce four witnesses to back this accusation," she said.
Datuk Dr Shad Saleem Faruqi, emeritus professor of law at Universiti Teknologi MARA (UiTM), said the rule requiring four witnesses for the crime of illicit sex should be applied flexibly.
"I think Islamic laws of evidence needs to change and grow to accommodate the quest for female dignity, the quest for female equality and the very important principle that the wrongdoer must not get away," he added.
According to UK newspaper The Independent, there are 15 countries in which stoning is practised or legal, including Pakistan, Iran and Somalia.
In a September report last year, the paper cited the case of a 13-year-old Somali girl called Aisha Ibrahim Duhulow, who was buried up to her neck and stoned by 50 men, in front of 1,000 people at a stadium in southern Somalia in 2008.
Her father had told Amnesty International that the child was raped by three men, but was accused of adultery when she attempted to report the sexual assault to the al-Shabaab militia controlling the city.
In 1993, the PAS state government passed the Kelantan Syariah Criminal Code Enactment II, allowing it to impose the strict Islamic penal code in the state. But the laws have not been implemented.
PAS is now looking for parliamentary approval to implement hudud. It plans to put forward two private members' bills in Parliament. One seeks approval for unconventional punishments, some of which are for offences already covered in the Penal Code. The other seeks to empower Shariah courts to mete out the unconventional punishments.
According to the Shariah Courts (Criminal) Jurisdiction Act 1965, the Islamic court cannot sentence offenders to more than three years in jail or fine them more than RM5,000. It also cannot sentence offenders to be whipped more than 6 times.
http://www.themalaymailonline.com/malaysia/article/hudud-will-drive-rape-survivors-deeper-into-shadows-say-womens-groups#sthash.ch1Iz0LE.dpuf - See more at: http://www.themalaymailonline.com/malaysia/article/hudud-will-drive-rape-survivors-deeper-into-shadows-say-womens-groups#sthash.ch1Iz0LE.dpuf
------------
Rights of Arab women working in Israel being violated
03 May, 2014
Kayan feminist organisation launched a media campaign in Israel to counter the violations in working women's rights in the private sector.
According to grassroots organisation working within the Palestinian community, Palestinian women working in the private sector earn low salaries in violation of labour laws. The private sector also exploits the difficult economic conditions Palestinians live in and the lack of employment opportunities.
The campaign comes after research showed that the majority of Palestinian workers in Israel suffer from a lack of access to basic rights, despite the small number of female workers. It pointed out that the proportion of women in employment does not exceed 28 per cent of the total number of Palestinian women in those areas.
Many factors affect the Palestinian women's lack of economic participation in the labour market including a policy of discrimination and exclusion adopted by Israeli institutions against the Palestinian community.
The Director of Kayan, Rafah Anbtawi, reported to Al-Arabi Al-Gadid that the first goal of this campaign is to pinpoint the violations being committed, especially in relation to the minimum wage, annual leave and overtime. She added: "We also want to know the methods of abuse practiced."
According to a human rights report, 88 per cent of workers earn less than the official minimum wage. In addition, 68 per cent do not receive payment for overtime, nor are they permitted leave for official holidays.
Fatima Khateeb, one of the workers in the village of Dar Hana in the Galilee, told Al-Arabi Al-Gadid: "I worked for a year at a farm. I worked for more than 10 hours a day and was paid only 100 shekels [£17.15]."
In Israel the minimum wage is about 23 shekels (£3.94) per hour, but most private institutions do not comply with the law.
Khateeb added: "I know my rights and responsibilities. I tried to bring about a change, but I did not find the support network amongst working women who have accepted the unjust working conditions for their difficult circumstances."
Khateeb is not the only case, many cases are often spotted by local and international reports about the exploitation of girls graduating from high school, who are forced to postpone their studies for a year or two, due to restrictions imposed on them by racist Israeli universities.
The exploitation of these girls comes from academic employers, legal firms and medical clinics all of whom pay especially low wages of no more than 15 shekels (£2.57) per hour.
Kayan's lawyer Rawya Handgulw said: "Our data indicates gross violations of basic workers' rights without any exception and also refers to the lack of awareness amongst employers."
https://www.middleeastmonitor.com/news/middle-east/11244-rights-of-arab-women-working-in-israel-being-violated
------------
Bangladesh: 'Increasing number of unpaid women a challenge'
03 May, 2014
A vast number of working women hold unpaid jobs in the country which is a challenge, said speakers at a workshop at the Brac Centre in the capital's Mohakhali area, yesterday.
Yet, the female labour force participation rate has increased from 4% in the 1970s to 36% in 2010, they said.
Titled "'Gender dynamics in the labour market in Bangladesh: A puzzle and a challenge," the workshop was organised by the BRAC Institute of Governance and Development (BIGD), the Centre for Gender and Social Transformation (CGST) and the London School of Economics and Political Sciences.
A three-year research programme under the BGID and CGST was launched at the event. The research will focus on how job markets for men and women from different socio-economic groups work in Bangladesh.
Sultan Hafeez Rahman, executive director of the BIGD and country director of International Growth Centre (IGC) Bangladesh, said: "In Bangladesh, women's participation in the labour market has happened via unpaid work, rather than salaried employment. Around 77% working women are involved in unpaid work."
Naila Kabeer, professor of Gender and Development at the London School of Economics and Political Sciences, said: "Women spend much of their time on domestic chores or unpaid work, which is around 60% of their daily time allocation. Gender segmentation in the labour market is not unique in Bangladesh. People think the primary responsibility of women is household chores and child care, rather than working outside."
Speakers agreed that money brought women respect and recognition both in their families and the society. Some case studies on paid and unpaid working women were also presented at the workshop.
Lily, a 24 year old NGO worker said: "Women were neglected when they did not work. Earning husbands sometimes did not give their wives any money, or did not give them enough. But even if their husbands are millionaires, there is still a need for women to earn their own income because otherwise they are not valued by society. They should have some means of strengthening their positions."
Simeen Mahmud, leading researcher at the BIGD and coordinator at the CGST, said: "Women in paid work are more likely to value their own work and feel that their families value their contribution and have a greater voice within the family. They also get the opportunity to have savings of their own."
Speakers said most of the women did not prefer to take paid work due to bad work environments and potential harassment. The current challenge is to find a solution to overcome the barriers, they said.
http://www.dhakatribune.com/bangladesh/2014/may/01/%E2%80%98increasing-number-unpaid-women-challenge%E2%80%99#sthash.N2O71L4E.dpuf
------------
Indonesia Women workers demand Jokowi fight for their rights
03 May, 2014
Dozens of women workers grouped under the Women's Action Committee rallied in front of the official residence of Jakarta Governor Joko "Jokowi" Widodo in Menteng, Central Jakarta, on Thursday, to demand equal rights.
Rally coordinator Listiyowati said the move was in protest against labor policies that disadvantaged women workers.
"Salaries for women workers are lower than those for men based on the assumption that men are the head of households, whereas many women bear the financial burden alone," she said.
She also pointed out that many female workers did not receive numerous allowances that were given to male colleagues.
Men, for example, receive a spouse allowance that women do not.
Many female employees' rights guaranteed by manpower laws, including menstrual leave, maternal leave, facilities for women working night shifts and breast-feeding rooms at work, have not been applied, she said.'
"Many female workers have been dismissed after giving birth," she said, adding that the committee also demanded the endorsement of the domestic workers bill.
Jokowi later invited the women into his residence to directly hear their grievances.
"Their demands make sense. They only want reasonable working conditions, reasonable salaries and reasonable lives. I hope I can fight for their aspirations," said Jokowi, who is the presidential candidate of the Indonesia Democratic Party of Struggle (PDI-P).
http://www.thejakartapost.com/news/2014/05/01/women-workers-demand-jokowi-fight-their-rights.html
------------
Iranian Female Drivers to Participate in 6,925km Rally
03 May, 2014
2 Iranian women are due to participate in Paris-Dubai driving rally which started on April 15.
Fariba Javanmardi, an official with Iranian Auto Racing Federation, announced the news, adding that the competition which began on April 15 and will continue until May 5 is an extraordinary automobile rally to link the French capital, Paris to Dubai in the United Arab Emirates.
The route drives 6,925km from France, Switzerland, Monaco, Italy, Slovenia, Croatia, Serbia, Bulgaria, Turkey and Iran to the UAE.
It is the third time that Iran is hosting the Middle East part of the rally and the first presence of female drivers from Iran.
Based on the schedule, the participants will enter Iran's Northwestern city of Tabriz from Bazargan border, cruising Tehran, Isfahan and Shiraz. Then they will go to Dubai by boat from the Iranian port city of Bandar Abbas.
20 Iranian drivers, including two women, will compete in the event from Tabriz to Bandar Abbas.
http://english.farsnews.com/newstext.aspx?nn=13930211000209
------------
Women Eye Seats On Various Jeddah Chamber of Commerce Commissions
03 May, 2014
There are 19 businesswomen competing for the membership of various commissions at the Jeddah Chamber of Commerce and Industry (JCCI), sources said.
Some of them are also vying for the chairs of these commissions, they said.
Members were elected to the chamber's board four months ago for a four-year term.
Many of the chamber's commissions used to be chaired and occupied exclusively by men in the past.
Adnan Mandourah, secretary-general of the chamber, said that there are at least 370 contestants running for the commissions.
Women are now trying to run for membership after failing to win any seat on the board, he said.
Elections for memberships in 19 sectoral commissions will be held on May 11.
Muhyi Hikami, deputy secretary-general of the chamber, said that the elections for the commissions will be conducted electronically.
Competition is particularly fierce for membership of commissions dealing with contractors, lawyers, private schools, real estate, public transport, fabrics and ready-made clothes, marketing and advertising, printing houses, livestock trading, engineering houses, auctions, electrical and house appliances, jewelry, foodstuff trading and car exhibits.
"There are 14 men and 12 women running for the commission dealing with private schools," he said. "Abir Salamah, a businesswoman, is the only female candidate among 34 contestants competing for a spot at the contracting commission."
"In addition, there are 19 merchants running for a seat on the livestock trading commission. Danya Al-Alami is the only woman running against 14 men for the membership of the jewelry and precious stones commission, while there are 18 contestants, six of them women, competing for a spot in the employment and training commission."
http://www.arabnews.com/news/564921
------------
URL: https://newageislam.com/islam-women-feminism/number-missing-nigerian-schoolgirls-rises/d/76859