New Age Islam News Bureau
28 Jan 2016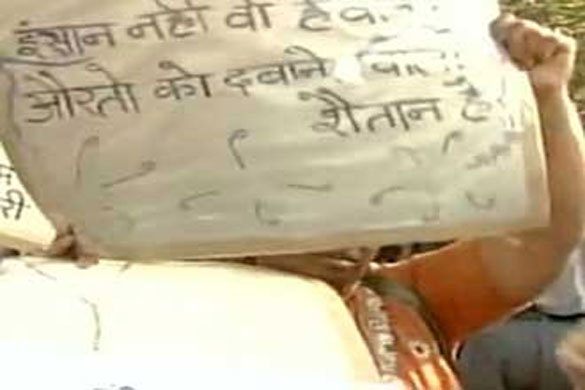 Photo: Mumbai: Two days after Maharashtra's Shani Shingnapur temple made headlines over ban on women's entry, some Muslim women groups on Thursday protested in Mumbai demanding entry in Haji Ali Dargah.
--------
• Women can race jeeps in desert rally
• An Islamic revival among urban Pakistani women
• Why some Russian women embraced Islam
• Rights groups rap treatment of Indonesian sect members
• Muslim Group Backs Hindu Women Over Shani Temple Row
Compiled by New Age Islam News Bureau
URL:
https://newageislam.com/islam-women-feminism/now,-muslim-women-groups-protest/d/106143
----------
Now, Muslim women groups protest in Mumbai demanding entry in Haji Ali Dargah
January 28, 2016
Mumbai: Two days after Maharashtra's Shani Shingnapur temple made headlines over ban on women's entry, some Muslim women groups on Thursday protested in Mumbai demanding entry in Haji Ali Dargah.
Several activists belonging to Muslim women groups held protest with placards demanding entry in Haji Ali Dargah.
Earlier, the Bombay High Court had said it would wait for Supreme Court's ruling on entry of women in Sabarimala temple of Kerala before deciding on a similar plea in case of Haji Ali Dargah.
The trustees of Haji Ali Dargah had told the court earlier that entry of women in close proximity to the grave of a male Muslim saint is considered as a grievous sin in Islam.
On Jan 26, hundreds of women activists who were on their way to the Shani Shingnapur temple - to protest the entry ban inside the shrine's inner sanctum - were stopped by the security officials at Supa village in the state.
http://zeenews.india.com/news/india/now-muslim-women-groups-protest-in-mumbai-demanding-entry-in-haji-ali-dargah_1849991.html
---------
An Islamic revival among urban Pakistani women
January 28, 2016
The burqa has globally become the symbol of Muslim women. A common misconception is that all Muslim women cover themselves with it. "I was surprised to see that hardly any women in Lahore were wearing a burqa," noted a friend from Mumbai who was visiting Pakistan. I could relate to what she said.
On my visits to India, I had noticed that the Muslims there exerted their religious identity much more than the Muslims in Pakistan. On the roads of Mumbai and Bengaluru, one came across many women wearing burqas. While wearing one has been a minority practice till now, at least in the urban centres of the country, there has been an increasing trend to "revert" to a display of religious symbols like the beard and hijab in the past few years.
I use the word "revert" with caution here because it implies going back to certain practices or searching for some historical roots. I believe that this is, in fact, a new phenomenon that might have parallels in Islamic history but remains a product of historical contingencies – 9/11 in particular.
In a post 9/11 world, marred with religious terrorism and counter-insurgency terrorism, it seems the world is divided into two large camps – Muslims and everybody else. In these times of heightened search for identity, Muslims have turned towards their religion to grapple with the new emerging political realities.
This soul searching, in many cases, has resulted in urban, educated Muslims adopting a version of Islam that is puritanical.
In Pakistan, there has been an increasing trend of people being drawn towards religiosity, an Islamic tradition that is not a legacy of religious syncretism like Chistiya or Barelvi, but reactionary and exclusivist, originating out of the Deoband and Ahle-Hadith schools of thought. Given the fact that this renewed interest in Islamic identity is a product of Muslim separateness from the rest of the world, it doesn't come as a surprise that the schools of thought in vogue are those which are exclusivist.
While the impact of Islamic revivalism has trickled down to rural and "underdeveloped" places, for the most part it remains confined to urban centres due to the existing biases of the educated class in relation to non-Muslims propagated through the Pakistani education system.
In order to understand the phenomenon better, I decided to visit my former professor of Anthropology at LUMS (Lahore University of Management Sciences), Dr Sadaf Ahmad, who has recently written a book called Transforming Faith: The Story of Al-Huda and Islamic Revivalism among Urban Pakistani Women. Al-Huda is one of the most prominent Pakistani religious revivalist organisations, based in Islamabad, which aims to educate women about the Quran and the Sunnah. Established in 1994, in the past few years, it has spread rapidly across the educated middle class of Islamabad.
Now Islamic lectures of Al-Huda are available online and are widely consumed. I was particularly interested in understanding Islamic revivalist movements in the country as a threat posed to the shrine culture discussed in this book.
Sitting across from Sadaf in her office in one of the leading universities of the country, I looked out of the window behind her and saw girls wearing jeans and freely intermingling with boys. The School of Social Sciences and Humanities has played a major role in protecting the secular culture of the university from the onslaught of fundamentalist Islamists. "It [LUMS] is an interesting island," I remember Ayesha Siddiqa, a well-known political analyst, saying once.
But over the past few years, there have been rumours about the religious right slowly dominating the administration of the university and transforming its culture. Every time a liberal or a leftist professor leaves LUMS, there are rumours about the internal politics being the cause of his or her departure. The number of students at the university who have a beard or wear an abaya has increased considerably. I asked Sadaf if "Islamic revivalist" movements like Al-Huda were also spreading into places like LUMS.
Sadaf was conscious of the fact that the display of Islamic religiosity in the university was on the rise, much like it was in general Pakistani society, but she was not sure if that could be attributed to any particular religious movement.
"I sometimes receive emails from students saying that they cannot study Anthropology of Religion. 'Our faith is not strong enough at this stage,' is what they say," she told me. "Study of anthropology allows one to understand concepts from different perspectives. It means recognising that different people have different truths. This, some students feel, will undermine their faith."
I asked Sadaf if the women who were attracted to Al-Huda and were critical of shrine culture were aware of the cultural and philosophical underpinnings of these shrines.
"No," she said. "They criticise the rituals and rites at these shrines but beyond that they have little understanding of its culture. Most of the women who had joined Al-Huda at the time I studied them were those who had a disconnect with the local traditions. They respected the saints but were also apologetic about them. 'The saints did what they did because of the conditions prevalent at that time' is a common argument they give.
It is said, for example, that Muslim Sufis had to turn to qawwalis to attract Hindus who enjoyed bhajans. On the other hand, it is interesting to note that women who come from backgrounds imbued in Barelvi ethos are not easily attracted to this movement."
"This means, according to them, that there is no longer any need to practise that form of Islam because there aren't any Hindus around," I added.
"At the classes the women are instructed about Islamic culture and ethos that is not indigenous but Arabic in essence. Local cultural practices like Basant or Mehndi are looked down upon and discouraged. Particularly, attention is given to da'wa [preaching of Islam] and dars. Women who are trained at this institution take up an active role in spreading their messages within their communities and societies through dars.
"One of the main reasons behind the success of the movement is the religious background of its students. Most of the women who come to Al-Huda already have faith in Islam by virtue of growing up in a Muslim household and nation and also being educated in an Islamised education system. What they don't have is scriptural knowledge, which is then provided to them through their study of Islam at Al-Huda.
"Even though Al-Huda claims that it doesn't adhere to any particular school of thought, their interpretation of Islam is similar to the Ahle-Hadith strand. They thus propagate a particular understanding of Islam as 'true' Islam and that is how it is perceived by its students who have no access to alternate approaches to Islamic scriptural knowledge. Another key reason why Al-Huda is successful in spreading its understanding of Islam among middle-class women is that its approach resonates with the kind of women who come to the school to study Islam.
"The middle class values education and as such they lean towards an institute that offers scriptural knowledge [as opposed to leaning towards a religious group which focuses on traditional rituals]. Their reason for deeming the Islamic discourse that they are exposed to as authoritative is not just related to their lack of alternative scriptural knowledge but also because they deem Farhat Hashmi, who began the school, to be a religious authority.
"Farhat Hashmi has a PhD in Hadith Sciences from Glasgow and heavily relies upon scientic concepts and logic to explain her religious arguments. Such credentials and such an approach resonate in a class that values education and science, and enhances the credibility of the school and subsequently its message."
Sadaf explained that Al-Huda's proselytising takes place in a faith-based framework that is already extant in Pakistani society through its politics and educational system. Here at the school, for the first time, these women study primary texts and understand them literally. I told her about the shrine of Baba Naulakha where the visitors who are generally uneducated are made to believe that the natural marks on the rocks are miraculous names of God and the Prophet, and thus sacred.
"For an educated mind, such a tradition would be difficult to absorb," I commented.
"Faith or belief has little to do with education. But certainly, the fact that Al-Huda is making inroads into the elite class of the society and is able to spread a particular understanding of Islam within it, is significantly due to the fact that no other spiritual movement has been able to provide an avenue for the educated class to explore the scriptural texts in a manner that resonates with them," Sadaf replied.
"When a puritanical religious approach becomes the dominant school of thought, could it be said then that Pakistani society would eventually become an extremist state in terms of its politics?" I asked.
"Al-Huda claims that it is an apolitical organisation and strictly forbids political discussions in its classrooms. 'Focus on becoming better Muslims', is what the teachers tell their students who wish to discuss political matters. They also strongly discourage participation in political rallies. So they essentially have a bottom-up approach: they train the women who Islamise the environment in their households and neighbourhoods. This eventually would create an environment in which the implementation of Sharia would be the next logical step."
"When that happens I will grow a beard and you can wear a burqa to fit in," I joked with her. "That would be the time to leave the country," she replied with a straight face.
"In this growing environment of religious puritanism, how do you think these shrines are likely to fare in the future? Would shrine culture eventually end?" I asked her.
"I don't know. I think for shrine culture to end, things would have to become much worse than they are right now, and stay that way for a considerably long period of time. This is because shrine culture is so deeply embedded in our society that it would be hard to remove it. In order to get rid of it, the next generation needs to internalise the concept that it is wrong and unIslamic. On the other hand, you can also see that there is resurgence in the interest in Sufi poetry and music. Admittedly this section of society is still a minority and for it to have any serious impact it needs to grow in size. But that is where hope lies," Sadaf said.
"Oh my God, Haroon. If you were at the session you would have killed her," my sister told me at the end of the three-hour long dars. "She said that the youth of our country have strayed away from our culture. They mimic the West or India by celebrating Valentine's Day or Basant. These festivals have nothing to do with our culture and also that women should not work because their incomes bring ill-fate to a household."
"You don't know how I controlled myself," Anam told me.
"I thought the session was nice," said Uzma, my sister's friend. She has done her Master's in Journalism from a leading women's college of the country and is now a housewife. "Some of the things she said were informative."
"How can she even say it is unIslamic for women to work?" I asked. "What about Hazrat Khadijah, the first wife of the Prophet? Wasn't she a businesswoman? She can only impress people who don't know history or culture. What 'our' culture is she talking about? Isn't Heer Ranjha part of Punjabi culture? It is the most celebrated folk story here. For centuries it has been sung and dramatised. It is essentially a celebration of love. How is it any different from the celebration of Valentine's Day? In fact, the celebration of Heer Ranjha's love is much more profound than Valentine's Day. In our culture it has taken metaphysical dimensions, by becoming part of the folk religion. We worship love, not only celebrate it."
Excerpted with permission from In Search of Shiva: A Study of Folk Religious Practices in Pakistan, Haroon Khalid, Rupa Books.
We welcome your comments at letters@scroll.in
http://scroll.in/article/802565/an-islamic-revival-among-urban-pakistani-women
---------
Why some Russian women embraced Islam
January 26, 2016
Despite the fact, that a majority of people in Russia belong to the Russian Orthodox Christian faith, Muslims are not considered exotic or alien in the country. Unlike European countries, where Islam was brought in by migrants, in Russia many indigenous peoples professed Islam for centuries and lived side by side with Christians. However, during the Soviet era, all religions were frowned upon. The collapse of communism led to a rapid return to Orthodox Christianity and Islam.
Today there are no reliable statistics about the number of Muslims in Russia. The latest census questionnaires don't ask a citizen his or her religion. So, the number of Russian Muslims is usually calculated by adding members of all ethnic groups in the country, which are traditionally Muslim, like Tatars, Bashkirs and Chechens. Thus, according to the latest data, there are about 16 to 20 million "ethnic Muslims," that is 12-15 percent of Russia's population.
In addition, there are so-called "new Muslims," people who were non-Muslims, or professing other faiths, and then converted to Islam. "Such cases are pretty rare, but in Russia they get more publicity, than when Muslims convert to Orthodox Christianity," says Nikolay Silaev, a senior fellow of the Center for the Regional Security and Caucasus Studies. Available data on the number of religious conversions in Russia is not sufficient to indicate a trend, he adds. RBTH interviewed three women chose to convert to Islam.
"I grew up in a Christian home and my decision to become a Muslim shocked my family. At first they thought about the worst stereotype. They believed I would blow up buses and trolleybuses in the near future.
Nevertheless, I am very grateful to my family for respecting my choice. This especially goes for my mother, who accepted my decision in a relatively short time and even defended me among family and close friends.
After converting, I began to study Islam, and in three months I started to perform prayers (namaz). Two months later, I started wearing a hijab.
Then I met my future husband. He is an ethnic Tatar, but his family did not adhere to Islam. Living together, we have finally established ourselves in our faith."
"I was interested in Islam since childhood. At university I learned the basics of the religion and Arabic. I had many Muslim friends, whose behavior was completely different from what was considered 'normal' in my society. This is why I decided to convert to Islam. My parents and close friends were understanding of my choice, as they were expecting it.
I do not wear a headscarf, and only cover myself during prayers. At first it was also difficult to fast, but I got used to it in three years. It's also difficult to fight the stereotypes about Islam.
Many people believe that Islam is a cruel religion. I categorically disagree with such views. All the divine teachings are created by a great amount of love.
There are a lot of stereotypes about Islam, for example, that Muslims 'kill infidels, stab poor animals, beat their wives and do not accept non-believers.' The reason for this attitude is ignorance. If you do not understand something or fear it, you should find out, whether those fears are realistic or not. Most fears disappear when there is increased awareness and communication with proper practitioners of the religion."
"It was in the late 90s. My husband and I traveled to Egypt as tourists. It was my first visit to a Muslim country. I saw people with a completely different mentality and attitude towards life. Having plunged into this culture, I became very interested in the Arab world, and I began to study the Koran.
When I was 40 years old, I told my husband that I wanted to convert to Islam. My husband and children understood and reacted calmly to my decision. But it did not go so smoothly with my mother. Basically, the problem was the headscarf. But the situation was resolved. Now my mother even buys me halal food. Within four years, my eldest daughter also converted to Islam.
Shortly after embracing Islam, I realized that I changed a lot and that I wasn't Lena anymore. I then decided to take a Muslim name.
I worked as an English and German technical translator. When I put on the hijab, my co-workers began to treat me poorly. I was fired over a trivial matter. I was very upset, but two months later, I received an offer from a competing firm, which offered a similar job with a bigger salary. I told them that I wore a headscarf, but they said it did not matter what I looked like, as they needed my expertise.
I want to change society's attitude to Islam by setting an example. People don't want to listen to a long speech about Islam. They look at your deeds. A true Muslim is good to every single person, not just to fellow Muslims."
http://rbth.com/politics_and_society/society/2016/01/26/why-some-russian-women-embraced-islam_562247
---------
Rights groups rap treatment of Indonesian sect members
27 Jan 2016
JAKARTA - Indonesia has relocated more than 1,500 members of a controversial sect from their village "for their own safety", an official said Wednesday, but rights groups described their treatment as religious persecution.
Indonesia, the world's most populous Muslim-majority nation, is seen as largely tolerant and pluralist, but a number of high-profile attacks against minority groups in recent years has marred this image.
Members of the mysterious Light of Nusantara Movement -- or Gafatar -- have been moved from a remote communal farm in Indonesia's half of Borneo island after a mob attack.
They are now in the country's main island of Java undergoing "rehabilitation" instruction sessions on Islam and civic duties.
Meanwhile, followers of a separate minority group face ejection from their community unless they convert to mainstream Islam, according to Human Rights Watch.
Indonesia, the world's most populous Muslim-majority nation, is seen as largely tolerant and pluralist. But a number of high-profile attacks against minority groups in recent years has marred this image.
The controversy surrounding Gafatar, a group accused of luring followers from across Indonesia to practise a deviant blend of the Muslim faith, has captivated national attention despite its tiny following in a country of 250 million.
Last week an angry mob torched their village base in Kalimantan, displacing roughly 500 families -- more than 1,500 people. They were evacuated by government authorities first to temporary shelters then back to Indonesia's main island of Java, some by warship.
A spokesman for President Joko Widodo said the decision was made "for their own safety" and several government departments had been instructed to handle the crisis.
"We must protect our citizens regardless of their identity. They are also Indonesian citizens," spokesman Johan Budi told AFP.
Gafatar insists that it does not practise deviant Islam. The country's top clerical body, the Indonesia Ulema Council (MUI), is expected to rule next month on whether its beliefs are heretical.
Anyone charged with heresy under Indonesian law can face five years in prison, said Human Rights Watch researcher Andreas Harsono. Police have said they are investigating any criminal links to the Gafatar movement.
The evacuees in Java have begun what officials are calling "rehabilitation" sessions on religion and civic duty, some run by the MUI.
The classes are expected to last five days and include special instruction for women and children and those deemed "ideologues" within the Gafatar movement, said Central Java MUI chairman Ahmad Daroji.
"We are teaching them to come back and be one of us again. We hope after the programme these people can return to their community," he told AFP.
Several local rights groups, including the Jakarta Legal Aid Institute and the Setara Institute, have criticised the treatment of Gafatar.
"It is religious persecution," Harsono told AFP. "This re-education programme is simply an abuse of human rights."
Meanwhile a community of Ahmadis -- a minority Muslim sect -- living in Indonesia's west has allegedly been ordered to convert to mainstream Sunni Islam or face expulsion, Human Rights Watch said.
The New York-based rights group says the local government is conspiring with religious groups to harass and "unlawfully expel" the small cluster of Ahmadi families from Bangka island off Sumatra.
Ahmadis have long been targeted by hardline groups in Indonesia, who oppose their belief that a lesser prophet followed Mohammed.
In 2011 a mob beat three Ahmadis to death in an attack captured on video and widely circulated. Adherents are frequently harassed and prevented from praying at mosques.
http://www.bangkokpost.com/news/asean/841692/rights-groups-rap-treatment-of-indonesian-sect-members
---------
Muslim Group Backs Hindu Women Over Shani Temple Row
26th January 2016
Sania-Dodig Defeat Hingis-Paes to Reach Australian Open Semis
NEW DELHI: A Muslim women's group on Tuesday came out in support of women's entry into the Shani Shingnapur temple in Maharashtra, charging "male-dominated bodies" which run shrines with bias.
The Bharatiya Muslim Mahila Andolan said it supports demands by Hindu women to be allowed to enter the chabutra or sanctum sanctorum at the well known temple in Ahmednagar.
"We salute the women activists for their democratic protest and assertion of their right to worship in the face of all odds placed by the patriarchal male temple administration," it said in a statement.
"We condemn the discriminative arrangement at the temple and urge the temple trustees to correct their stand in line with the principles of gender justice enshrined in the constitution."
Andolan co-founders Zakia Soman and Noorjehan Safia Niaz said they were shocked at the imposition of Section 144 by the district administration to bar the women from proceeding peacefully to the temple.
Condemning the police action, the group urged the Maharashtra government to "immediately take steps to correct this continued denial of justice to women devotees at the temple".
The group said religious trusts presiding over temples, dargahs and churches must come clean and make amends to the patriarchal practices that have kept women out of places of worship.
"God or deities or pirs are not private properties of any individuals or trusts.
"Religions of the world - Hinduism, Islam, Christianity, Sikhism - do not discriminate between the genders.
"The temple and dargah trusts do not have the authority either from religious or legal sources to discriminate against anyone.
"We call upon the male-dominated trusts and bodies to correct their stance urgently, failing which more and more women are bound to protest and demand their right to worship," the group said.
http://www.newindianexpress.com/nation/Muslim-Group-Backs-Hindu-Women-Over-Shani-Temple-Row/2016/01/26/article3246276.ece
URL: https://newageislam.com/islam-women-feminism/now,-muslim-women-groups-protest/d/106143
New Age Islam, Islam Online, Islamic Website, African Muslim News, Arab World News, South Asia News, Indian Muslim News, World Muslim News, Womens in Islam, Islamic Feminism, Arab Women, Womens In Arab, Islamphobia in America, Muslim Women in West, Islam Women and Feminism, Moderate Islam, Moderate Muslims, Progressive Islam, Progressive Muslims, Liberal Islam, Liberal Muslims