New Age Islam News Bureau
24 Dec 2017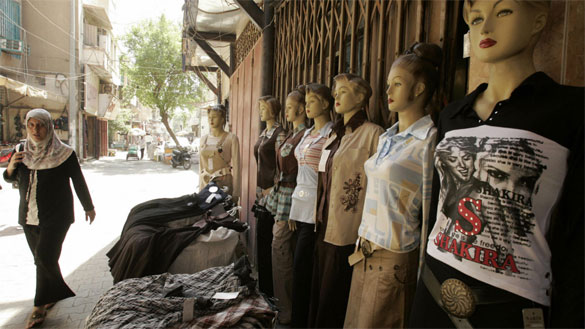 Several Shia armed groups also imposed the rule in southern Iraq [Getty]
------
• Saudi Arabia to Take Part in Arab Women Sports
• Iraqis Denounce Anti-Indecency Edict Targeting 'Female Mannequins' In Shia Holy City
• Effat Partners With Islamic Banking Organization to Empower Saudi Women
• Catalonia Election: Muslim Woman on a Political Mission
• Houthi Female Government Official Defects and Exposes Militia's Violations
• #Metoo: Arab Silence Breakers Reveal Rampant Sexual Harassment in Local Entertainment Industry
• Tunisian Women Struggle to Reach Senior Public Roles
• Program Launched To Train Saudi Female Entrepreneurs, Innovators in Sweden
• Saudi Fashion Goes Global
• 'That I am alive today is a miracle': Nigerian schoolgirl describes capture by Boko Haram
Compiled by New Age Islam News Bureau
URL: https://www.newageislam.com/islam-women-feminism/now-time-criminalize-marital-rape/d/113678
----------
Now Is the Time to Criminalize Marital Rape in the Arab Region
Stephanie Chaban , Saturday 23 Dec 2017
The summer of 2017 proved to be a different type of revolution in the Arab region. In the span of less than a month, Jordan, Lebanon and Tunisia transformed the region's legal and social landscape when their respective governments revoked so-called 'marry-your-rapist' laws.
These antiquated laws allowed a man to escape prosecution and punishment for rape if he married his victim. It is hoped that momentum surrounding these repeals will compel other states in the region, namely Algeria, Bahrain, Iraq, Kuwait, Libya, Syria, and Palestine, to revoke similar laws.
While these amendments merit celebration, the legislative reforms do not go far enough. Specifically, rape within the context of marriage continues to go unrecognized and unpunished in much of the Arab region (the one except is Tunisia's recent violence against law that theoretically criminalizes marital rape). Acknowledgement and action are long overdue.
Penal code and personal status law provisions in the Arab region do not prohibit martial rape to occur with few consequences, if any. For some states, unrestricted sexual access to one's wife is part and parcel of the martial contract, which is argued to fall under religious prescription or the public-private divide rationale, but essentially entrenches and consolidates patriarchal control.
Historically known as the "marital rape exemption" within the common law and civil law systems, many modern day Arab legal systems continue to tolerate (and in some instances, embrace) these provisions. This is best illustrated in Lebanon's domestic violence law, Law no. 293 (2014) which, after resistance from women's movements, legally embedded a "marital right of intercourse," essentially facilitating and condoning sexual assault in marriage.
While Lebanon's tolerance is explicit, other states' legislation is implicit. The few existing domestic violence laws in the region have avoided mention or penalization of marital rape altogether. This is despite elaboration in the United Nations Handbook for Legislation on Violence against Women that rape within the context of an intimate relationship, including marriage, must be criminalized for there to be holistic legislative response to violence against women.
In general, rape within the region continues to be narrowly defined as something that occurs only under extreme force, and happens to a woman who is not married to the perpetrator, or who is underage. Furthermore, definitions of rape are commonly couched in moralistic or honor-based terminology, rather than as nonconsensual sexual contact that is a violation of bodily integrity and sexual autonomy.
Gender sensitive legal reform, including the criminalization of marital rape, is a necessary step to eradicating violence against women. International human rights law explicitly and implicitly call upon states to sanction violence against women as part of their due diligence; failure to do so is a dereliction of duty to legally ensure and protect the human rights of all women.
Treaties and frameworks adopted by states such as the Convention on the Elimination of All Forms of Discrimination Against Women, the Beijing Platform for Action and the International Conference on Population and Development Plan of Action provide the necessary frameworks for implementing successful gender-sensitive legal reform. But they are only the beginning.
For legal reform to be truly revolutionary legal, it must holistic. Legal reform must acknowledge that violence against women takes many forms and occurs in all facets of life.
Legal reform must engage with gender sensitive human rights frameworks. Legal reform must intersect with other mechanisms that both protect and empower survivors of violence.
Legal reform must ensure that women's bodily integrity is respected and that their voices matter in the gender justice chain.
Finally, legal reform must acknowledge that rape in marriage is just that – rape.
english.ahram.org.eg/NewsContentP/4/285934/Opinion/Now-Is-the-time-to-criminalize-marital-rape-in-the.aspx
----------
Saudi Arabia to take part in Arab Women Sports
December 23, 2017
Sharjah: Saudi Arabia for the first time will compete in the fourth edition of the Arab Women Sports Tournament (AWST), organised by Sharjah Women's Sports Foundation (SWSF) from February 2-12.
Saudi women's clubs will compete in nine disciplines — fencing, basketball, show jumping, table tennis, karate, archery, volleyball, athletics and shooting — in the Arab region's largest women's sports competition.
Nada Askar Al Naqbi, Deputy Head of Supreme Organising Committee, Head of its Executive Committee and Director General of SWSF, said: "The participation by Saudi Arabia in ASWT 2018 is a significant addition to the involvement of Arab women's clubs in the tournament. Everyone at Sharjah Women's Sports Foundation is delighted with their inclusion in the competition and welcomes all Saudi female players who will be participating in the forthcoming event."
She added: "In the Arab world, we have witnessed remarkable progress in women's sports. This heralds a promising future for Arab women as champions and lays the groundwork for them to clinch the most prestigious tiles in global tournaments, including the Olympic games."
Prince Talal Bin Abdul Aziz, President of the Arab Sports Council, Head of the Union of Arab National Olympic Committees, said: "We are committed to our presence in Sharjah because of the attention and care that His Highness Dr. Shaikh Sultan Bin Mohammad Al Qasimi, Member of the Supreme Council and Ruler of Sharjah, and Her Highness ShaikhaJawaher Bint Mohammad Al Qasimi, wife of the Ruler of Sharjah, give to women's sports in UAE."
Prince Talal added: "The UAE is a role model for women's sports in line with the government's efforts to empower women in all fields. We are working with Shaikha Haya Bint Aziz Al Khalifa, member of the Board of Directors of Bahraini Olympic Committee and President of the Women's Sport Committee, to provide the teams with the opportunity to participate in these sporting events."
gulfnews.com/sport/uae/more-uae/saudi-arabia-to-take-part-in-arab-women-sports-1.2145801
----------
Iraqis denounce anti-indecency edict targeting 'female mannequins' in Shia holy city
23 December, 2017
Imam Hussein, the grandson of the Prophet Mohammed and an important figure in Shia Islam, is buried in Karbala.
Posters warning against indecent behaviour have been plastered around the city as part of the application of a 2012 provincial council decision to uphold Karbala's "holy character", council member Nasser Hussein al-Khozali said.
The signs warn residents against "shockingly displaying women's clothes", as well as "selling indecent films" and airing "music or indecent words in public places".
The posters, signed by an "implementation committee for the decision on Karbala's holy character", warn that sanctions will be taken against offenders.
Not everyone is the city supports the decision, however.
"Listening to music is part of personal freedoms," said taxi driver Majah Hassan, as a song belted out of his car radio.
"Nobody can forbid it as I'm not harming anyone by doing it."
Inside a shopping centre, women's clothes salesman Ahmad Hussein railed against a decision that he said infringed freedoms and hurt business.
"The provincial council would do better fixing the roads and improving public services," he said.
The head of a civil society association said the council decision was no different from the harsh rules imposed by the Islamic State group in areas they controlled until their defeat in Iraq earlier this month.
"This kind of decision, which is allegedly based on religion, is in fact no different from IS ideology," Ehab al-Wazarni said.
Hadi al-Mussawi, also an activist, said the move "aimed to garner votes in the elections" for parliament in May.
After seizing control of second city Mosul in 2014, IS prohibited shopkeepers and street vendors from displaying women's clothing on mannequins.
Several Shia armed groups also imposed the rule in southern Iraq at the height of the sectarian violence that followed the 2003 US-led invasion of the country.
alaraby.co.uk/english/news/2017/12/23/iraqis-denounce-ban-on-mannequins-in-shia-holy-city
----------
Effat partners with Islamic banking organization to empower Saudi women
20 hours ago
Saudi Gazette
JEDDAH — Effat University signed a memorandum of understanding with the General Council for Islamic Banks and Financial Institutions (CIBAFI). The agreement was aimed at empowering women in Saudi Arabia by boosting their skills and knowledge in Islamic finance to work in Islamic banks.
Aziza Yarlaeva, head of strategic planning at CIBAFI, and Dr. Haifa Jamal Al-Lail, president of Effat University, signed the MOU at the 3rd Islamic Finance Conference held at Effat campus in Jeddah on Thursday.
Under this agreement CIBAFI will issue the students of Effat international certification after giving them courses in Islamic banking and finance.
Aziza Yarlaeva said: "The General Council for Islamic Banks and Financial Institutions is an international organization that represents Islamic banks in 32 countries. We conduct various programs in research and professional development and offer international certifications for our partners around the globe. In Saudi Arabia these programs will be offered through Effat University to their graduates. When they finish university they will receive these courses and professional certification in Islamic banking. Our aim is to empower women in Saudi Arabia and promote Islamic banks.»
Dr. Samar Khan, dean of Effat College of Business, said: "At Effat University we collaborate with international organizations and universities and we constantly work to increase awareness and knowledge of our students. We don›t just rely on their local experience, but we also want them to have international exposure in different fields.»
ffat University is the first non-profit educational institution specialized in offering higher education for girls in the Kingdom. It was established by the children of Queen Effat Al-Thunayyan, wife of the late King Faisal, in 1999. The university operates under the umbrella of the King Faisal Foundation.
The university offers a broad range of undergraduate and postgraduate programs that enhance lifelong learning and education through four faculties: the Business School, the Faculty of Humanities, the Faculty of Engineering and the Faculty of Architecture and Design.
saudigazette.com.sa/article/524676/SAUDI-ARABIA/Effat-partners-with-Islamic-banking-organization-to-empower-Saudi-women
--------
Catalonia election: Muslim woman on a political mission
By James Badcock
19 December 2017
"It's sad to turn on the television and never see a black face or an Arab personality," says NajatDriouech, who is likely to become Catalonia's first female Muslim MP.
She says she is used to being a pioneer, as the first girl from her community to have won a literary prize and gone to university.
"I don't want my children to suffer half of what their grandparents suffered, or a quarter of what I had. I want them to find a society that is inclusive, equal and recognises diversity."
She arrived in Catalonia from Morocco with her parents as a nine-year-old, in 1990. She has been a community worker for her local council in Masnou, a town outside Barcelona, for 17 years.
She is campaigning in the midst of a political crisis sparked by the former Catalan government's illegal declaration of independence. The new regional election, called by the Spanish government, is on Thursday.
"It's not my goal to be the first Muslim woman member of parliament, but the first of many," Ms Driouech told the BBC.
Despite not being a member of any political party, she agreed to join the electoral list for the Republican Left of Catalonia (ERC), to take her fight against prejudice to a higher level.
The ERC hopes to win a majority with other pro-independence parties in order to "strengthen Catalonia's institutions" and continue the drive for secession from Spain.
"I am taking this step at such a complicated time for Catalonia because I believe it's necessary to civilise part of society - that minority which believes that another minority is second-class," Ms Driouech said.
ERC campaign rally in Barcelona, 16 Dec 17Image copyrightAFP
There are 515,000 Muslims in Catalonia, comprising 6.8% of the population.
Ms Driouech is standing against what she describes as racism fomented by some politicians in Catalonia.
The candidate for Prime Minister Mariano Rajoy's Popular Party, Xavier Garcia Albiol, drew criticism from anti-racism campaigners for the slogan "Cleaning Badalona". He used it as mayor of that town, which has attracted a large immigrant population.
In her community work, Ms Driouech says she is faced "again and again" with cases of discrimination, for example nurses who are not accepted in hospitals because they wear a headscarf, and graduates whose CVs are ignored because of their Muslim names.
"When you are little and you speak Catalan and Spanish well, people say 'how sweet'. Then you get older, you start to speak up and debate things, and that doesn't go down well. Now you're a rival.
"So what do we want? To be like the first generation, that only came here to clean, or the ones who compete for the same positions?
"They told us that to be normal citizens we had to study, and we've studied. That we had to participate in society, and we are doing that. So where is the problem?"
Risk of radicalisation
In a survey of second-generation immigrants in Spain, carried out by Princeton, Clemson and Miami universities, 20% said they had suffered discrimination in the past three years.
Among the children of Muslim immigrants the concentration was greater in certain parts of the country, including Catalonia's economic hub Barcelona, where a number of complaints of police harassment were reported.
"In some circumstances this can have a dramatic impact, in that seeing yourself as a second-class citizen, or feeling limited to certain ghetto areas, can lead to the consequences we all know about," said Alejandro Portes of Princeton University.
The jihadists who attacked Barcelona and Cambrils in August were all children of Moroccan parents who had moved to the Catalan town of Ripoll, where they came under the influence of a radical imam.
Muslim women took part in an anti-terrorism rally after the Barcelona attack
Mohamed el Ghaidouni, leader in Catalonia of the Union of Islamic Communities in Spain (UCIDE), says increased co-operation between the authorities and Muslim organisations would reduce the risk of radicalisation.
"We want religious instruction to take place in the schools and not in uncontrolled places," he said. He accused the Catalan authorities of having ignored an agreement between the Spanish state and Muslim community to offer classes in Islam to children whose parents wish it, putting them on a par with Christian families.
According to UCIDE, there are 82,000 children from Muslim families in state education in Catalonia with no Islamic instruction available.
"There should also be co-operation with the government to allow Muslims to house their places of worship in city centres and not on the outskirts, and recognise certain religious holidays," adds Mr El Ghaidouni. "Such measures will lead us to a normalisation and stabilisation of religious practice."
Map of Catalonia in Spain
The Catalan government was dismissed by Spain's Prime Minister Rajoy in October, after the independence declaration. Madrid imposed direct rule, under emergency constitutional powers.
The ERC's leader, Oriol Junqueras, and another member of the former Catalan government remain in custody, while being investigated for rebellion and other offences related to the independence drive.
Seven others were released on bail and five, including former president CarlesPuigdemont, fled to Belgium.
Ms Driouech says she is "for the right of the people to decide" whether Catalonia should be part of Spain, refusing to reveal whether she is pro-independence herself.
bbc.com/news/world-europe-42400762
----------
Houthi female government official defects and exposes militia's violations
Sunday, 24 December 2017
Al-Jarwi pointed out that more than 2,000 members of the GPC party were killed by the militia, while more than 3,000 others are imprisoned. (Supplied)
Staff writer, Al Arabiya English
In an exclusive interview with an Al Arabiya reporter, former undersecretary of the Houthi Ministry of Youth and Sports, Noura al-Jarwi, said that she resorted to joining the legitimate government after facing several violations committed by the militia in Sanaa.
After her arrival in the areas liberated by the Yemeni army weeks ago, Jarwi became a member of the permanent committee of the General People's Congress (GPC) and the head of women's protests that demanded the return of the body of slain former President Ali Abdullah Saleh.
Jarwi added that Houthi violations increased after they executed several GPC leaders and former President Saleh, pointing out that more than 2,000 members of the GPC party were killed by the militia, while more than 3,000 others are imprisoned.
Jarwi called on all GPC members including the Republican Guard, men and women to join the Yemeni army and Arab Coalition, and take a stand to eliminate the Houthi militia from Yemen.
She added that she is hoping for a resistance movement to be formed inside Sanaa specifically in order to finally liberate it.
A former commander of the Special Security Forces and prominent sheikh in the Yemeni al-Hada tribe, Fadl al-Qosi, also announced that he has joined the legitimacy forces.
After being kidnapped and placed under house arrest in al-Hada south of Sanaa for several days by the Houthi militia, al-Qosi was able to escape to Marib on Saturday.
Upon his arrival to Marib, al-Qosi announced his support of the Yemeni army and the Arab Coalition, and his willingness to fight the Houthis alongside them.
The source also added that 22 Houthi brigades surrendered themselves to legitimacy forces in Bihan, after the Yemeni army increased missile attacks from Shabwa to Bihan where the militia is headquartered.
english.alarabiya.net/en/News/2017/12/24/Female-Houthi-government-official-escapes-exposes-Houthi-violations.html
----------
#MeToo: Arab silence breakers reveal rampant sexual harassment in local entertainment industry
23 December, 2017
The silence breakers spoke anonymously to The New Arab for fear of repercussions, amid a firestorm of sexual misconduct scandals that have ended the careers of powerful figures in Hollywood, US politics and journalism.
"He paced around the room, coming closer then moving away from me," Aya, an Egyptian journalist said, recounting an interview with a well-known Arab actor.
"When it ended I got up to leave but he told me to stay longer to spend some time together. He then approached me suddenly and pressed his body up against mine," said Aya.
"When I screamed he threw open the door and threatened that he would tell my newspaper's editorial team that I was bad at my job."
The #MeToo campaign exposed alleged sexual misconduct in the US and elsewhere, which began with a series of claims against Hollywood mogul Harvey Weinstein.
The high-profile cases have received widespread media coverage in the Middle East.
The hashtag prompted hundreds of women in the region take to social media and speak up against harassment they have experienced.
Hanadi - an aspiring Syrian actress - said that the entertainment scene in Damascus was entrenched with a culture of sexual harassment, which has forced many women to abandon their dreams of pursuing a career in film.
"I have seen many examples of women receiving angry reactions after they have made formal complaints about harassment," she said.
"The only way to open the door to stardom in Syria is to give in to the advances," she added.
Rana, a Lebanese actress, had similar stories of workplace abuse.
"I once met with a play director several times in public to look over a new script. When it came time for rehearsals he invited me to his home," she said.
"When I went he began inappropriately touching my body under the guise of directing my movements on stage. At first I was upset but I convinced myself it was normal. When it continued I confronted him and left the production," Rana added.
This week, the UN rights chief hailed the ongoing "seismic shift" in public discourse about sexual harassment and abuse following a barrage of revelations about misconduct in Hollywood, Washington and beyond.
A wave of scandals in North America and Europe has in recent weeks ended the careers of some of the most high-profile figures in the entertainment and media industries.
Since the start of the campaign, several leading Arab actresses have also revealed that sexual harassment is rampant in the region.
Tunisian actress HendSabry last month said that men in the entertainment industry regularly "abuse their power".
Egyptian singer and bellydancerSama al-Masry said that producers often demand sexual favours from actresses in exchange for roles in films.
alaraby.co.uk/english/blog/2017/12/23/arab-women-reveal-rampant-sexual-harassment-in-entertainment-industry
----------
Tunisian women struggle to reach senior public roles
AFP | Published — Sunday 24 December 2017
TUNIS: Tunisia's minister for women said on Friday more needs to be done to promote female civil servants to top jobs after a study showed that few reach the most senior positions.
Just 37 percent of Tunisia's 630,000 civil servants are women, said KhaoulaLabidi, who coordinated the study, a joint French-funded project by the country's presidency and UN Women.
She said that was "very high compared to other countries in North Africa and the Middle East," but added that men hold three quarters of prestigious, better-paid "director general" positions.
Labidi said women who reached medium-level positions faced a "glass ceiling" preventing them from advancing further.
"We want to pierce this glass ceiling to allow competent women — and there are many — to access these high-level positions," she said.
Women's Minister NazihaLabidi acknowledged the need "to do everything so these women can reach decision-making positions," adding that a strategy had been developed to put women on a par with men in such roles by 2020.
Tunisia is seen as a pioneer in the Arab world in terms of women's rights, adopting a penal code in 1956, which granted rights to women and abolished polygamy.
This summer, the Parliament also passed a law designed to "end all violence against women," strengthening protection and help for victims, in a move welcomed by rights groups.
It will provide for judicial and psychological assistance for victims of domestic violence and removes a controversial article that allows men to escape punishment for rape if they marry their victim.
Tunisian society remains deeply divided between conservatives and social liberals.
Rights groups say women are still discriminated against, and around half say they have been subject to at least one form of violence in their lives.
arabnews.com/node/1213596/middle-east
----------
Program launched to train Saudi female entrepreneurs, innovators in Sweden
GHAZANFAR ALI KHAN | Published — Sunday 24 December 2017
RIYADH: Sweden and Saudi Arabia have launched a major program to train female entrepreneurs and innovators by creating networks and organizing mutual learning through meetings, study tours, education and interaction with top opinion leaders and decision makers.
The first module of the SHE-Leads program focused on exchanging experiences and was attended by 18 Saudis in Sweden earlier this month, Jan Knutsson, Sweden's ambassador to the Kingdom, said on Saturday. "In March next year, these women will meet again, in Riyadh," he added.
During the first session, Saudi participants visited major Swedish organizations such as the Swedish Institute, Ericsson, Atlas Copco, AllBright and Add Gender.
Speaking at a party to promote Swedish cuisine, Knutsson expressed his hope for greater cultural exchanges between his country and Saudi Arabia.
"Sweden has a very strong tradition when it comes to films, books, and music for children," he said.
The education sector is another "promising" area of cooperation, he said, adding that Riyadh and Stockholm have signed a memorandum of understanding to that end.
Knutsson predicted an increase in bilateral trade and investment "as new sectors are opening up for investment in Saudi Arabia, in which Sweden has had wide experience."
Many Swedish companies had a chance to explore new opportunities during the visit of Trade Minister Ann Linde in October, he said.
During her visit, Linde inaugurated a new solar panel system at the Swedish Embassy, "and now the embassy in Riyadh is powered by Saudi sun," Knutsson said.
He renewed Sweden's condemnation of the US recognition of Jerusalem as Israel's capital, saying it risks greater instability in the Middle East and violates international law. "Moreover, it can prejudge the outcome of negotiations on final-status issues," he added.
arabnews.com/node/1213761/saudi-arabia
----------
Saudi fashion goes global
OLIVIA CUTHBERT | Published — Sunday 24 December 2017
Models present creations from Burberry at London Fashion Week. Efforts are underway to stem the exodus of design talent from the Kingdom to Dubai, London and Paris. (Reuters)
Arab Fashion Council Honorary President Princess Noura bint Faisal Al-Saud said the new Riyadh office will be a boost for the regional creative economy. (Photo courtesy of Arab Fashion Council)
LONDON: The rising stars of Saudi fashion may soon have more reasons to strut their stuff at home as much as abroad.
The Arab Fashion Council's plans to open a regional office in Riyadh, which is set to stem the exodus of design talent and spur the growth of creative industries in the Kingdom.
With few platforms for fashion at home, aspiring Saudi designers have typically gone to Dubai, or further afield to Europe and the US to achieve their ambitions.
Now, more will be encouraged to pursue their ambitions locally, opening up opportunities previously confined to a select few who could afford to launch their careers abroad.
"It's a very positive and a very bright step and I'm excited to see further developments in the region," said Alia Khan, chairwoman of the Islamic Fashion and Design Council, which is also planning to open an office in the Kingdom.
"There's a wonderful appetite for style and elegance in the Saudi market and we'd love to be a part of that," Khan added.
Heading up the new Riyadh office as country director Layla IssaAbuzaid said the "council would open the doors to the foreign investment flow into the country."
The move feeds into Vision 2030 ambitions to diversify its economy and nurture new industries while harnessing the energy and aspirations of a young population.
"Fashion has always been important to Arabs and our designers are definitely benefiting from the beginning of a proper fashion infrastructure," said MarriamMossalli, a well-known Saudi fashion editor and founder of luxury consulting firm Niche Arabia.
"We are seeing the creative sector in Saudi grow exponentially."
"With a population that has 70 percent under the age of thirty, we are about to see an influx of of new careers, and most importantly new creative industries."
Saudi Fashion designer Arwa Al-Banawi, who regularly exhibits at Paris Fashion Week, said the council's presence will mean that young Saudi designers no longer have to put their dreams on hold.
"I'm seeing a lot of designers coming out of Saudi Arabia and it's about time we had this platform to showcase our work."
Until now, fashion shows in the Kingdom have been largely private, women-only events, with few opportunities for designers to mingle with buyers or display their work to international brands.
Last year marked a rare exception when high-profile members of the international fashion elite, including Naomi Campbell, Alberta Ferretti and DelfinaDelettrezFendi jetted into Jeddah for the first ever Vogue Fashion Experience, hosted by Vogue Italia.
RazanAlazzouni, a successful Saudi designer, who has dressed celebrities including Elizabeth Banks and Paris Hilton, told online fashion portal Fustany that being based in Saudi Arabia and breaking into the international market was one of the greatest hurdles she had to overcome in establishing her career.
"I felt I had to prove myself more than a European designer might have needed to."
But Al-Banawi believes there is plenty of scope to establish a flourishing fashion industry in the Kingdom. "I'm really excited this is finally happening in my country."
"There's so much talent and so many buyers and beautiful boutiques in Saudi — we have the right people that can actually make this happen and make it a hub."
The Arab Fashion Council office will encourage the development of a sustainable fashion infrastructure in Saudi Arabia by supporting local talent and partnering with international designers interested in entering the market.
"We are working on a strategy that will strengthen the creative ties between the four main fashion capitals and Riyadh, which will allow us to promote Arab designers at a global level," said Jacob Abrian, founder and CEO of the Arab Fashion Council.
Recent reforms, including lifting the ban on female drivers, have broadened the country's appeal on the global stage and with its strategic location at the crossroads of Asia, Europe and Africa, the council sees Saudi Arabia as uniquely placed to become a center for the fashion industry.
"The new office in Riyadh will act as a main pillar in supporting the growth of the creative economy in the entire region," explained Princess Noura bint Faisal Al-Saud, the Arab Fashion Council's honorary president.
"The Vision 2030 is based on three main pillars: A vibrant society promoting culture and entertainment, a thriving economy that boosts the small businesses and productive families as well as attracting the right talents and an ambitious nation that engages everyone."
arabnews.com/node/1213766/saudi-arabia
----------
'That I am alive today is a miracle': Nigerian schoolgirl describes capture by Boko Haram
December 23, 2017
RELATED TOPICS: Amina Ali Nkeki Boko Haram United States Nigeria Mohammed Hayyatu Islam Hope International University American University California Muhammadu Buhari Niger United Nations Cameroon Gardena Boston
ABUJA, Nigeria — Amina Ali Nkeki was calm as she recalled her two years of torment while held captive by Boko Haram terrorists.
She was 17 when she and 274 other girls were abducted from a school in Chibok in northeastern Nigeria in 2014.
"They came in the night. They shot sporadically into the air. They gathered us together. They threatened to kill us if we didn't do what they said. They quarreled among themselves. At the end, they decided to take us away," Nkeki said.
She was sexually assaulted and faced other abuse at the hands of the Islamic State-linked militants before she managed to escape last year.
"I never thought I would live to see another day," she said. "That I am alive today is a miracle."
Now she is preparing for another miracle. An American church has agreed to send Nkeki and four other young women who escaped from the clutches of Boko Haram to a Christian school in Southern California — Hope International University.
The costs for the women's travel expenses, plus tuition and housing that could amount to more than $30,000 a year will be paid by the Church of the Servant King in Gardena, Calif.
The church sponsored 35 Cambodians in the 1980s. Congregants decided it was time to reach out again to someone overseas, said Rich Read, the senior pastor. "For us, faith is action," he said.
Nkeki is currently studying at the American University in Nigeria, a private school unaffiliated with the U.S. government. When she learned about the church's offer this year, she instantly knew that forgetting her traumatic experience would be easier in the United States.
"I just couldn't believe my ears," Nkeki said. "I just can't find words to describe how I felt. It was a message of a new life."
Most of the captured Chibok girls have escaped, but more than 100 are still missing. Despite the success of the #BringBackOurGirls movement to highlight the plight of the students, their parents are at wits' end.
Since Boko Haram launched its military offensive in 2009, more than 20,000 people have been killed and more than 2 million others displaced by the terror group in Nigeria and neighboring Cameroon and Niger, according a recent United Nations report.
Boko Haram insurgents still run rampant throughout the northeastern reaches of this West African country. But Nigerian forces have tightened their noose around the group, recently announcing that the militants had been eliminated throughout Borno state.
That's cold comfort to Nkeki, who hasn't been able to let go of her memories. The Boko Haram soldiers forced her to march for three days to Mbula, a remote town under their control.
"They burned down the school library and carted out our food supplies," she continued, recalling the first night she was held hostage. "Boko Haram forced us to trek for over two hours and to sleep under a tamarind tree inside the Sambisa Forest."
The Boko Haram men then asked the girls to convert to Islam, she said. "They threatened to kill all of us if we refused," said Nkeki, who is Christian. "After they left we got together. Since there was nothing we could do, we decided to go along in order to save our lives."
Despite the threats from Boko Haram, several girls who were Christian or practiced local religions refused to convert.
"They gathered us together one Tuesday afternoon," said Nkeki, who refused to convert. "They expressed satisfaction that we have all converted to Islam. They asked us if marriage in Islam is good or not. We told them there was no way we could get married without the consent of our parents. We told them our religion does not allow such marriages."
Punishment then followed.
"For us who refused to marry, they detailed us to do menial jobs in their homes — sweeping, washing clothes and doing dishes," Nkeki said. "They said as their slaves they can choose to sleep with us. They were passing us around among themselves. We saw it was even better to get married, because only one person would be sleeping with us."
As a result, Nkeki was forced to marry Mohammed Hayyatu to avoid being passed around. Hayyatu, the son of a Muslim cleric, was disillusioned with his life of violence under Boko Haram and confided to her that he was fed up with the group.
He planned to escape. They got their chance after the Nigerian military sacked Njimiya, a Boko Haram stronghold. "The Boko Haram were running away for safety," she said. "My husband and I saw our opportunity to escape."
The couple eventually fell in love, but her parents strongly objected to Hayyatu after their escape, claiming he had abducted their daughter. Her parents eventually relented because she had a baby with him while still in captivity.
Read, the pastor, said his church is planning to help the women and their children come to the United States — but not the husbands immediately — by organizing a fundraising drive.
He said the church and the women found each other. Providence would do the rest.
"We think there is help that comes from places that we don't know about," he said. "Amazing things can happen."
ksdk.com/article/news/nation-now/that-i-am-alive-today-is-a-miracle-nigerian-schoolgirl-describes-capture-by-boko-haram/465-df0d6ac3-6b7d-4544-99b0-d06870fcbb22
URL: https://www.newageislam.com/islam-women-feminism/now-time-criminalize-marital-rape/d/113678