New Age Islam News Bureau
03 October 2020
• Somali Women's Basketball Team in Black and Blue Headscarves, Defy Prejudice, Hostility
• Sydney Hijabi Influencers, Nawal Sari. In 'Modest Fashion' Who Make a Living from Instagram
• British Female Daesh Suspects Escape Syria Camps Using Online Donations
• Pakistan Taking Initiatives to Curb Violence against Women, FM Tells UN
• Iraq urged to investigate attacks on women human rights defenders
Compiled by New Age Islam News Bureau
URL: https://www.newageislam.com/islam-women-feminism/norwegian-peace-council-added-fawzia/d/123029
--------
Norwegian Peace Council added Fawzia Koofi among Nobel Prize's Favourite
By Mohammad Haroon Alim
03 Oct 2020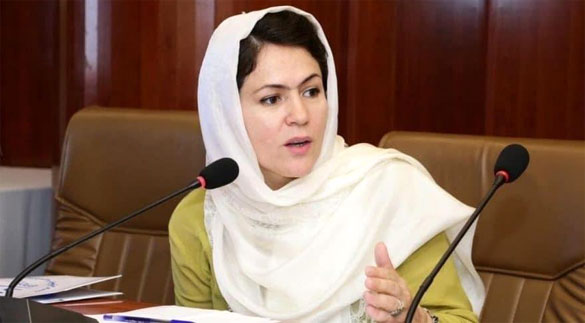 Fawzia Koofi among Noble Prize's Favorite
-----
Norwegian Peace Council added the name of former parliament member and current peace negotiations member in Qatar, Fawzia Koofi among 5 Noble Peace Prize Favorites for 2020.
She was listed among the 5 favourites due to her efforts for women's rights and ongoing peace negotiations.
Besides being a delegation member in ongoing peace negotiations in Qatar, Fawzia koofi also leads the movement for change party.
"There are 318 candidates for the Nobel Peace Prize for 2020, of which 211 are individuals and 107 are organizations, 318 is the fourth-highest number of candidates ever. The current record of 376 candidates was reached in 2016", the Nobel Prize organization states.
Reporters Without Borders, American lawyer Benjamin Ferencz, New Zealand Prime Minister Jacinda Arden, and the Equal Justice Initiative organization have also been shortlisted for this year's Nobel Peace Prize.
https://www.khaama.com/fawzia-koofi-among-noble-prizes-favorite-9876456/
--------
Somali Women's Basketball Team in Black and Blue Headscarves, Defy Prejudice, Hostility
October 03, 2020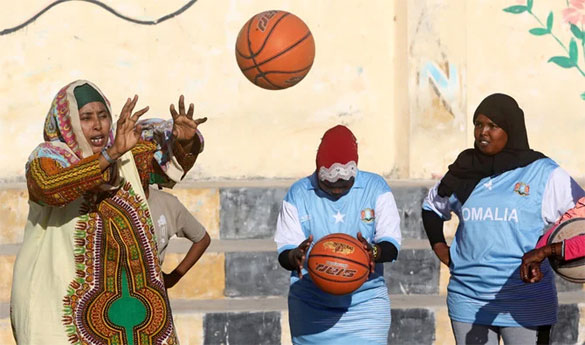 Former basketball player Nasra Mohamed leads Somali women during a basketball practice session at a court within Hamar Jajab district of Mogadishu, Somalia September 16, 2020. (REUTERS)
-----
MOGADISHU: Whistles screech on the sea breeze as three female Somali coaches inspect a line of women in black and blue headscarves dribbling basketballs.
It is not just the heat that makes it hard: The women are also braving the scorn of their families and the threat of attack by gunmen who think women should not play sport publicly.
"We cannot openly say we are going to play. We put our playing clothes and shoes in schoolbags and carry them that way to the field and we pretend we are going to school or university," said Fardawsa Omar Ahmed, 20, a university graduate who also plays volleyball and football.
Her family used to discourage her from playing, but now they accept it, she said.
The women only play in compounds behind high concrete walls, which shield them from the gaze of the curious or those who might attack them.
One of the coaches, Suham Hassan Sobran, 40, played as a child before civil war broke out in Somalia in 1991. She restarted in 2009, when the Al-Shabab insurgency still controlled large swathes of the city.
Now, Sobran and her two friends train some 30 other women on a court enclosed in Mogadishu's Hamar Jajab district office. A police checkpoint lies nearby — such checkpoints are often a target for Al-Shabab, which was driven out of Mogadishu in 2011, but still mounts frequent attacks.
On the court's gate is a painting of a woman playing basketball and slogans promoting good sportsmanship.
Another of the coaches, Faduma Ali Abdirahman, 39, now a mother of six, once played on Somalia's national team, traveling to Djibouti and Uganda for matches.
The women receive no funding. When they play matches, the trainers pool money to buy a cheap cup as a prize. But they love what they do, and dream of starting teams all over Somalia.
https://www.arabnews.com/node/1743456/middle-east
--------
Sydney Hijabi Influencers, Nawal Sari. In 'Modest Fashion' Who Make a Living from Instagram
By Housnia Shams
03 Oct 2020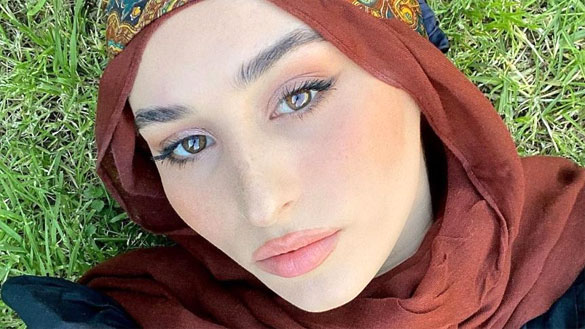 Nawal Sari noticed a gap in the market and is now a full-time Instagram influencer.(Instagram @Nawalsari)
-----
When Nawal Sari began posting pictures of her trendy outfits on Instagram four years ago, she had no idea it would end up becoming her full-time job.
The 21-year-old from Liverpool in Western Sydney is one of a handful of hijabi influencers who cater to Australia's growing "modest fashion" market.
Nawal said she was inspired to start posting after noticing a gap in the market.
"I didn't feel that there was somebody that I could relate to in the sense of fashion or having a Muslim sister that I could look up to," she said.
Before her Instagram took off, she was working multiple jobs to make ends meet, but all that changed 12 months ago.
With more than 180,000 followers, Nawal has created a social media presence that's also paying the bills.
"It's been about a year now that I've done this [Instagram] full-time and I've been busy every single day since," she said.
"I booked a few jobs like Nike and Supre, but it wasn't until I got management that they really pitched for me and I really got my foot in the door of a market that I could never get in by myself."
Inspiring women
It's a similar story for Sana Sayed from Dundas in Sydney's north-west.
The 20-year-old says she initially signed up to Instagram in 2017 to share pictures with family and friends.
But she quickly began attracting the attention of local modest fashion brands, helping her garner a following of more than 130,000 people.
"I post fashion advice and I show different ways of how I style outfits and my Hijab, which I think inspires women," Sana says.
The full-time university student says she has worked with global brands including singer Rihanna's cosmetics company Fenty Beauty and retailer JD Sports.
She says payment can vary depending on the brand she is promoting.
"You can start off from $400 to $500, up to $3,000 to $4,000 for one post," she says.
'Following a friend'
Natalie Giddings from Sydney marketing company the Remarkables Group says brands are increasingly turning to influencers to advertise their products because they have significant reach.
"Influencers in this day and age are outshining a large number of traditional publications that marketers like myself would have previously gone to," Ms Giddings says.
"A magazine like Vogue for instance has about 55,000 people that buy the magazine each month … but some of the people that we work with are well into the hundreds of thousands in audience alone."
Ms Giddings says audiences feel like they have a personal connection with influencers and are in turn more likely to trust their product recommendations.
"The number one reason why people tune into and follow influencers is because it feels like they're following a friend."
Billion-dollar industry
The global rise of modest fashion has given hijabi influencers like Ms Sari and Ms Sayed a platform and an audience.
Modest fashion typically includes clothing that is stylish yet adheres to religious requirements.
The modest fashion market is worth hundreds of billions of dollars globally.
According to a report by research and advisory firm DinarStandard, Australia was rated the 17th best Islamic economy globally in 2018.
It revealed Muslims, including roughly 565,000 tourists, spent more than $500 million on clothing in Australia in 2018.
The co-owner and designer behind Sydney modest fashion brand Twiice, Mawluda Momin, says she was inspired to start her business after struggling to find modest clothing that was stylish.
"Jumpsuits with a modest twist are really popular — so are dresses that are less oversized and more fitted, flattering and feminine."
Along with her sister and a friend, Ms Momin opened a store in Sydney's south-west in 2018.
Since then, they've built a devoted customer base.
"We do find a lot of non-Muslim women and non-hijab wearing women interested in our designs as well," she says.
She also says influencers had have helped grow her business.
"Some influencers are purely for exposure and some other influencers are purely for driving sales — they definitely benefit our business."
Two-hour photos
Ms Sari and Ms Sayed say a lot that goes on behind the scenes to capture the perfect Instagram picture.
When out in public, family and friends become unlikely photographers — but the pair also shoot and edit their own shots.
"When I'm collaborating and promoting products for a business, I take the photos myself and it can take up to two hours," Ms Sayed says.
"The audience loves consistency, so I try to post once a day."
But both women say they receive hateful comments online from people who don't agree with their clothing choices.
"I feel like the comments I do get are from trolls, mainly men, who feel as if they have a place to comment on my body and to comment on how I express myself and the makeup I'm wearing, which is absolutely ridiculous," Ms Sari says.
"When I do get them, I literally just block and move on."
https://www.abc.net.au/news/2020-10-03/hijabi-fashion-influencers-who-make-a-living-from-instagram/12724642
--------
British female Daesh suspects escape Syria camps using online donations
September 9, 2020
British and European female Daesh suspects are reportedly escaping detention camps in north-east Syria by being smuggled out, mostly through the use of funds raised online.
According to Daesh figures on social media sites such as Facebook and Telegram, funds must be raised through online means to free women suspected of being part of or affiliated with the terror group.
In one video, a British woman in Idlib known as Maryam Al-Britaniya was seen claiming that "Being sent out from the Islamic State [Daesh] to the camps was by far one of the worst moments of my life." She urged sympathisers to donate money, stressing: "It's obligatory on you to free them. Help them and donate every month to help smuggle them out."
The camps they are attempting to escape from, including the infamous Al-Hawl camp, are being controlled and guarded by the Kurdish-led Syrian Democratic Forces (SDF) and the People's Protection Units (YPG) militias, which hold tens of thousands of family members of former Daesh fighters.
Many of those held at the camps are nationals of foreign countries, including at least dozens of British women who fled to Syria to join the terror group.
Other examples of women from other nationalities calling for donations were also seen, with one post in German saying: "This sister has to have the money by Friday, €1000 ($1,182) is still missing," and one pose in French claiming that "Only €3000 more is needed to free two of your sisters. Add this good deed to your balance, it may gain you entry into paradise."
Smugglers reportedly charge an approximate amount of £12,000 ($15,785) to help families escape from Al-Hawl and other camps, which is mostly paid through online payment systems such as Bitcoin and Paypal.
Despite calls by human rights organisations and the US for the UK and other European states to repatriate their citizens and put them on trial back in their home countries, many have refused or been reluctant in doing so, citing security risks they would pose once they return.
https://www.middleeastmonitor.com/20200909-british-female-daesh-suspects-escape-syria-camps-using-online-donations/
--------
Pakistan taking initiatives to curb violence against women, FM tells UN
Anwar Iqbal
03 Oct 2020
UNITED NATIONS: Foreign Minister Shah Mehmood Qureshi has assured the international community that Pakistan is taking "legislative initiatives" to curb violence against women.
Addressing a high-level meeting on the 25th anniversary of the World Conference on Women on Thursday, he also said that the National Action Plan on Human Rights had 'protection of women' as one of its key priority areas.
"Through legislative initiatives, we are continuously addressing the issues of violence against women, domestic abuse, harassment, social and property rights protection," Mr Qureshi said, adding that the government had also set up protection centres and a 24-hour helpline (1099) to provide free legal advice, redressal and referral mechanism to women.
October 1, 2020 marked the 25th anniversary of the Beijing Declaration and the Platform for Action, which was adopted unanimously by 189 countries. The declaration laid down the agenda for women's empowerment and is considered a key global policy document on gender equality.
However, UN Secretary-General António Guterres and other world leaders, who addressed this high-level meeting on the sidelines of the 75th UN General Assembly, acknowledged that this empowerment had not happened yet. In 1995, when the declaration was signed in Beijing, there were 12 female heads of state or government. Today, there are only 22 among 193 countries. A recent World Bank report said it could take 150 years for women to achieve parity in lifetime earned income.
Urging people everywhere to "push back" against the forces holding up equality for women, the UN chief said this was fundamentally a question of power.
"We need to start now ... to recapture and 'fast forward' from the modest gains made since 1995 that are now under threat," Phumzile Mlambo-Ngcuka, executive director of UN Women, told leaders joining the virtual conference. "We need big, bold steps, not incremental ones."
German Chancellor Angela Merkel told the virtual meeting that states with women leaders were "the very states that are successful, economically and socially". She said the states that resolved their conflicts peacefully "are also often those where women are among those shouldering responsibility".
President Emmanuel Macron of France lamented that "everywhere, women's rights are under attack, as are human rights, from which they are inseparable".
Ethiopia's first female President Sahle-Work Zewde said that while women were in the front lines in fighting the Covid-19 pandemic, "they are also being pushed to the edges because of its multifaceted impacts".
She said that in much of the developing world, women depended on the informal economy to earn their living, and now "they find themselves in extremely difficult condition to sustain the lives and well-being of their families".
Reports in the US media show that the pandemic has also made women more vulnerable to domestic violence. Yet, only 48 countries have included violence against women in their Covid-19 response plans, a UN report says.
https://www.dawn.com/news/1582938/pakistan-taking-initiatives-to-curb-violence-against-women-fm-tells-un
--------
Iraq urged to investigate attacks on women human rights defenders
2 October 2020
In a joint appeal on Friday, the seven experts also called on Baghdad to ensure that it was safe for everyone who stood up for people's rights in the country.
The development follows the deadly shooting in August of Dr. Riham Yaqoub and the attempted assassination of Lodya Remon Albarti, in Basra.
Both rights defenders had led women's marches within the protest movement against corruption and unemployment that began in 2018 in the southern city.
Survival, and death
On 17 August this year, unidentified gunmen opened fire on a car carrying Ms. Albarti, who had previously been subjected to a long smear campaign that forced her to flee the city for her safety. She survived the shooting, but sustained leg injuries.
Since the attempted killing, the human rights defender has been the target of threats and slander online.
Two days later, Ms. Yaqoub, a doctor and defender who also advocated for the rights of women to exercise in public and use sports facilities, was killed by two unidentified gunmen riding a scooter as she drove through the centre of Basra.
"Clearly the Iraqi government has little regard for the lives of human rights defenders", the UN experts said. "Both of these attacks were entirely preventable. Both women had received threats in the past and the State had done nothing to keep them safe." 'Multi-layered threats'
Although all human rights defenders in Iraq face serious risks, the experts said women face multi-layered threats.
"Women are a leading force in the human rights community but – as in many countries – they face additional threats simply because they are women," the experts said in a statement.
They added that amid war and insecurity, "women human rights defenders faced "prejudice, exclusion by society and by political leaders, as well as physical attacks, sexual violence, arbitrary detention, enforced disappearance, torture and even death".
End impunity
They said that it was an outrage "that women in Iraq have to risk or lose their life to defend human rights", while also calling for an end to impunity "that allows these crimes to continue".
"We also call on the Government to ensure a safe and enabling environment for human rights defenders in Iraq", their statement concluded.
The Special Rapporteurs and Working Groups are part of what is known as the Special Procedures of the Human Rights Council.
The independent experts work on a voluntary basis; they are not UN staff and do not receive a salary for their work.
https://news.un.org/en/story/2020/10/1074522
--------
URL: https://www.newageislam.com/islam-women-feminism/norwegian-peace-council-added-fawzia/d/123029
New Age Islam, Islam Online, Islamic Website, African Muslim News, Arab World News, South Asia News, Indian Muslim News, World Muslim News, Women in Islam, Islamic Feminism, Arab Women, Women In Arab, Islamophobia in America, Muslim Women in West, Islam Women and Feminism