New Age Islam News Bureau
31 Jul 2018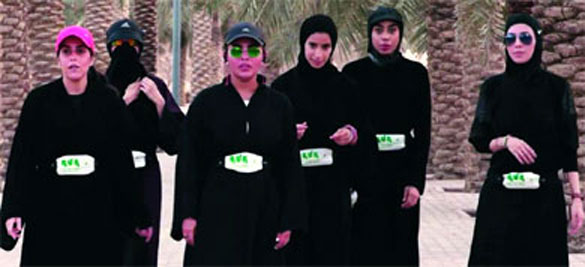 Noon, the Middle East's home-grown online marketplace, caught up with Saudi Arabia's first female running collective, the Riyadh Urban Runners (RUR), as part of the noon | women series, which continues to shed light on extraordinary women from this region
----
• Making History: First Arab Woman Appointed Dean at Hebrew University
• Pakistan: At least four Gujarat, Mandi Bahauddin Women to Get Reserved Seats
• Dir Woman Likely To Be Nominated By PTI for Reserved Seat
• 7-Year-Old Minor Bride Girl Killed By Her Husband in Badghis Province of Afghanistan
• Saudi Shoura Members Propose Compensation for Divorcees
• Man Attacked for Talking to Muslim Woman near Mangaluru, India
• Some Danish Muslims to Defy Face Veil Ban
• Daesh Kidnaps 36 Women, Children after Attacks in Syria's Suwayda: Report
• Boko Haram: Teenage Girl Rescued From Terrorists' Camp
• 23 Percent of Mobile App Developers in Iran Are Women
• Egyptian Women Hope to Form Country's First Parkour Team
• Supreme Court Of India Slams FGM Practice in Dawoodi Bohra Muslim Community
• Iran, Indonesia Sign MOU on Women's Empowerment
Compiled by New Age Islam News Bureau
URL: https://www.newageislam.com/islam-women-feminism/noon-supports-saudi-arabias-first/d/115993
--------
Noon Supports Saudi Arabia's First Female Collective Running
July 31, 2018
noon, the Middle East's home-grown online marketplace, caught up with Saudi Arabia's first female running collective, the Riyadh Urban Runners (RUR), as part of the noon | women series, which continues to shed light on extraordinary women from this region. RUR are a group of women who have taken hanging out with their besties to a whole new level. At their weekly meet-ups in the Kingdom's capital city, RUR spend time getting their minds and bodies healthy through group running sessions.
Running at least once or twice a week all year round, RUR takes to the streets later in the evening in the hotter months, to avoid the scorching daytime temperatures. During cooler climes, the ladies raise their heart rates during the daytime, taking in the sights of their capital city as they pound the pavement.
Gearing up for a big run is easier for these ladies than hitting a local gym, since they just add trainers, RUR belts, Nike hijabs and wireless headphones to their traditional abayas and go.
The reaction to the collective has been resoundingly positive from both men and women. Ladies have been encouraged to join the weekly meet-ups, while gents often encourage them with words like, "keep going!" to the pack of runners. The team are looking to expand into other cities in KSA over the coming year and will also welcome a male-RUR group to Riyadh soon.
The noon | women series has been developed to shed light on the incredible female talent driving change across our region, by telling the stories of these unsung heroes.
As a customer-focused and Arabic-first e-commerce platform, noon brings a growing product assortment thanks to connections with the local retail community. noon presents a compelling alternative retail choice through its website or dedicated iOS and Android apps. — SG
http://saudigazette.com.sa/article/540117/BUSINESS/noon-supports-Saudi-Arabias-first-female-collective-running
--------
Making History: First Arab Woman Appointed Dean at Hebrew University
By Greer Fay Cashman
JULY 28, 2018
IN THE midst of the controversy over the Nation-State Law and the demotion of Arabic from official language status, Prof. Mona Khoury-Kassabri has been appointed dean of the Hebrew University of Jerusalem's School of Social Work. She is the first Arab woman to be appointed dean at the Hebrew University, and may well be the only Arab woman to serve as dean at any university in Israel.
A Christian Arab, Khoury-Kassabri has made history in more ways than one. Not only is she the first female Arab dean at the university, but she was born to illiterate parents and raised in one of the poorest crimeand drug-infested neighborhoods in Haifa. Not every youngster there was a juvenile delinquent, and she wasn't, either. More than that, she was born with ambition, a factor that took her beyond high school to an academic education and career, which together with other Arab women who have succeeded in academia, albeit not quite to the same extent, makes her a role model for other young Arab women who are striving to realize their potential and are aiming for new horizons.
ONE OF the most difficult things for newly observant Jewish women and those who have undergone Orthodox conversions to Judaism is that they can no longer sing in mixed gatherings. For those who were professional dancers or actresses, it's even more difficult, because all that they strived for in their previous existence is going to waste. Well, that used to be the case, but it isn't exactly so any more. All over the country, talented, religiously observant women who are exponents of the performing arts are getting together to form theater groups and to stage productions. Many of these women, including some born into religiously observant families, are extremely gifted, and their productions are of such a high standard that they are big box-office hits, even though it's only other women who come to see them.
Now, in tandem with some of these productions, are revelations by some of the performers that they are descendants of converso families who left Spain in 1492. In Yiddish, there is an expression, "dos pintele Yid," which translates as that miniscule dot of Jew and applies to people most distant from their spiritual heritage who unexpectedly do or say something that points to that iota of Jewish identity. This is a common thread not only among descendants of conversos, but among the hidden Jews of Eastern Europe, whose families, even if Jewish on both sides, hid this fact from their children, first during the Nazi occupation, and later under Communist rule.
Some of these people are aware of their Jewish genes, but other than curiosity, have no interest in being part of the Jewish people. Others somehow have a special need to belong. Among them is Ninoska Ravid, who was born in Honduras, was taken by her family to New York when she was six, and discovered her spirituality when she was 12 while studying Greek and Roman history at school and wondering how anyone could really believe in idols. Then she began to wonder what she believed in. It was a process that took time. She began reading books about different religions and always came back to Judaism. She was vaguely aware that she was Jewish but it was a subject not talked about in her family.
In certain parts of Latin America, people are still scared to be openly Jewish, she says. Even now, her mother is still frightened to admit to being Jewish. The last person in the family who was traditionally Jewish was Ravid's great grandmother.
Nonetheless, despite the lack of religion in the household, there were certain customs that were practiced but never explained. Meat and milk were never eaten together, and before meat was cooked it was soaked and salted in a special dish, even though the meat itself was not kosher.
Ravid took her journey to Judaism without the involvement of her family.
She knew she had Jewish ancestry.
But only after she was already observant, did she discover that she not only had Jewish ancestors on both sides, but that she was actually Jewish halachically – according to Jewish religious law – and there was no need for her to convert. She was already observant when she met her Israeli husband in New York. She was under the naïve impression that nearly all Israeli Jews were observant, and was shocked to learn that her husband knew almost nothing about Judaism. Today, he too is observant and they have four children who were raised in an observant environment.
Ravid is executive producer and CEO of the Women in Theater, which goes by the appropriate acronym of WIT, is headquartered in Modi'in and was founded in 2008 by Pnina Fredman-Schechter, who has been directing professionally for more than 20 years, and Tamar Krantman-Weiss.
Ravid was one of the speakers this week at the OU Center in Jerusalem at an event hosted by the Women's Performance Community of Jerusalem in advance of their upcoming November production of Hidden, a musicale about the secret Jews of Spain based on the book The Family Aguilar by Marcus Lehman. In addition to presentations by Ravid and Hannah Finkel, a Mexican- born actress and descendant of secret Jews – who said she and her twin brother used to laugh at her grandmother whose Spanish was imperfect because it was actually Ladino – there was also a preview of the production with the Kolot Etzion Choir directed by Gayle Berman. Some of the women had extraordinarily fine voices, worthy of international concert stages. But women performing for women in many parts of country are attracting full houses, as was the case on this occasion. The enthusiastic applause said it all.
CONVENTIONAL WISDOM has it that the world belongs to the young.
That used to be the case when life spans were much shorter than they are now. But with increasing longevity and greater encouragement for senior citizens to remain active instead of vegetating, the world is being reclaimed by people of the third age. Veteran broadcaster and Israel Prize laureate Ya'akov Ahimeir celebrated his 80th birthday on July 21 and continues to host Seeing the World on Kan 11. Sometimes he appears as a panelist on the channel's news and current affairs programs, can be heard on radio, and writes opinion pieces in the Hebrew press. But Ahimeir is far from being the oldest working journalist in Israel.
That honor belongs to Walter Bingham, 94, whose radio program Walter's World can be heard on Arutz 7. Bingham, who walks without a cane, shows up at press conferences all over the place, and continues to walk at a relatively brisk pace.
He always manages to be where the action is. Former foreign minister and defense ministerMoshe Arens, 92, writes regular op-ed pieces in Haaretz, and among performing artists, actress Lea Koenig, 88, continues to appear in leading roles on stage and screen. Likewise, Rivka Michaeli, who recently turned 80, is currently appearing in a new television series aptly named It's Never Too Late.
These are just a few examples of a growing trend in which retirement is becoming passé. Additionally, the long-held beliefs that you can't teach an old dog new tricks or that a leopard can't change its spots, also bear re-thinking. Ahimeir, who was famous for his objectivity, but who was known to have right-of-center views, was nonetheless respected by his left-leaning colleagues, who he said in an interview with another veteran broadcaster, Shalom Kital, who still has a little way to go before he turns 80, that even though his colleagues were generally known as leftists, they were above all professionals.
When Kital commented on the fact that Ahimeir is no longer objective and makes his views public, Ahimeir conceded that times have changed, and said if all his colleagues could give expression to their political opinions, there was no reason for him to be any different.
AMONG THE guests at the opening last week of the "Freud of the Rings" exhibition at the Israel Museum, was Carol Siegel, the director of the Sigmund Freud Museum at 20 Maresfield Gardens in London's Hampstead neighborhood. This was the house in which Freud lived when he escaped from Austria to England in the last year of his life.
His daughter, Anna, a noted psychoanalyst in her own right, continued to live there, and the house remained in the family until Anna Freud's death in 1982, when it was turned into a museum by Freud devotees who continue to run it.
According to Siegel, it contains 2000 items that were in Freud's home in Vienna. Curiously enough, practically nothing that belonged to Freud remains in the Freud Museum at 19 Berggasse in Vienna, which is where he lived before moving to England.
But visitors say one can feel his spirit in the house. Siegel said she was very pleased with the way in which the Freud exhibition had been curated in Jerusalem, and she was glad to have been able to cooperate by making exhibits available.
Several of the guests took advantage of the opportunity to also tour the stunning "Decoding Israeli Dress" exhibition, which is not only a tribute to Israeli creativity, but also provides proof that there are fashions which remain timeless, especially those of Finy Leitersdorf and Lola Beer Ebner, whose designs are as modern as tomorrow, even though the two are long dead.
https://www.jpost.com/Opinion/Making-history-first-Arab-woman-appointed-dean-at-Hebrew-University-563645
--------
Pakistan: At least four Gujarat, Mandi Bahauddin Women to Get Reserved Seats
Waseem Ashraf Butt
July 31, 2018
GUJRAT: At least four women politicians from Gujarat and Mandi Bahauddin are likely to be selected as national and provincial lawmakers on reserved seats.
Three-time former MPA, PML-Q's Khadija Umer Farooqi, is likely to become MPA for the fourth time, while her sister Rabia Farooqi may get selected for the provincial assembly from the PML-N's platform.
Both sisters are first cousins of senior PML-N leader Khawaja Ahmed Hassaan. Their mother, late Shahana Naseem Farooqi, had served as an MPA in 1988.
Khadija, who lives with her family in Lahore, has been an MPA from the PML-Q in 2002, 2008 as well as in 2014 – after a seat got vacated -- due to her mother's strong affiliation with the Chaudhrys of PML-Q. Her younger sister Rabia, who is also in Lahore, was once elected as union council Nazim from Gujrat city as a PML-Q candidate, but for the last many years was an active part of Lahore chapter of the PML-N women's wing besides being the party's member in Lahore Metropolitan Corporation.
Tashfeen Safdar Marala from Kharian, who is the granddaughter of former president Fazal Elahi Chaudhry, is likely to become an MNA from the PTI's quota of women on reserved seats.
Former MPA Safia Javed Chaudhry takes the second spot on the list of PML-Q's reserved seats for women in the National Assembly (NA). Her name follows the party's women's wing President Farah Khan. However, Ms Safia's chances of being given a seat in the assembly appear bleak as the party has only four directly elected MNAs and the number is likely to decrease to three after Chaudhry Pervaiz Elahi vacates one of his two NA seats – NA-65 Chakwal and NA-69 Gujrat.
Former MNA Samina Fakhar Pagganwala is on the list of PPP's candidates for reserved women's seats in the NA from Punjab, but her number is on 10th position. PPP's Gujrat women's wing President Wazirunnissa Chaudhry, who contested against Mr Elahi for NA-69, is on the fourth spot on the list of party's reserved seats candidates in the Punjab Assembly and may not be able to get an MPA's seat.
Former MPA Basima Riaz Chaudhry from Mandi Bahauddin, who is the niece of Chaudhry Shujaat Hussain, is on the top of PML-Q's list of women's reserved seats in the Punjab Assembly and has bright chances of getting a seat in the House.
Former MPA Faiza Mushtaq Dewan, the daughter of former PML-N MPA Dewan Mushtaq, is also likely to be selected as an MPA from PML-N's quota of reserved seats for women.
Ms Faiza had been selected as an MPA in 2015 when she was accommodated to pacify her father, who was annoyed with the party earlier. He was roped back into the party before by-polls in NA-108 (now NA-85) after he had defected to the PTI.
The Dewan family strived hard in the elections to get a provincial seat of Mandi Bahauddin city for PML-N candidate Hameeda Waheeduddin.
https://www.dawn.com/news/1423926/at-least-four-gujrat-mandi-bahauddin-women-to-get-reserved-seats
--------
Dir Woman Likely To Be Nominated By PTI for Reserved Seat
July 31, 2018
TIMERGARA: Lower Dir is likely to get another seat in the Khyber Pakhtunkhwa Assembly as Dr Sumera Shams has been placed on number five in the priority list of 15 women candidates submitted to the Election Commission of Pakistan by the PTI for the women reserved seats in the province.
The total number of women reserved seats in the provincial assembly is 21 and as the PTI has won majority of the general seats it is expected that all women in the list, if not changed, would become members of the parliament.
Dr Sumera, who graduated from the Jinnah Medical College, is the daughter of late Shams ul Qamar who was a staunch activist of Awami National Party but quitted it.
He passed away due to cardiac arrest on Feb 18, 2018, on the polling day when he was running for NA and PA seats from Lower Dir as an independent candidate.
Saira Shams, the eldest daughter of late Shams ul Qamar, joined the PTI after the death of her father and became a district councillor on a reserved seat in Lower Dir in 2015.
Dr Sumeera has completed her MBBS degree and is doing a house job.
According to her sister Saira, she was an active member of Insaf Students Federation during her studies and later became youth speaker of the National Youth Assembly.
Saira's third sister, Naurena Shams is a sports girl and representing Pakistan in squash.
Talking to Dawn on Monday, Ms Saira said all the credit went to her mother who not only educated her children, four daughters and two sons, but also took control of construction business of her husband.
"We believe in honesty and hard work," Saira who is physically challenged, said, adding her family had no links with the PTI leadership.
Ms Saira has worked for making women aware of their right to vote.
It may be recalled here that the PTI has won four provincial and two national assembly seats in Lower Dir while the addition of Dr Sumera as an MPA on reserved seats would take the toll to seven.
https://www.dawn.com/news/1423904/dir-woman-likely-to-be-nominated-by-pti-for-reserved-seat
--------
7-Year-Old Minor Bride Girl Killed By Her Husband in Badghis Province of Afghanistan
Jul 30 2018
A minor girl who was married to a man has been killed due to unknown reasons in northwestern Badghis province of Afghanistan, the local officials said.
Provincial police spokesman Naqibullah Amini confirmed the incident and said the victim was a 7-year-old minor girl.
Amini further added that the incident has taken place in the vicinity of Qads district in Joz Aqa area.
According to Amini, the minor girl was killed by her husband due to unknown reasons and an investigation is underway in this regard.
He also added that the father of the minor girl has also been arrested by the security forces.
In the meantime, a security official said the girl was 9-year-old and was forced into child marriage by her father when she was 7-year-old only.
The official further added that the father of the victim had forced her daughter into marriage against one million Afghanis.
Badghis has been among the relatively calm provinces in north-western parts of Afghanistan but the security situation of the province has deteriorated in the province during the recent years and reports of domestic violence often emerge together with the reports of security related incidents from the province.
This comes as a 14-year-old girl was hanged to death by unknown men in central Daikundi province of Afghanistan.
The incident in Daikundi has taken place in the vicinity of Sango Bandar district with the main reason behind the brutal killing of the girl yet to be ascertained.
Provincial governor's spokesman Ali Akbar Nateqi confirmed the incident and said the girl was first beaten by the men and was then hanged from a tree.
https://www.khaama.com/7-year-old-minor-bride-girl-killed-by-her-husband-in-badghis-province-05666/
--------
Saudi Shoura Members Propose Compensation for Divorcees
July 31, 2018
RIYADH — A number of Shoura Council members have proposed monetary compensation to be paid to divorced women.
Shoura members Iqbal Darandari, Sultanah Al-Badawi and Ahlam Al-Hikmi submitted a proposal to the Ministry of Justice in this regard. The council will discuss the proposal after the Eid vacation.
The proposal was drafted after a rising number of women were found to be suffering from financial difficulties after divorce. Saudi women normally receive financial support from their husbands during their marriage but once they are divorced and their husbands get married to other women, they deny their ex-wives any kind of aid.
Moreover, the wife is not the one who owns the property deeds of the family. Once she is divorced, the husband keeps the property and the wife is left with no place to stay. A housewife dedicates her entire time to her house and children and that is considered an investment.
Many developed countries entitle the woman a share of her husband's income throughout the years of marriage and gives her a right of inheritance even after divorce.
Shoura member Darandari supported the proposal with a recommendation to the ministry to cease accepting complaints against women who run away or disobey their families because such complaints are used to portray a demonizing and dishonorable image of them in divorce suits.
She added that many families and husbands use that legal leverage to threaten women and curb them from seeking divorce in court. "The Kingdom must work on improving its international image and its human rights status. Effective solutions must be found," said Darandari.
http://saudigazette.com.sa/article/540133/SAUDI-ARABIA/Shoura-members-propose-compensation-for-divorcees
--------
Man Attacked for Talking to Muslim Woman near Mangaluru, India
July 30, 2018
New Delhi, Jul 30: In another case of moral policing, a group of eight people attacked a man for talking to a woman from another community, police said on Monday. The incident took place near Mangaluru in Karnataka.
Police said the man identified as Suresh was on his way to Mangaluru from Bantwal when he met the burqa-clad woman and exchanged pleasantries. When he was proceeding in his car, the group attacked him and hurled abuses at him.
Police further said that the man was injured in the attack and provided treatment at a government hospital. Suresh also lodged a complaint and a case has been registered at the Bantwal rural police station.
Several cases of moral policing have been reported in the communally sensitive Dakshina Kannada district in the last few years.
http://www.india.com/news/india/karnataka-man-attacked-for-talking-to-muslim-woman-near-mangaluru-3196011/
--------
Some Danish Muslims to Defy Face Veil Ban
July 31, 2018
COPENHAGEN: On August 1, when face veils are banned in Denmark, Sabina will not be leaving her niqab at home. Instead, she will be defying the law and taking to the street in protest.
In May, the Danish parliament banned the wearing of face veils in public, joining France and some other European countries to uphold what some politicians say are secular and democratic values.
But Sabina, 21, who is studying to be a teacher, has joined forces with other Muslim women who wear the veil to form Kvinder I Dialog (Women In Dialogue) to protest and raise awareness about why women should be allowed to express their identity in that way.
"I won't take my niqab off. If I must take it off I want to do it because it is a reflection of my own choice," she said.
Like the other women interviewed for this article, Sabina did not wish to have her surname published for fear of harassment.
The niqab wearers who plan to protest on August 1 will be joined by non-niqab wearing Muslim women and also non-Muslim Danes, most of whom plan to wear face coverings at the rally.
"Everybody wants to define what Danish values are," said Meryem, 20, who was born in Denmark to Turkish parents and has been wearing the niqab since before meeting her husband, who supports her right to wear it but feels life could be easier without.
"I believe that you have to integrate yourself in society, that you should get an education and so forth. But I don't think wearing a niqab means you can't engage yourself in Danish values," Meryem, who has a place to study molecular medicine at Aarhus University, said.
Like Sabina, Meryem plans to defy the law, keep her niqab on and protest against the ban.
Under the law, police will be able to instruct women to remove their veils or order them to leave public areas. Justice Minister Soren Pape Poulsen said officers would fine them and tell them to go home.
Fines will range from US$160 (1,000 Danish crowns) for a first offence to 10,000 crowns for a fourth violation.
"I feel this law legitimises acts of hatred but, on the other hand, I feel people have become more aware of what is going on. I get more smiles on the street and people are asking me more questions," said Ayah, 37.
Mathias Vidas Olsen, who makes reproductions of Viking age jewellery, is supporting the campaign by making special bracelets and giving the proceeds to Kvinder I Dialog.
"I'm not for or against the niqab," the 29-year-old Copenhagen man said.
"I'm for the right of the people to wear whatever they want whether they be a Muslim or a punk.
"I see this as the government reaching in to places they don't belong and as a cheap hit on an already stigmatised group to score cheap political points."
http://www.freemalaysiatoday.com/category/world/2018/07/31/some-danish-muslims-to-defy-face-veil-ban/
--------
Daesh Kidnaps 36 Women, Children after Attacks in Syria's Suwayda: Report
Jul 30, 2018
The Daesh Takfiri terrorist group has been holding dozens of Druze women and children hostage since it abducted them from their village in Syria's southern province of Suwayda last week, a monitor says.
"Twenty women and 16 children were kidnapped by" Daesh terrorists "on July 25," said Rami Abdel-Rahman, the head of the so-called Syrian Observatory for Human Rights, in a report published on Monday, adding that four of the abductees had already managed to escape from the grips of terrorists to Druze areas.
Two of the kidnapped civilians also lost their lives and "30 others are still in captivity," further said the head of the UK-based group.
More than 250 people were killed on Wednesday when Daesh terrorists, who lost all of their urban bastions in the Arab country late last year, launched a brutal attack against civilians in rural areas inhabited by the Druze minority.
According to the monitor, at least 36 women and children were kidnapped by terrorists during the attacks. Abdel-Rahman further said that another 17 men from the attacked areas were still unaccounted for, but added that it was unclear whether they had also been abducted.
Some reports say that the abductees were all from the village of al-Shabki, in the eastern hinterlands of the province.
The terror group has not yet claimed the kidnappings and no details on the abductees could be found on its propaganda channels.
Suwayda, which is largely under the control of the Syrian government troops, is home to the Druze minority. The province has been relatively insulated from Syria's seven-year bloody war launched by foreign-backed militants and terror group against Damascus.
Last week's attacks were the bloodiest ever seen in the province, as well as some of the deadliest launched by Daesh in the war-torn country.
Syria has been gripped by foreign-backed militancy since March 2011. The Syrian government says the Israeli regime and its Western and regional allies are aiding Takfiri terrorist groups wreaking havoc in the country.
https://www.presstv.com/Detail/2018/07/30/569700/Syria-Daesh-Druze-Suwayda-abduction-Observatory
--------
Boko Haram: Teenage Girl Rescued From Terrorists' Camp
July 30, 2018
By Fikayo Olowolagba
The Nigerian Army on Sunday rescued a 15-year-old girl, Zainab Mohammed, who escaped from the captivity of the Boko Haram insurgents.
The spokesman for the Army, Brig-Gen. Texas Chukwu disclosed this in a statement made available to journalists in Borno.
The statement read, "The teenager was intercepted by troops of 28 Task Force Brigade deployed in operation Lafiya Dole on July 29, 2018, at Gubla after she escaped from one of the terrorists' camps.
"The hostage will be handed over to the appropriate authority on completion of the investigation."
Chukwu also revealed that troops repelled an attack by Boko Haram terrorists, and recovered one AK 47 rifle, and one magazine containing four rounds of 7.62 mm special ammunition.
http://dailypost.ng/2018/07/30/boko-haram-teenage-girl-rescued-terrorists-camp/
--------
23 percent of mobile app developers in Iran are women
July 31, 2018
Women's fundamental role in society has been proven all through history, the minister told a congress on Women's Empowerment through ICT, Mehr reported.
He said women have always been playing a key in resolving problems faced by human being.
Worldwide, women make up a great number of entrepreneurs and politicians, the minister said, emphasizing that women's role cannot be ignored because women are the caring leaders of the society.
Azari Jahromi said currently a number of 10 women are serving as senior managers in his ministry, adding in today's world "no single engine" can lead to progress.
Azari Jahromi put emphasis on gender equality, noting that gender equality is for all people and dividing the society into men and women is "nonsense".
"It is our duty to fulfill gender equality and the ICT technology has provided the capacity for women to interact with others all around the world through social networks," Azari Jahromi, the youngest Iranian cabinet minister, specified.
Women' general contribution to information technology will help counter many social harms, the minister noted, adding presence of women in society is an opportunity rather than a threat.
Women can play key role to solve cultural and social problems, he concluded.
http://www.tehrantimes.com/news/425963/23-percent-of-mobile-app-developers-in-Iran-are-women
--------
Egyptian Women Hope to Form Country's First Parkour Team
July 30, 2018
Once a week, a group of Egyptian women gather at a forgotten park outside of Cairo. There, they begin to run, jump and climb over walls and objects.
The women are enjoying the sport of parkour. But the activity is very unusual for women in the socially conservative country.
The sport of parkour started in France in the 1980s. Its name comes from the French word 'parcours' (course or route). It involves moving through a city setting as fast as possible by running, climbing and jumping over, around or under any barrier in a path.
The women have met every week for the past six months. Together, they hope to form Egypt's first professional parkour team.
Ten women took part in a recent training that centered on building upper body strength. They also learned different methods of dealing with surroundings.
A crowd often forms to watch the women train. Egyptians are not used to seeing women playing sports in such an open, public area. Sometimes people take pictures or videos.
Zayneb Helal is one of the parkour players. She told the Reuters news agency, "It is natural that people did not accept it because they were not used to it. They did not accept the idea that girls could play sports, let alone on the street."
It is not common for women to play such sports on the streets in Egypt. A 2017 Thomson Reuters Foundation study on how women are treated in the world's biggest cities rated Cairo as the world's most dangerous "megacity" for women.
Mohamed Omran guides the women in the training. They train hard on climbing barriers, landing correctly after jumps, and noticing possibilities in the buildings around them.
"Women are now training and more women are starting to come," Omran said. "As the sport spreads, the acceptance of women training increases and it is not unusual for women to have a team and train," he added.
Parkour is not a common sport in Egypt. It has no governing group. But Parkour Egypt, a group made up of women and men, has grown quickly after starting off with just a few players.
Helal said, "It needs more time to evolve and the sport needs to spread more so that people would learn about it."
Last year, Britain became the first country to officially recognize parkour as a sport.
https://learningenglish.voanews.com/a/egyptian-women-hope-to-form-country-s-first-parkour-team/4495404.html
--------
Supreme Court Of India Slams FGM Practice in Dawoodi Bohra Muslim Community
July 30, 2018
The Supreme Court today questioned the prevalent practice of female genital mutilation (FGM) of minor girls in the Dawoodi Bohra Muslim community, saying the women cannot be "subjugated" to the level where they have to "please" their husbands only.
A bench headed by Chief Justice Dipak Misra, which was hearing a plea seeking a ban on the practice, also referred to fundamental rights including Article 15 (prohibition of discrimination on grounds like caste, creed and sex) under the Constitution and said a person has the right to "have control over her body".
The bench wondered and said, "when you are thinking of women (then) how can you go into the reverse gear".
Attorney General K K Venugopal, appearing for the Centre, said that the government supported the plea against the practice of FGM.
"Irrespective of how it (FGM) is performed, the issue is that it violates fundamental rights and more particularly Article 15," the bench, also comprising justices A M Khanwilkar and D Y Chandrachud, said.
"This is essential to your control over your genitalia. This is essential to ensure your control over your body," the bench said, adding that women have been subjected to a practice which subjugated them to such a level where they have to "please their husbands" only.
The bench then referred to Article 25 and said that it provided "public order, morality and health" as grounds for restraining a person or religious body from practising a religious practice.
Senior advocate Indira Jaising, appearing for Masooma Ranalvi, a lawyer who herself has been a victim of the FGM, said the practice of "removal of the clitoral hood" for non-medical purposes of a minor constituted an offence under the IPC and the Protection of Children from Sexual Offences Act (POCSO Act).
"Something which has been declared illegal and criminal by the law cannot the essential practice of religion. This constituted an offence under the IPC and the POCSO Act," she said.
She said that even the guardians of minor girls cannot give their consent to the FGM for "non-medical purposes" and moreover, Islam says that the laws of the country have to be respected.
Dealing with the locus of Ranalvi to intervene, Jaising said she has been the victim of FGM and has been "ex-communicated" from Dawoodi Bohra Muslim community for raising her voice against the "dehumanising practice".
She said her plea was restricted to FGM and would not go into male genital circumcision or 'khatna' when Justice Chandracud said that there was some scientific belief on "male genital circumcision".
"Under-inclusion may be permissible, but over-inclusion cannot be permitted," the bench said when it was pointed out that the issue of male genital circumcision was not part of the petition.
Ranalvi, in her plea, said that she was subjected to the FGM and "all the women in her family, at least 28 of them, have been subject to FGM/Khafz. The intervenor has founded an organization of women, most of whom are survivors of FGM/Khafz called 'WeSpeakOut' which is actively involved in creating awareness on this secret practice."
"Intervenor and her family have been socially boycotted by the Head of the Dawoodi Bohra Community. That her father was excommunicated in the late seventies for having joined the Reform movement," the plea said.
She also referred to the definition of FGM, given by the World Health Organization and said that should be adopted here and the practice be made an offence under the IPC and the POCSO act.
"Frame appropriate law/guidelines for prevention of FGM, procedure of complaining about FGM/ cutting and protection of the survivors of FGM/cutting...," it said, adding "Any person who aids, abets, counsels or procures any girl/woman to carry out such procedure should also be penalised."
t the outset, senior advocate Rakesh Khanna, appearing for PIL petitioner Sunita Tiwari, said the practice be declared "unconstitutional".
The bench would resume hearing tomorrow.
The court had on May 8 agreed to examine the issues raised by Delhi-based lawyer Sunita Tiwari by saying that the practice of female genital mutilation was "extremely important and sensitive".
It had issued notices and sought replies from four Union ministries, including the Woman and Child Development, besides Maharashtra, Gujarat, Rajasthan and Delhi where Dawoodi Bohras, who are Shia Muslims, predominantly reside.
Tiwari, in her plea, has sought a direction to the Centre and the states to "impose a complete ban on the inhuman practice" of 'khatna' or "female genital mutilation" (FGM) throughout the country.
The plea has sought a direction to make FGM an offence on which the law enforcement agencies can take cognisance on their own. It has also sought to make the offence "non-compoundable and non-bailable" with provision for harsh punishment.
https://www.business-standard.com/article/pti-stories/sc-slams-fgm-practice-in-dawoodi-bohra-muslim-community-118073001154_1.html
--------
Iran, Indonesia Sign MOU on Women's Empowerment
July 31, 2018
The MOU was signed by Iranian Vice President for Women and Family Affairs, Masoumeh Ebtekar and the Indonesian Minister of Women's Empowerment and Children Protection Yohana Susana Yembise.
It is aimed at empowering women, supporting children and promoting the resilience of family based on equality, respect and mutual benefit, IRNA reported.
The MOU includes 9 clauses with the purpose of developing women's role in policymaking and supporting women and children against violence.
It also follows the aim of increasing women's role in business and technology, especially information technology, promoting women's economic empowerment in the family and exchange of experiences about women and children.
The MOU is valid for two years and can be extended for the same period.
Women make up half of the 80 million population of Iran.
http://www.tehrantimes.com/news/425962/Iran-Indonesia-sign-MOU-on-women-s-empowerment
--------
URL: https://www.newageislam.com/islam-women-feminism/noon-supports-saudi-arabias-first/d/115993
New Age Islam, Islam Online, Islamic Website, African Muslim News, Arab World News, South Asia News, Indian Muslim News, World Muslim News, Women in Islam, Islamic Feminism, Arab Women, Women In Arab, Islamophobia in America, Muslim Women in West, Islam Women and Feminism