New Age Islam News Bureau
4 Sept 2018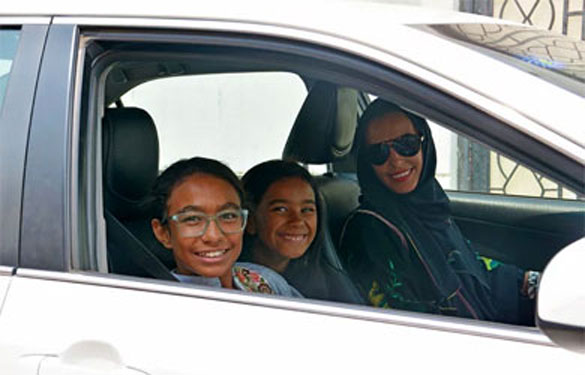 Professor Sharifah Al-Rajhi picks up her daughters Tolyn and Madleen from school on Sunday. (AN photo by Huda Bashatah)
------
• Many Saudi Women Begin Driving Their Children to Schools
• Saudi Passport Office Begins Training First Female Recruits
• Sindh Women Development Ministry to Help In Poverty Eradication
• Progress Slow but Visible After Saudi Arabia Lifts Ban on Female Drivers
Compiled by New Age Islam News Bureau
URL: https://www.newageislam.com/islam-women-feminism/no-woman-made-cut-pm/d/116282
--------
No Woman Made the Cut for PM Khan's Economic Advisory Council?
September 4, 2018
Prime Minister Imran Khan reconstituted the Economic Advisory Council (EAC) on September 1 to resolve the economic crisis of the country.
Chaired by the PM himself, the 18-member economic council aims to function as a regulatory body which will advise the government on both "short-term macroeconomic stabilisation interventions" and "long-term structural reforms for stable and sustained economic development".
While the council has been lauded for being inclusive of religious minorities, it has faced criticism for its complete lack of female representation.
Activists and journalists have already called out the Pakistan Tehreek-e-Insaf (PTI) government for a lack of female representation in the Punjab and Khyber Pakhtunkhwa (KP) cabinets after the names of respective ministers were announced on August 26.
Punjab has a 23-member cabinet out of which 22 are men. The KP cabinet consists of 15 members but no woman was appointed to any ministerial position.
Sarah Khan, a political scientist and South Asian gender researcher, tweeted that the absence of even a "single woman on this council" is shameful and incognizant of "important perspectives".
"While it's heartening to see the new Pakistani govt. create an economic advisory council comprising brilliant minds, there is not a single woman on this council and that's a shame and means losing important perspectives," she tweeted.
In response to a tweet by civil society activist Jibran Nasir, digital rights activist Nighat Dad Khan criticized Nasir's comment that the newly reconstituted EAC had "a fine team purely on merit".
"A fine team should be inclusive and diverse. I don't see how this advisory council is considered fine when not a single woman is included and every single time women need to remind it to those in power positions," she stated in her tweet.
Erum Haider, a PhD candidate at the department of government, Georgetown University, questioned, "They've seriously overlooked female economists. Will any of these esteemed members stand up for their peers, knowing full well the benefits of women in leadership/decision making/agenda-setting roles?"
Bina Shah, a Pakistani writer and columnist, wrote an open letter to the PM, questioning the absence of women in the EAC cabinet.
In her letter, she called out the newly-sworn government for not following up on its promises.
"I would have expected an increase in gender equality, not a decrease, with all the talk of PTI being more progressive than its predecessors," she added.
Responding to criticism on social media that candidates are selected on merit, not tokenism, she said, "Including women is not about tokenism, unless you consider 52% of Pakistan's population to be a token. No woman would have been selected without merit".
"But women MUST be included – and there are government quotas for women's representation that should be followed."
Jehan Ara, social activist and president of the Pakistan Software Houses Association (P@SHA), calls out to PM Imran to form a gender-neutral EAC in order "to ensure balance for a strong Pakistan".
Afia Salam, a freelance journalist, commented that she envisions a "#NayaPakistan" where women would be "acknowledged and included" in federal and provincial cabinets.
https://www.pakistantoday.com.pk/2018/09/03/no-woman-made-the-cut-for-pm-khans-economic-advisory-council/
--------
Many Saudi Women Begin Driving Their Children to Schools
3 September 2018
Ten weeks after a ban on women driving was lifted, many Saudi women made history by driving their children to school on Sunday, the first day of the new academic year.
"For the first time women have been able to drive their children to school at the beginning of this academic year," said one mother expressing her happiness.
This year will also witness the end of accidents involving vans carrying female teachers as many of them will drive their cars to schools.
Many accidents involving vehicles carrying female teachers have occurred in the past as a result of reckless drivers.
In the beginning of every academic year, Saudi families used to look for expat drivers to take their children to schools. Now they are not worried about recruitment of foreign drivers as many mothers have taken up the duty of transporting their children to school.
https://english.alarabiya.net/en/features/2018/09/03/Many-Saudi-women-begin-driving-their-children-to-schools.html
--------
Saudi Passport Office Begins Training First Female Recruits
04 September 2018
Saudi Arabia's General Directorate of Passports said on Tuesday it had begun training its first female recruits.
The two-week programme, which began on Sunday, is being implemented across Makkah, Madinah, Riyadh, Sharqiya, Tabuk, Al Jawf, Northern Frontiers, Qassim and Asir, the organisation told Saudi Press Agency.
The training will see 290 women acquainted with the work and procedures of the directorate and its methods of examining travel documents and handling the public.
It represents the first phase a programme that will eventually see female recruits taken on at the directorate.
Work in passport offices is one of several new professions being opened to women as the kingdom looks to increase their role in society.
Reports in February indicated more than 100,000 women had applied for 140 passport control jobs.
One major driver of female jobs is expected to be the lifting of the kingdom's female driving ban in June.
http://gulfbusiness.com/saudi-passport-office-begins-training-first-female-recruits/
--------
Sindh Women Development Ministry to Help In Poverty Eradication
September 4, 2018
SUKKUR: A delegation of the Sindh Rural Support Organisation (SRSO) led by its Chief Executive Officer, Muhammad Dital Kalahoro called on the Sindh Minister for Women Development Shehla Raza.Talking to the delegation, the minister, Shehla Raza, said the government is committed to bringing an improvement in the living standards of the women, especially the rural women. She assured that her department will strongly encourage the participation of women in all the fields of life. Appreciating the work by the SRSO, the minister for Women Development said it has done a lot for the development and empowerment of rural women in Sindh. On the occasion, Shehla Raza also assured full cooperation of her ministry to help run the projects related to poverty eradication.
https://www.thenews.com.pk/print/363580-sindh-women-development-ministry-to-help-in-poverty-eradication
--------
Progress Slow but Visible After Saudi Arabia Lifts Ban on Female Drivers
September 2, 2018
Donning a helmet inside a pearl silver sports sedan, Rana Almimoni skids and drifts around a Riyadh park, engine roaring, tyres screeching and clouds of dust billowing from the back.
For Saudi women, such adrenaline rushes were unimaginable just weeks ago.
Speed-crazed women drivers are bound to turn heads in the deeply conservative desert kingdom, which overturned the world's only ban on female motorists in June as part of a much-hyped liberalisation drive led by Crown Prince Mohammed bin Salman.
Almimoni, 30 and a motor racing enthusiast, is defying the perception -- or sexist misconception, depending on who you ask -- that only dainty cars in bright colours are popular with women drivers.
"I adore speed. I love speed... My dream car is more than 500 horsepower," said Almimoni, slamming the accelerator of her silvery sleek Kia Stinger inside Riyadh's Dirab motor park.
"It's a myth... that Saudi women only choose pink and cute cars."
Almimoni said she was awaiting an expected government decision that would permit women to obtain a "racing licence", which would allow her to hone her passion in motor-sport competitions.
That includes drifting -- oversteering the car to slip and skid or even spin, and other high-speed daredevilry -- which is illegal in public but tolerated in the controlled environment of Dirab park, whose private owners insist on safety.
Need for speed
Author Pascal Menoret's acclaimed book "Joyriding in Riyadh" described the high-octane Saudi obsession for drifting, long seen as a symbol of revolt among legions of restless youth, as all "about being a real man".
Now newly mobile Saudi women are embracing what was previously deemed a male entitlement -- speed.
"Most of our enquiries (from women) are about drifting -- how to learn drifting, which cars can they train on, how long will it take them" to drift, said instructor Falah al-Jarba as he watched Almimoni zip around the park.
Auto showrooms tapping new women clients have rolled out a line-up of cherry red Mini Coopers, but sales professionals say many exhibit an appetite for muscle cars like the Camaro or the Mustang convertible.
Many new drivers seek inspiration from Aseel al-Hamad, the first female member of the kingdom's national motor federation, who got behind the wheel of a Formula One car in France in June to mark the end of the driving ban.
Clad in skinny jeans and Harley-Davidson T-shirts, a handful of women are also training to ride motorbikes at a Riyadh driving school, a scene that is still a stunning anomaly in the conservative petro-state.
Transport authorities have rolled out racing simulators to help first-time women drivers get a feel of being behind the wheel.
As a male traffic official demonstrated the importance of seatbelts by buckling up inside a car tethered to a flat platform and upturning the vehicle, some women zipped around twisted tracks in toy cars.
Another sat down behind the wheel of a simulator and instantly floored the accelerator, sending the speedometer soaring.
"I don't feel I'm in Saudi Arabia anymore," said Nagwa Mousa, a 57-year-old university professor in Riyadh.
"But I don't expect to see many women in Saudi Arabia overtaking and speeding in the streets anytime soon."
The driving reform is said to be transformative for women, freeing them from dependence on private chauffeurs or male relatives, but many are keeping off the streets.
"Congratulate me, finally saw a female driving! Although she is Bahraini but it counts as she is driving in Saudi land," comedian Yaser Bakr said on Twitter after the ban was lifted.
No 'free speech'
For now, most women drivers appear to be those who have swapped foreign licences for Saudi ones after undergoing a practical test.
Many complain that driving courses cost several times more than those available to men and that women instructors are in short supply.
While no overt incidents of street harassment have been reported publicly, many women are also wary of pervasive sexism and aggression from male drivers despite warnings from authorities.
Also testing nerves is the government's sweeping crackdown on women activists who long opposed the driving ban and a long-vilified system of male "guardians" -- fathers, husbands or other male relatives, whose permission is required to travel or get married.
"The Saudi government is expanding entertainment options for Saudi women but eliminating space for political expression," said Kristin Diwan, of the Arab Gulf States Institute in Washington.
"Lady drifters can feel the speed but not free speech."
At least 12 leading human rights activists, including eight women, have been arrested in Saudi Arabia since May, according to Amnesty International.
The crackdown triggered a diplomatic brawl with Canada after Ottawa demanded the "immediate release" of those detained.
"It's a dubious advancement in gender parity: women are now coming under arrest for their rights activism just like the men," said Diwan.
https://www.ctvnews.ca/autos/progress-slow-but-visible-after-saudi-arabia-lifts-ban-on-female-drivers-1.4077451
--------
URL: https://www.newageislam.com/islam-women-feminism/no-woman-made-cut-pm/d/116282
New Age Islam, Islam Online, Islamic Website, African Muslim News, Arab World News, South Asia News, Indian Muslim News, World Muslim News, Women in Islam, Islamic Feminism, Arab Women, Women In Arab, Islamophobia in America, Muslim Women in West, Islam Women and Feminism