New Age Islam News Bureau
14 Jun 2013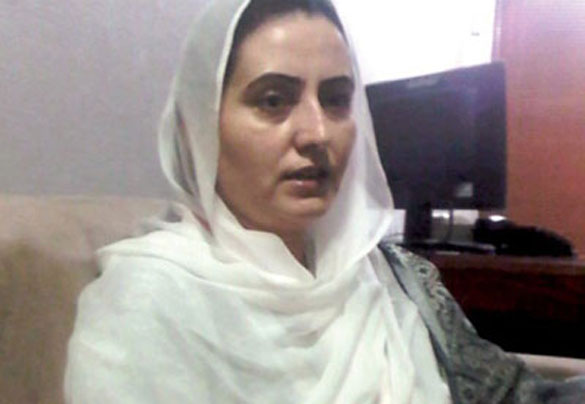 Photo: Sadia Danish hopes to promote gender equality in the region
--------
• In Gilgit-Baltistan Assembly, Sadia Danish Champions Women's Rights
• 9-Year-Old UK Girl Passes Through Turkish Customs with a Toy Passport
• Pakistan: A Bride for a Bride
• Mother Throws 6-Day-Old Baby down 44 Ft. Trash Chute in U.K; Baby Lives
• Driver Accused of Assaulting His Sponsor's Wife
• Berlin 'Worried' By Tunisia Jail Term for Topless Demo
• 'Empowered Women Make Up Strong Societies': Speakers at a Workshop
• Repression on Adivasi Women by Bangalee Settlers Increasing
• Shoura to Study Draft Law on Marriages between Saudis and Other Nationalities
• Carpentry Training Program Opens For Saudi Women
Compiled by New Age Islam News Bureau
URL: https://newageislam.com/islam-women-feminism/no-witnesses-no-rape,-says/d/12066
--------------
No Witnesses? No Rape, Says Pakistan's Islamic Council
14 June 2013, Global Voices Online
A ruling by Pakistan's Council of Islamic Ideology (CII) dismissing DNA as primary evidence in rape cases has received much flak from activists in the country. The ruling has its fair share of supporters though, with some happy that there is a legitimate institution pondering religious issues in Pakistan.
The Council does not have any legislative power in the country, it is an advisory body for the Pakistani government and the Parliament on all legal matters related to Islam. Rape is currently tried under civil law in Pakistan which allows for DNA evidence. Following the ruling, the Sindh assembly unanimously passed a resolution on June 11, 2013 making DNA tests mandatory in all rape cases in the province.
The controversial edict [ur] made public on the council's website, stipulates that Islam has given clear instructions on how to judge and punish rapists, by relying solely on testimony from four witnesses and that DNA could be only used to supplement that primary testimony.
The Human Rights Commission of Pakistan (HRCP), a leading rights organization in the country called the council's pronouncement 'regressive, exceptionally insensitive and unkind to rape victims' on its own website:
Poor investigation methods and reluctance of witnesses to come forward out of fear mean that the balance is titled in the favour of the rapist as it is. In these circumstances, it would be foolish to not depend on all the evidence that is available, especially something as incontrovertible as DNA test results.
In Pakistan, rape used to be tried under Islamic Sharia or the controversial Hudood laws, which in practice equated the crime of adultery with rape – if a rape victim could not provide four male eyewitnesses to the crime, she could be charged with adultery. In fact, according to Pakistan's National Commission on Status of Women "80% of women" in jail in 2003 were there as because "they had failed to prove rape charges and were consequently convicted of adultery."
But in 2006, the Women's Protection Bill was passed which amended the Hudood laws, bringing rape cases under civil law, which allows for forensic evidence.
Ayesha Tammy Haq (@tammyhaq), a journalist in Pakistan, posted a sarcastic remark on her Twitter account:
http://globalvoicesonline.org/2013/06/12/no-witnesses-no-rape-says-pakistans-islamic-council/
--------------
In Gilgit-Baltistan Assembly, Sadia Danish Champions Women's Rights
By Waqas Naeem
June 14, 2013
ISLAMABAD: Bills on women's empowerment and the state of child rights in Gilgit-Baltistan (G-B) were passed by G-B's lawmakers, owing to the efforts of a female legislator from Gilgit.
The G-B Assembly, in its 28th session that ended on May 27, passed two bills, one dealing with protection against sexual harassment of women at the workplace and another on safeguarding child rights. Both bills were introduced by Sadia Danish, adviser to the G-B chief minister for sports, culture, tourism and youth affairs.
"As a woman I felt I should pave the way for future women legislators to contribute meaningfully towards the development of G-B's women and improving their basic health and education," Danish told The Express Tribune at the G-B House in Islamabad.
She said the anti-sexual harassment bill, passed on May 21, was adapted from the National Assembly's Protection against Harassment of Women at Workplace Act 2010 in light of G-B's cultural norms.
Both bills were passed almost unanimously with only one of the 33-member assembly objecting to the anti-sexual harassment bill. Wazir Shakil, the G-B law minister, also lent crucial support to drafting the bills, Danish said. The bills will be enforced once the G-B governor signs the two pieces of legislation. The anti-sexual harassment law not only offers a legal definition of harassment, it also necessitates the creation of a provincial ombudsman's office to receive complaints about incidents of workplace harassment, Danish said.
She said the implementation mechanism also requires every public and private sector organisation to constitute a committee to oversee women's complaints regarding sexual harassment at work. The committee must have at least one female member, she added.
Downplaying gender discrimination in G-B, Danish said there were some conservative families who were apprehensive about allowing women to work outside the home, however the anti-sexual harassment law would help to dispel such concerns, she hoped.
Social polarisation and implementation
There are some districts in G-B that have registered a 100 per cent female literacy rate but there are also regions where women are barred from stepping out of their homes even for medical care.
Danish said elected representatives will be taken on board to spread awareness about the law along with seminars and workshops. Other women's development initiatives such as a project to establish 25 home-based schools in Diamer district will also help local communities learn the significance of women's participation and gender equality, she said.
Danish said the law will not just protect women working in offices but also those working from home, especially female farmers who actively contribute to G-B's potato cash crop.
"Women who work in offices and those who work in the fields are equal and hence deserve equal levels of protection from harassment," she said.
She also said that an inheritance law for women and a domestic violence prevention and protection bill are also being drafted.
About the child rights bill, Danish said it is targeted orphans and street children who lack a support network. Even though the prevalence of child marriages might be low in G-B, the bill also provides protection against child marriages by imposing a five-year imprisonment sentence for people found guilty of forcing children into marriage, she said.
http://tribune.com.pk/story/562905/trailblazer-in-g-b-a-legislator-who-champions-womens-rights/
---------
9-Year-Old UK Girl Passes Through Turkish Customs with a Toy Passport
ANI
June 14, 2013
A nine-year-old girl managed to pass through Turkish customs officers with a passport identifying her as a 'unicorn'. Emily Harris' parents were stunned after officials stamped the ID their daughter had made especially for her pink toy unicorn Lily, the Daily Express reported.
When the family passed through customs at Antalya airport to start their one-week holiday, mum Nicky accidentally handed over the wrong passport at a control stand.
Nicky, 43, from Cwmbran, South Wales, told the publication that she didn't realise until she was putting the passports away.
The passport is not only different in size and shape to the official document, but it also has gold teddy bears on the front!
Nicky realised that instead of handing in daughter's passport, she had shown Emily's Bear Factory passport for a Unicorn toy called Lily Harris after they got outside.
The mother said that it's a worry to any parent, how easy it would be to smuggle a child through customs and into another country.
http://www.hindustantimes.com/world-news/europe/9-year-old-UK-girl-passes-through-Turkish-customs-with-a-toy-passport/Article1-1076004.aspx
----------
Pakistan: A Bride for a Bride
By Mahrukh Abbasi
June 14, 2013
KARACHI: "I cannot believe Shazia killed herself," says Sarah quietly, talking about the recent death of her live-in maid of seven years. "Seeing her hanging from the ceiling fan, her arms and feet black, is a sight I can never, ever forget."
Two weeks ago, on a Friday that began just like any other, Sarah left home around 1 pm with her children to run some errands. Five hours later, she returned to find Shazia, aged 25, dead.
Shortly before her suicide, Shazia was about to be forced into an exchange marriage, known as watta satta, a swap of brides between two families.
"For the past few days, I would see her crying," recalls Sarah. "And I would simply try to comfort her by telling her that her family had no right to do this, that she could say no to the marriage."
According to Sarah's account, Shazia was set up to marry an old man, whose daughter would, in turn, marry her mentally-challenged brother.
"I'm just a money-making machine for them, and now they want me married," Shazia had said tearfully one evening. "It's either this marriage or death."
Like Shazia, many people each year are driven to their death by being forced into marriages. According to HRCP's media monitoring, at least 1,976 people committed suicide last year, of which 629 were women.
"Shelter homes and non-government organisations can only do so much, they are reaching around 10% of the population," says Anis Haroon, who recently relinquished charge of caretaker Sindh minister for human rights and women development. "The state needs to take responsibility."
Haroon also believes that the state and the media need to work together, so that people in all regions can be made aware of their human and legal rights.
"You can't always make laws against these kinds of practices," she says. "We have to raise awareness and empower women."
The right to choose
Shazia's story is not the only one of its kind. The tradition of exchange marriages still thrives in the country.
Unfortunately, as in Shazia's case, the element of compulsion is often present in such arrangements. While most forced marriages go unnoticed or unreported, Human Rights Commission of Pakistan (HRCP) reports indicate that in January 2012 alone, almost 340 such cases were recorded across Pakistan.
Child marriages, arranged by parents or the panchayats in villages, also add to the unreported category.
Why watta satta
"Often, parents are helpless and chose exchange marriage options for reasons such as poverty, insecurity, lack of awareness, and tradition," says Haroon.
According to Mehnaz Rehman of Aurat Foundation, most cases of under-aged forced marriages are a result of greed. In a statement made in February, Rehman said that even after signing the Convention on Elimination of all forms of Discrimination Against Women (CEDAW), the government is not doing its part to form laws that adhere to global commitments.
And yet, despite the embedded practices, Haroon believes trends may be shifting.
"In urban areas the pattern has started changing," says Haroon. "The rural families who have moved to the city have daughters who are earning. They now feel confident enough to refuse such proposals. Being financially strong empowers them."
http://tribune.com.pk/story/563054/watta-satta-a-bride-for-a-bride/
---------
Mother Throws 6-Day-Old Baby down 44 Ft. Trash Chute in U.K; Baby Lives
BY BEN JOHNSON
14 June 2013
BIRMNGHAM, UK, - Officials in Birmingham, England, say a six-day-old baby has survived multiple skull fractures and brain injuries after her mother threw her down a 44-foot-long trash chute in her apartment building.
Her mother, 26-year-old Jaymin Abdulrahman, reportedly pushed the girl down the long shaft that leads to the dumpster from the fifth floor of her flat building in Wolverhampton. The baby struck a metal plate at the bottom of the ramp that diverted her tiny body into the rubbish.
The newborn reached speeds of roughly 30 miles per hour after her mom tried to dispose of her daughter last September 8, according to experts who recreated the event with a lifelike dummy.
Abdulrahman, an Iraqi-born woman who speaks Kurdish, initially told police her daughter had been kidnapped, but police say they found the mother's fingerprints on trash bags surrounding the child.
The baby was rushed to Birmingham Children's Hospital, where she has spent months in the intensive care unit.
The mother, who is accused of attempted murder and attempting to pervert justice, has maintained her innocence.
Prosecutor Andrew Smith QC said on Tuesday, "The reason why she decided to place her daughter in the rubbish chute may never be known."
The incident is the latest in a rash of mothers disposing of their babies by placing them in the trash.
Earlier this month, 27-year-old Shavaughn Robinson was charged with murder for allegedly giving birth to her daughter in a toilet, then throwing her body in a dumpster in Richmond, Virginia.
In May, police say 19-year-old Cherlie Lafleur tried to flush her baby down the toilet before disposing of it in a trash can inside McCaskey East High School in Lancaster, Pennsylvania.
In February, Houston police found the remains of a baby in a dumpster after a 29-year-old woman performed a dangerous self-abortion.
Some abortion providers advise young women to flush their babies down the toilet or throw the body into the trash if they are born alive during abortions. In April, an undercover investigator with Live Action filmed a counsellor at Dr. Emily's Women's Health Centre in the Bronx telling her "If it comes out, then it comes out. Flush it if anything, you know, put it in a bag or something or somewhere and bring it to us."
http://www.care2.com/news/member/907581929/3594389
--------------
Driver Accused of Assaulting His Sponsor's Wife
14 June 2013
MAKKAH — A 27-year-old Bangladeshi expatriate, who worked as a personal driver, was arrested by the Commission for the Haia on Tuesday for sexually assaulting his sponsor's wife. The driver was arrested after Haia members found him and a woman in a parked car with the engine still running in Al-Khalidiyah District near Al-Hilal Park, reported Al-Sharq newspaper. Investigations revealed that the woman was in fact the wife of the driver's sponsor who is currently in the United Kingdom. The driver had allegedly been asking the wife to divorce her husband for some time. Several text messages of a sexual nature to his sponsor's wife and other women were found on his cell phone. The case has been referred to the Bureau of Investigation and Prosecution. The sponsor's wife was sent home to her family.
http://www.saudigazette.com.sa/index.cfm?method=home.regcon&contentid=20130614169790
--------------
Berlin 'worried' by Tunisia jail term for topless demo
13 June 2013
AFP, Germany
Germany expressed concern Thursday after a Tunisian court handed four-month jail terms to three European activists with the radical women's protest group Femen for staging a topless anti-Islamist demonstration.
"The foreign ministry is worried about the imposition of this prison sentence," a ministry spokeswoman said, highlighting the three women would appeal.
"The Germany embassy in Tunis will continue to provide consular assistance to the German national and to closely follow the procedure," she added.
Full report at:
http://english.alarabiya.net/en/News/africa/2013/06/13/Berlin-worried-by-Tunisia-jail-term-for-topless-demo-.html
--------------
'Empowered Women Make Up Strong Societies': Speakers at a Workshop
June 13, 2013
FAISALABAD: The speakers at a workshop on empowerment of women held here on Wednesday agreed that a society could not achieve its goals if its women were not empowered.
The consultative workshop titled was organised by the Gender Reforms Action Plan of the Women Development Department.
District Coordination Officer Najam Ahmad Shah, Divisional Commissioner Ejaz Muneer, executive district officers and representatives of several non-government organisations attended the workshop.
Full report at:
http://tribune.com.pk/story/562388/gender-equality-empowered-women-make-up-strong-societies/
--------------
Repression on Adivasi Women by Bangalee Settlers Increasing
14 June 2013
Incidents of repression on indigenous women and girls in the Chittagong Hill Tracts (CHT) by Bangalee settlers are increasing daily as criminals behind Kalpana Chakma's abduction and other similar incidents went unpunished, speakers said at a discussion meeting yesterday.
Hill Women's Federation organised the programme in the auditorium of Liberation War Museum on the 17th anniversary of Kalpana Chakma's abduction.
On the night of June 12, 1996, a group of men, allegedly led by an army officer, kidnapped Kalpana, the then organising secretary of Hill Women's Federation, from her home at New Lalyaghona of Baghaichhari in Rangamati. She has been missing since then and presumed assassinated.
Full report at:
http://www.thedailystar.net/beta2/news/repression-on-adivasi-women-by-bangalee-settlers-increasing/
--------------
Shoura to Study Draft Law on Marriages between Saudis and Other Nationalities
June 13, 2013
RIYADH — The Shoura Council on Sunday will start discussing a draft law to regulate marriages between Saudi citizens and residents of other nationalities.
The Council of Ministers returned the 13-article draft paper on intermarriages to the council due to concerns over some of its contents.
The Shoura Council has established a special committee headed by Dr. Abdulrahman Al-Suwailim to reconsider these differences before forwarding the draft project to Custodian of the Two Holy Mosques King Abdullah.
Full report at:
http://www.saudigazette.com.sa/index.cfm?method=home.regcon&contentid=20130613169691
--------------
Carpentry training program opens for Saudi women
13 June 2013
The Hasa Girls Development Society has launched its carpentry workshop activities in Qarn.
Around 150 young women will graduate yearly through its training programs. The workshops carpentry workshop is having young qualified women to create different projects and enable them to help themselves and have a stable income.
There will be greater coordination to call on a group of chosen trainers who have the qualifications to train the women. The development society is also asking art teachers to help, as well as hold continuing workshops to help the young female youths to develop their skills in crafts and carpentry.
The family productive projects for the carpentry workshops organizes creative workshops that enable these young women to develop their training abilities and help to develop the skills of others.
Full report at:
http://www.arabnews.com/news/454857
--------------
URL: https://newageislam.com/islam-women-feminism/no-witnesses-no-rape,-says/d/12066