New Age Islam News Bureau
1 Jul 2019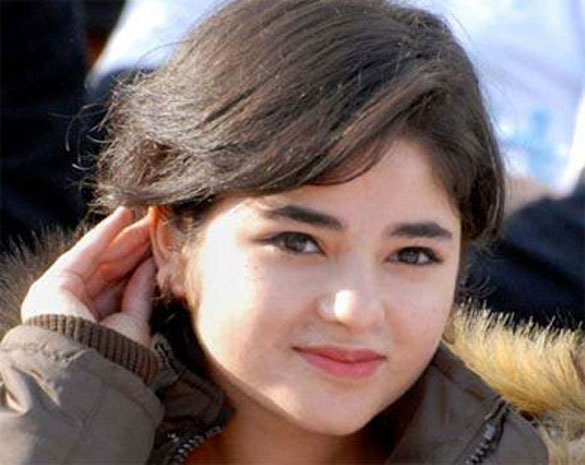 Zaira Wasim will be next seen in Shonali Bose's The Sky Is Pink.
-----
• Dangal Star Zaira Wasim Quits Films: My Relationship with My Religion Was Threatened
• For Afghan Women, an End To Illiteracy Is A Few Cellphone Calls Away – Thanks To A Made-In-Canada Plan
• Can New US Strategy On Women, Peace & Security Give Women A Real Seat At The Table? Ask Afghan Women
• Burkini Debate Reignited In France As Grenoble Women Defy Ban
• Jaguar Land Rover Marks First Anniversary of Saudi Women Driving In Saudi Arabia
• Women, Youth to Play Vital Role in UAE FNC Elections
• How Industrialization Took Its Toll On Egyptian Women
Compiled by New Age Islam News Bureau
URL: https://www.newageislam.com/islam-women-feminism/no-skirts-british-schoolgirls-ordered/d/119045
--------
No Skirts: British Schoolgirls Ordered to Wear 'Gender Neutral' Trousers in Bradford
JACK MONTGOMERY
1 Jul 2019
Schoolgirls at Appleton Academy in Bradford, West Yorkshire, have been ordered to wear "gender neutral" trousers instead of skirts at the start of the next academic year.
"The minor policy change means that, from September 2019, the uniform for all secondary pupils is changing to trousers only," stated the Exceed Academies Trust which runs the Appleton Academy — which was rated as requiring improvement by schools regulator Ofsted — in comments reported by the Daily Mirror.
"There are a number of reasons for this change; it is gender neutral in line with the policy in the majority of secondary schools, it simplifies the uniform and it removes the issue of pupils wearing skirts that are an inappropriate length.
"In response to the policy change, the reaction from our pupils has been very mature; they have calmly asked the reason behind the decision and politely accepted the explanation provided," they claimed — but pupils and parents who described the decision as "ridiculous" and "sexist" begged to differ.
"I think it's disgusting and actually sexist," said one mother who wished to remain anonymous.
"They're not going to go and force the boys to wear skirts," she said.
"Women from all the generations before this one wore skirts without any problems, what's changed now?" she asked.
"What's really annoying is that the first any of us heard about the change was on social media. We didn't get the letter until a day later."
"I think it's absolutely ridiculous," concured a Year 10 schoolgirl, who also wished to remain anonymous.
"I really don't like having the choice taken away from me. I like wearing a skirt because I find them comfortable, not for any reason other than that," she said.
"Some people say that wearing a skirt makes you look like a tart and things like that. It's just a piece of clothing, I don't understand."
Bradford is one of Britain's most culturally diverse and ethnically divided cities, with a very large Muslim minority of largely Pakistani origin, although a high proportion of the thousands of Syrian refugees the country has taken in have also been housed there.
https://www.breitbart.com/europe/2019/07/01/no-skirts-british-schoolgirls-ordered-wear-gender-neutral-trousers/
--------
Dangal Star Zaira Wasim Quits Films: My Relationship with My Religion Was Threatened
June 30, 2019
National Award-winning actor Zaira Wasim on Sunday announced her "disassociation" from the field of acting, saying she was not happy with the line of work as it interfered with her faith and religion.
In a detailed post on her Facebook page, which she later shared across all social media platforms, the Kashmiri-born Dangal fame star said she realised "though I may fit here perfectly, I do not belong here".
"Five years ago, I made a decision that changed my life forever. As I stepped my foot in Bollywood, it opened doors of massive popularity for me. I started to become the prime candidate of public attention, I was projected as the gospel of the idea of success and was often identified as a role model for the youth. However, that's never something that I set out to do or become, especially with regards to my ideas of success and failure, which I had just started to explore and understand," Wasim said in the lengthy post.
The 18-year-old actor said as she completed five years in the profession, she wanted to "confess that I am not truly happy with this identity i.e my line of work".
"For a very long time now, it has felt like I have struggled to become someone else. As I had just started to explore and make sense of the things to which I dedicated my time, efforts and emotions and tried to grab hold of a new lifestyle, it was only for me to realise that though I may fit here perfectly, I do not belong here.
"This field indeed brought a lot of love, support, and applause my way, but what it also did was to lead me to a path of ignorance, as I silently and unconsciously transitioned out of 'imaan' (faith). While I continued to work in an environment that consistently interfered with my 'imaan', my relationship with my religion was threatened," she said.
Wasim said as she continued to "ignorantly pass through" while trying to convince herself that what she was doing was okay and was not really affecting her, "I lost all the 'Barakah' (blessing) from my life".
"I was constantly battling with my soul to reconcile my thoughts and instincts to fix a static picture of my 'imaan' and I failed miserably, not just once but a hundred times..."
"I kept procrastinating by tricking and deluding my conscience into the idea that I know what I am doing doesn't feel right but assumed that I will put an end to this whenever the time feels right and I continued to put myself in a vulnerable position where it was always so easy to succumb to the environment that damaged my peace, 'imaan' and my relationship with Allah (God)," she said.
Talking about her life as an actor, she said she continued to observe things and twist her perceptions as she wanted them to be, without really understanding that the key was to see them as they were.
"In the great and divine wisdom of the Quran, I found sufficiency and peace. Indeed the hearts find peace when it acquires the knowledge of Its Creator, His Attributes, His Mercy and His commandments," she added.
Wasim said she began to heavily rely upon Allah's mercy for help and guidance instead of valuing her own believability.
"I discovered my lack of knowledge of the basic fundamentals of my religion and how my inability to reinforce a change earlier was a result of confusing my heart's contentment and well being with strengthening and satisfying my own (shallow and worldly) desires," she said.
The actress, who made her big Bollywood debut in Aamir Khan's 2016 film Dangal, said she questioned the deepest sources of her ideas of success, meaning and the purpose of her life.
"The source code that governed and impacted my perceptions evolved into a different dimension. Success isn't correlated with our biased, delusional and conventional shallow measures of life. Success is the accomplishment of the purpose of our creation. We have forgotten the purpose we were created for as we ignorantly continue to pass through our lives; deceiving our conscience," she said.
Wasim said the journey has been "exhausting, to battle my soul for so long" and life was too short yet too long to be at war with oneself.
About announcing the decision on social media, the actor said she was openly doing so not to paint a holier picture of herself, but "this is the least I can do to start afresh".
"This is just my first step as I have arrived at the clarity of realisation of the path I wish to be on and strive for and during this time I may have consciously or unconsciously planted a seed of temptation in the hearts of many, but my sincere advice to everyone is that no amount of success, fame, authority or wealth is worth trading or losing your peace or the light of your 'imaan' for," she said.
Wasim will be next seen in The Sky is Pink, which also stars Priyanka Chopra Jonas and Farhan Akhtar. The shooting of the film was completed in March and the cast and crew recently celebrated its wrap-up party in Mumbai where Zaira was also present.
https://www.indiatoday.in/movies/bollywood/story/dangal-star-zaira-wasim-quits-films-my-relationship-with-my-religion-was-threatened-1558956-2019-06-30
--------
For Afghan Women, an End To Illiteracy Is A Few Cellphone Calls Away – Thanks To A Made-In-Canada Plan
STEFANIE GLINSKI
JUNE 30, 2019
For most of her life, Fatima Ali could only count to 25: the number of animals she had to take care of as a shepherd girl.
When she was barely in her teenage years, living in Afghanistan's Ghor province, she was told she was too old to work away from home, was not allowed to go out alone and was soon married off. Shortly later, Fatima became a mother and thought she'd missed her chance to ever learn to read or write.
Now in her 30s, with three children, she's finally getting the chance.
A new venture, developed by Partnership-Afghanistan and Canada (PAC) in collaboration with the University of British Columbia and World Vision, has started to bring education to women in Afghanistan's most remote communities through mobile classes. Daily prerecorded phone calls deliver a set of sessions teaching reading and writing skills in Dari, a Persian dialect and one of Afghanistan's main languages. And all the women need is a pen, some paper, a textbook for learning the alphabet and a cellphone. The calls focus on letter pronunciation and, once the alphabet is memorized, simple reading exercises. Since the program launch, 200 women have participated, with a total of 76 lessons available.
With the majority of Afghans still living in rural areas, often with relatives working in neighbouring countries, simple cellphones – even if shared among family members – are common for both emergencies and to stay in touch with family. Throughout most of the country, reception is now available through a number of Afghan telecommunications providers.
Fatima, with a green head scarf tossed over her black hair, crouches on a thin pillow on the concrete floor outside her house's living room at 9 o'clock every morning, books spread out in front of her, waiting for her cellphone to ring. Inside the house, her children sit mesmerized in front of an old TV. "The lessons take me through a book and teach me how to pronounce letters and words," she says proudly through a Dari translator.
In Afghanistan, a country mired in conflict for decades, education continues to be under threat. Last year was the deadliest yet for civilians, according to a report from the United Nations, and while peace talks between the Taliban and United States are under way, the Afghan government has largely been left out. Hundreds of schools across the country are closed because of conflict or occupied by armed forces. There were 192 attacks on schools in 2018, up from 68 the previous year, according to Unicef. Bleak literacy numbers confirm just that: Only 38 per cent of adults are literate, says UNESCO, with the female rate dipping to 17 per cent – most of them living in urban areas.
The country has seen a surge in violence since April, when the Taliban announced their annual fighting season, and in areas in which war is raging, education takes a backseat. For Fatima, living in a village outside Herat with a conservative husband who largely restricts her to the house, mobile education is her only chance.
"It's exactly why we came up with the idea," says Shahnaz Qayumi, who was born in Afghanistan, left in the 1970s and now lives in Vancouver where she teaches early childhood education at Langara College and serves as a board member at PAC, a Canadian humanitarian organization working toward sustainable peace and development in Afghanistan.
"It's the most useful way to deliver education to rural women who are locked behind thick walls in the dominant male society and are often discouraged to leave the house for the purpose of education. We adopted our approached to the environment and to cater to families significantly affected by the stress and violence of war," she explains.
But while the software required to run the program was quickly developed with a team of UBC's tech experts, setting up LIVES (Learning Through Interactive Voice Educational System) on the ground was a different story. Recording lessons and finding a telecommunications company to partner with proved to be a lot of work.
What was even more challenging, however, was making the program accessible to the women. "You wouldn't believe what we had to deal with," says Arezu Popal, who works for World Vision, the aid agency that rolled out the program.
Most women resided in dangerous areas or were displaced. Some, she says, lived on unpaved roads as far as 15 hours away from Herat, where the program is based.
Then there was the matter of persuading the husbands to share their wives' phone numbers. "They were suspicious. It took a while for them to understand that every time their wives' phones rang, it was only a recorded voice of a woman."
All calls are made through Roshan, an Afghan telecommunications company with antennas across most of the 37-million-strong country, which charges the program a monthly subscription fee of about $1,600. "The system makes the call, but lessons and time slots are still assigned manually," project manager Fahim Tabesh explains, pointing to a long spreadsheet of names and numbers on his computer screen. "They all pick up. The commitment is incredible."
Hawa Ebrahimi, a 25-year-old mother of five who grew up in a village surrounded by the Taliban, made that commitment herself just a few weeks ago. "Back home, we didn't even have a road and definitely no school," she explains through a Dari translator from her current residence, a spacious room with thick carpets and pillows lining the wall, in Herat.
Abdul Qayum Rahimi, Herat's governor, says that he's seen real spirit when it comes to education in his province. "Everyone wants to advance and progress and people – mainly women – strive for education. It's what makes this place one of the most developed areas in the country."
But while Hawa's husband supports his wife's education – he even comes home every evening asking if she studied and needs help with her homework – it hasn't been as easy for Fatima.
As a child, she grew up with a dominant father, who kicked her mother out when she was unable to give birth to more than one child. She sees similar patterns in her own husband, a man her father chose.
"He's sick at home these days with hepatitis and he doesn't see the benefit of an education," Fatima explains. Holding on to her books and her small black cellphone, she says it doesn't matter to her, though. "I'm going to be literate and can maybe even help my children with their homework one day. For the first time in my life, I'm doing what I want to do."
https://www.theglobeandmail.com/world/article-for-afghan-women-an-end-to-illiteracy-is-only-a-few-cellphone-calls/
--------
Can New US Strategy On Women, Peace & Security Give Women A Real Seat At The Table? Ask Afghan Women
06/29/19
The White House recently unveiled a long-anticipated U.S. Strategy on Women, Peace and Security. Mandated by the bipartisan Women, Peace and Security Act of 2017, it builds upon a body of work begun with the 2011 U.S. National Action Plan on Women, Peace and Security. The Strategy provides a policy framework that requires the United States to prioritize the needs and perspectives of women in conflict prevention, resolution and reconstruction, to protect them during conflict itself and to support them as decision-makers and agents of change throughout.
But what does it all mean in practice? Current events in Afghanistan provide a timely example of what the application of these important policies could look like in practice.
The United States is about to enter its eighth round of bilateral negotiations with the Taliban to come to terms that would facilitate the withdrawal of U.S. troops. Ending America's longest war will be no easy task, and many are worried a rushed withdrawal would result in regional instability and increased violence. And given the Taliban's track record, there is one constituency with the most to lose who are not at the table: Afghan women and girls.
The horrific treatment they endured under the Taliban remains fresh in their minds. "Our collective experiences as women under the Taliban rule, whether in urban centers or rural villages, left us with bitter memories of oppressive measures towards women in health, education and employment making it impossible for women to flourish and reach their full potential," said a statement released by the Afghan Women's Network (AWN) earlier this year. An umbrella organization uniting numerous representatives from across women's civil society in Afghanistan, AWN is working night and day to ensure women, youth and other marginalized populations are meaningfully included in these negotiations and that their rights are protected. They are also mobilizing women and training them to participate in peace negotiations under the #AfghanWomenWillNotGoBack campaign that has reached over 2 million people.
And that is what is at the heart of all these lofty policies on women, peace and security: ensuring that the prevention, resolution and recovery from war reflect and represent those most disproportionately affected by it.
Research tells us that women are uniquely positioned within communities to understand what is needed to create lasting peace. And when it comes to peace processes specifically, the research is even more clear: Peace agreements are more effective and long-lasting when women and other marginalized groups are meaningfully included.
This is the philosophy that is now enshrined in U.S. law thanks to a growing series of legislative and executive actions. The new Strategy, as well as the Women, Peace and Security Act and National Action Plan before it, emphasize that women's rights are not simply a moral imperative, but are central to United States' national security and defense policy. Together with the law, these strategies make inclusive, sustainable security a "new normal" for U.S. doctrine, regardless of which party sits in the White House. This is cause for celebration for the women's rights and peace advocates who have campaigned for this agenda over decades.
This is not to say that there isn't room for critique and improvement. The document fails entirely to mention LGBTQ populations and lacks protections for girls and youth. Critically, and in light of recent U.S. behavior at the Security Council, the Strategy does not acknowledge the need for sexual and reproductive health care for women in conflict areas — even, most egregiously, those who have experienced rape as a weapon of war.
However, the Strategy is strong in that it calls for the application and even expansion of gender analysis in programming, which means agencies must analyze, collect data and learn from how their programs impact people differently based on their gender.
But the real test for the Strategy will be how this plays out on the ground, not on paper. And this is the disconnect with the Administration's approach to Afghanistan — so far, in talks with the Taliban, women have yet to be included.
This omission has caught the attention of lawmakers on both sides of the aisle in Congress. In March, a delegation of women from AWN, including prominent Afghan civil society leaders Mary Akrami, Mahbouba Seraj and Nasima Omari, along with advocates from the International Center for Research on Women, conducted a series of meetings in Congress to convey the urgency of the situation, the fear on the ground and Afghan women's demands for peace. Since then some 77 Members of the House — led by Representatives Lois Frankel (D-Fla.) and Susan Brooks (R-Ind.) — sent a letter to Secretary of State Mike Pompeo, urging him to give women a seat at the table in the negotiations with the Taliban.
The Senate, led by Sen. Jeanne Shaheen (D-N.H.), has also made its concerns known, including through another letter to Secretary Pompeo and in a recent Senate Foreign Relations (SFRC) subcommittee hearing on women and conflict, presided over by Senators Marco Rubio (R-Fla.) and Ben Cardin, (D-Md.). During the hearing, in an exchange with expert witness Palwasha Kakar, Sen. Rubio referred to Afghanistan as the first real "test" for the Women, Peace and Security Strategy and stated that unless we apply it to our efforts there, it won't be the "real deal."
In a separate SFRC hearing earlier in the year, Senator Shaheen pushed Secretary Pompeo on U.S. commitments to women's inclusion in the Afghan peace process. He was non-committal, answering with "I hope they will make their voices heard." But for voices to be heard, someone has to listen.
It is time for the United States to practice what we preach: Women must be included in negotiations with the Taliban immediately, or history risks repeating itself. At stake are not only women's lives and rights, but peace itself.
It would be a shame to show the world that ultimately, our young tradition of honoring women's rights in our security and defense policy is the stuff of empty promises, too thin to hold the weight of democracy, justice and equality when held up to the test of our complicated geopolitical reality.
https://thehill.com/opinion/international/451004-can-new-us-strategy-on-women-peace-security-give-women-a-real-seat-at
--------
Burkini Debate Reignited In France As Grenoble Women Defy Ban
by Rebecca Rosman
July 01, 2019
Paris, France - As temperatures soar in France, a debate over Muslim women's clothing has re-entered the national conversation.
Last week, a group of seven burkini-clad swimmers in Grenoble entered a public pool, defying a municipal ban.
Public pools in the southeastern city require that women wear either a one-piece suit or a bikini, and that men wear bathing shorts. The burkini is a full-body swimsuit, covering a woman's hair, arms and legs.
As part of a protest dubbed Operation Burkini, the women received initial applause from fellow pool goers, but were eventually kicked out, banned from the pools for a month, and received a fine of 35 euros ($40) each.
Alliance Citoyenne (Citizen Alliance), the local activist group behind the protest, compared the defiance to Rosa Parks' role in the American civil rights movement.
"[Rosa Parks] led a combat to fight discrimination and for us this is also a combat," Taous Hammouti, one of the protesters, told Al Jazeera.
"We are free women. Even if we wear a burkini … this doesn't change that fact that we are feminists and we are free."
Several days after Operation Burkini, there was a second clothing violation in Grenoble. A man insisted on wearing regular shorts in another public pool.
The municipality shut down both pools for two days after lifeguards and other personnel complained they were having trouble doing their job.
The pools were shut on Wednesday and Thursday, in the middle of a record-breaking heatwave where temperatures exceeded 40 degrees.
By then, negative reactions from both sides of the debate had already come pouring in.
"The burkini has no place in France, where men and women are equal," said Eric Ciotti, a member the right-wing Les Republicains (The Republicans) party, writing on Twitter. "To let these Islamist activists in Grenoble or anywhere else in France is to renounce the Republic. I will never accept it."
Marlene Schiappa, France's gender equality minister, offered a more ambiguous response.
"Women, whatever their religion or way of life, should be able to access municipal baths," Schiappa told the main local newspaper, Le Dauphine Libere.
But, she added, "When it comes to dozens of women wearing a burkini, there is a political message there. The message is cover up and its goal is to create a new norm."
Schiappa also pressed Grenoble Mayor Eric Piolle, who had been largely silent on the situation, for a response.
"The city of Grenoble condemns these violations of the rules," Piolle said, in a statement released shortly after Schiappa's comments.
In a later tweet, Piolle urged the state to take more of an active role in the burkini debate.
"When it comes to equal access to a public service, the role of the state is to set clear and fair rules for all," Piolle said.
The burkini is banned in several towns in France, which is home to Europe's largest Muslim minority.
With its strict version of secularism, known as laicite - France has a long history of tension with the burkini and other forms of the veil.
In 2011, it became the first European country to ban the full veil in public spaces.
Since then, a series of controversies surrounding the veil has continued to highlight France's inability to support religious freedom, secularism and feminism all at once.
"If you try to understand the symbolic meaning of the veil, it is that women and men have to be separated," Annie Sugier, the president of the association Ligue du Droit International des Femmes (League of International Women's Rights) told Al Jazeera. "This is the reason why we call this sexual apartheid."
Sugier has spearheaded a campaign demanding the International Olympic Committee (IOC) address restrictions imposed by Saudi Arabia and Iran that require their female athletes to wear a veil during the games. Sugier says the rule violates the IOC's non-discrimination policy.
As for the burkini protests, she says the same rule applies.
"Everything is political. [These women] don't want to admit it is a political choice they are making and this is a choice against women's rights," Sugier said.
But other French feminists have thrown their support behind the women.
"What's most important for me as a feminist is that women support women," Fatima Benomar, one of the founders of the feminist group Les Effronte-es, told Al Jazeera.
"No one has a problem with a woman wearing a veil if she's doing their housecleaning or washing the company toilets. But the second she leaves her 'place,' then it becomes a scandal."
'Get naked' counter-protest planned
In response to the burkini protesters, one group has planned a counter-protest on Sunday encouraging Grenoble residents to "get naked".
"Islamists want to impose the burkini in Grenoble's pools," the group's Facebook event says. "Faced with this, we call for a citizen's movement, ecologist and secular."
More than 250 people have said they would attend.
The members of Alliance Citoyenne, meanwhile, say they are also planning to continue their protests.
"We are citizens above everything else," says Hammouti. "Above all, before being a Muslim, I am a French citizen. And I expect to be treated as such."
https://www.aljazeera.com/indepth/features/burkini-debate-reignited-france-grenoble-women-defy-ban-190630105631847.html
--------
Jaguar Land Rover Marks First Anniversary of Saudi Women Driving In Saudi Arabia
June 30, 2019
JEDDAH — Mohamed Yousuf Naghi Motors Co. (MYNM), the authorized dealer for Jaguar Land Rover in Saudi Arabia, has celebrated the first anniversary of the decision to allow women to drive by offering floral bouquets to women customers and visitors at its Jaguar Land Rover showrooms. The royal decree allowing women to drive was officially declared on September 26, 2017 and implemented on June 24, 2018.
Commenting on the occasion, Mr. Andre Bonthuys, Managing Director at MYNM expressed his appreciation for the KSA Traffic Department and security personnel for maintaining the highest safety and security requirements to enable women to drive safely in the Kingdom.
"On behalf of everyone at MYNM, I am happy to congratulate Saudi women on the passing of one year since the historic decision to allow them to drive, and as a result, play a more active role in contributing to the development of Saudi society," he said.
MYNM has launched several initiatives in this regard, starting with recruiting Saudi sales women with the aim to empower and qualify them within the industry. Today, MYNM's branches have employed more than nine female sales consultants in different cities, all of whom have seized the opportunity to excel in the field of automotive sales.
In addition, MYNM established the 'Her Car, Her Choice' initiative, through which the company aims to assist women in choosing a suitable car by providing in-depth information on the model's safety features. The initiative also offers guidance on how to evaluate a car's performance and state-of-the-art entertainment systems based on personal preferences.
Furthermore, experiential events such as the 'Art of Performance Tour' by Jaguar and the 'Above and Beyond' challenge by Land Rover showcased the outstanding capabilities and superior performance of these prestigious British brands. Both events succeeded in attracting more women to test drive and purchase Jaguar and Land Rover vehicles.
As a result of these initiatives, Jaguar Land Rover has witnessed a considerable increase in sales during the past year, following the increase in interest and demand from female motorists. Women accounted for 25 percent of Jaguar Land Rover MYNM retail sales within a year of taking the wheel in the Kingdom.
The Jaguar E-PACE has proven to be especially popular with women, who account for 61 percent of total sales. The Jaguar XE and F-PACE are also among the brand's top sellers and have been a highly desirable option for female buyers. Land Rover cars were also favoured by women, especially the Range Rover Evoque and Range Rover Velar, where female buyers accounted for 58 and 35 percent of sales respectively. Other models such as the Discovery Sport and Range Rover Sports also witnessed great interest from women. — SG
http://saudigazette.com.sa/article/570451/BUSINESS/Jaguar-Land-Rover-marks-first-anniversary-of-Saudi-women-driving-in-Saudi-Arabia
--------
Women, Youth to Play Vital Role in UAE FNC Elections
June 30, 2019
The number of Emirati women electors increased by 50.62 per cent, compared to 49.38 per cent for men.
There will be a total of 337,738 Emirati voters for this year's Federal National Council (FNC) polls, marking a 50.58 per cent increase from 224,281 electoral college members in 2015, the National Election Committee announced on Sunday.
The full electoral college list has been published on the NEC website, www.uaenec.ae.
The number of Emirati women electors increased by 50.62 per cent, compared to 49.38 per cent for men, highlighting the active role of women in nation-building. Earlier, the President, His Highness Sheikh Khalifa bin Zayed Al Nahyan, issued a decree that would ensure that half of the seats in the FNC would be reserved for women in the upcoming legislative cycle.
The 2019 electoral college list also highlights a strong youth representation, with citizens aged 21 to 41 comprising at least 61.32 per cent of the membership.
Geographically, 101,549 of the members are from Abu Dhabi; 60,772 members from Dubai; 64,293 members from Sharjah; 10,165 members from Ajman; 6,653 members from Umm Al Quwain; 55,289 members from of Ras Al Khaimah; and 39,017 members are from Fujairah.
Abdul Rahman bin Mohamed Al Owais, Minister of FNC Affairs and Chairman of the NEC, praised the substantial surge in the electorate numbers, pointing out that it testifies to the "unique relationship" between the leadership and the citizens of the UAE.
"The surge in the number of electoral college members is yet another step on the UAE's political empowerment and engagement journey. In addition, it reinforces the keen interest of the country's leadership in enabling citizens to participate in decision-making," Al Owais said.
All citizens whose names are included in the electoral college list are entitled to participate in the electoral process, whether as candidates or as voters.
Every voter has the right to vote once in person and cannot authorise anyone else to exercise this right on his or her behalf.
https://www.khaleejtimes.com/news/government/women-youth-to-play-vital-role-in-uae-fnc-elections
--------
How Industrialization Took Its Toll On Egyptian Women
By Noha El Tawil
Jun. 30, 2019
CAIRO - 30 June 2019: Shifting from an agrarian society to an industrialized one eliminates certain professions or at least notably reduces the demand on them, while creating others. Such shift has caused women to lose their economic role in some countries to men as business owners would favor employing males rather than females for different reasons.
Industrialization, which currently encompasses also the services sector and not just the manufacturing one, has set skills different from those required in an agrarian society to enter the labor market. Hence, the gender discrimination in some societies have impeded many women, particularly in the lower and lower middle class, from acquiring better paying jobs in the formal sector.
In Egypt, discrimination ranges from parents denying their daughters the opportunity of receiving education to employers favoring men for manual jobs in factories and workshops where there is shortage of skilled labor. As women have become increasingly contributing to the family's income, improving their economic status would have its positive impact on the country's economy.
Women's economic participation rose in some developing countries in the industrialization phase. An explanation of this is that in terms of labor supply, women constituted qualified and experienced labor with low fertility. As for countries where women's economic participation declined, there have been many interpretations.
One is that multinational corporations make capital-intensive investments in developing countries leading to an expansive informal sector offering makeshift, self-employed, service jobs. Another is that factories owners in export-oriented countries opt for hiring only young, single women who are dismissed as soon as they get married and begin having children.
That is because they work for few years at low wages and produce competitively priced goods for the world economy. In Egypt, employers in the manufacturing sector may abstain from even hiring young single women and investing in their training in fear of high turnover once they get engaged or married.
However, export-led growth explanations adopted by the World Bank and certain economic doctrines suggest that as long as local governments do not manipulate the four factors of production, labor-intensive jobs would be created absorbing underemployed labor. Such manipulation can be in the form of putting barriers on imports and exports, promulgating inappropriate legislations, or subsidizing capital.
In the 1970s, the nations of East and Southeast Asia, women were the backbone of a work force producing labor-intensive goods consumed in the West and Japan. That work force was commonly in the industries of garments, textiles, footwear, electronics, and agribusiness.
At that time, women unemployment was greater in South Korea than in Taiwan because foreign investors in the former had put money in capital-intensive heavy industries unlike the latter which had the aforementioned labor-intensive industries on a large scope. In general, export-oriented industrialization mode, which is widely followed, often relies primarily upon a young female work force.
Valentine M. Moghadam, director of the International Affairs and Middle East Studies programs at Northeastern University, wrote a book titled Modernizing Women: Gender and Social Change in the Middle East in 1993 showcasing how industrialization affected women in Egypt.
Since 1970s, Egypt has been implementing the import-substitution industrialization as it imported machinery to manufacture consumer goods. The economy was characterized by central planning and a large public sector. The employment opportunities for women have been available in civil service, in state-run factories, and in the private sector receiving state support and foreign investment. Employment for well-educated women increased in commercial and industrial enterprises and public administration.
The industrialization in many developing countries has been female-led as it has been export-led. In the cities of the Middle East, women are marginalized from production, especially the formal-sector productive process, and concentrated in community, social, and personal services. There is a widespread Middle Eastern attitude that factory work is not suitable for women, which is the reason the demand for female labor is limited. In addition, the degree of industrialization, which is an important stage for economic development, is limited.
Although women had entered the industrial sector under late President Gamal Abdel Nasser, the economic crisis in Egypt and the rapid population growth limit formal employment opportunities. The vast majority of Egyptian women are engaged in the informal sector as street vendors, working at home seamstresses, and taking part in a myriad of small-scale income generating activities.
According to the National Women Council, female household providers constitute 36 percent of all Egyptian women. According to the Central Institute for Mobilization and Statistics (CAPMAS), the percentage of working women is 22.9 percent of the total labor force, and the percentage of illiterate women is 33.5 percent of all women in Egypt (2014). These numbers indicate that a large number of female household providers work in the informal sector.
The percentage of women working in the informal sector is 46.7 percent of all women. The percentage of women working in the informal sector with no payment (as part of family business) is 60.3 percent of all women, while the percentage is only 11.7 percent for men.
Informal employment is working without contract, health or social insurance. Informal self employment is working without registration, license, social or health insurance. In 1990s, 97 percent of self-employed females in Egypt were operating on an informal basis, according to a study titled " Women in Private Business: Formal and Informal Comparison." The research was published in 1993 by Heba Nassar, political science professor and former vice-president of Cairo University.
Men dominate sectors and occupations with better-paid jobs. The number of women as clericals, professionals, and farmers is very low, and their set of skills does not match the job market requirements. Egypt suffers from sexual division of labor, such as confining women's work to teaching, nursing, medical services and social services. The horticulture sector is a major employer for women but on seasonal basis unlike men as they are permanently employed.
The global economic crisis that occurred in 2008 had a negative impact on the local economy, as 75 percent of the GDP is composed of the international trade, according to a study conducted by Nassar in 2009 titled "The Impact of Economic Crisis on Women in Egypt."
Women have been concentrated in the low skilled occupations that got hit the most by the economic crisis. In late 2000s, one third of working women were non-paid family workers. Almost the third of working males were entrepreneurs (whether self-employed or employers), while nearly one fifth of working women were entrepreneurs, and they tend to be self-employed rather than employers. Women mostly resort to entrepreneurship or become part of a family business to manage between household and work whereas they perform various tasks from production to processing and marketing.
This entrepreneurship sector has been sharply hit by the crisis as a result of the lack of crisis management awareness, shortage in liquidity and inefficient marketing channels. "Several women reported that they had to freeze many activities and to lay off workers and warned other women to enter into business without strong connections to the market and effective linkage channels to crisis mitigation and prevention mechanisms," according to Nassar.
Unemployment among women has increased to include nearly one quarter of women in the labor market. A survey, used in Nassar's study and that was conducted in Egypt following the 2008 economic crisis, indicated that the majority of respondents said that men should be given priority over women when job opportunities decrease. Employers in the private sector also perceive women as expensive labor because of the long-period maternity leaves, and other benefits granted by law to women.
In 2015, unemployment among women recorded 24.2 percent against 9.4 percent among men, according to CAPMAS. The percentages among fresh graduates in 2010 were 20.5 for women and 3.7 for men. The percentages were 25.3 among urban women and 16.8 percent among rural women. That is because the ascending private sector is less willing to hire women in fear of frequent absences because of their family duties, according to Nassar.
https://www.egypttoday.com/Article/3/72279/How-industrialization-took-its-toll-on-Egyptian-women
--------
URL: https://www.newageislam.com/islam-women-feminism/no-skirts-british-schoolgirls-ordered/d/119045
New Age Islam, Islam Online, Islamic Website, African Muslim News, Arab World News, South Asia News, Indian Muslim News, World Muslim News, Women in Islam, Islamic Feminism, Arab Women, Women In Arab, Islamophobia in America, Muslim Women in West, Islam Women and Feminism