New Age Islam News Bureau
10 Sept 2017
• Women's jail gives special outfits to Muslim prisoners for when they need to be checked by sniffer dogs
• Muslim woman divorces 'torturing' husband at press meet
• My Pure Land tells the true story of NazoDharejo, the woman who fought off 200 bandits
• Sexual desires of Arab women unveiled by prizewinning novelist LeïlaSlimani
• Tajikistan officials are texting women to tell them what to wear
• Mewat women go high-tech under burkha
• Saudi female inspectors hired to inspect women-only shops in Makkah, Madinah
• 'Khadhi Purdah' with desi touch a hit among women in Kerala
• 8 different hijab styles from around the world
Compiled by New Age Islam News Bureau
URL: https://www.newageislam.com/islam-women-feminism/no-polygamy-nikah-halala-mahila/d/112484
------------
No Polygamy, NikahHalala in MahilaAndolan's Proposed Muslim Family Law
Updated:Se
ptember 9, 2017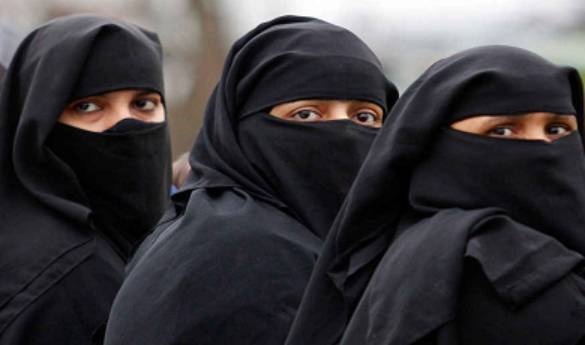 Photo: Reprehensive Image
------
New Delhi: After winning a hard-fought battle against instant triple talaq, the Bhartiya Muslim MahilaAndolan is now ready with its draft of "Muslim Family Law, 2017," which, if debated and enacted by the parliament, would bring an end to acts of polygamy and NikahHalala, too.
The draft, written over the past 9 years and in consultation with women from over 15 states, looks beyond triple talaq, taking into consideration other issues such as inheritance and adoption, ZakiaSoman, one of the founding members of the movement, told News18.
News18 has accessed a copy of the draft which will soon be deliberated over by a panel of women parliamentarians, the Ministry of Women and Child Development, and the National Commission for Women.
The instant triple talaq stands annulled, according to the draft, and it delineates the procedure of divorce among Indian Muslims.
During the much-heated argument over triple talaq in the Supreme Court in May, 2017, senior advocate Indira Jaisingh, arguing for Bebaak Collective, one of the petitioners, stated that "while divorce in Islam was judicial (resort to courts) for a wife, it was extra-judicial (at the comfort of home and his own will) for a man."
This argument seems to have formed the backbone of the law mooted by MFL, 2017.
According to the draft law, if somebody seeks a divorce, notwithstanding his/her gender, the prescribed method is "Talaq-e-ehasan". A man or a woman will have to file an application with a Qazi or DarulQaza or a Court for separation.
An arbitration will be conducted with the other party and its representative. Post the arbitration, if they see divorce as the only solution towards ending the differences, a three-month gap has to be there between the first and third utterance of talaq.
The draft law mandates an arbitration and reconciliation over a minimum period of three months.
The proposed law states that if either of the spouses refuses to cooperate in the reconciliation or dissolution of marriage proceedings initiated at the behest of one spouse, it may amount to the cruelty of conduct. The partner, then, qualifies to knock on the door of a court for the dissolution of a marriage.
Furthermore, the law bans the practices of polygamy, Nikahhalala, and muta (temporary) marriage. The quantum of punishment has been left to the wisdom of parliamentarians to debate and decide.
The minimum age for the two partners, stipulated by the proposed law, is 18 for a woman and 21 for a man. Mehr, which forms a compulsory payment to the bride by the groom on the occasion of marriage, cannot be less than the annual income of the groom.
Every marriage has to be registered, and the cleric conducting the wedding should be made accountable under the legislation, the law proposes.
The proposed law comes on the heels of the AIMPLB executive meeting scheduled for Sunday in Bhopal. Earlier, on Saturday, MaulanaWaliRahmani had told News18 that the triple talaq verdict had given protection to Muslim Personal Law and in no way can its essentials be touched.
However, Soman refused to buy Rahmani's point, calling it their usual talk. "The new law will achieve harmony between the tenets of the Quran and the Constitution. It is possible to achieve this because both of them speak of Justice. The only problem is that the AIMPLB tries to bring out rules to suit their own patriarchal worldview. If all communities had their personal law codified, why exclude Muslims, then?"
The draft law bats for equal rights for sons and daughters, mandating a daughter's share to be equal to that of a son's even in case of a gift in Islam. Both father and mother will be the natural guardian of a child.
Muslim Family Law, 2017, also takes into account the case of adoption but hasn't spelled out a process as Islam explicitly prohibits adoption.
"In case a Muslim couple wishes to adopt, then they are free to do so under The Juvenile Justice (Care and Protection) Act of 2000, which after the 2006 amendment, allows any Indian citizen to adopt a child who is legally free for adoption," NoorjehanNiaz told News18.
http://www.news18.com/news/india/no-polygamy-nikah-halala-in-mahila-andolans-proposed-muslim-family-law-1513985.html
---------
Women's jail gives special outfits to Muslim prisoners for when they need to be checked by sniffer dogs
By Stewart Paterson ForMailonline
10 September 2017
Muslim inmates at a woman's jail will be provided with special outfit for when they are checked over by sniffer dogs.
The overalls will be given to female prisoners who follow Islam, as many Muslims believe the animals are 'impure'.
Visitors, who are also checked by sniffer dogs for drugs at HMP Prison Send in Surrey, will also be offered the special clothing.
A memo to warders said the articles have to be washed separately.
But some staff the 'special treatment' causes operation difficulties.
'There is some annoyance that we are bending over backwards to help one religion,' a source told The Sun.
'Some prisoners ask why they cannot have clean clothing, even though they have no issue with dogs.
'There is a sense of the rules being manipulated, rightly or wrongly.'
A spokesman for the Ministry of Justice told MailOnline: 'Overalls are available for prisoners, visitors and staff during dog searches where their faith doesn't allow direct contact with dogs - this has no impact on the dogs' ability to detect weapons or drugs.'
WHY ARE DOGS SOMETIMES THOUGHT OF AS 'IMPURE' IN THE ISLAMIC FAITH?
According to PETA's Animals in Islam website, dogs have been traditionally viewed is 'impure' in the religion.
'The Islamic legal tradition has developed several injunctions that warn Muslims against most contact with dog,' the site says.
'Unfortunately, many Muslims have used this view to justify the abuse and neglect of dogs, even though cruelty contradicts the Qur'an's view that all animals form "communities like you."'
In a report by veterinary surgeon Dr.Ayoub M. Banderker, he argued that 'it is not 'haraam (forbidden by Islam) to own a dog, though it is not hygneic to keep a dog in the house.'
The article continues: 'Every animal has been created for a purpose. It is a duty upon every human being to respect Allah's creation.'
http://www.dailymail.co.uk/news/article-4869714/Women-s-jail-gives-special-outfits-Muslim-prisoners.html#ixzz4sHMbm2Ul
---------
Muslim woman divorces 'torturing' husband at press meet
Sunday 10 September 2017
Muslim woman takes 'divorce' at press meet All India Muslim Women Personal Law Board voiced support for the woman. Reuters/file
Lucknow: A Muslim woman has openly announced to take 'khula' (divorce) from her husband after her efforts to get it done through Islamic seminaries did not succeed.
In Islam, a man can take 'talaq,' while a woman can part ways with her husband through 'khula.'
ShajadaKhatoon, married to Juber Ali, signed a letter for 'khula' at a press conference here Saturday.
"I tried to take 'khula' from my husband. I had approached the Islamic seminaries, Nadwa and Firangi Mahal, but did not get any relief," she claimed.
"That is why, I am signing the 'khula' in the public and sending him (the husband) the notice. I am free from him now," she said.
Muslim Women League general secretary Naish Hasan, who helped Shajada take 'khula,' said the woman was fed up with her husband torturing her and had been living separately for the last 18 months.
All India Muslim Personal Law Board executive memberMaulana Khalid Rashid FarangiMahali, however, said the process followed by the woman for 'khula' was not correct.
"Khula is not done in a single letter. For khula, the woman has to serve a notice on her husband and if he does not respond to three of such notices, it is deemed implemented," he said.
Asked about the cleric's stand, Hasan said if he felt that Shajada was wrong, he should approach the court.
All India Muslim Women Personal Law Board presidentShaista Ambar voiced support for the woman, saying what she did was 'valid.'
The incident comes at a time when the country is witnessing a raging debate over the issue of triple talaq.
http://english.manoramaonline.com/news/nation/2017/09/10/muslim-woman-dicorce-at-press-meet.html
---------
My Pure Land tells the true story of NazoDharejo, the woman who fought off 200 bandits
NazoDharejo became a bit of a local legend in Sindh back in 2012.
It was then that she, along with her two daughters defended their agricultural land from the 200 heavily armed men that sought to claim it as a part of a familial feud.
The dacoits probably thought to themselves that the land was as good as theirs, since they were up against women and outnumbered the other side.
Little did they know what they had coming their way.
Out on September 15 in UK cinemas, My Pure Land focuses on the long, dramatic standoff itself and the true events that led up to it. Give it up for Pakistani women who fight the patriarchy.
The film marks British-Pakistani director Sam Masud's debut and boy, does it seem like one to watch. That being said, how did he stumble on her story?
Images spoke to the director to find out.
1) How are you responding to the feedback for My Pure Land?
Sam Masud (SM): It's tricky because - I had the idea in 2013. I spent 2014 raising the money for the film and we began filming in March/April 2015 and this is 8 September 2017 and people still haven't seen it. It's a long process: you've gone from raising money for the film to actually seeing it release and then getting into a cinema.
And you forget why you actually woke up in the middle of the night to tell the story. But then people see it and come out of the cinema crying and connect with the film and that's when you actually remember. Oh yeah. This is why I wanted to tell the story.
What I have noticed now is that the story isn't mine anymore, it's yours. I've done my bit and it would mean a lot to me if someone in Pakistan or someone in Yorkshire would see the film and connect with it. That would mean a lot to me. I'm incredibly humbled and excited by what's happening.
2) How did you find out about NazoDharejo? Have you gone to the place, seen the person?
SM: I was googling, yeah (short laugh). Originally I was thinking of making a film along the lines of Copland so I was googling police corruption. And stories of police corruption in Pakistan. I came across this and it was amazing. One woman defending her land before two hundred men, that was amazing.
SuhaeeAbro as Nazo
SuhaeeAbro as Nazo
And we're calling it a 'western' because that genre is easily transferable to Pakistan because of the lawlessness stories, the police being corrupt. I emailed SabaImtiaz and Samir Mandhro, I spoke a lot to Samir, I spoke to NazoBaji and her husband Zulfiqar. They're such honorable people. They read the script. He thought it was an action film! But I hope that when you see it, you'll realize that it's more than just an action film.
3) How accurate is the film? In terms of location, language and characters?
SM: There's a couple of things. It's really difficult to condense someone's life in 90 minutes of film. There's something people say: if you want the facts, go to a historian. If you want to know how it felt, give it to a dramatist or a novelist. And that was my job. To tell you how it felt for that girl to be surrounded by all those people, defending her home.
I think if you walk out of that film without feeling what that girl felt, without laughing, without crying, I'll give you all the money back myself. It is more honest than any film you'll see in Pakistan.
We found actors who were happy to not have makeup on their faces, to not have green contact lenses and bleached skin - and with the dialog as well, I was adamant that the actors did not speak the way that they spoke in the tv dramas. Actors sometimes tend to believe, that every line or dialog as an excuse to show how good they are. And I tell them, trust your audience, 'cause they are smart.
I'd tell them to believe in a thing called subtext. The audience are wise, they will know. And they're probably like, "Patanahikidher se ye larkaagayahai!" (where has this boy come from!) What kinda film is this! What kinda director is this! I'd love to see their reaction when they see the film now
4) Does a woman holding a klashnikov implicitly say she's a feminist? How closely do you view the relationship between this reactionary violence, thatNazoDharejo ultimately had to take up arms, and feminism? A lot of coverage that your film got was that it was slated as a feminist film. But as a filmmaker, as a creator and as someone who has taken up this subject, how close is the relationship that these two elements have?
SM I think that's a very good question. It's a tough one to answer, isn't it? It is being marketed as a feminist film and into the feminist western genre so that people know oh yeah I know what that is. It's interesting that it's being pigeon-holed as that, but there's so much more to it. Whether a woman holding a gun is defined as a feminist film, I don't know. For me, feminism and Islam and Pakistan aren't oxymorons.
Three women defend their home against a group of armed men who want to take it forcibly from them in My Pure Land
Three women defend their home against a group of armed men who want to take it forcibly from them in My Pure Land
There are such strong women in Pakistan and we can talk for hours about how in a patriarchal society we are producing women like Benazir Bhutto, AbidaParveen, SanamMarvi and SuhaeeAbro - so in term of iconography, it was important for me to have a Pakistani woman, with or without the headscarf asserting her position. But what this film does is start this conversation about feminism and that's great for me.
5) Can you talk about the cast a little bit, especially the lead character who plays NazoDharejo?
SM: We were fortunate to find her and the rest of our cast. We were a week before filming and we still hadn't found our Nazo. I kept meeting these girls with contact lenses and very bright, light skin, over-the-top dialog. For me, the essence of filmmaking is truth. Your actress must believe that she is that girl, who lived in that village. Somebody showed me her photo and I said she looks interesting.
We had a Skype audition and my Skype is rubbish and it looks like a watercolor painting. She flew in from Karachi the next day. And as soon as she walked in, I knew she was the one. She had a bit of dialog to read and I was like, "What do you think?" And she said, "It wasn't very good." And she was the only actress in the process to say that it wasn't good, and that she was self-critical.
I was like, don't worry about it. You already got the role. We were so fortunate to get Tanveer Bhai to get on board and I can't believe that man's not acting more in Pakistan.
6) What was the most difficult part about shooting in Pakistan? Many Pakistan based scenes are often shot in other countries, in some movies, which sometimes becomes a cheap imitation of what Pakistan is, in real. How important was it for you to shoot in Pakistan and did at any point you say, oh my God what did I get myself into?
SM: All of the above. It was REALLY important for me to shoot in Pakistan. I raised some of the money myself and right towards the end, Bill Kenwright came in and put rest of the money in. I was adamant to shoot in Pakistan. I wanted Pakistanis to be proud of it and South Asians to be proud of it. Even though I've been brought up here but I have such a strong affinity to Pakistan.
Sam Masud behind the scenes
Sam Masud behind the scenes
I asked my dad about it sometimes, what is it, why do you love the country so much, there are so many problems, and he said it's the mitti. The soil. And if I'm making a film about space, I know that I don't have to make it in space - but if I am making a film about My Pure Land, I'll try to make sure I've made a film on the Pakistani soil.
7) What have been your favorite movies to come out of Pakistani cinema in the past ten years?
SM: I do my best to keep up. I struggle with them sometimes. I'd say the work done by Jami. Dukhtar.ZindaBhaag. Saawan. I think Nabeel Qureshi is a very good filmmaker. He looks like he's learnt his craft and he takes the audience on a journey. My dad and I watched NaMaloomAfraad and Actor in Law. You know I'd love to get Atif Aslam to get one of his songs in.
8) Are you tempted to do any big budget, mainstream masala films for Pakistani screens? The big Bollywood style - the classic South Asian cinema is, with the songs and the dance and the fanfare and the music and the dance.
SM: I don't know. It would depend on the story for me. I've gotta care about the person, the character, and it's all gotta work. I think it's a bit unfair when people watch a Bollywood film and say that's got too many songs. That's the genre. You can't watch a horror film and say it's got too many murders.
9) Do you think you could ever foray into that area?
SM: I worked with Kabir Khan on Phantom, and it was epic to see them work on that scale. And I grew up in the 80s and I watched Raiders of the Lost Ark. Spielberg is the greatest filmmaker of all time. So it would have to be a combination of both. East meets West.
10 What kind of an impact are you hoping for the film to make for Pakistani audiences?
SM: I hope people are proud of it. I think it's important for films like this to come out. And it's important for filmmakers to be vocal and present to be in the public eye and there aren't many Pakistani-British filmmakers making films that are shown in the UK cinemas. And we're getting great coverage in papers like The Guardian, which is big in the UK and it's not associated or news for child abuse or honor killing but promoting a film.
Ultimately, I hope it finds an audience in Pakistan who are prepared to be entertained, to find it engaging and find it an interesting film which it is.
11) What's next in the pipeline for you?
SM: I'm trying to do a feel-good sports film in the UK, an underdog sports film. I also want to make two more stories that I want to work on in Pakistan but I want to see how My Pure Land gets the kind of response. I'm hoping for a rich uncle to sponsor me and give me money!
https://images.dawn.com/news/1178380/my-pure-land-tells-the-true-story-of-nazo-dharejo-the-woman-who-fought-off-200-bandits
---------
Sexual desires of Arab women unveiled by prizewinning novelist LeïlaSlimani
September 10 2017
Seated demurely in a literary salon on the Left Bank in Paris, LeïlaSlimani did not look like an author whose new work, Sex and Lies, seems destined to make her the most controversial female writer in the Arab world.
She is not afraid to say that Islamists are obsessed with sex and adds that millions of Arabs are trapped in "sexual misery" by repression and hypocrisy.
Sex and Lies is a non-fiction work revealing the private lives of women in Slimani's native Morocco in their own frank words and is accompanied by a graphic novel, Words of Honour, illustrated by LaëtitiaCoryn, that includes an explicit cartoon sequence about a young Arab woman's sexual awakening. Both
https://www.thetimes.co.uk/edition/world/sexual-desires-of-arab-women-unveiled-by-prizewinning-novelist-leila-slimani-tv2cbc0hg
---------
Tajikistan officials are texting women to tell them what to wear
September 10, 2017
IF you have a phone in Tajikistan, odds are you've received a text message reminding you what not to wear.
In: "national" Tajik dress, now required by law at all "traditional" gatherings. Out: the hijab, and other kinds of Muslim dress.
"Observe Tajik traditional clothes," one message read. Another advised citizens to "respect traditional clothes".
"Let's make it a tradition to wear traditional clothes," demanded a third.
The messages were sent as part of a national effort to publicise a new law. The measure, signed last month, requires people to "stick to traditional and national clothes and culture" at events like weddings and funerals. It also bans "non-traditional dress" and "alien garments".
Activists say those are euphemisms for the hijab, which officials have labelled part of "alien culture and traditions" in the past. The country's legislators are still figuring out how they might punish those who don't oblige.
The government says the new rule, passed by legislators in August, will help combat Islamist radicalism. The country's Muslims, though, see a more nefarious aim — an effort to regulate their faith. Ninety per cent of Tajiks are Muslim, but the government has worked assiduously to stamp out most markers of the faith.
Last year, the government shuttered scores of shops selling women's religious clothing. In March 2016, government officials forcibly shaved about 13,000 Muslim men. In August, more than 8,000 women were stopped across the country because they were wearing a hijab.
According to reports, teams of state officials instructed the women on how to tie their headscarves in a more "traditional" way, warning them to tie the scarf from behind, which would leave the front of the neck exposed.
One woman told Radio Liberty that she had been separated from her children and forced to remove her hijab. "They told us to wear national clothing only," the woman said.
She was so shaken that she said she's now nervous to go out in public.
All religious groups must register with the state, and the government has final say over whether houses of worship can be built and whether children can attend religious schools. Officials also regulate the distribution of religious literature. Those younger than 18 cannot participate in public religious activities, and Islamic prayer is tightly monitored. Even religious weddings and funerals are regulated by state officials.
The hijab has been a particular source of tension. The head covering became popular after the fall of the Soviet Union, to the chagrin of the government. Officials have tried to discourage women from wearing it through advertisements and news reports on state media.
In 2015, President EmomaliRahmon said the hijab was a sign of "poor education and incivility". Last month, an official told Radio Liberty that "all Salafist wives wear hijabs".
"We have many examples where women wearing the hijab take drugs, deal in human trafficking and other things that are far from Tajik culture and the honour of Tajik women," he said.
The government says these rules are important because they allow the government to root out terrorists. Officials say that hundreds of Tajiks have gone to fight for the militant Islamic State group, though activists contest that number.
But Muslims and human rights advocates say the government is obsessing about the wrong things.
"Defending our culture, traditions and national values is undoubtedly important for the Tajik people and the unity of the population," FaizinisoVohidova, a lawyer and rights activist, told Eurasianet. "But this should not be accompanied by the violation of human rights and interference in people's lives. . . . I think lowering poverty levels and improving the economy are more important matters than women's clothing."
By arrangement with The Washington Post
https://www.dawn.com/news/1356732/tajikistan-officials-are-texting-women-to-tell-them-what-to-wear
---------
Mewat women go high-tech under burkha
By Harpreet Bajwa | Published: 10th September 2017
CHANDIGARH: After the 'Lipstick Under my Burkha', now another kind of Burkha is taking Jatland by storm. A campaign—High-tech under Burkha—has been launched to encourage women from the Muslim community to learn computers.In the Muslim-dominated villages of Mewatdistrict, women are being encouraged to join social networking platforms. The area includes 20-odd villages out of the 100 adopted by former President Pranab Mukherjee under his 'Smart Gram' programme.
Around 28 women have joined the computer classes, spearheaded by two women—Shabnam and Vaseema—along with ex-sarpanch of Bibipur, Sunil Jaglan."This campaign was started about a month back in Rozkamave village. We go to each and every household in the village, and try to convince men and women that women should be educated about their rights. In most of these villages, women drop out after Class VIII and are not even allowed to use their mobile phones. For them, learning computers was a distant dream,'' says Jaglan.
Shabnam, a nursing student, and Vaseema, who has studied only till Class VIII, came forward to help Jaglan to convince the villagers. "The men have understood that women need to be empowered for the family to progress," says Shabnam.
http://www.newindianexpress.com/thesundaystandard/2017/sep/10/mewat-women-go-high-tech-under-burkha-1654731.html
---------
Saudi female inspectors hired to inspect women-only shops in Makkah, Madinah
Sunday 10 September 2017
RIYADH: For the first time in its annals, the Ministry of Commerce (MCI) and Investment successfully conducted field inspections carried out by Saudi women in women-only shops in Makkah and Madinah during the Hajj.
According to an official from the ministry, the women were deployed to inspect the markets and monitor violations, if any. The women carried out the functions and tasks entrusted to them inside the women's shopping centers and markets, the official added.
Over Hajj, various inspection teams from the ministry conducted some 153 field inspections which focused on the status of food supplies and consumer items, and also verified the quality, validity and prices of goods and foodstuff displayed in stores.
The official said that the teams also focused on ensuring the absence of fraud, cheating or manipulation, in addition to maintaining the pilgrims' health and safety.
Visits were carried out by inspectors around the clock in all areas of the holy cities, mainly to safeguard consumer interests.
The official pointed out that the ministry's inspection teams would continue to supervise and monitor sales outlets, ensure the quality and validity of goods and their conformity with the approved specifications.
Teams will also visit automobile tire shops, car service stations, and also gas stations to ensure that there is no adulteration in fuel supplied to automobiles.
Earlier, authorities closed several gas stations which were selling adulterated petrol claiming it as super-quality petrol.
http://www.arabnews.com/node/1158581/saudi-arabia
---------
'Khadhi Purdah' with desi touch a hit among women in Kerala
September 10, 2017
Purdah, the special gown used by Muslim women around the globe, now gets a 'desi' touch in Kerala through its unique khadi version. Seeking to tap the growing demand for the attire in and outside the country, the state Khadi and Village Industries Board has come out with purdahs in 'khadhi', the handspun, hand-woven natural fiber cloth, for the first time.
The eco-friendly purdah has takers not only among Muslim women, but also non-Muslims, working in Gulf countries like Saudi Arabia, where the special attire is a must while travelling outside, the Board sources said. The Board, known for a series of unique products ranging from khadi dhotis and shirts to sarees, has presented the 'khadi purdah' series as a special product during the recenly concluded Onam festival season.
Unlike the glittering purdahs available abroad, the khadi purdahs of the southern state, made of special manila cotton, is notable for its minimal designs, variety of colours and suitability for all climates.
Purdahs worth Rs six lakh had been sold in 10 days during the first time sale of the product in Kannur district last month and the Board is now flooded with calls and orders from the state and overseas for it. Board Vice Chairman M V Balakrishnan Master said they planned to expand production and sale of the product across Kerala and give training to its employees in purdah stitching.
"When I came across some purdah-clad Muslim women during a recent journey, I suddenly had a thought…. why can't we bring out purdah in our own khadi," he told PTI.
"I shared the idea with my team members and thus we launched khadi purdahs on an experimental basis during Onam. But we never expected this kind of acceptance and success," he said. He said they are finding it difficult to meet the demands for the 'khadi purdah', which is increasing day by day.
"Skilled tailors are needed to stitch purdahs.The Board's tailors can stitch ready-made shirts in a remarkable way. But they do not have expertise in purdah stitching.
So we are planning to give them special training in it," he said.
Khadi purdahs are now available in 15 different colours including black, brown, grey, green, violet and so on.
The medium-size attire, envisaged for youngsters to elder women, is priced between Rs 1100-1600 according to the design. "Usually women wear purdah over their usual clothes.As our purdah is made of khadi, it will resist heat and be more comfortable for them to wear compared to other purdahs,"Farooq K V, showroom manager of the Board in Kannur, told PTI.
After its launch in Kannur, the Board is getting orders from other places, mainly Malappuram, a Muslim dominated district, Kasaragod, Kozhikode and Thiruvananthapuram. "We also get inquiries from other countries like Saudi Arabia and Dubai. There were even non-Muslim women, working in countries like Saudi Arabia, who bought 5-10 purdahs from our Kannur outlet," he said. The Board planned to conduct a sale of 'khadi purdahs' in state capital Thiruvananthapuram later this month, he added.
http://www.financialexpress.com/india-news/khadhi-purdah-with-desi-touch-a-hit-among-women-in-kerala/849212/
---------
8 different hijab styles from around the world
Hijabis remain standing strong.
2017-09-10 04:20
For some it's all about religion and conviction, for others it's tradition, for a lot of women it's a choice.
With Islamophobia, hate crimes, and burkini scandals taking over the world's headlines, Muslims - particularly hijabis- remain standing strong.
Here are 8 different looks for the hijab across the globe.
1. Dupatta
A dupatta is part of the customary Pakistani, Indian, and Bangladeshi outfits; Muslim women may also use it as a headscarf as well.
It's usually made of light material and is beautifully embroidered on the edges.
2. Khimar
Source: beautifulbaheera.com
A number of Egyptian women choose a khimar as their hijab.
It covers the head, neck, and shoulders, while flowing down to the stomach or thighs.
3. Kerudung
Kerudung Source: HerCulture.org
The jilbab and the kerudung are two popular hijab styles worn in Indonesia and the Philippines.
The jilbab is similar to a chador, covering women from head to toe with an opening for the face.
As for the kerudung, it is a veil original to Indonesia. It has a stiff visor, allowing space between the forehead and the fabric.
4. Chador
Source: pinterest.com
Chadors seem to be a favorite option for Iranian women
It is a long piece of fabric attached to another small headscarf. The chador is length; it reaches a woman's legs or ankles.
It is worn mostly in Iran, Iraq, and parts of Lebanon and is associated with followers of the Shi'ite tradition.
5. Turban
Source: pinterest.com
Muslim women in Africa opt for a more elevated style, in which the hijab is lifted up and wrapped around their heads excluding the neck, creating a turban.
A turban is usually preferred due to soaring temperatures and the blazing sun present in Ethiopia, Somalia, and Sudan.
6. Niqab
Source: pressfrom.com
A niqab, the official head attire for women in Saudi Arabia, covers the head, face, and shoulders. A slit is usually created for the eyes in the front.
Due to the niqab's compulsory nature in Saudi Arabia, there has been a growing movement that is now calling for women to have a choice when it comes to wearing it.
7. Esarp
Source: Pinterest.com
Turkish women choose a more fashionable fabric for their hijab, called esarp.
It is a silk piece of square fabric, styled around the head and neck.
8. Amira
Source: bellahijabs.com
An amira, popular among the Muslims of Syria, is a simple yet efficient two-piece head covering.
It's usually used as a beginners hijab as it doesn't require pins and is very simple to wear.
http://stepfeed.com/8-different-hijab-styles-from-around-the-world-0708
---------
URL: https://www.newageislam.com/islam-women-feminism/no-polygamy-nikah-halala-mahila/d/112484