New Age Islam News Bureau
26 Jul 2018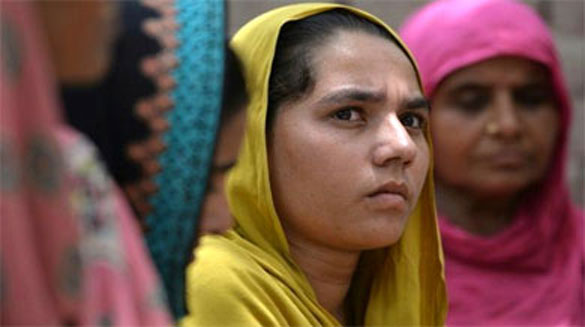 Male elders banned females from voting in Mohri Pur, some 60 kilometres (35 miles) from the central Pakistan city of Multan, around 1947 and the women have obeyed ever since.
-----
• Fatwa Is a Feminist Issue: Saudi Women Want More Sway in Religious Affairs
• 53pc of Afghan Women Experience Physical Violence
• Woman Elected To Head Opposition Council in Western Aleppo
• In Pakistan Conservative Areas See Women Vote for First Time
• What Is Nikah Halala? All You Need To Know
• New-Look Abaya That Blends Faith, Fashion — and Function
Compiled by New Age Islam News Bureau
URL: https://www.newageislam.com/islam-women-feminism/no-pakistani-women-vote-village/d/115945
--------
No Pakistani Women Vote In Village in Multan, Over Fear of Divorce
Jul 25, 2018
Pakistani women who had pledged to defy men in their village by voting for the first time ultimately did not exercise their democratic right in Wednesday's election, citing intimidation by their husbands.
Male elders banned females from voting in Mohri Pur, some 60 kilometres (35 miles) from the central Pakistan city of Multan, and the women have obeyed ever since.
This year many had vowed to cast a ballot following changes to Pakistan's election laws and amid shifting attitudes towards women in parts of the deeply patriarchal South Asian country.
Some 3,200 women were listed on the electoral register in Mohri Pur -- but not one voted, according to election officials and an AFP journalist at the village's sole polling station.
"We have threats from our husbands that they will divorce us if we cast our vote," 25-year-old Tanya Bibi told AFP as she walked past the polling station, without going in.
Around 8,000 men were registered to vote in the village. Large queues of them, each clutching identity cards, formed at the polling station, located in a school.
"We are here to cast our ballots, but our women didn't cast their votes because it is our old tradition which we have been preserving," Muhammad Shamsher told AFP.
Bismillah Iram, from a local NGO, said announcements were made from the village mosque warning that women should not come to the polling station.
Elders in Mohri Pur, which is located in Punjab province, banned women from voting decades ago, claiming that visiting a public polling booth would "dishonor" them.
So-called "honor" describes a patriarchal code across South Asia that often seeks to justify the murder and oppression of women who defy conservative traditions by acts such as choosing their own husband, or working outside the home.
Women in Mohri Pur told AFP recently that they had tried to vote in previous elections but had been prevented.
In 2015, one woman, Fouzia Talib, became the only one in the village to vote in local elections. She was ostracized.
https://www.presstv.com/Detail/2018/07/25/569244/Pakistan-Vote-Women
--------
Fatwa Is a Feminist Issue: Saudi Women Want More Sway in Religious Affairs
Jul 12th 2018
Secular Saudi feminists won international attention in June when Muhammad bin Salman, the reform-leaning Saudi crown prince, ended the kingdom's ban on women driving. But beneath their niqabs, or face-coverings, their conservative counterparts may be making even more ground. Female religious scholars have added the feminine Arabic suffix, ah, to a host of once-male posts, including da'yiah (preacher), alimah (Islamic scholar) and muftiyah (legal expert). "Women, instead of asking a man…call a more understanding muftiyah," advises an online directory listing Saudi women qualified in sharia.
Their rise is the result of a surge of Islamic-study programmes for women initiated—ironically—by the male clergy, many of whom were opposed to education for girls. They sanctioned female attendance at primary schools in the 1960s, only on condition that they could oversee the teaching (and budget). Today, female university graduates in Islamic studies outnumber male ones.
Many women graduates used to go into teaching, but now aspire to men-only jobs. This year the prosecution service began training its first intake of female investigating magistrates. The all-male Islamic affairs ministry says it is planning a women's section. And on July 3rd the justice ministry began recruiting female assistants for its male judges.
Some want to go further. They cite the Koran and examples from the first generation of Muslims (whom Saudi traditionalists profess to follow) to argue that women can lead prayers or even countries.
Change is underway. Judges now let female lawyers speak. They have revoked the right of male guardians to manage a woman's wealth, veto her marriage and keep custody of her children. The growing sway of women in religious affairs makes some liberals nervous. "We don't want more fanatics," says an official. She fears conservative women could derail the prince's programme of modernisation.
The Shura Council, the kingdom's quasi-parliament, is also concerned. Last September, it ruled that aspiring muftiyahs require a government licence. Prince Muhammad has muzzled the more independent ones. Ruqayya al-Muharib, a muftiyah, had been expected to become the first woman on the Council of Senior Scholars, the kingdom's top religious body, but was detained in September.
Nor are conservatives happy. Women keep demanding (and getting) more space in the mosque, complains an official of Islamic affairs. "A generation ago," he huffs, "they would have stayed at home."
This article appeared in the Middle East and Africa section of the print edition under the headline "Fatwa is a feminist issue"
https://www.economist.com/middle-east-and-africa/2018/07/14/saudi-women-want-more-sway-in-religious-affairs
--------
53pc of Afghan Women Experience Physical Violence
Jul 25, 2018
KABUL (Pajhwok): The Ministry of Public Health (MoPH) on Wednesday said 53 percent of the Afghanistan women aged above 15 years endured physical violence.
Ahmad Jan Naim, MoPH planning and policy manager, told a press conference here that violence against women was not only a human rights issue, but also a health problem. "Violence damages women's physical, mental, sexual and reproductive health," he added. The MoPH has so far registered 22,957 cases of violence against women pertaining to mental, physical problems, sexual assaults, sexual harassment and forced marriages, he said.
Naim said 61 percent of women did not seek solution to their problem while 56 percent faced physical and mental abuse, in most cases at the hands of their spouses.
Without providing specific figures, he said a large number of women faced violence during their pregnancy without reporting it to any organization.
Spozhmai Wardak, deputy women's affairs minister, who attended the conference, said that despite having the elimination of violence against women law and anti- harassment law, her ministry alone could not deal with the matter.
"In Afghanistan, these laws are not followed as should be and it is because of low budget", Wardak added.
She criticized the ways rights for women were sought and said women needed to be informed about their rights in order to get rid of violence and the media should also play their role in this regard.
On the other hand, Bannet Ndyanabangi, UNFPA representative in Afghanistan, said violence against women damaged women's safety, dignity and moral and it paved the ground for further violence against the gender.
https://www.pajhwok.com/en/2018/07/25/53pc-afghan-women-experience-physical-violence
--------
Woman Elected To Head Opposition Council in Western Aleppo
Khaled al-Khateb
July 25, 2018
ALEPPO, Syria — A woman is taking the reins of the Syrian opposition's local council in western Aleppo for the first time in the organization's six years.
Iman Hashem, a schoolteacher with a strong record of public service, took office July 1.
"I am very happy to be elected head of the local council," Hashem told Al-Monitor. "I consider myself a representative of the opposition women in Aleppo. I dedicate my victory to all of these women. Although I was running this election in a conservative society, I have not encountered difficulties for being a woman. The people around me are very supportive, especially my family and my husband."
The council manages the six districts in the city's western suburbs still controlled by the opposition Free Syrian Army (FSA). In December 2016, President Bashar al-Assad's forces captured the city except for those districts.
Hashem said that after she was displaced by Assad's forces from the eastern districts of Aleppo city, she worked in education and opened a school called Sanoud ("We will be back") in the city's western countryside.
She was head of the local council's Social and Educational Affairs Office in 2015. Hashem also opened the council's office for women, supervised several centers for empowering women in Aleppo and was a council member for two terms. She was a member of the executive office for the 2015-2016 term.
Following the outbreak of the revolution in 2011, Assad legalized "local administrative bodies" as part of a reform package meant to decentralize power in an effort to quell protests. The opposition Syrian Interim Government later borrowed language from these reform decrees to use as legal justification for its own councils.
Hashem said she has many projects she plans to implement during her one-year term leading the council.
"I have in mind projects aimed to provide more health and education services, and other services for the displaced from the eastern districts of Aleppo. The council will keep carrying out its routine works, which will focus on meeting the needs of the six districts."
Cleaning and water services also will be secured, she added, and she plans to follow up on the situation of women whose husbands were killed while fighting the regime.
"The council will also cooperate with local and international associations and organizations that are still supporting the work of the local council," she added.
Hashem said she will pay particular attention to awareness campaigns and educational and training courses for empowering women, who are now assuming a lot of responsibilities under the current circumstances.
She said the work of local councils in opposition-controlled regions of Syria shows the opposition can manage its areas in an institutionalized and democratic manner and is capable of producing a conscientious, transparent and healthy leadership far removed from injustice and favoritism.
"The opposition's local councils proved they can manage people's affairs and administer local facilities," Hashem said.
The council is based in Al-Kahraba quarter; the other five districts are Shamiko, Khan al-Assal, Kfardaal, al-Rashidin and Rif al-Muhandiseen.
Ahmed Aziza, media office director for the Aleppo opposition council, told Al-Monitor, "These are residential quarters housing tens of thousands of displaced from the eastern districts and other local [areas]."
He said the opposition local council of Aleppo city receives financial support from various international organizations and maintains partnerships with a number of charities in northern Syria covering the services sector, health, education, hygiene, humanitarian relief and women's empowerment.
"This support continued despite the FSA's loss in the eastern districts. … In addition to managing the western suburbs of Aleppo, the local council provides assistance to thousands of displaced people from Aleppo living in different areas in Idlib [about 40 miles southwest] and the northern Aleppo countryside, and other areas," he said.
The western area of Aleppo city also has a Revolutionary General Assembly, which includes many opposition figures who had worked in eastern district councils when those areas were still controlled by the FSA. The assembly also includes independent figures overseeing and assessing the work of the local council and submitting proposals on elections and others matters.
The choice of a woman to lead the council in western Aleppo is expected to set a precedent for the opposition. Hashem seeks to improve the status of women by focusing on projects that develop their capabilities. This will depend, however, on how much support the council continues to receive from international donors as well as from the Syrian Interim Government.
https://www.al-monitor.com/pulse/originals/2018/07/woman-elected-head-opposition-council-aleppo-syria.html
--------
In Pakistan Conservative Areas See Women Vote for First Time
Sadia Qasim Shah | Shafiq Butt
July 26, 2018
PESHAWAR/SAHIWAL: In a historic first, women in some conservative parts of Khyber Pakhtunkhwa and Punjab came out of their homes to cast their votes in the general election on Wednesday as candidates sought to fulfil the legal requirement of minimum 10 per cent women's turnout to validate their result.
In Balochistan, too, women came out in large numbers to vote despite terror attacks and repeated threats.
Women in tribal areas and other conservative areas had been barred from voting in the past general elections, as the practice of keeping women from voting is a norm under verbal and written agreements bet­ween candidates and family elders in such areas.
However, for the first time in the country's electoral history, the Election Commission of Pakistan (ECP) annulled the result of Dir Lower (PK-95) by-polls in 2015 after finding that none of the registered women voters had cast votes.
The Elections Act requires the ECP to declare an election null and void if women's turnout in a constituency is less than 10pc of its total polled votes.
On Wednesday, candidates and local administration on ECP directives ensured at least 10pc turnout of women voters in the districts notorious for barring women from voting. The measures encouraged women voters not only in Khyber Pakhtunkhwa's Dir Lower but also in a village of Punjab's Sahiwal district to visit their respective polling stations and cast their vote.
"Since the 1990s we had not seen women coming out in large numbers," said Zahid, a local journalist in Dir.
"I voted for the first time. My mother, aunt and cousins also went out today to vote," said a cheerful Shafi Naz from Dir Lower while speaking to Dawn. She wanted to go to vote during the previous elections also, but the family elders did not like women to leave their homes. Surprisingly, she said, nobody objected to their going out to vote. However, she was not aware of the fact that Election Act required 10pc women vote to acknowledge result of a constituency.
In North Waziristan, Bajaur and other far-flung parts of Mohmand tribal agency also saw a rise in female voters' turnout despite lack of facilities and slow polling process.
Considering past voting trends in the conservative parts of Khyber Pakhtunkhwa, the ECP had issued directives to district returning officers and deputy commissioners to ensure women's voting in six districts namely Swat, Dir Lower, Dir Upper, Shangla, Swabi and Batagram.
Punjab
Women of Jahan Khan Village (111/9-L) in the National Assembly constituency of Sahiwal (NA-147) also created history by voting for the first time in any general election for which the administration, civil society organisations and media could be credited.
There are 4,022 registered voters in the village and out of them 1,822 are women.
The village is divided among Jahan Khan, Shadookay and Kubaykay localities out of which Jahan Khan is the most populated. The Joiya biradri dominates the village.
Deputy commissioner Mohammad Zaman Wattoo told Dawn that a special session had been arranged to train women to vote by the polling staff. He said if the media had not highlighted lack of women's participation in elections, this year too they would not have voted in the village.
District Election Commissioner Rana Ghaffar said the election commission had categorically told village elders and candidates that in case there was less than 10pc turnout of women, the ECP would declare election results null and void.
Balochistan
Undeterred by the terror attacks targeting election activities, women voters in Balochistan, too, came out of their homes to cast votes.
"Our brave sisters from Panjgur have come out in great numbers to vote, despite threats repeated terrorist threats," National Party chief Hasil Bizanjo stated in a tweet to appreciate their courage.
https://www.dawn.com/news/1422875/conservative-areas-see-women-vote-for-first-time
--------
What Is Nikah Halala? All You Need To Know
Jul 25, 2018
New Delhi: The much-debated Islamic practice, 'Nikah Halala' means that after triple Talaq, a woman must marry another man and get divorced if she wishes to remarry her former husband. After taking down the practice of 'triple Talaq', a constitutional bench of the Pakistani apex court is going to review petitions challenging this age-old practice. Many women's rights activists feel that it violates the right to equality and liberty of Muslim women. In the Holy Quran under the chapter 'Surah al-Baqarah's verse 2:230' it's mentioned that if a husband 'talaqs' his wife irreversibly he cannot remarry that same woman. The remarriage is only possible after she is married to another man and is subsequently divorced by him. Only then the man and his former wife can 'reunite'.
Quran says that a woman becomes 'haram' to her husband after being divorced. In other words 'haram' means forbidden. The reunification becomes lawful only after she is divorced by another man.
In fact, the Quran does not mention the term 'Nikah Halala'. The word 'halala' finds its roots in the word 'halal' which means permissible and lawful. Thus it means a lawful wedding if translated in the context of marriage. As per Islam, a man has the liberty to divorce and remarry his wife twice. However, on the third divorce, the woman has to go through the process of 'Nikah Halala'.
This bar was in fact laid down so that a man could not torture his wife by marrying and divorcing her again and again. It made the concept of 'Nikah' sacred and strict. It was introduced in order to maintain a strict discipline amongst Muslim couples.
https://www.timesnownews.com/mirror-now/in-focus/article/what-is-nikah-halala-all-you-need-to-know/259813
--------
New-Look Abaya That Blends Faith, Fashion — and Function
July 25, 2018
JEDDAH: Wearing an abaya — the loose-fitting, full-length robes that symbolize a woman's religious faith — is part of Saudi Arabian culture.
But in a rapidly changing Kingdom, the traditional style of abaya is giving way to new experiments that meet both the garment's religious purpose and the demands of 21st-century life.
Now Saudi branding stylist Zahar Al-Sayed and her artist fiance Ahmed Angawi have launched the Abaya Factory, which offers a multifunctional abaya that can be transformed into a jacket, changing the whole outfit effortlessly.
Al-Sayed holds a BA degree in graphic design and MA in graphic branding and identity from the London College of Communication.
The two Saudi designers have come up with this new concept as an alternative solution for female travelers abroad who take off their abayas and tuck it in their bags. "Our abaya was a solution for people traveling from A to B without really thinking what outfit they have to change into," Al-Sayed told Arab News.
Speaking of the inspiration behind the designs, she said that "real women inspire us. Women's empowerment in general is one of our targets. We got our inspiration from women's needs."
The Abaya Factory offers their functional designs to all women-on-the-go, women who have a lot on their plate, and multitaskers.
The designers focus on all the details in their brand to suit women from all sides — they tried to focus on linen and cotton as the main fabrics in designing abayas, to suit the hot weather in Saudi Arabia.
The factory's prices are affordable compared to the market, according to owner Al-Sayed, who said prices range "from SR800 ($213) to SR1,800 ($480). So, we think it's affordable for what it is, and for what we offer."
As a Saudi designer, Al-Sayed said, working in the fashion industry is different today: "When we started out, there were a few people in the market and now I think it's just very competitive. It's a normal market and everyone (is) raising their game in branding."
As fierce as the competition may seem, she appears optimistic about the Saudi fashion market: "They (designers) are actually taking care of all these details that add value to the brand itself, so I think everyone has a space in this market," she said.
"People are more exposed through social media, more aware of designing and they really appreciate the homegrown talents," according to the designer .
The local brand's owner wants women to feel confident, comfortable and proud when they wear their abayas.
The Abaya Factory has its own studio where people can buy its unique designs at the Homegrown Market in Jeddah or through the brand's official website or WhatsApp service.
The designers' next step is to develop their creations by adding more functions to their abayas. "Our future plan is to (have) showroom appointments (with customers) so people can come in and choose the fabrics, colors and create their own garments."
Women have become more flexible in wearing their outfits. In 2007, Saudi designer Eman Joharjy designed an abaya that would freely allow her to practice cycling and was dubbed the "sporty abaya."
Another concept was the driving abaya, which features a hoodie, tight elbows to prevent the sleeves from catching on the handlebars, and shorter lengths to make switching pedals easier.
http://www.arabnews.com/node/1345466/lifestyle
--------
URL: https://www.newageislam.com/islam-women-feminism/no-pakistani-women-vote-village/d/115945
New Age Islam, Islam Online, Islamic Website, African Muslim News, Arab World News, South Asia News, Indian Muslim News, World Muslim News, Women in Islam, Islamic Feminism, Arab Women, Women In Arab, Islamophobia in America, Muslim Women in West, Islam Women and Feminism