New Age Islam News Bureau
26 Sept 2015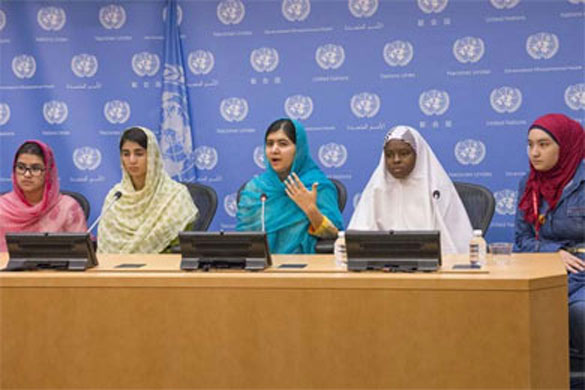 Nobel peace laureate Malala Yousafzai (C) holds a news conference with her friends and fellow activists Kainat Riaz (L), Shazia Ramzan (2nd L), both from Pakistan, Amina Yusuf (2nd R) from Nigeria, and Salam Masri (R) from Syria, after speaking at the United Nations General Assembly at UN headquarters in New York, September 25, 2015. PHOTO: REUTERS
---------
• Niqab Ban Is Hot Topic in Canada Election Debate
• World Has 'Lost Humanity' On Syria: Malala
• Yazidi Sex Slave Claims She Was Raped By ' White American ISIS Jihadi' In Syria
• Mrs. Ayman Kanjou Defines a New Type of Palestinian Terrorist
• Saudi Women Informers Keep an Eye on Female Thieves
• Syrian Family's Life Darkens in Town That Saw Neo-Nazi Riots
• Bangladesh's First Lesbian Comic Strip Heroine
Compiled by New Age Islam News Bureau
URL: https://newageislam.com/islam-women-feminism/niqab-ban-hot-topic-canada/d/104724
-----------
Niqab Ban Is Hot Topic in Canada Election Debate
September 26, 2015
MONTREAL — Prime Minister Stephen Harper sought to win over the key French-Canadian vote in an election debate Thursday with a firm defence of a popular Niqab ban that split his rivals. With only four weeks left before Oct. 19 legislative elections, a woman's right to wear the veil, which covers all of her face except the eyes, has become a hot-button issue.
A Conservative government policy, introduced in 2011, prohibited wearing such a veil during citizenship ceremonies. But last week, a court struck down the ban. Harper has appealed the decision to the Supreme Court, and said that, if re-elected, his Tories would make it the law.
"When we join the Canadian family we should not hide our identity and that's the reason we believe that new citizens should recite the oath with their face uncovered," he said.
A poll taken in March as debate over the matter reached a fever pitch showed 82 percent of Canadians supported the ban. In the predominantly French-speaking province of Quebec, that number climbed to 93 percent. Thomas Mulcair, leader of the New Democratic Party, which led in recent public opinion polls in Quebec, has come out in favour of a woman's right to wear whatever she wants. In the context of a citizenship ceremony, however, he said he would still require a woman to remove her veil to prove her identity.
The Liberals, led by Justin Trudeau, have also pitched the importance of upholding individual rights in Canada's multicultural society. "If a man can't tell a woman how to dress, we should not have the state telling a woman what she shouldn't wear," Trudeau said.
During the debate, Harper maintained that the Niqab is anti-woman. Turning to Mulcair, he said: "I will never say to my daughter that a woman has to cover her face because she's a woman."
Although less than a few thousand women across Canada wear the veil, the Niqab evokes powerful emotions, mixing individual rights, religion, women's issues and culture. The separatist Bloc Quebecois has said it would go as far as suspending certain constitutional rights in order to stop any woman from wearing the veil in Canada. Its leader Gilles Duceppe said the garment represents the "repression of women."
Both Mulcair and Green Party leader Elizabeth May, however, downplayed the issue, calling it a red herring. Mulcair accused Harper of "trying to hide his government's economic record behind the Niqab."
"What is the impact of the Niqab on the economy? What is the impact of the Niqab on climate change? What is the impact of the Niqab for the unemployed?" said May. "It's a false debate meant to distract Canadians and avoid debate on real challenges for Canada," she said.
The court battle at the centre of the controversy was brought by Toronto-area resident Zunera Ishaq, who argued successfully that the ban violated her religious freedoms under Canada's rights charter. Originally from Pakistan, Ishaq arrived in Canada in 2008 and passed her citizenship test in 2013. But she refused to participate in the oath-reciting ceremony because she did not want to do it with her face uncovered.
Ekos polling released Thursday showed the Tories' anti-niqab position had helped swing the party back into the lead in the election with 35.4 percent support nationwide, while the New Democrats fell from first to third place, behind the Liberals. In Quebec, where 78 out of 338 seats in Parliament are up for grabs, the New Democrats lost eight points in recent weeks, dropping to 38 percent, a Leger poll found.
During the debate the party leaders also sparred over assisted dying, climate change, oil and gas pipelines, security, Syrian refugees, unemployment and Quebec independence. The New Democrats swept Quebec in the 2011 ballot, which helped propel the party for the first time into the role of official opposition and a stone's throw from power.
The Conservatives are not expected to gain seats in Quebec this round despite a bump in support. But any votes the Liberals or Bloc grab from the New Democrats in Quebec help the overall Tory campaign, and Harper appeared content during much of the mash-up to let his rivals attack each other.
http://www.saudigazette.com.sa/index.cfm?method=home.regcon&contentid=20150926257747
-----------
World Has 'Lost Humanity' On Syria: Malala
Sep 26, 2015
UNITED NATIONS: Teenage Nobel laureate Malala Yousafzai on Friday made an appeal to leaders to do more on Syria, saying that the drowning of a toddler showed the world had "lost humanity."
The 18-year-old Pakistani, who was shot by the Taliban for defiantly going to school, said she was so upset by abuses of girls at the hands of extremists in Syria and Iraq that she has stopped watching the news.
But she saw and remained haunted by the picture of Aylan Kurdi, the Syrian toddler whose body washed up on a Turkish beach in an image that became emblematic of the risky exodus of refugees seeking safety in Europe.
Aylan's life was full of fear — in death, he is part of 'humanity washed ashore'
"We lost humanity on that day when... nowhere a child is welcomed," she told reporters at the United Nations.
"It is important that people open their hearts and people open their lands to people who are now needing more support and who need the right to live," she said.
Malala appealed to world leaders to imagine their own children suffering the abuses meted out by the Islamic State movement, which has sexually enslaved girls from minority groups.
"The first thing is that the world leaders need to take all these issues more seriously," said Malala, who brought with her four girls including a Syrian refugee.
"They should think about their own children."
The youngest-ever Nobel Peace Prize winner has not returned to Pakistan for three years amid concerns for her safety, instead studying in Birmingham, England.
She came to New York for the adoption of a new UN development agenda, which aims to end extreme poverty in 15 years.
She said she took two days off.
"I never miss a schooldays unless it's for a good cause and it really brings change," she said.
http://timesofindia.indiatimes.com/world/us/World-has-lost-humanity-on-Syria-Malala/articleshow/49113056.cms
-----------
Mrs. Ayman Kanjou Defines A New Type Of Palestinian Terrorist
Posted on September 25, 2015
Terrorists who get caught before they strike don't usually attract much attention. But the arrest of Mrs. Ayman Kanjou deserves extra attention, because she defies every stereotype we have ever been taught about Palestinian terrorists.
Men are presumed the most likely to become terrorists, since in Muslim society they are the ones who enjoy various freedoms, while women are sheltered and carefully watched by their husbands or fathers. They didn't stop Mrs. Kanjou.
Young unmarried men are the ones whom we expect to get caught up in radicalism, since they have the least to lose. A middle-aged woman with small children has a lot to lose. Yet there was Mrs. Kanjou, age 44, mother of five small children, crossing through Turkey last month on her way to join the Islamic State terrorists in Syria.
According to the stereotype, Palestinian terrorists are uneducated drifters. Not so Mrs. Kanjou; she comes from a "respected" family, said Israeli prosecutor Shunit Nimtzan. She is a college graduate (Al-Azhar University in Cairo), which cannot be said about many Muslim women. And not just a B.A.—she has a Ph.D.!
Full Report at:
http://www.jns.org/latest-articles/2015/9/25/a-new-type-of-palestinian-terrorist#.VgZ7i9Kqqko=
-----------
Yazidi Sex Slave Claims She Was Raped By ' White American ISIS Jihadi' In Syria
By Hannah Parry for Daily Mail.com
26 September 2015
A young woman who claims she was brutally raped by an American jihadi after she was kidnapped by ISIS is to testify in Congress
She told CNN she had been subjected to the depraved acts as a punishment for not being a Muslim.
'There was nothing left to do to me. They did everything,' she said.
The brave victim said her nightmare began after she was captured by fighters from the extremist group when they overran the city of Sinjar in Iraq, in August 2014.
Bazi was taken to the Syrian city of Raqqa and was to be subjected to a demeaning auction where she, and ten other girls, would be sold off as sex slaves to the highest bidder, before Abdullah decided to keep her for himself.
She told CNN that her captor had been a teacher in America and still had a wife and two children in the U.S. who he would regulatory travel back to visit. He was described as being 'very white,' with a black beard and hair.
Abdullah is among hundreds of American citizens who have gone to join the terrorist group in its strongholds of Syria and Iraq since 2013.
Using slick propaganda videos and social media, ISIS attempt to lure members by portraying how much better life purportedly is in the caliphate as compared to the corrupt West. And people attracted to ISIS' marketing run the gamut from rich to poor, educated to dropout, male to female, teenaged to middle-aged.
See our full coverage of the latest news on ISIS
Abdullah is said to have converted to an extreme form of Islam and told his victim that everyone should either be Muslim - or die, Bazi told CNN.
'He was telling us we should go back to the Prophet's age, where we force everyone to become Muslim. Everybody should be a Muslim - either be a Muslim or die.'
She described how he would pray before and after raping her to 'cleanse' himself of the act.
'Before raping me, he would pray for like fifteen minutes or half an hour. And after that, even if it was 2am, 3 am, after raping me, he would go take a shower and pray again.'
Despite her own suffering, Bazi says she was able to save another 'slave' from her fate by persuading Abdullah not to rape her but keep her as a servant.
The young woman finally escaped after she with the help of family, after she managed to flee to a nearby shop and call them, who knew people in an underground network working to free girls and get them out of ISIS-held territory.
Human rights group Hardwired assisted her in coming to the U.S where she is planning to call on the FBI to launch an in investigation into her claims.
'I was never able to even think about getting out of there, since -- although I tried many times, all the time I was aware that I will fail. And so even now, I don't believe how did I made it.'
Isis's Despicable 'Price List' For Yazidi And Christian Slaves
ISIS has carried out 'systematic sexual crimes' against girls from the Yazidi community since kidnapping more than 3,000 girls from their homes in northern Iraq since August last year.
Unjustly regarded as 'devil worshippers' on account of their unusual beliefs, the Yazidi have for centuries been one of the most persecuted minorities of the Middle East. Islamic extremists regard them as infidels, worthy only of being killed.
Those considered the 'most beautiful' by ISIS leaders are sent to horrendous auction houses where they are stripped naked and sold to the highest bidder.
In one sickening case, an ISIS militant used an 11-year-old Yazidi sex slave as a human shield by strapping her to the bonnet of his car while driving into battle.
The terrified girl was left screaming for her life after being tied to the windscreen of a Humvee military vehicle to protect her captor from enemy gunfire.
When she is not being paraded through war zones, the child is repeatedly raped by the fanatic, activists have revealed.
The girl is among 3,750 prisoners from the minority sect who were captured during the terror group's brutal uprising through northern Iraq last year.
Many have been sold at slave markets destined for a life of horrifying abuse at the hands of their captors.
Lawyer Khaleel al-Dakhi, who runs a group that has rescued more than 1,000 Yazidis from ISIS through a network of informers, said the girl was still being held by her captor.
The group is part of a heroic underground network of resistance fighters helping women and girls to flee their captors.
Risking certain death and torture in a bid to flee their brutal oppressors, the former sex slaves spend several days making their way through Syria and Iraq to the safety of government-controlled territory.
Many of them have been subjected to appalling violence, rape and sexual abuse at the hands of ISIS fighters and commanders.
One victim, a mother-of-three named Khalida who managed to escape, told how the disabled and elderly women were separated for prisoner swaps and that virgins were also singled out.
And their fate can also be death for those who disobey.
Just last month it emerged that ISIS fanatics had executed 19 women for refusing to have sex with its fighters.
A Kurdish official claimed the women were being held hostage in the extremist group's stronghold of Mosul, Iraq, which the terror group seized in June last year.
Meanwhile a UN envoy investigating Islamic State's vile sex trade has said 'girls get peddled like barrels of petrol' and one can be bought by six different men.
She also verified a disturbing ISIS document which suggested the extremists sell the Yazidi and Christian women and children they have abducted, with girls aged just one to nine-years-old fetching the most money.
The brave victim said her nightmare began after she was captured by ISIS fighters when they overran the city of Sinjar in Iraq, in August 2014 (file picture)
In August, the group posted disturbing images online of what they claimed were three Assyrian Christian women ISIS that they had abducted in February.
In three 'leaked' images shared on social media, the women hold pieces of paper on which their names and a date - July 27, 2015 - are written.
It is feared this means they will be sold to ISIS fighters if their families or charities do not pay ransom for their release, although no figure appears on the signs they hold.
One woman stands over her young daughter holding a sign which reads Susan Elias along with the date July 27, 2015.
The second, who is alone, is called Hannaa Assaf Youssef. The third woman is surrounded by what appears to be her own three children but the writing on the sign could not be made out accurately.
'The names resemble the family names of people in a nearby village - Tel Jazire - so it is possible that these women could be from Assyrian villages but we cannot confirm that,' a source at the Assyrian Federation of Sweden said.
Islamic State fighters have abducted and sexually abused hundreds of women from northern Iraq's Yazidi community since it raided their villages last year.
But captured Christians and Jews have enjoyed more protection from the fighters because they regard them as 'People of the Book'.
The terror group may now have changed that stance, according to a recent New York Times interview with an abused Yazidi girl.
The vile ISIS fighter who raped the 12-year-old girl allegedly told her that 'what he was about to do was not a sin' because she 'practiced a religion other than Islam'.
ISIS also made clear in a 34-page manual released by its 'Research and Fatwa Department' that sex with Christians and Jews who were 'captured in battle' was also allowed.
Another Yazidi teenager has told how she and her little sister were raped daily by depraved jihadists after they were sold into slavery at an auction of virgins - as she revealed she is now pregnant with the vile extremist's baby.
The girl, who is just 17, revealed how every day of her nine-month ordeal was 'like choosing between death and death' as she was faced with beatings and sexual assaults by the ISIS militant and his team of 'bodyguards'.
The teenager told how she was gang-raped, whipped and even scalded on the thigh with boiling hot water if she didn't keep with her ISIS rapist's depraved sexual demands.
Now, three months pregnant with Al-Russiyah's baby, the girl says she gets flashbacks and nightmares about what he did to her.
The girl was bought by Al-Russiyah, originally from Chechnya, who purchased her, her 10-year-old sister and two other girls in 10 minutes.
But it was not only the prospect of what the horrors they would face once they were taken away from the auction house which left the girls distraught.
Once at their new 'home', an abhorrent daily routine from which they could not escape began.
Each morning, Al-Russiyah would strip the girls naked, then smell them and decide who he wanted to have sex with that day, she said.
After the he had made his choice, his bodyguards would select one of the remaining girls for themselves.
But the bodyguards were so rough with her that the teenager felt relief at being picked by her captor, who would 'beat her less than the other men'.
It was only when he and his bodyguards were killed in battle that she managed to succes
http://www.dailymail.co.uk/news/article-3248173/Yazidi-sex-slave-claims-raped-American-teacher-turned-ISIS-jihadi-testify-Congress.html#ixzz3mqFRxS9u
-----------
Saudi Women Informers Keep an Eye On Female Thieves
Friday, September 25, 2015
Saudi Gazette report
MINA — Zahra, a 40-year-old woman from Makkah, is in the holy sites on an official and sensitive mission: to supervise the female section of the police department for search and investigation.
Zahra works day and night to ensure the safety and comfort of female pilgrims by protecting them from female thieves.
She told local daily Al-Madina that she and her associates closely observe the places of large women concentrations in the holy sites to nab women thieves who may dare to steal from the pilgrims.
"We closely follow up the suspected women thieves to nab them and hand them over to the concerned authorities," she said.
Zahra said they do their job discreetly so as not scandalize the women thieves out of respect for the dignity and privacy of the women.
"I am supervising a large number of well-trained women informers to monitor, watch and investigate female thieves during the Haj," she said.
Full Report at:
http://www.saudigazette.com.sa/index.cfm?method=home.regcon&contentid=20150926257762
---------
Syrian family's life darkens in town that saw neo-Nazi riots
September 26, 2015
HEIDENAU, Germany — From the bright lights of Berlin to a grim former Nazi military barracks near the Czech border, the Syrian refugee family's new life in Germany has been a roller-coaster of euphoria and despair.
Last week, fate reserved yet another nasty surprise for the Habashieh family, as they were shuttled from the miserable army barracks to an even more dismal refugee center — in a town that made international headlines last month because of neo-Nazi riots against plans to house migrants there.
The Habashiehs arrived well after the protests, but residents have been quick to tell them how unlucky they are: Heidenau is one of Germany's most depressed, racism-infested towns. In late August, more than a hundred drunken rioters threw stones inside the shelter and blocked the road so buses packed with asylum-seekers could not enter the compound. More than 20 police officers were injured by firecrackers and broken bottles thrown by neo-Nazis.
Full Report at:
http://www.saudigazette.com.sa/index.cfm?method=home.regcon&contentid=20150926257738
---------
Bangladesh's first lesbian comic strip heroine
Sep 26, 2015
Homosexuality is a taboo in Bangladesh, a predominantly Muslim country. To foster awareness about the rights of homosexual people, the country's largest gay rights group has launched a lesbian comic strip
Her name is Dhee - a young woman living in conservative Bangladesh, who is exploring her sexuality. Dhee, which means "wisdom" in Bengali, falls in love with a girl after discovering that she is not attracted to boys. This story is told by the gay rights group, Boys of Bangladesh, in the country's first-ever lesbian comic strip launched in the capital Dhaka over the weekend.
Full Report at:
https://en.qantara.de/content/introducing-dhee-bangladeshs-first-lesbian-comic-strip-heroine
-------
URL: https://newageislam.com/islam-women-feminism/niqab-ban-hot-topic-canada/d/104724