New Age Islam News Bureau
21 Aug 2015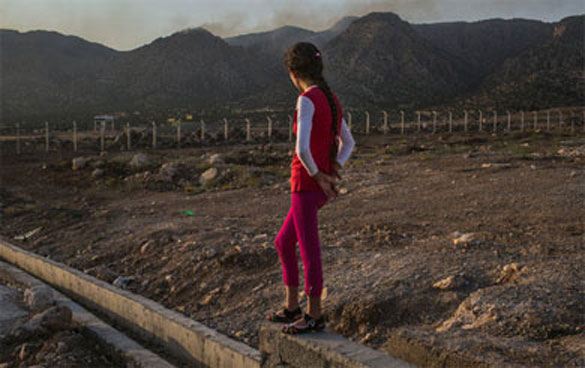 A 12-year-old girl in the Kurdistan region of northern Iraq Credit Mauricio Lima for The New York Times
---------
• The Islamic State Is Forcing Women to Be Sex Slaves
• Pakistan Police Hunt 'Exorcist' Over Women's Deaths in Kot Addu
• Malala Yousafzai Aces Her O-Levels
• 5, 50,000 Women Missing In Voter List In Bangladesh
• Saudi Women's Business Forum Website Goes Live
• Muslim Women Seek Online Boutiques for Non-Traditional Fashions
Compiled by New Age Islam News Bureau
URL: https://newageislam.com/islam-women-feminism/ninety-two-percent-muslim-women/d/104340
----------
92% of Muslim Women in India Want Oral Triple Talaq to Go: Study
Aug 21, 2015
NEW DELHI: Should unilateral, triple Talaq be banned? An overwhelming number of Muslim women in the country think so.
In a first of its kind study, the women have unequivocally voiced their dissent against the discriminatory practice of triple Talaq with 92.1% seeking its ban. Oral Talaq delivered through new media platforms like Skype, text messages, email and WhatsApp have become an increasing cause of worry for the community.
A study conducted across 10 states by NGO Bharatiya Muslim Mahila Andolan (BMMA) — working for reforms in Muslim personal law — found that a majority of the women were economically and socially disadvantaged, over half had been married before the age of 18 and had faced domestic violence.
The study, which interviewed 4,710 women between July and December 2013, reveals that 91.7% of the respondents opposed a second marriage by their husbands.
About 73% women surveyed were from families that earned less than Rs 50,000 annually and 55% were married before they reached 18. An overwhelming 82% had no property in their name and 78% were homemakers, indicating absence of income. Over 53% reported having faced domestic violence in their lives while a majority was poorly educated.
"In 2014, of the 235 cases that came to women Sharia adalats that we run, 80% were of oral Talaq,'' author of the study Zakia Soman said, adding that women were forced to bear the brunt of the practice.
Most women (93%) were in favour of an arbitration process before divorce and 83.3% believed that codification of Muslim family law would help get justice. Codification of Muslim personal law has been resisted by the community citing religious interference.
Responding to this, Soman said, "Government has molly-coddled and appeased those groups which have taken upon themselves to speak for the community. It is our constitutional right. For groups that cite religious freedom as an argument, it is at the expense of women's rights.''
Co-author Noorjehan Safia Niaz said, "An overwhelming number of women demands reforms in Muslim personal law. They want an elaborate codified law based on the Quranic justice framework to cover matters such as age of marriage, divorce procedures, polygamy, maintenance and custody of children.''
BMMA plans to take the issue up with the government, Law Commission and the National Commission for Women (NCW).
http://timesofindia.indiatimes.com/india/92-of-Muslim-women-in-India-want-oral-triple-Talaq-to-go-Study/articleshow/48565408.cms
----------
The Islamic State Is Forcing Women to Be Sex Slaves
AUG. 20, 2015
Women and girls as young as 11 have been systematically raped by fighters for the Islamic State, which has made sex slavery a pillar of its self-proclaimed caliphate.
The New York Times interviewed 21 women and girls in Iraq who recently escaped Islamic State captivity, examined the group's communications and talked to terrorism and religious experts for a chilling report by Rukmini Callimachi, a correspondent who covers Islamic extremism.
A year after the Islamic State first institutionalized sex slavery, Ms. Callimachi found that the practice has become ever more deeply enshrined in the group's organization and theology.
Brutality Cloaked in Piety
A 12-year-old girl who was bound, gagged and raped by an Islamic State fighter while she was held as a sex slave in Iraq said that her attacker would pray before and after he raped her, bookending his brutality with acts of religious devotion.
"I kept telling him it hurts — please stop," she said in an interview at a refugee camp in Qadiya, Iraq, to which she escaped after 11 months in captivity. "He told me that according to Islam he is allowed to rape an unbeliever. He said that by raping me, he is drawing closer to God."
In much the same way as specific Bible passages were used centuries later to support the slave trade in the United States, the Islamic State argues that the Quran or other religious texts and rulings justify their human trafficking, experts say. Scholars of Islamic theology disagree, however, on the proper interpretation of the texts.
An Organized Slave Trade
The trade in women and girls from the Yazidi religious minority who are bought and sold, given as gifts between fighters and offered as prizes in competitions, is widespread in areas that the Islamic State controls, and highly organized. There are warehouses where the victims are held and viewing rooms where they are inspected by prospective buyers.
A 19-year-old victim who also escaped described a slave market where she was kept with at least 500 other unmarried women and girls, the youngest around 11 years old.
The women and girls were paraded uncovered in front of men and forced to answer intimate questions, including reporting the exact date of their last menstrual cycle.
ISIS Propaganda
Rape has long been employed as a weapon of war, but what makes the Islamic State's campaign of sexual violence different is that the extremists are making no attempt to hide or deny their crime.
The trafficking of women has been used to reward fighters, and as a recruiting tool to lure men from deeply conservative Muslim societies, where casual sex is taboo and dating is forbidden.
The Islamic State's leaders publicize their enslavement of women and girls in their official publication, offering a theological argument for why the rape of infidels is allowed.
Fissures Within the Group
The Islamic State made clear in its online magazine, Dabiq, that its efforts to enslave Yazidi women and girls had been extensively planned.
But the use of sex slaves initially surprised even the group's most ardent supporters, many of whom sparred with journalists online after the first reports of the systematic rapes.
The Islamic State leadership defended the practice of slavery and rape in the group's online magazine, and its May issue featured an editorial expressing hurt and dismay over supporters who had questioned the institution of slavery.
http://www.nytimes.com/2015/08/21/world/middleeast/the-islamic-state-is-forcing-women-to-be-sex-slaves.html?_r=0
----------
Pakistan Police Hunt 'Exorcist' Over Women's Deaths In Kot Addu
August 21, 2015
MULTAN: Police are hunting an "exorcist" over the death of a woman and her daughter who suffocated in a botched fire ritual to rid them of their demons, officials said.
The killings took place in the rural town of Kot Addu, 60 kilometres west of Multan, the main city in the southern region of Punjab province, where many rely on traditional healers and black magic to cure their ailments.
The 40-year-old woman and her 15-year-old daughter were taken to a so-called spiritual healer on Monday by a relative who believed they were possessed, district police chief Awais Ahmed Malik told AFP.
They both died of suffocation when the practitioner locked them in a room and lit a fire to expel their demons, he added.
The case was confirmed by a local administration official.
Malik said the initial postmortem report showed that both mother and daughter were suffering from gastroenteritis.
Police have registered a murder case against the exorcist and his female assistant, both of whom have fled, he added.
Faith healers are common across Pakistan with the practice rooted in mystic Sufi lore.
A cure-all to some and for others a scam that preys on people's superstitions, black magicians continue to thrive despite the disapproval of some schools of Islam.
In January, a father-of-six in southern Sindh province strangled five of his children, apparently believing the sacrifice would endow him with magical powers including alchemy.
http://www.dawn.com/news/1201912/police-hunt-exorcist-over-womens-deaths-in-kot-addu
----------
Malala Yousafzai Aces Her O-Levels
August 21, 2015
Malala confirmed her superstar status today by acing all her O-level subjects!
This accomplishment of the 18-year-old education activist was revealed in a tweet by her proud father, Ziauddin Yusufzai:
Though Malala has spent the past few years busily supporting girl's education all around the world, she's repeatedly stressed that she is very keen to continue to excel in her own schooling.
And she's done just that.
It's not just her father who she's made happy. Her fans have been sending out congratulatory messages to her:
http://www.dawn.com/news/1201908/just-in-malala-aces-her-o-levels
----------
5, 50,000 Women Missing In Voter List In Bangladesh
August 21, 2015
The Women Count, an alliance of nine non-government organisations, yesterday expressed concern over the exclusion of a large number of women in the latest voter list updated by the Election Commission.
It said a campaign to increase the number of women on the voter list was launched in the wake of what it described as an underrepresentation of women in the list.
Addressing a press conference at the National Press Club, Abdul Alim, director of Election Working Group which is a partner of the alliance, said: "We are concerned because over 0.55 million women voters are missing from the list even though it has been updated by the Election Commission."
"This trend of not including women in the voter list has been around since 2008 and if it continues, the integrity of the voter list will be thrown into question. Also, the women whose names do not appear in the list will not be allowed to vote, which is a democratic right," he said.
The Women Count, as part of its campaign, will be visiting different areas to help women complete their registrations. It has also launched a website [www.womencountbd.org] to provide all the latest information on the update of the voter list.
Maleka Banu, general secretary of Bangladesh Mahila Parishad which is another partner of the alliance, called on the Election Commission to take extra cautions while updating the voter list. "The task of updating the list began recently and the commission should ensure that all the eligible women have been registered," she said.
http://www.dhakatribune.com/bangladesh/2015/aug/21/550000-women-missing-voter-list
----------
Saudi Women's Business Forum Website Goes Live
21 August 2015
RIYADH: A website has been launched in Arabic and English for the second National Businesswomen's Forum, under the auspices of Custodian of the Two Holy Mosques King Salman in Riyadh on Sept. 1.
The website includes information about the forum's agenda, program, keynote speakers, sponsors, and media coverage in local and Arab publications. It will also have links to Twitter, Facebook, Instagram and YouTube, to disseminate information about the event.
Local and international participants can register via the site and have access to information pertaining to visas and hotels. It incorporates a user-friendly design to ensure ease of access. More than 100 delegates have registered so far from the Kingdom, Gulf and Arab region.
Businesswoman Reem bint Ahmed Al-Frayan said it would provide a platform for young women to discuss pressing issues and challenges in various fields and gain support for their investments in the Kingdom.
She said the forum is slated to discuss various issues on how to ensure women participate more effectively in the economy for their benefit and the country as a whole.
The forum, entitled "Reality of Women Investments in the Kingdom and Development Tools," will be opened by Commerce and Industry Minister Tawfik Al-Rabiah with Chairman of the Council of Saudi Chambers Abdul Rahman Al-Zamil.
According to Al-Frayan, the forum's agenda includes four work sessions with keynote speeches by Princess Lolowah Al-Faisal, Saleh Al-Hussaini, chairman of the Shoura Council's committee on economic affairs and energy, Minister of Labor Mufarrej Al-Haqbani, and Prince Saud Al-Faisal, deputy governor of the Saudi Arabian General Investment Authority.
The second day's session would focus on the concentration and diversity of women's investments in the Kingdom and will see keynote speeches delivered by Wafaa Al-Mobeirek from Princess Noura University, Faten Bondugji, and Elham Al-Dakheel.
The third session on the role of innovation will be chaired by Nadia Baeshen and include a keynote speech by Prince Turki bin Saud Al-Saud, president of King Abdulaziz City for Science and Technology, with guest speakers Rakan Al-Eidi, Abeer Al-Essa and Fouad Moussa.
The fourth and final session on regional experiences in developing women's investments will be chaired by businesswoman Nashwa Taher and include keynote speeches by a member of Bahrain's Businesswomen's Association, Kholoud Abdulqader, Qatar Chamber of Commerce and Industry board member and chairperson of the Businesswomen Forum, Ebtehaj Al-Ahmadani, and Chairperson of the Arab International Women's Forum Haifa Al-Kaylani.
The World Bank has estimated that the wealth held by Saudi businesswomen in local banks exceeds $16 billion. This includes holdings in family companies and real estate. The website can be found at nbwf.csc.org.sa.
http://www.arabnews.com/saudi-arabia/news/794501
----------
Muslim Women Seek Online Boutiques for Non-Traditional Fashions
August 21, 2015
Hijabs, Abayas and shawls are all traditional garments held close to the hearts of Muslim women. The intricate wraps that drape from their bodies exude a rich history and heritage. Today, Muslim women are revealing their creative tastes by customizing original pieces of their culture's clothing to fit their personalities.
Although the global number of Muslims is expected to jump 35 percent in the next 20 years, according to Pew Forum on Religion and Public Life, the City of Indianapolis does not offer many places for Islamic people to purchase clothing.
Nar Mahmoud usually shops for her clothing at places such as Forever 21, H&M, Loft, and Macy's and said it's becoming easier to choose clothing because many places now sell scarves.
"I tend to buy clothing that are more baggy or long (enough) to cover my butt. If I cannot find shirts that are long enough, I buy long tanks from H&M to layer underneath," said Mahmoud who shows off her outfits on her Instagram page @narrsworld.
She has recently discovered a boutique in Indianapolis specifically for Islamic clothing called Bella Hijabs located at 1209 S. High School Road. Mahmoud has purchased three items via online in the past two months.
"I love their hijabs and the girls who run the business are extremely sweet," she mentioned.
Women are also taking advantage of strictly online boutiques such as Haute Hijab, which was "founded with an entrepreneurial spirit and a clear objective: to offer modern hijabs and high-quality hijab-friendly designer clothing while nurturing a vibrant and inclusive community." Bella Hijabs isn't the only company selling their wear online to Islamic women. Online-based retailer, HauteHijab.com is owned by Melanie Elturk and Ahmed Zedan and has recently experienced their best selling month to date.
"The concept started when I realized there was a void in the fashion world when it came to catering to hijab-wearing women," said Elturk who said contrary to belief the business' name "Haute Hijab" is actually pronounced (oht), which means "to elevate" in French.
"I knew this would be something very well received by the community because not only is it needed materially but its nice to be heard as a consumer. Often times we're ignored."
In 2014 the company sold over $250,000 in product and hopes to purchase their own storefront in the future.
http://www.indianapolisrecorder.com/article_1586560d-2070-5d7c-a668-5af33827b05b.html
----------
URL: https://newageislam.com/islam-women-feminism/ninety-two-percent-muslim-women/d/104340