New Age Islam News Bureau
26 Jun 2013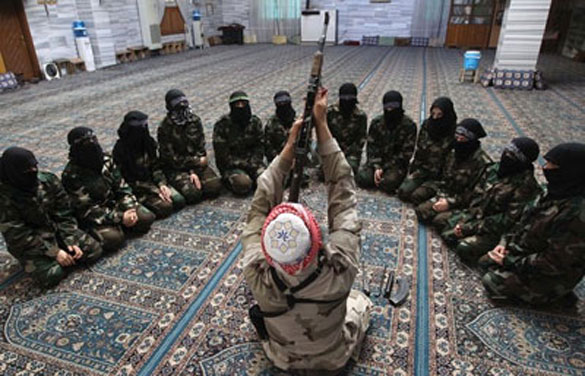 Phopto: Female Rebel Fighters on the Frontline
-----------
• Nigeria: 16 Pregnant Girls, Women Rescued From 'Baby Factory'
• Female Rebel Fighters on the Frontline
• Gas Attack Hits Afghan Girl School in Eastern Town
• Israel's Orthodox Women Seek to Infuse Modesty with Style
• Madrasa Girl Takes Own Life to Get Rid Of Stalking
• Malappuram Continues To Be a Paradise for Child Marriages
• New Law on Domestic Workers in the Works in Sharjah
• Harmony and Beauty on Display at Bali Festival
• Bannu Women protesters march to PML-N leader's home for Load Shedding
• Muslim Women's AFL Team Takes Off In Western Sydney
• Child Marriage Keeps Girls from Reaching their Full Potential
• Women's Rights in Saudi Arabia from 622 – 2013
Compiled by New Age Islam News Bureau
URL: https://newageislam.com/islam-women-feminism/ninety-two-percent-maldivians-want/d/12288
-------------
Ninety Two Percent Maldivians want sweeping reforms to stop women sexual abuse: poll
Mohamed Visham, Haveeru Online
Jun 26, 2013
An overwhelming majority of people in the Maldives wants a major overhaul of the country's laws to protect women from sexual assault, according to the results of an opinion poll.
A staggering 92 percent of the people who took part in the poll commissioned by New York-based campaign group Avaaz in the capital Male and Seenu Atoll Hithadhoo believe that laws and systems to protect women from sexual assault should be reformed.
The results were released on the four month anniversary of the flogging sentence handed down to a 15-year old in the Maldives for fornication and which also coincides with the UN Day in Support of Victims of Torture.
The 15 year old girl who gave birth and buried the baby in Shaviyani Atoll Feydhoo had been sentenced to eight months under house arrest and 100 lashes after the Juvenile Court found her guilty of adultery in a separate case.
Prosecutors have maintained that the 15 year old who has allegedly been subject to long-term sexual abuse was charged with adultery over another case which came to light during the investigation of the buried baby.
The baby born last June was found buried in the bath house of the girl's home. The child delivered out of wedlock was dead at the time of discovery. Charges have been filed against the 15 year old's mother and step-father over the deliberate murder of the baby.
More than two million people have backed Avaaz's campaign to end flogging in response to the sentence of the 15-year old.
"Medieval practices have no place in modern Maldives. An overwhelming majority of Maldivians want the law changed so women and girls are protected," Alice Jay, Campaign director at Avaaz said.
"The government must stop dragging its feet."
The Asia Research Partners' poll also showed that 79 percent see current systems and laws as not adequate or fair, whilst 73 percent think that punishments for sexual crimes are unfair to women and 62 percent want to a reintroduction of the moratorium on the practice of flogging.
Amid an international outcry and condemnation from rights groups such as Amnesty International, the government admitted that the girl is the victim of sexual abuse and should be treated as such by the State and the society and therefore, her rights should be fully protected.
The UN had also expressed concern over the sentence and reminded the government that corporal punishment, including flogging, amounts to cruel, inhuman or degrading punishment or even to torture under international legal human rights obligations of Maldives.
In April the government initiated the appeal of the sentence of the child who is currently under the care of the state.
According to the State, the sentence had been appealed as the defence believes the child's testimony had been taken in violation of the constitution and the charges had also been filed outside of the criminal procedure.
Based on the psychological reports, the child had been convicted in violation of the principles of Islamic Sharia, State had said.
Maldives' own official data shows that one in three women between the ages of 15 and 49 has suffered either physical or sexual abuse over the past five years. Yet 90 percent of those sentenced to flogging in the Maldives in 2011 were women.
http://www.haveeru.com.mv/news/49742
-------------
Nigeria: 16 Pregnant Girls, Women Rescued From 'Baby Factory'
Jun 26, 2013
Umuahia — The Director of State Security Service, Abia State, Mathew Obodoechi, Wednesday paraded one Doctor Hygenius Orikara, a medical personnel with Abiriba Hospital in the state, just as it rescued 16 pregnant girls and women.
Obodoechi said the arrest and rescue followed an intelligence report. He said following the report, his men raided a building at no 3 Anyamele street off Nicholas Avenue, Umungasi, Aba. He added that those rescued were between the ages of 17 and 37.
But the doctor denied that he was running a baby factory. He maintained that he runs the Cross Foundation International, a non-governmental organization, which he claimed was registered with the Corporate Affairs Commission (CAC).
The security chief said investigation by his command showed that victims are oftentimes introduced to the centre by close relatives, including friends as well as their mothers.
He appealed to members of the public to desist from encouraging pregnant ladies to stay in "baby factories" for whatever reason. He regretted that many of the homes are hiding under the guise of non-governmental organizations to perpetrate modern day slave trade.
"We warn these organizations to abstain from illegalities as security agencies will stop at nothing to ensure that they are apprehended and made to face the law," he said.
http://allafrica.com/stories/201306210775.html
-----------
Female rebel fighters on the frontline
26 June 2013
A female member of the Ahbab Al-Mustafa Battalion stands on a pick-up truck mounted with an anti-aircraft weapon as she undergoes military training in Aleppo's Salaheddine district.
http://english.alarabiya.net/en/perspective/photo-gallery/2013/06/26/Female-rebel-fighters-on-the-frontline.html
-----------
Gas attack hits Afghan girl school in eastern town
(Xinhua)
16:49, June 26, 2013
GARDEZ, Afghanistan, June 26 (Xinhua) -- Nearly 50 Afghan girl students were hospitalized Wednesday morning as a gas attack hit a school in eastern Pakiya province, said a source.
"Up to 50 students of the Semin Akbari Girl High School were hospitalized Wednesday morning after they complained of headaches, dizziness and vomiting," a provincial government spokesman Rohullah Samon told Xinhua.
A toxic material may have been speared in the classrooms in the school which is located in Chamkani district before the girls entered the building, he said.
An investigation has been initiated to find the fact behind the incident.
Over the past couple of years, dozens of gas attacks against girl schools have been reported in the militancy-hit country. Last year, the government detained more than 15 suspects involved in such attacks across the country.
No group or individual has claimed responsibility for the incidents so far. Radical Islamic groups and anti-government militants, who oppose girl education, have in the past been blamed for such attacks.
http://english.peopledaily.com.cn/90777/8300656.html
-------------
Israel's Orthodox Women Seek to Infuse Modesty with Style
25 June 2013
AFP, Occupied Jerusalem
Wearing a sleek black dress topped with a taupe bolero and long stiletto-heeled boots, Nathalie Benhaim cuts an elegant figure. For her, Orthodox Judaism's rules of modesty have never been synonymous with austerity.
"I'm always made up and have my hair done, I never let myself go. It's important for me and for my husband," explains this mother-of-four who has just opened a bakery in Jerusalem.
The Benhaims describe themselves as religiously observant and are part of Israel's growing religious Zionist movement who, unlike the ultra-Orthodox, are active members of society and often play a leading role in many Israeli institutions.
They are also prominent in government under the leadership of cabinet minister Naftali Bennett, head of the hard-line right-wing Jewish Home party.
Mixing as they do with the secular population often sparks heated debate over the interpretation of halacha, the Jewish code of law which governs, among other things, how women should behave and dress.
Earlier this year, Rabbi Shlomo Aviner, one of the strictest leaders of religious Zionism, issued an updated dress code for women, banning them from wearing red or other bright colours, prohibiting any transparent fabrics -- and ordering them to wear opaque tights. He even specified what thickness -- 40 denier.
But this extreme reading of Jewish law has sparked widespread condemnation, even within the movement itself where interest in women's fashion is rapidly growing, with an ever-growing number of shops and specialist designers entering the field.
"Just a few years ago, religious Zionist fashion was all hippy chic and baba-cool. But recently a real national religious style has developed," explains Vered Gilboa, who runs a boutique in the centre of Jerusalem.
"Now it's more vintage, chiffons and lace. But there are many different trends and designers. Zionist religious women are more and more interested in fashion, like women in the rest of Israeli society," she adds.
Such is the surge in interest that the Shenkar School of Engineering and Design -- the most popular in Israel, which has produced names such as Lanvin creator Alber Elbaz -- recently launched a fashion course aimed at these very women.
Dress codes for women within the Orthodox Jewish world hardly lend themselves to the creativity of designers: low necks are banned, dresses and skirts must cover the knees and sleeves must reach to the elbow.
"We can't live in a bubble"
But according to Nathalie Haiks, a mother-of-five, it is possible to be stylish while staying faithful to Jewish law. Her secret: basic skirts and t-shirts of the accepted length.
"After you've done that, you can wear whatever you want from whatever shop," says the 48-year-old, a personal assistant at the Hebrew University of Jerusalem.
"We cannot live in a bubble even if we have to respect the rules. The Torah does not compel women to look dreary. We are forbidden to attract attention, that's all. Halacha does not give a single, definitive interpretation," she says.
"It has become more and more open since I arrived in Israel," says Haiks, who has been in the country for 25 years.
Leah Sheklar, a settler in her 50s living just north of the West Bank city of Ramallah, has combined her interest in Jewish spirituality with her taste for clothes and organises a weekly workshop for women at a Jerusalem café.
In a side room, she has set up a mirror where the women are invited to stand and show others how they have put together an outfit. Standing in front of the mirror and looking at themselves also encourages women to think more about their own identity.
"The question of clothing comes up far too often in terms of what is banned. Those who are prohibiting are actually obsessed, not by the Torah, but by that thing which they never mention -- sex," explains Sheklar, wearing a black dress with a brooch, an elegant beret covering her head.
"I am trying to see how to live freely in the world while respecting the rules. In my workshop, we speak about clothes as a means of self-discovery," she says.
"Many religious Zionist women are following the trend in society as a whole to become more and more individualistic, they want to be happy, to live their feminity and their identity while at the same time living harmoniously with the religious world," she adds
http://english.alarabiya.net/en/life-style/art-and-culture/2013/06/25/Israel-s-orthodox-women-seek-to-infuse-modesty-with-style.html
----------
Madrasa Girl Takes Own Life to Get Rid Of Stalking
June 26, 2013
A madrasa girl allegedly committed suicide over stalking on Saturday noon, minutes after returning from her institution.
The deceased was identified as Shabnoor, 13, a student of class eight at Charpara Mohammadia Dakhil Madrasa in Barguna Sadar Upazila.
Failing to bear the sexual harassment by a local youth anymore, Shabnoor took her life after returning home from the madrasa at about 2:00pm, family sources said.
Md Dulal Mollah, father of the girl, also local UP member, said Imran Hossain, a local youth had been stalking the girl for long.
The girl's family raised objection and told the matter to the youth's family several times but in vain.
Imran used to force the girl to talk with him on the way to madrasa which embarrassed the girl, said some classmates of Shabnoor.
Imran took part in the Dakhil exam last year from the same madrasa but failed to succeed, they said.
Away in Patuakhali Sadar Upazila, a youth stabbed the father of a schoolgirl allegedly after failing to rape her on Saturday.
Police arrested the accused — Elias, 24, from his house at Baniakathi village under Patuakhali Sadar upazila at night.
Elias, a neighbouring youth, often stalked the girl, daughter of Faruque Bepari, 40, of Baniakathi village, also a Class VI student of UCK High School, on the way to school, police and family sources said.
At about 2:00pm on Saturday, the girl was returning home from school when Elias attempted to rape her at a lonely place.
Incidentally the girl's father Faruque was passing by the spot.
Hearing her scream, Faruque rushed in and saved his daughter. At this, a furious Elias hacked him with a sharp weapon, leaving him seriously injured.
http://www.thedailystar.net/beta2/news/girl-takes-own-life-to-get-rid-of-stalking/
-------------
Malappuram Continues To Be a Paradise for Child Marriages
KA Antony
26 June 2013
MALAPPURAM With all the positive approach towards women's education and empowerment, supported by a major section in the Muslim community, Malappuram district continues to be the paradise for child marriages as is evident from the data made available by Punarjani, a Kozhikode-based forum run by five women lawyers.
Data made available by the forum from the department of Integrated Child Development Scheme (ICDS) of the Kerala government under the Right to Information Act (RTI) reveals that Malappuram, despite all developmental activities in all other spheres, is far behind in taking care of the girl child.
The information is so shocking, and that too about a land still beaming with pride about neo-literate Chelekkodan Ayesha, ambassador of Kerala's literacy movement and that of KV Rabia, an active campaigner on a wheel-chair for the same cause.
Kerala also had witnessed the down fall of MP Gangadharan, a former minister belonging to the Congress from Malappuram district after it was proved that his daughter was married off before attaining the stipulated age of 18. The child marriages in the district tops the list with as many as 4,955 marriages of girls between the age of 11 to 18.
According to Advocate Sapna P of Punarjani, the practice of marrying off minor girls is also prevalent among the Hindus, especially, the Scheduled Castes (SC) and Scheduled Tribes (ST) communities in Malappuram.
"The number of SC minor girls got married from the district till 2008 is 339 while that of ST girls is 55. Over 312 girls from other communities also got married during this period," she said adding that despite strong provisions of the Child Marriage Restraint Act, the social evil is quite common in the society.
According to the ICDS data, Perinthalmanna tops the list with a many as 1,294 marriages of minor Muslim girls followed by Nilambur with 719.
Malappuram urban and rural comes third with 630. Vengara, from where Industries Minister PK Kunjalikutty got elected this time accounts for only 57 Muslim child marriages while Vandoor has its figure at 523.
"It isn't the figures that matters. Data from government agencies are never accurate. The exact figure is more than what they provide," claims VP Suhra, chairperson of the NISA Progressive Muslim Women's Forum.
According to her, all the governments, be it Left or Right are shutting their eyes to give legitimacy to underage marriages. "Chief Ministers and education ministers may claim that they are for empowering women through education. But the ground reality is that they are in a way supporting the dark ages just for appeasing clerics and the community leaders to retain power," she said.
According to Suhra, girls who are married at the age of 16 or below become a mother at 15 or 16 and a grandmother at 30. "They will turn great-grand mothers at the age of 40 or 45. I am ashamed to be living in a land known as 'God's Own Country' where gender discriminations still persist," she said.
National award winning script writer Aryadan Shoukath, whose film directed by TV Chandran Padam Onnu. Oru Vilapam a film which was about the trauma of a young Muslim girl married at the age of 15, said that his district stands where it was.
Chairman of Nilambur Municipality and son of Kerala Electricity Minister Aryadan Mohammed, Shoukath said that he feels that things are getting worse with the emergence of new Muslim outfits.
"They mean nothing good for the women of the community. They have nothing new to say. Over 80 per cent child marriages happening in Malappuram are from Nilambur Panchayat," he said adding that Mysore weddings are also common in Kannur, Kasargod and Wayanad districts.
"Yet another danger we are facing are the petitions of parents involved in the notorious Mysore Kallyanam. Driven by poverty and illiteracy, many of the parents send their daughters to bridegrooms from Mysore thinking that everything will be fine. But it never happens. Brides return after giving birth to one or two children. What we have understood is that most of the bridegrooms from Mysore are local unemployed men, some of them anti-social elements, criminals, thieves and drug addicts.
Those with more than three girls to marry off will take the bait when a proposal comes from Mysore and most of the elders in the family pretend not to smell the danger, although they have enough experiences from the neighbourhood," he said.
MK Nazar, working as a teacher in Mysore said most of the men who marry Muslim girls from Kerala are habitual criminals.
"The reasons cited by these men for divorce are trivial such as "she has not learnt Kannada or not fit for Mysore culture.
"I don't know why parents are sending their girls to a man without a heart even after several incidents of divorce have taken place. Be it poverty or illiteracy which father or mother will send their daughter with a total stranger," he wanted to know.
http://www.omantribune.com/index.php?page=news&id=147071&heading=India
----------
New Law on Domestic Workers in the Works in Sharjah
Amira Agarib / 26 June 2013
A new draft law on hiring of domestic workers is in its final stages and will be issued in the coming months.
The law seeks to regulate their hours of work and salary, and also provide for their medical treatment.
This was revealed by Brigadier Dr Abdullah bin Sahooh, Director of the Sharjah Department of Naturalisation and Residency, while opening a workshop on the theme 'My family with legal domestic workers' organised by the Hawa (Eve) Committee of the department recently.
The law deals with various issues including the responsibility and duties of the recruitment offices which bring domestic workers to the country. And it will help both the sponsors and domestic workers and eliminate illegal practices, Brig Bin Sahooh said.
It includes a unified contract for domestic workers. The contract would bring about comprehensiveness and clarity, and it would regulate the relationship between the workers and their sponsors, as well as the relationship between the employers and the recruitment offices to ensure the rights of each parties.
As per the draft law, there would be a probationary period of six months for every new appointee, and the employer would have the right to request for changing a worker if he/she is found not suitable for the work, does not have the required experience or suffers from any problem that prevents the person from continuing the work.
The employer would be entitled to the money paid in full if the office does not replace the person with a worker who meets all criteria, Brig Bin Sahooh said.
Besides regulating the hours of work and salary, the law will also stipulate the provision of necessary medical treatment and healthcare for the domestic workers.
The domestic workers would be subject to medical tests before their arrival in the country to ensure that they do not have communicable diseases and that they have the necessary fitness to do the work.
"The recommendations of the United Nations Convention on Domestic Workers giving special consideration to their rights will come into force this September. The UAE is an integral part of the global system but is bringing in its own law. All parties should abide by and respect the terms and conditions of the unified contract," he said.
The new law would protect the rights of the parties and both parties are supposed to read each article before signing the contract. Three copies of the contract would be made: one each for the government department concerned, the employer and the worker.
Hawa Committee
Brig Bin Sahooh stated that the Hawa Committee initiative was launched as part of the Ministry of Interior's strategy for protecting the rights of the women. "The committee has been engaging the community on issues and spreading awareness and fighting against some of the negative practices in the society like hiring of domestic workers not in their sponsorship."
The people must be made aware that employing domestic workers who have run away from their sponsors would invite a fine of Dh50,000. The practice would also have security, health, cultural and safety implications. For instance, children may not be safe in the hands of runaway maids as they may not have undergone medical tests, which people have to do while renewing visas, and may have infectious or serious illnesses. Or if they commit thefts in the house and escape, arresting them would be difficult because of the difficulty in identifying them and due to lack of data or reference.
Brig Bin Sahooh called on families to make the domestic workers work in a comfortable atmosphere and consider them as part of the family, give them good accommodation and food, give them enough rest hours and pay their salaries on time. He also urged them to not employ illegal workers.
He thanked the Eve Committee in Sharjah for organising the workshop on domestic workers. - news@khaleejtimes.com
http://www.khaleejtimes.com/kt-article-display-1.asp?xfile=data/nationgeneral/2013/June/nationgeneral_June407.xml&section=nationgeneral
-------------
Harmony and beauty on display at Bali festival
June 26, 2013
Bali is famous for its arts and Hindu religion, embedded in the daily lives of its people along with its music, dance, carving, painting and theatre traditions.
Those cultural riches are on ample display each year at the annual Bali Arts Festival, an event that draws visitors from all over the world.
This year, President Susilo Bambang Yudhoyono (SBY) chose it as the venue to condemn those who would harm Indonesia's traditions of diversity and tolerance with ethnic or religion-based violence.
"We will not tolerate senseless violence committed in the name of religion or identity," SBY said as he opened the 35th edition of the festival on June 15th, at the Werdhi Budaya Arts Centre in Denpasar.
Full report at:
http://khabarsoutheastasia.com/en_GB/articles/apwi/articles/features/2013/06/24/feature-07
-------------
Bannu Women protesters march to PML-N leader's home for Load Shedding
Jamal Qamar
26 June 2013
BANNU: Hundred of Bannu women protested against the excessive load shedding of 20 hours in a day and marched to the house of senior Muslim league leader Lala Khan Bahadar demanding end to what they called cruelty based power outages. The women also threatened to take out procession of stick bearing protestors on roads within the next three days.
Situation in Bannu has become worsened as mercury rose up to 46 and the intervals of power outages also became unbearable as residents in the rural and the urban areas as well get only one or two hours electricity in 24 hours and that too with intervals.
Full report at:
http://www.thefrontierpost.com/article/22579/
----------
Muslim Women's AFL Team Takes Off In Western Sydney
June 26, 2013
There's a big battle underway in Western Sydney for the hearts, minds and dollars of football fans. It's traditionally a rugby league heartland, but the AFL is making inroads with the establishment of a Greater Western Sydney team. And, for the last three years, the Auburn Tigers AFL club has run an all female, predominantly Muslim team.
http://www.abc.net.au/news/2013-06-26/muslim-womens-afl-team-takes-off-in-western-sydney/4782464?section=nsw
-------------
Child Marriage Keeps Girls from Reaching their Full Potential
06/25/2013
Many of the complex issues inflicting developing nations have solutions that require greater spending. Improving education and healthcare, for example, has meant building additional facilities and ensuring that they are equipped with the resources necessary to educate and care for the people they were built to serve. Funding for training programs and micro-credit provides the skills and means for creating self-sufficiency and enhanced opportunity. Throughout the world, we are seeing a tangible return on these investments.
While fiscal challenges remain, some of the most complicated barriers to progress are not economic but cultural. Longstanding mores and rituals within particular countries can suppress basic human rights, inhibit the chance for children to reach their full potential and deny them a chance for a better life than that of their parents. Although, we must be respectful of traditions that are unfamiliar to us, when such customs are inherently harmful and run counter to the best interests of a large swath of the population, than efforts must be taken to curtail them.
Full report at:
http://www.huffingtonpost.com/anne-goddard/child-marriage-keeps-girl_b_3498969.html
-------------
Women's Rights in Saudi Arabia from 622 - 2013
DARLENE CASELLA
June 26, 2013
Saudi Arabia's King Abdullah recently made history with a royal decree, declaring a new era in politics and in social culture.
The Monarch appoints 150 Majlis al Shura Council members as his advisors in areas such as education, health, Islamic affairs, economy and finance. King Abdullah appointed 30 women to the council. Appointed women are influential, two are royal princesses. The Monarch also granted women the right to vote in local elections in 2015; although they cannot vote for high offices or hold elected office.
Full report at:
http://www.familysecuritymatters.org/publications/detail/womens-rights-in-saudi-arabia-from-622-2013?f=must_reads#ixzz2XJ1i27Zx
-------------
URL: https://newageislam.com/islam-women-feminism/ninety-two-percent-maldivians-want/d/12288