New Age Islam News Bureau
04 June 2022
• Women Employed As Motorbike Taxi Drivers in Rwanda
• Martial Artist Khadijah Safari Runs Martial Arts Classes In London For Muslim Women
• Political Prisoners In Iran Women's Prison Are In Danger – Lawyer
• Deepti Jharwal, Woman Official Part Of Indian Team On Afghanistan Trip
• Dr Alazazi; Businesswoman behind UAE's First Electric Car 'Al Damani' DMV300
• 17 Pakistani Students Selected For US Future of Women in Energy Scholars Program
• Dash Me Foundation United States Moves to Lift Abused Women
Compiled by New Age Islam News Bureau
URL: https://newageislam.com/islam-women-feminism/nilambur-ayisha-india-actor-religious-hate/d/127174
--------
Nilambur Ayisha: Indian Actor of Kerala Who Survived Religious Hate and Bullets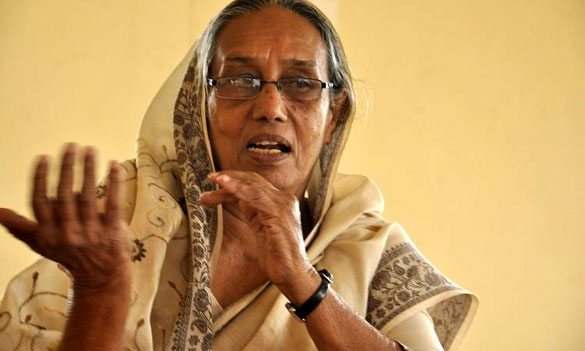 Nilambur Ayisha
----
Jun 4, 2022
The year was 1953. Nilambur Ayisha, 18, was on stage delivering a dialogue when a bullet whizzed through the air.
"It missed me and hit the stage curtains because I moved while speaking," recalls Ayisha, now 87, sitting at her home in the town of Nilambur (which became part of her stage name) in the southern Indian state of Kerala.
The shooter's attempt was just one among several - by religious conservatives who believed a Muslim woman shouldn't act - to force Ayisha off the stage.
But she went on acting, braving sticks, stones and slaps until, she says, "we managed to change people's attitudes".
Last month, Ayisha was in the front row when a new generation of actors in Kerala presented a reimagined version of the play she was doing when she was fired at - Ijju Nalloru Mansanakan Nokku (You try to become a good human being).
The new version opens with the shooting attempt at Ayisha and takes aim at religious conservatism among Muslims, much like the earlier version - except that it incorporates several recent incidents of intolerance and religious dogma, especially those intended to oppress women.
For instance, a few weeks ago, a senior Muslim leader in Kerala kicked up a controversy after scolding the organisers of an event for calling a female student to receive an award on a stage.
Since 2014, when the Hindu nationalist Bharatiya Janata Party swept to power in India, attacks on Muslims - the country's largest minority at 200 million - have risen sharply.
In turn, the minority community is also going through a political churn where moderate voices are finding it harder to counter what is sometimes an assertion of conservative practices in the name of championing religious identity.
Ayisha says she is worried that the conservatism she and her fellow artistes - many of them Communists - fought against in the 1950s and 60s is deepening in India, including in Kerala, often called one of India's most progressive states.
"We tried to change these attitudes earlier. But now, when there is objection to a young girl going up on stage, it feels like we are going back to those dreadful days,'' she says.
It began with a gramophone
Ayisha was born in a rich family which fell on hard times after her father's death. They received, she says, little help from community leaders when they struggled to survive.
Life was difficult, but she was happy to be at home. She had left briefly some years ago - when she was just 14, she was married off to a 47-year-old man, but walked out of the marriage after just four days. She realised later that she was pregnant but went ahead with divorcing him.
One day, she was singing along to a record on the gramophone - "the only item of luxury left in our house" - when her brother and his friend, playwright EK Ayamu, walked in.
At the time, a progressive theatre group backed by Communists was gaining ground in the state with dramas, fiery political songs and other forms of art. It inspired several smaller groups to attempt writing and staging plays.
But most of the roles - including those of women - were played by men.
When EMS Namboodiripad - who in 1957 became India's first Communist chief minister when a government headed by him came to power in Kerala - watched one of these plays, he suggested to Ayamu that they find women to act in roles written for them.
When Ayamu heard Ayisha sing, he asked if she would play the challenging part of Jameela, a housewife who had a pivotal role in the drama.
Ayisha was ready, but her mother was worried that they would be ostracised by religious leaders.
"I told her that they never came to our rescue when we were in trouble. So how can they punish us now?" Ayisha says.
The play was a huge hit, but it also ruffled many feathers.
"There were a lot of attacks on us. Muslim conservatives found it blasphemous that a woman from the community was appearing on stage," says VT Gopalakrishnan, who played the son of Ayisha's character in the drama.
People threw stones at Ayisha when she was acting; her colleagues were attacked when they tried to protect her.
Once, a man jumped on the stage and slapped Ayisha so hard he damaged her eardrum - it left her with a permanent hearing disability. The man who shot at her was never caught.
Did these attacks scare her?
"Not at all. My strength only increased," Ayisha says.
"It was a humane drama about bringing out the good in people and loving others regardless of their backgrounds. That is also why our troupe was targeted so many times," she says.
Ayisha's courage under fire has given her an undeniable place in Kerala's history, says Johnny OK, a senior journalist.
"She was part of the social reformation movement that made a difference through art and culture," he says.
Ayisha went on to act in several plays and films, but after a while, offers began drying up.
She then went to Saudi Arabia to work as a domestic helper "for how long, I can't remember".
When she returned to Kerala, she began acting again in Malayalam-language movies, winning awards for some of her performances. She is also invited to speak at workshops and programmes where many cite her as an inspiration.
Looking back, she says she has no regrets.
"I withstood everything, including the physical attacks. Today, at the age of 87, I can proudly stand before the world."
Source: BBC
https://www.bbc.com/news/world-asia-india-61679980
--------
Women employed as motorbike taxi drivers in Rwanda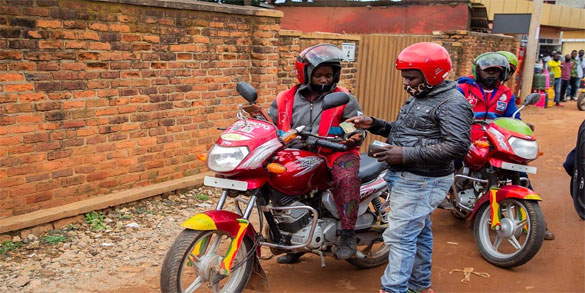 Rwanda's capital, Kigali, is training 120 women to operate electric-powered motorbike taxis.
----
June 03, 2022
KIGALI — A project employing women to drive electric-powered motorcycle taxis is being launched in Rwanda's capital, Kigali.
Male drivers currently dominate the sector.
The first group of 120 women has just finished three months' training on riding as well as maintaining the new bikes.
The project both challenges people's perception of women and is hoping to improve the environment.
Ornella Uwobasa, who trained the women, says they want "to change the mentality" to show that women can do the job.
"We want to see women on the roads, and everyone to know that women can work on the road," she tells the BBC.
The project, jointly owned by the city authorities and a private company, is aimed at employing poor women who are given the motorbikes for free.
The city's vice-mayor, Martine Urujeni, said the project will cut carbon emissions and reduce unemployment.
"We focused on vulnerable women like single mothers - divorced and widows - because we want to improve their lives."
Around 35,000 motorbike taxis are registered in Kigali but most are operated by men.
Rwanda encourages the use of electric motor vehicles but their numbers are still low, with only 150 registered so far this year. — BBC
Source: Saudi Gazette
https://saudigazette.com.sa/article/621341/World/Women-employed-as-motorbike-taxi-drivers-in-Rwanda
--------
Martial Artist Khadijah Safari Runs Martial Arts Classes In London For Muslim Women
By Nicole Bosco
June 3, 2022
Martial artist Khadijah Safari is giving the women of the London area a place to train that is all their own.
Khadijah Safari of Milton Keynes is taking her passion for martial arts and giving women a place to train together. She is the owner of MK's Safari Health Hub and Safari MMA, a women-only MMA gym that was created because of Safari's own experiences.
Safari converted to Islam back in 2009. She was looking for a place to continue her combat sports journey but was not able to find a female-only gym, so she created her own.
Her goal in opening her own gym, which now has over 10 locations, is to provide self-defense classes and martial arts training to victims of domestic violence and those with certain religious beliefs. Having a place where women could go to train with other women and gain knowledge and confidence was lacking in the London area ten years ago. That is when Safari decided to take all her savings and create a place just like that.
"Women from all different backgrounds, cultures and socio-economic groups came together. Labels were left at the door and for once true equality was seen," a spokesperson for the gym told MKCitizen.
The gym now holds women of all different backgrounds and occupations training together. Even during the lockdowns of COVID-19, Safari made it possible for her members to train through online classes. She even works together with local mental health agencies to provide programs for women and children in need.
Recently, Safari was awarded the British Empire Medal for her efforts to make these women-friendly combat sports spaces. She also received a medal from the Lord-Lieutenant of Buckinghamshire.
Source: MMA News
https://www.mmanews.com/2022/06/khadijah-safari-muslim-mma/
--------
Political Prisoners In Iran Women's Prison Are In Danger – Lawyer
5/31/2022
The attorney of several jailed Iranian activists, says the lives of political prisoners in Qarchak women's prison are in danger, implying that the authorities are using other prisoners to threaten them.
In an interview published on Tuesday, Mostafa Nili said a message received from his client, civil and human rights defender Narges Mohammadi, and photojournalist Alieh Motalebzadeh said their lives are danger by one of the prisoners who is charged with murder and threatening to kill them to become famous.
Pointing out that the prisoner had no "previous problems or conflicts" with Mohammadi and Motalebzadeh, he said that such threats without any history of disputes or conflicts seemed "suspicious".
Nili also said that following the death threat, several inmates with a history of violent crimes tried to provoke clashes twice with the prisoners of the political ward during visits to the prison infirmary.
He added that the issue began with the threats to Mohammadi and Motalebzadeh, but since Sunday other political prisoners have also been threatened. Nili noted that prison authorities have not taken any action.
He said that such incidents are reminiscent of similar clashes between criminal prisoners and political detainees in recent years, such as the cases for Golrokh Ebrahimi Iraee, Atena Daemi, Shakila Monfared, and Saba Kord Afshari who were beaten in apparent clashes with other inmates.
In 2019, political prisoner Alireza Shir-Mohammad-Ali was killed in Tehran's Fashafoyeh Prison after he was stabbed in the neck and stomach by two inmates of the general ward.
Earlier in the year, Reporters Without Borders expressed concern for the lives of jailed activists who have been transferred to detention centers known to mistreat prisoners, including Qarchak women's prison.
Source: Iran Intl
https://www.iranintl.com/en/202205312645
--------
Deepti Jharwal, Woman Official Part of Indian Team on Afghanistan Trip
Jun 4, 2022
NEW DELHI: A woman diplomat was part of the Indian team that visited Afghanistan to oversee the delivery of India's humanitarian aid to the country and meet with senior members of the Taliban. Deepti Jharwal is part of the MEA's Pakistan-Afghanistan-Iran division, sources said.
In Kabul, Jharwal also attended a meeting the team had with Amir Khan Muttaqi, Afghanistan's acting foreign minister. Her inclusion in the team comes against the backdrop of repeated calls to the Taliban regime by the international community, including India, to protect the rights of Afghan women.
Source: Times Of India
https://timesofindia.indiatimes.com/india/woman-official-part-of-indian-team-on-afghanistan-trip/articleshow/91995818.cms
--------
Dr Alazazi; Businesswoman behind UAE's First Electric Car 'Al Damani' DMV300
Sakina Fatima
31st May 2022
Abu Dhabi: A chairwoman of United Arab Emirates (UAE) based M Glory Holding Group Dr Majida Alazazi is the woman behind the country's first-ever electric car.
Dr Majida Alazazi is all set to roll out the first batch of the fully electric car called 'Al Damani' DMV300 by the end of June 2022.
The Al Damani DMV300, with two different models built using European specifications, has a battery capacity of 52.7 kWh and can cover more than 405 kilometers on a single charge.
In March 2022, M Glory Holding Group laid the foundation stone for the country's first industrial facility for the manufacture of electric vehicles (EV) at Dubai Industrial City (DIC). The factory will be finished by 2024.
Meanwhile, DMV300 will be made at a temporary factory not far away from the main one getting constructed in DIC.
The new factory will be built on a total land area of 1 million sq ft and will create more than 1,000 jobs, as part of M Glory's future expansion plans.
The company aims to benefit from the Fourth Industrial Revolution and sustainability by employing future technologies and robotics in the manufacture of electric vehicles (EVs). The new facility is an extension of its portfolio, which includes robotics engineering and artificial intelligence, as well as sustainable real estate.
Majida is the first Arab woman to establish a car factory in the Middle East, and the first Emirati to obtain an applied doctorate degree in supply chain management and industries from the United Arab Emirates (UAE) university.
Since graduating from the university, she has held several major jobs, where she worked in large successful government factories in the country and traveled to several car-manufacturing countries.
She traveled to France, Britain, the Czech Republic, and Germany in an attempt to learn about their experiences and success stories that enabled them to achieve record profits. She hoped to replicate the achievements of these countries in their major projects, in her homeland UAE.
Al-Azazi began her experience as a businesswoman in 2004, and worked on various projects, then moved to a greater ambition, which is the automobile industry, out of a constant search for a challenge.
After her passion to be a leader in the industrial sector, she opened an automobile factory— Sandstorm Motor Vehicle Manufacturing.
"Since 2012, I started to develop Sandstorm. It is now a successful factory. We are now going electric with M Glory. We are now planning to do more sustainable projects under M Glory Holding Group," Al-Azazi told Khaleej Times during the Electric Vehicle Innovation Summit.
The electric vehicle can touch a top speed of 160 km and cover more than 405 km after being charged once. When charging at home, it will fully charge in six to eight hours, but we have a quick charge, which will charge the car up to 85 percent in 30 minutes.
The industrial engineer said, "We are working on developing our own charger that can be charged within four hours at home, as well as about 25 percent of the car's parts from the local market, and soon we will be able to gradually increase this percentage."
The businesswoman indicated that thousands of orders for the purchase of electric cars have already been received, and explained that their daily capacity ranges from 8 to 10 cars and 10,000 cars annually from the temporary factory. Once the main factory is ready, it will be able to produce 50,000 to 70,000 cars annually.
Source: Siasat Daily
https://www.siasat.com/meet-dr-alazazi-businesswoman-behind-uaes-first-electric-car-2338204/
--------
17 Pakistani students selected for US Future of Women in Energy Scholars Program
4 Jun, 2022
ISLAMABAD – The US Mission Pakistan has selected 17 bright Pakistani women university students for the US-Pakistan Women's Council's (USPWC) inaugural four-week Future of Women in Energy Scholars Program.
Starting June 5, the students will learn about working in the energy sector. This program will foster women's participation and leadership in Pakistan's energy sector by providing young women the opportunity to study energy issues and energy infrastructure at Texas A&M University's campus in Qatar.
Following their two-week program in Qatar, the students will return to Pakistan for a two-week familiarization trip to engage with key Pakistani public and private-sector organizations in Islamabad and Lahore to learn about Pakistan's energy sector.
The program is jointly sponsored by the US Mission Pakistan, the US Department of State, the US Department of Energy, the US Agency for International Development (USAID), Texas A&M University, and a number of public-sector and private-sector energy employers interested in promoting women's advancement in the energy sector.
The program is a product of the commitment the U.S. government made to advance women's educational and economic participation in Pakistan's energy sector during the U.S.-Pakistan Energy Dialogue in September 2021.
The Pakistani women students participating in the program are currently pursuing bachelor's degrees in science and engineering at private and public universities throughout Pakistan and were chosen through a rigorous selection process.
US Ambassador to Pakistan Donald Blome said, "Coinciding with the 75th anniversary of the establishment of diplomatic relations between the United States and Pakistan, we are excited to launch the USPWC's Future of Women in Energy Scholars Program. Through this program, the U.S. Mission in Pakistan is helping Pakistani women to pursue career opportunities in the energy sector and help them develop networks for a vibrant future."
The USPWC Executive Director Radhika Prabhu said, "The USPWC Future of Women in Energy Scholars Program will give young women hands-on experience in the energy sector. Congratulations to these future leaders!"
The US-Pakistan Women's Council is a public-private partnership that seeks to increase women's economic participation in Pakistan by catalyzing commitments from the private sector, civil society, and government leaders in both countries to advance women's economic empowerment in Pakistan.
Source: Daily Pakistan
https://en.dailypakistan.com.pk/04-Jun-2022/17-pakistani-students-selected-us-future-of-women-in-energy-scholars-program
--------
Dash Me Foundation United States Moves to Lift Abused Women
04 June 2022
Dash Me Foundation United States has officially received a non-profit with tax-exempt status under Section 501(c)(3) of the US Internal Revenue Code.
The Founder of Dash Me Foundation, Mrs Kemi Adeosun, who expressed delight at the development, said contributions from both corporations and individuals, donated to New York-based Dash Me Foundation (US) are now fully tax-deductible.
Adeosun, who is a former Nigeria's Minister of Finance, explained that the Dash Me Foundation (US) was now eligible to apply for government and foundation grants, which will further broaden access to resources and strengthen its ability to raise funds for orphans and vulnerable children, victims of domestic violence and disadvantaged youth.
Adeosun added: "The Dash Me Foundation U.S. is proud to announce that it is officially a non-profit with tax-exempt status under Section 501(c)(3) of the United States Internal Revenue Code.
The granting of non-profit status to Dash Me Foundation in the United States is a major milestone for our growing organisation, and we are excited about the prospects it creates. Attaining recognition of our Charitable Status by the American Internal Revenue Service was a rigorous process and we are proud to have met all the requirements."
She stated that the U.S. team could now actively mobilise donations and support from its extensive U.S-based diaspora as well as corporations and foundations, interested in supporting indigenous charitable work in Nigeria and beyond.
"Our donors can now change lives in Nigeria whilst obtaining a full tax deduction in America," Adeosun stated. Since its launch in Nigeria in June 2021, Dash Me Foundation has raised funds for orphanages, domestic violence shelters and the physically challenged through its Dash Me Store and other activities.
She confirmed that the Dash Me Foundation had mobilised and deployed cash and resources to projects in Lagos, Ogun, Cross River, Kano, Nasarawa, Imo, Osun and Kogi States.
"Dash Me Foundation aims to raise more funding for orphans and vulnerable children, victims of domestic violence and disadvantaged youth in Nigeria with the ambition to cover the West African region," the founder added.
Source: Guardian Nigeria
https://guardian.ng/news/foundation-moves-to-lift-abused-women/
--------
URL: https://newageislam.com/islam-women-feminism/nilambur-ayisha-india-actor-religious-hate/d/127174
New Age Islam Islam Online, Islamic Website, African Muslim News, Arab World News, South Asia News, Indian Muslim News, World Muslim News, Women in Islam, Islamic Feminism, Arab Women, Women In Arab, Islamophobia in America, Muslim Women in West, Islam Women and Feminism